It is amazing how many people have "a trip around the world" or a number of exotic, culturally significant or spiritually uplifting destinations to visit on their bucket lists, as if we were nomads at heart (which perhaps we are).
Equally interesting is that some people have more things on their bucket list than anyone could achieve in a whole lifetime, and others have few or even none.
For both of these, and for travel lovers of all shapes and sizes, here is the ultimate bucket list of "must-see" places. It is not necessarily a practical list; some of these places are all but inaccessible, others in some way dangerous, including countries burdened by poverty, racked by disease, ravaged by war or suffering in the wake of some terrible (or man-made) catastrophe. Some of them will also be way over the average person's budget.
However, we need to dream before we can act: in the words of a very wise North American Indian: "Truly rich is he who has more dreams in his soul than reality can destroy". Some of these places one might actually visit, but in our dreams, we can visit them all.
1. Taj Mahal (India)
Designated the winner of the "New 7 Wonders of the World" in 2007, the Taj Mahal (literally: crown of the palace) was commissioned by emperor Shah Jahan in 1631 in honor of his wife Mumtaz Mahal, who died whilst giving birth to their 14th child. Her tomb forms the main part of the interior, flanked by four minarets. The building is constructed entirely of white marble, inlaid with semi-precious stones; the marble takes on different colors according to the time of day.
Photos cannot do justice to its beauty: it has to be seen to be believed.
The Taj Mahal was designated an UNESCO World Heritage Site in 1983. It lies in Agra, Uttar Pradesh in northeastern India. Agra has its own airport, which is 8km from the city center.
2.Yaki Point (USA)
Yaki point is located in the Grand Canyon National Park, Arizona. At an elevation of 2213 m above sea level, it offers panoramic views over the canyon which take your breath away. A sunrise or sunset observed from Yaki Point is an unforgettable, once-in-a-lifetime experience which should definitely not be missed!
Yaki Point is easily accessed from the visitor`s center in Grand Canyon Village, Arizona. The best airport is Phoenix (3 ½ hours by car).
3. Bethlehem (Palestine)
"Why" go to Bethlehem is pretty obvious; "how" is the question. Bethlehem lies 8.89 km due south of Jerusalem, around 3 ½ km within the Palestinian border. Though entry into Palestine is forbidden to Israelis, for tourists it is fairly easy (though passports WILL be checked on re-entering Israel). Bus Nr. 21 opposite the Damascus Gate in Jerusalem goes directly to Bethlehem (around ½ hour). Particularly worthy of note are the Separation Wall, the Aida Refugee Camp and (of course) the Church of the Nativity, one of the oldest churches in the world, honored since the 2nd century as the birthplace of Christ.
Closest airport is the Ben Gurion international airport (40 minutes from Jerusalem by taxi, or around 70 minutes by shuttle bus).
4. Machu Picchu (Peru)
Designated one of the New 7 Wonders of the world in 2007, this 15th century Inca citadel was abandoned by the Incas at the time of the Spanish conquistas, so that it was neither discovered nor plundered and destroyed as most other Inca artefacts were. Located on a mountain ridge at an elevation of 2.430 m above sea level, Machu Picchu is built in the typical "ashlar" technique of the Incas, in which huge blocks of stone are cut regularly to fit together without mortar. The Incas were masters of this technique; Machu Picchu shows us that they were also skilled in the construction of terraced fields and aqueducts.
The closest town and railway station is Aguas Calientes, with regular bus tours to Machu Picchu. Aguas Calientes is around 3 ½ hours from Cusco, which has its own airport.
5. Giza Pyramids and Sphinx (Egypt)
The oldest of the Seven Wonders of the Ancient World, and the only one which has remained relatively intact, the Great Pyramid of Giza is thought to have been completed in 2560 BC! It is one of three pyramids in the Giza complex in El Giza, which also houses the immortal and enigmatic sphinx. Around 5 km northwest of Cairo city center, the complex is easily accessible by road; tourists should be aware that taxi drivers and other vendors will try to bleed them dry, however. It is advised to go as part of an organized trip, to take only small sums of money and to leave larger sums and valuables behind. That said, the grandeur of the spectacle makes Giza a place everyone should visit once in a lifetime!
6. Great Wall of China (China)
The Great Wall of China, which is visible even from the moon, comprises a total of 21,196 kilometres of fortifications stretching from east to west along the historical boundaries of northern China. It began as a series of smaller walls of stones and stamped earth in the 8th century BC and underwent many changes, notably in the fourteenth century under the Ming dynasty. The wall crosses 9 provinces; however, the sections most recommended to visit are all located around two hours from Beijing.
There are no direct bus routes from Beijing to the wall; a guided tour is strongly recommended, since certain sections are pretty strenuous! Visitors should take plenty of water, too. Beijing has its own airport, 32 km northeast of Beijing city.
7. Ephesus (Turkey)
Ephesus is the most complete ancient city in the world, and a once-in-a-lifetime travel experience. Founded in the 10th century BC by Attic and Ionian Greek colonists, it fell into the hands of the Romans in 129 BC. Most famed for its Temple of Artemis (one of the Seven Wonders of the Ancient World) and its library of Celsus, Ephesus covers a surface area of 415 hectares.
It is located 3 km southwest of Selcuk in the Izmir province of Turkey. The closest airport is Izmir (45 minutes northwest of Ephesus).
8. Bagan Myanmar (Burma)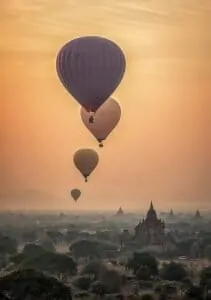 Bagan in the Mandalay region of Myanmar (formerly Burma) housed over 10.000 Buddhist temples at its height between the 11th and 13th centuries; 2200 survive today over an area of 104 square kilometres, which means that they are pretty close together. Add to that the fact that Bagan has spectacular sunsets and sunrises and is a very popular location for hot air ballooning, and you will have some idea of just how mystic and unforgettable this region is.
Tourists should be aware that the temples are places of worship; shoes must be removed to enter them, and clothing should be appropriate (no miniskirts or hotpants!). The Nyaung U airport is closest, just 18 minutes by car from Bagan.
9. Capillas de Mármol (Chile)
The Capillas de Marmol (literally: marble chapels) are a stunning complex of caves and tunnels caused 6.000 years ago by glacial erosion, creating forms and striae reminiscent of marble. The bizarre shapes and unearthly colors of the caves are unique and breathtaking; they are included in many lists of Wonders of the Natural World.
The caves can only be accessed by boat from Lake General Carrera, but there are plenty of organized trips on offer. The closest town is Puerto Rio Tranquilo, which is a beautiful 5 hour drive from the airport at Coyhaique, where all-inclusive tours can also be booked.
10. Angkor Wat (Cambodia)
This huge early 12th century temple complex is, at 162.6 hectares, the largest religious monument in the world. It is also Cambodia's number one tourist attraction, drawing thousands of visitors annually. It is not difficult to see why; it is a spectacular example, not only of Khmer architecture, but of human genius at its best. Nearly all the walls and surfaces are carved or decorated with bas-relief depicting Hindu Buddhist deities or scenes from Indian literature; there are literally miles of them. Sunsets and sunrises over Angkor Wat are particularly awe-inspiring. Angkor Wat was designated an UNESCO World Heritage Site in 1992.
The closest city is Siem Reap (17 minutes due south by car), which has its own airport. Guided tours are recommended.
11. Great Blue Hole (Belize)
Ranked by Discovery Channel in 2012 as one of the ten most amazing places on earth, Belize's "Great Blue Hole" is an underwater sinkhole over 300 m in diameter and 125 m deep. Investigations suggest that it was initially formed above sea level 153.000 years ago, with subsequent shifts and submersion in at least four geological stages. The Great Blue Hole is situated at the center of the Lighthouse Reef atoll and can even be seen from outer space! A paradise for experienced scuba divers and snorkelers, it lies around 80 km off the coast of Belize across open sea; the boat trip can be rough, and is expensive. That said, your trip to the Great Blue Hole will definitely be a once-in-a-lifetime adventure.
Travelers can stay on the largest island of the atoll, Long Caye, which is privately-owned but has two resorts for tourists (Itza Lodge and Huracan Diving Lodge) and is only 8 km from the Great Blue Hole. The nearest airport is Belize city (around 2 hours by boat).
12. Petra (Jordan)
Also known as "The Rose City" because of the pinkish stone of which it is built, this ancient capital of the Arab Nabataeans was possibly founded as early as 312 BC. Covering a surface area of 264 square kilometres of tombs, temples and theatres spectacularly carved into the rock on which they stand, Petra leaves powerful and lasting impressions on the memories of all who visit. It was designated one of the New 7 Wonders of the World in 2007 and has been a UNESCO World Heritage Site since 1985.
The town of Wadi Musa is a good place to stay to explore the marvels of Petra. The closest airport is the Ovda airport in Eilat, Israel (67 km); the King Hussein airport in Jordan is around 90 km from Wadi Musa.
13. Fernando de Noronha (Brazil)
For paradise islands straight off a picture postcard, the 21 islands which comprise the Fernando de Noronha archipelago are unparalleled. White sand, tropical vegetation, warm climate and the clearest turquoise water imaginable (visibility up to 50 m!) all go to make this a dream destination. Only the largest island, also called Fernando de Noronha, is inhabited; tourists require a special permit to visit the other islands, which are environmentally protected. A mere 26 square kilometres in area and with limited resources, the island accepts a maximum of 460 tourists at one time; these are required to pay an environmental protection tax which increases proportionate to the duration of their stay. That said, for a glimpse of Paradise in advance it is worth it!
Fernando de Noronha has its own airport, with regular flights from Recife (540 km) and Natal (350 km).
14. Samarkand (Uzbekistan)
Samarkand is not only one of the oldest inhabited cities in Central Asia, it is one of the most beautiful. Highly ornate glittering mosques and mausoleums in Turko-Mongolian style give the modern-day city a most exotic and oriental appearance; in particular the Registan Ensemble and the Gur-e Amir Maqbarasi have a unique and unforgettable "Wow" factor. For anyone interested in the Silk Road and lacking the time or resources to travel from China to Turkey, Samarkand was an important stop on the Silk Road.
It is reasonably easy to get around in Samarkand; public transport is good and easily affordable. Samarkand has its own airport, 5 km north of the city center. (Tourists should be aware that many tranquilizers, antidepressants and painkillers are illegal in Uzbekistan, so check that out; being arrested should NOT be on your list of things to do before you die!).
15. Glowworm Caves (New Zealand)
At Waitomo on the northern half of New Zealand, a magical and mystical experience awaits the traveller; the Glowworm caves. A series of twisted tunnels, bizarrely sculpted limestone, subterranean waterfalls and whirlpools and magnificent stalactites and stalagmites, the caves would be stupendous even without the luminous presence of thousands upon thousands of the species Arachnocampa luminosa (a glow-worm only found in New Zealand). The glow-worms light up the caverns like a living starry sky, making a boat tour of the caves a breathtaking and unique experience.
Nearest airport is the Hamilton airport (53 minutes by car).
16. Niagara falls (Canada)
Probably the most famous waterfall in the world, Niagara Falls – which bridge the border between the United States and Canada – actually comprise three waterfalls: the Horseshoe Falls, the American Falls and the Bridal Falls (both in the United States). Horseshoe Falls, the largest, falls approximately 57 metres and is around 790 metres wide. This stupendous natural phenomenon was caused around 10.000 years ago by the Wisconsin Glaciation. Throughout history, it has inspired writers, painters, poets and musicians as well as a number of daredevil stunts, some of which ended fatally.
The Falls are accessible from Toronto in around 80 minutes by car, or just under 2 hours by public transport. Day trips are available from nearly every hotel in Toronto, which lies 128 km to the south west. The closest airport in Canada is the Hamilton airport, Ontario (90 km); the Niagara Falls airport in New York is 11 km from the Canadian border.
17. Stonehenge (UK)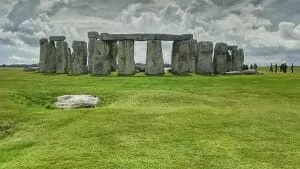 Few places have been the subject of as much speculation as Stonehenge in Wiltshire, UK. Carbon-dating and other methods indicate that its huge, mystical stones were erected as long ago as 3000 BC, but there is evidence to suggest that the wooden structures at its center (now rotted away) were built at least 6000 BC; indeed, the site seems to have served as a burial ground almost from the dawn of human civilization. However, whoever built Stonehenge left no written legacy of their culture; we know neither why nor how the edifice was built, which makes it all the more mysterious.
Today the stones are for the main part cordoned off to protect them from would-be graffiti artists; during the famous winter/summer solstice festivals at the site, however, these protective measures are lifted, allowing visitors to come closer to these strange megaliths which have baffled archaeologists and historians for centuries. Stonehenge lies 141 km west of London (2 hours by car, 2 ½ by train). The closest town is Salisbury.
18. Salar de Uyuni (Bolivia)
At 10,582 square metres, Bolivia's Salar de Uyuni is the largest salt flat in the world. It comprises the remains of several prehistoric lakes composed of sodium, magnesium and lithium (up to 70% of the world's lithium resources come from here), with a surface crust of salt measuring a few metres in depth at some points. Owing to the amazing flatness of the surface, its elevation of 3.656 metres above sea level and the bizarre "islands" caused by volcanic activity in prehistoric times, this is a magical and unique destination everyone should visit once!
For amazing "mirror" effects, the wet season (Dec.-April) is best. The area is very cold, warm clothes are a must! Salar de Uyuni is accessible by air (50 minutes) or coach (10 hours) from La Paz.
19. Kathmandu (Nepal)
The capital city of Nepal in ancient times as today, Kathmandu was ranked third of the top ten upcoming travel destinations in 2013. The city has been a significant economical center for centuries, owing to the proximity of fertile lands (agriculture) and its geographical position between China and Tibet (Silk Road and gateway to the Himalayas). Historically, the city is multi ethnic with a strong Buddhist/Muslim majority; this reflects particularly strongly in its architecture, which is opulent, exotic and flamboyant. Particularly worthy of note are Durbar Square, Patan, Boudhanath Temple, Swayambhunath Temple and Bhaktapur Town; most of these are within walking distance of the city center. Visitors should be aware that there are regular power cuts in Kathmandu, and that air pollution in the city is a big issue. Parts of the city center were additionally devastated during an earthquake in 2015. That said, as a colorful, vibrant and unusual destination, Kathmandu is an unforgettable experience.
Kathmandu has its own airport, just under 4 km from the city center.
20. Santorini (Greece)
This well-loved Greek destination combines in a unique way all the attractions of a paradise island with a lively night-life, comfortable hotels, excellent restaurants and locals well-used to catering for tourists! Santorini has long been a favorite honeymoon destination, and it is not difficult to see why; the island is quite unashamedly romantic, and its sunsets are world famous. The two biggest villages, Oia and Imerovigli, are beautiful places to stay, but the quieter Finikia and Akrotiri are great getaways during the busier tourist months!
Santorini has its own airport, with regular flights from Athens (45 minutes).
21. Venice (Italy)
If there is one European destination which should be on every bucket list, it has to be Venice. This "floating city" is actually a series of small islands connected by bridges and waterways: there are no cars or roads in Venice. Established as a naval and economical city state between the 9th and 12th centuries, Venice flourished as a center of the arts during the Renaissance, and many of the city's most famous sights (Piazza San Marco, Santa Maria dei Miracoli, Scuola Grande di San Rocco) bear witness to this. A trip to the famous glass-making islands of Burano and Murano is a must, as is (of course) a trip down the Grande Canale on a gondola.
Venice has its own airport, the Aeroporto Marco Polo Tessera, which is 40-60 minutes from the city center by waterbus.
22. Island of Skye (Scotland)
For mesmerizing natural beauty, the "fairytale island" of Skye is unbeatable. Known in Gaelic as An t-Eilean Sgitheanach (the winged island), this hauntingly beautiful region is traditionally associated with giants, brownies and fairies, many of them at least spooky if not downright malevolent. Both the rather brooding climate and the craggy hills and many rivulets and waterfalls contribute to the island's magical and mysterious atmosphere. Later legends and folk songs center on the Jacobite Risings of 1746; Bonnie Prince Charlie sheltered on and later escaped from Skye, aided by Flora MacDonald. For lovers of unspoiled natural beauty off the beaten track, the island of Skye is a once-in-a-lifetime travel experience.
Skye is the largest and northernmost island of the Inner Hebrides. It is connected to the rest of the Highlands by the Skye Bridge at the Kyle of Lochash. The closest airport is Inverness (around 161 km, 2 ½ hours by road).
23. Golden Ring (Russia)
The Golden Ring is the name for a ring of cities northeast of Moscow, in the region formerly known as Zalesye. These ancient towns comprise a kind of living museum of Russian cultural, architectural and religious history and feature many of the famous "onion domes" often associated with Russian architecture; indeed, they number the prettiest and most picturesque locations in Russia. For anyone staying in or near Moscow, a trip along the Golden Ring is a unique and unforgettable experience.
Guided tours can be booked in Moscow and range from day trips to five-day tours. Other towns on the Golden Ring include Vladimir, Sergiev Posad and Suzdal.
24. Boracay (Philippines)
The diminutive Boracay island, located in the Visayas archipelago, is just 7 km long and less than 1 km wide at its narrowest spot; nonetheless, Boracay Beach was named second best in the world in 2011 (TripAdvisor), and Boracay was designated best island in the world in 2012 (Travel+Leisure). With its dazzling white sand, clear azure water and tropical foliage, it is a picture postcard of a paradise island. Being small and extremely popular, it can become overcrowded, however; one way to escape the crowds is to book a boat and tour the other islands of the archipelago. Scuba diving, windsurfing and paragliding are further popular activities on Boracay.
Boracay is best accessed by taking a plane from Manila to the island of Panay (50 minutes) and then bus and ferry (4 ¾ hours).
25. Lhasa (Tibet)
Lhasa is the capital city of the Autonomous Region of Tibet and one of the highest cities in the world (3.656 m above sea level). As Tibet's religious center since the 9th century AD, with much of its population Buddhist monks and laymen, it is one of the holiest places on earth, indeed the name "Lhasa" means "place of the Gods". Particularly worthy of a visit are the Potala Palace and Norbuglinka (former winter/summer residence of the Dalai lama), the Lukhang temple and the monasteries of Drepung and Sera. The Nyetang Lhachemo and the Nyetang Dolma Lhakhang temples are two further attractions largely undamaged during the Cultural Revolution. For a more authentic experience of Tibet, walk the "koras" or prayer paths around and between the sacred monuments.
Lhasa has its own airport (Lhasa-Gongghar), which is most easily accessed from Kathmandu in Nepal (around 3 ½ hours).
26. Borobudur, Java (Indonesia)
The largest Buddhist temple in the world, Borobudur in Magelang, Java was built in the 9th century AD and designated an UNESCO World Heritage Site in 1991. The surface area measures a vast 123 x 123 m and is lavishly decorated with 504 Buddha statues and 2.672 relief panels; the whole edifice is 35 metres high, and stands majestically on a hill surrounded by mountains. Evidence suggests that it was abandoned in the 14th century; in 1814 it was rediscovered, buried under numerous layers of volcanic ash. Today it is Indonesia's most popular attraction, and definitely deserves a place on any serious bucket list!
Borobudur is located around 45 minutes by car from Yogyakarta airport.
27. Las Lajas Sanctuary (Colombia)
The Sanctuary of Las Lajas in southern Columbia is a stunning catholic basilica in Gothic Revival style, which connects the two sides of the Guaitara River Canyon by a 130 metre high bridge. The basilica was built during the years of 1916 and 1949, replacing previous shrines built on the same site to commemorate a miraculous sighting of the Virgin Mary in 1745. Legend and mystery surround the site, which attracts thousands of pilgrims annually.
Las Lajas Sanctuary is located 13.5 km east of Ipiales in the Narino department, not far from the border with Ecuador. It has its own airport (San Luis airport), which is 5 minutes by car from the town center.
28. Kaieteur Falls (Guyana)
At a height of 226 metres, Kaieteur Falls is the largest single drop waterfall in the world; it is four times higher than Niagara Falls and twice as high as Victoria Falls. It is situated in the Amazon rainforest on the Potaro river, in unspoiled and non-commercial surroundings which contribute to its stunning natural beauty. The downside of this is that it is not so easy to get there; overland guided treks from Mahdia are available, as are shuttle flights or boat trips, but however you do it a trip to Kaieteur Falls is going to be an adventure. Nonetheless, the magnificent spectacle of the Falls is more than adequate compensation.
Visitors will need to buy a pass to the Kaieteur National Park, which can be obtained from the Ogle airport in Georgetown, a one-hour flight from Kaieteur.
29. Sidi Bou Said (Tunisia)
Just north of Tunis at the top of a steep cliff lies the picturesque artist town of Sidi Bou Said. The entire town is decorated in white and blue, with flowers hanging from every wall and in every doorway; its quaint cobbled streets are flanked by cafes and arts and crafts shops. The view from almost all parts of the town is incredible. Many artists and writers have taken up residence in Sidi Bou Said and been inspired by its beauty, including Paul Klee and Andre Gide. The Roman ruins of Carthage are well worth a visit, and the daily street market (Souk) is a great place to pick up the ceramics for which Tunisia is famous.
Sidi Bou Said is located 17.7 km northeast of Tunis, which is the closest airport.
30. Serengeti National Park Tanzania
Established in 1951, Tanzania`s famous Serengeti park covers a staggering surface area of 14.750 square metres and is home to over 3.000 lions, 5.000 African bush elephants and over 1.000 Tanzanian cheetahs, as well many other species. Particularly famed for its spectacular scenes of migrating wildebeest, the park offers sightings and close encounters with wild animals which cannot be experienced anywhere else in the world. Its breathtaking scenery includes vast grasslands and kopjes as well as forests and rivers; visitors to the park can expect to be quite simply spellbound.
Most safaris to the Serengeti Park start at Arusha, around 46 km from the closest airport (Kilimanjaro airport).
31. Isfahan (Iran)
Evidence suggests that the origins of Isfahan (also Ispahan, Sepahan, Esfahan or Hispahan) go back to the Paleolithic period; twice the capital of Persia, it was once one of the largest cities in the world. Today it is the second largest city in Iran. Famous for its magnificent Persian.Islamic architecture, its mosques and its minarets, Isfahan is as exotic as it gets. A feast for the eyes and a living museum of Persian culture, Isfahan is rightfully Iran`s top tourist destination, leaving unforgettable visual and cultural impressions.
Isfahan has its own airport, 26 km from the city center. It lies 430 km south of Tehran.
32. Ice Hotel Balea (Romania)
For a once-in-a-lifetime experience, a stay in Romania's Ice Hotel Balea takes some beating. Picturesquely situated at an elevation of 2034 metres above sea level on the shores of the Balea Lake, deep in the Fagaras Mountains, the hotel has to be built every year from scratch; generally completed in December, it melts again at the end of March/April! The complex consists of an ice Hotel, ice church and ice bar, based on sculptures by Constantin Brancusi; warm bedding, thermal blankets and furs are provided for the intrepid visitor!
The Ice Hotel Balea is around 80km from Sibiu airport; the nearest railway station is Carta (40 km). Access to the hotel is by cable car only.
33. Paro Taktsang Monastery (Bhutan)
You need to have a good head for heights when visiting Paro Taktsang monastery! Known as the "Tiger's Lair" monastery, it literally clings to a sheer cliff at an elevation of 3.120 metres. Though at first glance it appears inaccessible, a number of paths and mule tracks lead to it from neighbouring Paro (10 km away, two to four hours trek through beautiful shady forests). Visitors need to be physically fit, though the tracks are well-maintained.
Originally built in 1692, the monastery was damaged by fire in 1998 but was subsequently restored in 2005. Paro is the closest airport.
34. San Blas Islands (Panama)
If a remote paradise island far from the madding crowd is your dream destination, then the little-known – and largely uninhabited – San Blas islands off the coast of Panama are for you. An archipelago comprised of 365 islands, only 49 of which are inhabited, the San Blas islands are so small and remote that they aren't even on Google maps! White sand, clear turquoise water, tropical vegetation and no tourists are their hallmark. Home to the Kuna indians, who are fiercely protective of their exquisite heritage, the islands offer little infrastructure and only the most rudimentary accommodation.
Tours are available from Panama city (the nearest airport, 2-3 hours) and it is entirely possible to hire a boat and island-hop from one island to the next. However you choose to do it, a visit to the San Blas islands should definitely be on your bucket list.
35. Kyoto (Japan)
The capital of Imperial Japan for over 1.000 years, Kyoto on the island of Honshu encapsulates the essence of Japanese culture and history is a way few other Japanese cities do. Famed for its pagoda-like temples, shrines and palaces, Kyoto is a fascinating mixture of traditional and modern culture; it is quite possible here to catch a glimpse of a red-lipped and kimono-clad geisha in among the high-tech businessmen, for example. Awesome in the spring with its famous masses of cherry blossom, the fiery red colors of fall are equally resplendent in Kyoto. And a glimpse of the famous and much painted Mount Fuji in the background is a one-off.
The closest airport is Osaka, just 50 minutes by shuttle bus. Alternatively, Kyoto is accessible by bullet train from Tokyo in around 2 hours 20 minutes.
36. Krakau (Poland)
One of the loveliest cities in central Europe, and the second largest in Poland, Krakau is a true fairytale city. From the house facades to the old fashioned wrought-iron street lamps, its cobbled streets and its horse-drawn carriages, it is unashamedly charming and romantic. Visiting Krakau is like stepping back in time; it doesn't take much imagination to visualize women in crinolines and men in top hats and frock coats. Visit the old town, Wawel Castle and Kazimierz (the former Jewish quarter); then make a pilgrimage 70 km due west to Auschwitz-Birkenau, something everyone should do once in a lifetime.
Krakau has its own airport, the Johannes Paul II. Krakau-Balice, which is 15 km from the city center.
37. Sheikh Zayed Mosque, Abu Dhabi (UAE)
The Sheikh Zayed Mosque is one of the most-visited attractions in the UAE and one of the most magnificent examples of contemporary Islamic architecture in the world. Over 80 marble domes are held aloft at a height of 107 m by more than 1.000 pillars; over 100.000 tons of the purest white marble and multitudinous semi-precious stones such as lapis lazuli, agate and mother-of-pearl were used in its construction, which is even more breathtaking on the inside than on the outside, if this is possible. This is one of the few Muslim mosques which allows visitors, though it is closed on Friday mornings for worship and visitors are expected to show respect for Muslim customs (shoes must be removed, women must cover their heads). But it is worth it; the Sheikh Zayed Mosque will make your jaw drop.
Abu Dhabi city is connected to the mainland by three bridges; the mosque lies between them. It is 32.7 km due east of Abu Dhabi airport (around 25 minutes by car).
38. Northern Lights (Finland)
Mystical and elusive, the Northern Lights – also known as Aurora Borealis – are something everyone should see once in a lifetime, and Finnland is one of the best places in the world to do that; in northern Lapland, they can be witnessed between September and March on every other clear night, in southern Finnland on around 15 nights a year. Lapland is also home to the midnight sun in the summer months; it is altogether a fascinating place to visit if you have ever dreamed of a winter wonderland.
Rovaniemi is the capital of Finnish Lapland and has its own airport. It is also the home of Santa Claus!
39. Victoria Falls (Zambia)
1.708 metres wide and 108 metres high, Zambia`s Victoria Falls are the largest sheet of falling water in the world. Two small islands split the waterfall at its summit, Boaruka island and Livingstone island, from which explorer David Livingstone supposedly viewed the waterfall as first European in 1855. On the brink of the falls is also the "Devil`s Pool", a mere couple of metres wide, which in summer is a great tourist attraction; it is quite something to bathe in a natural pool a matter of metres from the largest sheet of falling water in the world, though obviously this is not without its risks.
Victoria Falls has its own international airport, which lies just over 20 km due south of the Falls (20 minutes by car).
40. Luang Prabang (Laos)
A fascinating blend of spiritual, cultural and architectural traditions, Luang Prabang is widely considered to be the most beautiful city in southeastern Asia. Its name means "Royal Buddha Image" and was bestowed on the region in 698 CE; prior to this it was known as Muang Sua. Luang Prabang consists of 58 villages, 33 of which were named a UNESCO World Heritage Site in 1995. The spiritual heart of Laos, it is famed for its magnificent temples and the hundreds of monks collecting alms on its streets. But Luang Prabang also offers a wealth of cultural and natural attractions: waterfalls and caves, markets and festivals and great cuisine. Wanderlust Travel Awards named it "Best City" in 2015.
Luang Prabang has its own airport, which lies around 4 km to the north of the old city center.
41. Lourdes (France)
Prior to the 17 mystical visions of the sickly peasant girl Bernadette Soubirous in 1858, Lourdes was a modest market village nestling in the foothills of the Pyrenees in southwestern France. However, when Bernadette claimed that "the lady" had told her to build a chapel at the Grotte de Massabielle where the visions occurred, and to drink its water, there was a sensation, for a clear spring was now flowing where one day before, only muddy water had been. Word spread rapidly of the healing properties of the grotto and its waters; today Lourdes draws over 5 million visitors of all denominations per season, with thousands of well-documented cases of miraculous healings to its credit.
Lourdes has its own airport 15 km to the north of the town center (18 minutes by car).
42. Iceland Hot Springs (Iceland)
Lying as it does above the "Iceland Plume" hotspot, yet with many glaciers, Iceland's geothermal activity creates numerous hot springs. Many of these are too hot to bathe in, but a number have perfect temperatures, some of which have been equipped with facilities and charge an entrance fee (such as the Blue Lagoon near Reykjavik, a favorite tourist destination in Iceland, or the Myvatn Nature Bath). Others are just hot springs in the midst of nature, little known and frequented and a paradise for the weary hiker (Seljavallalaug on the south coast or Grjótagjá, a grotto whose beauty impressed producers enough to film scenes from "Game of Thrones" in it).
A long soak in a natural hot spring surrounded by breathtaking natural scenery should be on any bucket list, and Iceland is the place to do it! Iceland has eight airports serving different parts of the country, so finding one near your spring of choice should not be an issue. Happy soaking!
43. Aran Islands and Cliffs of Moher (Ireland)
The ruggedly beautiful cliffs of Moher in County Clare are world famous; 8 km long and 214 m high, they tower above the Atlantic as an iconic representation of the "Emerald Isle" in all its beauty. The cliffs are around 280 km west of Dublin (around 3 ½ hours by car); Fannor (23 km), Doolin (10 km) or Ballyvaughan (28 km) to the northeast are great places to stay and explore this tear-jerkingly beautiful region, and Galway is only 75 km away! Some guided tours offer a trip to the Aran islands by boat as well; this is definitely the experience of a lifetime, since you experience not only the loveliness of the islands, but the unforgettable image of the Cliffs of Moher from the sea.
The nearest airport is Shannon (2 hours 40 minutes).
44.Meknes (Morocco)

Founded by the Almoravids (Moroccan Berbers) in the 11th century, Meknes was once the capital of Morocco and is the sixth largest city in the country today. The old city is a fascinating and harmonious blend of Roman, Spanish colonial and Moorish styles which reflect its changing history. Additionally, Meknes combines ancient and modern in a unique way, yet is far more laid back than the capital, Rabat. Lovers of culture and ancient history can marvel at the Volubilis, the Bab El Khemis and Bob-El Mansour Gates, the Anour Mosque and the Dar El Makhzen royal palace, stroll around street bazaars or watch the snake charmers and then go back to an air-conditioned hotel and a perfectly civilized supper!
For anyone wishing to catch a glimpse of the real Morocco, Meknes should definitely be on your travel list! The nearest airport is the Fes-Saiss airport (74 km, just under an hour).
45. Schloss Neuschwanstein (Germany)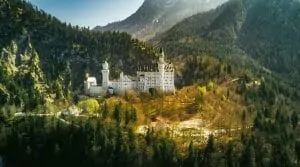 If fairytale castles are your idea of gorgeous, then Schloss Neuschwanstein in southwest Bavaria is definitely for you. Originally built by the shy king Ludwig II of Bavaria as his personal retreat, it was opened to the public soon after his death in 1886 and today is viewed by over 1.3 million people annually. Disney's "Sleeping Beauty" and "Cinderella" castles were inspired by it and it has featured in a number of movies, including "The Great Escape" and "Chitty Chitty Bang Bang". Perched on a rocky outcrop above the village of Hohenschwangau, it appears to be floating in the sky as a fairytale castle should. Breathtaking!
Schloss Neuschwanstein is around 124 km from Munich, which is the nearest airport (1 hour 40 minutes by car, or 2 ½ hours by rail).
46. Tunnel of Love in Klewan (Ukraine)
Kleven`s famous "Tunnel of Love" is a fascinating example of what happens when nature is allowed to flourish side by side with man-made inventions. It was formed when 3 km of railway tracks were laid through the middle of a forest to transport wood to a factory near Klewan three times a day. The trees and bushes were not so easily displaced and formed a leafy tunnel around the tracks, which quickly cast a spell on all who saw it; the "Tunnel of Love" had been born. Legend has it that couples who pass through the tunnel and make a wish will have their wish fulfilled (whether or not that applies to singles too is not mentioned, but it's worth a try!).
Klewan is 25 km northwest of Rivne (30 minutes by car or rail). The closest airport is the Danylo Halytsky airport in Lviv (208 km). Day trips are available from Kiev.
47. Sea of Stars on Vaadhoo Island (Maldives)
The Maldive islands, comprising 26 atolls in the Indian Ocean, are not only the smallest southeastern Asian country and the lowest country above sea level in the world, they also offer some of the most exquisite geographical locations on the planet. The icing on the cake is the phenomenon known as "Sea of Stars", which is caused by bioluminescence; when the plankton in the water feel threatened, they emit a beam of light to distract the predator. Under the right conditions and at night, it can look as if the sea is full of stars.
Between August and November when the moon is on the wane is reportedly the best time to witness this unique and magical sight, though night swimmers on Vaadhoo whose movements "threaten" the plankton enough might find the water around them glowing blue at any time! Visitors are best advised to fly to Malé and then take the ferry to Vaadhoo (around 4 hours).
48. Hang Son Doong (Vietnam)
At 5 kilometres in length and 200 m in height, Hang Son Doong in Phong Nha-Ke Bang National Park near the Laos/Vietnam border is the biggest cave in the world, with stalactites up to 70 m long! Large dolines (sinkholes) in the roof which allow sunlight and rainfall into the cave have facilitated the growth of vegetation and even trees; the cave houses a large subterranean river and most resembles a complete surrealistic underground world. An awe-inspiring, once-in-a-lifetime experience not quite so easy to realize; visitors must apply for a permit and only 800 permits are issued each year. Nothing like being one of the elite!
The closest airport is Dong Hoi (45 minutes from Hang Son Doong) with regular flights to and from Hanoi.
49. Equator Line (Uganda)
In Kayabwe in the Mpigi district of Uganda, around 80 km southwest of Kampala, the scientifically-minded visitor can stand with one foot in the northern and one foot in the southern hemisphere and marvel that he really does weigh 0.5% less than he would at the North pole! Did you know that water drains clockwise in the northern and anticlockwise in the southern hemisphere? Well, at the equator it drains straight down, another fascinating fact you can prove for yourself at Uganda`s equator line.
Visitors should drive or take the bus from Kampala to Kayabwe along the Kampala Masaka road (around 1 ½ hours). In Kayabwe, the equator line is unmistakably marked, since it is one of Uganda`s most popular tourist destinations!
50. Tikal (Guatemala)
Tikal in what is now northern Guatemala was one of the most significant kingdoms of the ancient Maya civilisation (around 2600 BC to 1697 AD). The monumental remains of this ancient city – which include tombs, walls and pyramid-like structures which are at least as awe-inspiring as the better-known ones in Egypt – date from around the 4th century BC and offer stunning insight into the mechanical and visionary skills of this brilliant yet enigmatic civilisation.
Visitors are advised to fly to Flores from Guatemala City (around 1 hour) and go by road from Flores to Tikal (around 1 ¼ hours). Flores is also the best place to stay; Tikal itself is deep in the El Peten rainforest!
51. Charyn Canyon (Kasachstan)
The Charyn Canyon near the Chinese border, 200 km east of Almaty, has often been likened to the Grand Canyon. At 150 km long and around 300 m deep, it is considerably smaller, but its bizarre and striking rock formations and colors – particularly the "Valley of Castles" – show many similarities. Around 20 km from the canyon are the relics of an ancient grove of trees (notable the "sogdian ash") left over from the Ice Age and unique in the world! All in all a region of jaw-dropping natural beauty and a most unusual and unforgettable destination.
The Charyn Canyon can be accessed from Almaty airport in around 2 hours by road. Guided tours are also available from Almaty.
52. Ouidah Voodoo Festival (Benin)
Officially "The Republic of Benin", this little-known country in West Africa is the home of voodoo, which together with a long history of slavery has influenced it more than any other factor. An estimated 60% of Beninese follow voodoo (aka "vodun"), which was officially declared a religion in Benin in 1996. Accordingly, the 10th of January – date of the famous annual voodoo festival in Ouidah, the "spiritual" centre of voodoo – was declared a national holiday. Thousands flock to the tiny state of Benin to take part in ritual dancing, goat-slaughtering and other colorful shenanigans, accompanied by moderate (and less moderate) gin consumption. The fetish market, the sacred forest of Kpasse, the Temple of Pythons and the Door of No Return (through which slaves passed on their way to the New World) are just a few more of the unsettling things to see in Ouidah. Spooky, but different!
Closest airport is the Cotonou Cadjehoun airport, 37 km west of Ouidah (50 minutes by road).
53. The Shahara Bridge (Yemen)
Venice-lovers may be piqued or just simply amazed to discover that their beloved "Bridge of Sighs" has a twin – in Yemen. 140 km north of Sana`a, the Shahara Bridge which connects two almost sheer mountain faces (Jabal al Faish and Jabal al Emir) at a height of 2.600 metres above sea level is also called "The Bridge of Sighs". The sight of this astonishing edifice – which was built in the 17th century using only local supplies and traditional stonemason's tools – is quite simply breathtaking. It is perhaps for this reason that the bridge's architect, Salah al Yaman, lost his mind shortly after it was completed.
Car hire and an experienced guide are essential if you wish to view this incredible masterpiece. The (bumpy) ride from the El Rahaba airport in Sana'a takes around 3 ½ hours. (NOTE: currently the situation in Yemen makes travel to the country inadvisable, particularly for US citizens. If and when the conflict in Yemen is resolved and the Shahara bridge is still intact, it is definitely bucket-list-worthy!).
54. Batu Caves (Malaysia)
The Batu caves in Gombak, Selangor is a series of caves rising to an elevation of almost 100 m and housing countless Hindu shrines, temples and statues. The caves, formed in limestone believed to be around 400 million years old, take their name from the Sungai Batu river which flows nearby and from an adjoining village, also known as "Batu Caves". The caves are a main tourist attraction in Malaysia, drawing 10.000 visitors annually for the Hindu Thaipusam festival (January/February).
The Batu Cavesare only 13 km north of Kuala Lumpur (20 minutes by car) and 76 km from Kuala Lumpur International airport.
55. Tsingy de Bemaraha (Madagaskar)
The Tsingy de Bemaraha Nature Reserve is located in the Antsalova District, central west Madagascar. It was named an UNESCO World Heritage Site in 1990. A combination of geological and climatic factors has produced in Tsingy (literally: region in which you cannot walk barefoot) a phenomenon which is unique in the world: a veritable forest of limestone karst, complete with pine-needles. The northern part of the Tsingy is a strict nature reserve; tourists are not allowed in. The remaining 732 square km of bizarre rock formations, untouched green forests and indigenous fauna and flora – many of them as yet unrecorded – have to be seen to be believed.
Zingy lies 300 km west of the capital Antananarivo, which is the closest airport; depending on road and weather conditions, the trip can take up to five days. Both car rental and an experienced guide are strongly recommended (public transport is virtually nonexistent) and even then, your trip to the Tsingy de Bemaraha is going to be the adventure of a lifetime!
56. Sultan Qaboos Grand Mosque (Muscat, Oman)
Muscat`s prime tourist attraction and the only Mosque in Oman which admits non-muslims, the Sultan Qaboos Grand Mosque was commissioned by His Majesty himself in 1992, commenced in 1995 and completed 6 ½ years later. Slightly austere (though magnificent) in its sandstone exterior, its interior is rich and opulent. It houses both the second largest hand-woven carpet and the second largest crystal chandelier in the world, as well as exquisite stained-glass windows, mosaics and tiled floors.
The Sultan Qaboos Mosque is only 11.7 km east of Muscat airport (8 minutes by car).
57. Frenchman's Cove (Jamaica)
At 10.990 square kilometres, Jamaica (which means "the land of wood and water") is the third largest island of the Greater Antilles in the Caribbean Sea. It is famed for its reggae music, its Blue Mountain Peak Coffee and its gorgeous beaches; Bob Marley and Ian Fleming (writer of the "James Bond" books) both came from Jamaica. Frenchman`s Cove is one of the loveliest beaches in the world, with tropical vegetation, soft white sand and clear blue water. Moreover, in Jamaica it is always summer. Enjoy!
The closest airport is the Ian Fleming airport, 93 km west of Frenchman's Cove (just under 2 hours by car).
58. Zagorje Region (Croatia)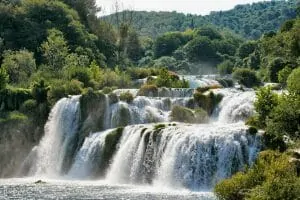 For a taste of unspoilt rolling green hills, enchanting little villages and modest, friendly people – not to mention great cuisine – you can't beat Croatia`s little-known Zagorje region. Known in Croatian as "Hrvatsko Zagorje" to distinguish it from the Zagorje municipality in Slovenia, the Zagorje region was formerly a part of the Austrian empire. It lies to the north of Zagreb in what is known as Krapina-Zagorje county, the main town bearing the unprepossessing name of "Krapina". The region is also well-loved for its castles, museums and thermal baths.
Krapina lies just over 70 km due north of Zagreb (47 minutes by car).
59. Visby (Sweden)
A UNESCO World Heritage Site since 1995, evidence suggests that Visby on the Island of Gotland was occupied as early as the Stone Age. Today it is a favored holiday destination of Swedes and other Scandinavians and of international tourists alike; in the summer, thousands flock here to enjoy the immaculate beaches, unspoilt natural scenery and Visby`s many festivals (particularly the annual Mediaeval Festival, which takes place each August). Expect romantically rose-draped cottages and some of the best ruined churches you've ever seen: Visby is known as the "City of Ruins" or the "City of Roses" alike.
Visby has its own airport, just over 5 km northwest of the town center (8 minutes by car or 4 minutes by shuttle bus).
60. Table Mountain (South Africa)
Table Mountain is the name given to a strange flat-topped mountain, 1.084,6 metres above sea-level, which overlooks the city of Cape Town, a port and coastal city on the northwest peninsular of the Atlantic coast. Visitors can access the summit of Table Mountain by cable-car in five minutes; more energetic and intrepid hikers can use one of the over 900 hiking or climbing routes, which are graded according to difficulty. However you choose to get up, the experience of the summit is a rare and unique one. Many rare species of flora and fauna indigenous to Table Mountain can be viewed, and the summit offers a number of restaurants, from which you can watch the sunset over a glass of your favorite tipple. Stupendous!
Cape Town airport is located just over 25 km east of Table Mountain; guided tours are available.
61. Basílica i Temple Expiatori de la Sagrada Família (Spain)
This astonishing large catholic church can be seen in Barcelona; it is largely the work of spanish architect Antonio Gaudi (1852-1926), and his contribution is a UNESCO World Heritage Site. Construction began in 1882 by architect Francisco Paulo del Villar, who resigned as chief architect in 1883. Gaudi worked on it until his death in 1926, only completing one quarter of the project. Since the construction relied heavily on private donations and was halted by the Spanish civil war, the edifice is still not finished; estimated year of completion is 2026. It is nonetheless probably the most extraordinary church you have ever seen, unique in the world.
The Sagrada Familia, as it is known, is 18 km northeast of Barcelona airport, just 25 minutes by car or 50 minutes by bus.
62.Iguazu Falls (Argentina)
The Iguazu Falls are located on the Iguazu river between Misiones in Argentina and Parana in Brazil. 2.7 km wide, with a drop of 82 metres at the highest point, they are one of the major natural wonders of the world; the Iguazu National Park draws over 1,000.000 visitors annually. That said, Argentina is a poor country, infrastructure and facilities for tourists are somewhat makeshift and visiting the Falls can be – logistically and financially – something of a challenge. Visitors are advised to plan in advance, plan more than one day for their visit and pack rainwear – if the Falls do not wet you, the Rain Forest will! But the jaw-dropping spectacle of this massive sheet of water in exquisite surroundings will be more than adequate compensation!
Closest airport is the Cataratas International airport, Camino (53 minutes by car).
63. Lalibela (Ethiopia)
Lalibela in the Amhara region of northern Ethiopia is named after Saint Gebre Mesqel Lalibela, ruler of Ethiopia from the late 12th to the early 13th centuries. Ethiopia adopted Christianity at the beginning of the 4th century as one of the first countries in the world to do so, and Lalibela is generally understood to be an architectural reproduction of Jerusalem. One of Ethiopia's holiest cities, Lalibela is particularly famed for its rock-hewn churches, each constructed from a single piece of rock hewn from the region`s rocky hills. Pinkish in hue, these 11 amazing edifices have been called "the eighth wonder of the world"; they have been an UNESCO World Heritage Site since 1978. The church of St. George, carved inside a huge volcanic rock, and the Bet Medhane Alem (the largest monolithic church in the world) are particularly worth a visit.
Lalibela has its own airport, 25 km from the city center (at least 30 minutes, the road is very poor).
64. Ohrid (Macedonia)
Ohrid is located around 172 km south of Skopje, not far from the Albanian border. The largest town on Lake Ohrid and the 8th largest in Macedonia, it is best known for having had 365 churches: one for each day of the year. On a more mundane level, visitors can tour Lake Ohrid (357 square km, and at 3-5 million years old, one of Europe's oldest lakes) by boat or view the ancient theatre and the magnificent Tsar Samuil fortress, shop for pearls (Ohrid pearls are world famous) and then tuck into some delicious turli tava.
Ohrid has its own airport (12 minutes from the city center), with regular flights to and from Skopje.
65. Djenne Mosque (Mali)
Designated an UNESCO World Heritage Site in 1988, the present Djenne Mosque in Mali (completed in 1907 under forced labor) replaced a previous mosque dating from around the 13th century. This adobe construction with its characteristic three minarets stands 16 metres high and is the largest mud-built building in the world. French journalist Felix Dubois, who had viewed the ruins of the old mosque before revisiting the site in around 1894, stated that it most resembled "a cross between a hedgehog and a church organ". Despite this somewhat unflattering review, the mosque has become one of Africa`s most famous landmarks, with thousands of visitors annually.
The nearest international airport is the Bobo Dioulasso airport (460 km), with some options for closer local airports (ie. Mopti airport at 114 km).
66. Banana islands (Sierra Leone)
Sierra Leone's Banana Islands comprise 3 islands: Ricketts Island (famed for its forests), Dublin Island (famed for its wonderful beaches) and Mes-Meheux, which is uninhabited. Ricketts Island and Dublin Island are linked to each other by a causeway. The islands are located off the coast of Yawri bay, around 25 km south of Freetown; they are among the best-loved destinations of Sierra Leone, providing an idyllic and peaceful getaway scarcely touched by tourism. Tropical vegetation, secluded beaches and azure water make the Banana Islands a wonderful vacation location; they are fantastic for sailors, snorkelers and scuba divers too.
The nearest airport is at Freetown; various ferries and other boats run regularly to Banana islands, which will be organized by your hotel if you choose to stay on the islands themselves.
67. Geirangerfjord (Norway)
Considered one of the most beautiful fjords in the world, the spectacular Geirangerfjord (together with the Nærøyfjord) was designated an UNESCO World Heritage Site in 2005. It is one of Norway's best-visited attractions, and it is not difficult to see why; 260 metres in depth, surrounded by mountains up to 1.700 metres high and dotted with spectacular waterfalls and deserted farmsteads which speak of a different way of life in a bygone era, the Geirangerfjord is unspeakably serene, unspeakably majestic and unspeakably nostalgic. The best way to explore its attractions – and those of the tiny village of Geiranger, located at the southernmost tip of the fjord – is by boat or kayak; a number of exciting options can be booked in Alesund,
the nearest large city and airport (108 km, 2 hours 20 minutes by road). Day tours of the Geirangerfjord can be booked there and are tailormade to suit your wishes.
68. Paharpur (Bangladesh)
Paharpur`s chief claim to fame is the Somapura Mahavihara, a famous Buddhist monastery and one of the most significant archaeological sites in the country. Findings indicate that it was built during the Pala dynasty by the Pala king Dharmapala (781-821 AD); it was designated an UNESCO World Heritage Site in 1985 in an attempt to rescue the fine terracotta relief art with which the exterior of the monastery is decorated, which had suffered immensely under inadequate maintenance and funding, climatic conditions and the general exploitation of the country.
Paharpur is located in the Naogaon district of northwestern Bangladesh. The closest large city and airport is Dhaka, around 270 km southeast of Paharpur; the trip can take up to seven hours and will be the adventure of a lifetime!
69. Colonia del Sacramento (Uruguay)
Colonia del Sacramento is a city on the banks of the Plata river in southwest Uruguay. It is one of the oldest towns in Uruguay; the old quarter was designated an UNESCO Heritage Site in 1995. A fascinating mix of Portuguese and Spanish colonial styles, Colonia del Sacramento has it all, from old town walls and churches to wineries, museums and restaurants – even a bull-ring (Plaza de Toros Real San Carlos, no longer used since bull-fighting was banned in Uruguay in 1912).
Colonia del Sacramento is just under 200 km from Montevideo airport in Uruguay (2 ½ hours by road). The airport Laguna de los Patos is 17 km to the east and ferries run regularly from Buenos Aires.
70. Kakadu National Park (Australia)
171 km southeast of Darwin, Australia`s famous Kakadu Park covers an area of 19.804 square kilometres (half the size of Switzerland!). Around 500 Aborigines live on the land, and approximately half of the park consists of land owned by them; aboriginal peoples occupied the Kakadu region for up to 40.000 years, and it is famous for its strong aboriginal culture and traditions. It also hosts one of the most productive uranium mines in the world. 74 species of mammal and more than 280 species of bird inhabit the park, which is mind-blowingly wild and beautiful. Visitors can camp or spend nights at one of the park`s many lodges and cabins, in order to explore at their leisure.
The nearest town is Jabiru, which is a three-hour drive from Darwin.
71. Yeojwa Stream (S. Korea)
You have probably already seen pictures of Yeojwa stream without realizing it; its picturesque wooden bridges and masses of cherry blossom crop up on calendars, postcards and lists of the world's most romantic places with astonishing regularity. March/April is the best time for a visit, when the cherry blossom comes into bloom; this is when the famous cherry blossom festival takes place. At night the trees are lit to show off the blossoms to full effect; magical and unbelievably romantic!
Yeojwa stream flows through Jinhae-gu on the southeast coast of South Korea. The closest airport is Gimhae (around 40 km, just over 30 minutes by car).
72. Fish River Canyon (Namibia)
The Fish River Canyon in the south of Namibia is the largest canyon in Africa; at a whopping 160 km long, almost 550 metres deep in places and 27 km wide, it can clearly be seen from outer space! The area surrounding the canyon (Ai Ais National Park) was declared a conservation area in 1969. In the cooler months (May to September) avid hikers can try out their skills on a number of hiking routes. Less energetic individuals may prefer just to gaze on this awesome natural wonder from the safety of the many lookout points.
The closest airports are the Hosea Kutako International Airport in Windhoek (around 8 hours) and Lüderitz (around 5 hours). A number of guesthouses and lodges are available very close to the canyon.
73. Amarbayasgalant Monastery (Mongolia)
The "Monastery of Tranquil Felicity" in northern Mongolia near the Selenga river is one of the three largest Buddhist complexes in the country. It was built between 1727 and 1736 by order of Manchu Yongzhen Emperor as final resting place of Zanabazar, head of Buddhism in Outer Mongolia. Located in a beautiful green valley with stunning views of the surrounding mountains, the monastery is a fascinating blend of Chinese, Mongolian and Tibetan influences. Visitors can view and even stay at the ger camps traditionally used by nomads and gain unique insight into the culture and traditions of this little-known folk.
The monastery lies 238 to the north of Ulaanbaatar airport, nearest town is Erdenet (60 km to the southwest). Guided tours are advised.
74. Amsterdam (Holland)
The fifth largest seaport in Europe, the lively bustling city of Amsterdam was a small fishing village until the 12th century. During the 17th century, trade and industry boomed and it became the richest city in the world. It is still one of the top financial centers of Europe, and its many attractions – the Anne Frank house, the Van Gogh museum and its canals (not to mention its red light district and cannabis coffee-shops) – make it a well-loved destination for tourists from all over the world.
Trains run every 10 minutes from the city`s Schiphol airport (15-20 minutes) to the city center, which is very walkable with a great infrastructure.
75. Gravensteen Castle (Belgium)
This astonishing edifice – the name of which means "castle of the counts" – was built in 1180 by the then Count of Flanders, Philip of Alsace. It was abandoned by the counts of Flanders in the 14th century and subsequently used as a courthouse, a prison and even a factory; stones from its walls were used in the construction of other buildings, and it was scheduled for demolishment when the city of Ghent bought it in 1885. It has since been restored and is now a favorite tourist destination in Belgium. The dungeons and torture chamber are particularly popular!
Antwerpen airport is 64 km (53 minutes) and Brussels airport 66 km (50 minutes) from Ghent. Gravensteen castle is 16 minutes by bus due north of the railway station.
76. Mozambique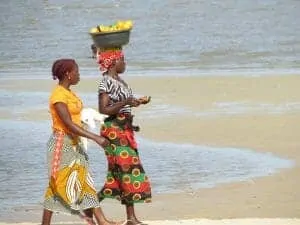 Mozambique is a country on the southeast coast of Africa, facing the Indian ocean. The main population is Bantu; the official language is Portuguese. It is one of the poorest and least developed countries in the world, yet its cultural heritage, great natural beauty and abundant wildlife make it very popular with tourists. Particularly worthy of note are the Bazaruto national park, the National art museum and the Maputo special reserve. Mozambique also has some wonderful churches and great cuisine; many visitors consider it a foretaste of paradise.
Mozambique's international airport is located in Maputo, with a number of domestic airports serving different parts of the country.
77. St Hilarion (Cyprus)
The ruined castle of St. Hilarion in northern Cyprus is the best-preserved of the country`s three castles. It stands on a steep hill at a height of 732 metres just off the highway between Nicosia and Kyrenia, giving a wonderful view over the surrounding countryside. There is no public transport; car rental is advised. St. Hilarion is well-signposted; part of the lands on the road belong to the military, so stopping or taking photographs there is not allowed. These are also well-signposted. The road continues to the base of the castle walls, the remainder of the climb must be accomplished on foot. Robust footwear and plenty of water are a must, but the climb is well worth the effort.
Larnaca airport is around 80 km from Girne (just over 1 hour by car). Girne lies 16.3 km to the northeast of St. Hilarion.
78. The Dome of Light (Taiwan)
With a diameter of 30 metres, encompassing a total of 4.500 glass panels, the "Dome of Light" at the intersection of Kaohsiung`s orange and red metro lines is the largest work of glass art in the world. It is the work of the Italian artist Narcissus Quagliata and took 4 ½ years to complete. The Dome of Light depicts scenes from the birth of the cosmos, the dawn of civilisation and Taiwan`s own history of social and political tumult, but its overall message is one of hope and rebirth. It invests one of the country`s busiest subway stations with an aura both liberating and sacred and is unique in the world.
Kaohsiung has its own airport, just under 10 km southeast of the "Dome of Light" (20 minutes, exit Formosa Boulevard station).
79. Los Roques (Venezuela)
The Los Roques archipelago lies approximately 166 km off the coast of Venezuela in the Caribbean Sea and comprises over 40 islands and over 250 coral reefs covering a surface area of just over 40 square kilometres. A fishing community of around around 500 inhabitants prior to 1950, it gradually became popular as a holiday destination. It was designated a national park in 1972, which has saved it from overdevelopment; though tourism has now replaced fishing as its most important source of revenue, it is still sparsely inhabited and quiet. Beautiful white beaches, sparkling turquoise water, tropical vegetation and modest accommodation make Los Roques an idyllic place to unwind. It is well loved by sailors, scuba divers, snorkelers and wind surfers.
Los Roques has its own airport, with regular flights from Caracas.
80. Tipova Monastery (Moldova)
Moldova is a small eastern European country which borders on Romania and the Ukraine. Around 100 km north of the capital Chisinau is the largest Orthodox cave monastery in eastern Europe: the Tipova monastery. Between the 10th and the 12th century, caves were dug into the rocky hillside on the higher bank of the Nistru river near the Tipova tributary, which gives the complex its name. It is situated in the ruggedly beautiful and wild Tipova nature reserve.
Tipova monastery lies 95 km due north of Chisinau (1 hour 36 minutes by road). Car rental is essential.
81. Verzasca Dam (Switzerland)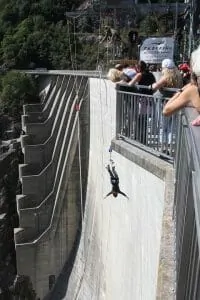 Located in the Italian part of Switzerland, Ticino (aka Tessin) in south central Switzerland, Verzasca Dam was the scene of the 7.5 second bungee jump at the start of the James Bond movie "Golden Eye". The dam is 220 m high and 380 m long and is situated in the beautiful Verzasca valley, upstream of Lake Maggiore. Those wishing to reproduce James Bond`s breathtaking bungee leap – voted the best movie stunt of all time in 2002 – can do so at Verzasca dam; online booking is possible.
The nearest town is Locarno, 10 km southwest of the dam (20 minutes by car). Closest domestic airport is Lugano; Milano Malpensa airport in Italy is 119 km, Zürich 224 km.
82. Timgad (Algeria)
Timgad in the Aures mountains, Algeria was founded around 100 AD by the Roman emperor Trajan as fortifications against the Berbers. It became a Christian center in the 3rd century AD, was sacked by Vandals in the 5th and was abandoned after the 8th, not to be excavated until 1881. Known as "Africa's Pompeii", Timgad today is a most amazing sight; an entire Roman settlement, complete with monolithic triumphal arch, columns and amphitheatre, rivalling any ruins to be found in Rome.
The nearest town is Batna (42 km, 45 minutes by road), which is served by the Mostepha Ben Boulaid airport 26 km to the north.
83. Berat (Albania)
Berat in south-central Albania was founded in the 4th century. Illyrians, Macedonians and Bulgarians took control of the city by turn, each leaving their cultural and historical hallmark; the architecture is largely Osmanic in style, however. Its name is probably slavic from "Belgrad", or "White City". Known today as the "City of a thousand windows", it was declared a museum town in 1961 and an UNESCO World Heritage Site in 2008. On the banks of the river Ossum, relics of the earliest civilisations in the region can be viewed at Dimal, while the churches (and mosques: Christianity and Islam have coexisted in Berat for centuries) are a delight to behold.
Berat lies 122 km south of Tirana airport (just under 2 hours by road). Car rental is advised.
84. Ikogosi Warm Spring Resort (Nigeria)
Ikogosi is a popular tourist resort in the state of Ekiti, southwestern Nigeria. It is famed for two springs, hot and cold and side by side, which converge while each retaining its original temperature, a most unusual geothermic phenomenon. The springs were visited in 1852 by Rev. John McGee, a Baptist missionary, who built the first camp at the site for purposes of baptism. The Ekiti government has built a swimming pool at the site for visitors to enjoy the beneficial effects of the waters, and the Ikogosi Warm Spring Resort was created to house and care for visiting tourists.
The closest airport is Lagos (275 km to the southwest, 3 ½ by car).
85. Andorra
Andorra is a tiny country (468 square km) situated in the Pyrenees between France and Spain. Owing to its high and mountainous location, only one road leads into and out of it; since very little of its land is arable, this kept it isolated and impoverished until the tourist industry discovered it after WWII. Today tourism accounts for around 80% of its economy, with an estimated 9 million tourists per annum. The attraction lies in the great natural beauty of its surroundings, countless quaint and delightful churches, a fascinating cultural and political history and the largest spa complex in Europe.
The closest airports are Prat (Barcelona) or Blagnac (Toulouse), both around 200 km (around 3 hours by car or bus).
86. Eisriesenwelt cave (Austria)
With a length of 42 km, the "Eisriesenwelt" near Werfen in the Salzburg region of Austria is the largest ice cave in the world. It is located inside the Tennengebirge (Hochkogel mountain) and attracts 200.000 visitors per annum. Visiting season is from 01.05 to 26.10; visitors are not permitted to take photographs inside the cave. Moreover, with temperatures inside below freezing even in the summer months, warm clothing is essential. That said, a trip to Austria`s Eisriesenwelt is an unforgettable and unique experience: one glittering cathedral-like cavern follows the next, lit by flickering magnesium lamps; huge ice columns, ice sculptures and a veritable sea of ice follow. You will never forget a visit to the "World of the Ice Giants".
Closest airport is Salzburg (around 50 km due north, just over ½ hour by road or around 1 ½ hours by rail).
87. Tusheti National Park (Georgia)
Designated by Budget Travel as "One of the Twelve Best Places You've Never Heard of" in 2012, the Tusheti National Park in East Georgia was approved by parliament in 2003. It is located in the Tusheti mountains at an elevation ranging between 900 to 4.800 metres above sea level and covers 83.453 hectares and is one of the largest and highest protected areas in Europe. 50 nomadic communities are protected by it, as are many species of endangered flora and fauna (in particular the Anatolian leopard and the wild goat). The warm-heartedness and friendliness of the people of this region are unparalleled and the natural beauty is quite breathtaking.
Tusheti lies 205 km north of Tbilisi (the nearest airport), 4 ¾ hours by road.
88. Costa Rica
"Pura vida" or "pure life" is a phrase frequently used in Costa Rica, supposedly the happiest country in the world. Tucked between Nicaragua and Panama in Central America with the Pacific ocean on one side and the Caribbean on the other, the country boasts unbelievable biodiversity, idyllic beaches and a wealth of historical artefacts going back to 1500. It is also one of the best developed countries in Latin America, ranking 69th in the world in the Human Development Index of 2015. It is also very eco-friendly: roughly 25% of its land enjoys protected National Park status, and it plans to be carbon-neutral by 2021. With its lush green rainforests, towering volcanoes and incredible beaches, Costa Rica has something for every taste.
Costa Rica has four international airports: Liberia, Limon and two in San José (Alajuela and San Josè).
89. Bom Jesus do Monte (Portugal)
Bom Jesus do Monte (literally – Good Jesus of the Mount) is a sanctuary and pilgrimage site in the Tenoes part of northwestern Portugal, near Braga. Archaeological evidence indicates that previous chapels and/or churches formerly stood on the same site, the earliest being 1373. The present Sanctuary was built between 1732 and 1834; it is particularly well-known for its sweeping, 116 metre high Baroque staircase (there is a funicular if you`re feeling lazy), its graceful and immaculately kept gardens and the fine view it offers of the surrounding countryside.
The closest airport is the Francisco de Sá Carneiro Airport in Porto, which is 53 km from Braga city center and 43 minutes by car southwest of Bom Jesus do Monte.
90. Bahia de Las Aguilas and Jaragua National Park (Dom. Republic)
The Jaragua national park is located in the southwest of the Dominican Republic in the Pedernales Province; with a total surface area of 1374 square km (905 square km of this being marine), it is the largest protected area in the Caribbean. It includes mangroves, scrub and dry forests, the islands Beata and Alto Velo, the Lago de Oviedo and the Bahia de las Aguilas (literally – Eagle`s Bay), considered by many to be the most beautiful beach in the world.
The closest airport is the La Romana (432 km, just over 7 hours). The nearest town is Pedernales (64 km, 1 ¼ hours by road). Car rental is strongly advised.
91. Jurmala (Latvia)
Prior to its independence in 1991, Latvia was part of the Soviet Union and Jurmala (25 km west of the capital Riga) was known as Rigas Jurmala. It is actually a string of bathing resorts, rather than a cohesive city; its popularity as a spa and health resort going back to ancient times is well documented. And under Russian rule, its baths and sanatoriums made it popular with party members and Soviet officials, too. Its long beach of fine white sand is well-equipped with playgrounds, volleyball nets and benches, and its resorts are famed for their picturesque 19th century wooden houses.
Jurmala has its own airport, located 27 km west of the town center (22 minutes by car).
92. Fur Island (Denmark)
Fur (or Fuur) island off the northernmost tip of the Salling peninsula is only 22 square km and has a population of 900; nevertheless, it is one of Denmark's most popular islands. It is known for its idyllic beaches, its hilly and rugged landscape and its proliferation of fossils, some of them over 55 million years old. Seals and other marine animals and birds have their home here in surroundings of untouched natural beauty and serenity. Fur is car- and dog-free, a wonderfully peaceful place to escape from the noise and stress of modern-day living.
Fur is connected to the mainland by the Sleipner-Fur ferry, which sails regularly from Branden (3-4 minutes). The nearest international airport is Billund (45 minutes).
93. Okavango Delta (Botswana)
With its source in the mountains of Angola, the Okavango river flows over 1.600 km into northern Botswana before forming the Okavango Delta, a huge area of swampy wetlands and one of the largest inland deltas in the world. The best time to visit this awe-inspiringly beautiful region is during Botswana`s dry season (July and August), when the river floods. Then it is possible to explore the region by mokoro – a traditional delta canoe. Elephants, big cats, hippoes and buffalo have their home here. Accompanied safari trips are very popular, and there are many camps and resorts to house visitors. The closest airport is Maun, considered the gateway to the Delta.
94. Tami Islands (Papua New Guinea)
The Tami islands are a group of small islands in the Huon Gulf which comprise part of the Morobe province of Papua New Guinea. They form a circle around a lagoon whose stunning coral reefs are highly popular with snorkelers and scuba divers. The islanders are well-known for their delicate and intricate wood-carvings and woven sleeping mats. They are friendly and curious, since the islands are rarely visited, making this a rare and unusual destination for any bucket list.
The Tami islands are best accessed by boat from Finschhafen. The closest airport is at Lae; the boat trip can be pre-arranged there.
95. Aggtelek National Park (Hungary)
The Aggtelek National Park, which was founded in 1985, comprises nearly 200 square km of limestone cliffs, forests and caves, including the largest stalactite cave in Europe: the 26 km long Baradla cave. Archaeological evidence suggests that the cave has been a shelter to man for over 7.000 years; it has excellent acoustics, and concerts frequently take place in it. Tours of the caves begin at the Aggtelek Red Lake visitor center and take 45 minutes to one hour. Visitors are advised to dress warmly and wear comfortable shoes, though the paths are well maintained and not strenuous.
The Aggtelek National Park lies in the Gömör-Torna Karst region of northwest Hungary, 7 km from Josvafo. The nearest airport is Kosice (2 hours 47 minutes by car).
96. Jerusalem (Israel)
One of the oldest cities in the world, and considered holy by Judaism, Christianity and Islam, the "City of David" was founded 3000 to 40000 years BC! The old city was designated an UNESCO World Heritage Site in 1981, and is also on the list of "World Heritage Sites in Danger". Jerusalem has so many fascinating and significant sites that it would be impossible to list them all here; particularly worthy of a visit are the Yad Vashem memorial museum, the City of David (old town) and the Church of the Holy Sepulchre. A modern city as well as an ancient one, Jerusalem offers cultural activities, restaurants, hotel accommodation and modern infrastructure.
Nearest airport is the Ben Gurion International airport, 30-40 minutes from Jerusalem by car and over 2 hours by bus.
97. Island of Sal (Cape Verde)
Considered to be one of the top five windsurfing destinations in the world, the island of Sal (named after the salt mines at Pedro de Lume – "sal" is Portuguese for "salt") in the northern Barlavento islands is a perfect paradise for watersports and beach lovers. The archipelago, which is situated off the west coast of Africa, consists of a total of eight islands. Sal enjoys a tropical climate, with 350 days of sun a year, low humidity and temperatures of around 26°-30° C. Santa Maria to the south of the island offers a vibrant nightlife, with bars and restaurants; to the north; a salt lake in the crater of a dormant volcano is an interesting place to swim, and at Terra Boa the visitor can marvel at a real live mirage – an ocean in the middle of a desert. Awesome!
Sal has its own international airport, the Amilcar Cabral airport, 2 km west southwest from its capital Espargos. NOTE: Visitors will need a visa!
98. The Door to Hell (Turkmenistan)
The "Door to Hell" (aka the Darvaza crater) is a gas field in Derweze, west-central Turkmenistan. It was caused in 1971 when the ground under the rig used to extract natural gas fell into a crater; fearing emissions of poisonous gases, soviet officials set fire to the gas in the hope that it would burn itself out. It is still burning today, and is one of Turkmenistan's major tourist attractions.
Derweze is situated 270 north of the capital Ashgabat (just over 3 hours by car).
99. Prague (Czech. Rep)
The capital of the Czech Republic and the fifth largest city in the European Union, Prague is also considered the most romantic city in Europe. Many travellers compare it with Paris in terms of beauty: the best of Romanesque, Gothic and Baroque architecture adorns its streets and its picturesque Vltava river (immortalized in Smetana's symphonic poem of the same name) houses ten islands and is spanned by thirty bridges. Cafés, culture, shopping and great hotels round off a heady mixture; a trip to Prague is a definite must for any bucket list.
The Vaclav Havel International airport is 15 km west of the city center; buses run regularly (around 15 minutes).
100. Cayo Coco (Cuba)
Cayo Coco is an island in the Atlantic, part of a chain of islands known as "Jardines del Rey" (King's Gardens). It is 270 square km in size and gains its name from the white ibis or coco (=coconut) birds. A 27 km causeway links it to the mainland across Perros Bay. Cayo Coco was the setting for Ernest Hemingway`s novels "The Old Man and the Sea" and "Islands in the Stream". Well known and loved for its long white beaches, clear blue water and palm trees, Cayo Coco also boasts a string of excellent all-inclusive holiday and beach resorts. Activities include sailing, swimming with dolphins, exploring the island on horseback and all watersports. Definitely a place to visit before you die!
Cayo Coco has its own airport, the Jardines del Rey, with shuttlebuses to popular destinations on the island. Enjoy!
Jen Miller is a former electrical engineer and product specialist with more than 20 years of product design and testing experience. She has designed more than 200 products for Fortune 500 companies, in fields ranging from home appliances to sports gear and outdoor equipment. She founded Jen Reviews to share her knowledge and critical eye for what makes consumers tick, and adopts a strict no-BS approach to help the reader filter through the maze of products and marketing hype out there.  She writes regularly and has been featured on Forbes, Fast Company, The Muse, The Huffington Post, Tiny Buddha and MindBodyGreen.