New Jersey is an interesting place. There's lots of parks, family fun, beaches, and weirdness. You're sure to find something to entertain everyone in this diverse state.
1. Manasquan Beach (Manasquan)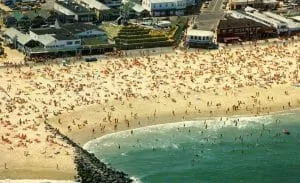 Visit Manasquan beach for a week long beach vacation to spend your days swimming, surfing, sleeping, and sunning. What makes Manasquan Beach special happens after the sun goes down when you can witness bioluminescence, light emitting plankton that make the water glow in the dark.
2. Adventure Aquarium (Camden)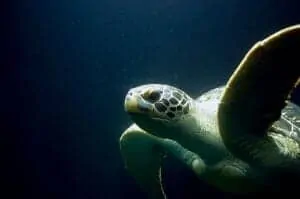 Adventure Aquarium is home to a wide variety of fish, eels, turtles, sharks, even hippopotamus – just to name a few. Stop by for 2-3 hours exploring here, there is so much to see.
3. Liberty State Park (Jersey City)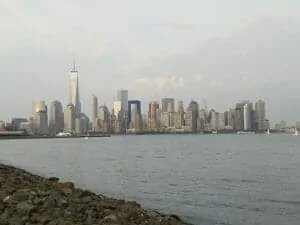 A green recreational space with a view of the Manhattan skyline, the Statue of Liberty, and Ellis Island, you could spend half a day here taking in the sights and enjoying the outdoors.
4. Liberty Science Center (Jersey City)
With traveling exhibits featuring everything from real human bodies to Curious George, this place has something for everyone. Spend at least 2 hours here learning and taking part in their hands on exhibits, but leave yourself more time if you want to take in an IMAX movie.
5. Six Flags Great Adventure (Jackson Township
Six Flags Great Adventure has a lot of rides for the kids, and a lot of roller coasters for thrills. You could easily spend an entire day here and still want to come back for more.
6. Grounds for Sculpture (Hamilton)
Built on 42 acres of exceptional landscaping, Grounds for Sculpture has six galleries, a huge outdoor sculpture garden, and a full schedule of performances. You could easily spend half a day here walking around and absorbing the beautiful art.
7. Steel Pier (Atlantic City)
An amusement park on the boardwalk situated along the Atlantic Ocean, Steel Pier offers a ferris wheel, carousel, kiddie rides and several roller coaster.
In operation since 1955, this fairy tale theme park is perfect for a family day out. You won't find many thrill rides here, but the kids will be blown away.
9. Turtle Back Zoo (West Orange)
With everything from leopards to buffalo, the Turtle Back Zoo exhibits a wide variety of animals. They also have pony rides, a butterfly garden, aviary, and butterfly tent. It will take about about 2-3 hours to see everything this place has to offer.
10. Casino Pier (Seaside Heights)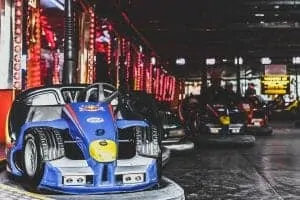 Casino Pier has a wide variety of rides – go karts, a SkyCoaster, bumper cars to name a few. There's also a beachfront waterpark with a variety of attractions for family members of all ages. Spend a full day here and experience it all.
11. Princeton University Art Museum (Princeton)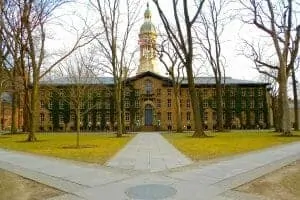 Offering free admission, the Princeton University Art Museum has a large and impressive display of art. With ten different collections, including African, American, and Asian Art as well as photography and drawing, you could spend around 3 hours here looking at all they offer.
12. Newark Museum (Newark)
The Newark Museum is New Jersey's largest and celebrates the city. It offers exhibits specifically celebrating the creations and artistry of Newark itself as well as everything from jewelry to ceramics to an exhibit about the Harlem Renaissance. You'll need 2-3 hours here to truly experience the museum.
13. Morey's Piers (Wildwood)
There are a lot of piers in New Jersey, and each one has it's own special feel. Morey's Piers in Wildwood is no exception. Comprised of a water park and three distinct sections – Mariner's Pier, Surfside Pier, and Adventure Pier – there is truly enough to do here that you should spend a day or two trying to experience it all.
14. Cape May Zoo (Cape May Court House)
Home to 250 different animal species, the Cape May Zoo is a special place. It's surrounded by a park with paths for walking and biking, playgrounds, and picnic areas. Admission to the zoo is free. You could spend half a day here if you spent some time playing or picnicking in the park after your zoo visit.
15. Absecon Lighthouse (Atlantic City)
New Jersey's tallest lighthouse, you can climb up the more than 200 steps to the top and get a spectacular view of Atlantic City. It also offer a gift shop, museum, and recreation of the Lightkeeper's dwelling. Stop here when in Atlantic City for an hour or so and see things from a different angle.
16. USS New Jersey (Camden)
Commissioned for service in WWII, Korea, and Vietnam, the USS New Jersey is an important part of our country's military history. Open to the public for tours since October of 2001, one of the most unique experiences they offer is an overnight in the ship. Kids keep their gear in a locker, sleep in the bunks, and have dinner and breakfast in the chow line. If you don't get to spend the night, spend an hour or two here to immerse yourself in the USS New Jersey's rich history.
17. Delaware Water Gap National Recreational Area (Various)
Located along both sides of the Delaware River and spanning from New Jersey to Pennsylvania, the Delaware Water Gap National Recreational Area has 3 beaches, 100 miles of hiking trails, and 30 miles of bike trails. It has waterfalls, wetlands, streams, lakes, and ponds. If you're a nature lover, spend the day here enjoying the outdoors.
18. Monmouth Battlefield State Park (Freehold Township)
http://www.nj.gov/dep/images/20140902/monmouth-instagram.jpg
Home to one of the largest battles of the Revolutionary War, this historical land is now home to miles of hiking and horseback riding trails. There's also a visitor's center and restored farmhouse. You could spend half a day here hiking and absorbing the landscapes of this historical place.
19. Thomas Edison National Historical Park (West Orange)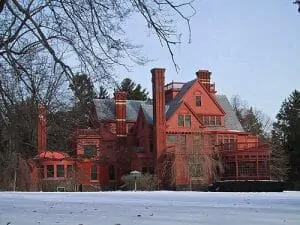 The Thomas Edison National Historical Park includes a visit to Edison's mansion and it's grounds as well as a stop at his laboratory. You can see his desk, raw materials, and chemicals used in his experiments as well as early versions of his greatest inventions. Allow yourself 2-3 hours for a visit here.
20. Clinton Station Diner (Clinton)
Famously offering a 50 lb burger, Clinton Station Diner is a unique dining experience. With model trains hanging from the ceiling and working fireplace, there's also a separate dining room in an old train car. Open 24/7, the offer counter service, a bakery, and a bar in addition to their full menu.Have breakfast, lunch, or dinner here and experience a diner that's been kicked up a notch.
21. Montclair Art Museum (Montclair)
The Montclair Art Museum has an extensive collection of Native American art, crafts, and artifacts. They also have an exclusive collection of work by George Inness as well as travelling exhibits that rotate through. Spend around 2 hours here if you want to see it all.
22. Dickie Dee's (Newark)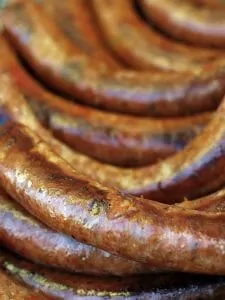 For nearly 60 years, Dickie Dee's has been serving their world famous Italian hot dogs – a deep fried dog on an italian roll with fried peppers, onions, and potatoes on top. Stop in for a meal you will never forget.
23. Atlantic City Boardwalk (Atlantic City)
The Atlantic City Boardwalk was built in 1870 and has become an icon of summertime, the beach, and of course, New Jersey. Relax on the beaches, shop for upscale item or just some salt water taffy. There's carnival rides, games, food, and a long list of outdoor activities to enjoy.
You can make a weekend getaway of your visit and you don't even have to step foot in a casino.
24. Boardwalk Hall (Atlantic City)
While on an Atlantic City weekend getaway, stop by Boardwalk Hall. Enjoy this historic theater and take in a variety of shows and performances – everything from indoor car racing and kids events to country stars and rappers. Check the schedule and but tickets for your favorite show.
25. Craftsman Farms (Morris Plains)
Founded in 1908, Craftsman Farms is recognized as a National Historic Landmark. It's the former home of Gustav Stuckey, proponent of the arts and crafts movement. Allow yourself two hours or so here to learn about the Stuckey family.
26. Frelinghuysen Arboretum (Morris Township)
Gardens and trails surround the Frelinghuysen Mansion. In addition to hiking and exploring the landscape, they offer special programs here – such as a monthly photo scavenger hunt, children's programs, and seasonal events, like Gingerbread Wonderland. Visit and spend around 2 hours here enjoying the gardens.
27. Sterling Hill Mining Museum (Ogdensburg)
Here, you can go on a tour of Sterling Hill Mine, then learn about the history by visiting the Zobel Exhibit all were thousands of mining artifacts are on display. Discover rocks and fossils, learn about phosphorescence, then check out the gift shop and snack bar. It will take about two hours to see the whole museum.
28. Cape May (Cape May)
Cape May offers a long list of activities – beaches, boating, golfing, museums, whale watching. You won't be bored if you spend a week in this beautiful seaside town.
29. Bowcraft Amusement Park (Scotch Plains)
A family friendly amusement park with rides for everyone, Bowcraft also has a midway and an arcade. They also have a lot of seasonal events, like an Easter egg hunt, haunted attractions, and a pumpkin patch. Take the kids and spend a whole summer day here.
30. Waterloo Village (Byram)
Visit Waterloo Village and you'll step back in time to a 400 year old Lenape Indian village and a 19th century sea port. You'll see a working mill, a general store, a blacksmith shop, and a general store. Bring a picnic lunch and spend 2-3 hours here soaking up the history.
31. Navesink Twin Lights (Highlands)
Opened in 1862, this unique structure was a modern marvel at this time. Now, it's listed on the National Register of Historic Places and gives visitors a stunning view from the top of the North Tower. Stop here for an hour or so to see this one of a kind lighthouse.
32. Great Falls (Paterson)
This park is built around the Great Falls of of the Passaic River. These falls were designated a National Natural Historic Landmark in 1967. They have guided tours as well as a cell phone app available for self directed tours. Allow about 90 minutes to 2 hours here.
33. Space Farms Zoo and Museum (Wantage Township)
In addition to having more than 100 different species of animals on exhibit, there's also 9 museum buildings with exhibits of antique cars, antique dolls, farm equipment, and more. If you want to see it all, allow yourself 3-4 hours to look around.
34. Garden State Discovery Museum (Cherry Hill)
Aimed at kids 10 years and under, the Garden State Discovery Museum is a hands on adventure. There's a barnyard for toddlers to explore, plus hands on fossil hunting, hockey playing, and rock wall climbing for older kids. There's enough to do here to take up around 3 hours of your time.
35. Naval Air Station Wildwood Aviation Museum (Cape May Airport)
Located in an old hangar at the Cape May Airport, this museum has everything for an aviation lover. There's a variety of planes and helicopters on display and you can climb right into the cockpit of most of them. If aviation if your thing, allow yourself up to 2 hours here.
36. Princeton (Princeton)
In addition to visiting the state's Ivy League school, Princeton University, the town of Princeton is worth checking out. You can shop, see a show at the McCarter Theater, visit a winery, take a ghost tour, or relax at Carnegie Lake. Take a morning or afternoon getting to know this town.
37. Emlen Physick Estate (Cape May)
The Emlen Physick Estate is the only Victorian house in Cape May. The have a collection of odd Victorian artifacts on display, such as a celery stand. A special trolley tour of historic Cape May ending with a tour of the Emlen Physick Estate is offered and would take about 3 hours to complete.
38. Revival Vintage Boutique (Hoboken)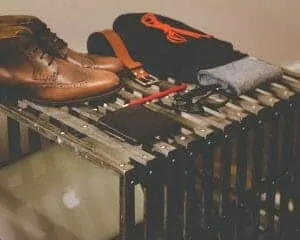 Boasting a collection that spans over 300 years, Revival Vintage Boutique grew from a tent in a flea market to a large former factory space. With an in house seamstress, they will make sure your vintage pieces fit you like a glove. They sell their items in their Etsy shop, which you can access via their website.
39. Kingda Ka (Jackson Township)
Located in Six Flags, Kingda Ka is the tallest and fastest roller coaster in the world. If you're a thrill seeker or a coaster enthusiast, make sure you ride Kingda Ka during a day out at Six Flags.
40. Van Saun County Park (Paramus)
Van Saun County Park is an awesome place to take the kids. In addition to a zoo, there's playgrounds, train rides, and a carousel. Bring a picnic lunch and spend most of the day here with the whole family.
41. Landmark Loew's Jersey Theater (Jersey City)
Originally opened in 1929, the Landmark Loew's Jersey Theater has been restored recently and has started showing movies again. It also has musical arts, guest speakers, and more and is one of the most beautiful spaces to see a show.
42. Cape May Point State Park (Cape May Point)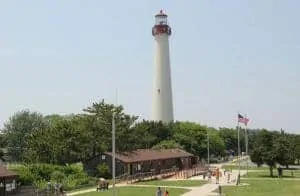 In addition to the historical Cape May Lighthouse, there's also an authentic bunker from WWII. The bunker used to sit 900 feet inland but it's gun turrets are now only visible at low tide. There's miles of trails here and a lot in interesting wetlands and birdlife. Bring a picnic and have lunch in the big pavilion. If you want to climb the lighthouse and explore the trails, allow yourself about 2 hours here.
43. Wildwoods (Wildwood)
Wildwood is home to Morey's Piers, but has a lot of other things to offer, too. There's breweries, bike paths, fishing charters, distilleries, mini golf, and much more. Combine all this with the Piers and make a week of it.
44. Oyster Fest (Asbury Park)
Oyster Fest is a 3 day event held once a year that you can't miss if you are an oyster lover. Over 25 food vendors participate. There's also crafts, games, beer, and wine. Check the dates and spend an oyster filled day in Asbury Park.
45. Watchung Reservation (Mountainside)
With lakes, ponds, stables, and various trails, Watchung Reservation is a nature lover's dream. The park also encompasses the Deserted Village, where you can tour two restored buildings. Hikes are as long as 10 miles, so you could spend anywhere from a few hours to a whole day here exploring.
46. Pier 13 (Hoboken)
Pier 13 is a large beer garden that extends out into the Hudson River. They offer water activities and special events like movies, yoga classes, and outdoor concerts. Stop by one of the numerous food trucks and settle in for an afternoon of fun on the pier.
47. Stone Pony (Asbury Park)
Known for hosting Bon Jovi and Bruce Springsteen when they were first starting out, the Stone Pony is a venue that true fans should definitely check out. Check out a show here and catch some rising talent.
48. Proprietary House (Perth Amboy)
This building was completed in 1764 and has served many purposes since then – a hotel, private mansion, retirement home, and now a museum. Tour times are limited and the do an afternoon tea every Wedesday at 1 pm.
49. Shark River Park (Wall Township)
A beautiful park to enjoy year round. In the summer, there's hiking trails and fishing ponds stocked with largemouth bass, crappie, and occasionally trout. In the winter, there's ice skating and cross country skiing. You can spend all day fishing or hiking here when it's warm.
50. Branch Brook Park (Newark)
At 360 acres, this is the country's first county park. It's on the National Register for Historical Places and is home to New Jersey's Cherry Blossom Festival. They also have summer concerts, an urban farm, a greenhouse, horseshoes, a variety of sports fields, and a playground. This is a beautiful place to spend a warm day.
51. Paranormal Books and Curiosities (Asbury Park)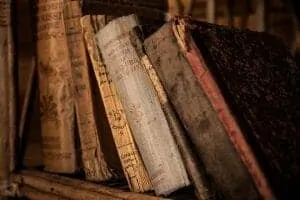 Not only does this shop have a wide selection of books on the paranormal, it also has a small paranormal museum space exhibiting local curiosities and haunted objects. They also have seances, paranormal investigations, and ghost hunting classes. Stop in for a quick look around and ask about any of the classes or local haunted tours that interest you.
52. White House Sub Shop (Atlantic City)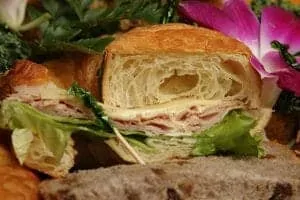 Serving New Jersey subs since 1946, White House Sub Shop is an Atlantic City legend. They have a variety of sandwiches all available on their homemade bread. Stop in and see what makes these subs so special.
53. Schooley's Mountain General Store (Schooley's Mountain)
Schooley's Mountain General Store has been around since 1830. They now serve a variety of sandwiches and salads and provide catering services. When your exploring Schooley's Mountain, make sure you stop here for one of their famous mountain subs.
54. Diggerland USA (West Berlin)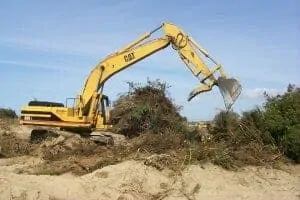 A theme park based on construction equipment, this place will be a big hit with the kids. There's a ropes course and a rock wall to climb and some kiddie rides, but the main attractions are the real construction equipment that kids get to operate. You'll probably want to set aside a whole day to spend here.
55. New Jersey Taco Fest (Sussex County)
They've only got 2 of them under their belt, but the New Jersey Taco Fest is a promising food festival held yearly at the Sussex County Fairgrounds. There's a taco eating championship, a salsa contest, live entertainment, and even a chihuahua beauty contest. If you're in the area for the next Taco Fest, stop by, grab a bite and a margarita.
56. Silver Ball Museum (Asbury Park)
Boasting a rotating collection of 600 games dating all the way back to 1932, Silver Ball Museum is a pinball lover's paradise. They have many options for admission – all of which buy you a slot of time in the museum where you can play unlimited pinball. Play all morning, all afternoon, or get an all day pass and play as much as you want.
57. Uncle Dood's Donut's (Toms River)
Rotating menus monthly, Uncle Dood's delivers fresh made hand dipped donuts throughout the day. They are delicious, popular, and do sell out. To make sure you get what you're craving, place your order the day before or show up really early – they close at 1 pm.
58. White Manna (Hackensack)
This diner opened in it's original Hackensack location way back in 1939. They serve breakfast, lunch, dinner, and coffee and are known for their sliders. With consistently stellar reviews, it's a
must stop place for a meal when in Jersey.
59. Howell Living HIstory Farm (Lambertville)
A visit to Howell Living History Farm is like a trip back in time to 1900. They have everything from a hen house to a blacksmith to a garden to explore. Visit the horse, oxen, cats and dogs on the farm and spend a day learning about how things used to be done on the farm.
60. Overpeck County Park (Leonia)
Overpeck County Park is built on 805 acres of land donated from five municipalities that at one time served as a landfill. The landfill was capped and the land was repurposed and now it's a huge park with an impressive list of amenities including a sports complex, equestrian center, numerous fishing and hiking opportunities, a playground, and an outdoor amphitheatre. If you like the outdoors, you could easily spend a whole day here.
61. Heritage Glass Museum (Glassboro)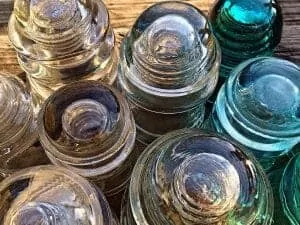 Over 200 years of South Jersey glass are featured in this museum, including a new exhibit of milk glass. You can also see old glass worker's tools and themed displays, like their collection of glass animals. Admission is free but hours are limited.
62. The Raptor Trust (Millington)
Open to the public 7 days a week, the Raptor Trust is a bird rehabilitation center with a state of the art bird hospital and educational facilities. When you visit, you'll get to see the owls, eagles, falcons, and hawks that are permanent residents of the facility. Getting to know the residents of the Raptor Trust will take about 90 minutes to 2 hours.
63. Teardrop Memorial (Bayonne)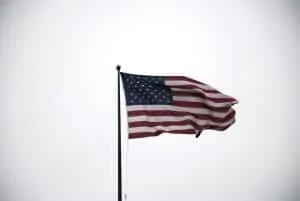 The official name of this monument is "To the Struggle Against World Terrorism." A gift from a Russia designed by Russian artist Zurab Tsereteli after the tragic events of 9/11, this monument sits on the Peninsula at Bayonne Harbor, overlooking the Manhattan skyline. Spend an hour or so paying your respects at this beautiful memorial.
64. Montclair Book Center (Montclair)
The Montclair Book Center has been in business since 1984. It boasts 10,000 square feet of new and used books, vinyl, greeting cards, tee shirts, and other memorabilia. With two buildings and three levels full of books, if you're a reader, give yourself several hours here because you never know what you'll find nestled in their expansive book selection.
65. Schiff Nature Preserve (Mendham Township)
Offering 14 miles of trails and open every day, you'll feel like you're out in the middle of nowhere as you explore and search for the different animals here. Birds, insects, rodents, and various mammals including raccoons and squirrels call this place home. You can print off a species list and check off what you see along your hike,which could last several hours if you delve deep into the park.
66. Luna Park (Montague Township)
Only open to the public for rare open tours, Luna Parc is artist Ricky Boscarino's home and biggest art project to date. Full of various mediums inside and out, every inch of Luna Parc is beautiful, colorful, and amazing to look at. You can take an online tour and wait for a rare tour date to be posted.
67. Martinka Magic (Midland Park)
America's oldest magic company was established in 1877. At the current shop, they not only offer a range of magic tricks and illusions all the way up professional level, but also have a museum like display of old magic memorabilia. You'll need at least an hour here to poke around.
68. Lucy the Elephant (Margate)
Built in 1881 and standing 6 stories tall, Lucy the Elephant truly is the World's Greatest Elephant. A National Historical Landmark, tour of Lucy are given every half hour.
69. Seven President's State Park (Long Branch)
Named after the seven presidents who regularly spent time in nearby resorts, Seven President's State Park includes beaches, a playground, and a skate park. It's also a protected ecological habitat as some endangered bird species breed among the park's dunes. If you're looking for a place to spend a morning outdoors, consider this oceanfront park.
70. Allaire State Park (Wall Township)
Home to both historic Allaire Village and the Pine Creek Railroad, this isn't your ordinary park. You can camp here and enjoy the trails, fishing, and hunting. Stay overnight and get a full weekend out of the great outdoors.
71. Cheesequake State Park (Old Bridge)
This park lies in a transitional area where the environment shifts from from salt marshes to forest, making it a unique place to go for a hike along one of its five trails. There's also a nature center and you can go camping or fishing here. An overnight get away for anyone who loves to camp.
72. Zeppelin Hall Biergarten (Jersey City)
An authentic European biergarten right in Jersey City, this restaurant and beer garden has a full menu and a rotating selection of imported and domestic beer. Sit outside under the sun or stars at one of the giant community style tables. Eat, drink, and make new friends on an evening with old and soon to be friends.
73. Hamilton Station Statues (Hamilton)
If you're traveling by train to Hamilton to visit Grounds for Sculpture (number 6 on this list), you can't miss these statues – they're leading you to Grounds for Sculpture. All along the route there, you'll see these enormous roadside sculptures, including giant couples gawking at one another, a mariachi band, and a giant tooth. Take your time on your commute and spare an hour or so taking pictures of these awesome sculptures.
74. Ripley's Believe or or Not Museum (Atlantic City)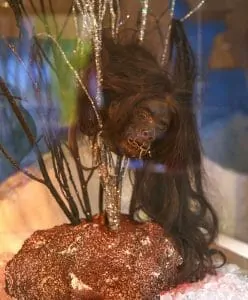 Four hundred exhibits in fourteen galleries await you at the Ripley's Museum. See shrunken heads, the world's smallest car, a table made of jellybeans, and more. It will take about 2 hours to see everything here.
75. Red, White, and Que Smokehouse (Kearny)
Started by two Marine Corps Veterans, Red, White and Que serves up Southern BBQ in the heart of New Jersey. In addition to being named the Best BBQ in Jersey, they have a "Buy a Veteran a Meal" pay it forward program where guests can purchase gift cards that will go toward meals at local VFWs. Stop by for this amazing food. Have a meal yourself, then buy one for a deserving vet.
76. Hoboken Waterfront Walkway (Hoboken)
Right along the Hudson River, this path is a perfect place to take a long walk or bike ride and look across the water at the New York City skyline. You'll encounter a dog park, playgrounds, and some great restaurants. Come here for a lunch time getaway or a romantic evening stroll and a meal.
77. Just Kidding Around (Montclair)
Voted "Best Toy Store in New Jersey," this is a giant independent toy store that has a huge selection of eclectic toys. From Lego to puppets, baby toys to brain teasers, you can spend an hour or two letting the kid in you come out to play.
78. Mount Tammany (Columbia)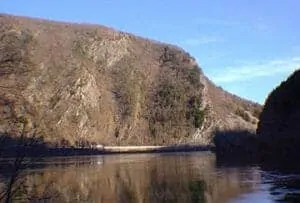 This mountain forms the eastern side of the Delaware Water Gap and is an excellent place for some challenging hiking and amazing views. You'll need a full day here to complete the hike and is only recommended if you're an experienced hiker; if not, you can enjoy fishing and take in the sights.
79. Rutgers Geology Museum (New Brunswick)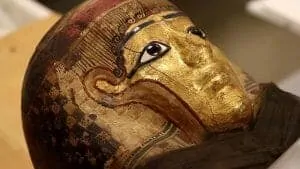 This museum has a wide range of artifacts, including a 2,400 year old mummy, fluorescent minerals, and a mastodon. Admission is free, and you'll need2-3 hours to explore.
80. Funny Farm Animal Rescue (Mays Landing)
Funny Farm Animal Rescue does a tremendous thing – they offer a home to unwanted farm animals, pets, and disabled animals who have nowhere to go. They house a variety of animals, from dogs and cats to emus and turkeys. They offer visiting hours Tuesdays and Sundays. Come during feeding times at 8 am and 3:30 pm and then spend an hour or two here hanging out with the animals.
81. Jersey Shore Pirates (Point Pleasant)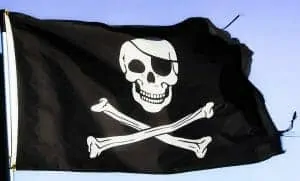 A genuine pirate adventure right in New Jersey. Open seasonally, you can ride on a genuine pirate ship and shoot water cannons, fight enemy pirates, and most importantly, look for treasure. Building on the little known fact that pirates did in fact one sail in this area, they offer general adventures and special occasion cruises. Allow yourself around 3 hours for the cruise, a trip to the gift shop, and a picnic lunch in the neighboring park.
82. Leonard J Buck Garden (Far Hills)
http://www.nj.gov/dep/greenacres/ga50/raw_contest/2-Summer%20Serenity-Robert%20Pilkington-090711.jpg
A 33 acre rock garden with seasonal blooms, streams, and a trail that winds through the valley for a beautiful place to take a walk. Allow yourself 2 hours to take a leisurely stroll around the gardens.
83. Chocodiem (Clinton)
This was once the original location of this unique chocolatier, but they've since relocated and the Clinton shop is only opened for the holidays starting at the end of October. The make chocolate, brownies, gelato, and truffles, just to name a few. Hit up this awesome shop during the holiday season and get your gift shopping done or just treat yourself.
84. iPlay America (Freehold)
iPlay America is a perfect place for indoor family fun. Here, you can ride go-karts, play laser tag, go bowling, or ride bumper cars. They also have an arcade, 4D theater, and an arcade. You could spend an entire day here if you wanted to or just stop in for some dinner and an evening of fun.
85. Cowtown Flea Market (Pilesgrove)
Located next door to the Cowtown Rodeo, the Cowtown Flea Market has just about everything – fruit, veggies, cloths, Amish baked goods, flowers, etc, etc. Open every Tuesday and Saturday from 8 am to 4 pm, you'll need a solid 2 hours to see all the things you can buy here.
86. Field Station: Dinosaurs (Leonia)
Take a walk around prehistoric times and encounter 30 animatronic, giant dinosaurs. Field Station: Dinosaurs is open seasonally and has limited hours, so plan your visit ahead of time. You'll need about 3 hours to see the whole park, including the paleontologist's lab and 3D movie.
87. Northlandz Museum (Flemington)
Northlandz boasts the world's largest model railroad and it is worth a visit. With over 8 miles of track, thousands of buildings, and hundreds of thousands of trees, this model is impressive. There's also a doll collection and a huge dollhouse. Most families spend at least 2 hours looking at the the railroad.
88. Cowtown Rodeo (Pilesgrove)
From the end of May to the end of September, every Saturday night, the Cowtown Rodeo starts at 7:30 pm. As the oldest weekly rodeo in the country, Cowtown puts on a full show – bull riding, steer wrestling, barrel rolling, and more. It'll be busy, but stay for the whole show – 3 hours should be enough time to see it all.
89. Jersey Shore Alpacas (Cape May)
From March to December, you can come visit the farm for free every Saturday and feed the alpacas along the fence. Want a more personal experience? You can set up a private group tour with a personal tour guide and an up close and personal tour of the alpaca's paddock. It will take you about an hour here to meet all the girls.
90. Highlands Natural Pool (Ringwood)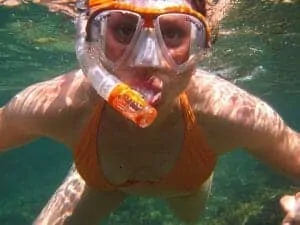 In 1935, this Olympic sized, freshwater pool was carved out of a hillside. Fed by fresh water from a stream in the Wyanokie Highlands, no chemicals are used in the pool. The pool is only open during the warm spring and summer months, but there's no better way to spend a hot day than here.
91. Jenkinson's Aquarium (Point Pleasant Beach)
Located right on the boardwalk of Point Pleasant Beach, this aquarium has penguins, sharks, and seals – most of which can be ceremoniously adopted. Leave yourself at least an hour to visit all the animals that call this aquarium home.
92. Ocean City Boardwalk (Ocean City)
Ocean City's boardwalk has nearly endless shops. You can get pretty much anything. Funnel cakes, popcorn, ice cream, tee shirts, jewelry – and that's barely scratching the surface. There's also two amusement parks and a water park. Ocean City is the perfect place for a week long family vacation.
93. Wild West City (Stanhope)
A replica of a city in Kansas in 1880, you will be immersed in the past when you visit Wild West City. There's an old main street with 22 live action performances; stagecoach, train, and pony rides. If that's not enough, you can play mini golf, visit the zoo, or pan for gold. You could easily spend a whole day in this unique park.
94. Lead East (Parsippany)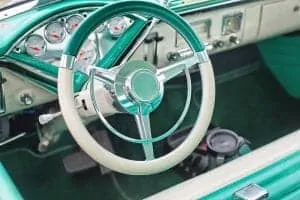 Lead East is a unique five day festival celebrating the 1950's that's been going strong since 1983. In addition to a classic car show, there are musical acts, outdoor movies, dance parties, karaoke, and more. This one of a kind event happens once a year, check the schedule and see what events fit into your schedule.
95. Great Swamp Wildlife Refuge (New Vernon)
The Great Swamp Wildlife Refuge is home to a variety of animals, including a reported 244 bird species. With 11.5 miles of foot trails, you could spend hours walking around the swampland, looking for wildlife and photographing the beautiful scenery.
96. Palisades Interstate Park (Alpine)
Visitors to Palisades Interstate Park can enjoy more than 30 miles of trails good for hiking or cross country skiing. There's also plenty of overlooks, boating sites, and opportunities to interact with nature. If you're an outdoor lover, you can spend half a day here hiking and exploring part of the 12 mile span of this park.
97. Blackbeard's Cave (Bayville)
With go karts, mini golf, a climbing wall, archery, bumper boats, and tank tag, it is impossible to be bored at Blackbeard's Cave. Outdoor attractions are seasonal, but the arcade is open year round. Rain or shine, there's plenty to fill 2-3 hours here.
98. Shriver's Salt Water Taffy (Ocean City)
Shriver's is the original Ocean City taffy store, the oldest shop on the boardwalk. It opened in 1898. In addition to classic salt water taffy, Shriver's also has a variety of fudge to offer. When in the area, stop in and take as long as you need to pick the right flavors.
99. Lakota Wolf Preserve (Columbia)
Home to four wolf packs, bobcats, and foxes, this is a unique opportunity to interact with nature. Offer two informational tours daily, you'll learn all there is to know about wolves and have the opportunity to watch them in a natural environment. Arrive a half hour before one of the scheduled tour times.
100. Asbury Park (Asbury Park)
Asbury Park is a neighborhood that has been reinvented. What was once a dilapidated neighborhood ruined by a race riot is now beginning to thrive again. With a burgeoning bar and restaurant scene, local artists and hipster culture is bringing this neighborhood back. Spend
an evening sampling the deliciousness Asbury Park has to offer.
Jen Miller is a former electrical engineer and product specialist with more than 20 years of product design and testing experience. She has designed more than 200 products for Fortune 500 companies, in fields ranging from home appliances to sports gear and outdoor equipment. She founded Jen Reviews to share her knowledge and critical eye for what makes consumers tick, and adopts a strict no-BS approach to help the reader filter through the maze of products and marketing hype out there.  She writes regularly and has been featured on Forbes, Fast Company, The Muse, The Huffington Post, Tiny Buddha and MindBodyGreen.