Missouri is a great state to get outdoors, but it also has a lot of interesting urban sights to see and a lot of roadside oddities that make it one interesting place to visit.
1. Gateway Arch (St Louis)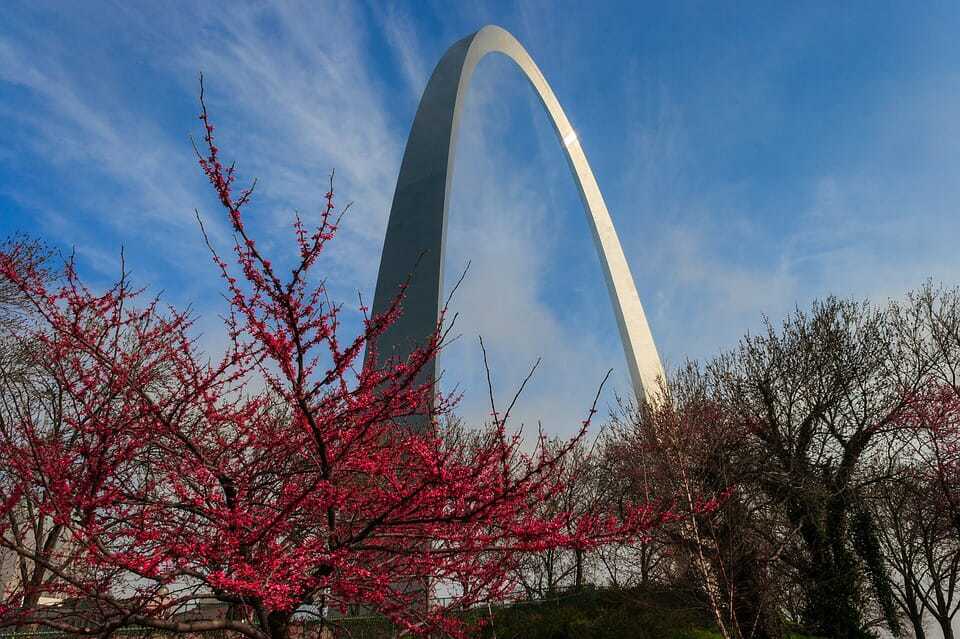 This 630 foot tall arch is what St Louis is known for. It's the tallest man made monument in the country and from the top, you'll get spectacular views of the Mississippi River and downtown St Louis. Allow yourself at least an hour here if you want to go to the top of the arch.
2. City Museum (St Louis)
Located inside a former shoe factory, City Museum is a unique indoor space that's part playground, part fun house, and part art gallery full of interesting found objects. It has everything from a giant slide to two real airplanes. Allow about 3 hours here to see everything.
3. Forest Park (St Louis)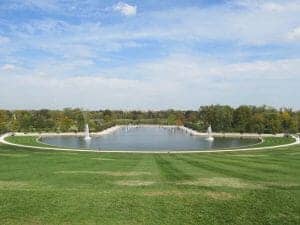 Forest Park was opened in St Louis in 1876. It's the sixth most visited urban park in the country. At 1300 acres, it's home to several museums and a zoo as well as ponds, walking and hiking paths, several restaurants, athletic fields, and more. You could spend an entire day here and not run out of things to do.
4. Silver Dollar City (Branson)
An 1880s style theme park with more than forty rides and attractions. There's a huge fire station themed play area for kids, plus water rides, roller coasters, and more. Don't miss the one room schoolhouse, log cabin, and church and the craftsmen demonstrating how things were done in the 1880s. There's a baker, furniture maker, candy maker, a glass blower, potter, and more. You could easily spend a weekend here if you want to experience everything.
5. St. Louis Zoo (St Louis)
You'll see insects, big cats, sea lions, polar bears, penguins and puffins at the St Louis Zoo, just to name a few. There's also a carousel, a train ride, a children's zoo, and stingray's to pet. You'll need about 2 hours here.
6. Titanic Museum (Branson)
At the Titanic Museum, guests can learn what it was like to be on the ship firsthand. You'll get a boarding pass and walk the grand staircase, parlors, and stairs. You'll have a chance to touch a real iceberg and try to stand on sloping decks as you take a self guided tour featuring over 400 genuine Titanic artifacts and learn all about the ship and it's sinking. Allow about 2 hours here.
7. Table Rock Lake State Park (Branson)
A modern campground with boating, fishing, and even scuba excursions, Table Lake State Park is the perfect weekend getaway for any nature lover. There are trails for all levels, from hiking to extreme mountain biking making it the perfect place to visit for any level of outdoors enthusiast.
8. Grant's Farm (St Louis)
This is the ancestral home of the Busch family and named after Ulysses S Grant who once worked on the land. Grant's Farm offers up close and personal encounters with birds, goats, and clydesdales as well as a carousel and camel rides. Allow 2-3 hours here and make sure you see all the animals.
9. St Louis Science Center (St. Louis)
There is so much to see at the St Louis Science Center, including more than 700 hands on exhibits. You'll learn about the stars, how to build the St Louis Arch, the human body, food production, and more. You'll need about 2-3 hours here.
10. Fantastic Caverns (Springfield)
Fantastic Caverns is different from other caverns because instead of hiking or even walking to see the fantastic formations, here you ride through in a Jeep. A tour guide takes you on a ride through the cave pointing out all the interesting landmarks as you ride along. Tours lastabout an hour.
11. The Old Courthouse (St Louis)
The Old Courthouse was where the famous Dred Scott case was tried, where the slave Dred Scott sued for his freedom and hastened the start of the Civil War. This was also the sight of the Virginia Minor trail where the case for women's voting rights first began. You can take a 45 minute ranger lead tour but you have to schedule about a month in advance.
12. Nelson Atkins Museum of Art (Kansas City)
This art museum has a variety of sculpture, photographs, paintings, and more. There galleries include American, African, American Indian, and Chinese art plus many more. They also have an impressive sculpture garden. Allow yourself2-3 hours here.
13. Branson Scenic Railway (Branson)
This is a 40 mile train ride through the foot of the Ozarks and through tunnels, over bridges, and under trestles. The train depot was built in 1905 and you'll take this journey in vintage railroad cars. There's also a dinner service offered throughout part of the year on Saturday evenings. Allow about 2 hours for the ride.
14. Museum of Transportation (St Louis)
The collection at the Museum of Transportation included passenger train coaches built in 1833, the largest successful steam engine ever built, a car produced in 1901, and a tug boat. There's also a mini train ride, trolley ride, and miniature railway. Allow about 2 hours for your visit here.
15. Talking Rocks Cavern (Branson West)
First described as a "subterrainian fairy land," at Talking Rocks Cavern you'll take an hour long tour. There's also a lookout tower, crawl maze, and picnic areas to enjoy.
16. Missouri Botanical Garden (St Louis)
Started by the Englishman Henry Shaw in 1859 as a beloved garden for the residents of his adopted city, the Missouri Botanical Garden is classified as a National Historic Landmark and is a beautiful place to visit. There's a Chinese Garden, English Woodland Garden, Ottoman Garden, and Victorian District as well as children's activities. Spend 2 hours or so here.
17. Busch Stadium (St. Louis)
During a Busch Stadium tour, you'll get an up close and personal look at the home of the St Louis Cardinals. You can see the field from the Radio Broadcast Booth, go to the Champions Club and see the World Series trophies, and see the Musial statue. Allow about an hour or so for the tour.
18. Laumeier Sculpture Park (St Louis)
Founded in 1976, the Laumeier Sculpture Park was one of the first sculpture parks in the country. You can take a one hour tour led by a knowledgeable docent among the various trails and sculptures.
19. Patee House (St Joseph)
The only National Historic Landmark in St Joseph, the Patee House was built in 1858 as a luxury hotel and served as the Pony Express headquarters. The Union Army used the building during the Civil War. There's two floors of exhibits here, including an 1860 train to climb aboard and a vintage carousel. Allow 2-3 hours here.
20. St Louis Art Museum (St Louis)
Founded in 1879, the St Louis Art Museum has a comprehensive collection that includes African art, ancient art, arms and armor, decorative arts, photographs, prints and drawings, and a sculpture garden. All this and admission is free. You'll need 2-3 hours here to see everything.
21. Cathedral Basilica of St Louis (St Louis)
https://www.stlouis-mo.gov/government/departments/planning/cultural-resources/images/New-Cathedral.JPG
The artwork at the Cathedral Basilica of St Louis is one of the largest collections of mosaics in the world. Scenes from Judeo-Christian history are depicted in the main body of the church and a mosaic museum is on the lower level. Here you can learn about the history of the artwork itself. Tours are Monday – Friday from 10 am – 3 pm and you should plan on spending about an hour here.
22. White Water Branson (Branson)
This is a gaint water park that has a wide array of rides, including the tame Aloha River to KaPau Plummet and everything in between. There's also a family friendly splash park and wave pool. On a hot summer day, you could easily spend an entire day here.
23. Worlds of Fun (Kansas City)
Worlds of Fun is 235 acres full of fun for the whole family. They have kid friendly rides, thrill rides, a water park, plus the Dinosaurs Alive park where you can walk with the giant lizards. There's plenty of live entertainment and food available and they have special events for almost every occasion. You could easily spend a whole day here.
24. Anheuser Busch Brewery (St Louis)
Opened in 1852, this is the largest and oldest brewery of Anheuser Busch. It was built here because of easy access to the Mississippi River and natural caves where the beer was kept cold before refrigeration came along. They offer tours, attractions, and special events. Stop by their biergarten for a good time. You'll need about 2 hours here for the tour and to have a quick drink or two.
25. Pony Express Museum (St Joseph)
The Pony Express was started in 1850 but became essential during the Civil War to speed up communications with the western part of the US. It was a relay between riders on a 2,000 mile trail. The museum is housed in restored stables from the original trail and many interactive exhibits that let you know what the time period was like and how important the riders were. Allow about 90 minutes here.
26. Citygarden (St Louis)
Located in downtown St Louis, Citygarden serves as an outdoor recreational space for the people who live and work there. It has paths, fountains, trees, and large scale sculptures by more than 20 artists. Allow yourself an hour or so to walk around this public space and take in the sights.
27. Missouri History Museum (St Louis)
The Missouri History Museum has both permanent exhibits and short term special exhibits. Some of their current and past exhibits include Route 66: Main Street Through St Louis, Toys of the 50s, 60s, and 70s, and Capturing the City: Photographs from the Streets of St Louis, 1900-1930. You could spend about 2 hour here just looking around.
28. Showboat Branson Belle (Branson)
This is a 2 hour dinner cruise that consists of a 3 course dinner prepared onboard the boat and a live show. You can also walk around the 3 floors of the ship and take in the beautiful views of Table Rock Lake and the Ozark Mountains.
29. Elephant Rocks State Park (Belleview)
The giant boulders that look like elephants lined up end to end were formed from 1.5 billion year old granite. There's picnic facilities and playgrounds for the kids plus hiking trails and some unique rock climbing. Come and spend the day with the elephants.
30. Negro League Baseball Museum (Kansas City)
What started in 1990 as a small collection in a one room office grew to a 10,000 square foot space in just 7 years. The museum has exhibits about Traveling Men about life on the road, an in depth look at Satchel Paige, and The End about closing the league after National League Baseball was integrated, among many more. Stop by and expect to spend about 2 hours here.
31. Lake of the Ozarks State Park(Kaiser)
This park has something for everyone. From fishing, boating, and beaches to hiking, camping, cave exploring and more. If you're an outdoors lover, you will be able to spend a whole weekend here.
32. George Washington Carver National Monument (Diamond)
This is the birthplace and home of George Washington Carver, this is the first National Park dedicated to an African American. Many of the activities in the park are based on Carver's favorite things – painting, rock collections, and occasional nature programs. There's a one mile loop trail that takes you past the historical sites located here. Give yourself about an hour here to walk around.
33. Hollywood Wax Museum Branson (Branson)
A recent multi-million dollar renovation has brought even more star power to the Hollywood Wax Museum in Branson. It's the only museum like it dedicated exclusively to celebrity figures. You can have your picture taken with wax likenesses of John Wayne, Marilyn Monroe, Lucy Liu, Michael Jackson, and Will Smith, just to name a few. Spend about 2 hours here playing with the rich and famous.
34. Science City at Union Station (Kansas City)
There is so much to see at Science City. Bring the kids along so they can explore the many hands on exhibits, including the Dinolab, Force and Motion, the KC Rail Experience, the Mr. E Hotel and all it's illusions, and the Spark Lab. And that's only a part of what you'll find when you spend half a day here.
35. Rise Coffee (St Louis)
Located in the Grove community of St Louis, Rise Coffee brews sustainable specialty coffee and serves light food and baked goods from other small shops in the area. Rise Coffee really celebrates the community and the city of St Louis. Stop by the shop or the food truck and have a cup of coffee.
36. Kansas City Zoo (Kansas City)
The Kansas City Zoo consistently wins awards for their exhibits and has even ranked number one in the country to see African animals and exhibits. They have leopards, tortoises, lions, elephants, bald eagles and more. They also have several rides, including a train, boat, and ski lift over part of the zoo. You can spend about 2 hours here to experience everything.
37. The Magic House, St Louis Children's Museum (St Louis)
The Saint Louis Children's Museum is called "The Magic House" for good reason. There is so much here to stimulate the minds and imaginations of little ones. They can climb, play music, solve mysteries, play with construction equipment, and much more. You'll need about 3 hours here for your kid to do everything.
38. Kansas City Union Station (Kansas City)
Union Station was built in 1914 and is 850,000 square feet divided into 900 rooms. During WWII, a million people traveled through here, most of them soldiers on their way to war or coming back home. Today, it still serves as the Amtrak depot, but it also offers a planetarium and movie theater, the city's science center, and many traveling exhibits. Stop by for an afternoon and see where Kansas City connects.
39. Powell Gardens (Kansas City)
There are extensive gardens to explore here, including 12 acre Harvest Garden full of edible plants, the Island Garden with 200 varieties of water plants, shrubs, and perennials, and the Education Center which has exhibits that change six times a year. You'll need about 2-3 hours here if you want to see all the gardens.
40. Shaw Nature Reserve (Gray Summit)
The Shaw Nature Reserve sits along the Meramec River and encompasses 13% of the state. It has various habitats, including wetlands, prairie, and and woodlands. There's an extensive rail system that can keep you busy for an hour or the whole day depending on how much time you have.
41. Loose Park (Kansas City)
The 75 acre park was the site of the Battle of Westport during the Civil War when the Union army routed the Confederates into the area where the park now sits. Here, you'll find a rose garden, memorials, and a Civil War cannon to look at plus a spray park, playground, tennis courts, and a trail. Stay here for an hour or two and explore this historic park.
42. Dickerson Park Zoo (Springfield)
What started as a private zoo at a resort way back in the 1800s has become a large, diverse destination committed to conservation. Here you'll see lions, hippos, turtles, giraffes, kangaroos, bears, and more. Give yourself about 2 hours here to see it all.
43. World's Second Largest Rocking Chair (Fanning)
This was the world's biggest rocking chair until it lost it's title in 2016. The store it was built to attract attention to has also closed, but the big red rocking chair still stands. Make a quick stop on your drive down Route 66 and get a photo.
44. Jesse James Home (Saint Joseph)
This is the home where Jesse James lived and was killed. It's become a museum to the criminal's life and death. Here, you can see the bullet hole from the shot that killed him in the wall. Once small, it's now been touched by some many visitors that it's grown quite large. You'll need a little under an hour to see this small house, but if you're curious about Jesse James and his legacy, it's worth a stop.
45. Bonne Terre Mines (Bonne Terre)
At Bonne Mine, you can take a walking or boat tour of the underground space. Or you can be adventurous and take the two day diver course and go scuba diving throughout the caves. This was chose as America's best underwater attraction and it's not hard to see why. If you want a walking or boat tour, allow yourself 2 hours here.
46. Haha Tonka State Park (Camdenton)
http://blog.visitmo.com/wp-content/uploads/2014/09/10748630886_1db9192d0c_k.jpg
This is a state park around the grounds of a castle that was built by a businessman at the turn of the 20th century. There's more than 15 miles of hiking trails that lead visitors around the castle grounds, to the lake, to playgrounds, picnic areas, and caves. If you love the outdoors, you could spend half a day here.
47. Giant Bookshelf (Kansas City)
This is a huge art installation in downtown Kansas City that was erected to beautify the side of a new parking garage. The books are 25 feet tall and nine feet wide and feature such titles as "The Collected Poem and Langston Hughes" and "Catch-22." This makes for a great photo op when passing thorough downtown Kansas City.
48. Rock Bridge Memorial State Park (Colombia)
Encompassing many miles of hiking and bicycling trails, this park is unique in its topography. It has sinkholes, caves, underground streams, and springs. Devil's Icebox Cave got its name because it's double sinkhole leads into a cave of more than seven miles deep that provides a look at the underground waterways and cool, refreshing air. Devil's Icebox Cave is closed to the public because it houses a large bat colony, but Connor's Cave is open to the public to explore. Spend about 2 hours here at this interesting park.
49. Glore Psychiatric Museum (St Joseph)
The Glore Psychiatric Museum has been named one of the top fifty most unusual museums in the country. It chronicles the history of psychiatric treatment. Exhibits include art made by patients, including needlepoint work of a schizophrenic, surgical tools, uniforms, and treatment equipment. You'll want to spend at 2-3 hours here.
50. Leila's Hair Museum (Independence)
This is the only museum in the world of it's kind. Exhibits include over 600 wreaths and 2000 pieces of jewelry, all made out of human hair. The oldest piece dates back to 1680. This is an odd but unique place to visit, leave yourself at least an hour because there are countless interesting things to see.
51. World's Largest Ball of Twine (Branson)
To be fair, there are a lot of balls of twine claiming to be the world's biggest and they have an odd competition going on between them. Although other twine ball towns criticize this one for being wound loosely on purpose, the one in Branson has an interesting story. It's located in the Ripley's Believe It or Not Museum and, according to the manager, the building was actually build up around the twine. Visit the whole museum and allow yourself about an hour there.
52. The Awakening (Chesterfield)
Another little roadside oddity that is a must see, The Awakening is a huge sculpture of a sleeping giant coming out of the ground. A fantastic stop for a quick photo op.
53. World's Largest Fork (Springfield)
It's 35 feet tall and weighs 11 tons, this fork was once outside of a now closed restaurant. An ad agency in Springfield hauled it back to their office where it stands today. It's another great Missouri photo op if you're visiting Springfield.
54. Jim the Wonderdog Museum(Marshall)
This is a monument to a Llewellyn setter named Jim who could do amazing things on command. It's said that he understood English and could tell a hickory tree from a maple. He chose the winner of seven Kentucky Derbies and could go out in the street and find a car by model or license. He performed various shows around Missouri until he was laid to rest here. There's a garden and a small museum chronicling Jim's life. You'll only need about an hour here to celebrate the life of this amazing dog.
55. Wax Museum of St. Louis (St Louis)
This wax museum was established in 1983 and has more than 200 life sized wax figures, including a chamber of horrors filled with monsters and replicas of Johnny Cash, Winston Churchill, and Michael Jackson to name a few. This is a fun, kitschy place to visit. Allow yourself about an hour here.
56. Danna's BBQ (Branson)
This place is known for it's made from scratch old fashioned barbeque. All three locations are family owned and have a laid back vibe. The smoke all their meet and make their own rubs and sauces, which you can buy bottled to recreate your experience at home. Have lunch or dinner at Danna's, you won't be disappointed.
57. Johnson's Shut Ins State Park (Middle Brook)
This is a gorgeous state park that truly has something for everyone: hiking, horseback riding, play grounds, camping, cycling, fishing, swimming, rock climbing, and more. It's located in the East Fork of the Black River and is a great place to spend a day in the Ozarks.
58. Welch Spring Hospital Ruins (Jadwin)
This is one of the most unique landscapes you'll see in a national park. Located in the Ozarks, this was once the home of a hospital build by a doctor who believed the spring had healing properties. By today's standards, this would be termed a "health spa," not a hospital. The spring was dammed so that water would flow into the building. It was not a success, thanks in part to it's being very hard to access. The building still stands today. It can be viewed by trail and visited by canoe. If you want a cool photo op, spend an hour or so getting to this abandoned relic.
59. Parsimonia (St Louis)
What started as an online vintage clothing store in 2010 grew to a mobile shop and then to a boutique in the South Grande Business District of downtown St Louis. They love mixing vintage with modern and still bring out their 1960s travel trailer named Holly occasionally for events around the city. Stop by the shop for an hour to look for the perfect purse to make your outfit truly you.
60. Ozark Spooklight (Joplin)
The mysterious glowing light has been seen by residents going back to 1881, possibly earlier. There are a lot of legends behind what this could be: the torch of a beheaded indian, the spirits of star crossed lovers who committed suicide. Getting there is a little tricky, but if you're into the paranormal, it's worth setting aside and evening to scope it out.
61. Kansas City Workhouse Castle (Kansas City)
This abandoned jail looks like a medieval castle and was abandoned in 1972. Although it's not blocked off in any way and is easily accessible, in order to avoid trespassing, it's best to view it from the outside and use it as the backdrop in a cool photo op.
62. Turtle Playground (St Louis)
This is a playground that was opening in 1996, there are 8 giant turtle sculptures here for kids to climb on, as well as seven turtle eggs (some of which are hatching) and a snake statue that looks like it's eating the nearby overpass. Take a walk on the trail through this great art park and watch the kids play for an hour or so.
63. Taum Sauk Mountain State Park (Ironton)
This 7,500 acre park is home to the highest point in the state. This wooded, rocky park in the St Fancois mountains has amazing hiking trails and a camping area. If you like the outdoors, camp out here for a night and get in some quiet hiking time.
64. Bothwell Lodge (Sedalia)
This 12,000 square foot lodge was built over two natural caves. The lodge is 31 rooms with most of the original furniture that you can visit and there's also hiking and biking trails. Allow an hour or two here.
65. Kirksville Curses (Kirksville)
There are several urban legends spread across the small town of Kirksville. The Dibbuk Box which inspired the movie "The Possession." The Devil's Chair, which is said to cause a hand to emerge from the ground and pull anyone who sits in it to hell, and several ghost stories around Truman State University. If you like legends and myths, stop in Kirksville for a few hours and see if they're true.
66. Steamboat Arabia Museum (Kansas City)
On September 5, 1856, the Steamboat Arabia sank near Kansas City. She then remained at the bottom of the river for 132 years until she was recovered in 1988. The artifacts from the boat are well preserved and the museum exhibits the relics that have been preserved. You'll need 1-2 hours here.
67. The Space Museum (Bonne Terre)
The goal of the Space Museum is to inspire wonder and stimulate people to think about the future. Exhibits include spacesuits and space rocks plus informative films and speakers. Save an hour here.
68. The Pinnacles (Sturgeon)
These 75 feet high steep cliffs were carved from Kelley Creek and Silver Fork Creek eroding the limestone over time. Now the offer one of a kind view while hiking and climbing here. Take about an hour here to see the 1,000 foot long formation.
69. Boathenge (Columbia)
Boathenge is somewhat of a recreation of Stonehenge, but made out of boats. Interestingly, the boats are roughly the same size as the Stonehenge statues. It's a unique trail side photo op so make sure to get your picture here when on Katy Trail.
70. Lyle Van Houten's Automotive Museum (Clarence)
This is essentially a gas station frozen in time. The station is no longer in service, but the classic cars that fill the lot are full of mannequins dressed from the area. It's a weird and wonderful place to stop for a photo op when you're near Clarence.
71. Charlie Parker Memorial (Kansas City)
This statue of legendary jazz artist Charlie Parker was dedicated in 1999. It's a large bronze statue of his head with the inscription "Bird Lives" on its base. If you're a fan of jazz, stop and pay your respects and get a quick selfie.
72. Pappy's Smokehouse (St Louis)
Pappy's is a St Louis institution that's well known around the country and usually has a line out the door. The slow smoke their meats for up to 14 hours and make their own original sauces. Make sure you allow plenty of time when you come here, if there's a line you might need to wait for an hour or so to get a table.
73. Mark Twain National Forest (Various)
This forest covers 1.5 million acres in Missouri and includes 29 counties. It has 750 miles of biking trails and 300 miles of waterways. If you love the outdoors, this is the place .to camp for a weekend. You can bike, ride horses, hike, climb, swim, kayak, canoe. Just about anything.
74. Maxie, the World's Largest Goose (Sumner)
Missouri is a good place for quirky roadside attractions and Maxie the World's Largest Goose is no exception. She's 40 feet tall and her wingspan 61 feet. This is another great photo op when visiting Missouri.
75. The National Museum of Toys and Miniatures (Kansas City)
Opened in 1982, this museum has expanded significantly and now houses over 72,000 objects, Exhibits have included everything from toys from miniatures from the 18th century, Toys from the Land of Oz, and photos of Victorian children with their toys. Give yourself an hour or two here.
76. Precious Moments Chapel and Gardens (Carthage)
The gardens are full of bronze statues and fountains and the chapel itself is one of the most beautiful stops in the state. Precious Moments figures appear in murals and other artwork, plus you might get to meet one when you're there. Allow yourself at least an hour to come here and thak some time for yourself.
77. Blue Print (St Louis)
This is a dedicated coffee house started by baristas who wanted a better way to share their respect of coffee and the process of brewing it while including the customer in the loop. They sell coffee, but you can attend a cupping when they share their new brews. Stop by for an hour or so and taste what's new.
78. Laura Ingalls Wilder Historic Home and Museum (Mansfield)
This is the place where Laura Ingalls Wilder wrote her Little House books. Tour the whole farm and see many interesting areas, like the farmhouse, the rock house, and the family walking trail. They offed a lot educational opportunities for children as well. Spend about 2-3 hours here.
79. Watkins Woolen Mill (Lawson)
This park has a 100 acre lake with a paved bike path around its circumference as well as miles of hiking, fishing and boating, and camping. The Watkins Woolen Mill historical site is adjacent to the park and is a trip back to the 1870s. You could camp and spend a weekend here playing in the wilderness and exploring the museum.
80. Rocheport (Rocheport)
Rocheport was named one of America's coolest small towns and it's easy to see why. They have the scenic Katy Trail, an award winning winery, dining, shops, galleries, and world class bed and breakfasts. Come and spend a weekend in quaint Rocheport.
81. Murals (St Louis)
There are amazing murals all over the city of St Louis and no trip there would be complete without seeing at least a few. You'll see butterflies, a St Louis hall of fame, plus murals promoting social awareness. Make sure you check them out when you're walking around St. Louis
82. Crooked Tree Coffee House (St Charles)
Named after a local landmark of sorts, the Crooked Tree Coffee House is a family owned and operated coffee house and cafe. It's unique, cozy interior feels more like you're having coffee and an eccentric aunt's house and it's so worth the stop. Have a cup and breakfast or lunch here.
83. Historic Main Street St Charles (St Charles)
With it's historic architecture, shops, restaurants, and parks, you could spend an entire day exploring Main Street. Then take a carriage ride to the casino when the sun goes down.
84. Missouri River Wine Trail (Various)
The Missouri River Wine Trail includes six wineries. You can take the tour on your own or sign up for one of their special events, like pairing Irish foods with Missouri wines for St Patrick's Day or a different soup at every winery. Buy a souvenir glass at whatever winery you start in and take it with you to the rest. You can make this a weekend away exploring the area around the river and wineries.
85. Route 66 (Various)
Route 66 passes straight through the Show Me State and the list of things you can see while traveling it is immense. Plus, you'll see the many varying terrains of the state – the Mississippi River, bluffs, plateaus, and rolling hills. If you're taking a long road trip on route 66, the Missouri portion has a lot to offer.
86. Hannibal (Hannibal)
Called "America's' Hometown," Hannibal is the small town where Mark Twain grew up and the setting for his most famous books. You'll visit Twain's family – complete with white fence – plus there's a train museum and a classic car museum. There's a lot to do in Hannibal, you could spend a whole day here.
87. Grand Gulf State Park (Koshkonong)
Called the "little Grand Canyon," this park is one of the most scenic in all the Ozarks. It's not actually canyons here, it's a collapsed natural cave system. There are hiking trails above and below the gulf, including a natural bridge. You'll need about 2-3 hours here to get a good hike in and see the little Grand Canyon.
88. Osage (Branson)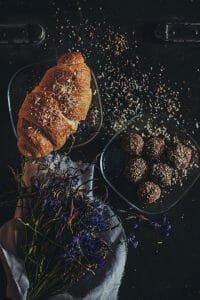 Part of the Top of the Rock preserve, Osage is a gorgeous restaurant with amazing views of the Ozarks. The decor boasts iron chandeliers, exposed beams, and tapestries. This destination restaurant served a wide variety of food, from scallops to lamb to steak. Anyone is sure to find something they love when they eat dinner here.
89. Chris' Pancake and Dining (St Louis)
h
Chris' has served South City St Louis for 25 years and has the best pancakes in the city and serves breakfast all day. They have an extensive menu of breakfast meals, sandwiches, and sides, but they're open for lunch and dinner as well and the menu is equally as big. Come in and have breakfast here… for dinner if you want!
90. Delmar Loop (University City)
The Loop encompasses six city blocks and is comprised of shops, restaurants, theaters, and hotels. It's named after the streetcars that would loop around this area more than a century ago. You could spend most of the day here, but get here for dinner and some drinks and stay for some shopping or a show.
91. Missouri State Penitentiary Tours (Jefferson City)
The prison closed in 2004 but is open for tours for most of the year, although it is closed during the cold winter. The prison is said to be haunted and has been on several national television shows trying to catch the ghosts on camera. They offer a variety of tours, from an eight hour overnight ghost hunting tour to an in depth history tour. Tours vary in length so check the website before you go.
92. Bankhead Chocolates (Bowling Green)
Bankhead Chocolates has been making their candy since 1919. They're still prepared in the same old fashioned copper kettles that were used way back then, then poured on the marble tables and shaped to perfection. You can order online and have them shipping unless it's too hot outside, or you can stop in and treat yourseld.
93. Harley Davidson Factory Tours (Kansas City)
At the Vehicle and Powertrain operations center in Kansas City, you can take the Harley Davidson Steel Toe tour and see the powertrain and vehicle assembly brought to life. There's two tours every day from Monday through Thursday at 9:15 am and noon and tours last about 2 hours.
94. Flat Branch Pub and Brewing (Columbia)
Flat Branch Brewing opened in 1994 in an old Hudson car factory building that gives it distinct charm. It was the first brewery to open in Columbia since 1841. The offer and extensive, including fresh baked breads and desserts in addition to meals like their signature charbroiled romaine salad and traditional pub food like chips and bratwurst. Come spend an evening here, filling your belly with great food and delicious craft beer.
95. Katy Depot and Railroad Heritage Museum (Sedalia)
Part of the Katy Trail State Park, the railroad depot was opened in 1896. It reopened in 2001 after a three year renovation and now serves as a museum to the old days of the railroad. Stop in for an hour or so and see the old depot in all it's grandeur.
96. American Jazz Museum (Kansas City)
The American Jazz Museum opening in 1997 and serves as a showcase for all things jazz. There's art, music, films, and more. The museum has an extensive collection of artifacts, photographs, and albums. Stop here and spend 2-3 hours in this funky interactive space.
97. Legoland Discovery Center (Kansas City)(
This in an indoor Lego playland. It has several life sized rides that look like they were made of giant Lego blocks. There's also earthquake tables, a place to build and race Lego cars, and MIni Land, a city building of over 1.5 million Legos Spend half a day here with the kids.
98. Plain and Fancy Bed and Breakfast (Ironton)
Located in the Arcadia Valley, Plain and Fancy Bed and Breakfast surrounded by the beauty of the Ozarks. It was built in 1908 and is the perfect place for relaxation or romance. It's close to three of Missouri's greatest State Parks and is the perfect place to stay for a weekend getaway close to nature.
99. City Market (Kansas City)
City Market opened in 1857. It's been expanded and renovated many times since then and today serves as a meeting place, farmer's market, and shopping and dining hub. It hosts festivals, weddings, and other community events. Come for some shopping and grab some lunch then shop some more.
100. Lazy L Safari Park (Cape Girardeau)
This is a walk through zoo that allows you to get up close and personal with a wide range of animals, from alligators to zebras. They have a wide range of educational programs for kids as well as the recently added gemstone mine. You'll need about 2 hours here to say hello to all the animals.