Prior to its independence in 1832, Greece was not a common destination for tourists; its popularity began an upward swing in the late 50s, reaching its apex in 2000 (13 million tourists, nearly twice the country's population). Today tourism is the main Greek industry, with all the social and ecological problems that brings. A poor country whose economy has been further crippled by the sanctions imposed upon it by the EU and the IMF, Greece must struggle to compete in the tourism field with few resources other than its stunning natural beauty and the wealth of its cultural artefacts as the birthplace of Western civilisation.
Greece needs its tourist industry now more than ever; anyone choosing Greece as a holiday destination is helping to support its economy. Though struggling, it has lost none of its attraction for visitors; the Parthenon is still as breathtaking, the sea still as blue and the sand as white (and the Retsina as delicious) as ever. Greek people are unbelievably warm, child-friendly and hospitable and Greek food is healthy and delicious. Go to Greece for the holiday of a lifetime – you will neither regret nor forget it.
1. Parthenon (Athens)
No visit to Athens would be complete without a visit to the Parthenon, which together with Propylaea, Erechtheion and the temple of Athena Nike on the Acropolis in Athens was designated a UNESCO World Heritage Site in 1987. It was built between 447 and 438 BC and is generally considered the summit of Doric architecture. At an imposing 45 metres high, it dominates the surrounding architecture and is impossible to miss!
The Parthenon is easily accessible by metro from Athens railway station in 19 minutes (exit: Acropolis). A 12 minute walk up the Acropolis is necessary.
2. Meteora Monasteries (Kalambaka)
Perhaps the most breathtaking sacred architecture in the world are the six monasteries in the Meteora (literally: suspended in the pure air) mountains, which rise over 360 metres above the villages of Kalambaka and Kastraki in northern central Greece. These unique religious sites were built by monks in the 14th to 16th centuries to escape religious persecution; all six are fully functional and open to tourists.
350 kilometres north of Athens, Kalambaka can be reached from Larissa railway station by train in just over 4 hours, or from Thessaloniki in just over 3 hours.
3. Santorini
The romantic and magical island of Santorini is a favored holiday destination in Greece, particularly by honeymooners! With its clear blue water, black pebbled beaches and breathtaking views, Santorini is an idyllic destination for all tastes. Donkey riding, sailing, wine tours and excellent cuisine round off the mixture, while its sunsets are world famous.
Santorini has its own airport, with regular flights from the Eleftherios Venizelos airport in Athens; alternatively, ferries run regularly from Piraeus (around 9 hours) or Rafina (8 hours).
4. Knossos (Crete)
Probably the oldest city in Europe, Knossos dates from the Bronze Age. Excavations began in 1900 and were to continue for 35 years, during which it became apparent that the city was at least three times larger than originally thought. The restoration of the palace of Knossos began in 1922. It is a major tourist attraction on Crete; one can still see the labyrinth under the palace in which the legendary Minotaur was supposedly held captive, and the sacrificial altar. Anyone staying on Crete should definitely visit Knossos.
Knossos can be reached by car from Heraklion in around 20 minutes. Public transport is poor; car rental is advised.
5. Climb Mount Olympus
For avid hikers eager to follow in the footsteps of the Gods, a trek up Mount Olympus is a must! Eleven major Greek Gods supposedly lived on this stupendous mountain range on the border between Macedonia and Thessaly, 3.000 metres above sea level, and the Stefani peak was the throne of Zeus. Even for lesser mortals, mount Olympus offers lush scenery, wonderful air and breathtaking views.
The town of Litochoro (92 km south of Thessaloniki) – in itself a picturesque and culturally rich destination – is a traditional place to start exploring Olympus, and is also only a few kilometres from the sea. Litochoro can be reached by bus from Thessaloniki in 1 hour 45 minutes, or under an hour by car.
6. Delphi
Famed as the seat of the Delphic oracle whose wisdom and advice on important matters was revered throughout the classical ancient world, Delphi on the southwestern slopes of Mount Parnassus has lost none of its unique mysticism in the modern world. Second only to the Acropolis in terms of tourist attraction, Delphi offers a unique combination of a wealth of ancient ruins and an exquisite natural setting and is a high spot of any visit to Greece.
Delphi is accessible by car from Athens in around 2 hours 18 minutes, or just over 3 hours by bus.
7. Samaria Gorge (Crete)
A major tourist attraction on Crete and a National Park since 1962, the Samaria Gorge provides a unique hike and stunning views. 16 km long, it starts at an altitude of 1.250 metres, ending in Agia Roumeli on the shores of the Libyan sea. The hike is downhill all the way if commenced at the northern entrance. The Samaria Gorge is also a world Biosphere and offers protection to many endangered species of birds, animals and plants, including the rare "kri-kri" or Cretan mountain goat.
Agia Roumeli can be accessed by bus from Heraklion in 2 hours 40 minutes, or in 3 hours 40 minutes from Chania.
8. Corfu Old Town
The roots of the town of Corfu go back to the 8th century BC, and historically it has been under Corinthian, Roman, Byzantine, Venetian, Russian, French and English rule, only being given to Greece – along with the other six Ionian islands – in 1864. This mix of cultures has left fascinating traces in the old town, leading to its designation as a UNESCO World Heritage site in 2007. Narrow cobbled streets and enchanting shops and cafes, little houses in Greek and Venetian style and enticing glimpses of the Ionian sea all go to make Corfu`s atmosphere unique.
Corfu has its own airport and can be accessed by air from Athens in around one hour. Alternatively, ferries run regularly from Igoumenitsa (75 minutes).
9. Lion Gate (Mycenae)
The Bronze Age citadel of Mycenae stems from the 13th century BC and is the largest surviving relic of Mycenaean sculpture. The Lion Gate gains its name from the two heraldic lion sculptures above its lintel, at an imposing height of 3.10 metres. According to legend, this awe-inspiring edifice was built with the assistance of Cyclopes (one-eyed giants); it is a must for visitors to southern Greece.
Mycenae lies around 90 km southwest of Athens (90 minutes by car) and 48 km south of Corinth. Public transport is very poor, but there are many organized coach trips from Athens.
10. The Pelion
Generally considered the most beautiful mountain in Greece, the Pelion in southeastern Thessaly is a densely wooded and abundantly watered area, 1.610 metres high at its summit, which is very popular as a tourist destination at all times of the year. The region encompasses 24 villages, including Makrinitsa and Zagora, in which the traditional and charming Pelion architecture of blue and green slate and red clay buildings predominates.
The Pelion can be accessed by taking the bus from Athens to Volos (around 5 hours) and then a further bus from Volos to whichever town you wish to visit. It can also be accessed by car from Athens (around 5 hours) or Thessaloniki (around 3 hours).
11. The White Tower (Thessaloniki)
Thessaloniki`s impressive "White Tower" in this second largest city in Greece (Thessaloniki was founded in 315 BC) is now known to have been built in its present form under Ottoman rule after around 1430. It was used extensively as a prison and for mass executions until 1912, when the city was liberated by the Greeks during the first Balkan War. Despite its violent past, this impressive 46 m high turret has become the symbol of Thessaloniki and now houses a museum of the city's history. The White Tower is open to the public between 08.30 am and 3.00 pm and is well worth a visit.
Thessaloniki is just over 500 km north of Athens (around 5 hours by bus or rail) and has its own airport (Makedonia airport), a 25 minute drive from the White Tower.
12. Mykonos
Ranked equally with Santorini for beauty and glamor, the island of Mykonos in the northern Cyclades is a haven for tourists seeking sun and sea, water sports, good food, romance and a lively night life. For this reason, since it is only 85 square metres in area, it can become crowded in the summer months; it is also expensive. That said, its beaches are among the most famous in Greece (if rather windy) and its winding cobbled streets and whitewashed houses have immense charm. The seafood restaurants, bars and boutiques are excellent and well used to catering for tourists, and the ancient islet of Delos is definitely worth a visit..
Mykonos has its own airport, with regular flights from Athens during the summer months (around 45 minutes). Alternatively there are ferries from Piraeus and Rafina, or any of the other Greek islands.
13. Cape Sounion (Lavrion)
At just 69 kilometres south of Athens, Cape Sounion is a great destination for a day trip. It is located on the southernmost point of the Attica Peninsula, overlooking the Aegean Sea, and is particularly famous for the Temple of Poseidon, which in its present form dates from around 440 BC and which bears an inscription of the name of the English poet Lord Byron (who visited Sounion in 1811-12). Kape Beach and Sounio beach are also particularly attractive.
Cape Sounion can be reached by bus from Athens in around 90 minutes, or by car in around 75 minutes; additionally, many day trips from Athens are available.
14. Nafplio
The town of Nafplio in the Peloponnese around 140 km southwest of Athens has its roots in ancient times, best found in the "Acronafplia" or city walls dating from the 4th century BC, with additions from Hellenistic and Byzantine periods and later modifications by Franks and Venetians between the 13th and 16th centuries. It was subsequently occupied by Ottomans until it was liberated during the Greek War of Independence (1821-1834) and then became the first capital city of the newly-founded Greek state. A flourishing seaport, Nafplio offers fascinating monuments (Palamidi and Bourtzi fortresses) and many museums for a smaller town. A great weekend getaway or day trip from Athens, Nafplio can be reached by car from Athens in around 1 hour 40 minutes.
15. Mystras (Sparta)
For a uniquely mystical and moving holiday experience, the ghost town of Mystras, 8 km west of the modern-day Sparta can definitely be recommended. A flourishing municipality and the capital of the Byzantine Morea despotate between the 14th and the 15th centuries, the town was abandoned after 1830 and is now largely uninhabited; some churches and a cloister are still in use. Located on the Taygetos mountain in Laconia, Peloponnese, the archaeological site of the town of Mystras was named a UNESCO World Heritage site in 1989 for its rich and fascinating relics of Byzantine architecture and frescoes.
Mystras can be reached by car from Athens in around 2 ½ hours.
16. Monastery of St. John the Divine (Patmos)
One of the quieter Greek islands, Patmos off the coast of Turkey in the Aegean is one of the Dodecanese islands, most famed for being the location of the writing of "The Book of Revelation". It is also steeped in culture, history and spirituality (the churches and communities are largely Eastern Orthodox), with some of the most gorgeous beaches Greece has to offer. The Cave of the Apocalypse and the Monastery of St. John the Divine are well worth a visit, as are the famous "Stone of Kallikatsou" and the adjoining Petra beach.
The closest airports are located on the islands of Leros and Kos; Patmos has no airport and can only be accessed by ferry from Piraeus (7 ½ to 8 hours) or any of the other islands.
17. National Garden, Athens
An oasis of calm and harmony amid the heat and the bustle of Athens, this former Royal garden, completed in 1840, was commissioned by and dedicated to Queen Amalia. It covers 15.5 hectares of land and offers leafy bowers, shadowy lanes, a small zoo and many sculptures and curiosities. An ideal spot for a picnic with children while in Athens!
The Garden can be reached by metro from Athens railway station in 15 minutes (M2, exit Amalias).
18. Epidaurus Theatre and Temple of Asklepios
The ancient city of Epidaurus on the Argolid peninsula is one of the most visited archaeological sites in Greece. It is best known for its huge amphitheatre, built in the 4th century BC, which holds 14.000 spectators and has the most amazing acoustics and for this reason is still used for dramatic performances today; however, the remains of the Temple of Asklepios and the Abaton (i.e. place of incubation), relics of the Asklepios cult which rendered Epidaurus a center of healing in the ancient classical world, are also well worth a visit.
Epidaurus is around 130 km southwest of Athens, and easily accessed by car in around 1 hour 45 minutes, or by bus (around 2 hours).
19. Zagori National Parks (Ioannina)
The Zagori region, situated in the Pindus mountains of northwest Greece, is famed for its dramatic geological formations and lush natural beauty. It comprises 48 villages connected by footpaths and stone bridges and two National Parks, one east of mount Tymfi (Valia Kalda) and the other (Vikos-Aoös National Park, founded in 1973), which includes the Vikos Gorge and the Aoös river. Sparsely populated and difficult to access, the parks are a safe haven for many endangered species of flora and fauna, but also offer a wide range of activities such as mountaineering, hiking, rafting, canoeing and mountain-biking.
Ioannina has its own airport with regular flights to and from Athens (just over 1 hour) or Thessaloniki (2 hours 35 minutes); by train or road, it is accessible from Athens in around 5 hours.
20. Corinth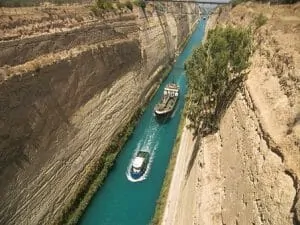 Named "New Corinth" after an earthquake in 1858 destroyed the previous town of Corinth (or "Archaia Korinthos"), which had grown up around the former ancient city of Corinth, today`s Corinth is largely known for its impressive Canal which connects the Gulf of Corinth with the Saronic Gulf at sea level. Carved at a depth of 80 m into the rock, the Canal is over 6 km long and only 21.4 metres wide; too narrow to allow the passage of modern ships, today its main significance is as a tourist attraction. The archaeological site of "Archaia Korinthos", the Archaeological Museum and the Temple of Apollo are just a few of the city`s further attractions.
Corinth can be reached by train from Athens in just under two hours, or by car in 1 hour.
21. Ydhra (Hydra)
One of Greece's most romantic destinations, the island of Hydra in the Saronic Gulf played an important role in the Greek War of Independence and was the birthplace of five Greek prime ministers! With one major town (Hydra port) and a cluster of small villages and hamlets, but also because cars and other motorized vehicles are not allowed on the island, Hydra has maintained the integrity of its tradition despite a flourishing tourist trade. It has wonderful beaches, a great many museums and is a paradise for sailing and yachting.
Hydra can be reached from Piraeus by high-speed ferries in 1 hour (3 hours by conventional ferry).
22. Shipwreck Bay (Zakynthos)
The Venetians, who occupied the island of Zakynthos (aka Zante) between 1484 and 1797, dubbed it "The Flower of the East" for its over 7.000 species of flower, but the island is also famed for its Venetian castle, its remarkable churches and the diversity and beauty of its beaches, of which "Shipwreck Bay" or Navagio Beach on the northwest shore of the island is definitely the most photographed!
Zakynthos belongs to the Ionian islands and has its own airport, accessible from Athens by air in just over 1 hour. Alternatively, the island can be reached by ferry from Killini on the western Peloponnese in 1 hour.
23. Attica Zoological Park (Athens)
Great for time out from the noise, heat and bustle of Athens is the Attica Zoological Park in the Spata suburb of Athens. 2000 animals from 400 species are presented over an area of 49 acres. This private zoo, which opened in May 2000, contains the third largest bird collection in the world, as well as reptiles, big cats (including the rare white lion), wolves and foxes and many other species, many of which are threatened with extinction elsewhere.
The zoo is open 365 days a year and can be accessed by bus from Athens railway station in just over an hour (exit Spata Town Hall), or in 40 minutes by car.
24. Easter Festival
For a unique glimpse into the deeply spiritual traditions of the Greek people, the widely-held Easter festivals are a once in a lifetime experience. Particularly exciting on Skiathos, Corfu and Patmos, they include candlelit processions, joyful chanting in the streets and the hurling of clay pots, as well as brass bands, parades and fireworks. They are held in the week leading up to Easter Sunday.
Corfu and Skiathos can both be reached from Piraeus in around one hour, and Patmos in around 11 hours.
25. Windsurfing Lefkada
The Ionian island of Lefkada is a windsurfers paradise, with a number of clubs specifically for windsurfers at all levels of ability. Particularly popular to windsurfers are the Vassiliki and Ai Yannis beaches, but Lefkada has many other beautiful beaches for swimming, sunbathing and snorkelling too.
Lefkada has its own airport, but is also connected to the mainland and is thus accessible by road (5 ½ hours from Athens).
26. Temple of Apollo Epicurius (Bassae)
Bassae in the northeast of Messenia is an archaeological site particularly famed for its well-preserved 5th century BC Temple of Apollo Epicurius, which was designated a UNESCO World Heritage Site – the first in Greece – in 1986. Situated on a slope of Mount Kotylion amid a somewhat rocky and barren landscape, this awe-inspiring temple is believed to have been built on the foundations of an even more ancient temple. It was designed by Iktinos, who also designed the Parthenon.
The closest town is Andritsaina (14.5 km). Bassae lies 250 km south west of Athens.
27. Sithonia
The Sithonia peninsula is located in southern central Chalkidiki, surrounded by the Singitic and Toronean Gulfs. Popular activities on the peninsula include swimming and watersports – Sithonia has some of the loveliest beaches and coves in Greece – as well as cycling, hiking and fishing. The main town of the region, Nikiti, is around 67 km southeast of Thessaloniki airport and easily accessible by bus (2 hours 15 minutes) or car (just over 1 hour).
Nikiti`s particular attractions include the old town, the Basilica of Sofronios and the church of Agios Nikitas.
28. Kefalonia
With a surface area of 773 square kilometres, Kefalonia is the largest of the Ionian islands and a popular tourist destination with its quaint mountain villages, Byzantine monasteries and beautiful beaches. Top on the list of Kefalonia`s attractions are the sea lake of Melissani, the Caves of Drogarati and the lighthouse of Argostoli, as well as the beautiful villages of Fiskardo and Assos.
Kefalonia has its own airport, with regular flights from Athens or Thessaloniki (1 hour). Ferries also run from Killini (western Peloponnese), which take around 1 hour.
29. Goulandris Natural History Museum (Kifissia, Athens)
The Natural History Museum was founded by the brothers Niki and Angelos Goulandris in 1964 as a non-profit enterprise directed at the protection and conservation of wildlife. Its exhibits include a wide range of animal and plant fossils, botanical specimens from all over Greece and an impressive mineral and rock collection. Furthermore, the museum is dedicated to the protection of two endangered species, the Loggerhead turtle and the Mediterranean monk seal.
The Museum is located in Kifissia, a suburb 20 km northeast of Athens. It can be accessed by Metro in 35 minutes (M2, exit Kifissia).
30. Diomidis Botanical Garden (Chaidari, Athens)
Not far from the bustling city center of Athens, this huge and exquisite botanical garden is the largest in Greece and the Eastern Mediterranean. It was opened in 1852 and named after former Prime Minister Alexandros Diomidis and his wife Julia, who inspired and founded it. Covering an area of nearly 5.000 square metres and with over 2.500 varieties of plant from all over the world, it offers welcome relief from busy Athens. It also boasts a restaurant and a children's playground.
The Botanical Gardens are accessible from Athens railway station in 20 minutes by car, or 40 minutes by bus.
31. Mount Athos (Thessaloniki)
An unforgettable spiritual experience is a visit to Mount Athos, known in Greek as "The Holy Mountain". A peninsula and a mountain, Mount Athos is home to 20 monasteries and is an autonomous monastic state. Only men over 18 are allowed onto the peninsula and must obtain a written permit ("Diamonitirion") to do so (boys under 18 must be accompanied by their fathers, or if in a group, must carry notarized written permission from their parents). Those wishing to stay overnight should book six months in advance. Women wishing to see the monasteries can take part in one of many boat cruises around the peninsula, since traditionally no woman has been allowed to enter the peninsula for a thousand years.
The best way to visit Mount Athos is by car from Thessaloniki to Ouranoupoli (just under 2 hours) and then take the ferry to Daphni port (just over 2 hours).
32. Labyrinth Park Chersonissos (Crete)
A welcome change for the children after the ruins of Knossos, the Labyrinth park at Chersonissos offers quad rides, pottery, archery, mini golf, horse-riding and a 3-dimensional,1.300 square metres labyrinth (complete with Minotaur). Refreshments (and shade) are available at the cafeteria and organic garden.
Chersonissos lies around 23 km east of Heraklion (30 minutes by car or 43 minutes by bus).
33. Greek Children's Art Museum (Athens)
One of very few museums worldwide devoted exclusively to works of art and sculpture by children between the ages of 4 and 14. It currently houses over 7.000 exhibits, including post-war children`s drawings, rag dolls made by children in Africa, animal drawings by Kalash children and many other interesting and thought-provoking articles. The museum hosts art competitions for children and programmes for the disabled, as well as running workshops.
The Museum is located in Plaka, 11 minutes from Athens Railway Station by metro (M2, exit Akropoli) or 16 minutes by car.
34. Skopelos
The island of Skopelos in the west Aegean is one of the Northern Sporades islands. At 96 square kilometres, Skopelos is slightly larger than Santorini or Mykonos; it is also quieter, with few organized activities. However, with its wonderful beaches, lush green forests and picturesque villages (such as Skopelos or Glossa) it is an idyllic destination for a relaxing holiday. Scenes from the film "Mamma Mia" were shot at the Church of Agios Ioannis Kastri on Skopelos.
Ferries run regularly from Volos to Skopelos (2 hours 50 minutes).
35. Schinias Beach (Athens)
At a mere 51 km northeast of Athens city center, Schinias Beach is perfect for a day trip when staying in Athens. With clean shallow water and masses of sand, it is ideal for children. Pine forests come right down to the beach, and the excellent fish tavernas run on generators, because there is no electricity there.
Schinias Beach is around 50 minutes by car from Athens center. Public transport is not advised.
36. Mount Parnitha National Park (Athens)
30 km northwest of Athens lies the Mount Parnitha National Park, which covers 300 square kilometres and is home to many species of mammal, bird and plant. It also has a number of small caves. Parnitha mountain is very popular for trekking and hiking, and gambling lovers can try their luck at the exclusive hotel "Mont Parnes".
By road it is around 1 hour 20 minutes from Athens center to Parnitha. It is a winding, steep road up the mountain; it may be preferable to leave the car at the foot of the mountain and ascend by cable-car!
37. Archaeological Aigai
The city of Aigai (modern name: Vergina) on the northern side of the Pierian mountains is known to date back to the early Bronze Age and was the ancient capital of the Lower Macedonian kingdom. The site consists of many important monuments, including the tombs of the royal Macedonian dynasty, the palace and the theatre and the ancient city and its walls. The many priceless gold, ivory and metal objects and paintings found on the site are contained in a subterranean structure to preserve them, which is effectively a museum.
Vergina is 70 km west of Thessaloniki and accessible in under 1 hour by car.
38. Rhodos
The capital of the Dodecanese islands, Rhodos (or Rhodes) is a fascinating destination for an action-packed holiday. With its lush green valleys and hills, its long golden beaches and plethora of mediaeval buildings, Rhodes is an exciting blend of traditional and modern attractions. The island is well-adapted to hosting tourists and receives thousands every year.
Rhodes has its own airport, or can be reached by ferry from Piraeus (11-17 hours).
39. Lake Kerkini
Lake Kerkini in northern Greece is an artificial reservoir, created in 1932 and expanded in the 80s on former marshland. Thousands of rare or endangered birds have their home here, as do fish, reptiles and amphibians. It is an idyllic region of wetlands, lakeside forests and widespread waterlilies, perfect for hiking, cycling and/or birdwatching.
Lake Kerkini is around 98 km north of Thessaloniki (1 ½ hours by car), and only 20 km from the Bulgarian border.
40. Palaios Panteleimonas
Palaios Panteleimonas is a stunningly restored 14th century village on the slopes of Mount Olympos. Set in opulent beech and chestnut woods at an altitude of 700 metres, it is a paradise for paragliders, hikers and mountain bikers. Palaios Panteleimonas is only 6 km from the village and beach of Neos Panteleimonas; many festivals and cultural events take place in its Venetian Platamonas Castle.
Palaios Panteleimonas is just over 100 km south of Thessaloniki (1 hour 20 minutes by car).
41. Makrinitsa (Volos)
Makrinitsa, referred to as "the balcony of Pelion" is situated in the northwestern Pelion mountains, 6 km from Volos. Extremely picturesque with its cobbled streets and myriad water fountains, Makrinitsa enjoys great popularity as a tourist destination, particularly during the winter months. It also houses the Museum of Folk Art and History of Pelion.
Makrinitsa can be reached by car from Volos in 11 minutes, or 15 minutes by bus.
42. Daphni Monastery (Athens)
Located on the outskirts of Athens in a dense forest, the exquisite Byzantine monastery with its priceless gold mosaics makes a perfect day trip when staying in Athens. Sadly, the monastery was damaged in the 1999 earthquake and was closed for many years. Though still encased in scaffolding, it is now open from 9 am till 2 pm on Tuesdays and Fridays.
Daphni monastery is accessible from Athens railway station in 20 minutes by car, or 45 minutes by bus.
43. Myrtos Beach (Kefalonia)
You have probably already seen Myrtos beach without knowing it, because it is frequently photographed for calendars of the world`s most beautiful places. It was voted 12 times as the best beach in Greece, and is frequently listed under the best beaches in the world. Additionally, it was used as the backdrop for a scene in the movie "Captain Corelli`s Mandolin". Set between two mountains on the northwest coast of the island of Kefalonia, it comprises 2.5 km of dazzling white pebbles and sand and brilliant, clear, sparkling turquoise water.
Kefalonia has its own airport, which lies around 40 minutes by car south of Myrtos beach.
44. Delos (Mykonos)
The diminutive (under 5 square km) island of Delos in the middle of the Cyclades archipelago has historical and cultural significance which belie its size or population. Excavations indicate that it was occupied as early as 3000 BC, and Greek legends claim it to have been the birthplace of Artemis and Apollo. It has a wealth of ruins and monuments, including the house of Dionysus with its mosaic floor, the House of Cleopatra, the House of the Trident, the Temple of Isis and many more. Many of the artefacts found here are contained in the Archaeological Museum of Delos.
Delos can easily be reached by ferry from Mykonos, which takes around 30 minutes.
45. Cretaquarium (Heraklion)
Established in 2005 by the Institute of Marine Biology of Crete for research, educational and cultural purposes, the Cretaquarium is located 15 km east of Heraklion. With 60 tanks and over 2.000 species of marine organism (particularly those indigenous to the Mediterranean), it is one of the largest and most modern aquariums in Europe.
The Cretaquarium is located in Gournes, 19 minutes by car from Heraklion.
46. Arachova (Delphi)
Known for its cheese ("Formaela"), its woodcuttings and colorful carpets and textiles, Arachova is located on the southern slopes of Mount Parnassus in the Boeotia region. At around 960 m above sea level, it is a popular resort for skiers and hikers and also owing to its proximity to Delphi. The traditions of the town can best be observed from 20. to 23. April, when the patron St. George is honored with lively celebrations.
Arachova can be reached from Delphi in 11 minutes by bus, or 13 minutes by car.
47. Aegean Regatta
The Aegean Regatta takes place annually at various different locations in the Aegean, and lasts for one week. At least 100 sailing ships take place in a series of colorful and exciting races along the coast and between the islands. A must for lovers of sailing and maritime adventures, as well as a great opportunity to make friends and improve your sailing skills, whilst strengthening your acquaintance with Greece's islands and coastline!
48. Loutraki Spa (Corinth)
Famed since antiquity for the therapeutic properties of its vast thermal springs and spas, the town of Loutraki on the Gulf of Corinth owes much of its popularity today to its wellness and thalassotherapy resorts. 8 km northeast of Corinth and 80 km to the west of Athens, Loutraki has a large beach, a modern convention center, the Dexameni Park and the monastery of Patapios (located on Mount Geraneia), as well as its famous spa. The town was destroyed in an earthquake in 1928, so there are few old buildings.
Loutraki can be reached in 17 minutes by car from Corinth, public transport is not recommended.
49. Nikopolis (Preveza)
Nikopolis is perhaps the largest ancient Greek city, yet it is not well-known. Built by Caesar Augustus to commemorate his victory against Antony and Cleopatra at Actium (31 BC), the site comprises a monument of Augustus, a theatre, thermal baths, a Roman villa with exquisite mosaics and many other features of cultural and historical interest.
Now known as Palea Preveza (or Old Preveza), Nikopolis is located around 5 km north of Preveza on the Gulf of Arta in Epirus. Preveza has its own airport (Aktio or Lefkada airport), around 12 minutes by car from the site.
50. Karytaina
The quaint village of Karytaina in Arkadia (southern Greece) is located on a hill on the right bank of the Alpheios river, 57 km west of Tripoli. Its splendid mediaeval castle and the largely untouched traditional quality of its architecture led to its nickname "The Greek Toledo"; it was also depicted on the Greek 5000 drachma note from 1984 to 2001. Additionally, it is the venue for an outstanding "Women`s Bazaar", which starts on the first Sunday in August and lasts for 3 days.
The nearest airport to Karytaina is Kalamata (55 minutes).
51. Archaeological Museum (Chania)
Chania`s fascinating archaeological museum is housed in a former Venetian Monastery on Chalidon Street, Crete. Founded in 1962, it houses an impressive collection of Minoan and Roman artefacts found in the area, including coins, pottery, jewelry and mosaics, even a mosaic floor depicting Ariadne and Dionysos.
The museum located on the Venetian harbor, 5 minutes on foot from the coach station.
52. Monastiraki Flea Market (Athens)
For bargain shopping, the Monastiraki Flea Market in the old town of Athens is hard to beat. It is open every day, but is most exciting on Sundays, particularly on Abyssinias Square where improvised stalls line the streets offering books, stamps, coins, vintage clothing, bric a brac and any number of other articles to be haggled over.
A popular tourist destination in Athens, the Flea Market covers the area from Monastiraki Square to Ermou street and can be easily accessed by metro from Athens railway station in 14 minutes (M2, exit Monastiraki).
53. Aqualand Corfu
Corfu's "Aqualand", ringed by shady woods and covering a surface area of 75.000 square metres, was built in the two years between 1995 and 1997. Amusement and theme parks are a relatively new phenomenon in Greece, and the park is small by European and American standards; that said, its water attractions are great, with high standards of hygiene and safety, good food and a relaxing atmosphere for young and old alike.
Aqualand is located at Agios Ioannis, 16 minutes west of Corfu airport by car.
54. Kalarites and Syrrako
Two eagle nest villages villages facing each other at 1.200 metres above sea level on Mt. Peristeri in the Ioannina region of Epirus, both with exquisite grey stone architecture and unspoiled mediaeval character, ornamental fountains and stone bridges, separated by a ravine and connected by a narrow trail – it doesn't get more romantic than that! Breathtaking, panoramic views of the ravine and the snow-capped mountains add to the attractions of this very off the beaten track part of Greece. Hiking, paragliding or mountain biking are only some of the activities for which this region is suitable.
Syrrako is 52 km east of Ioannina airport (1 hour 36 minutes by car). Public transport is not advised.
55. Olympia
Olympia, the ancient site of the modern day Olympic games from 776 BC onwards, which originally were part of a religious festival to honor Zeus, is today an archaeological site in the Elis region of the Peloponnese. It is a unique experience to walk through the ruins of the area in which athletes trained and competed 3000 years ago!
The ancient site of Olympia is a 5-10 minute walk from the modern town of Olympia, which lies around 4 hours by car west of Athens.
56. Maritime Museum (Crete)
The Maritime Museum of Crete, which opened in 1973, is housed in Firka, a Venetian fortress at the mouth of Chania harbor. It comprises 13 units covering two storeys, which cover all aspects of Cretan maritime history from ancient times until the Battle of Crete, including reproductions of a number of ships and a substantial collection of seashells.
The Museum is located on Akti Kountourioti, around ten minutes on foot from the coach station.
57. Lindos (Rhodes)
Lindos on Rhodes can compete with Delphi as the second most popular archaeological site in Greece; nestling on the hills dwarfed by its magnificent acropolis and cradled between two harbors, its pretty whitewashed or mediaeval buildings encapsulate the essence of Rhodes. The town is a unique blend of ancient, traditional and modern, and its beautiful beaches and clear blue water make it an idyllic holiday destination.
Lindos is located on the east coast of Rhodes, 52 minutes southeast of Rhodes airport by car or 57 minutes by shuttle bus.
58. Karpenisi Velouchi Ski Resort
Mountainous Karpenisi in central Greece is often called "Greece's Switzerland" for its resemblance to that country and its ski resort, which make it a popular tourist destination, particularly in winter. However, the area offers a number of other attractions: the Proussos Monastery and the Panta Vrexei Canyon are only two examples, while the Saloon Park offers a range of activities for children and adults, including horseriding, shooting and climbing.
Karpenisi lies 287 km northwest of Athens (3 hours 50 by car).
59. Golden Hall Playground (Athens)
For time out while shopping at Athens famous Golden Hall mall, the Golden Hall Playground is a godsend for parents with tired feet and irritable kids! Trees, shrubs and fountains provide welcome shade, and the climbing frames and other attractions offer little ones the possibility to let off steam. There is an inside play area for kids over three and a separate computer play area for older children. The Mall itself is very exclusive and a designer`s paradise.
The Mall is located on the Leof. Kifisias, Marousi, around 1 hour from Athens railway station by metro (M2, exit Olympia Stadium).
60. Church Panagia Kera (Kritsa, Crete)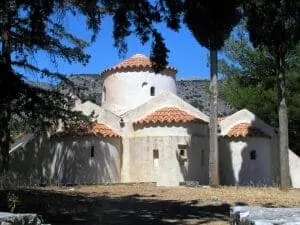 Due to its exemplary Byzantine frescoes, the Panagia Kera church in the Dikte mountains is one of the most culturally and historically significant churches on the island of Crete. Dating from the 13th century, its icon of the Virgin Mary is believed to have miraculous powers. This remote Byzantine monument is located 1 km outside Kritsa and 8 km south of Agios Nikolaos (14 minutes by car). Organized tours to the church are available from Agios Nikolaos.
61. Archaeological Museum (Thessaloniki)
Thessaloniki's Archaeological Museum was built in 1962 and extensively added to in 1980, with further modifications and reorganization in 2001 and 2004. Its exhibits consist of finds from Macedonia, and Thessaloniki in particular, dating from late antiquity back to prehistoric times. It is one of the largest museums in Greece, and the most significant in Northern Greece. Particularly fine are the Aravissos Hoard (golden artefacts from 4500 to 3200 BC) and the Petralona Hoard, consisting of bronze tools from the Early Bronze Age (3000 BC). For anyone staying in or near Thessaloniki, this museum is definitely worth a visit.
The Museumis located on Manoli Andronikou street in the city center, just minutes on foot from the railway station.
62. Gournia (Agios Nikolaos, Crete)
One of the loveliest and best-visited archaeological sites on Crete is Gournia on the northern coast of the island, about 1 ½ hours from Heraklion and 19 km east of Agios Nikolaos. The original Minoan name of the settlement is not known; the site was named "Gournia" owing to the many bowls and jugs found there. It has been lovingly excavated, revealing walls and houses in an excellent state of preservation, and lies in idyllic natural surroundings, with breathtaking views.
Day trips to Gournia are available from Agios Nikolaos; the trip takes around 30 minutes by car.
63. Leros
Despite its diminutive size (55 square kilometres), the island of Leros offers a wide range of activities to suit all ages and tastes. It has an excellent network of roads and lanes and can be easily explored on foot, by bicycle or motorbike or car. The Crithoni and Panagias beaches and the Bay of Alinda are very popular for swimming and sunbathing; particularly beautiful are the beach of Vromolithos, the picturesque port of Agia Marina, the village of Panteli and the lovely Byzantine castle of Panagia.
Leros is one of the Dodecanese islands, accessible by ferry from Piraeus (7-8 hours) or 45 minutes by air from Athens.
64. Ambelakia
The historical town of Ambelakia is situated in the Larissa region of Thessaly, 5 km into the Tempe valley at an elevation of 450 m above sea level and 30 minutes by car north of Larissa airport. It is only about 12 km from the Aegean coast, but a view of the sea is not possible owing to the Ossa mountains. Cobbled streets wind between quaint historical houses and mansions in the style of the Macedonian well-to-do, alternating with flowery and shady squares. The town also has a Folk Museum and a Handicraft museum, as well as gift shops and a fine church.
Ambelakia is best reached by car; it is 5 km off the Thessaloniki/Athens motorway.
65. Planetarium (Athens)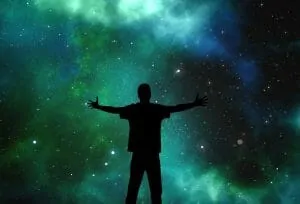 For a welcome diversion from the heat and noise of Athens, the high-tech digital Planetarium in the city's center is a great choice. An offshoot of the Eugenides Foundation – which is dedicated to research and education – and with 280 seats, 3D viewing and 935 square metres surface area, it will delight potential astronauts and astronomers of all ages. It is also dark and cool!
The M2 metro line goes to the Planetarium (Leof. Andrea Siggrou) from the city center in around 40 minutes (exit Evgenidio).
66. Waterpark (Faliraki, Rhodes)
A popular seaside resort among tourists, Faliraki on the northeastern coast of the island of Rhodes boasts the largest waterpark in Greece as well as fun parks for smaller children, a history park and a bowling park. The waterpark covers an area of 100.000 square metres with a wide range of speed slides, closed slides, Kamikaze, Turbo and free fall slides, to name just a few. Six different snack bars offering traditional Greek food as well as international favorites round off the mixture.
Faliraki in the Kallithea area lies around 14 km south of Rhodes city and 10 km southeast of the airport (around 15 minutes by bus or car).
67. Acrocorinth
Only a couple of kilometres from the ancient city of Corinth and 11.4 km inland from Corinth city center (19 minutes by car or taxi), the massive monolith of Acrocorinth is visible from the city center. It is not subject to much tourism, but is well worth a visit owing to its spectacular views. Originally a Greek acropolis, then a Roman citadel and finally a Byzantine fortress, it was subsequently occupied by Turks. Ruins of the fortified walls, the castle and the Temple of Aphrodite can be viewed, as can the Sanctuary of Demeter.
For a fascinating half day trip out of Corinth city center, Acrocorinth is well worth the effort.
68. Vlasti (Thessaloniki)
The village of Vlasti in western Macedonia, ringed by the crags of Mt. Mouraki, was pretty much unknown until the inception of its somewhat hippie "Earth Festival" in 2001. Since then, the village hums with activity during the second week of July every year; people flock there from all over the world for concerts, dancing, shows and stalls. The aim is to strengthen the sensitivity and awareness of visitors towards all aspects of ecology and the environment.
Vlasti is well-equipped for tourists, with camping sites, hotels, bars and cafes. It is located 164 km west of Thessaloniki (just over 2 hours by car).
69. Dinosaur Park and Mammoth Museum (Thessaloniki)
Opened in 2008, Thessaloniki`s Dinosaur Park is the largest lifesize dinosaur park in Europe. Covering a total area of 30.000 square metres, the Park boasts real fossils as well as replicas of mammals going back to the Ice Age, as well as a real cave showing exhibits of man's evolution. Very attractively landscaped, with shady trees, a lake and a waterfall, the Park offers a welcome change from the heat of the city and will delight budding palaeontologists of all ages!
The Park is located at Oraiokastrou, 4 ½ kilometres north of the city center (15 minutes by car).
70. Olympic Sports Complex (Athens)
For sport lovers of any age, a visit to the famous Sports Complex in the Marousi region in northeast Athens is a must. Opened in 1982 and extensively refurbished for the Olympic Games in 2004, this huge complex comprises an Olympic stadium, an Olympic indoor hall, an aquatic center, a velodrome and a tennis center. Many significant international sporting events have been held there, and in 2006 the indoor hall hosted the 51st Eurovision song contest. Currently the official home stadium of AEK Athens FC, the stadium has fallen into disuse during the Greek economic crisis, and its main interest is as an exquisitely designed (and to the tune of 8 billion Euros expensively realized) ghost stadium.
The Olympics Sports Complex can be reached from Athens railway station in 20-30 minutes by car, or under an hour by public transport.
71. Golden Fun Park Daratsos (Agii Apostoli, Chania)
Just five minutes`drive from Chania town center in Agii Apostoli is the largest amusement park on Crete. It features an 18-hole golf course, indoor and outdoor children's playground, billiards, video games, 8 bowling lanes, and a snack bar. Ideal for sunburned children (or adults) bored with ruins, it offers a good day`s fun and entertainment, albeit at rather elevated prices.
Agii Apostoli is within walking distance from many parts of Chania and is attractive and interesting in its own right.
72. Jewish Synagogue (Veroia)
Veroia, situated in Macedonia (northern Greece), was probably populated as early as 1000 BC. Important to Philip II of Macedonia – the father of Alexander the Great – and a place of worship for the Romans, it was one of the first seats of Christianity in the empire and St. Paul preached there. The Synagogue dates from the Roman era and is the last remaining synagogue in Greece still standing. Located in the extensive Jewish quarter of the city, it has been perfectly restored. Admission is by appointment only .
Veroia lies 71 km west of Thessaloniki (57 minutes by car). The nearest airport is Kozani (64 km).
73. National Park Mount Olympus
The Mount Olympus area, an area of around 3.734 square kilometres surrounding this famous seat of the Gods and the highest mountain in Greece, was the first area in Greece to be declared a national park (1938). An area of stunning scenic beauty, comprising many quaint and picturesque traditional villages (Paleos Panteleimonas, Litochoro, Dion, Petra), it was designated a Biosphere Reserve by UNESCO in 1981. Favorite activities include hiking, paragliding, bird watching, rock climbing and mountain biking. There are six retreats within the park to cover the needs of visitors.
The beauties of the Park can be explored from any of the above-mentioned villages! Mt. Olympus lies around 140 km southwest of Thessaloniki (just over 3 hours by car).
74. Parga (Igoumenitsa)
Known for its scenic beauty, its fine Venetian castle and its exquisite beaches, the waterfront town of Parga in Epirus, northwestern Greece is a favorite holiday destination in the area. Its romantic, colorful houses and stone-paved squares, lush greenery and turquoise water contribute to its serene and relaxing atmosphere. The Lichnos and Valtos beaches, accessible by boat from the Port of Parga, are considered to be among the finest in Greece.
A lovely venue from which to explore the many surrounding attractions, Parga lies 62 km north of Preveza and 44 km south of Igoumenitsa and can be reached by car from both towns in under an hour.
75. Rock-Climbing on Kalymnos
Kalymnos is reputed to have the highest concentration of rock climbing and mountain climbing activities in the world. One of the Dodecanese islands lying between the islands of Kos and Leros and with a surface area of only 134.5 square kilometres, it nonetheless boasts 65 sports crags and over 3.000 routes, with many more still to be discovered. Largely mountainous, Kalymnos has little in the way of agriculture; olives, oranges and vines grow in the two fertile valleys of Vathia and Pothia and sponge-fishing was the main industry on the island until a strange virus began to decimate the sponge population in the 80s.
Kalymnos has its own airport, or can be accessed by ferry from Piraeus (around 16 hours).
76. Edipsos (Evia)
With its many activities, Evia (or Euboea), the second largest Greek island after Crete is equally popular in winter and in summer. The densely-wooded, lush northern part of the island is extremely popular with tourists and has some lovely beaches, and the spa town of Edipsos, famed for its thermal springs and therapeutic waters, has become a byword for wellness. Trekking and hiking routes are well-regulated and dotted with small monasteries, ancient churches and traditional villages.
Easily accessed by road along the Chalkida bridge, Evia also has its own airport, accessible from Athens airport in just 50 minutes.
77. Prasonisi Windsurfing (Rhodes)
For windsurfers of all shapes and sizes, it doesn't get much better than Prasonisi Cape on the island of Rhodes. 92 km from Rhodes city, located on the southwestern tip of the island with consequent reliable strong winds (!), Prasonisi is a wind and kite surfers paradise. The island caters to the windsurfing community, with modern equipment and facilities; accommodation and social facilities (bars, swimming pools etc.) are very basic. The Prasonisi lighthouse and nearby archaeological site of Vroulia are worth a visit.
Prasonisi is accessible from Rhodes airport in around 1 hour 40 minutes by car, or 2 hours by bus.
78. Parthenonas (Neos Marmaras)
The traditional village of Parthenonas on the slopes of Mt. Dragoudelis (aka Itamos) on the Sithonia peninsula south of Chalkidiki has become increasingly popular in recent years as a starting point from which to explore the Sithonia region, which is rich in historical, cultural and entertainment attractions. The old chapel of Agios Stefanos and the folklore museum are definite spots of interest, while the quaint houses and laid-back atmosphere make a welcome change from sand, sea and ruins!
Parthenonasis only 6.5 km northeast of Neos Marmaras, around 10 minutes by car. Neos Marmaras is 122 km southeast of Thessaloniki.
79. Agia Pelagia (Crete)
Just 25 km northwest of busy Heraklion is the enchanting small fishing town of Agia Pelagia. A reasonably quiet and inexpensive place to stay, it is also an idyllic one with its small Greek tavernas, lovely small and hidden beaches (as well as one large and heavily frequented one) and wonderful sunsets. The area is not windy, so the sea is generally calm and suitable for small children. Well worth a visit is the mountain village of Fodele, 11 km inland and home to the painter El Greco.
</a href="http://www.holidays2crete.com/destination/agia-pelagia/#.WJR7HNLhCUk"> Agio Pelagia is accessible by car in 30 minutes from Heraklion.
80. Petralona Cave (Thessaloniki)
The tiny village of Petralona (35 km southeast of Thessaloniki in the Chalkidiki region) may have escaped detection by the tourist industry but for the discovery in 1959 of a large cave, with many corridors and tunnels and breathtaking stalactites and stalagmites, in which a skull was found dating from more than 700.000 years previously, making it the oldest specimen of Homo erectus ever found in Europe. An archaeological museum near the cave shows artefacts discovered in its interior, though the skull itself is now at the University of Thessaloniki.
Group tours of the Petralona cave take 20-30 minutes.
81. In and Out in 60 Minutes (Kozani)
For a truly unique holiday experience, the escape rooms "In and Out in 60 Minutes" in Kozani (126 km southwest of Thessaloniki) take some beating. Little known yet very highly rated, this very different "attraction" offers four different "rooms" where you have 60 minutes to solve various problems (for example, deactivating the alarm system and stealing a precious diamond) before escaping the room.
Kozani has its own airport, the Kozani National Airport Filippos. The Escape Rooms are located on Plateia Eleftherias, 12 minutes by car or taxi. Rooms need to be reserved!
82. Gramvousa and Balos Lagoon (Crete)
The highlight of your trip to Crete could be a boat trip to the uninhabited islands of Gramvousa and Balos Lagoon. The islands played a significant role in the 16th century defending Crete against the Ottoman Turks, and again during the Greek War of Independence, during which it was besieged for 2 years, forcing its inhabitants to turn to piracy to survive. The remains of a Venetian fortress (built between 1579 and 1584) and various other buildings are worth a visit, and the Balos Lagoon and the little islet/peninsula Tigani (which can be reached by wading through shallow water) are uniquely beautiful.
Boat trips to Gramvousa are available from the Port of Kissamos, which lies 37 km west of Chania (34 minutes by car).
83. Flisvos Children`s Playground (Athens)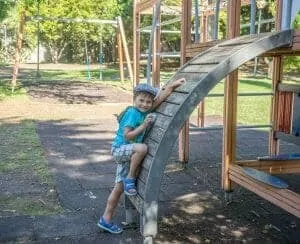 Worth considering as a diversion for children after the ruins of the Acropolis, this playground covers nearly 7 acres of land with space and amenities for up to 1.400 children. A huge complex at the Park's center has slides, swings and theme attractions such as ships, castles and towers, many with ramps for disabled children. There is a canteen and many cycling and walking routes throughout the park. However, it can become overcrowded at the weekends and there is not much shade: sunhats and maybe a sunshade are a must.
Flisvos Park is situated in Palaio Faliro, 10 km south of the city center (14 minutes by car).
84. Bicycle Tour Peloponnese
Since the infrastructure in many areas of Greece is poor or lacking and the roads are bumpy and street signs rare, a bicycle tour can be the best way to visit places which are off the beaten track. Many guided and self-guided bicycle tours are on offer in the Peloponnese which take in both the sun and sea and the ruins and culture aspects of this lovely region. Bicycles can be rented very cheaply, or you can bring your own. Spring or fall are obviously the best time for cycling; from June to August the temperatures soar.
The Peloponnese is a peninsula in southern Greece, connected to the Greek mainland by the Gulf of Corinth. Corinth is accessible in around 1 ½ hours by train from Athens.
85. Kastoria
Kastoria, scenically situated on a promontory in a limestone valley flanking the shores of Lake Orestiada, is thought to have ancient origins; however, in its present form it first sprang up during the course of the Bulgarian-Byzantine Wars (10th/11th centuries AD). Its architecture is predominantly Byzantine, with beautiful mansions and churches and a magnificent promenade along the shores of the lake, possibly one of Greece's most romantic walks, offering spectacular views of the city and its surrounding mountains.
Kastoria is located 190 km west of Thessaloniki (2 hours) and 165 km north of Ioannina (1 hour 50 minutes). It has its own airport.
86. Sea-Kayak in Ithaca and Kefalonia
The Ionian sea on Greece's west coast is a paradise for kayak enthusiasts. Almost invariably calm, with stunning coastlines, bays and caves, islands and tiny remote fishing villages, it seems to ask to be explored in depth. And indeed, many people feel that Greece is best explored by boat, since many of the most stunning coastal locations are only accessible from the water.
A great many guided and unguided sea-kayaking tours for all skill levels are available in the area, which is served by the airport of Zakynthos (around 1 hour from Athens).
87. Epanomi and Angelochori Lagoons (Thessaloniki)
A protected area 45 minutes`drive southwest of Thessaloniki in the Thermaikos municipality, the two lagoons of Epanomi (at Paralia Epanomis) and Angelochori are home to nearly 200 species of protected bird and over 2500 species of plant, with designated sunbathing and swimming areas. Blue waters lap against white sand and the peace is only broken by the cries of many wild birds, making the lagoons of Epanomi and Angelochori a perfect place to relax from the city.
88. Macedonian Museum of Contemporary Art (Skopje)
The Macedonian Museum of Contemporary Art, located in Macedonia's capital city, Skopje, was founded in 1963 following the earthquake which had severely damaged the city. Largely devoted to works from the 50s, 60s and 70s, the museum also houses around 100 works from the earlier modern period, including Filla and Masson. Works by Picasso, Hans Hartung, Christo, Kemeny and many other internationally known modern artists are of particular significance.
Skopje is located around 25 km from the border to Kosovo and has its own airport. It is 702 km north of Athens and 243 km northwest of Thessaloniki (just under 3 hours by car).
89. Boat Fishing Chalkidiki
For sea-lovers, maritime enthusiasts and anglers of all ages, a boat fishing trip can be an unforgettable experience of Chalkidiki. Lines and other equipment are provided as part of the trip, which is supervised by expert fishermen. Blue- and yellowfin tuna, albacore, marlin, mackerel and even swordfish with a weight ranging from 8 to 60 kilos are possible catches in the Chalkidiki area, making for great fishing and a lot of fun.
Chalkidiki is 71 km southeast of Thessaloniki (1 ¼ hours by car).
90. Milos
A mere 151 square kilometres in size, the island of Milos in the Aegean is nonetheless a very popular tourist destination in the summer. Mountainous and rugged for the main part, with Mt. Profitis Elias 748 metres above sea level in the west and hot sulphur springs in the east, it is nonetheless extremely attractive, with superb beaches (Tsigrado, Pahena), the harbor town of Adamas with its bars and fish restaurants and numerous beautiful churches.
Milos has its own airport (40 minutes by air from Athens) or alternatively can be reached by ferry from Piraeus (around 7 hours).
91. Horse-Trekking (Hydra)
Since cars are not allowed on Hydra, horse-trekking tours on the island are very popular and in high demand, with many different offers to choose from at reasonable prices. It is also the type of holiday which is suitable for the whole family at all times of the year; even in winter, the temperature seldom drops below 56° Fahrenheit, though December can be wet.
Hydra can be reached by ferry from Piraeus in just over 1 hour, or by hydrofoil in 1 ½ hours.
92. Skiing at Agrio Lefkes (Mt. Pelion)
At an altitude of 1170 to 1471 metres above sea level, Agrio Lefkes on Mt. Pelion is ideal for skiing in winter, with four ski runs of varying difficulty (including one for beginners) and 5 ski lifts (including one for infants), as well as chalets, ski and snowboard rental services and schools of instruction and first aid facilities. The season begins in December and ends in March, depending on snowfall.
The closest airport is Volos, around 38 km southwest of Agrio Lefkes (1 ½ hours by car).
93. Sailing at Aegina
Located in the Saronic Gulf just 27 km off the coast of Athens, the petite island of Aegina (87.51 square kilometres) is the place to go if you have ever dreamed of sailing around the Greek islands. One can rent sailboats with or without a skipper and crew from a number of places in Athens, or directly on Aegina, while lessons and courses for children are available from the Yachting Club of Aegina (NOA).
Ferries leave for Aegina from Piraeus regularly: the crossing takes around 40 minutes.
94. Follow the Path of the Apostle Paul
Though not one of the twelve Apostles of Christ, Paul probably spread Christianity more effectively than any other. Much of his activity was concentrated in Northern Greece, particularly Corinth, where the famous letters to the Corinthians were written. The >a
href="http://www.globusjourneys.com/tour/footsteps-of-apostle-paul-faith-based-travel/tp/"> path his office took him through ancient Greece is scattered with awe-inspiring monuments and beautiful islands, fascinating to Christians and non-Christians alike. From the Acropolis in Athens to Corinth, over Patmos, Crete and Santorini (and on some tours, Ephesus in Turkey), this route will delight any traveller.
Many tours are available, with differing durations, venues and prices, though generally commencing in Athens.
95. The Ghost Town of Vathia (Kalamata)
113 km southeast of Kalamata, on a hill dominating the surrounding terrain, lies the fortified ghost town of Vathia. Stone towers, turrets and chapels cling to the sparsely covered hillside, all deserted; it is an eerie and thought-provoking place, and one you will not forget. In spring, the hillside is covered with wild flowers, making the scene even more unforgettable.
Vathia is located on the Mani peninsula in the Laconia region of the Peloponnese. It is accessible by road from Kalamata in 2 ½ hours.
96. Monemvasia (Molaoi)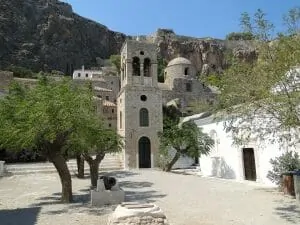 Monemvasia, nicknamed "The Gibraltar of the East" or more simply "The Rock", is a monolith-like island and small town linked to the Peloponnese mainland by a 200m causeway. Its summit, 15 m high, is crisscrossed with ruins and is only accessible by countless steep steps, but the climb is worth it; beyond the gate, the old town, largely Byzantine and the church of Agia Sofia, plus the stupendous view, are ample reward.
Monemvasia is best reached by taking the bus from Athens to Kifissias (15 minutes) and then the bus to Monemvasia (around 6 hours, exit Molaoi).
97. Kardamyli (Kalamata)
Kardamyli was one of the seven towns offered by Agamemnon to Achilles in Homer's Iliad, and was also the backdrop for the movie "Before Midnight". A tiny, modest sea town nestling between the Messinian Gulf and the Taÿgetos Mountains, with excellent food at reasonable prices and gorgeous sunsets, Kardamyli also has the Vyros Gorge to its north which runs to the foothills of Mt. Profitis Ilias, both of which are immensely popular among hikers and rock climbers.
Kardamyli lies 35 km southeast of Kalamata (42 minutes by car or 35 minutes by bus, twice daily).
98. Achilleion (Corfu)
One of Corfu`s most resplendent treasures, the Achilleion was built between 1889 and 1891 on the orders of Empress Elisabeth of Austria (aka "Empress Sisi") as a holiday palace. It was bought by Kaiser Wilhelm II after her death, and was used as a hospital by French and Serbian troops during WWI, only being handed over to the Greeks in 1919 as part of the Contract of Versailles. It enjoyed a brief period as a kindergarten and as a private museum, before attaining its present status as a tourist attraction.
The Achilleion is located at the town of Gastouri, 10km southwest of Corfu town.
99. Tourlitis Lighthouse (Andros)
For lovers of weirdly unique sights, the Tourlitis Lighthouse on a rock just offshore from Andros island is about as weird as they get. Built in 1897 and bombarded during WWII, with complete restoration in 1994 by a millionaire who gave it to his daughter, it perches atop a spindly outcrop of rock of just its own surface area, with curved steps carved into the rock at its base, like something out of "Lord of the Rings".
Andros island, also famed for its Sariza spring at A Poika and the ancient capital of Palaepolis – parts of which can still be seen under water – is the northernmost of the Cyclades group, easily accessible by ferry from Piraeus in 6 ½ hours.
100. Korikion Andron Cave
Around a 20 minute drive from Arachova, high up in the pine forests, one suddenly chances upon the Korikion Andron cave. Supposedly the home of the God Panas and the Korikion nymphs, at an altitude of 1310 metres above sea level, it consists of three chambers with remarkable stalactites and stalagmites, ancient inscriptions in the entrance and a strange slab of hollowed rock (possibly a sacrificial altar) within its depths.
The cave is only accessible by a dirt trail, and best viewed as part of a hiking tour from Delphi.
Jen Miller is a former electrical engineer and product specialist with more than 20 years of product design and testing experience. She has designed more than 200 products for Fortune 500 companies, in fields ranging from home appliances to sports gear and outdoor equipment. She founded Jen Reviews to share her knowledge and critical eye for what makes consumers tick, and adopts a strict no-BS approach to help the reader filter through the maze of products and marketing hype out there.  She writes regularly and has been featured on Forbes, Fast Company, The Muse, The Huffington Post, Tiny Buddha and MindBodyGreen.