Hidden in the heart of Europe lies the land of emperors, waltz and schnitzel. A paradise for skiers, hikers and city lovers all in one. From the steep hills of the Alps to the magnificent palaces of Vienna, every tourist can find something just to their taste.

Austria is the home of famous classical composers like Mozart, psychologist Sigmund Freud and architect Hundertwasser. Its history is rich with wars, splendor and intrigue. The rich culture, which has produced countless pieces of art, music, plays and books is present throughout the country. And for the foodies: get ready to enjoy the delicious local cuisine.
Below we have gathered the top attractions as well as the best-kept secrets, hidden places and off-the-beaten track surprises to make your stay in Austria unforgettable.
America may be first, but let Austria be second. Let's take a look at what you should not miss when you visit the "eastern realm":
1. Schonbrunn Imperial Summer Palace (Vienna)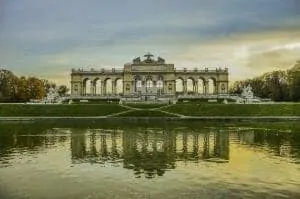 The palace and its magnificent gardens are famed for being the former imperial summer residence. With over 300 years of history of Habsburg monarchs, you can easily spend a whole day here. Private tours with expert guides that will share their knowledge of the palace with you are available, as well as an evening event including dinner and a concert.
2. Take a Walk through Vienna's Historic Center (Vienna)
If you want to take a walk among some of the most beautiful architecture in the world, while well-groomed horses strut past you with their carriages, look no further. The historic centre of Vienna offers exactly that – but also much more. Segway you way around or hop right on a bus with the Vienna pass. The choice is yours.
3. Coffee and Cake in Salzburger Altstadt – Salzburg Old Town (Salzburg)
Old town city centres are simply the best. Magnificent architecture, delicious street food and shopping until you go broke. For the authentic Salzburg experience, take this 2-hour tour
and enjoy your coffee and cake.
4. Klimt in the Belvedere Palace Museum (Vienna)
Belvedere is a beautiful palace that is now home to stunning art collection. If you are a fan of Klimt, this is your chance to see the Kiss in person. But that is hardly all you can see there – prepare your cameras or you'll forget half of it before you're home. To learn about the history of the palace and fascinating details about the artworks, consider the 3-hour private tour of the palace and its exhibitions.
5. Kunsthistorisches Museum – Art History Museum (Vienna)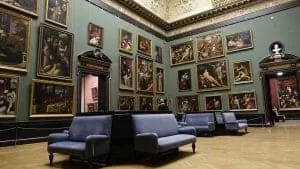 If you like art, this is a must-see. This one-of-a-kind museum features some of the greatest works of artists such as Rembrandt, Rubens, Tintoretto and others. To complement the great masters, you can also see Egyptian and Near East exhibitions, Ancient Greek and Roman collections as well as the coin cabinet.
6. Visit World's Oldest Zoo (Vienna)
Are animals your thing? Do you want to see everything from the deadliest predators to the cuddliest little creatures? Well, they have it all covered at Vienna Zoo, which holds the title of oldest in the world. It houses over 700 animal species, some of them endangered. You can attend animal talks and feedings or take the panorama train.
7. A Walk through Schonbrunner Gardens (Vienna)
These gardens were built for kings and queens and even today, you will feel like one walking in them. They offer a myriad of entertaining things: a maze, a hill with a great view, many games…too much to be all seen in a day. Excellent for a romantic walk with your special someone.
8. Prater (Vienna)
Prater is the best known amusement park in Austria. One of the landmarks of Vienna, the big Ferris wheel, is located here, as well as the planetarium, the train ride and other things you will certainly enjoy. You can easily spend a whole day just here, trying out various attractions. The entrance is free, but you have to pay individual fees.
9. Hofburg Imperial Palace (Vienna)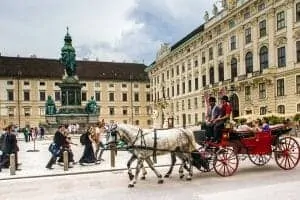 If the day is cold and damp and the gardens don't seem appealing, go inside the Hofburg Imperial Palace
for a similar, worthy-of-a-king experience. The many rooms with monarchy era furniture, paintings and dresses are sure to leave no one cold. For those of you with an interest in history and royalty, don't miss this!
10. State Opera House (Vienna)
The State Opera House in Vienna is one of the centres of culture in Austria. You can go on a guided tour, but for the best experience, go and see one of the magnificent shows on display there. You can find an updated list, as well as early tickets, here. Just make sure to book in advance, they sell like hotcakes!
11. Grossglockner Alpine Road Drive (Heiligenblut)
Can you say spectacular views? Well, few are more spectacular than those you will see on the Grossglockner Alpine Road. The mountains are, of course, the stars, but the waterfalls, the flowers and the high alpine farmers all combine to make this idyllic piece of Earth what it is. Take this half-day trip from Salzburg and enjoy the view.
12. View of Vienna from St. Stephen's Cathedral (Vienna)
St. Stephen's Cathedral, or as the locals call it, Stephansdom, is a mix of Romanesque and Gothic architecture. The architecture and interior design are breath-taking, as can be the climb up to the tallest tower. But the 136 meter(446 ft) tall climb is worth the view of the city from above. Put this into your tour plan of Vienna
13. Dinner at Salzburg Fortress (Salzburg)
Have you ever wanted to have a fancy dinner in a real castle? Your chance is now, with this special two-for-one offer. First, you will be seated in a 900-year old hall inside the fortress, where you will be served delicious traditional meals. Then, the residential orchestra will perform the most famous Mozart's pieces for the finale of the evening. Treat your loved one and bring him or her to this wonderful experience.
14. Christmas Market at City Hall Rathaus (Vienna)
If you are in Austria from the middle of November until Christmas, you have to see the market in front of Vienna City Hall. It is the largest in town, with hundreds of stands offering everything imaginable from local deserts to Christmas tree decorations to take home as a souvenir. And even if you come here at some other time, the Gothic architecture is still one of the best sights in Vienna.
15. Kitzbuhel Ski Resort (Kitzbuhel)
If you follow competitive skiing, you are familiar with this famous ski resort. Every year, the best in the world come here to compete on the "Streif". Now you can, too. The resort is considered by many to be the best in the world and has received numerous awards. If you are coming to Austria for skiing, this is your number one choice.
16. Sound of Music Tour at Mirabell Palace & Gardens (Salzburg)
This tourist gem is placed in the heart of Salzburg. "Sound of Music" was filmed there and on other locations nearby, all of which are included in the 4-hour adventure-filled tour. See the iconic scenes from the movie and relive the classic moments. Watching the movie the night before is definitely recommended!
17. Cable Car Trip in the Alps to Innsbrucker Nordkette (Innsbruck)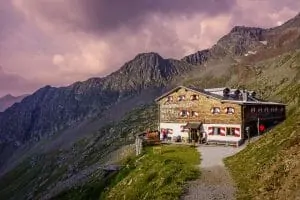 This Alpine trip will take you from Innsbruck to the top of the 2256 meter tall Hafelekar peak. Along the way, you will see astonishing views of the city and the Alps. Make sure to stop at all the stations, especially at the Alpine Zoo – a favorite among families – along the way. The car ride takes 20 minutes, but the whole tour takes at least an hour, depending how much time you want to spend exploring.
18. Albertina (Vienna)
Albertina is both the largest Habsburg residential palace and houses the largest graphical collections in the world. Work such as Klimt's studies of women and Dürer's Hare can all be seen inside. The permanent exhibitions as well as temporary ones, like the popular "Monet to Picasso", are well worth checking out. And did I mention the dining? Oh yes, guests are taken care of with fine dining right next door at Augustinerkeller.
19. Natural History Museum (Vienna)
From dinosaurs to galaxies, the Natural History Museum of Vienna has it all. With forty permanent and regular special exhibitions, it is one of the best natural history museums in the world. Budget more time than you think you need too, because if you want to see everything, you will be glad you did. Also don't forget to go to the digital planetarium. You can get tickets for both online here.
20. Overview of Vienna on the Ringstrasse (Vienna)
The Ringstrasse is a circular road that goes all around Vienna past all the most popular tourist attractions. It is perfect for a quick overview of the city or if you are in Vienna only for a day. But that would mean missing seeing so many things from up close and having a deeper experience that you can get if you stay here for more than a day. Still, if you're only here for a short time and want to quickly get some selfies, take advantage of this opportunity!
21. Knowledge at Melk Abbey (Melk)
Melk Abbey became famous for its library, which houses a vast collection of medieval scriptures and is one of the most known ones in Europe. From November to March, visits are only possible with a guided tour, so keep that in mind if you plan on coming in that time.
22. Nationalbibliothek – National Library (Vienna)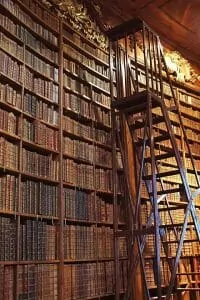 The Austrian National Library is not a must see only for its books, but also for the beautiful interior(one of the best in Vienna) and four museums
inside it. The amount of knowledge gathered there might just inspire you to become the next great inventor.
23. Untersberg (Salzburg)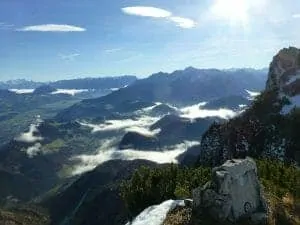 If you long for a breathtaking view, this is it. From the town, you can take aa href="http://www.salzburg.info/en/sights/excursions/cable_car_untersberg">cable car< to the top of the mountain – the very one featured in the movie Sound of Music. On a sunny day, you will see for miles – the steep hills, the foggy mists, the vast forests. Enjoy and thank me later.
24. Classical Concert at St. Peter's Church (Vienna)
St. Peter's church is a hidden church in the centre of Vienna. If you don't know it's there, you will likely miss is as the view is obscured by surrounding buildings. However, that does not mean it is not worth visiting. In fact, they put on one of the best classical concerts in Vienna
– in a very special atmosphere.
25. Salzburg Cathedral (Salzburg)
Another must see for all Sound of Music fans. This cathedral was one of the shooting scenes for the famous film and it will astonish you with the beautiful paintings inside. If you want to hear the sound of the organs, come in during a sermon- even if you aren't religious. See the beautiful Salzburg Cathedral and enjoy.
26. Museums Galore at Museumsquartier (Vienna)
Museumsquartier, or the Museum Square, is the eighth largest cultural area in the world. You can easily spend a whole day here, wandering around and exploring all the varied exhibitions, from classical to modern art. You can buy a tickets
, or you can opt for a more subtle experience with a private tour.
27. Steep Slopes of the Ischgl-Samnaun Ski Resort (Ischgl)
Do you dream of fast slopes? Fresh powder? Then book a ticket to this ski resort ASAP. But Ischgl-Samnaun Resort
offers so much more than just skiing – you get almost every adrenalin related activity you could want plus supreme lodgings and food. What's not to like?
28. Gaze Far from the Hallstatt Viewing Platform (Hallstatt)
From the still lake of Hallstatt, climb to the highest peak around and enjoy the view. The mountains and the lake make it a picture worth of painting. If you're in Salzburg, hop on this World Heritage VIew and imagine you are flying.
29. Kirche am Steinhof Church (Vienna)
http://snappygoat.com/o/7553b87e48329c66d964a7ffb49c81100f04a296/Kolo_Moser_-_Kirche_am_Steinhof_-_S%C3%BCdfenster.jpeg
Off the beaten path lies a gem that is a must see for all art lovers. Built on the foundations of an old psychiatric hospital, it offers an atmosphere like no other. History and WW2 geeks should make sure to check the exhibition of the History of Naci-Medicine. You can also take a short one hour tour.
30. Hundertwasser House (Vienna)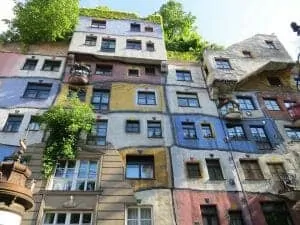 The famous and crazy architect Hundertwasser built buildings that stand out. Among the rectangular shapes of the inner city, the wavy forms of the Hundertwasser House stand in pleasant contrast. A unique experience and a must see.
31. The Third Man Museum (Vienna)
Interested in post-war Vienna and movie history? If so, The Third Man Museum should be on your to-do Vienna list. The theme is not just the well known 1949 film, but the situation in Europe after World War 2. Something all history and film fanatics should see. Guided tours are available.
32. Kitzsteinhorn Ski Resort (Zell am See)
Another fine Austrian ski resort can be found in Zell am See. Skiing, freeride park, hiking, mountain biking, excellent cuisine and the first rate service all combine to create the perfect winter paradise.Kitzsteinhorn Ski Resort is one of the best not only in Austria, but in Europe. And if you like steep slopes – how does the over 60 degree angled Black Mamba sound to you?
33. Hallstatt Old Town (Hallstatt)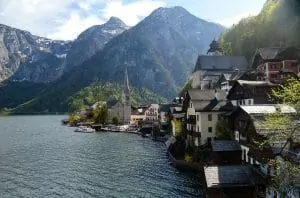 Hallstatt is a beautiful little town on the shore of Lake Hallstatt. It is famous for three things: salt production, giving the name to the Hallstatt historic period and being unbelievably charming. Only a short trip from Salzburg, this is one of the place you have to see in Austria and a day trip worth taking. Scuba diving is also a very popular activity on the lake.
34. Bergisel Ski Jumping Hill (Innsbruck)
If you are at all interesting in ski jumping – and even if you're not – you owe it to yourself to stand atop the in-run at least once. It is a lot steeper than you'd imagine it from the TV and if you don't have a head for heights, consider not going. But for everyone else, tickets can be bought here. Take a day off in Innsbruck and include this in your list.
35. Hellbrunn Castle Trick Fountains (Salzburg)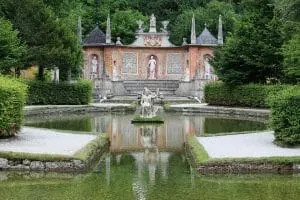 This baroque style palace is most known for its green gardens, which are full of ponds, trees and fountains. These fountains in particular are something you ought to watch out for: they make quite the show. Bring your loved one(s), they are sure to enjoy it!
36. St. Anton Ski Base (St. Anton am Arlberg)
Great skiing, excellent slopes and a city with many bars for visitors. Skier's paradise? St. Anton Ski Base is also perhaps the place to go for apres ski in Austria. A great resort for more experienced skiers.
37. Mozart's Birthplace (Salzburg)
Who hasn't heard of Mozart? After all, he is the second most legendary composer – perhaps only after Beethoven(but most people only know the dog). If your plan of travel involves Salzburg, take an hour of your time and budget it here. The house now contains a themed museum where you can see where and how the Mozart family lived and learn about his childhood.
38. Krimml Falls (Krimml)
Without a doubt, Krimml Falls are the most beautiful in Austria. Only a short drive from Salzburg, you can see the 380 meter fall. It falls on three levels, each more spectacular than the last. It takes about an hour and a half to get to the view at the top. If you get tired, there is restaurant along the way to one of the most beautiful natural attractions in Austria.
39. Stephansplatz (Vienna)
Is it sunny and you are yearning for a walk to get some fresh air? Kill two birds with one stone and come to Stephansplatz. Ideal for walking and shopping, this is an area you can explore for days and not get tired of it. If there's any place that can be called The Heart of Vienna, this is it.
40. Vienna by Night (Vienna)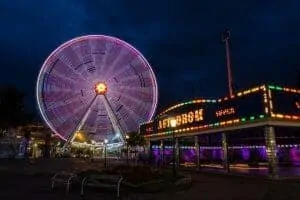 Ready to see Vienna by night? This unique tour takes you around the Ring Road, where you get to see the city and learn about its history. It includes a ride on the city's ferris wheel and at the end, a glass of wine in Grinzing 'heurige' – a traditional Austrian tavern.
41. Swarovski Crystal Worlds (Wattens)
The Swarovski Crystal Worlds is a park that was created on the centennial anniversary of the company. On the outside, it looks like a green park with lots of points of interest – like the Giant. There's also the play tower, the playground and the labyrinth. Inside, you can see a great collection of crystals on exhibit. If bling is your thing, go and see the Swarovski Crystal Worlds for yourself.
42. Innsbruck Old Town (Innsbruck)

All old towns have their charm and each one is unique in its own way. The Innsbruck Old Town centre is small, but jam-packed with historical buildings, cafes and food stands. It is equally, but differently beautiful in summer and in winter, but the time around Christmas adds even more to its usual charm. Make sure to check out the Golden Roof, made out of 2,738 gold-plated copper tiles.
43. Adrenaline Junkie Heaven at Red Bull Hangar 7 (Salzburg)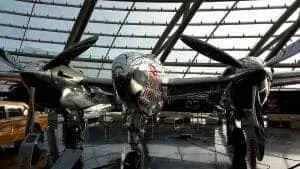 Do you like fast cars? Airplane acrobatics? Jumps from the edge of space? Then you have to go Red Bull Hangar 7. The collection there is simply something any adrenaline junkie would give his left hand to have. F1 race cars, NASCAR, the capsule Felix Baumgartner used in his historic jump, and much more. Hm, I might go there right now.
44. Alpine Zoo (Innsbruck)
Mountain animals are a sight to see, especially from up close. You can get the chance to do so in the Alpine Zoo Innsbruck. Bears, wolves, bison, eagles…on and on, you'll need at least an hour to see everything. A great trip for families.
45. Leopold Museum (Vienna)
Art gallery par excellence. Found in the museum quarter of Vienna, it houses vast collections of artists like Klimt, Schiele and many others. Unlike some other museums, you are allowed to take pictures. Get your tickets here.
46. Imperial Treasury of Vienna (Vienna)
This is the most important treasury in the world for a reason. It served as the treasury of the Habsburg family, one of the richest dynasties in the history of the world. Inside, you will find the crowns of the Emperor of the Holy Roman Empire and the Emperor of Austria, treasures and a unicorn. Yes, I'm not joking.
47. Parliament Building (Vienna)
One of the landmarks of Vienna, the locally known "Das Parlament" is where the two houses conduct their sessions. From up close, it is enormous – too big to take it all in a picture. It is one of those places you have to see for yourself in real life to truly experience the size. If you miss it by day, come at night and see it bask in the glow of the lights. If you are interested in what goes on inside, take a guided tour.
48. Salt Mines (Hallstatt)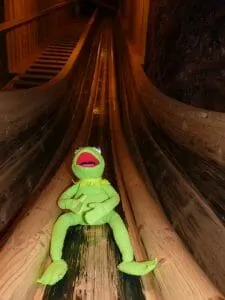 Learn about the salt mines and trade in this tour of the old mine of Hallstatt. You will be taken on a panorama tour with a funicular railway into tunnels, some which are 3000 years old and were dug by hand. And the best thing is the slide at the end of the tour! Unfortunately, it is closed in winter, so put this on your summer visit plans.
49. Sisi Museum (Vienna)
Empress Sisi was a very interesting person. She maintained a rigorous exercise regime, rode for hours every day and took care of her beauty with cult-like devotion. However, even all of that and all the riches in the world didn't always make her happy. Learn more about her in this one-of-a-kind museum.
50. Naschmarkt Food Market (Vienna)
If you are staying in Vienna for more than just a day and maybe plan to do some cooking – or even if not – you have to check Naschmarkt out. And if you don't have time to buy fresh ingredients to cook, just go into one of the many restaurants nearby. The prices of food are reasonable, as this is a local market for locals, not a tourist attraction primarily. You can book a tour around the market here.
51. Museum of Military History (Vienna)
If you are interested in history, particularly the history of European warfare, the Museum of Military History in Vienna is the place to go to. Covering everything between the Thirty Years War and the fall of the Habsburg empire that came with WW1, it houses 13 permanent exhibitions. The guided tours take between an hour to two hours – you can choose a general tour or a tour of any of the permanent exhibitions on its own.
52. Hang out with the Dead at Central Cemetery (Vienna)
Cemeteries are a divide for tourists. Some love them, some can't stand to go to one. But there's no denying that they have an energy about them. If you are fond of exploring tombstones of famous people and unknowns alike, set aside a few hours for a visit to the Central Cemetery of Vienna(I suggest going on the last day of your stay).
53. Ride the Hungerburg Funicular (Innsbruck)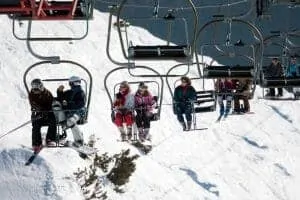 If you want great views, you have to go high. That is exactly where the Hungerburg Funicular will take you. If you are in Innsbruck, don't miss it – the views are nothing short of spectacular and on a sunny day, this will be an experience you will never forget.
54. Stubaier Gletscher Ski Resort (Neustift im Stubaital)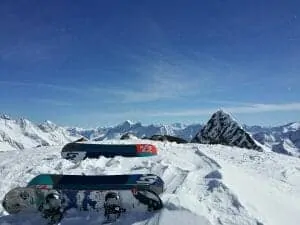 This glacier is the perfect place for all levels of skiers. Due to the high altitude, you can always expect snow and powder. However, remoteness does not mean a lack of "civilization" – you'll have everything you would have at home (and possibly more).
55. Aqua Dome (Langenfeld)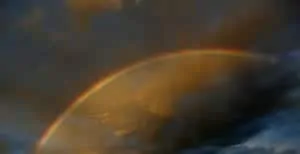 How does a day spent in a hot pool surrounded by freshly fallen snow sound like? If that sounds like cup of proverbial tea, the Aqua Dome Thermal Pools will be worth of a trip. With many outside and inside pools and all kinds of saunas, you will be able to relax completely and let yourself be pampered all day long.
56. Monkey Business at Aqua Terra Zoo (Vienna)
Who would guess that inside a World War 2 flak tower there would be an aquarium and a zoo in hiding? The choice of space proves to be excellent, as is the zoo itself. A must see if you are travelling with children. If you love animals, you will spend at least a few hours here. Just beware of the monkeys – they are terribly playful!
57. Hundertwasser Art Gallery Kunst Haus Wien (Vienna)
When you go to Vienna, you simply can't be allowed to miss out on Hundertwasser. If you haven't heard the name before, he was one of the most influential artists and architects of the 20th century. In this gallery, you will have the opportunity to see his greatest pieces. A must for art lovers.
58. Party at Volksgarten Disco Club (Vienna)
https://cdn.pixabay.com/photo/2016/07/20/22/36/vienna-1531474_960_720.jpg
"Volksgarten" means the People's Garden. But when locals say they are going to the "Volksgarten", they don't mean the actual garden – they mean the disco club inside it. It is one of the top spots for a party in Vienna and it charms with its 1950's style furniture. It is telling that in the fast-moving party world, the Volksgarten Disco Club has remained a hot spot for decades.
59. Explore the Technical Museum (Vienna)
If you like technology, you will undoubtedly enjoy your visit to the Technical Museum of Vienna. With a myriad of exhibits spread over 22,000 square meters, you will have enough to do to fill a rainy afternoon – or day. Especially good for families with children.
60. To the Top of Rosshutte (Seefeld in Tirol)
RosshutteRosshutte is a small ski resort in the Tirol alps. The only way for non-skiers to get to the top there – and subsequently get to enjoy the amazing views – is the cable car. The resort itself is also worth a visit; it has slopes for all levels of skiing. If you are not visiting for the snow, just go to the top and snap a picture.
61. Psychoanalysis with Sigmund Freud (Museum) (Vienna)
The mind is like an iceberg. So is this museum: meaning that it is large and cold on the inside. No, just kidding. But it is a place worth visiting. Freud was one of the foremost thinkers in the history and this is the best chance to learn more about him. The Sigmund Freud Museum also offers guided tours.
62. Lake Achensee Cog Railway and Boat Cruise (Maurach)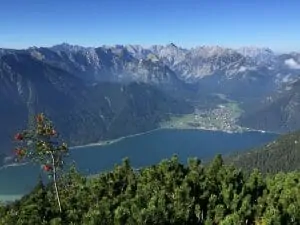 Lake Achensee is one of the biggest lakes in Austria and one of the most beautiful as well. It has a long history of tourism and the trip there is special because of the cog railway from 1889, on which you can ride today still. After that, go on a relaxing cruise on the lake.
63. Mayrhofen Ski Resort (Mayrhofen)
Austria is full of ski resort and so is this list. However, each one deserves its spot in the top 100. Mayrhofen Ski Resort is no different; in fact, it is special. No only can you ski on the amazing slopes, you can also go hiking, paragliding, or visit the many bars and restaurants in the area. The choice is yours.
64. Dachstein Skywalk (Ramsau am Dachstein)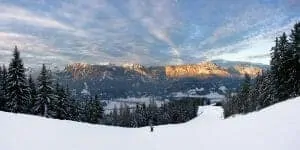 Ever wanted to walk in the sky? In Dachstein, you can do just that. The views from the Suspension Bridge, the Skywalk and the Stairway to Nothingness are as amazing as the names suggest. The panorama gondola and the Ice Palace complete the glacier experience.
65. Salt Mine Treasure Hunt (Hallein)
In Hallein, salt has been described as "white gold" since 2500 years ago, when the Celts first began to mine this precious treasure. Today, you can go on a two-hour adventure of discovering the underground world. In the Hallein Salt Mine, you will go down a salt slide, raft on an underground lake and travel through the mine on a pit railway. A great adventure near Salzburg.
66. Ski Arlberg (Lech)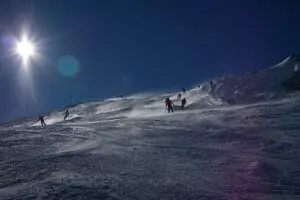 Lech is still one of the best ski places in the world. Unlike some other resorts on the list, I wouldn't recommend this one to beginners, as the pistes are more difficult. But if you like a challenge, Ski Arlberg might be the destination for you.
67. Liechtensteinklamm Gorge (Sankt Johann im Pongau)
This spectacular gorge is one of the deepest and longest in the alpine world of Austria. The Liechtenstein Gorge will charm you with its moss-covered stones and beautiful waterfalls. Perfect for a day trip with your family.
68. Zwolferhorn Cable Car (St. Gilgen)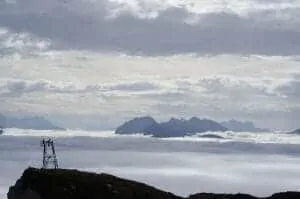 Take me to the top of the world! In this cable car ride to Zwolferhorn, you will indeed go there – or as close as possible in these mountains. There is very nice restaurant at the top as well. Recommended on a sunny day, otherwise you will miss the best part
69. Schafberg Cog Railway (St. Wolfgang)
The Schafberg Cog Railway will take you straight to the top of Mount Schafberg in a 35 minute trip. It is the steepest railway in Austria, so think twice if you are scared of heights. Again, highly recommended on a sunny day, as there won't be much to see otherwise. But on a nice day, the views are spectacular.
70. Hexenwasser (Söll)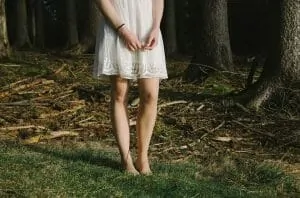 What does the perfect playground for children look like? In my opinion, it includes witches and water. And guess what: that is exactly what you get at Hexenwasser. It is a huge park with tons of interactive activities for children that are both fun and educational. A unique experience for families.
71. Kaiser Villa (Bad Ischl)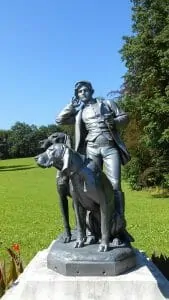 The Kaiser Villa used to be the summer residence of the Habsburg imperial family. It is the place where the last emperor lived and it is rich with history. The castle grounds are a beautiful garden and you get the chance to learn about how the Kaiser lived. A cool history trip.
72. Sigmund-Thun-Klamm (Kaprun)
If you aren't afraid to get wet and are close to Kaprun, go to the Sigmund-Thun-Klamm. It is a waterfall accessible via a timber staircase along the side of a natural canyon. It is a great short(half-day with the drive there) hiking trek that ends at a nice like with a picnic place.
73. Kuenringer Castle Climb (Durnstein)
If you'd like to do some walking and see grand castle ruins at the end, Durnstein is the place for you. The old ruins were one of the places where Richard I of England was imprisoned. Today, it is a hiking destination, as you are sure to build up a sweat and enjoy the view at the top.
74. Schwaz Silver Mine (Schwaz)
One of the largest silver mines in the Middle Ages, the Schwaz Silver Mine is a popular tourist destination. No wonder – the 90 minute tour takes you deep underground on a wondrous trip through the history of silver mining and the mine itself. Wunderbar!
75. World's Largest Ice Cave (Werfen)
Set your foot inside the largest ice cave in the world. A short drive from Salzburg, the icy and mysterious caves await the adventurous traveller. On this private tour, you will experience stunning views; not only inside, but on the approach as well. An experience you won't soon forget. Remember to wear warm clothes!
76. Zell am See Alpine Village Trip from Salzburg (Zell am See)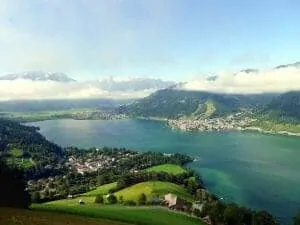 Do you wish to escape the city life and enjoy the peace and tranquility of the high country? Then the destination for you is Zell am See, an alpine village an hour's drive from Salzburg. The food, the people and the fresh mountain air will fill you batteries so you can go back to the "real world" ready and energized.
77. The Butterfly House (Vienna)
You've been to a zoo, but have you been to a butterfly zoo? Probably not – however, you should consider going. With over 400 species that can be seen year round, the Butterfly House is sure to charm even the grumpiest tourist. And if you are looking for unique wedding ideas, they also offer them here.
78. Madame Tussauds (Vienna)
The world famous Madame Tussauds can also be found in Vienna. Of course, the exhibits are Austrian-themed, with wax sculptures of Sisi, Emperor Joseph, Hundertwasser and other famous Austrians. But fans of pop culture need not worry, you will also get the usual cream-of-the-crop Hollywood and sports stars.
79. Zipline Stoderzinken (Gröbming)
Zipline over the Styrian landscapes like and eagle and see the world below from a bird's eye view. As you speed above the forests, you will be treated to sights that you'll need a GoPro to capture (because you might forget it due to the adrenaline that will be coursing through your veins. The Stoderzinken's speciality is multiple ziplines right next to each other, which makes this a perfect experience with friends or family.
80. MAK Austrian Museum of Applied Arts (Vienna)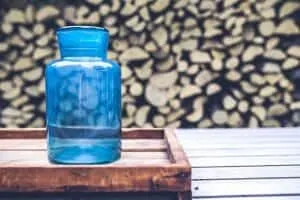 If you are into alternative art, you will find hours of excitement in MAK. The Museum of Applied Arts (or Contemporary Arts) houses many interesting exhibitions, from the Far East to the Biedermeier Period. Not only that, it holds regular events, workshops and art education classes. Make sure to check for those before you go on their website!
81. Mauthausen Memorial (Linz)
The Mauthausen Memorial is a memorial to one of the greatest horrors in modern history – the holocaust. It is a topic that is still taboo to talk about in Germany and Austria. However, it is a part of history we must not forget in order to prevent it from happening again. The day trip tour takes you from Vienna to the Mauthausen concentration camp.
82. Lake Worthersee (Klagenfurt)
Moving on to a lighter topic – the top tourist attraction in the summertime, Lake Worthersee. It has been the main retreat of Austrian aristocracy since the 19th century and it still retains the glamour today. It is one of the warmest lakes, which makes it perfect for swimming and other water-related activities.
83. The Vienna Philharmonic (Vienna)
http://snappygoat.com/o/eba66e70a1356275bf404f108af2832d64602f2c/The_Secretary_Walks_by_the_Wiener_Musikverein%2C_Home_to_the_Vienna_Philharmonic_Orchestra.jpg
One should go listen to the classic composers at least once when he is in Vienna. The local Philharmonic is perhaps the best place to do so. With frequent concerts year round, one only has to book a week or so in advance to secure themselves a ticket. Then, just sit back, relax and enjoy the sounds of the strings.
84. Alpine Coaster (Imst)
Are you a thrill seeker? An adrenaline junkie that can never get enough? Well, the Imst Alpine Coaster will surely leave you buzzing with endorphins for the rest of the day. The ride is 3,535 meters long and reaches break neck speeds. However, that isn't even the beginning. Did I mention the 6 meter drops? Woooooooohooooooooooooo!
85. Red Bull Ring (Spielberg)
More for adrenaline fans: the Red Bull Ring in Spielberg. The place of MotoGP and Formula 1 races and the place for speed addicts in Austria. Race around the legendary Spielberg in a Formula 2 car and quench your need for speed.
86. Designer Outlet (Parndorf)
http://snappygoat.com/o/f1467203a1e13ece9796efb1974ffd0592312c5c/Parndorf%20Designer%20Outlet%20(1).jpg
Is shopping more your thing? If you wish to splurge on the best designer pieces at great prices, Parndorf Designer Outlet has you covered. With shops of premium brands like Tommy Hilfiger, Ralph Lauren, Gucci and many others, you can stay here all day. Just remember to set a limit on how much you are willing to spend!
87. Lookout Tower Pyramidenkogel (Keutschach am See)
Where can you see three countries from one place? High in the sky, obviously. However, there is a way to do that without even getting on a plane. Enter the Pyramidenkogel Lookout Tower. You have to walk to get to the top, but the way down is much faster – because you will be going down a slide. Another thing – it is made out of wood (but is is still completely safe).
88. Arnold Schwarzenegger Museum (Thal bei Graz)
"I'll be back! Get to the chopper! It's not a tumor!" are all phrases that will stay with fans of action(and some not so action) films forever. The Arnold Schwarzenegger Museum in his hometown is indeed the place to learn about the humble beginnings of the man who accomplished everything he set out to do.
89. AREA 47 (Ötztal-Bahnhof)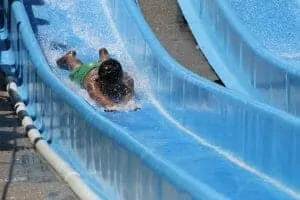 For the young or body or heart, children, youngsters and adults alike,AREA 47 offers an adrenaline-filled experience that you will remember. Whether you come with friends or family, the biggest outdoor park in Austria has something for you. Make sure to book before you go, as the park is often fully sold out.
90. Mountaincart Ride (Mitterbach)
Mountain carts are like gokarts, but on a mountain road. And the rides are three-wheel bikes that look like tuned Harley Davidson's. 5 kilometers of track (German only, use Google Translate) will keep your adrenaline pumping. How fast can you make it to the bottom?
91. Highline179 Suspension Bridge (Reutte)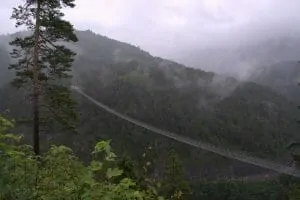 Not for the faint hearted! At a height of 114 meters and a length of 406, the Highline179 is sure to take your breath – and that is even before you step on it. The view is amazing, whether you look around or down. However, don't be afraid: the bridge is well secured and can hold 500 people at once.
92. Esterhazy Palace Wine Tour (Eisenstadt)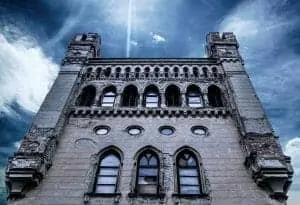 By now, you might be a bit sick of castles. You've probably seen enough of them to think that they're all the same anyway. However, the Esterhazy Palace offers the largest wine museum in Austria. The tour is self-guided; we are not sure if that means one will be left unsupervised with the wine barrels. Hmm…
93. Family Land Adventure Park (St. Jakob in Haus)
Fun for the whole family! This adventure park(use Google Translate) will leave no soul young at heart unsatisfied. Hour of fun play wait for you here. Definitely worthy of a day trip. If you are in Kitzbuhel, it's only a short drive away.
94. Bregenz Festival (Bregenz)
From July to August, the edge of Lake Constance(Bodensee) is taken over by the Bregenz Festival. In 2017, it will feature plays like Moses in Egypt, operas like To the Lighthouse, concerts, recitals and more. Here is everything you need to know about the festival.
95. Schladming Ski Resort (Schladming)
Another ski resort, you say? Yes – and no. Of course, Schladming Ski Resort is a snow paradise. But the town also has plenty of things to do; you can go on a Christmas horse-drawn sleigh ride, or dine in one of the local restaurants.
96. Kufstein Fortress (Kufstein)
Kufstein Fortress is a place of history. It was mainly used as a prison and you can learn about its history. You have the choice between walking or a funicular to get to the top. The view is nice and spectacular at sunset. Organ concert at midday is not be missed!
97. Loacker Point of Sale (Heinfels)
If you are a fan of Loacker products, I don't need to tell you to go here. For everyone else, Loacker produces some of the most delicious sweets – wafers, choco bars, praline… If you have a sweet tooth, you will enjoy your time here.
98. Black Lake (Kitzbuhel)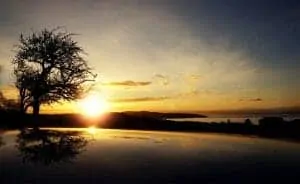 If you are spending your vacation in Kitzbuhel and need a break from all the skiing, take a day off and walk around the Black Lake. It is frozen in the winter and you can even walk on it(be careful of thin ice). In the summer, you can swim in it or sunbathe on the beach. Lovely.
99. Kaprun Dam (Kaprun)
Whether you would like to throw a basketball to test the Magnus effect or just enjoy the view, the Kaprun Dam offers what you want. A tour takes you inside the huge structure, where you will learn about clean electricity and sustainability.
100. Strauss Monument (Vienna)
We end where we started – in the heart of Austria – Vienna, with the statue of Johann Strauss, one of the famous classical composers. Bring an IPod so you can listen to a tune while you stroll around and imagine what it must have been like to be a rock star in those days.
Jen Miller is a former electrical engineer and product specialist with more than 20 years of product design and testing experience. She has designed more than 200 products for Fortune 500 companies, in fields ranging from home appliances to sports gear and outdoor equipment. She founded Jen Reviews to share her knowledge and critical eye for what makes consumers tick, and adopts a strict no-BS approach to help the reader filter through the maze of products and marketing hype out there.  She writes regularly and has been featured on Forbes, Fast Company, The Muse, The Huffington Post, Tiny Buddha and MindBodyGreen.