Fried rice is a staple in nearly every Asian household. In my Chinese-Malaysian household, it was always as a means of using up old rice from the day before. A "lazy dish" of sorts if you will. My grandmother always made it the same way – with oyster sauce, dark and light soy sauce, loads of white pepper, a touch of MSG, eggs and a little diced up chinese sausage we call "lap cheong."
Because home-cooked dinners are always served with rice as a base, there more often than not will be extra rice leftover from the night before. But old, refrigerated rice never stays as fluffy once reheated and may not be the most enjoyable texture – dry and less fragrant. The answer to that? Fried rice!
When making fried rice, the most ideal rice to use is day-old rice. Because fried rice should never be mushy or sticking together, the grains of a well executed fried rice should be clearly  separated from each other. This is why medium or long-grain rice is better for fried rice, though the Japanese manage to make good fried rice as well, albeit slightly softer in texture.
As for cooking equipment, a good ol' trusty wok and huge fire help to impart "wok hei" or "the breath of the wok" which is a complex charred aroma emanated from a wok into the food. This is also why any liquids or liquid seasonings should be poured from the side of the wok and not directly onto the food. But fret not if these don't sound feasible, making fried rice with fresh rice in a standard pot on an induction stove will still taste incredibly good!
This recipe for authentic Thai pineapple fried rice is chock-full of colors, flavors and fresh veggies. By serving it in a hollowed out pineapple half, you can impart even more tropical flavors into each and every grain!
Thai Pineapple Fried Rice
Ingredients
2 ½

cups

of old rice

or fresh

8

prawns

deshelled

Half a ripe pineapple

2

eggs

Half a large carrot

5

stalks of green beans

4

small shallots

or half a large white onion

3

cloves

of garlic

1

large red chili

deseeded

1

tsp

of powdered turmeric

1

tbsp

of fish sauce

1

lime

optional
Instructions
Mince the aromatics, dice the veggies, prep the prawns and pineapple.

Stir-fry the carrots and green beans for 2-3 minutes.

Fry the aromatics and prawns.

Pour in the eggs and before it fully cooks, add in the rice.

Add the carrots, green beans and pineapple.

Add all the seasonings.

Dish out and serve.
STEP ONE – PREP ALL THE INGREDIENTS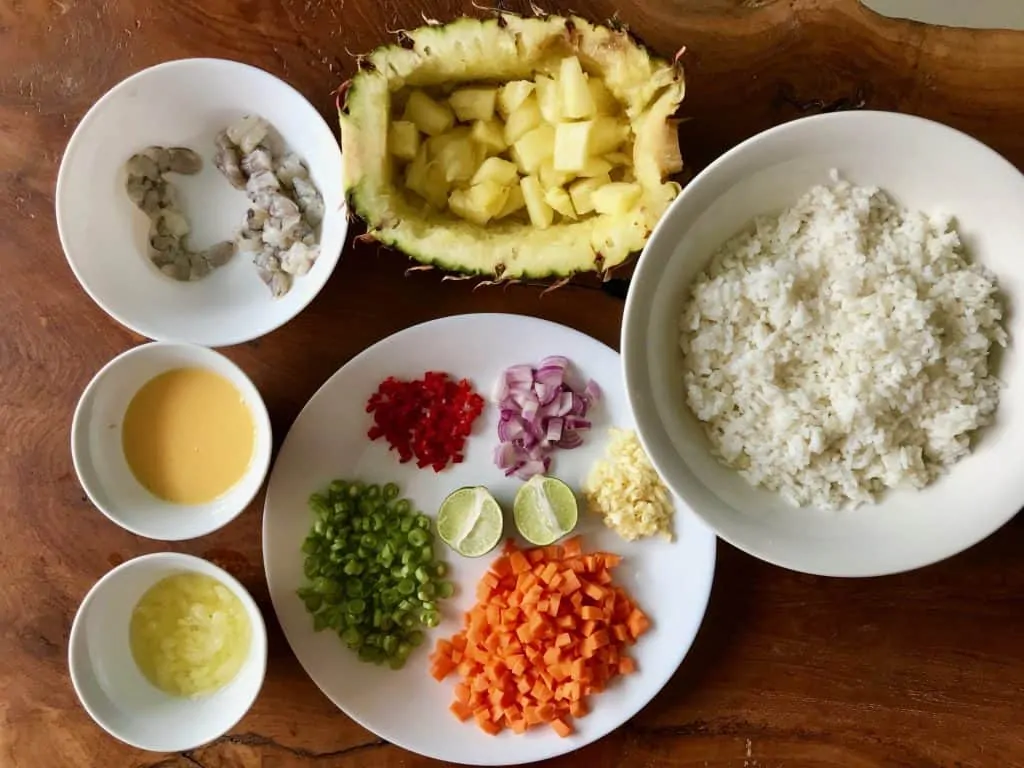 Deshell and devein the prawns, then either chop them into large chunks or leave them whole. Finely dice the carrots and  green beans. Mince the garlic, shallots and chili. Whisk the eggs beforehand. As for the pineapple, halve it and hollow it out if you'd like to serve it in the shell, discard the core if it's too fibrous and chop the flesh into chunks.
STEP TWO – PRE-COOK THE FRESH VEGETABLES
Skip this step if you don't mind your vegetables being a little on the crunchier side. If not, lightly pre-fry the carrots and green beans on medium-high heat with a tablespoonful of oil for 2-3 minutes or until the colors are brighter. Take care to not cook them all the way through. Set aside.
STEP THREE – FRY THE AROMATICS AND PRAWNS
On high heat, add 4 tablespoons of oil into the wok and fry the chili, garlic and shallots for 2 minutes until fragrant before adding in the prawns. Just as the prawns begin to take on some color (about 20 seconds), add in the whisked eggs.
STEP FOUR – ADD IN THE EGGS AND RICE
Once the eggs have barely solidified (they should still be a little runny), add in the rice all at once. This gives the eggs something to cling on to. Stir-fry over the highest heat you can go for 15 – 20 conds before adding in anything else.
STEP FIVE – ADD THE VEGGIES BACK IN
Add in the carrots, long beans and pineapple. Continue frying on high heat for 25-30 seconds. If you have any juice or pulp from scraping out the pineapple, add them in now. About 2 tablespoons worth is plenty. Don't add too much or the fried rice will turn out mushy.
STEP SIX- ADD THE SEASONINGS
Finally, add the fish sauce and turmeric. The fried rice will become a sunny yellow color. Season to taste with adequate salt. Continue frying for 5-10 seconds.
STEP SEVEN – DISH OUT AND SERVE
Immediately scoop out the fried rice and place it into the pineapple "bowl."  Serve hot. If storing for awhile, cover with plastic wrap, a plate or even better, the other half of the pineapple. Doing so will infuse an even stronger pineapple taste into the rice, though the steam may result in a slightly mushier fried rice.
FINAL THOUGHTS
Feel free to use diced chicken in place of the prawns. Or perhaps make a seafood pineapple fried rice with an assortment of seafood like squid, fish and prawns! As for the vegetables, a pre-mix of carrots, peas and corn would work great as well, just blanch in hot water beforehand to ensure it's cooked thoroughly.
To bring it up a notch, try covering the fried rice entirely in a pineapple and roasting the whole thing in the oven at 180 degrees celsius for 10 minutes! If you tried out this recipe, make sure to let us know in the comments below!
Jen Miller is a former electrical engineer and product specialist with more than 20 years of product design and testing experience. She has designed more than 200 products for Fortune 500 companies, in fields ranging from home appliances to sports gear and outdoor equipment. She founded Jen Reviews to share her knowledge and critical eye for what makes consumers tick, and adopts a strict no-BS approach to help the reader filter through the maze of products and marketing hype out there.  She writes regularly and has been featured on Forbes, Fast Company, The Muse, The Huffington Post, Tiny Buddha and MindBodyGreen.