Four or five years ago, when we were living in Orange County, we started making wraps and salads for a juice bar in Newport Beach. The juice bar was a charming place right near the water run by a handful of our juice-loving friends. A few times a week, we'd bring in turkey wraps on homemade spinach tortillas and big quinoa kale salads.
In the fall, just as those southern California mornings were starting to feel a little crisp and the beach was starting to clear, we began to cook and bake a lot with squash.
Looking for a salad that exuded all our favorite tastes and smells of the season, we started to add butternut squash to our kale salads. Down the line, to make them a bit fancier, we included maple roasted walnuts when making them for autumn dinner parties with friends. And this Butternut Squash and Kale Salad with Maple Roasted Walnuts was born!
We have a variation of this recipe in our cookbook, Living the Mediterranean Diet, which includes fresh thyme and raw honey (but no walnuts). We love the extra crunch that the maple roasted nuts bring to the salad — and truth be told, we enjoy snacking on them while creating it, too.
We hope you enjoy the fall-inspired scents of maple, squash, and freshly grated nutmeg as much as we do and that maybe, this dish becomes a staple in your own autumn kitchen as it has in ours.
We suggest putting a sprinkle of pumpkin spice or cinnamon in your coffee, turning on your favorite tunes, and unwinding with this seasonal and simple-to-make salad. It can serve 4-6 people, though we often make a big one just for the two of us and save the leftovers for lunch the next day.
Butternut Squash and Kale Salad with Maple Roasted Walnuts
Ingredients
For the Salad
1

medium-sized butternut squash

peeled and cubed

1

tablespoon

extra virgin olive oil

for squash

1

large bunch of kale

chopped

⅓

cup

dried cranberries

½

cup

quinoa

1

red onion

sliced

Pecorino Romano

shaved

sea salt

black pepper
For the Walnuts
1

tablespoon

pure maple syrup

1

tablespoon

coconut oil

⅛

teaspoon

freshly grated nutmeg

¼

teaspoon

sea salt
For the Dressing
1

tablespoon

balsamic vinegar

2

tablespoons

extra virgin olive oil

1

clove

of garlic

minced

sea salt

black pepper
Feeling inspired by the ingredients? Perfect! Let's get cooking.
Step One: Prep the Squash
Preheat your oven to 400 degrees and prep your butternut squash. They can be a bit tough to handle, so to make things easier— cut off the top and bottom and slice the squash in half lengthwise. Remove any seeds with a spoon.

Step Two: Peel the Squash
Use a veggie peeler or sharp knife to slowly peel the skin from the squash.
Step Three: Cut the Squash

Begin by slicing each half of the squash into long pieces.
Then, cut the pieces into cubes for the salad.
Step Four: Roast the Squash

Transfer the squash to a baking sheet or oven-safe dish. Drizzle with olive oil, and sprinkle with black pepper and sea salt. Roast the squash for 35-40 minutes until golden, making sure to toss the squash twice while it roasts. Set aside and allow it to cool.
Note: If you'd like your squash crispier, try cutting it into smaller pieces and arranging it in a single layer on a baking sheet. Keep in mind, if you do so, that your squash will cook faster.
Step Five: Make the Walnuts
<
While the squash bakes, make your sweet maple walnuts. Add the walnuts, coconut oil, maple syrup, fresh nutmeg, and a sprinkle of salt to a skillet or pot (we used our beloved Le Creuset Dutch oven). Mix the ingredients together to coat. Cook them on low heat for 8 minutes, stirring constantly. Let cool to allow candy-like coating to form.
Step Six: Create the Quinoa
Bring your quinoa to boil with one cup of water and two cloves of minced garlic. Stir periodically. Alternatively, you can also use chicken or vegetable broth in place of water for a more flavorful quinoa. When quinoa is fluffy and the water has been absorbed, remove it from the heat and allow it to cool.
Step Seven: Cut and Slice the Veggies

Chop your kale leaves and slice your red onions. Toss them into a medium-sized bowl to mix the salad together.
Step Eight: Add the Remaining Ingredients
Add the remaining ingredients to the salad mix — squash, dried cranberries, walnuts, and quinoa. To make your dressing, add the balsamic, olive oil, salt, garlic, and black pepper. Toss to coat.
Step Nine: Plate the Salad
Plate the salad and top with shaved Pecorino Romano. Enjoy!
What we really love about this salad is that it can be used as a base for so many variations. Often, we'll add chopped raw or baked cinnamon apples at the end. We also love different cheese flavors for an extra creamy kick — blue cheese, soft goat cheese, and feta are a few of our favorites. For the dressing, you can also feel free to add chopped fresh herbs like basil and parsley.
It's a fantastic salad to serve alongside fall entrees like roasted chicken, maple glazed salmon, or turkey pot pie. It also pairs well with soups, like homemade cream of mushroom or goji berry chicken soup, and a thick rustic sourdough baguette.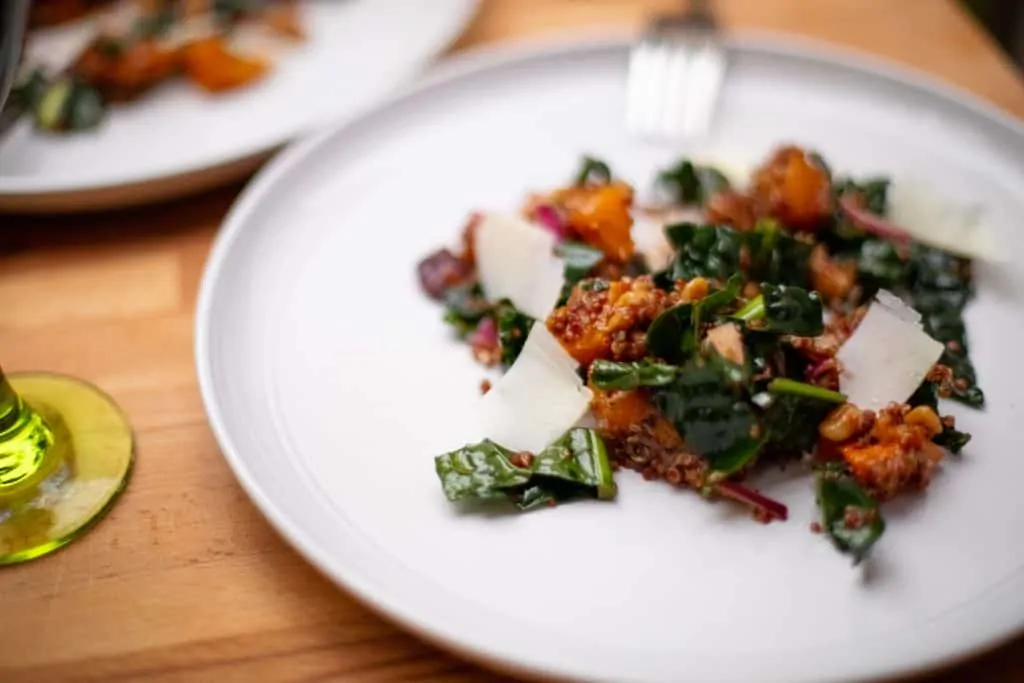 Whether you're making this salad to bring to a fall dinner party or incorporating it into your family's Thanksgiving traditions, we hope it's inspired you to get to the kitchen and get cooking. There's nothing quite like the smell of butternut squash permeating through the kitchen when the air is crisp and the leaves are changing.
Have any favorite ways you like to use butternut squash? Let us know in the comments below! We're always on the hunt for more autumn-inspired recipes.
Jen Miller is a former electrical engineer and product specialist with more than 20 years of product design and testing experience. She has designed more than 200 products for Fortune 500 companies, in fields ranging from home appliances to sports gear and outdoor equipment. She founded Jen Reviews to share her knowledge and critical eye for what makes consumers tick, and adopts a strict no-BS approach to help the reader filter through the maze of products and marketing hype out there.  She writes regularly and has been featured on Forbes, Fast Company, The Muse, The Huffington Post, Tiny Buddha and MindBodyGreen.