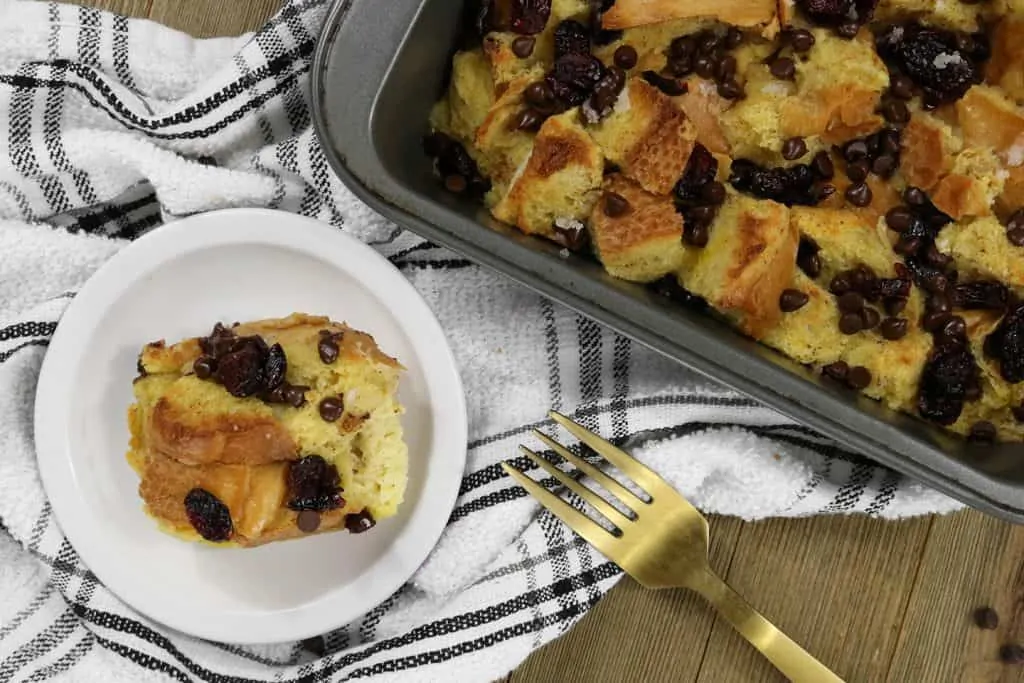 There's something so comforting about homemade bread pudding. It doesn't hurt that it's easy to make, too! In fact, you probably already have all the ingredients on hand. Bread pudding, after all, is all about delicious simplicity.
If this is your first time making bread pudding, don't fret. Bread pudding is extremely forgiving and hard to mess up. The basic ingredients include bread, milk, eggs, and sugar. The best part, however, is that many things "count" as these ingredients.
First, any type of bread will do. You can use French bread, croissants, challah bread, or even normal sliced bread. If you want a gluten-free dessert, make this bread pudding recipe with your favorite gluten-free bread. Second, any milk works just as well. For a rich bread pudding, use heavy cream, half and half, or melted ice cream. If you want a dairy-free version, use coconut or almond milk.
Third, if you want to use more or less eggs, then go for it. The general rule of thumb is to use equal parts milk and eggs, but this doesn't have to be exact. You can easily adjust these ingredients according to your liking. The more eggs you use, the more your bread pudding will be like custard. The more milk you use, the more it'll be gooey. And you know what? Both will taste amazing.
Lastly, you may use white, brown, or coconut sugar. Honey or maple syrup works, too. And, regardless of the sweetener, it can be adjusted based on your preference. It all depends on what you like.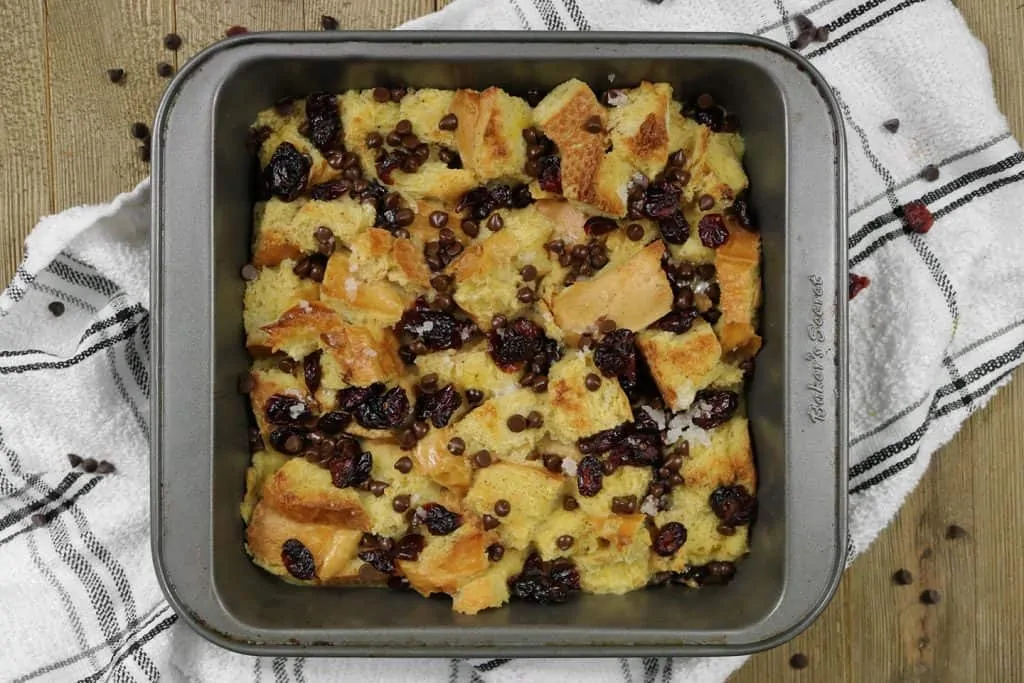 Oh, and we can't forget about the add-ins. When it comes to bread pudding, the possibilities are endless. Traditional choices include chocolate chips and raisins, but don't limit yourself. You can easily add a seasonal spin with the right set of toppings. For example, in the spring, toss in marshmallows or chopped peaches. Come summer, add sliced strawberries and coconut flakes. Autumn is the perfect time for pumpkin pie spice and apples, while winter calls for crushed candy canes or cranberries. Don't be afraid to mix and match your favorite ingredients for a dessert that's all your own.
Bread Pudding Recipe
Total Time
1
hour
5
minutes
Ingredients
6

cups

bread cubes

or ½ French bread loaf

3

eggs

2

cups

milk of choice

½ to 1

cup

sugar

1

teaspoon

vanilla extract

½

teaspoon

ground cinnamon

1/3

cup

chocolate chips

optional

1/3

cup

dried cranberries

optional

Butter for greasing
Instructions
Pre-heat the oven to 350 degrees Fahrenheit. Cut the bread into cubes. Place in a large bowl and set aside.

In a separate bowl, beat the eggs.

Add the milk, vanilla, sugar, and cinnamon. Mix to combine.

Pour the custard over the bread cubes. Toss until all of the bread is covered. Let sit for 15 to 20 minutes.

Transfer the soaked bread to a greased 8x8 baking pan. Add the chocolate chips and dried cranberries on top. If you'd like, add a sprinkling of sugar.

Bake for 35 to 40 minutes or until lightly golden brown and a toothpick comes out clean.
STEP ONE – CUT THE BREAD
Slice your bread into cubes. Set aside.
If you're using sliced bread, you'll need five or six slices. However, if you're using a loaf of French bread, you'll need just under half. It's OK if you end up with slightly less (or more) than six cups of bread.
STEP TWO – BEAT EGGS
In a separate bowl, beat the eggs together. You can add another egg or two if you prefer a more custard-like consistency.
STEP THREE – ADD REMAINING INGREDIENTS
To the eggs, add the milk, vanilla extract, sugar, and ground cinnamon. Mix well.
At this point, you can also add other spices like nutmeg, pumpkin pie spice, or even ground ginger. Another tasty idea is to mix in a shot of coffee, brandy, or whiskey.  
For a chocolate bread pudding, use chocolate milk or add ½ cocoa powder.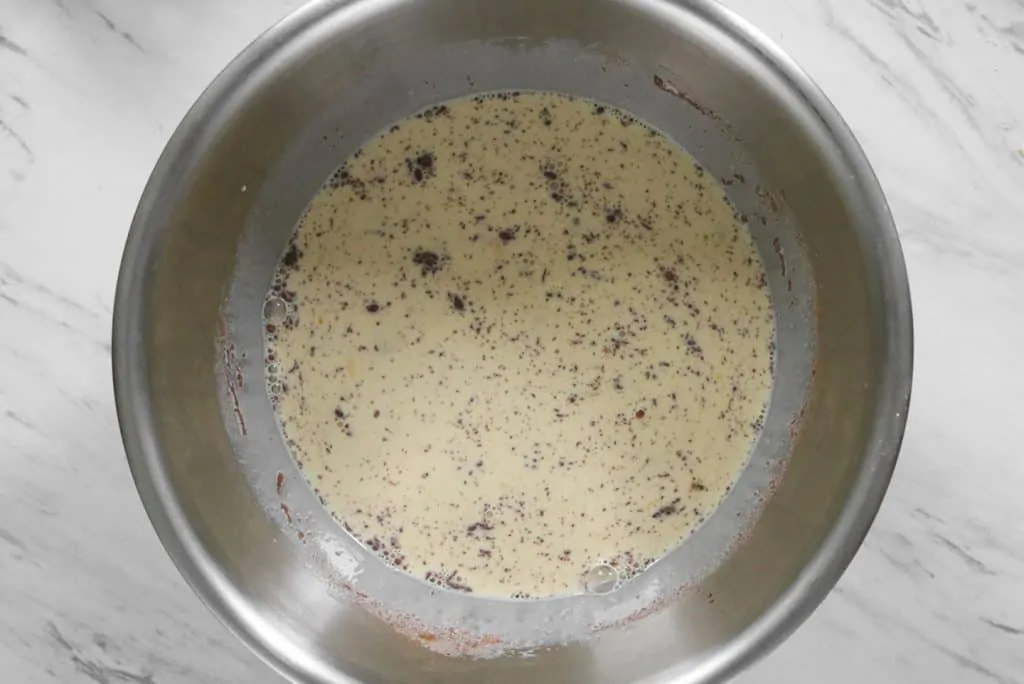 STEP FOUR – POUR CUSTARD ON BREAD  
Pour the egg-milk mixture over the bread cubes. Toss well to make sure all of the bread is covered. If there is leftover liquid, set it aside.
Leave to sit for 15 to 20 minutes. This will allow the bread to soak up the egg-milk mixture.
STEP FIVE – TRANSFER TO PAN AND ADD INGREDIENTS
Grease an 8×8 baking pan. For a caramelized crust, you can sprinkle a layer of sugar along the bottom.
Once the bread is done soaking, transfer it to the pan. Pour any leftover liquid on top; the bread will absorb it as it cooks. Top things off with chocolate chips and dried cranberries. If you'd like, add another sprinkling of sugar.
Again, you aren't limited to these toppings. You can use tasty ingredients like coconut flakes, crushed candy bars, nuts, or even dollops of jelly or nut butter. Adding different toppings is a great way to customize your homemade bread pudding.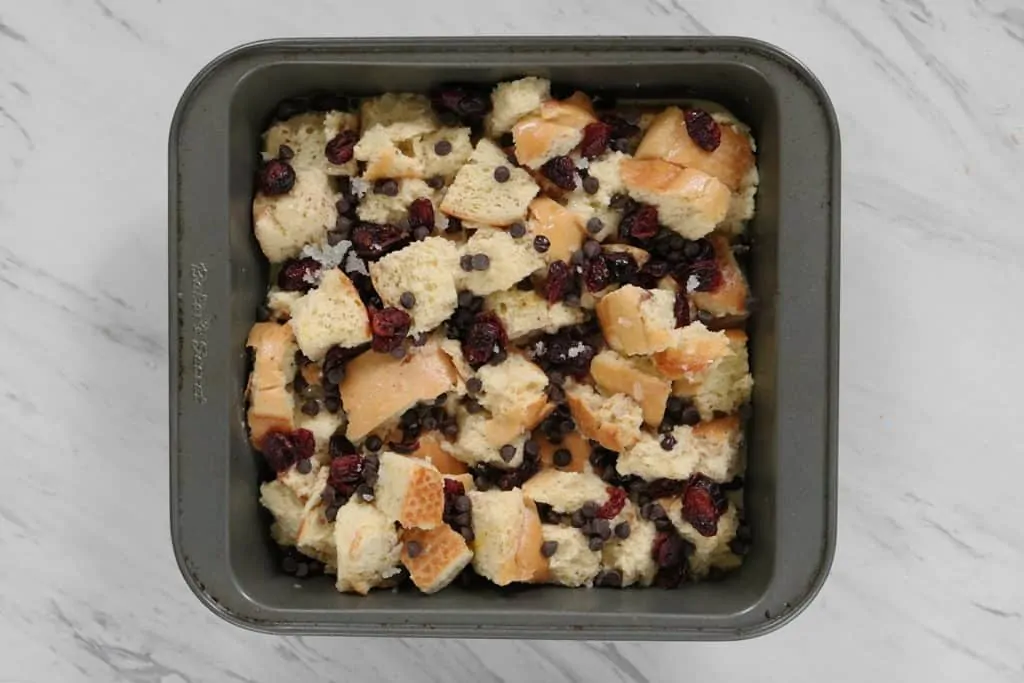 STEP SIX – BAKE
Bake for 35 to 40 minutes or until lightly golden brown and a toothpick should come out clean. When you slice into the bread pudding, there shouldn't be any liquid.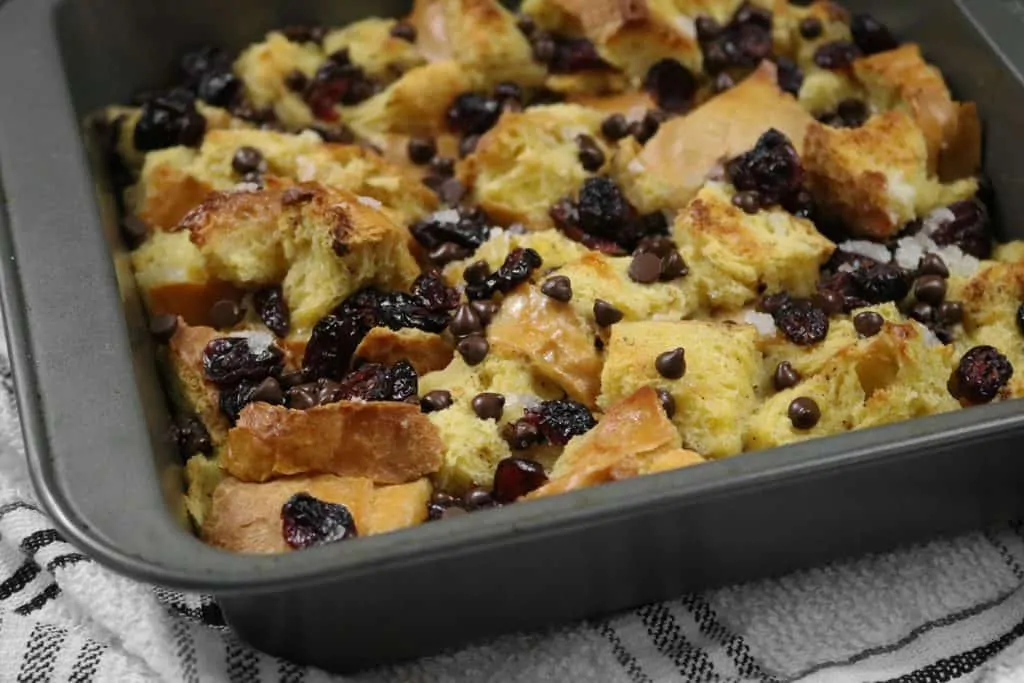 As you can see, making bread pudding is a piece of cake. It doesn't call for fancy ingredients, equipment, or skills. Best of all, the process has a lot of wiggle room. It's possible to adjust the ingredients based on your preference or what you have on hand.
FINAL THOUGHTS
Bread pudding is one of my favorite desserts to make home. Not only does it call for simple ingredients, but it's the ultimate comfort food, too! This dish is also perfect for potlucks and dinner parties. It's easy to throw it together without dropping a pretty penny on ingredients.
If you're hosting a party, consider baking bread pudding in ramekins. This is a great way to make individual servings for your guests. You can even set out different toppings so each person can customize their dessert.
What would you add to this homemade bread pudding recipe? Let us know in the comments, below!
Jen Miller is a former electrical engineer and product specialist with more than 20 years of product design and testing experience. She has designed more than 200 products for Fortune 500 companies, in fields ranging from home appliances to sports gear and outdoor equipment. She founded Jen Reviews to share her knowledge and critical eye for what makes consumers tick, and adopts a strict no-BS approach to help the reader filter through the maze of products and marketing hype out there.  She writes regularly and has been featured on Forbes, Fast Company, The Muse, The Huffington Post, Tiny Buddha and MindBodyGreen.