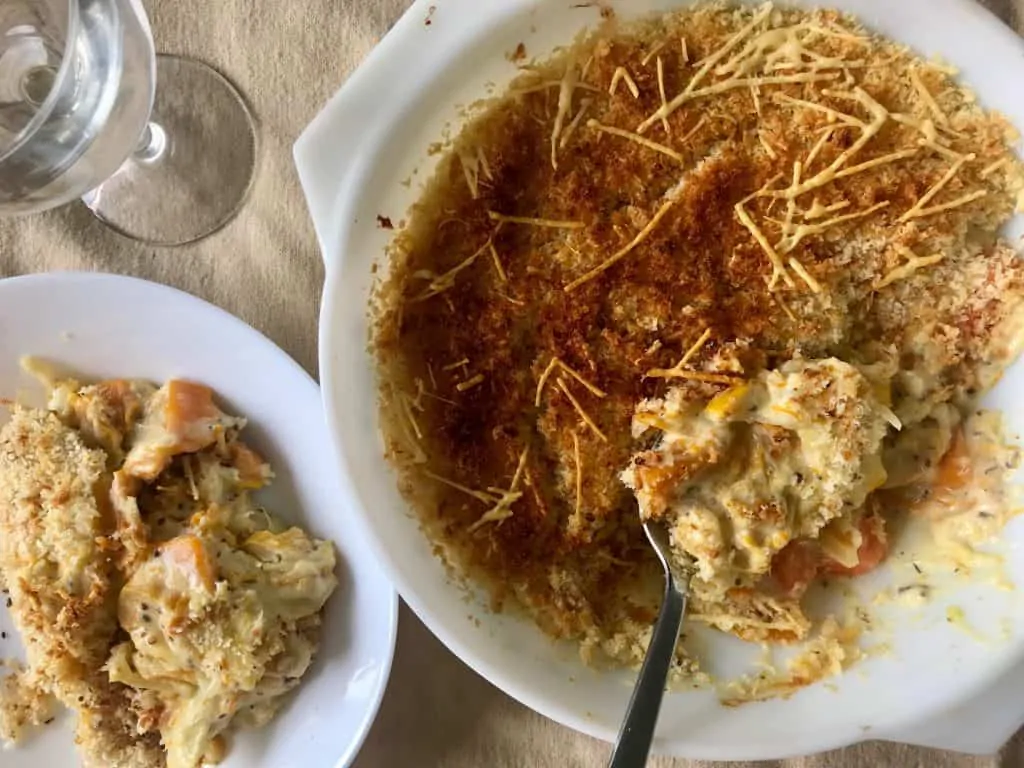 Squash casserole can be many things. Luxurious and creamy, indulgent and cheesy, but most of all…cloying. In this recipe, I share with you not one, but FOUR secret ingredients which will amp up your casserole game.
And yes, we'll be making this from scratch. After all, this isn't just any weeknight dinner. It is a little bit of a special treat, something you reserve for weekends, potlucks or when you have guests coming over. Sure, no one's stopping you from having it three to four times a week, but the vegetables aren't going to help make up for all that cheese, cream and butter!
The sauce is really what brings the whole dish together here. You can use cold canned mushroom soup or just dump in a whole container of sour cream. In a jiffy, those do the job just as well! But if you're going to have squash casserole, then might as well go the extra mile to do it properly. Plus, the great thing about making your own bechamel sauce for this recipe is the customization aspect. Have a ton of grated cheese left in the fridge almost on the verge of succumbing to the fluffy green monsters? Chuck it in! Want to make extra bechamel for Mac & Cheese next week? Make extra and store it in the fridge! The possibilities are endless.
Cheesy Squash Casserole From Scratch
Total Time
1
hour
10
minutes
Ingredients
2

large yellow squash

¼

of a small pumpkin

½

a large carrot

1

large yellow onion

2

heaping tbsp wholegrain mustard

1

tsp

dried thyme

¾  

tbsp

coarse black pepper

1

tsp

garlic powder

Salt to taste
Bechamel:
2

tbsp

butter

4

tbsp

all-purpose flour

3

cups

full-fat milk

½

cup

grated sharp cheddar

½

cup

grated parmesan

4

cloves

of garlic

crushed
Topping:
¾

cup

of breadcrumbs

4

tbsp

butter

melted

¼

cup

shredded parmesan
Instructions
Chop all the vegetables and set the milk out to warm up to room temperature.


Saute the onions, pumpkins and carrots till soft.


Set aside and saute the squash.


Squeeze out the water from the squash.


Infuse the milk with garlic and thyme then warm it up in the microwave.


Make the bechamel by frying a roux of butter and flour before slowly trickling in the warm milk.

Mix the bechamel with the vegetables, season and place into the dish.

Combine breadcrumbs, parmesan and melted butter to make the topping.


Sprinkle the topping over and bake at 180 degrees celsius for 20-25 minutes or until golden brown

STEP ONE – CHOP ALL THE VEGETABLES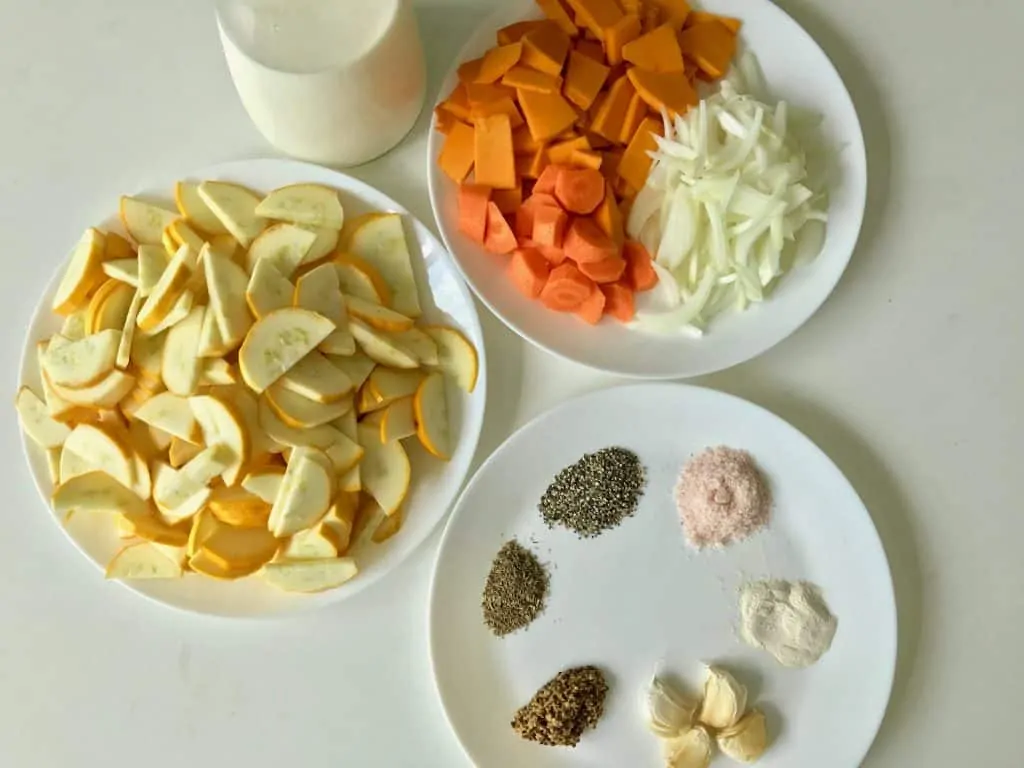 Slice the squash into semicircles about ¼ of an inch thick. Don't remove the skin as it's full of nutritional value, fiber and most importantly helps the squash to retain its shape and ultimately add
more texture and color to the casserole. Now, as you can see, two of the secret ingredients are pumpkin and carrots! They help to add extra nutritional value to the dish (hiding veggies in casseroles is an age-old trick to get children to eat their five a day!), and the pumpkins break down beautifully to meld with the sauce. Carrots add a hint of vibrant color and crunch!
Simply slice the pumpkin thinly so they cook down faster. As for the carrots, I chopped them roughly as I want them to retain a little of their crunch. Slice the onion thinly as well. At this stage, you also want to measure your milk and set it out on the countertop to get to room temperature.
STEP TWO – SAUTE THE HARDIER VEGETABLES
On medium-high heat, add a tablespoon of vegetable oil into a pot and saute the onions. I cooked mine till fully soft and almost caramelized before adding in the carrots and pumpkin. Cook at this heat for 10-15 minutes until the pumpkins can be mashed with your spatula and add ½ cup of water to help them soften. Season with salt.
STEP THREE – SET ASIDE AND SAUTE THE SQUASH

Set aside, give your pot a quick wipe and add another tablespoon of oil. On medium-high heat as well, saute the squash until soft as pictured. About 10 mins or so. I let mine rest in the pot, covered. Only mixing through every few minutes or so. Season with salt, black pepper, garlic powder and thyme halfway through. The salt will help to draw out the moisture from the squash as well.
STEP FOUR – SQUEEZE OUT THE WATER

At this point the squash should have released quite a bit of its juices. Get out your sieve and drain the squash. Use a fork or small spoon to press the squash and get rid of excess moisture. This step is important to ensure a casserole that isn't soggy! Set aside.
STEP FIVE – INFUSE THE MILK

The key step to making bechamel is ensuring your milk is warm and not cold. Cold milk has a higher chance of "shocking" the roux and you'll end up with a lumpy sauce. Crush the garlic cloves (don't bother about the skins) and add it into the milk along with the thyme. If you want to warm it over a gentle heat in a small saucepan, that'll be great as well. But you can also simply microwave it till completely warmed through.
STEP SIX – MAKE THE BECHAMEL

Melt the butter over medium-low heat, then add in your flour. Stir constantly until the color becomes ever so slightly darker and starts to smell a little bit toasty. You want to cook out the floury taste, but be careful not to burn it! Working quickly, pour in the milk little by little while stirring non-stop. But don't pour in all the milk. It's better to err on the side of too thin than too thick as you can always add in more milk. It may seem too thin at first but be patient, stir constantly and eventually the viscosity will be akin to canned mushroom soup! And if there are lumps, just sieve them out!
Add in the cheese and season with black pepper and salt to taste. Be very very generous with the black pepper which is actually, secret ingredient No.3! Because of all that creamy richness, you want a hefty amount of black pepper to cut through it. The black specks from coarse black pepper also add interest to the overall visual appearance of the casserole.
STEP SEVEN – ASSEMBLE THE CASSEROLE BASE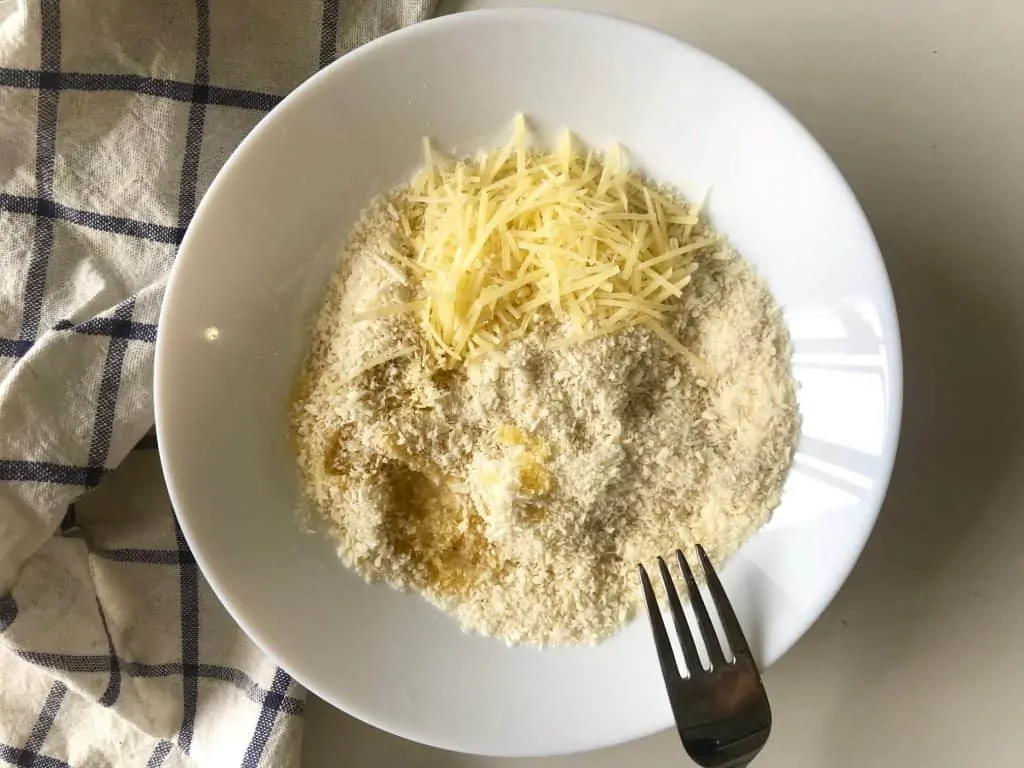 Mix the bechamel, pumpkin mix and squash together. Then, secret ingredient No.4 which is wholegrain mustard! Similar to the black pepper, mustard helps to cut through the richness, making sure this casserole is as far from cloying as possible. It also adds an extra layer of flavor. But don't worry, even with two heaping tablespoons, it's taste isn't too prominent in the end product. Use any mustard you have on hand.
Grease your casserole dish and pour in the filling. Using the flat side of a spoon, simply even out the surface for the breadcrumb topping.
STEP EIGHT – MAKE THE BREADCRUMB TOPPING

For the topping, simply mix the melted butter, breadcrumbs and parmesan with your fingertips until it feels like wet sand. No need to season as the cheese and butter are salty enough. If you have dry, stale bread on hand, even better! Tear those up into small pieces, dry them out in the oven on a low heat and use them in place of the breadcrumbs.
STEP NINE – SPRINKLE THE TOPPING OVER AND BAKE

Sprinkle the breadcrumb mixture generously over the squash. Bake at 180 degrees celsius for 20-25 minutes or until dark golden brown on the surface. This timing also depends on the surface area and size of your casserole dish so adjust accordingly and check from time to time. I like to go in halfway and sprinkle in a little more grated parmesan over the top.
STEP TEN – DISH OUT AND SERVE!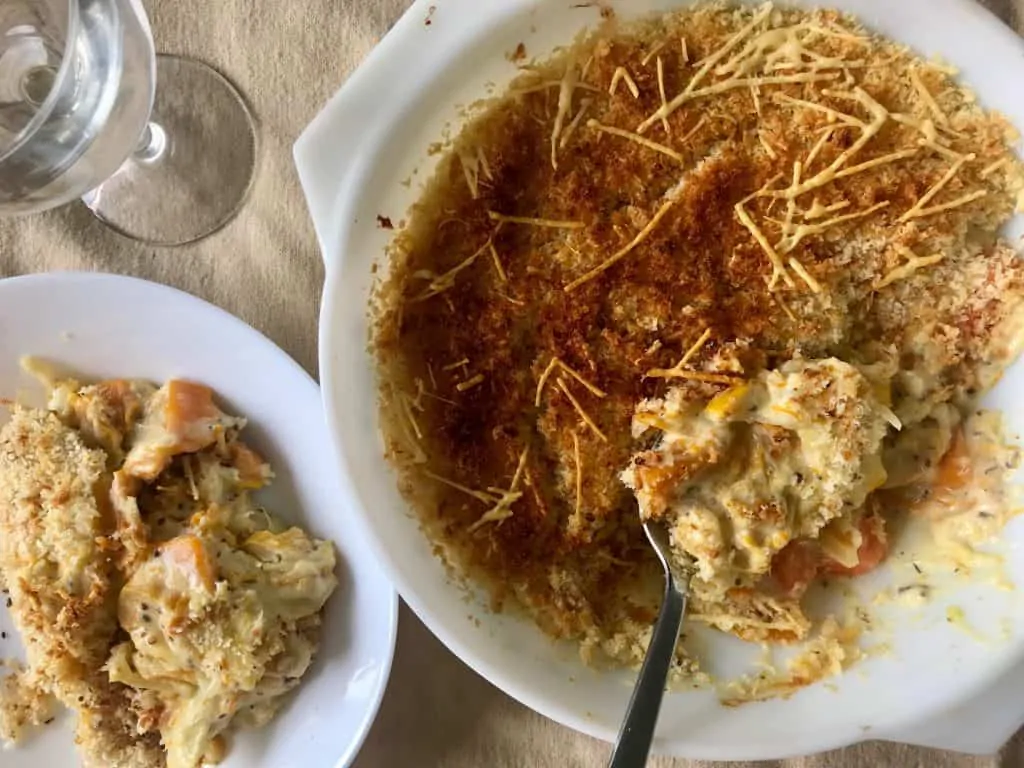 Serve while hot! The textural contrast between the toasty, crumbly topping with the creamy squash really is second to none.
FINAL THOUGHTS
For this recipe, it's crucial to first off, season the vegetables well. Because the bechamel can be quite overpowering, the vegetables have to be imparted with flavor and well seasoned even before it meets the sauce. If you'd like to add more spice throughout, try incorporating it into the topping as well! Paprika / Cayenne would do very nicely.
Looking for even more cheesy goodness? Check out our cheese fondue recipe! Or perhaps something a little more subtle…in which case our cheesy garlic bread recipe might be just the thing for you!