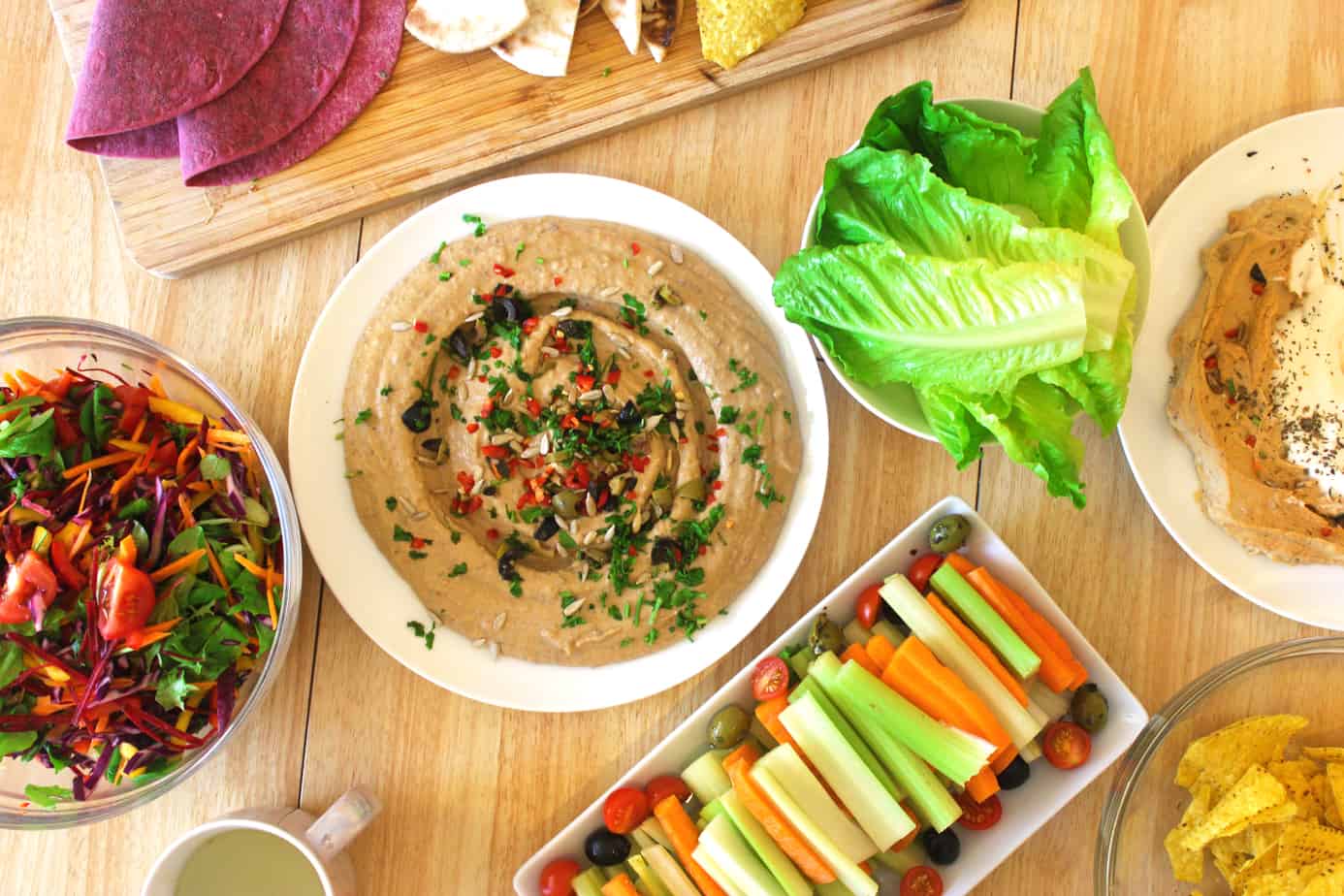 [no_toc]
Versatile, comforting and super easy to make, hummus has been my go-to spread and dip for the longest time! I guess, having been vegan for 5 years now, I am no stranger to hummus. We all know of the benefits of chewing your food, as opposed to chugging down litres of juice without the invaluable soluble fiber. So on days when I want something more interesting and "fun" than salad, but still want something healthy, I have been keeping it really simple. My staple meal is simply carrot sticks, celery sticks and a good bowl of hummus — we'll have a few flatbreads here and there, or sometimes, spread the hummus on toast. I alternate between adding an avocado or a couple of tablespoons of tahini to really raise the creamy factor. Although traditional hummus calls for oil, I try to stay away from it as much as I can, as, after all, oil is extremely refined and is just pure fat. While chickpeas don't have too much of a distinct flavour of their own, they do have a very strong chickpea aroma and you can certainly recognize the texture. You can really take advantage of this and create any flavour you want, by using ingredients such as roasted peppers or cayenne pepper, for example.
Although no one really knows for certain where hummus originally comes from, based on the historical information that we do have, it is likely that hummus originally came from ancient Egypt, as the first known mention of hummus dates all the way back to the 13th century. Traditionally, hummus is mashed and blended until it is completely smooth, but sometimes I leave a few chunks here and there to play around with the texture, which is especially nice if I'm serving it as a dip with corn chips or tortillas. I used raw chickpeas in this recipe, but you can switch them out for jarred or canned chickpeas, as I don't think many of us actually have the time or motivation to make hummus completely from scratch, and it will still taste just as great! The ingredient that really makes this recipe different to other chickpea recipes is the use of red lentils. I like keeping my salt intake relatively low, so I like infusing as much natural flavour as i can into the foods that I make. You can't really taste the lentils, in the finished dish. But it adds, an extra layer of dimension to the hummus.
Part of the legume family, chickpeas, also known as garbanzo beans, have a great nutritional profile! The protein and fiber in chickpeas help to keep you feeling fuller for longer, regulating your appetite and cravings. With the exception of methionine, chickpeas contain almost all the essential amino acids, making them the perfect plant-based protein source for vegans and vegetarians.
If you're not making hummus from scratch with dried chickpeas, it's literally just a matter of putting all the ingredients into a blender (excluding the baking soda!). Blend for about 3 minutes, or longer for an extremely smooth hummus. For a thinner, creamier hummus, add an extra tablespoon of yogurt, or more aquafaba(chickpea water).
Vegan Hummus Recipe
Total Time
12
hours
45
minutes
Ingredients
2.5

cups

dried chickpeas

½

cup

sun dried tomatoes

½

cup

canned red lentils

¼

cup

tahini

cheat with peanut butter

2

liters

of water

1

bulb of garlic

or at least three cloves if you're not too keen on garlic

3

tbs

plain vegan yoghurt

I used hazelnut yoghurt, but any will do

2

tbs

lemon juice

1

tsp

sea salt

2 ½  

tsp

baking soda

½

tsp

cumin

½

tsp

black pepper

¼

tsp

cayenne pepper
Optional:
1

fresh red chili

3

tbs

nutritional yeast

2

tbs

olive oil to garnish
Instructions
Soak the dried chickpeas in water with 1 tsp baking soda overnight or for at least 12 hours.

Preheat the oven to 400F/200C.

Drain and rinse the chickpeas.

Place the chickpeas back into the bowl and coat the chickpeas in 2 teaspoon of baking soda, massage in, making sure they are coated well.

Spread the chickpeas onto a non-stick baking sheet. Bake at 400F/200C for 10 minutes

Remove the chickpeas from the oven and rinse off the baking soda.

Place the chickpeas into a large pot, add 2 liters of water, and a ½ tesp of baking soda.




Cook on high heat for 10 minutes, bringing the chickpeas to a boil.




After the chickpeas have come to a boil, add 6 cloves of garlic. Cook for a further 10 minutes, or until the chickpeas are extremely soft and tender breaking apart when pressed between your thumb and finger. Drain the chickpeas, but keep ¼ cup of the chickpea water, and keep them aside while you prepare the rest of the ingredients.




Cut and prep the garlic, olives, chili, lemon, and sundried tomatoes.




Pour the chickpeas, and the remaining ingredients into a food processor, or high speed blender, and blend.

HUMMUS METHOD
STEP ONE – SOAK THE CHICKPEAS
<
Rinse the dried chickpeas. In a large bowl, soak them with cold water, making sure all the chickpeas are covered, and add a teaspoon of baking soda. This will help break down and soften the outer skin of the chickpeas. Leave to soak overnight, or for at least 12 hours.
STEP TWO – RINSE THE CHICKPEAS
img class="alignnone size-large wp-image-26909″ src="https://www.jenreviews.com/wp-content/uploads/2018/09/HUMMUS-STEP-2-1024×683.jpg" alt="" width="1024″ height="683″ />
Drain and rinse the chickpeas. Place the chickpeas (which should have doubled in size after the soak) back into the bowl and add 1 teaspoons of baking soda, massage into the chickpeas, making sure that they are all well coated.
STEP THREE – COAT WITH BAKING SODA
Place the chickpeas into a non-stick baking tray, or line a regular baking tray with baking paper as I did. Spread out the chickpeas evenly onto the baking on the tray and place into a preheated oven to bake for 10 minutes at 400F or 200C. This will help really tenderize the skins of the chickpeas and add a very subtle roasted aroma, while developing the natural chickpea flavour.
STEP FOUR – COOK THE CHICKPEAS
Remove the chickpeas from the oven, rinse off the baking soda and any loose skins. Place the chickpeas into a large pot and add 2 liters of water, making sure that there is an adequate amount of water that fully covers all the chickpeas. Add ½ teaspoon of baking soda, this will help to continue breaking down the chickpea skin, while making the chickpeas really soft and tender. I like adding the juice of a lemon to the mix to add flavour and to help the baking soda really tenderize the chickpeas faster. Cook on high heat for 10 minutes, stirring occasionally.
STEP FIVE – ADD GARLIC
After bringing the chickpeas to a boil, add 6 cloves of garlic and cook for a further 10 minutes, or until the chickpeas are very soft and tender. You want them to be breaking apart when pressed between your thumb and finger.
STEP SIX – DRAIN THE CHICKPEAS
Drain the chickpeas, saving about ¼ of the chickpea water (also known as aquafaba), as we will use it later when blending all the ingredients together.
STEP SEVEN – CUT AND PREP REMAINING INGREDIENTS

Cut and prepare the remaining ingredients: cut and peel three cloves of garlic, roughly cut the sundried tomatoes, dice half a red chili, and squeeze the juice of one fresh lemon.
STEP EIGHT – BLEND!
Add all the ingredients into a high speed blender or food processor, including, ½ cup canned lentils, 3 tablespoons of plain yoghurt, 2 tablespoons of tahini, black pepper and salt to taste. If you don't have a blender or food processor, you can use a potato masher to combine all the ingredients and make a really rustic hummus!
STEP NINE – PLATE AND ADD TOPPINGS
Plate the hummus in a shallow plate and top it with fresh cilantro, roughly chopped olives, chili, and sunflower seeds. You can even garnish with pine nuts to give the dish some crunch to contrast against the smooth, velvety hummus. It's said that it's best to leave the hummus to rest for 20 to 30 minutes before serving it. If you're making this in advance, refrigerate until it's needed, but make sure you leave it out for at least 30 minutes before serving it — no one wants cold hummus!
NOTES
Homemade hummus can be kept in the fridge for 3 to 5 days, so it's great to food-prep with. I like cutting up veggie sticks and setting aside little jars or containers of hummus, so that I can just grab it out of the fridge when I need it. Keep in mind though, that if you are making hummus in advance, you will need to make the hummus with more aquafaba (chickpea water) than needed, so that the consistency is a little looser than you actually intend, as it tends to firm up a little after being in the fridge.
Hummus is such a fun and simple dish to make. It really doesn't take that much effort to switch up the flavours and consistency. Instead of using olive oil that is traditionally drizzled over plated hummus, try using garlic oil, or adding an avocado or two instead of using oil to silken up the texture. I don't have a favourite kind of hummus, as I feel like I need a different hummus for every mood and occasion! Hummus is a great dish to have at just about any kind of gathering, as it's such a great medium for all kinds of food. Pair it with chips, pita bread, sandwiches, or salads. If you're brand new to making your own hummus, the easiest way to play around with flavours is to experiment with the amount of lemon juice, garlic, and tahini you add to the mix, as these are the main ingredients that really dictate the base flavour and consistency of the hummus.
Alternative toppings could be a sprinkling of nutritional yeast, to give it a mild cheesy flavor, or fresh pomegranate seeds, to add a lightness and splash of color to the dish. Have fun personalising your hummus!