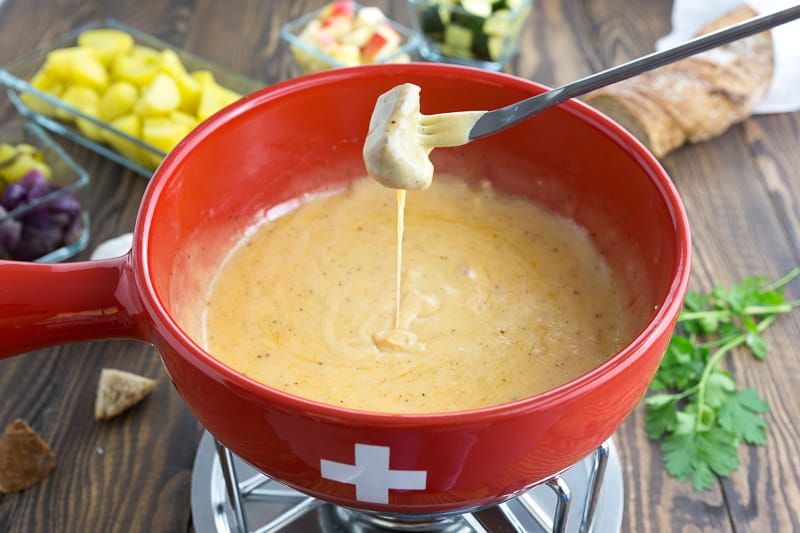 Cheese fondue is a rich and decadent Swiss dish that is the perfect meal for a special occasion. Its savory and creamy flavor make it a satisfying meal. Cheese fanatics will find themselves in heaven when dipping the crusty bread into bubbling cheese and watching strings of cheese come with.
A Swiss tradition
The first thing most people think of when they hear Switzerland is fondue. After living in Switzerland for the past year, I can attest that a traditional cheese fondue is truly a popular dish here that most Swiss households serve regularly during the cold months and more specifically so, on Christmas. In this case, the cliché stands true. Fondue is much more to the people than just a dish. It is a homage to the local cheese varieties that the Swiss are ever so proud of. A classic cheese fondue is made with either Emmentaler, Appenzeller, Gruyere, Vacherin Fribourgeois or any other type of Swiss cheese with a low water content. It may come as a surprise that a lot of Swiss households nowadays make their fondue with store bought fondue instead of from scratch. This may be due to convenience or to save a few pennies (Swiss cheese comes at a hefty price), but whatever the reason we are adopting that practice and using a store bought blend for our version here today as well.
While the quality of the cheese is a large factor for a tasty fondue experience, the dipping ingredients are just as important. Serving a crusty fresh bread is the tradition and most Swiss households will only serve bread. However, you can certainly add any veggies of your choice such as boiled potatoes and broccoli. Roasted zucchini, red onions, cauliflower or bell peppers would also work well. Be sure to boil or roast everything beforehand and cut into cube-sized pieces for easier dipping afterwards. Additionally you can also serve dill pickles, Dijon or honey mustard and various spreads alongside the bread. If you wish to lighten things up, serve a green salad as a side dish.
What to dip:
    crusty bread
    potatoes
    broccoli
    cauliflower
    zucchini
    bell peppers
    red onions
    apples
    pears
    grapes
    sausages
Tips for Entertaining
If you are hosting a get together and plan on serving this Swiss national dish, here are a few tips for a smooth evening.
-Make sure that you have all the utensils you need for this dish. A fondue pot or caquelon and a portable stove with a spirit lamp are a necessity. Also be sure to provide long stemmed forks for dipping.
-You can prepare the add-ins ahead of time, such as boiling the potatoes, cooking the broccoli, roasting the zucchini and red onions and so on. Shortly before serving, warm them up slightly or simply serve them at room temperature.
-If you find yourself running out of cheese fondue and guests are still hungry, simply add some grated cheese and a splash of wine to your fondue. Voilà the party can continue.
-If you are planning on serving an appetizer and dessert as well, keep in mind that cheese fondue is rather heavy and very filling. Either skip the appetizer (your guest won't miss it!) or serve a very light appetizer. For dessert a melon salad or any type of fruit dessert will go well.
-Don't forget to cool a bottle of white wine to accompany the cheese fondue. You can also serve hard liquor such as Kirsch Schnapps, which also can be used to lightly soak the bread cubes before dipping them into the cheese.
Fondue Rules
As mentioned the Swiss take their fondue rather serious and have invented a set of rules or etiquette as to how fondue should be enjoyed. Of course these rules are not to be taken too seriously but are nice ideas you may want to implement.
-Use two forks: Use your fondue fork for dipping and use a separate fork for eating.
-No double dipping: No further explanations needed!
-Stir, stir, stir: Have your guests stir the fondue as they are dipping to keep the fondue homogenized until the very bottom.
-Don't drop it: If you lose your piece of bread in the pot you have to provide the next round of drinks.
-Rotate: Twirl your fork after dipping to prevent making a huge mess and getting cheese strings everywhere.

Cheese Fondue
Ingredients
Fondue
800

g

cheese fondue

28.2oz

1

garlic clove

½

teaspoon

paprika

⅛

teaspoon

black pepper

½

teaspoon

fondue spice
Dipping Ingredients
crusty bread

boiled potatoes

steamed veggies

broccoli, cauliflower, zucchini,…

fruit

apple, pear, grapes,…
Instructions
Prep your dipping ingredients. Cook your ingredients and cut into bite sized cubes.

For a faint garlic flavor, slice the garlic clove in half and coat the bottom of the fondue pot with it. (For a more intense garlic flavor, mince the garlic and add it in step 3.)

Light the burner and place the pot on top. Now add in the cheese fondue.


Stir until the cheese fondue has melted completely and no more lumps remain.


Add in the paprika, black pepper and fondue spice (and minced garlic, if using). Stir until everything is well combined.


Start dipping! Serve the fondue alongside your dipping ingredients. Be sure to keep stirring the fondue throughout dipping, to keep it homogenized.


Optional: Once your fondue pot is almost empty, turn up the heat slightly and let the leftover cheese get crispy. Break the cheese disk into even pieces and share.

Notes:
Leftover fondue can be reheated and enjoyed again.
If you are running out of fondue while your guests are still eating, add some grated cheese and a splash of white wine to your fondue and stir until smooth.
Let's get started!
Step 1- Dipping Ingredients
Start by preparing the ingredients you wish to dip in the fondue. Boil potatoes, steam veggies and get any meat ready you wish to use. Cut everything into cubes for easier dipping.
Step 2- Fondue Pot
Prep your pot by coating it with a sliced garlic clove for a faint garlic flavor, or mince the garlic and add it in step 3.
Step 3- Light it Up
Light the spirit lamp and place the protective cover on top. Carefully place your fondue pot on top making sure to avoid killing the fire.
Step 4- Add Cheese
Now add the cheese fondue to your pot and stir continuously until the cheese has melted completely and no lumps remain. This will take about 5-10 minutes depending on the strength of the flame.
Step 5- Add spices
Add in the paprika, pepper and fondue spice (and minced garlic, is using). Stir until everything is well combined.
Step 6- Dip!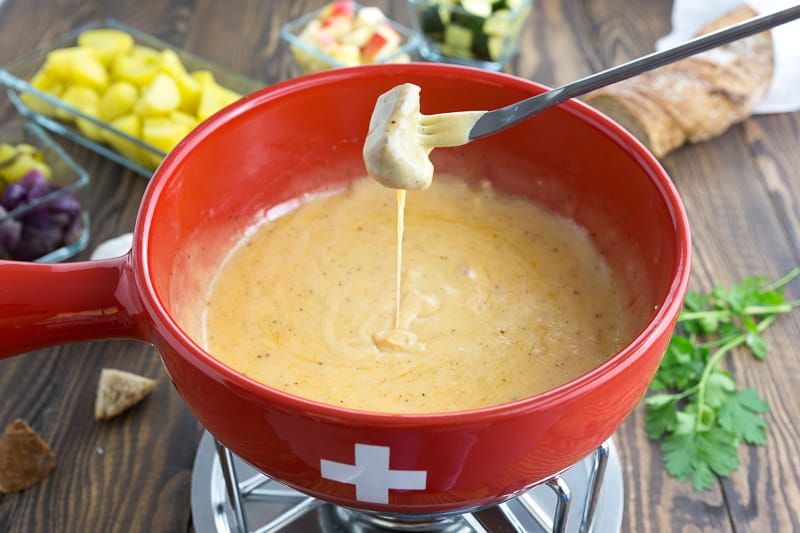 Dip your ingredients into the pot, making sure to stir the cheese every now and then to keep it homogenized.
Step 7- Optional: Cheese crust
Once your fondue pot is almost empty, turn up the heat slightly and let the leftover cheese get crispy. Break the cheese disk into even pieces and share.
While fondue is a very traditional recipe that is often enjoyed with just a piece of bread and a good bottle of white wine, you can make your fondue night as elaborate or simple as you wish. Fondue is all about enjoying comfort food with family and friends and having a good time.
Love cheesy recipes? Try this Four Cheese Bacon Mac and Cheese