When I think of rustic foods, I think of home grown, organically produced from the garden or made from scratch recipes. I recall the homemade recipes used by my own mother, grandmother, great grandmother and so on and how delectable they were. I believe that the rustic quality of homemade food comes from a place of caring. My mother and my grandmothers placed a high level of care into what was put on their tables. A meal was not only a way to gain sustenance, but a way to gather family around the table and a way to show love. That care and love flavored the food more than any spice or ingredient could. As I create my own family meals, I desire to continue on the tradition of care and love that my family passed on to me through delicious and rustic foods. Although life can get very busy and I often find myself using many store bought items, there is truly no taste like a homemade meal.
I absolutely loved the process involved in this easy yet rustic bread and was so very pleased with the taste and texture it produced. If you are searching for homemade but quick and simple ways to create delicious meals, you absolutely must add this sourdough bread to your list!
I chose to create a savory bread. Herbs work well when creating savory meals. The rosemary flavor in this bread is produced using Watkins Rosemary Extract. I recommend using this as it creates a lovely aromatic taste and smell to the bread. I don't know about you, but herbs and using them in cooking always makes me think back to simpler times, when herbs were grown just outside the kitchen to be used fresh. What's more rustic than that?
Another herb which I used was thyme. I actually did have this growing in a pot outside my kitchen door and decided it would add a special touch to my bread. I did not have rosemary however, but not to worry, the extract worked its herbal magic perfectly. Don't stress if you don't have the exact herb you need. Create a new combination for your bread such as basil and oregano with some diced garlic. Yum!
In keeping with the rustic theme, I chose to add Chia seeds and dried onion to the bread for a bit more flavor and a healthy addition to the mix. Chia seeds have Omega 3's and protein and are great for your overall health. You could also add other seeds or nuts to create even more flavor and variety.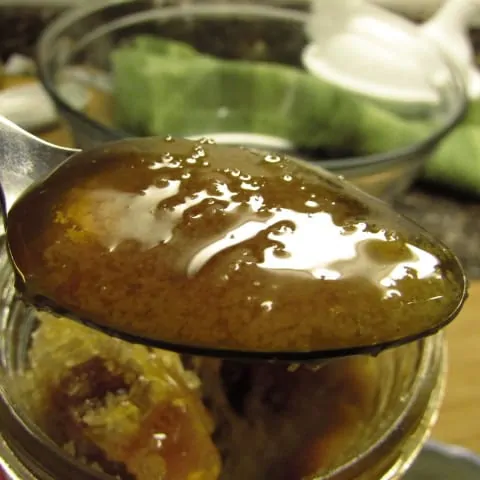 One of the best things about this recipe is how amazingly easy it is! Typically, sourdoughs begin with a starter, or fermented flour that takes anywhere from four to sixteen days to process. This gives the bread its sour flavor. However, there is no starter for this sourdough because it will gain its sour flavor from the yogurt you will be using. Yogurt has the same live active cultures which appear in a fermented starter. Instant yeast also helps the process along faster. Plus there is no need to knead the dough! The yeast does the work for you.
The bread is baked in a very ideal rustic pan, the dutch oven. I love my dutch oven and how it can perfectly cook whatever I put in it! No wonder our ancestors invented these delightful cast iron utensils! Dutch ovens retain their heat very well and lock in flavor to your food. My Lodge dutch oven baked such a perfect and golden crust for this bread. I was elated!
Mixing the dough is extraordinarily easy too. You do not even need a dough hook or a stand mixer for that matter, although those are great to have. You can simply use one of the most rustic tools known to all mothers and grandmothers – a wooden spoon!
This bread is perfect to compliment a hearty breakfast, lunch or dinner and can be made to suit your tastes for any occasion.
Easy Rustic Rosemary Sourdough Bread
Total Time
1
hour
5
minutes
Ingredients
5

cups

of all-purpose flour

2

tsp

of instant yeast

I used Fleischmann's Instant Yeast

1

tbsp

of Himalayan Pink Salt

1

tbsp

of chia seeds

1

tbsp

of fresh thyme leaves

1

tbsp

of dried onion

1

tbsp

honey

1 ½

cups

of warm water

1

cup

plain yogurt

you can use greek yogurt if desired

1

tsp

of Watkins Rosemary Extract
Instructions
Place all dry ingredients in a glass bowl and mix using a wooden spoon.

Cover dough and let it rise for two hours. If you choose, punch down dough and put in fridge overnight.


Scrape dough onto floured surface and shape into a ball.


Place in dutch oven lined with parchment paper and bake 20-25 minutes covered at 475 degrees Fahrenheit. Uncover and bake an extra 25-40 minutes until bread is golden on top. Remove bread from oven and from dutch oven and let cool for two hours. Do not cut until cooled it is still cooking.

Enjoy! Serve your bread for various meals and special occasions. You may alternate ingredients as necessary to create a savory or sweet bread.

STEP ONE- PREPARE THE INGREDIENTS
Place all dry and wet ingredients in a glass bowl. Stir with your wooden spoon to incorporate all ingredients. You may have to stir a couple of times to get all the flour and yeast mixed in. The dough should be sticky.
STEP TWO- LET IT RISE
Cover the dough with plastic wrap and allow to rise until it is twice its original size. You can place the dough in the fridge overnight to get an extra sour flavor but you are not required to. If you decide to place it in the fridge overnight, you must punch down the dough with your fist in the center. This basically helps your dough to rise even better and gets any air bubbles out. If you choose to not put it in the fridge overnight, you can just move forward to the next step. I recommend putting it in the fridge. It will rise overnight in the fridge as well.
STEP THREE- SHAPE UP!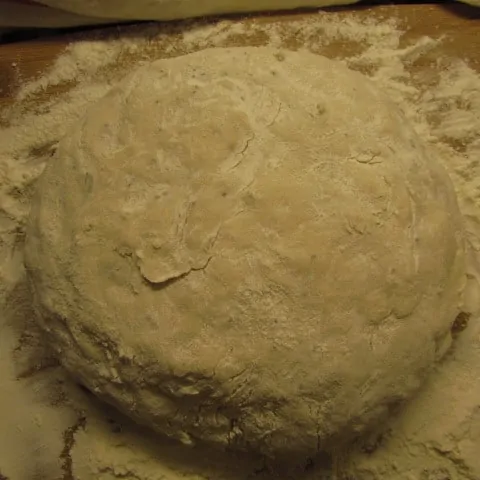 Sprinkle a good amount of flour on your work area. Use a spatula to scrape the sides of your bowl and easily turn out the dough on the floured surface. It should not stick as much and easily release from the bowl. Sprinkle some more flour on the top of the dough and your hands and shape it into a nice ball.
STEP FOUR- BAKE!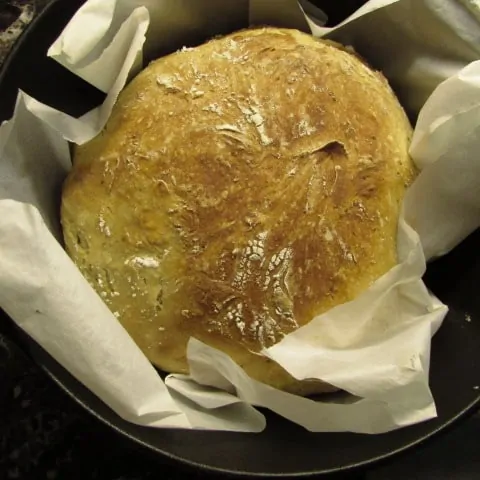 Place parchment paper in the dutch oven and place your bread in the parchment. Cover with a towel and let it rise for an hour. After it rises cover the bread with your dutch oven lid and bake at 475 degrees Fahrenheit for 20- 25 minutes. Remove the lid and bake an additional 25-30 minutes, allowing the crust to get a nice golden coloring on top. I will say that using a gas oven can take a bit longer with this step. I have a gas stove and left my bread in the oven for about 40 minutes. Just keep checking the color of your crust and you be the judge of how much longer you need to leave it in. Remove bread when it looks just right, take it out of the dutch oven and allow to cool for two hours. The bread shouldn't be sliced until it cools because it is still baking on the inside.
STEP FIVE-ENJOY!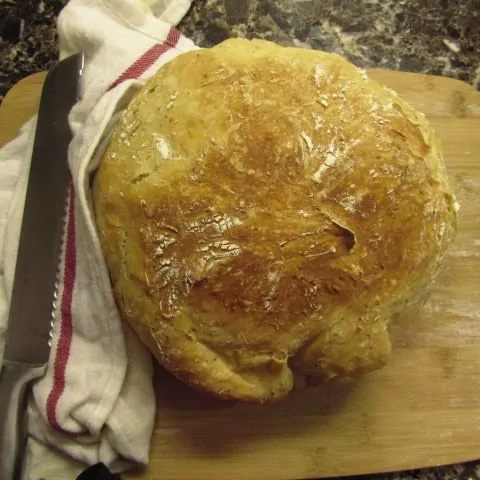 Voila! You now have a beautiful, rustic bread to share with your friends and family! Keep your bread in brown paper or wrap in foil at room temperature. It should last you four to five days.
Try it with some french onion soup or brie cheese. You can try it with apple butter, pumpkin butter or homemade garlic butter. Try toasting it with some scrambled eggs on the side or making french toast for a delectable breakfast. Or how about a great side for Thanksgiving dinner in place of rolls? Of course you could always dice up what's left of your loaf, (if there is any left) and use it in homemade stuffing for Thanksgiving or Christmas. Delish!
Some alternative additions to your bread to make it more sweet than savory could be 2 tbsp of honey instead of 1, sunflower seeds, and dried berries. Omit the thyme, dried onion and rosemary extract. If you would rather have a savory bread, add crushed garlic, fresh or dried basil, oregano, dried pepper or dried, roasted tomato. Use this bread to compliment your italian cuisine or spaghetti night for your family. Or simply bake it with no add in herbs or other ingredients which is just as delicious. The possibilities are endless!!
Rustic breads like these can become a main staple in your household, as it has mine and will definitely have you craving more for the future!