The KitchenAid Professional 600 is our pick for the best stand mixer, which comes in a wide assortment of color choices, can mix up to 14 cups of anything (e.g. all purpose flour), has a soft start feature for certain recipes, has a capacity of 6 quarts and bears a bowl lifting design.
Our step-up pick is the KitchenAid KSM7586PSR 7-Quart and it has a whopping 16 cups of capacity on its bowl and also has a bowl lifting design. It has a dough hook and flat beater, alongside the wire whip and other accessories, and is also available in various colors to choose from.
The budget pick is the Aicok Stand Mixer and this one also comes with double dough hooks, has a capacity of 5 quarts, has a pouring shield, has been ETL approved to be BPA-free, has a powerful 500-watt motor and has a total of 6 speeds to choose from.
A Little Background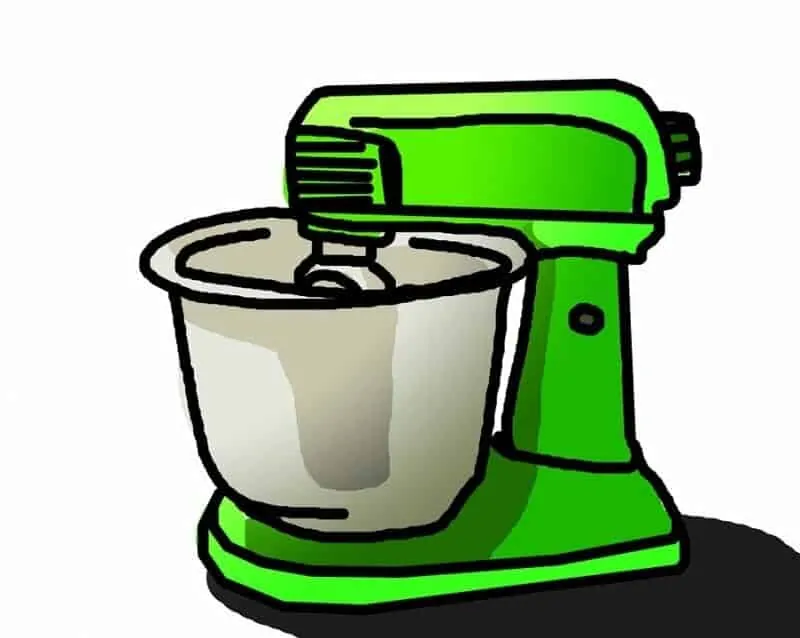 A stand mixer is a common kitchen tool.
A stand mixer is a common kitchen appliance that is electric powered and allows you to mix food ingredients in a bowl automatically. This mixing appliance can come in different colors and sizes, but their purpose remains the same – to mix food in a constant way. It is something that you can find in any home, or restaurant kitchens and pastry shops.
Baking recipes are the ones that mostly need this kind of kitchen tool. Baking recipes like cakes, brownies, bread and other pastries, will require some form of batter mix. Any recipe that will require a batter, such as anything with an egg mixture, might require the expertise of a mixing appliance. If you want to start a baking business then you definitely need one of these.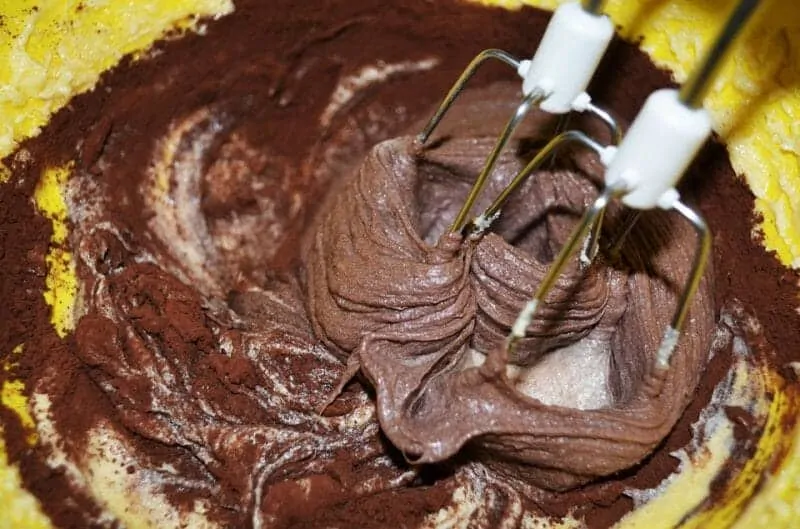 Mixing batter can be hard for inexperienced bakers.
The consistency of the mix is usually the problem that most people can't handle, and this is where an appliance comes in handy due to its constant speed. Consistency is important in certain recipes, so sometimes, you need more than just manual power for mixing the ingredients altogether. This is where the mixing appliance comes into play.
Compared to manual mixing, you can get faster results with a stand mixer without a lot of effort needed. Saving time is extremely important for any person in the kitchen, so in this case, appliances might be greatly needed. You can also set specific speeds for your machine, so that you know you are not mixing too fast or slow. Some recipes get ruined if they are mixed too fast, so it is important for you to know this fact.
These mixing appliances can also vary in capacity. This is important for when you are either making stuff for a large family, for commercial use or for just a few people or some kids in your house. It is important so that you will not end up wasting too much energy consumption for an appliance in which you will just need a few strips of batter and not have to bake an entire cake.
It may also depend on whether you want to use the mixing appliance for home use or for commercial use. It may not be suitable for baking lots of pastries and cakes if it is not of heavy duty, and this is why you should consider one that is suited for the job to avoid having to buy another one in case it gets broken due to overuse.
How we Picked
In choosing the best stand mixer, we looked into the following, and you should too:
Capacity: the capacity is somewhere between 3 to 21 quarts depending on the size of the bowl you have. The capacity is important to know so that you can adjust accordingly depending on how much items you usually work on. For instance, for family sized servings, a small to medium bowl is okay, but for commercial usage, you should consider one that has a larger bowl for better capacity.
Intended use: you should know whether you want to use it for home baking, for commercial or professional use, for artisan baking and many more purposes. For heavy duty purposes, such as for restaurants, pastry shops and the like, you should definitely consider one that has more features and power, whereas you can just settle for a small one for casual or for home use.
Durability of the material: the mixing bowl and the housing of the machine or appliance should be durable enough. It is important to know about the quality of the mixing bowl, since that is what is going to hold all of your ingredients together in order to make your pastry or food item. The housing should also be just as durable so that it will not easily break, especially if it will be intended to be used in commercial purposes.
Speed settings: there should be a good amount of speed settings. Most will have somewhere between 2 speeds and even up to 12 speeds or more. For most commercial uses and pastry shops, the speed settings can be important so that they can meticulously mix and whip anything with the right consistency whereas those with lesser amounts of speeds can be hard to perfect a recipe onto.
Power: this refers to the wattage of the appliance, which can vary from 200 to 800 watts and above. It is greatly important to know the power consumption of your stand mixer so that it will be okay for your electric bill and for its operating power. While it is true that more power means more consumption, it also means that you have better productivity time and scheduling ahead of you.
Components included: all of them will definitely have the needed parts like the stainless steel (or sometimes other material) bowl and the wire whip. However, there are also those with other accessories, such as a dough hook, flat beater and a pouring shield to make your life easier while mixing or baking.
Our Pick
As our top pick, the KitchenAid Professional 600 has a good capacity of up to 6 quarts, so that you can be able to mix ingredients much easier than if you would on a smaller bowl. It also has a spiral dough hook attachment so that you can make your pastry making task easier. There is also a bowl lifting design that helps you in mixing overall.
The stand mixer allows you to mix cookie dough and even rye bread in a breeze due to the comfortable handle that greatly reduces user fatigue. The capacity of the bowl can hold up to 14 cups of all-purpose flour in one serving. In addition to that, the included wire whip and burnished flat beater are of quality build for your next recipes. You can also make rounds of pizza out of this stand mixer due to its versatility.
Another great thing about it is that it has a soft-start mixing feature, which is helpful for meticulously mixing ingredients  of a certain recipe. It also has a durable stainless steel bowl that will not easily break. You also get various colors to choose from for this kind of model.
Flaws but Not Dealbreakers
One small con but not a deal breaker with the KitchenAid Professional 600 is that some of the models sold are certified refurbished, so not entirely new, but nonetheless definitely works as it should be.
Step-up Pick
The KitchenAid KSM7586PSR 7-Quart is our step-up pick, which has a large bowl with a 16-cup or 7-quart capacity. The stand mixer makes it easier for you to bake large cakes and batter recipes, especially for the whole family or for commercial and business purposes. With a total of 10 different speed settings, you can easily choose one that is specifically tailored to your recipe.
You can be able to make large batches of bread dough due to the size of the bowl, and it even has attachments like the spiral dough hook. You can also be able to make pasta from scratch due to the various accessories, such as the flat beater. What's more, the bowl lifting mechanism makes the mixing process easy. Durability is also good because the bowl is made of thick steel.
It comes with a powerful stainless steel wire whip while the housing has various colors to choose from. Bearing a 6-wire whip for ease of residential and commercial use, the stand mixer can easily knead and whip ingredients in a breeze, and has a protective pouring shield should you mess up while you are in a hurry preparing ingredients before the guests arrive.
Budget Pick
As our budget pick, the Aicok Stand Mixer has a 5-quart capacity, which means that it is fairly big in its total capacity. Including a quality wire whisk to mix things easily, it also has a slow start function for added functionality, plus the choice from a 6-speed motor. It even has planetary mixing action that has 59 points for a thorough mixing capability.
Including a flat beater for other recipes you might want to use it for, the unit consumes about 500 watts of power so it is quite powerful. You can also keep your recipes mess-free with the included splash guard. It also has suction cups on the bottom so that the bowl stays in place. You can also scrape dough cleanly due to the included scraper, without making a mess.
Bearing a powerful motor for all your kitchen needs, it is an ETL and FDA approved product for safety. It also comes with double dough hooks and a comfortable handle for better ergonomics. What's more, the TRITAN plastic shell is certified BPA free, along with the other multipurpose accessories  that can help you to make the perfect bread dough. It is backed by a 2-year warranty.
Best Stand Mixer for Homemade Pasta
If you want to be able to make homemade pasta in an easy way, the Bosch MUM6N10UC Universal is a great mixer to do it with. It has a total capacity of 6.5 quarts, which is fairly big in general. Moreover, it can adhere to just about any whipping task due to the quality design of the parts.
It also has additional accessories such as a dough hook. The other accessories can also make it able to grind meat and perform other tasks in the kitchen that might not be related to baking. It also has a BPA-free bowl so that you are assured that your food items will not be contaminated by some foreign and dangerous chemical. It is also easy to clean up because of the removable drive shaft that comes with it.
Bearing adequate torque due to the belt-driven transmission, it makes it easier to mix ingredients together in the right consistency. It also comes with a 2-piece pouring shield so that you will have less mess in the kitchen. It can be able to make up to 34 dozen cookies in one baking, and is made with a plastic whip drive that is lightweight but durable to use.
This stand mixer can make up to 14 loaves of bread at 1 pound each for its capacity, and can also make up to 10 pounds of cooked potatoes. It is backed by a warranty of 3 years for the motor and transmission  and 1 year for the attachments and other parts.
Best Stand Mixer for Baking Cakes
If you want a good stand mixer for baking cakes, you can try the Litchi Stand Mixer, which is light and airy dough in its final mix due to the customizable settings of the 650w motor. It even has a tilt-head function to make the mixing easier and a splash guard to make less mess while you are in the kitchen. It has a fairly good size of 5.5 quarts for the capacity.
With a red housing that looks striking and standing out in most kitchen spaces, it has a total of 6 speeds to choose from, so that you can make that perfect pizza dough or adjust according to the consistency needed by your recipe. The beaters and whisk are both durable in terms of quality so that your food items and ingredients can be mixed thoroughly without debris.
You can even pasta dough with this machine due to the dough hook and the other accessories. You can also make awesome cupcakes and cakes with this unique mixing appliance due to the durable stainless steel bowl and powerful motor. It can adhere to nearly all kinds of food preparation tasks and it is backed by a 2-year warranty.
Best Stand Mixer with a Tilt-Head Design
If you want something that has a tilt head design for ease of looking into your recipe or batter mix without getting an awkward position, you can try the Costway Tilt-head. It has a non-slip feet design so it definitely saves up time in cleaning up because of the spill-free mechanism. It has a stainless steel bowl that is quite durable, along with the quality mixer blade, to make kitchen tasks easier.
You can be able to handle dough, pastries and sweets, whether for home use or for commercial selling, with this mixing machine. It has a total of 3 attachments, which include the dough hook, eggs whisk, and splash guard that is detachable and transparent for simplicity and functionality.
With a 6-speed control, you can customize the machine accordingly and depending on your recipe, such as for bread dough or for any kind of batter mix. It has a power of 550w for the motor and has a fair size or capacity of 4.3 quarts. With its tilt-head and variable speeds, it is a quite versatile kitchen tool that can be great with hands-free mixing and for beating egg whites.
Best Stand Mixer with a Silver Finish
For those who want a silver finish for their mixing machine, you can try the Breville BEM825BAL, which consumes a power of 550 watts so it is quite powerful. Unlike other brands, it actually comes with a total of 2 bowls: stainless steel bowl and glass bowl, so you can choose accordingly, as they have different capacities. The machine also offers quiet operation on its motor and it has a splash guard or pouring shield to reduce mess in kitchens.
With a counter-clockwise motion for 360 degree coverage, it allows your mix or batter to be mixed thoroughly as much as possible. It bears a great overall design due to the included hardened metal gears, which makes the motor and the mechanism as durable as possible, while maintaining a good look. It also comes with an easy to use bowl scraping paddle for added ease in the kitchen.
Bearing a capacity of 5 quarts, it also comes with a balloon whisk and a sealing lid for added kitchen aid and really nice control for your mix. It can allow you to get thoroughly mixed ingredients in a breeze due to the speed and power of the motor – allowing you to make the best of breakfast breads. It even has accessories included, such as a dough hook.
Best Stand Mixer for Baking Cookies
For those who are simply into baking cookies, you can try the Hamilton Beach 6339, which is powered by a 300 watt motor so it is simple for most home use and slight garden parties needing a baking recipe. It has a total of 3 attachments: dough hook, whisk and flat beater, so you can use them whenever you need to create a recipe that requires special baking tools for them.
It has a total of 7 speeds to choose from, so that you don't have to settle with a not-so consistent mix or a too thick mix. The speeds can help you to handle your food quality or baking quality in a breeze. It also gives you complete bowl coverage due to the unique mixing action that is induced by the mixing gear and the tilt-up head for added functionality and comfort.
You can be able to whip egg whites and cream, as well as other liquids, without a lot of hassle due to the user-friendly features, such as the top handle grip. It can help you to make homemade chocolate chip cookies with the perfect consistency and crunchiness. There's no worrying about spillage due to the fact that the splatter shield prevents drops and spills. It is also easy to clean in the dishwasher.
Best Stand Mixer with a Glass Mixing Bowl
For those who want a glass mixing bowl for added style and finesse, you can try the Sunbeam 2371 MixMaster, which has soft start technology to make it easier to knead or mix certain recipe types without  a lot of force at first. It has a head that tilts back so that you can adjust the bowl accordingly and mix comfortably. It also has a tilt locking head for ease of use.
It can be used to make a good birthday cake or any pastry you have in mind. It even has a speed indicator light so that you will know what settings you have entered onto it. With a power of 350 watts for the motor, it locks into place so that it does not create a lot of mess in the kitchen.
And did we say glass mixing bowl? We actually meant 2 glass bowls (a 2-quart and a 4-quart bowl) with a bowl selector switch, so that you can be able to choose depending on your needs. You can be able to make homemade frosting with a total of 12 speeds for customization. It has a soft grip handle so it is easy to hold, and it comes with chrome beaters, whisks and dough hooks as well.
Best Stand Mixer with a Splash Guard
The CHEFTRONIC SM-986 120V/650W is a good choice if you want a redesigned splash guard that can help create less mess in the kitchen. You can also select from a total of 6 speeds from the motor, which is not loud at all when you turn it on and use it for mixing. It has the capability to possibly make 9 dozen cookies 4 loaves of bread from a single mix.
The cool thing about this machine or appliance is that it even includes a scraper tool so that it is easy to clean up later on, and has a 5.5-quart bowl for its capacity, making it great for most recipes out there. It has been rated for use at 120v at 650w for its motor, and comes with a lot of accessories to choose from, such as a wire whip, c-dough hook, flat beater and flexible beater.
With a bunch of non slip silicone suction cups, you don't have to make a mess in the kitchen with the CHEFTRONIC SM-986 easy to use as a kitchen appliance overall. It has an estimated capability of making up to 4 loaves of bread in a single serving, and is backed by a 2-year warranty.
The Competition
There were others that did not make it to our list because they lacked speed settings, durability and ease of use. It is important for any baking mixing machine to be user-friendly so that you can be able to work quickly in the kitchen, especially for commercial usage.
Other Frequently Asked Questions
Q: What are some important kitchen appliances to have at home?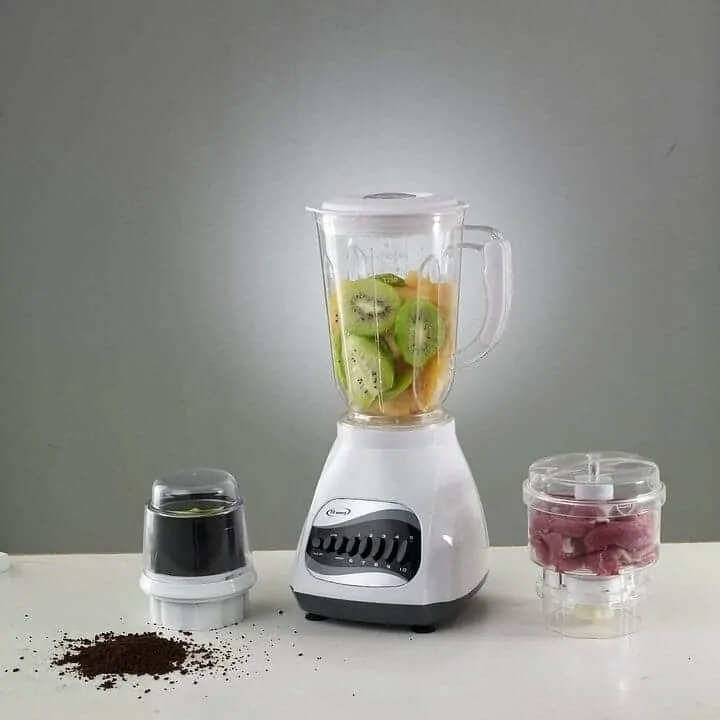 The food processor is a mainstay in our home.
A: There are a ton of kitchen appliances that you can have at home, or even in a commercial setting. All of them have their own purposes and intentions. They are mostly electric powered and may consume a fair amount of energy that can reflect your monthly bill. They can help you to prepare food in general. Let's have a look at some of them:
Kitchen appliance
What it looks like
What it's used for
Fridge or refrigerator
A large box, often rectangular, can be of different colors, and is very cold inside.
It is used for storing foods in freezing or below freezing level to avoid the growth of bad bacteria and mold.
Range
A range emits heat on the top and is powered by a certain fuel source.
Ranges are used for cooking food items, and can have different fuel types, such as:

a. natural gas

b. electricity

c. liquefied petroleum

d. charcoal or coal

e. induction heating

Dishwasher
A smaller to medium sized box that has room for many dishes and kitchen utensils. It is usually filled with water.
Dishwashers are automatic machines that can wash your dishes for you. They consume electricity and are ideal for homes that don't have enough time to wash the dishes.
Microwave
Usually a small, rectangular appliance with an inside that heats up and has a spinning platter.
Microwaves are used to heat up food and to warm frozen food. The only problem with them is that they do not retain the moisture of the food.
Blender
A pitcher attached to a spinning motor at the bottom, usually with blades like a washing machine, and a cover lid at the top.
Blenders can make smoothies, shakes and blended drinks, froths, fruit extracts, natural juices and the like.
Food processor
It is a smaller variant of the blender, usually able to fit smaller amounts of food instead of being a large pitcher.
The food processor can process food items simultaneously, usually made for making salsas, sauces, mashed food and the like.
Slicers
Slicers can come in various shapes and sizes, but they usually have positioned blades that are strategically arranged.
Slicers have the purpose of slicing food conveniently, such as cheese, fruits, veggies, bread and anything, without getting yourself too injured with a knife.
Oven
An oven can take different shapes and sizes, but the most common one is usually the square one, much like the microwave, that heats inside.
It cooks food or roasts it, depending on what it's intended for. Ovens can also bake cookies, cakes, pies and the like.
Coffee maker
Coffee makers are a pitcher and machine system in which you pour the beans on the top and it processes it into liquid coffee.
Coffee makers are basically what they are – they make coffee out of beans. Variants of the coffee maker include the drip coffee maker and the espresso machine.
Slow cooker
A slow cooker is a pot that has a lid and looks kind of like a rice cooker.
Slow cookers are made for certain vegetable and meat recipes. Rice cookers actually fall in the category of a slow cooker.
Kettles
Kettles today are different from the teapots that your grandma used to have. They are usually made of either plastic or stainless steel with a water reservoir.
Kettles are made for heating up water quickly using electricity, instead of in the traditional means of heating or boiling water on the stove.
Mixers
Mixers come in a wide variety, but the most common one is the stand mixer that has a bowl and a mixing machine with whisks.
Mixers are ideal for mixing batter for making bread dough, pastries and the like. It can also be used to make pasta and other food items.
Garbage disposal
These can either be in the form of trash compactor, composter and garbage disposal units.
These are special units that can help you manage trash in your kitchen.
Thermometer
Thermometers have special ends that can be attached onto food, and has a readout.
Thermometers can help determine the current temperature of your food for following a certain recipe in preciseness.
Rice cooker
Similar to a slow cooker, but specializes on rice with special controls.
Rice cookers are made to cook rice, but are also a form of slow cookers.
Q: What are the different types of mixers?
A: The mixer is a needed tool in the kitchen, especially for mixing pastries. Here are some of the different kinds of mixers:
Hand mixers are different from stand mixers.
Hand mixer – this one is operated by the hand and comes with 2 dough hooks in its usual form. It is made mostly for smaller recipes and for those that need a certain kind of tilting action for the mixing process. Hand mixers are usually cheaper in price.
Stand mixer – this one is a kitchen appliance that comes with a bowl, usually either in stainless steel or glass, and comes with the wire whisk, dough hooks, paddle and has a stand for the bowl. It is usually a little pricier, but more convenient.
Bowl lift stand mixer – this is a kind of stand mixer that has a unique bowl lifting mechanism. It is made for those who cannot really use a regular mixing appliance properly due to the wrong angle of the bowl. This is so that you can see the ingredients a lot of better without sacrificing steadiness.
Combination mixer – this is a kind of mixer that combines the features of the regular one and the bowl lift version. Most of them will have a better housing, and some can even have parts that can be detached or attached whenever you need them.
Q: Can you make pasta with a stand mixer or do you need a pasta maker?
A: While it is true that pasta makers are your best bet for making pasta dough, you can also make pasta dough from a stand mixer. In fact, there are special features that can make a stand mixer be able to make pasta dough and almost any kind of dough, such as the attachments and the like.
Q: How is a stand mixer different from food processor?
A: These two food processing appliances have specific differences, despite being quite similar with each other:
| | | |
| --- | --- | --- |
| Criteria | Stand mixer | Food processor |
| Ideal use | It is mostly used by those who want bake cakes and the like. | It is mostly used by those who want to make food mixes such as baby food. |
| Components | This kind of kitchen appliance has a bowl and a mixing motor. | This kind of kitchen appliance has a mixing motor and a short pitcher-like container. |
| Inserting food | The bowl is large enough to add ingredients easily. | Food processors have chutes in order to insert food. |
Q: How is the stand mixer different from the immersion blender?
A: An immersion blender is mostly used by dessert makers. It has the following differences with the stand mixer:
| | | |
| --- | --- | --- |
| Criteria | Stand mixer | Immersion blender |
| Ideal use | It is mostly used by pastry makers and for cakes. | It is mostly used for making smoothies, yoghurts, soups, frozen fruit and other liquid. |
| Components | It usually has less components than an immersion blender. | It usually has more components along with it. |
| Design | The design is to hold it on the side or let it stand on its own, if it is sturdy and stable enough with locks. | Immersion blenders have a wand to hold on the top to mix your food item at the bottom. |
Q: What are the different kinds of flour?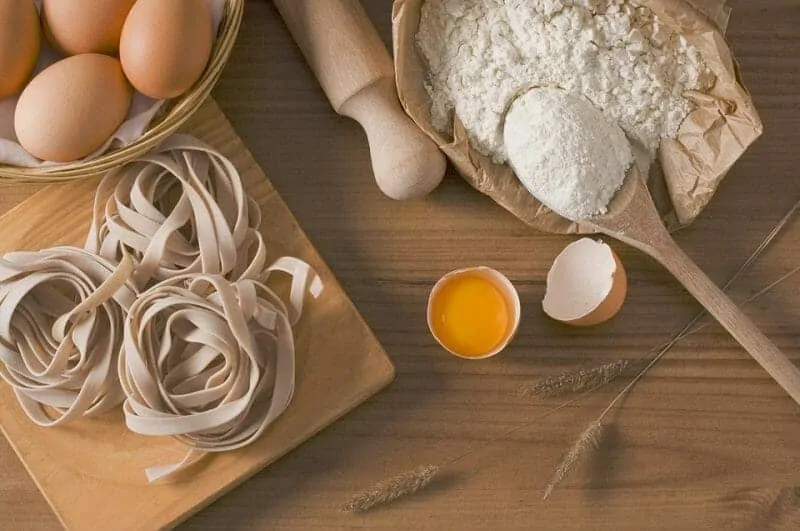 Flour is an essential baking ingredient.
A: Flour can have various types, such as the following:
Cake flour – this one is mostly made for moist cakes, has a low protein content and gives baked goods a sense of tenderness. They are, of course, ideal for making cakes, and have lesser gluten content.
Pastry flour – this one has about 8 to 9 percent of protein levels, and is used for most cookies, pies and tarts. It has a bit of tenderness but also has a bit of flakiness.
All-purpose flour – also known as AP flour, it is a common form of flour that has about 10 to 12 percent of protein content.
Bread flour – this one has a lot of protein, from about 12 to 14 percent. It can be found in mostly whole wheat products, and are great for those who want more support for their cakes.
Self-rising flour – this one has slight salt and baking powder added to it. They are great for most muffins, pancakes, biscuits and anything that requires rising when baking.
Q: How can you fix a cake that always sinks in the middle when you bake it?
A: If your cake sinks in the middle, it is usually due to over-mixing. On the other hand, under-baking your cake may also be a problem that can cause this sinking. To avoid this, set your stand mixer to a standard speed and not too much, and then put an oven thermometer to your oven while the cake bakes, to avoid under-baking.
Q: What are some effects of over-mixing your batter?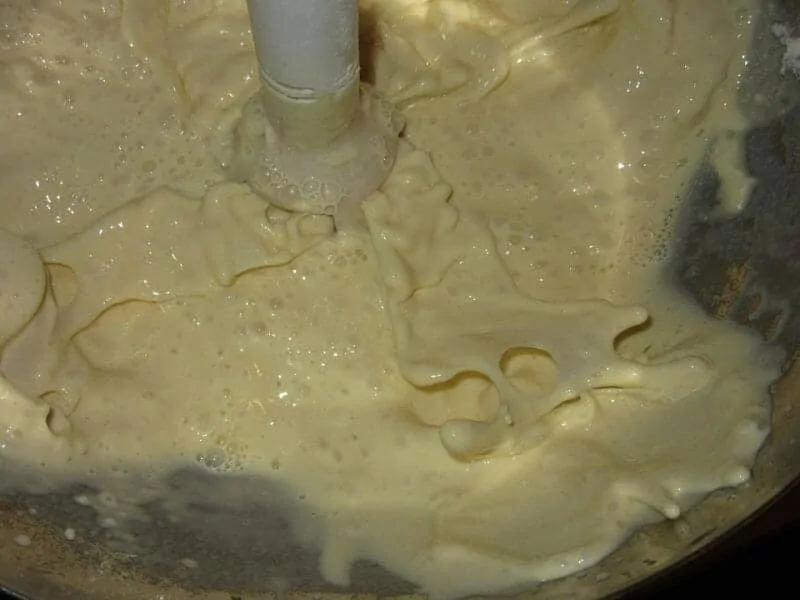 It is sometimes hard to get the right consistency when mixing batter.
A: If your batter is overmixed, you might encounter the following problems:
| | |
| --- | --- |
| Gluten development | This one makes your cake too stringy, tough or chewy, due to too much gluten. |
| Aeration | This makes the dough rise and fall inevitably due to the presence of air. It is a problem encountered when baking cookies. |
| Butter problems | This happens when the butter pieces become too small, and can make the dough too flaky or too tender. |
Q: When should food processors be used and when should hand mixing be used?
A: Both methods of food preparation are great, but they have their own advantages on when to use them best:
A food processor, usually in the form of a stand mixer, can be great for time saving purposes, for accuracy, for better power and for a more constant mix.
A hand mixer by contrast, helps you to control the mix much better than the automated process. Most traditional methods can give you a better baking experience, according to certain pastry chefs.
Q: What are the nutritional benefits of eggs?

Most mixing and baking recipes require eggs.
A: Eggs are common baking ingredients, which can have the following nutritional benefits:
Vitamin B2
Vitamin D
Omega-3 fatty acids
Protein
Vitamin B6
Vitamin B12
Q: What are some classic egg recipes out there?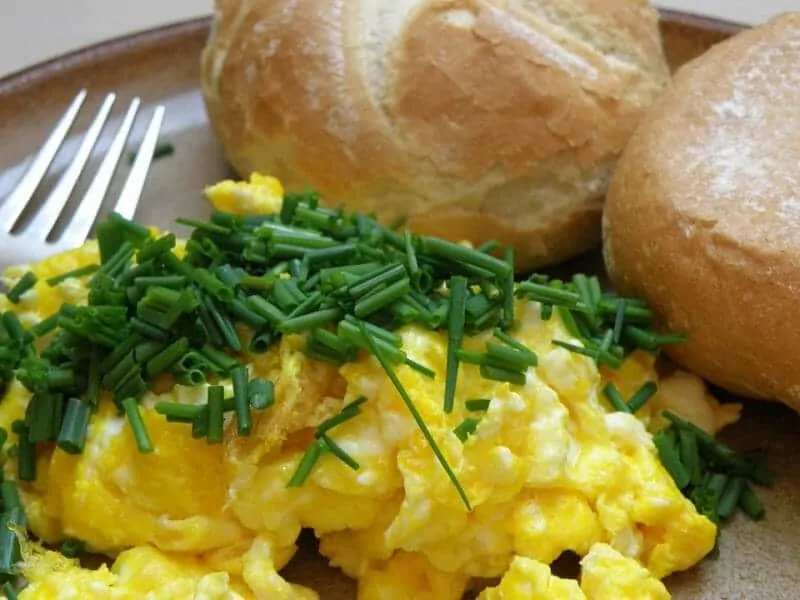 Scrambled eggs can be easily prepared.
A: In order to enjoy eggs better, you should know a couple of classic egg recipes:
Baked eggs
Poached eggs in salad with bacon
Gashouse eggs for breakfast
Ham and cheese soufflés
Eggs Benedict
Scrambled eggs
Sunny side up eggs
Soft boiled eggs
Q: What are the different types of chocolate?

Most baking recipes will require chocolate.
A: Chocolate is a common baking ingredient. Here are the different types of chocolate:
| | | | |
| --- | --- | --- | --- |
| Type of chocolate | What it is | Also known as | Used in |
| Unsweetened chocolate | Chocolate that does not have added sugar | Bitter chocolate or pure chocolate | Baking most pastry products and cakes |
| Bittersweet chocolate | Contains 35% of pure chocolate with little sugar | Dark chocolate | Consumption and in baking |
| Semisweet chocolate | Contains 35% of pure chocolate with added sugar and cocoa butter | Versatile chocolate | Consumption and baking |
| Milk chocolate | Contains 10% of pure chocolate with cocoa butter and sugar | Common chocolate | Mostly for consumption as a dessert |
| Sweet baking chocolate | Contains 15% pure chocolate with sugar and cocoa butter | Sweet chocolate | Usually for baking |
| Unsweetened cocoa powder | Pure chocolate without the cocoa butter | European style or Dutch process | Cocoa powder usually for baking |
| White chocolate | Not technically a chocolate, but is made with vanilla, milk solids, sugar and cocoa butter | Vanilla chocolate | Used for desserts and toppings |
Q: What are the different types of sugars?
A: Sugars can come in different form, and they are an essential in baking products. Here are the types of sugar: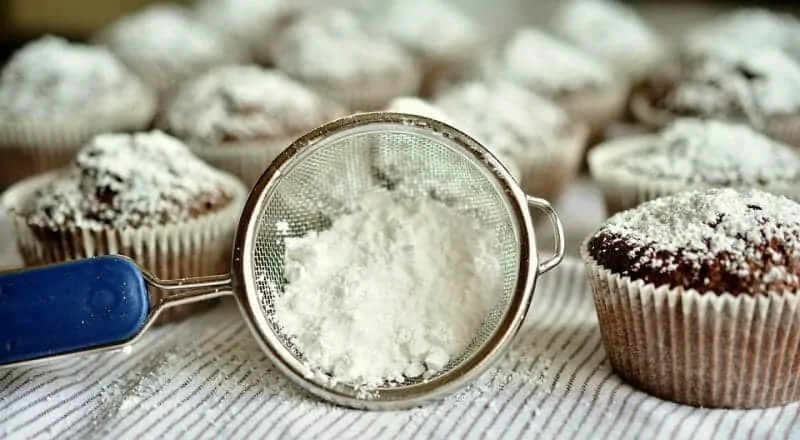 Special sugars are used for confectionary.
Regular – the average sugar or common sugar, which is used for both baking and cooking.
Powdered – also known as confectioners' sugar, this is ideal for sifting and baking.
Fruit sugar – it is used for desserts, powdered drinks, gelatin and pudding.
Superfine or caster – also known as bar sugar, it is a very fine sugar for smooth mousse.
Baker's special sugar – it is ideally used for cakes, cookies and doughnuts.
Sanding sugar – ideally used for confectionary or sprinkles.
Coarse sugar – larger sugar granules that are ideal for fondants.
Q: Are there health benefits to eating chocolate?
A: Most studies consider chocolate beneficial to your health because:
It is heart-friendly and may fight diabetes.
It gives you a full feeling, which is ideal for dieting.
You can have a better skin protection from the UV rays of the sun.
Chocolate is a good mood booster for people.
It may also increase retinal blood flow, ideal for vision.
Q: What are the common kinds of cookies?
A: Cookies are commonly bakes goods and mixed in a stand mixer. Here are some common cookie types:
chocolate chip cookies
peanut butter cookies
butter cookies
oatmeal cookies
ginger cookies
sugar cookies
snickerdoodles
Q: How is a stand mixer different from a meat grinder?
A: Clearly, they are two different things, but they both process food. Most meat grinders even include a kitchen mixer as a bonus. Let's have a look at their major differences:
| | | |
| --- | --- | --- |
| Criteria | Stand mixer | Meat grinder |
| Ideal use | A stand mixer is ideal for most pastries and cakes. | Meat grinders are mostly for meat processing. |
| Components | They usually have a bowl and a mixing appliance. | They usually have grinding blades to process the meat. |
Q: Honey is a common pastry and bread ingredient. What are its benefits?
A: Honey is greatly known for the following benefits:
| | |
| --- | --- |
| Good for the immune system | It can help fight off diseases to keep you healthy and strong. |
| Helps with sore throat and coughs | Honey can help with sore throat and any hard time with your throat. |
| Helps wounds heal faster | It is an antibiotic to help heal your wounds faster and prevent infection. |
| Cognitive function | People with Alzheimer's and Parkinson's diseases can have improved health with honey. |
| Antibacterial | This helps you to fight off diseases that may be caused by bad bacteria. |
| Better sleep | Insomnia, sleep apnea and other sleep related problems can be alleviated by honey. |
| Keep dandruff away | It is also a good natural hair treatment for dandruff. |
| Natural energy | Due to the unprocessed sugar, it can help boost your energy naturally throughout the day. |
| Anti-allergy | Great for hay fever and allergic rhinitis, honey can be mixed with your favorite drinks. |
| Helps with heartburn | It can help you to feel more comfortable when you eat too much. |
| Fights acne and oily skin | Honey is definitely good for your skin in general. |
| Aphrodisiac for couples | It can help couples to become possibly more fertile. |
| Colds and sinus problems | It can also alleviate most bad colds and anything related to a stuffy nose. |
| Cancer prevention | It has been found to have anti-carcinogenic effects to a person's body. |
Q: Grapes can be used for certain pastries, breads and desserts. What are its health benefits?
A: Fortunately for those who love grapes, it has the following health benefits:
      Better immune system
      Less likelihood of heart diseases
      Better memory
      Protection from type 2 diabetes
      UV damage repair (Due to the flavonoids)
      Vitamin K for bone health
      Better blood pressure (Due to the polyphenols)
Q: Do I need to have a bread maker to make bread or will a stand mixer be able to make the dough?
A: At the very most, stand mixers could help you make the dough, but for a totally customized option for breads, you might still want to get a bread maker. However, most people do bake their own bread manually even without it, but that is up to your skill level, anyway.
Q: How can you make fruit and nut banana loaf?
A: Stand mixers and bread makers can be useful for recipes such as the fruit and nut banana loaf. Here are the steps to making them:
Preheat the oven up to 180 degrees Celsius.
Put the sugar and butter together and make a cream out of them.
Into the mixture, add the 2 eggs and the bananas.
Perform sifting with half of baking powder and self-rising flour.
Add your fruit and nuts as desired.
Your mixture can now be poured into the loaf tin.
Put the loaf tin into the oven, located in the middle shelf.
Bake the whole thing for 45 to 50 minutes then let it cool down, and serve.
Wrapping It Up
As a whole, we believe that the KitchenAid Professional 600 is our pick for the best stand mixer due to the good capacity of 6 quarts, bowl lifting design, soft start feature and other great features that can help speed up and ease your kitchen mixing experience.
Jen Miller is a former electrical engineer and product specialist with more than 20 years of product design and testing experience. She has designed more than 200 products for Fortune 500 companies, in fields ranging from home appliances to sports gear and outdoor equipment. She founded Jen Reviews to share her knowledge and critical eye for what makes consumers tick, and adopts a strict no-BS approach to help the reader filter through the maze of products and marketing hype out there.  She writes regularly and has been featured on Forbes, Fast Company, The Muse, The Huffington Post, Tiny Buddha and MindBodyGreen.