Pesto is a consistent fan favourite. Its bright, herbaceous basil notes contrast well with the other, considerably more pungent ingredients like garlic, parmesan and copious amounts of olive oil to produce the popular sauce we know and love today.
As pricey and luxurious as it plays itself off to be, pesto can be easily made at home, provided you have the help of a handy-dandy food processor! (Though a pestle and mortar would produce a coarser, more rustic end product in the absence of a food processor)
The basic components of a good, classic basil pesto are sweet basil leaves (not Thai basil, mind you!), creamy pine nuts, olive oil and a touch of parmesan and garlic. And the best thing about making your own pesto? The customizability.
Love it rich? Add more cheese and be generous with the oil!
Can't get enough garlic? Double the amount of cloves in this recipe!
Prefer it simple? Let the basil shine through by cutting back on the other ingredients.
This sandwich starts off with a pesto chicken salad, which is then sandwiched between slices of crusty, buttered bread and slices of fresh, juicy tomato to add color and balance it out. The perfect picnic sandwich!
Easy-Breezy Pesto Chicken Sandwich
Ingredients
2

large chicken thighs

2

cups

fresh sweet basil

3

cloves

of garlic

2

tbsp

of grated parmesan cheese

3

tbsp

pine nuts

⅓  

cup

extra virgin olive oil

One loaf of bread of your choice

Two fresh tomatoes

3

tbsp

of butter
Instructions
Thaw chicken, rinse basil and toast pine nuts.

Blend basil and pine nuts.

Add cheese and garlic.

Drizzle in the olive oil and season.

Boil the chicken thighs and shred into bite-sized pieces.

Mix in the pesto.

Toast and butter bread

Add pesto chicken and tomatoes

Slice and enjoy!
STEP ONE – PREPARE YOUR MISE EN PLACE
Defrost your chicken thighs and chop them in half for faster cooking. Rinse your basil and pat them dry (you don't want excess water in your pesto as it will spoil faster), Chop the garlic, slice the tomatoes and get your bread out.
And most importantly, toast your pine nuts! By putting them in a dry pan over low heat and tossing consistently till lightly toasted and fragrant, the flavor will be amplified a billion times, resulting in a more fragrant pesto!
STEP TWO – MAKE THE PESTO
We'll start off the recipe with the most difficult part first. And by that we mean dumping stuff into the food processor! Start off with your basil. Make sure its clean, dry and there are no tough stems present.
After your toasted pine nuts have cooled down, toss them into the food processor and pulse until there are no more large bits. About 40 seconds or so, stopping to scrape down the sides every once in a while.
STEP THREE – ADD CHEESE AND GARLIC
Add in the parmesan cheese and garlic. Continue to pulse for 30 seconds or so. The mixture will still be rough at this point.
STEP FOUR – DRIZZLE IN THE OLIVE OIL AND SEASON
Slowly drizzle in the olive oil while the processor is running and process until homogenous. At this point, you can add more oil if you'd prefer to create an oiler, more liquidy consistency. Season generously with salt.
STEP FIVE – BOIL AND SHRED THE CHICKEN
Bring a pot of water to boil and add the chicken thighs in. Boil until cooked through, when the thickest part of the thighs are opened with a fork and completely opaque inside. About 20 minutes or so for thighs that have been chopped in half.
Once cooked, place in ice-cold water and allow it to come to a manageable temperature. Shred into your bite-sized pieces.
STEP SIX – MIX IN THE PESTO
Dollop the pesto into the chicken one spoonful at a time. There might be leftover pesto which you can store in an airtight container in the refrigerator.
STEP SEVEN – TOAST AND BUTTER BREAD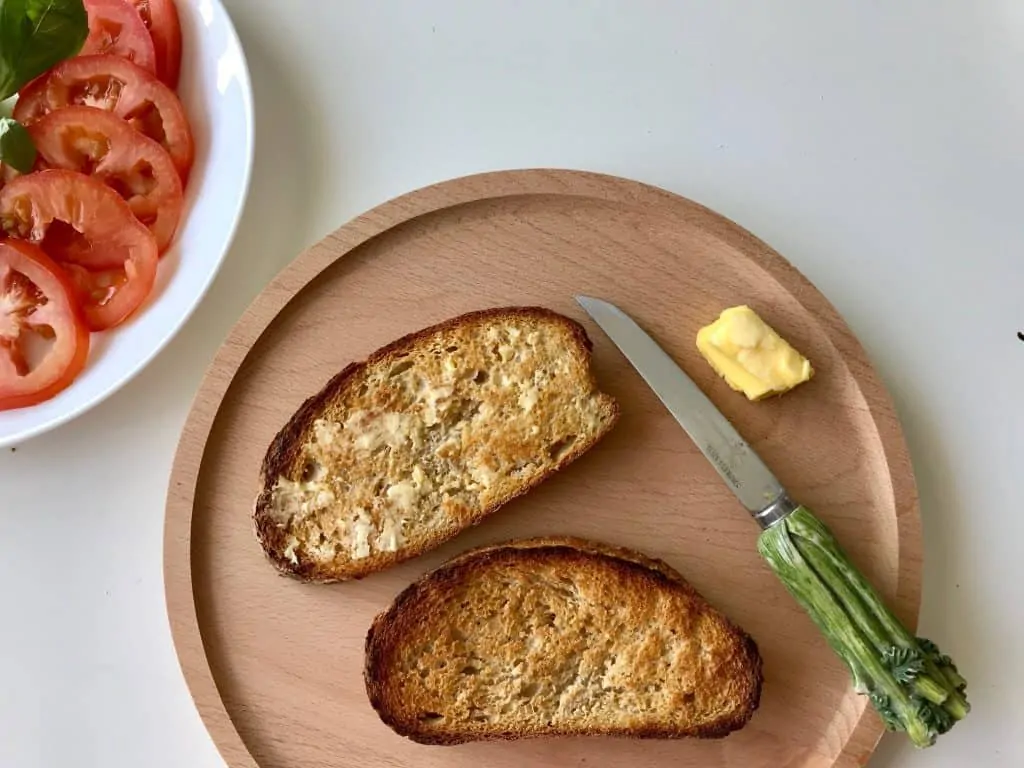 Slice your bread and toast to your desired doneness. If using bread like sourdough or any form of rustic-shaped bread which will not fit into your standard toaster, place in an oven at 180 degrees celsius for 5-10 minutes or until golden-brown and crusty. Spread butter thinly over both slices.
STEP EIGHT – ADD PESTO CHICKEN AND TOMATOES
Once buttered, place as much of the pesto chicken salad on top as you like. At this point, I like to sprinkle on some extra whole toasted pine nuts for extra crunch and texture. You could also mix in the pine nuts directly into the chicken salad before spreading on top.
Place 2-3 slices of fresh tomato on top.
STEP NINE – SLICE AND ENJOY
Slice in half (or diagonally, whatever floats your boat!) and chow down! If packing, wrap in cling wrap or parchment paper.
FINAL THOUGHTS
It's key to use grated parmesan instead of parmesan slices or chunks in the food processor. It's best to use the type that comes in a packet as it'll blend nicely together. Parmesan dust, if you will.
Feel free to opt some of the basil out and replace with baby spinach or any other green herb. A cilantro-based pesto for Asian dishes, perhaps? Pine nuts can also be replaced with other nust such as walnuts or macadamias, though the end result might turn out a little chunkier.
To go the extra mile, make your own bread! This recipe for homemade French bread is perfect to pair with the pesto chicken.
Jen Miller is a former electrical engineer and product specialist with more than 20 years of product design and testing experience. She has designed more than 200 products for Fortune 500 companies, in fields ranging from home appliances to sports gear and outdoor equipment. She founded Jen Reviews to share her knowledge and critical eye for what makes consumers tick, and adopts a strict no-BS approach to help the reader filter through the maze of products and marketing hype out there.  She writes regularly and has been featured on Forbes, Fast Company, The Muse, The Huffington Post, Tiny Buddha and MindBodyGreen.