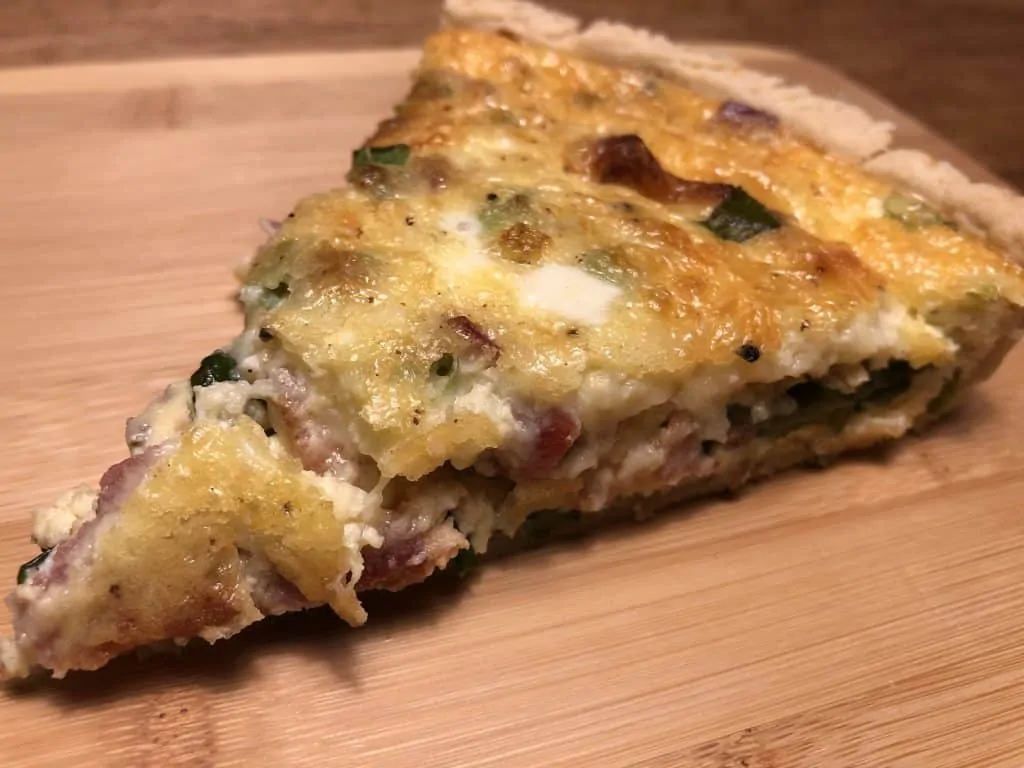 Quiche lorraine is often a hugely overlooked dish. This classic French recipe combines everything that defines comfort food. With its flaky and butter crust, alongside rich meaty fillings, quiche lorraine can be served for nearly any meal. This recipe will be a simple take on the dish, featuring a bacon and spinach filling that is complemented by the flavor of shallots and rich gruyere cheese. So if you are looking for the perfect quiche recipe that anyone will enjoy, look no further!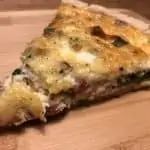 Quiche Lorraine with Bacon and Spinach
Total Time
1
hour
5
minutes
Ingredients
2 ¼

cups

all purpose flour

¾

cup

cold butter

1

egg yolk

3

tbsp

cold water

1

tsp

salt

3

shallots

¼

cup

chopped green onion

16

oz

baby spinach

6

slices

of bacon

4

eggs

½

cup

heavy cream

½

cup

milk

1-2

cups

shredded gruyere cheese

¼

tsp

nutmeg
Instructions
Prepare the dough for the crust by mixing flour, butter, and salt in a food processor. Use cold butter for this step, and cut it into cubes to make this much easier.

Once crumbs start to form, add an egg yolk along with a few tablespoons of cold water until the dough begins to form. You should be looking for a consistency that is not too crumbly or wet.

Create a semi-flat disc with the dough, then tightly seal it with plastic food wrap and refrigerate for 30 minutes.

Once chilled, roll the dough out to a thin circle that is about ½ cm thick. Press the dough into a greased quiche dish, removing any excess crust. Use a fork to press holes into the bottom of the crust.

Fry the bacon in a cast iron skillet until well cooked and crispy. Set aside on a cloth to remove any excess grease.

Remove all of the bacon grease except for about 1-2 tbsp, then add the diced shallots and saute them until they become slightly translucent.

Add spinach and stir constantly until it reduces in size. Set aside.

In a medium bowl, combine eggs, milk, heavy cream, and nutmeg. Stir until the mixture is smooth and well combined.

Line the bottom of your quiche crust with the spinach and shallot mixture, the add bacon on top. On top of that add the shredded gruyere cheese and carefully pour the egg mixture over everything until the dish is completely and evenly filled. Top with chopped green pepper.

Bake at 325°F for 45 minutes or until the egg begins to turn a golden brown.

Allow the quiche to rest at room temperature for 15-30 minutes, then remove from the pan and serve it as slices.
Step One – Mix the Butter and Flour Together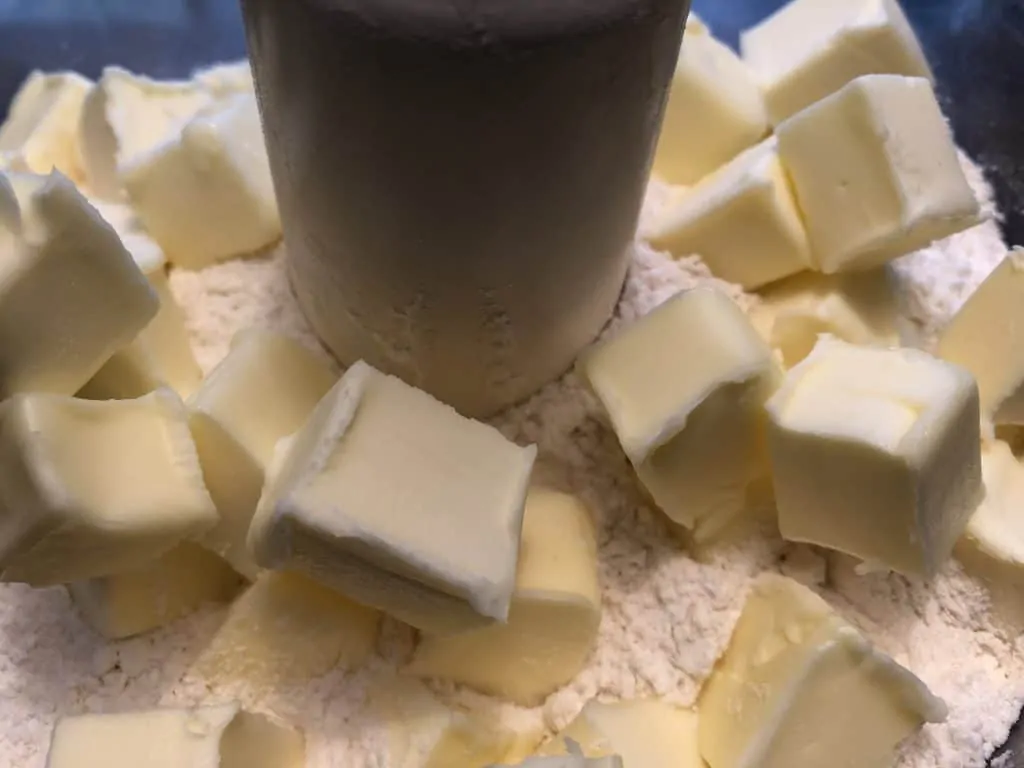 The first step of this recipe will be making the dough which will be rolled out into a crust. This crust will be light, flaky, and most importantly buttery! Start by cubing the butter and adding it to a food processor along with flour and salt. Make sure to use cold butter for this, as warm or melted butter will not produce the correct consistency. Continue mixing until crumbs begin to form.
Step Two – Add Egg Yolk and Water
Next, add a single egg yolk and a few tablespoons of cold water while you continue to mix the ingredients. Again, it is important to use cold water during this step in order to get the correct consistency of dough. You want the crumbs to begin to pack together without becoming solid or too moist. The amount of water that you add will vary, so it is up to you to not add too much.
Step Three – Form the Crust Dough into a Disc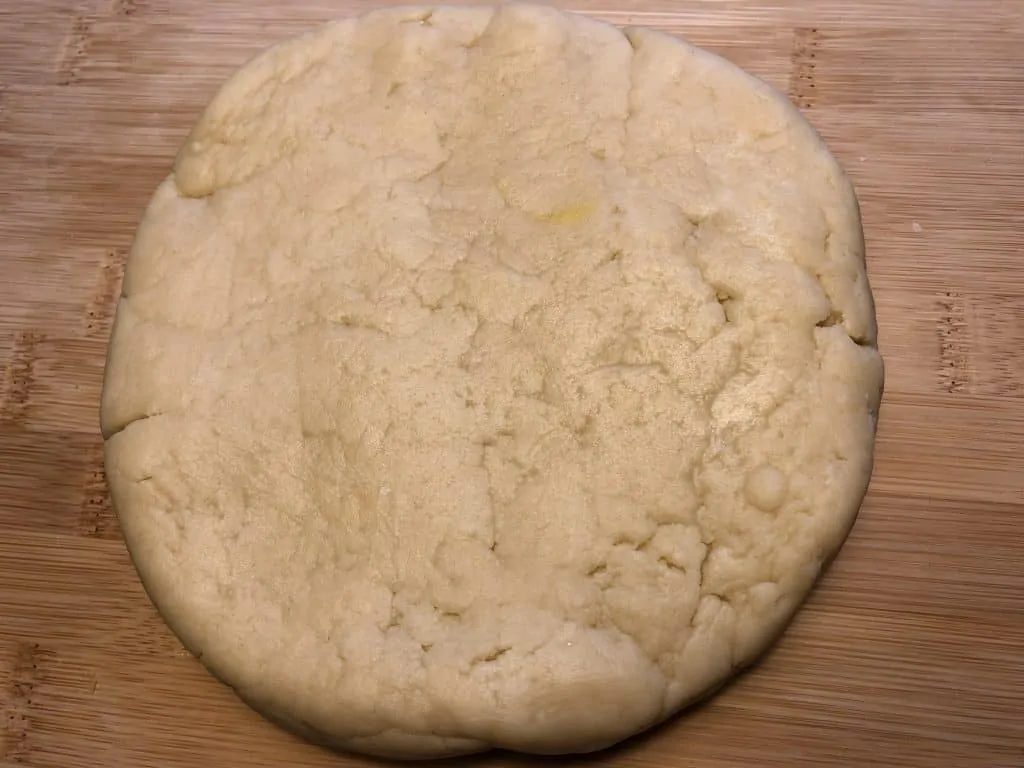 Now that your dough is essentially finished, press it together and make it into a disc shape. It doesn't have to be perfect at this point, as you will still have to roll it out later. Wrap the dough tightly in plastic wrap so that it does not come into contact with any air, and refrigerate for 30 minutes. This simply makes it easier to roll the dough out into a thin circle without tearing or falling apart.
Step Four – Roll the Dough and Cover the Quiche Dish
Remove your chilled dough from the refrigerator and begin rolling it out on a floured countertop. Try to keep the circular shape as you do this, and aim for a thickness of about ½ cm. The dough may tear or break apart while you roll it out, just make sure to press it back together if it does. Then you will line the bottom and sides of a greased quiche dish with the dough, creating an even crust. I like to use a stick of butter to grease the dish, but any oil will work fine as well. Once the crust is in the dish, trim any excess dough and begin making small sets of holes with a fork. The dough is finally complete, and can be kept in the refrigerator while you prepare the filling in order to keep its shape intact.
Step Five – Fry the Bacon Strips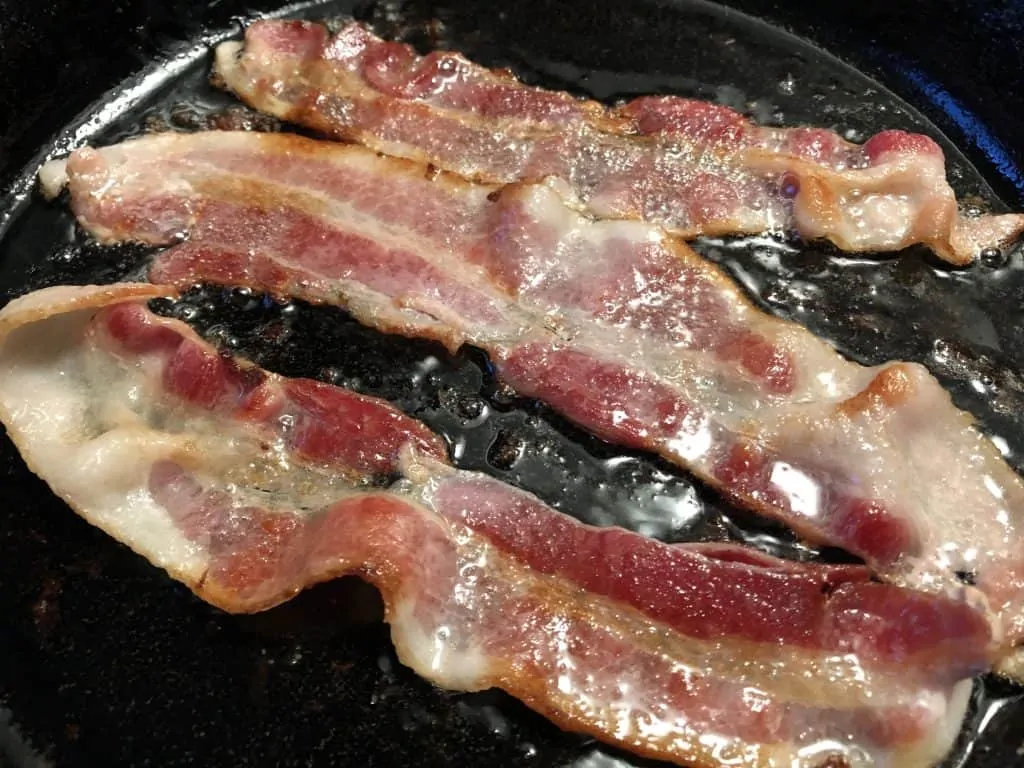 Next we will be making the delicious filling for our quiche. Fry six strips of bacon in a large cast iron skillet set to medium high. Try to not overcook the bacon, while still cooking it to the point where it comes out nice and crispy. Once all of your bacon is perfectly cooked remove it from the pan and set it on a cloth in order to soak up any excess grease. Slice the bacon into small pieces and set it aside for later. Make sure that you do not discard of all of the bacon grease during this step, as it will be used to saute the vegetables in the next few steps.
Step Six – Dice the Shallots and Green Onions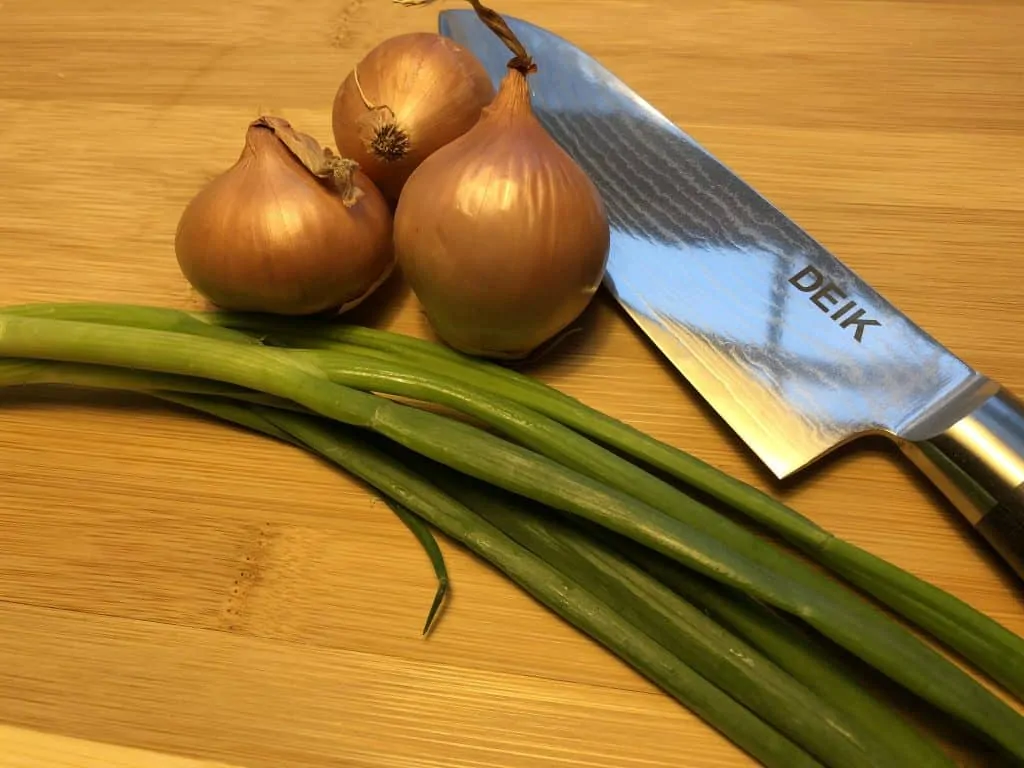 Now it is time to prepare the vegetables that will be in the filling. It is as simple as dicing the shallots and green onion. This quiche lorraine recipe is quite simple and only calls for spinach, green onion, and shallots. If you would like to add or substitute different vegetables feel free to do so. Some that I would suggest would be leeks, mushrooms, and broccoli.
Step Seven – Fry the Shallots in Bacon Grease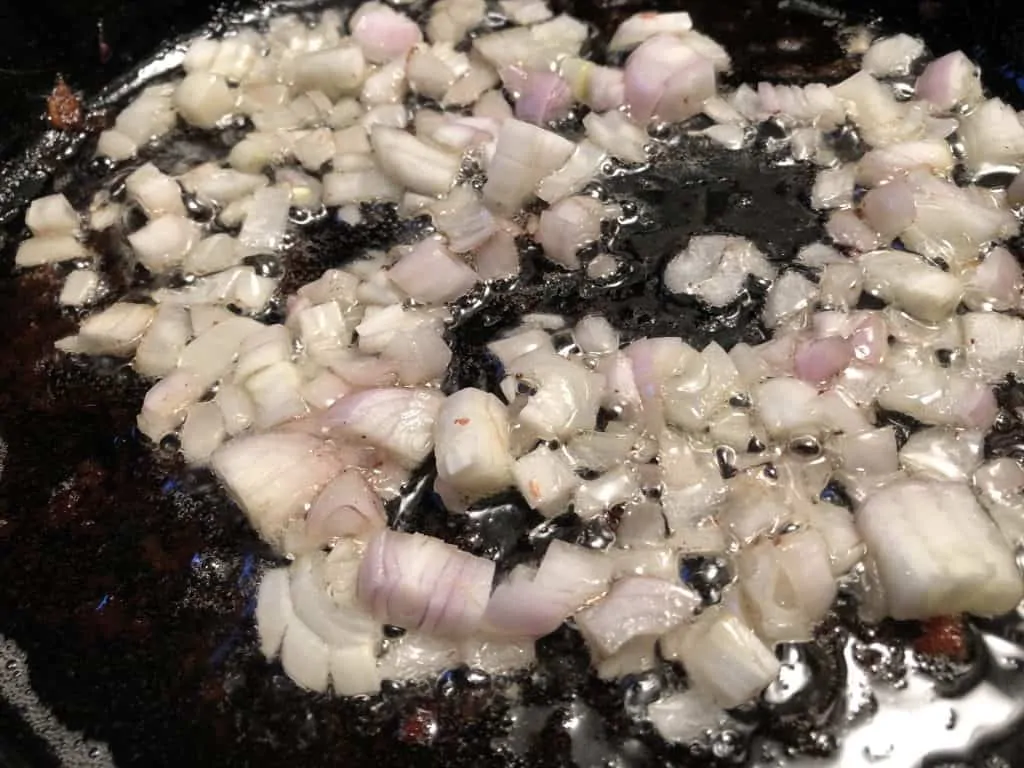 Hopefully you saved the bacon grease, as it will definitely come in handy while sauteing the shallots. Discard of most of the oil, but keep about 2-3 tbsp. Throw in your diced shallots and stir as they begin to fry. You want them to get slightly translucent before you know they are ready.
Step Eight – Add Spinach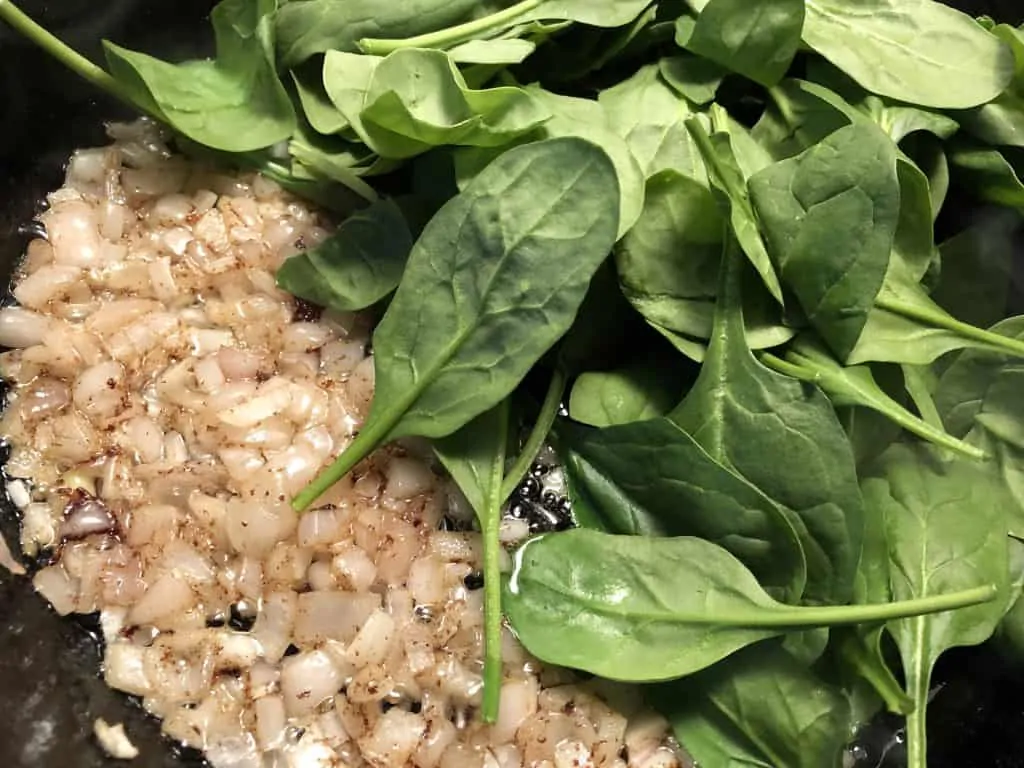 The spinach is the last thing we will add to our skillet, as it cooks down incredibly fast. Throw handfuls in and stir. The spinach will quickly reduce in size, and more can be added if desired.
Step Nine – Combine Eggs, Milk, and Cream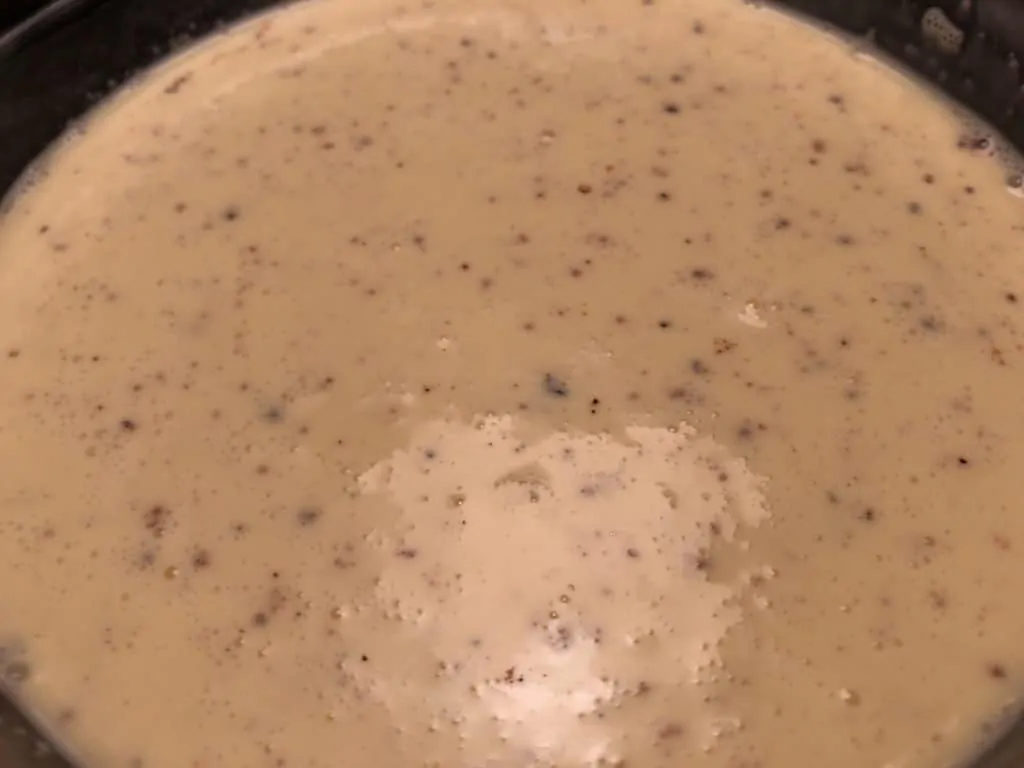 Perhaps the most important part of any quiche is its creamy egg filling. To accomplish this you will combine the eggs, milk, and cream in a large bowl. Once everything is completely mixed together, you can season it with a little salt, pepper, and nutmeg.
Step Ten – Add the Filling to the Bottom of the Crust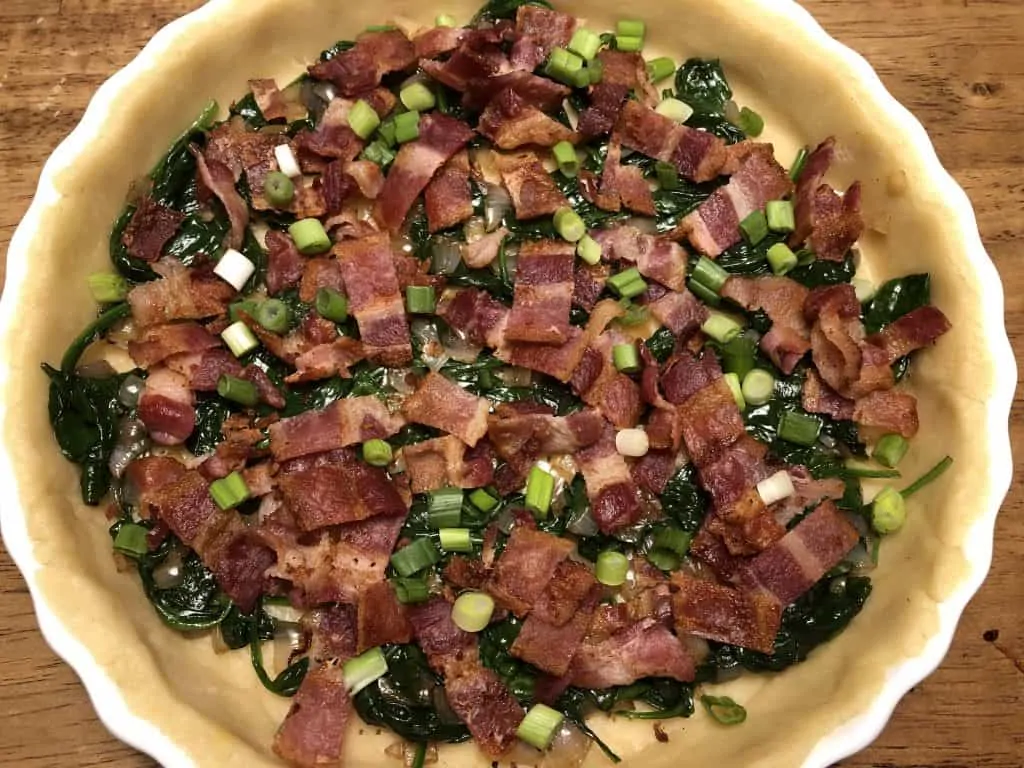 Now comes the fun part. It is time to put everything together and finish the quiche. Spread the spinach and shallot mixture evenly on the bottom of the crust. Then add your bacon and some of the green onions.
Step Eleven – Add Cheese and Egg Mixture
Next, add a thick layer of shredded gruyere cheese and carefully pour the egg and cream mixture over the entire thing. The order of adding all of the filling ingredients is important so that the cheese melts into everything and the egg surrounds it all. Top with the remaining green onion and you are all set!
Step Twelve – Finish the Quiche in the Oven
Bake the quiche in an oven set to 325°F for 45 minutes, or until the top begins to turn into a golden brown. The egg will have risen quite a bit, and may even stick out above the crust. This is normal, so do not worry if this is the case.
Step Thirteen – Cool and Remove from the Dish
It is important that you allow the quiche to cool before serving it. This helps to keep the filling from being runny, and will make slicing it much easier. To remove the quiche from the dish simply place a plate or board on top of it, then invert the dish and remove it. The quiche will come out face down, so you will have to transfer it to another plate. Now all that is left to do is slice the quiche into servings and enjoy!
Final Thoughts
After making this quiche lorraine your house should smell of bacon, butter, melted cheese. I honestly can't think of a better reason to try this dish out for yourself! Feel free to add or substitute any of the fillings to better suit your preferences. Perhaps a cheesy broccoli or mushroom would come out even better, there is always room to experiment. Just make sure to keep ahold of this recipe, as friends and family alike will be dying to get it from you!
Jen Miller is a former electrical engineer and product specialist with more than 20 years of product design and testing experience. She has designed more than 200 products for Fortune 500 companies, in fields ranging from home appliances to sports gear and outdoor equipment. She founded Jen Reviews to share her knowledge and critical eye for what makes consumers tick, and adopts a strict no-BS approach to help the reader filter through the maze of products and marketing hype out there.  She writes regularly and has been featured on Forbes, Fast Company, The Muse, The Huffington Post, Tiny Buddha and MindBodyGreen.