Bread, in one form or another, is something that can be found in every cultures kitchen. We use it as a way to break our overnight fast, to sandwich delicious ingredients in-between for the mid-day meal, or to sop up flavor infused liquids from a sauce or soup at dinner. It's really the most universal of finger foods. However, we usually leave it to the experts to prepare either in an artisan bakery or in a commercial kitchen environment. Of course, that was before this French bread recipe!
I, like so many others, have had bread baking woes from trying to make that perfect loaf. Often it won't rise as it should in order to form that fluffy interior and golden on the outside shell, or it comes out like a brick that should be left as a doorstop. It also often takes hours upon hours to make because of a starter, raising, waiting, kneading, waiting, and etcetera to only find out it that the bread gods have forsaken you again. But this is the bread that works.
In order to make this work, you must proof the yeast first. Do not skip this step as it will let you know if your yeast is going to work with you or if you need a new batch to leaven that dough. Make certain that you feed that yeast some sugar so it can foam up and prove it's ready to work for you.
Another is a warm space to let the dough rest. Turn on the oven and leave it open a crack to warm the kitchen, bring in the space heater, whatever you can think of to make that area warm because dough likes a nice warm place to plump up while it sleeps. The cold will just make it go dormant and you'll wind up with a dense, unhappy ball of mixed flour and water that will do nothing for your bread baking confidence.
Last, make sure to season the flour with a good dose of salt and maybe a bit of melted butter. The butter isn't necessary, but the salt is a must or your bread will turn out bland and no one wants a loaf of bland bread after a few hours of waiting!
These rules are a must for a bread to form into that beautiful loaf of golden crusted and soft chewy center.
Let's get started so your home will fill up with the wonderful aroma of freshly baked bread in a few hours!
Homemade French Bread
Prep Time
2
hours
50
minutes
Total Time
3
hours
15
minutes
Ingredients
1

cup

warm water

3 ½

teaspoons

dry yeast

1

teaspoon

sugar

2 ½

cups

flour

plus extra for dusting

1 ½

teaspoons

salt

1

tablespoons

melted butter

1

tablespoon

olive oil

1

egg white

1

teaspoon

water
Instructions
Sprinkle the yeast and sugar in the warm water. Stir it together and let it sit for 10 minutes. Whisk 2 cups of the flour and salt together in a large bowl.

After the yeast in the water has become foamy, pour it and the melted butter into the flour while stirring to combine it and form a sticky ball.

Dust a clean large cutting board with the remaining flour and turn the dough ball out onto it. Knead the dough in the loose flour, working it into the dough as you do to make a firm elastic ball. When nearly all of the excess flour has been worked into the ball, it should be about the right consistency; approximately 8-10 minutes.

Pour the olive oil into a bowl and put the ball in it, turning several times to coat the outside of the ball in oil. Cover the bowl with a clean kitchen towel and let it rest 45 minutes, or until doubled in size, in a warm place.

Turn the dough out onto a clean cutting board that's been dusted with flour. Deflate the ball by pushing down on it with your fist and pat it out to make a rough circle. Cover it again with the same towel and let it rest for another 15 minutes.

Remove the towel and pat the dough out into a large rectangle. Working from the long side opposite from you, roll the dough towards you. Once it's at the end, wet the edge closest to you with water and finish rolling it up to seal it together.  Transfer the rolled loaf to a parchment lined baking sheet, cover it, and let it rest for another 45 minutes.

Preheat the oven at 375F and place the rack in the middle position.

After the dough has rested cut 4-5 diagonal incisions across the top of the bread about 1/8th inch deep. Mix the egg white and teaspoon of water together and brush the top and sides of the bread with the egg wash.

Bake the bread in the oven for 20-25 minutes or until it's risen and has become golden brown on the outside and makes a hollow sound when tapped on the top.

Remove the bread and allow it to cool at least 5 minutes before cutting and serving.
Notes
STEP ONE – PROOF THE YEAST

Fill a large measuring cup with the warm water. Sprinkle the yeast and sugar on top and stir it well.

Allow it to rest for 10 minutes while it foams. If it doesn't foam up in that time, the yeast used is no longer active. Start again with fresh yeast.
Mix the flour and salt together in a separate clean bowl.
STEP TWO – MAKE THE DOUGH

Once the yeast has foamed up, pour it into the bowl with the flour and salt.

Pour in the melted butter and stir it with a wooden spoon.

The dough will come together to form a sticky ball. Pull off any dough that sticks to the spoon and add it back to the dough ball.
STEP THREE – KNEAD THE DOUGH

Sprinkle the leftover flour on a flat surface like a large cutting board. Dust your hands and turn the dough out onto the board.


To knead the dough, push it with the palm of your hand away from you and pull back with your fingers in a rocking motion.


This will pick up the flour on the board while working the dough into a stretchy, firm ball that doesn't stick to your hands or the cutting board.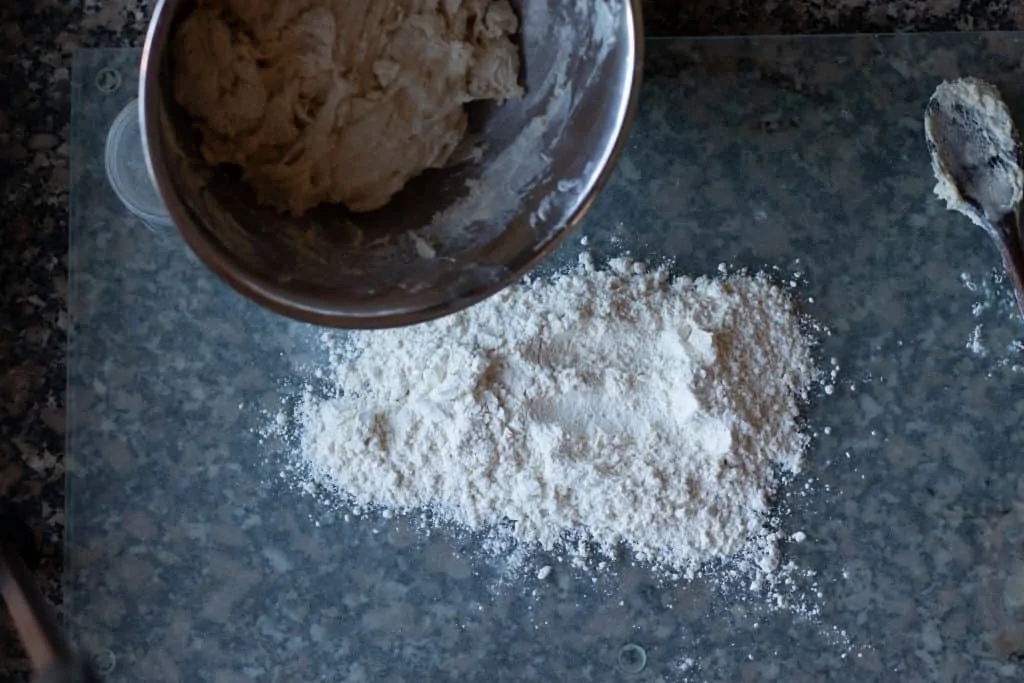 The ball will be smooth and most of the flour will have been picked up by the ball when it's done.
STEP FOUR – LET THE DOUGH RISE

Pour the olive oil into a clean bowl. Put the kneaded dough ball into the bowl and turn it over several times to coat the entire outside with the oil.

Cover the dough with a clean kitchen towel and let it rest in a warm place. Let it rest until it's grown to about double its size; about 45 minutes,
STEP FIVE – PUNCH DOWN DOUGH AND REST

Once the dough has risen, push it down with your hand to push out excess air.

Sprinkle the cutting board with flour and turn the dough out onto it.

Pat it out with your fingers into a rough circle and cover it again.


Allow it to rest for another 15 minutes.
STEP SIX – FORM LOAF AND PREHEAT OVEN

Remove the towel and press the dough out into a large rectangle.


The size depends on what shape you want your loaf to be. Make it longer for more of a baguette shape or shorter for a rustic oval loaf.
Working from the side farthest from you, roll the dough towards you.
When it is on the last roll before it's sealed, wet the edge closest to you with water and roll it up to seal it.
Make any adjustments to shape at this point and place it on a baking tray lined with parchment paper or a reusable baking sheet.  Cover the formed dough again and let it rest another 45 minutes.
Turn the oven on to 375F and let it warm up while the bread rises for the last time.

STEP SEVEN – CUT DOUGH AND BRUSH WITH EGG WASH

With a very sharp knife or a razor blade, carefully cut diagonal slits in the top of the loaf.

Mix together the egg white and a little water and brush the top, sides, and ends with the mixture to help it brown while it bakes.
STEP EIGHT – BAKE BREAD

Put the bread into the oven and allow it to bake for 20-25 minutes. It's done when the outside is golden brown and a gentle tap sounds hollow.
STEP NINE – REMOVE BREAD FROM OVEN
Remove the bread and let it cool a few minutes before cutting into it and serving.
This bread may take some time, but it's well worth the wait! Just follow the essential needs for the bread to develop. This bread also is a great basic recipe that can have herbs added to the dough, or shaped into a long loaf for a quick baguette or into an oval rustically beautiful version. It can even been easily doubled to make two loaves at once or divided into individual buns if needed!
What is your favorite food to pair with bread? Let us know!
Jen Miller is a former electrical engineer and product specialist with more than 20 years of product design and testing experience. She has designed more than 200 products for Fortune 500 companies, in fields ranging from home appliances to sports gear and outdoor equipment. She founded Jen Reviews to share her knowledge and critical eye for what makes consumers tick, and adopts a strict no-BS approach to help the reader filter through the maze of products and marketing hype out there.  She writes regularly and has been featured on Forbes, Fast Company, The Muse, The Huffington Post, Tiny Buddha and MindBodyGreen.