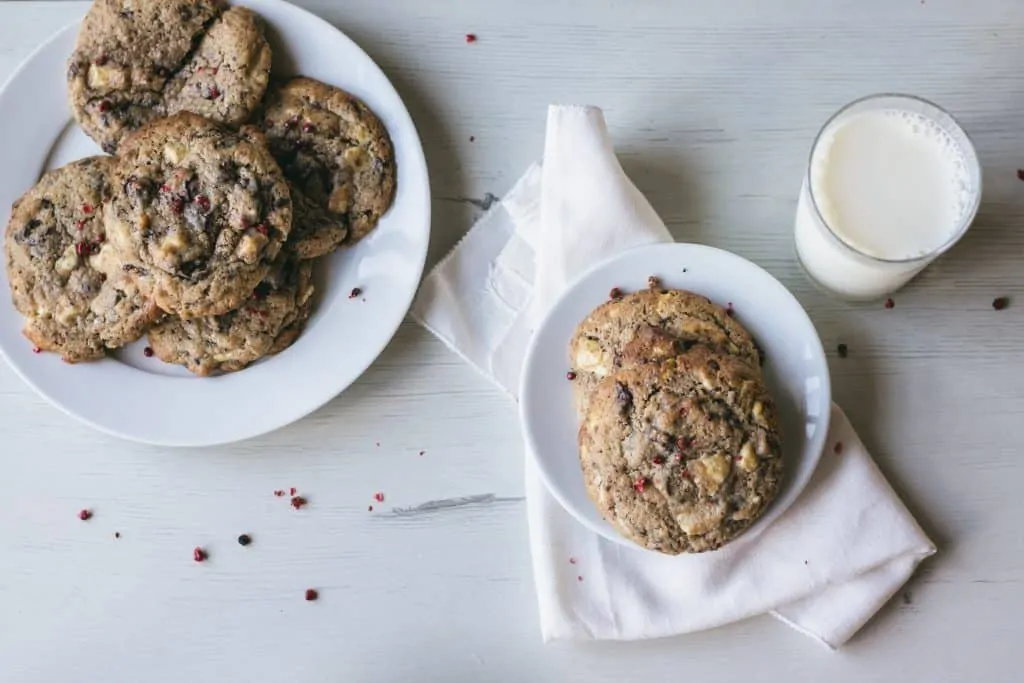 Tossing together and stirring up a bit of flour, sugar, butter, and chocolate along with a few other ingredients has always been the basis for a particular mouthwatering treat; chocolate chip cookies.
These beloved cookies are a childhood favorite and are a nostalgic experience for anyone that has crossed the threshold into adulthood. But what if they can bridge the gap and become a treat more suited for the mature palate? That's where these chunky, pink peppercorn speckled cookies come into play!
Crafting the perfect cookie dough to play home for chocolate bits and those pink peppercorns to live in before they are devoured can be a little tricky. The decision to make a thick cake-like cookie, or a crisp thin cookie or one in between needs to be understood first of all, as the amount of or whether to even use baking soda or baking powder is a must. The ingredient used for sweetness also has an impact on cookie creation; brown sugar, white sugar, honey? Each of these make an impact on the final product.
This cookie is a perfect base, in my opinion, of not too thick, not too thin so both baking soda and powder are used to produce a chunky cookie with crisp edges and a soft, melted chocolate center and light brown sugar to help with the need for sweet, but it's not overwhelmingly so. Which brings us to flour type.
Many recipes, and bakers, prefer the softness of a cake flour for their cookie dough. I believe chocolate chip cookies don't need to be so delicate! An all purpose healthy whole wheat flour doesn't detract from the texture or taste and gives more substance to what holds the chocolate pieces in place.
Chocolate in this isn't your average chocolate chips. No, this recipe uses chunks of broken up white AND dark chocolate bars. The white chocolate balances the bitterness of dark chocolate with it's smooth fatty sweet taste and makes this cookie look so much more interesting than the original. That isn't what really makes this cookie stand out compared to the other recipes out there though.
Flecks of pink peppercorns dot throughout these cookies. They are a complete surprise after a bite, one that almost confuses the eater, but always makes one want another bite of subtle peppery goodness after the first!
Black, White and Pink All Over Chocolate Chunk Cookies
Ingredients
¼

cup

butter

softened

1/3

cup

light brown sugar

1

egg

½

teaspoon

vanilla

2/3

cup

all purpose whole wheat flour

¼

teaspoon

baking soda

¼

teaspoon

baking powder

¼

teaspoon

salt

3 ½

ounces

white chocolate bar

3 ½

ounces

dark chocolate bar

1

teaspoon

pink peppercorns

divided
Instructions
Preheat oven to 350 Line a baking sheet with parchment paper.

In a large bowl, beat the butter and sugar with a hand mixer on medium until they have become light and fluffy; about 2 minutes. Add the egg and vanilla to the bowl and beat until just combined.

In another bowl, whisk the flour, baking soda, baking powder, and salt.

Carefully, a little at a time, add the dry ingredients to the butter mixture and beat on low between each addition until combined.

Lay the white chocolate and dark chocolate on a cutting board and chop them up with a knife into small chunks. Add each to the cookie dough and fold them in.

Sprinkle ½ teaspoon of the pink peppercorns into the bowl and fold them in.

Scoop the dough into a golf ball sized ball and place each onto the baking sheet about 2-3 inches apart.

Place the cookies in the oven to bake for 12-14 minutes, or until they start to turn golden brown.

Remove the cookies from the oven and sprinkle the remaining peppercorns on top before allowing them to cool about 5 minutes before transferring them to a rack or board to cool completely.
Notes
This is a small batch cookie dough recipe. It can easily be made for more by doubling, tripling, and more the list of ingredients.
If white and dark chocolate chips are available to use instead of bar chocolates feel free to use those at a ½ cup of each instead!
If your butter is too cold, place it in a bowl and put it in the microwave on the defrost setting for 1 minute. Check and it should be soft, if not, add another 30 seconds. Repeat until the butter is soft like it would be at room temperature.
STEP ONE – PREHEAT THE OVEN
Turn on the oven to 350 F and line a baking sheet or two with parchment paper for the cookies to bake on.
STEP TWO – CREAM BUTTER AND SUGAR
Put the room temperature butter and sugar into a large bowl. With a mixer, beat the butter and sugar together on medium speed until they become light in color and texture.
Add the egg to the bowl and pour in the vanilla before beating again for about 1 minute.
STEP THREE – COMBINE DRY INGREDIENTS
Pour the flour, baking soda, baking powder, and salt into a bowl. Stir them all together really well with a whisk.
Don't use a regular spoon if possible. The whisk helps to remove any clumps and makes the dry ingredients lighter without the use of a sifter.
STEP FOUR – MIX THE DOUGH
Slowly, about a ¼ cup at a time, add the dry ingredients to the butter and sugar mixture, beating it on low speed with the mixer between each addition.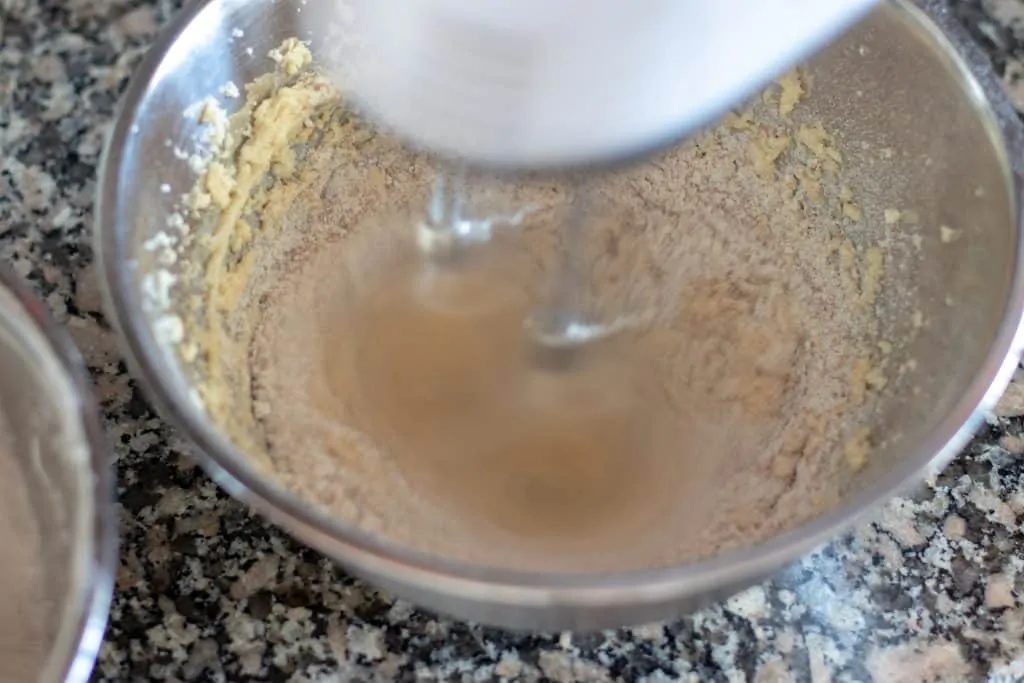 Scrape down the sides and beat once more for about 30 seconds to a minute to make sure everything is well combined.
STEP FIVE – CHOP THE CHOCOLATES
Lay the chocolate bars onto a cutting board. With a chef's knife, chop all of the white chocolate into small chunks then the dark chocolate into small chunks.
Gather the chocolate up into a pile and transfer the little chocolate chunks into the bowl with the rest of the cookie dough.
STEP SIX – ADD PINK PEPPERCORNS
Add half of the pink peppercorns to the cookie dough and stir them into the dough, evenly distributing them throughout.
STEP SEVEN – PUT COOKIES ON BAKING TRAY
Using an ice cream scoop or spoon to form a golf ball size bit of dough, scoop out about 8 balls and place each on to the baking tray at about 2 inches apart so that as they cook they do not spread out and join together.
STEP EIGHT – BAKE COOKIES
Put the cookies on the baking tray into the oven and let them bake 12-14 minutes, checking on them frequently for the last 2-4 minutes to make sure they don't burn. They are done when they start to turn golden brown around the edges.
STEP NINE – LET COOKIES COOL
Remove the hot cookies from the oven and sprinkle each with the rest of the pink peppercorns on top.
Allow them to cool on the tray for 5 minutes before transferring them to a cutting board or rack to cool the rest of the way before serving.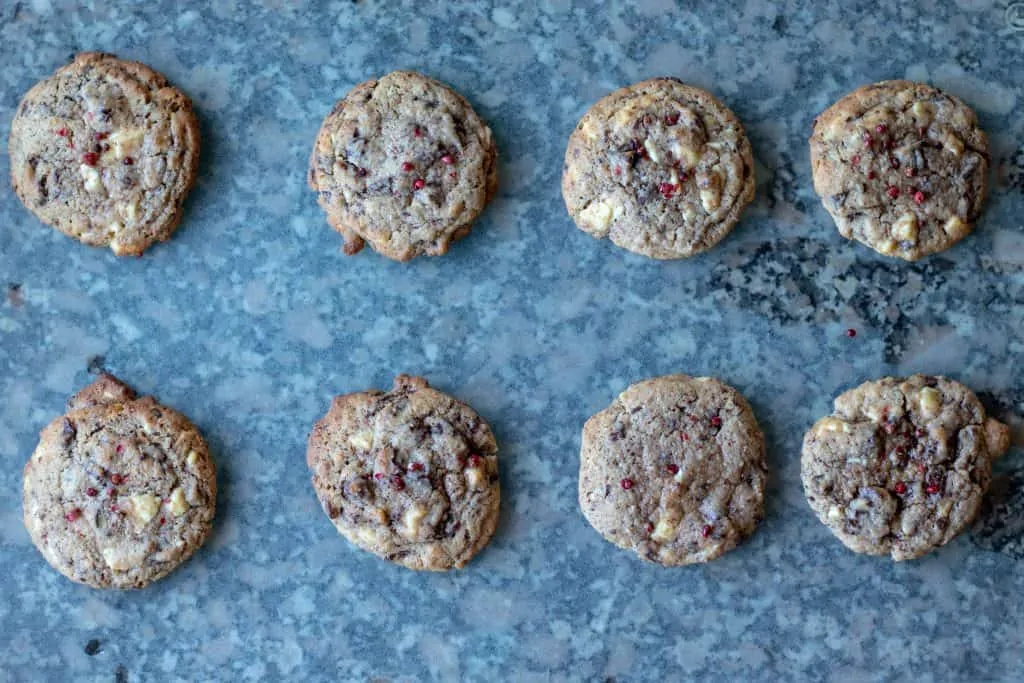 Keep in an airtight container for up to a week, or freeze if making a large batch and wanting extra for later!
These cookies are sure to be a hit with the unconventional eaters out there, the ones who live on acquired tastes! They are also meant for the open-minded, adventurous, and the curious.
If just a taste is all you want though, this recipe also is ready to oblige by being a small batch, with only eight cookies made, but can be easily make more!
Jen Miller is a former electrical engineer and product specialist with more than 20 years of product design and testing experience. She has designed more than 200 products for Fortune 500 companies, in fields ranging from home appliances to sports gear and outdoor equipment. She founded Jen Reviews to share her knowledge and critical eye for what makes consumers tick, and adopts a strict no-BS approach to help the reader filter through the maze of products and marketing hype out there.  She writes regularly and has been featured on Forbes, Fast Company, The Muse, The Huffington Post, Tiny Buddha and MindBodyGreen.