No bake cookies are one of the most popular desserts for a good reason. This dish is incredibly simple to prepare, and as their name implies you do not even have to bake them! The recipe that we will be going over today will be a rich chocolate and peanut butter cookie that is so delicate that it melts in your mouth. If you love these cookies but have never made them before, don't worry because this is one of the simplest recipes out there. Follow along and you will be enjoying this decadent dessert in no time!
Simple Yet Delicious No Bake Cookie Recipe
Total Time
1
hour
10
minutes
Ingredients
3

cups

quick oatmeal

1 ½

cups

white sugar

½

cup

milk

½

cup

butter

4

Tbsp

unsweetened cocoa powder

½

cup

peanut butter

1

tsp

pure vanilla extract

¼

tsp

salt
Instructions
Melt a stick of butter in a saucepan over medium-low heat. Make sure to not burn the butter during this step.

Once melted, add sugar, cocoa powder, peanut butter, vanilla extract, and salt to the mixture. Stir until fully combined and add the milk a little at a time.

Raise the heat to medium and allow the mixture to boil for exactly one minute. Begin the timer as soon as the chocolate begins to fully boil.

Quickly remove from heat and add the oats to the mixture. Combine fully until the oats are well incorporated into the cookie mixture.

Line a large baking sheet with parchment paper and place flattened spoonfuls of the cookie mix onto it, evenly spaced about 1" apart.

Let the cookies sit for at least an hour to allow them to harden. Refrigerating will greatly improve this process.
Step One – Melt the Butter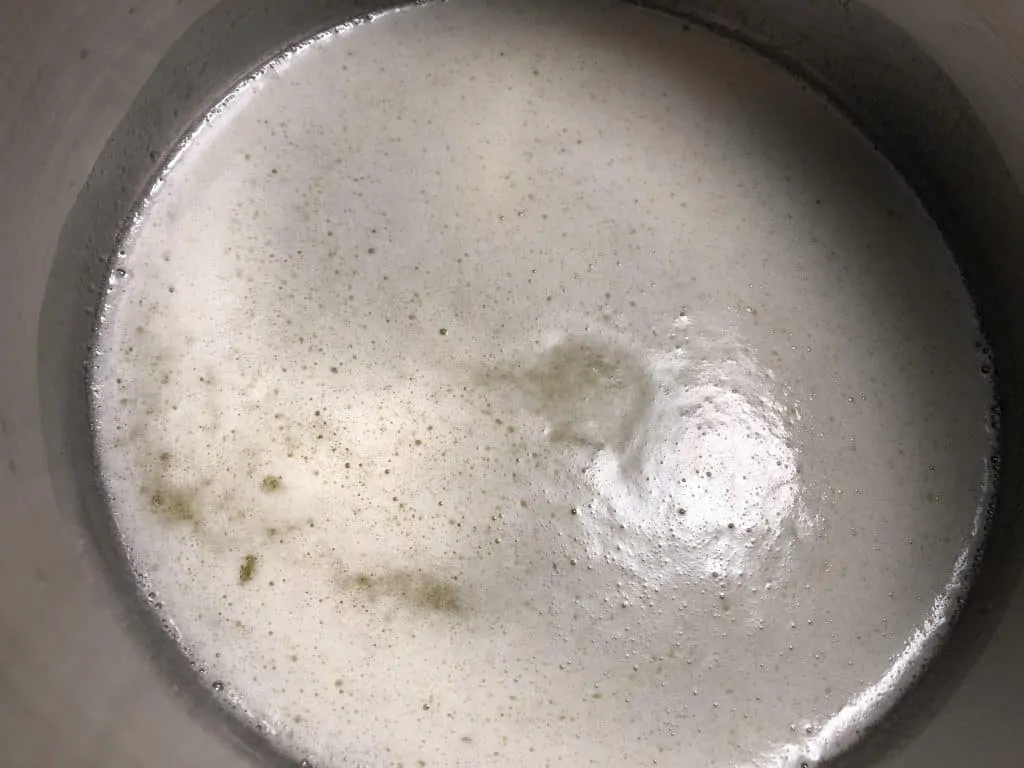 We will begin this recipe by simply melting a full stick of butter in a medium sized saucepan. It is very important that the butter is not burned while doing this, so keep the heat to a medium low.
Step Two – Add Cocoa Powder, Sugar, and Other Ingredients
Now that we have the butter fully melted, it is time to start adding the rest of the ingredients. We will begin with the cocoa powder, sugar, peanut butter, vanilla, and salt. We will save the milk for the next step in order to make it easier to get rid of any clumps of dry ingredients.
Step Three – Add the Milk to Smooth out the Mixture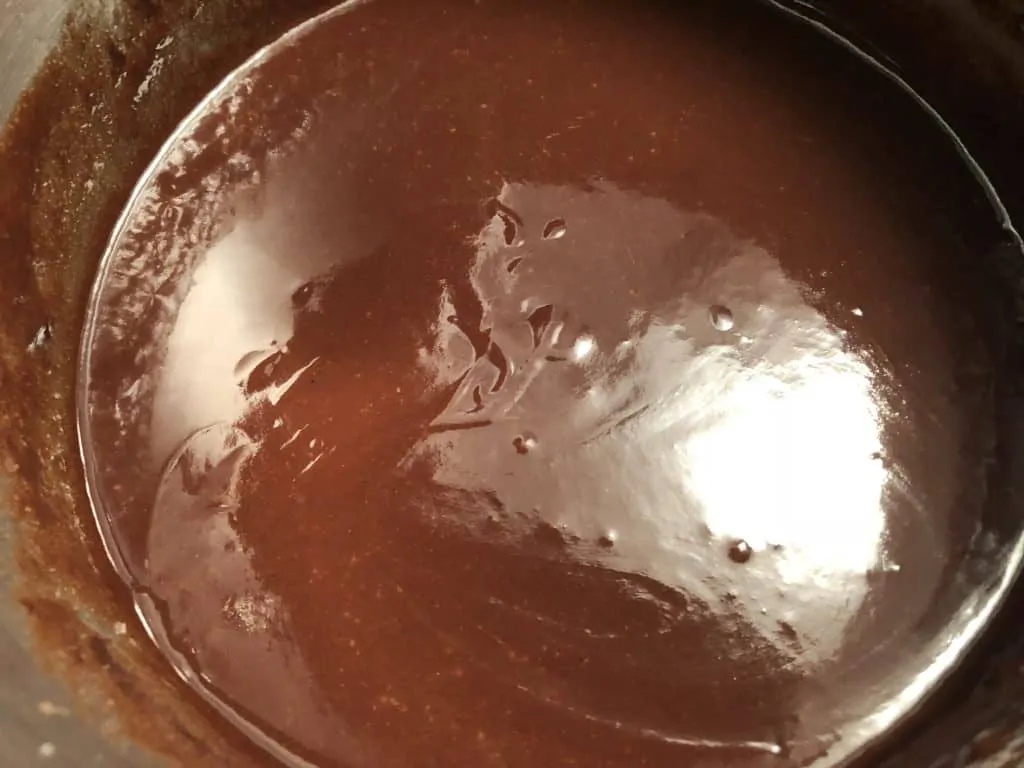 Add the milk to the saucepan a little bit at a time while stirring constantly. Your chocolate should resemble a sauce once this step is completed, and is now ready to be boiled. Turn the heat up slightly to a medium high heat and keep a close eye on the pan.
Step Four – Let the Mixture Boil for One Minute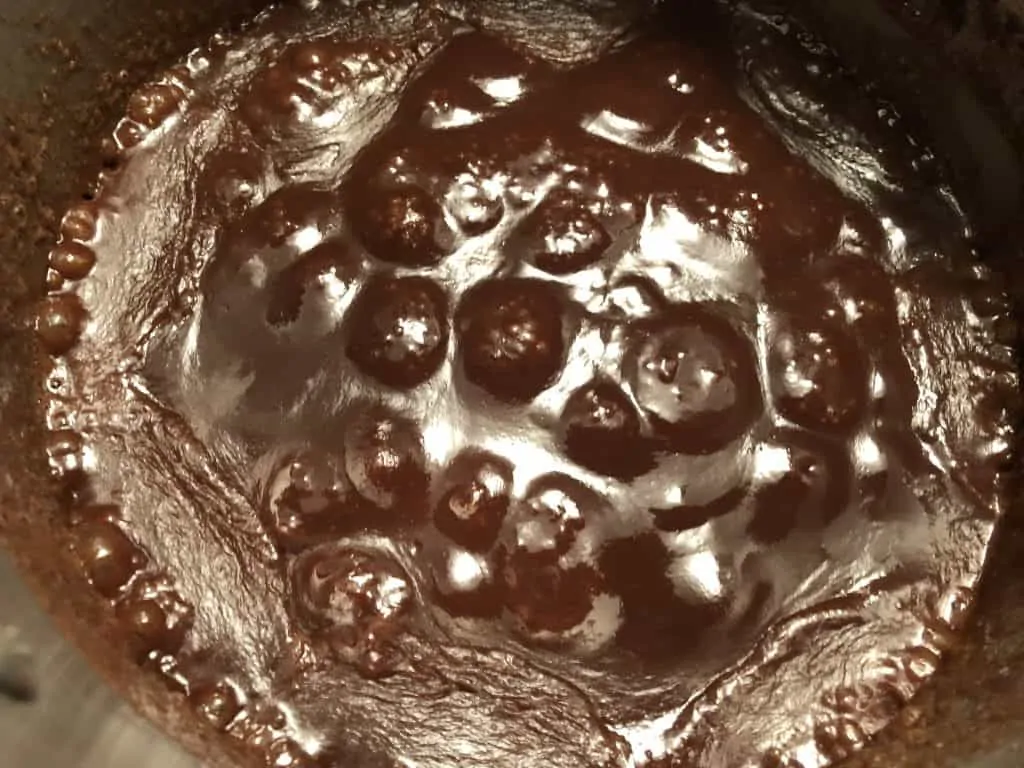 Once you turn up the heat you will see small bubbles beginning to form around the surface. That does not mean that the mixture is fully boiling however, and it is important that you cook this sauce long enough in order to have a firm cookie. Once the mixture is at a full boil, stir it frequently to keep it from burning to the bottom, and start a timer for one full minute. Allow the mixture to cook during this time, and quickly remove the pan from the heat once the timer goes off.
Step Five – Add Oats to the Pan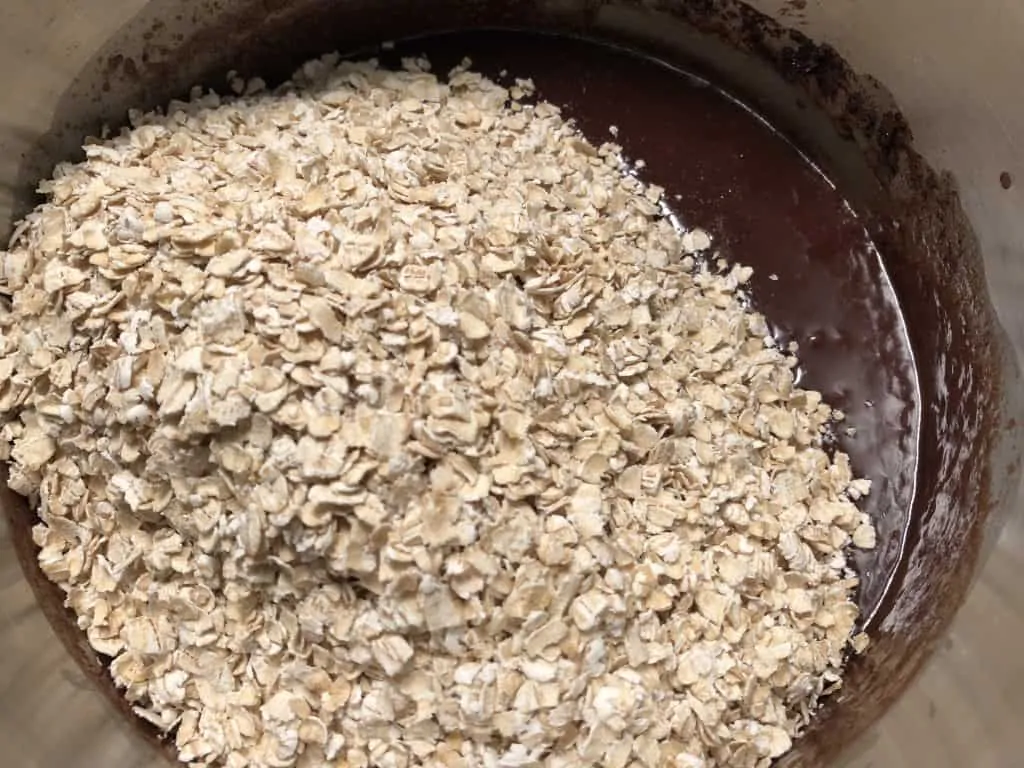 Now that the mixture has been fully cooked, it is time to add the oats. These oats will make up the majority of the cookie, and gives it the delicate texture that we are looking for. Although nearly any type of oatmeal can be used here, I have found that quick oats work the best. Steel cut rolled oats are much more crunchy and will require some previous cooking to get the right consistency.
Step Six – Mix the Oats into the Chocolate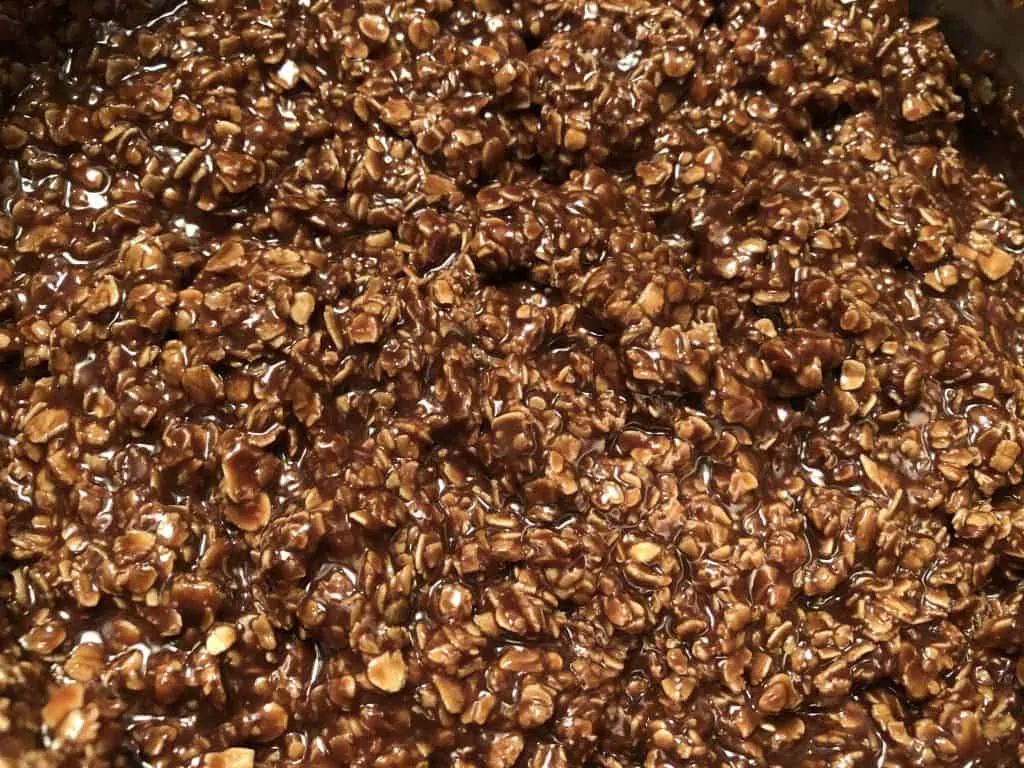 Stir the oatmeal into the chocolate sauce until the mixture is completely combined. Sometimes you may have a pocket of oats that will be stuck to the bottom, so be sure to break it up and coat them with chocolate. Although the ratio for this recipe is perfect, you want to make sure that you do not end up with a final mix that is too loose or runny. The mixture should resemble a thick oatmeal that is liberally covered with chocolate sauce. If your cookie mixture is not thick enough feel free to add a little bit of oatmeal at a time until the texture is just right.
Step Seven – Form the Cookies on a Parchment Lined Cookie Sheet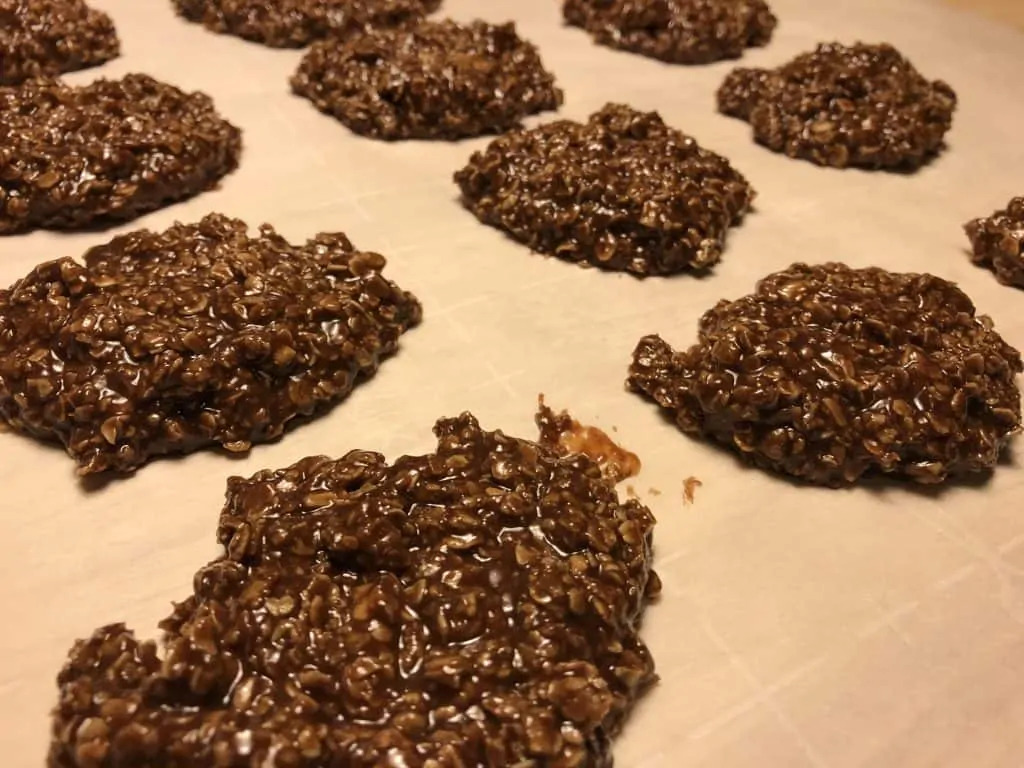 This step is where the name no bake truly comes into play. We will begin scooping full spoonfuls of the cookie mixture onto a cookie sheet that is lined with parchment paper. Rather than popping them into the oven, we will simply be allowing these cookies to cool down. Leave them out for at least an hour, and feel free to put them in the refrigerator to speed this process up. Make sure to space them out evenly on the cookie tray to allow cool air to hit all sides of the cookie. Once the cookies have completely cooled down you should be able to easily lift one off of the parchment paper without it falling apart.
Final Thoughts
That's it! You now have a good amount of delicious chocolate peanut butter no bake cookies that are ready to be enjoyed by one and all. Best of all, it only took around 10 minutes of preparation and you did not even have to bake the cookies at all. So if no bake cookies are one of your favorite desserts but never quite knew how to prepare them before, now you can make them whenever you want! These cookies are simple to make and kids will love them. Some alternative ideas would be added whole or crushed peanuts to give the cookie a satisfying crunch, or even removing the peanut butter if you plan on serving this in a more allergen-friendly way. However you decide to make these cookies, just make sure that you try one first because people will go absolutely crazy for these delicious no bake cookies.
Jen Miller is a former electrical engineer and product specialist with more than 20 years of product design and testing experience. She has designed more than 200 products for Fortune 500 companies, in fields ranging from home appliances to sports gear and outdoor equipment. She founded Jen Reviews to share her knowledge and critical eye for what makes consumers tick, and adopts a strict no-BS approach to help the reader filter through the maze of products and marketing hype out there.  She writes regularly and has been featured on Forbes, Fast Company, The Muse, The Huffington Post, Tiny Buddha and MindBodyGreen.