When the weather gets depressingly dreary and grey and we fall prey to colds and flus, what better comfort meal is there than chicken soup? When done right, it blurs the line between "sick person food" and a delicious weeknight dinner for when you don't feel like stomaching a carb-heavy meal.
Soup is the simplest, most nutritious dish you can make. In many Chinese households, a typical home dinner for those blessed enough to be able to afford it consists of three dishes and a soup. But realistically, not everyone has the time to cook a full fledged dinner for the family. It's times like these that soup comes in handy. When simmered long enough with the right ingredient pairings, their depth of flavor can surpass any steak dinner out there!
When choosing what protein source to use for your soup, always choose parts of the meat with less fat and more bone. Pork ribs, chicken wings and drumsticks are foolproof options. As for the vegetables, chop them into large, rough chunks as the long simmering period will considerably soften the vegetables, which is what you want! But what you DON'T want is a soup full of little disintegrated bits of carrots and potatoes. Lastly, extras are often added to intensify the flavor. Such extras like dried oysters, dried scallops, ginger and medicinal herbs are commonly seen in many Chinese soups.
The generic chicken soup most people know and love isn't complicated. It always starts off with the same flavors – onions, carrots and celery. But at times, it can be bland and boring. Thus, I've made this recipe with a strong Chinese influence, adding components like ginger and ShaoXing wine which are known as "heaty" foods and help to balance out the "coolness" which people with colds and flus face.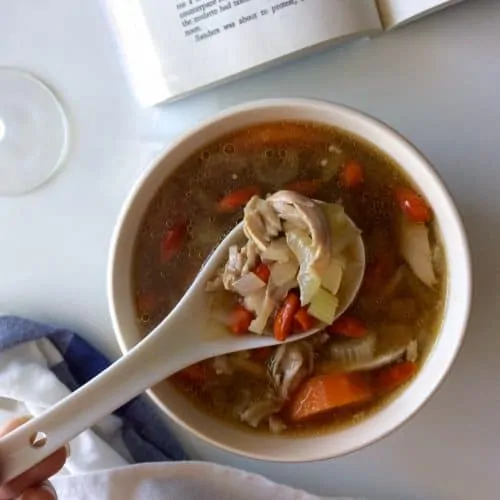 Heartwarming Goji Berry Chicken Soup
Total Time
1
hour
10
minutes
Ingredients
4

chicken drumsticks

1

large carrot

2

stalks of celery

1

large white onion

1-

inch

knob of ginger

2

tbsp

dried goji berries

½

cup

ShaoXing wine

2

bay leaves

2

tbsp

light soy sauce

¾

tsp

salt
Instructions
Dice the onions and celery, roughly chop the carrots and peel and slice the ginger.

Saute the onions and celery till translucent and soft.

Add in the carrots and continue sauteing.

Pour in water, chicken and bay leaves. Bring to a boil and simmer on low heat.

Soak the goji berries in cold water.

Pour in the wine, goji berries, salt and soy sauce.

Remove the chicken, shred the meat and add back into the soup.

Scoop out and serve.
STEP ONE – PREP THE VEGETABLES
After washing all the vegetables, use a peeler to lightly go over the surface of the celery stalks to remove the old, stringy fibers. Chop them finely and dice the white onion as well. As for the carrots, peel them and chop them into large chunks. I've went with more symmetrical looking ovals. Peel the ginger and slice them lengthwise as well.
STEP TWO – SAUTE THE VEGETABLES
Add a tablespoon of vegetable oil into a pot or large wok and begin by sauteing the onions on medium-low heat until softened, translucent and fragrant. Follow by adding in the ginger slices and celery. Continue to saute for 3-4 minutes or until fragrant. In most Chinese soups, oil is rarely used but because for this recipe we will require a little bit as we are cooking the vegetables beforehand to intensify the flavor.
STEP THREE – ADD IN THE CARROTS AND CONTINUE SAUTEING
Once the aromatics and celery are softened and slightly translucent, we can add in the carrots. They won't require long, just a minute or two on the same medium-low heat to better meld the flavors together.
STEP FOUR – POUR IN WATER AND ADD IN THE BAY LEAVES AND CHICKEN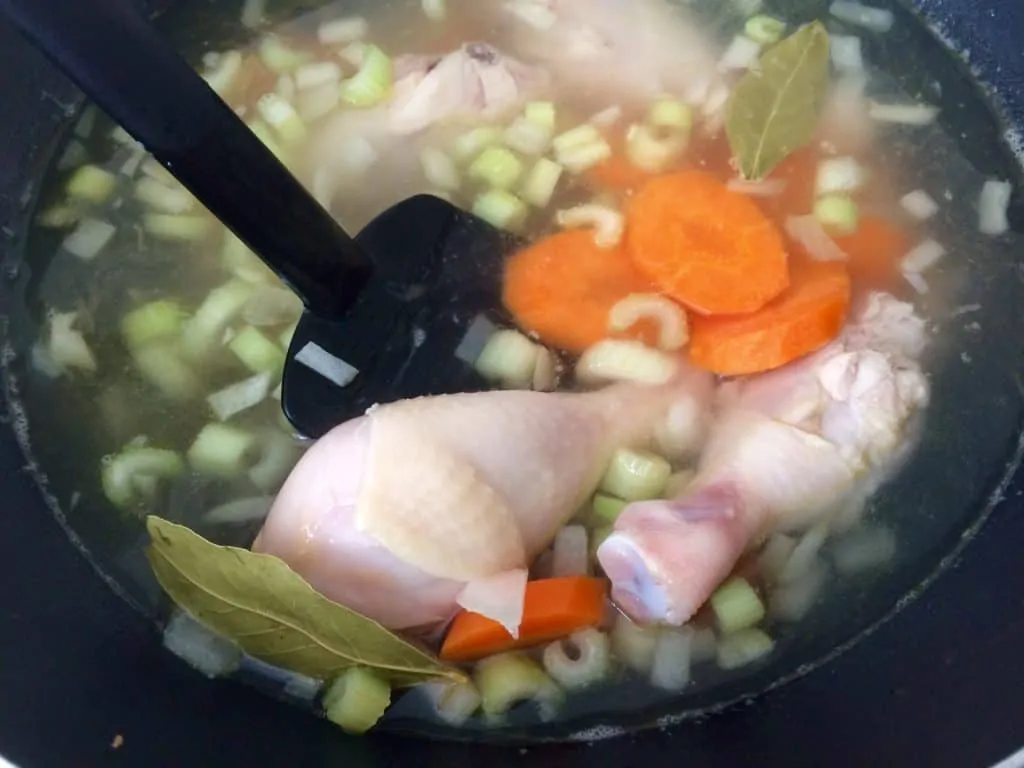 For the chicken, simply wash them and trim off any excess fat. If you'd like to completely remove off the skin, now's the time to do it as well. Pour in a litre or so of water before placing the chicken drumsticks in as we don't want to fry the chicken. Lastly, toss in the bay leaves. Turn the heat up to high and bring to a boil. Once bubbling, turn to low and simmer for at least an hour up to 6 hours on very low heat. The longer the better!
STEP FIVE – SOAK THE GOJI BERRIES
During this time, rinse and soak the dried goji berries in cold water. In Asian cooking, these little antioxidant-boosters are typically cooked in savory dishes such as yellow wine chicken and most soups as they lend a mild, sweet flavor and boast an immense array of beneficial properties.
STEP SIX – ADD THE WINE, GOJI BERRIES AND SEASONINGS.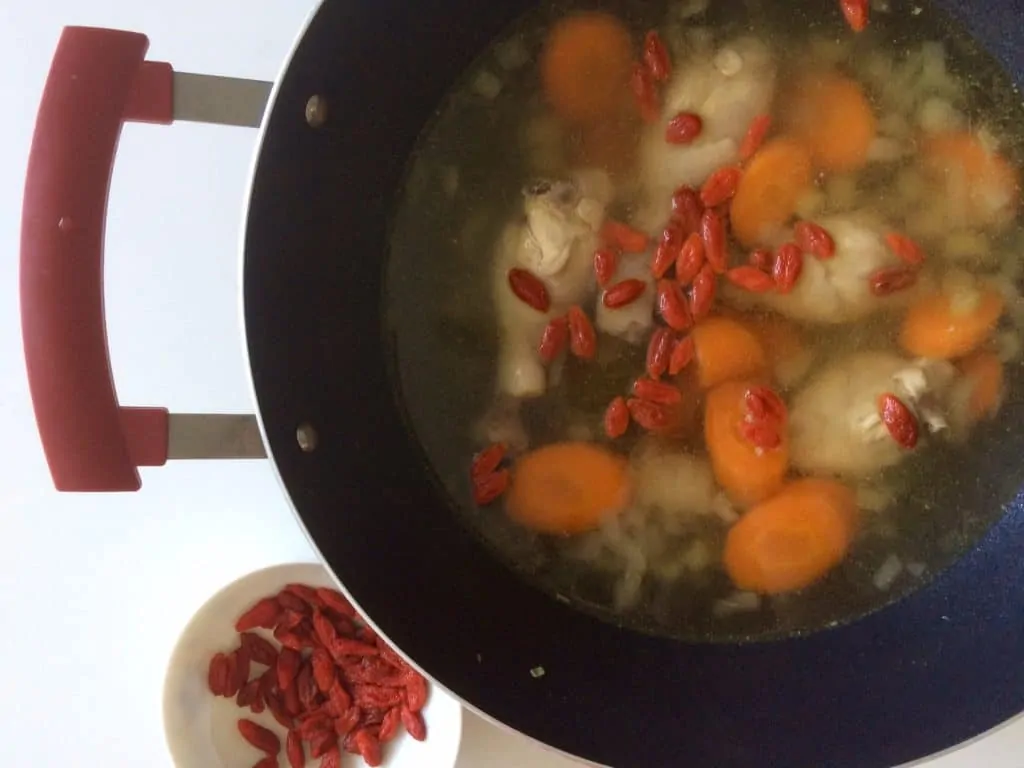 An hour before you're ready to serve your soup, add in the soaked goji berries, ShaoXing wine, soy sauce and salt. The wine plays a huge role in the overall flavor of the soup. (Don't worry, children can enjoy it as well as most of the alcohol will ultimately be evaporated) The wine imparts a lovely depth of flavor and deeper golden color to what would otherwise be a pale, visually unappealing stock. It's "yang" or "heaty" properties also make it very warming and suitable for cold weather.
STEP SEVEN – SHRED THE CHICKEN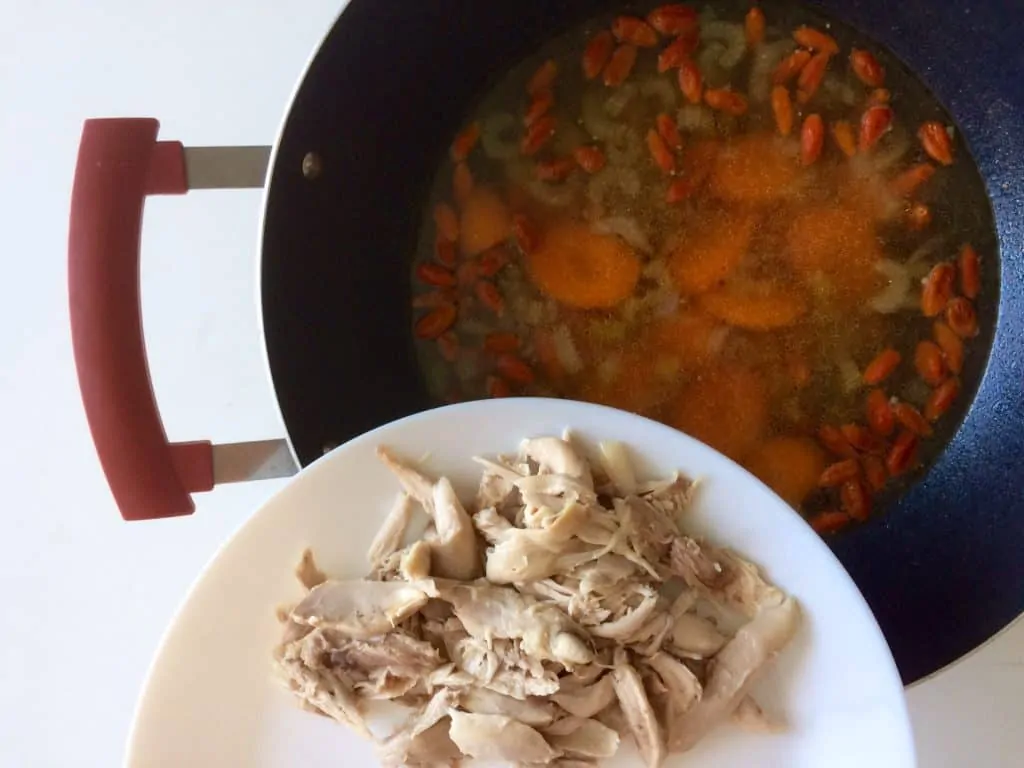 Ultimately, this step is up to you. You could leave the chicken as is in the soup as most Chinese-style soups do. After all, the meat will be fall-off-the-bone tender so getting around the bones shouldn't be a problem. However, I've decided to shred the chicken before placing it back into the soup. Complemented with the finely diced onions and celery, this soup ends up being a very toddler and elderly friendly soup. Simply fish the drumsticks out from the soup and use two forks to shred the meat before putting it back into the soup. After this step, cook for another 20-30 minutes on low before serving.
STEP EIGHT – SCOOP OUT AND SERVE HOT!
And that's all there is to it! Simply scoop out and serve piping hot. Young children and elderly alike will fall in love with this twist on the classic chicken soup.
FINAL THOUGHTS
If you'd like it more filling, you could add in any pre-cooked noodle or pasta of your choice at the end. If the pasta or noodles are small/thin enough, you can even directly boil them in the soup. However, more water will have to be added and the highly sought after crystal clearness of the soup will be affected.
This soup is much darker in color than standard chicken soups due to the ShaoXing wine, soy sauce and goji berries. It also has a much stronger flavor than most clear soups. Big fan of soup? Check out our 5-Ingredient Salmon Miso Soup and Cleansing Cabbage Soup recipes!