Perhaps one of the best examples of true comfort food, beef stroganoff is often regarded as a dish that will have you sweating over a hot stove for hours on end. However, this could not be further from the truth, and this simple recipe can be completed in under two hours while your dinner guests will be sure that it has spent the entire day in a slow cooker. With a short list of ingredients and simple preparation, this beef stroganoff makes for an excellent addition to your culinary arsenal.
This Russian dish features sauteed beef and mushrooms that are accompanied by a savory yet creamy sauce, all to be spooned over freshly cooked noodles. Whether you are looking to impress the guests at your next dinner party or simply wish to spend the night with family over a meal that everyone can enjoy, this dish is a perfect choice.
Beef Stroganoff Recipe
Cook Time
1
hour
30
minutes
Total Time
1
hour
45
minutes
Ingredients
2

lbs

top sirloin strip steak

1

diced onion

1 ½

cups

sliced mushrooms

1 16

oz

package egg noodles

½

cup

of white wine

½

cup

sour cream

2

cups

beef broth

3

Tbsp

butter

2

Tbsp

all purpose flour

1

minced clove of garlic

Salt & pepper to taste

Chopped parsley
Instructions
Cut the top sirloin strip steak into thin strips, making sure to trim any unwanted fat.

Coat the meat with enough flour to cover each piece evenly (about 1-2 Tbsp).


Heat a large skillet to medium-high and add the meat. Continue to flip the steak strips until the meat is evenly browned.


Remove the meat from the pan and add 3 Tbsp butter. Once melted, add the onions and mushrooms and saute for 3 minutes. Add the minced garlic clove and continue cooking for 1 additional minute.


Mix 1 Tbsp of flour into the vegetables and add white wine to the pan to deglaze it. Scrape all of the burnt bits off of the bottom, and allow the wine to reduce by half (around 2 mins).


Return the meat to the pan and add the beef broth. Reduce the heat to low and let simmer for up to an hour.


Boil water in a large pot and cook the egg noodles until fully cooked. Strain and set aside.


Add a small amount of the beef mixture into a small bowl and mix in ½ cup of sour cream. Once the cream is brought up to temperature stir it into the skillet.


Serve the beef mushrooms and onions over a plate of noodles, garnish with chopped parsley and enjoy!

Step One – Cut the Steaks into Bite Sized Strips
Whenever dealing with beef steaks it is almost always a good idea to remove the meat from the fridge around 30 minutes before you plan to cook with it. This helps to keep the overall temperature a lot more even. Once this is done take a sharp knife and cut the steaks into bite sized strips or cubes.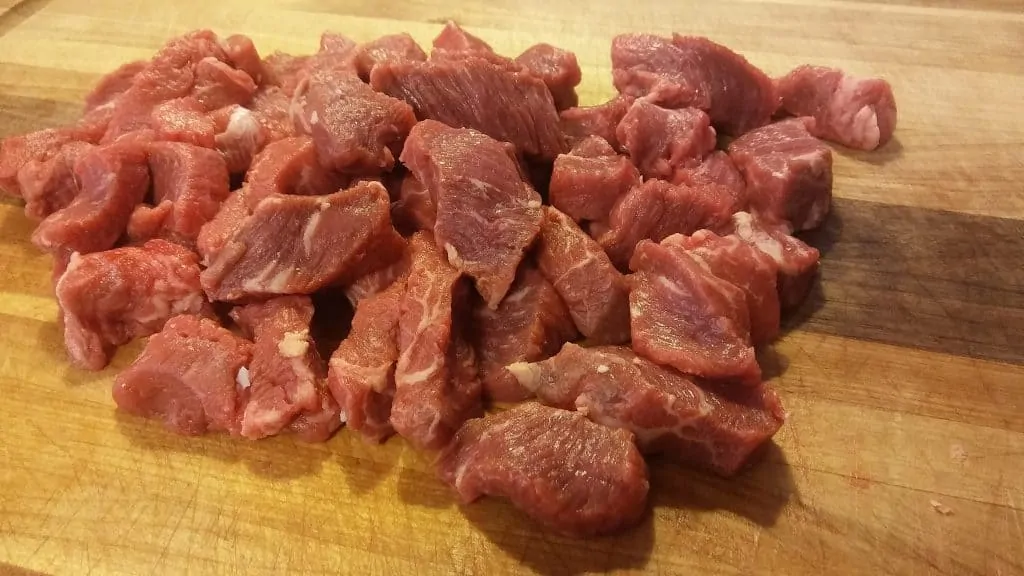 Step Two – Coat the Meat with Flour
It is important to flavor the meat prior to browning it, so add a liberal amount salt and black pepper. Next, we will be coating the meat with flour that will help to thicken the sauce in later steps. Make sure to not use too much flour, around 2 Tbsp should be plenty.
Step Three – Brown the Meat
Place the meat into a large skillet over medium-high heat. Allow the meat to brown on one side before flipping it over. It can be difficult to ensure that each strip gets cooked equally, so occasionally stirring the meat is a good way to get it all going. You do not have to fully cook the meat here, as they will be cooked plenty enough later on.
Step Four – Remove the Meat and Saute the Mushrooms and Onions
Once the meat has been sufficiently browned remove it from the pan and add 3 Tbsp of butter. Reduce the heat to medium at this point and once the butter is fully melted add a diced onion and around 1 ½ cups of chopped mushrooms. You can really use any mushrooms for this, but a few that work well are portabella, cremini, or even regular old white button mushrooms. Allow the vegetables to cook until the onions begin to turn a nice caramelized brown, then add one minced clove of garlic. Continue cooking for an additional minute to ensure that the garlic is slightly roasted.
Step Five – Deglaze the Pan and Stir in Meat and Broth
Now that the vegetables are finished sauteing, add ½ cup of white wine to deglaze the pan. What this does is essentially loosen up all of the burnt on bits of meat that are stuck to the bottom of the pan. This adds a ton of savory flavor to the sauce, and you can use cooking wine or even a nice bourbon as a substitute.
Simply add the wine and scrape the bottom with a metal or rubber spatula until the bottom of the skillet is clean. Allow the wine to reduce by half, which should take around 2 minutes of cooking time. Next, return the meat to the pan and stir in 2 cups of beef broth.
Step Six- Simmer the Mixture Over Low Heat
Reduce the heat to low and let the meat and vegetable mixture simmer for up to an hour. Make sure to stir occasionally, and add more broth if the sauce levels get too low. This step is incredibly important, since the meat will continue to get increasingly tender as time goes on. So try your hardest to resist!
While the meat and sauce is simmering we can take this time to cook our noodles. Boil lightly salted water in a large pot and add a 16 oz package of egg noodles. The cook time for these noodles will vary depending on size and shape, but should be no more than 10 minutes. What you are looking for is a soft noodle that has just the slightest bite to it. Once they are finished cooking drain and set them aside.
Step Seven- Mix in Tempered Sour Cream
Once the meat is finished cooking the next step is to add sour cream. There is a lot of wiggle room here, but anywhere from ½ cup to 1 cup is fine. However, the most important part of this step is to temper the sour cream before adding it to the sauce. Simply put the sour cream into a bowl and spoon an equal amount of the hot sauce to it. Mix it well and then add the tempered cream to the skillet, making sure to mix well. We do this to keep the cream from curdling, resulting in an unpleasant consistency.
Step Eight- Serve the Beef Mixture over Cooked Noodles
At this point the dish is essentially complete, all there is left to do is put it all together and enhance its presentation. Plate the noodles in an even layer and spoon over a good amount of the meat and sauce mixture. Top it all with chopped parsley to impress any dinner guests.
This recipe is definitely an all-year-round dish, but I can think of few meals that I would rather enjoy on a cold winter night. Something about the aroma that fills the house while the sauce simmers just warms the soul.
There is a lot of room for modifications to this classic dish. Use your favorite mushrooms to enhance the flavor, add extra sour cream for an even thicker and creamier sauce, or top it all with freshly chopped chives to give it that extra kick of flavor. The possibilities are endless, and the recipe is beyond simple!
Jen Miller is a former electrical engineer and product specialist with more than 20 years of product design and testing experience. She has designed more than 200 products for Fortune 500 companies, in fields ranging from home appliances to sports gear and outdoor equipment. She founded Jen Reviews to share her knowledge and critical eye for what makes consumers tick, and adopts a strict no-BS approach to help the reader filter through the maze of products and marketing hype out there.  She writes regularly and has been featured on Forbes, Fast Company, The Muse, The Huffington Post, Tiny Buddha and MindBodyGreen.