Gluten-free, vegan and extremely easy to make, this is definitely one of the simplest and most satisfying soup recipes I've come up with. Cabbage soup is probably best known for weight loss. However, cabbage soup does so much more than just help you lose weight. It is said that cabbage soup is based on an old folk recipe that was used to cure the common cold, but I feel like this recipe is good any time, regardless of whether you are feeling ill or wanting to lose some extra pounds. The thing I love best about this soup is its simplicity, yet it has so much flavour. Since the bulk of this recipe calls for vegetables with relatively high water content, the calories they offer are quite low, and what you're mostly consuming is fiber, making this a great meal to cook up after an indulgent weekend, or after returning from a vacation when you feel the need to do an easy (and delicious) cleanse. Keep in mind that I'm not advocating the cabbage soup diet, I strongly believe that if you want to lose weight or improve your overall health, the best thing you can do is to refine and revamp your lifestyle, not just the meals that you eat, if you want long-term results!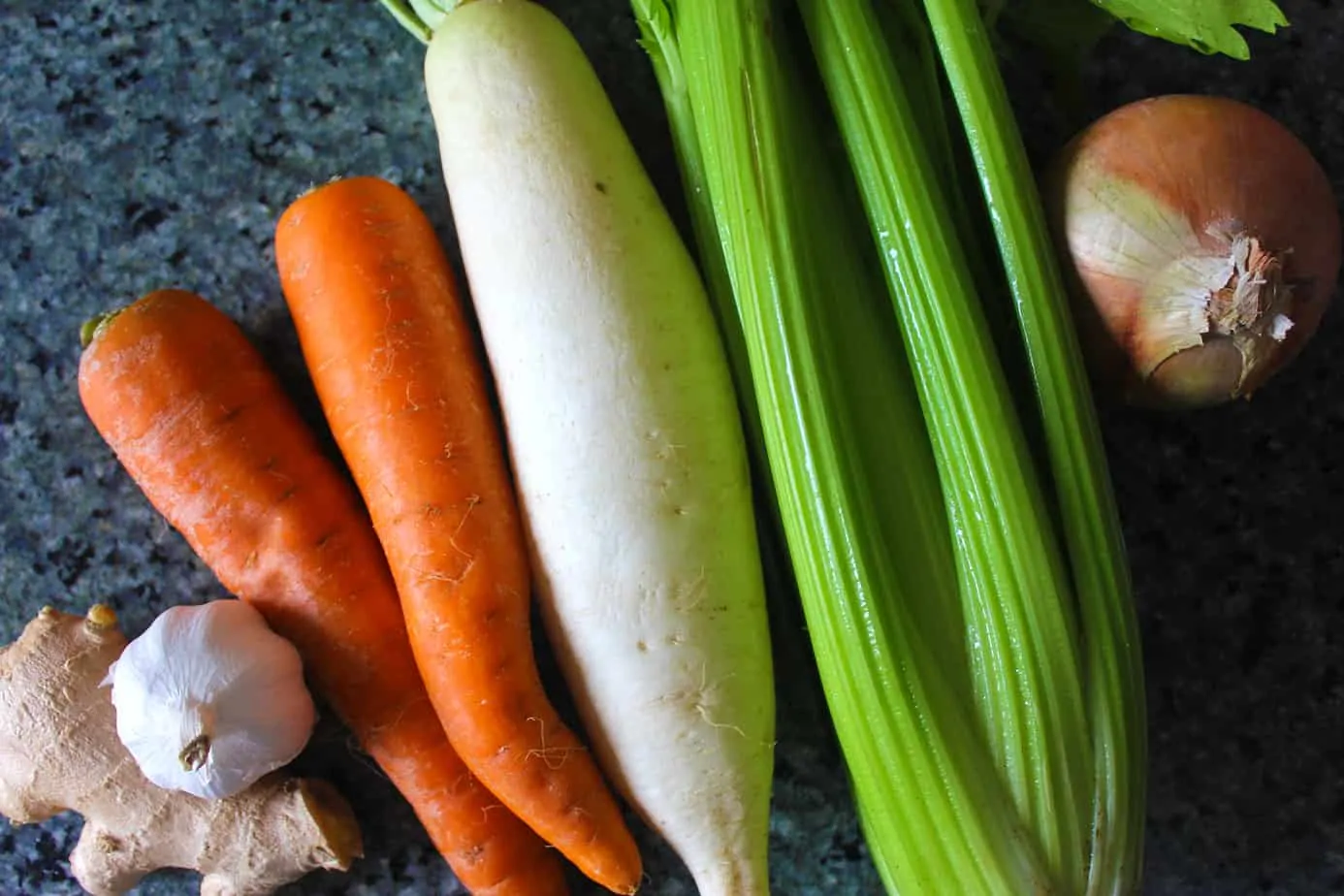 When I was younger, whenever my mom would cook a healing soup, she would always include Chinese red dates and goji berries. Chinese red dates (also known as the jujube fruit) is one of the most popular foods used in Chinese households for their healing benefits and is said to balance the stomach qi (energy), strengthen the spleen and even provide relief for insomnia. I find that it adds just the tiniest hint of sweetness to not just the taste of the soup, but to the overall aroma as well. If you're not a big fan of how red dates taste, you can simply remove them before serving, as the flavours and nutrients would have been infused into the broth of the soup during the cooking time. You could even put them into a soup bag and place that into the stock pot with the rest of the ingredients, making it a lot easier to remove them before serving.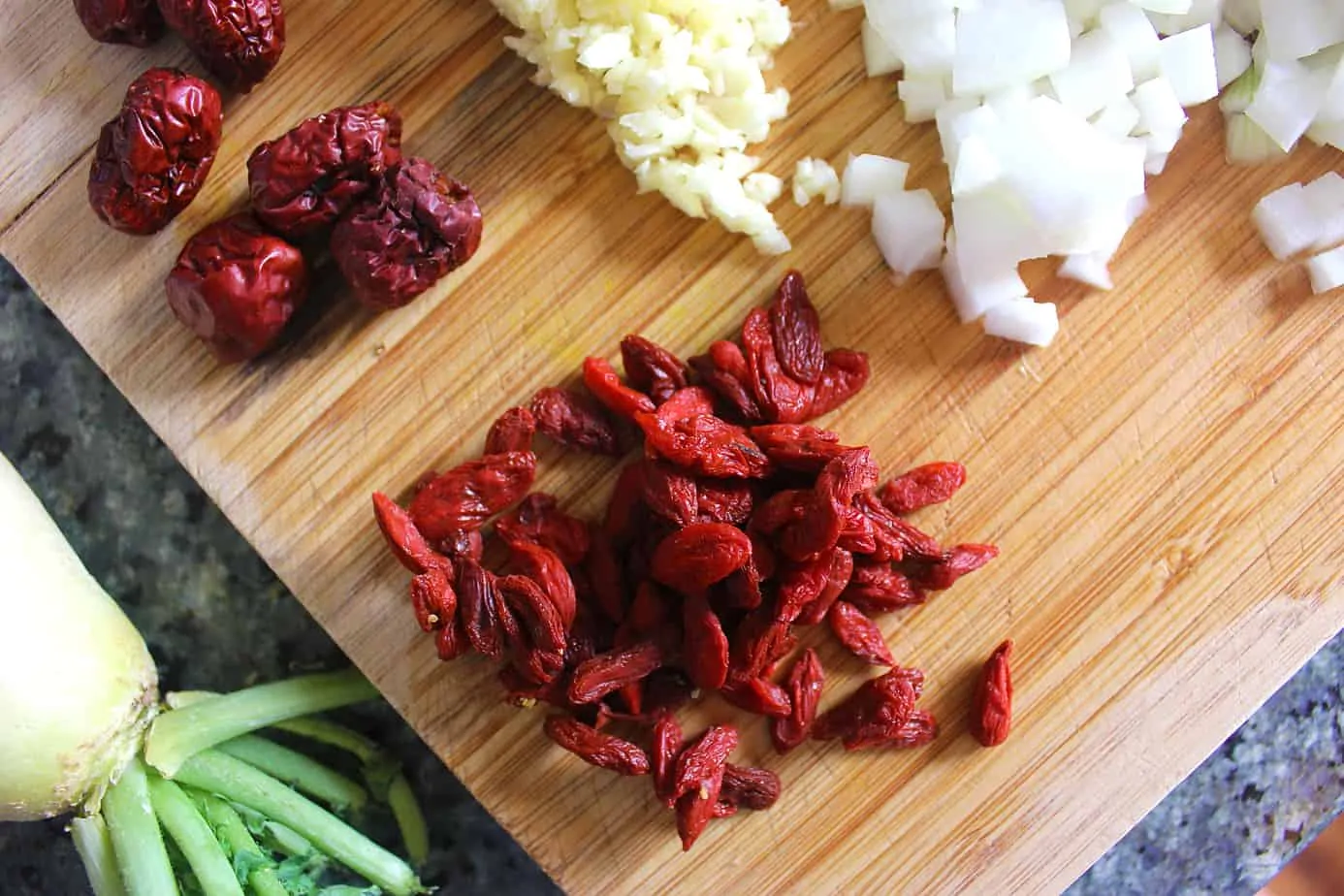 Another superfood I included in this recipe is the goji berry (also known as wolfberry fruit), used in Chinese medicine for over 2000 years, it is also rumoured that monks in the Himalayan mountains used to steep goji berries in hot water, to create goji berry tea which they drank to help them reach a deeper state of meditation. The scientific name of goji berries is Lycium barbarum; they have been extensively researched for their beneficial traits, the most interesting to me personally as someone who has struggled with mental health, is their ability to generate overall feelings of well-being, improve psychological traits, create better gastrointestinal health and increase energy levels. Everything you want from a good cleansing soup! This is also a great slow cooker recipe as it would only require about 15 minutes of active preparation.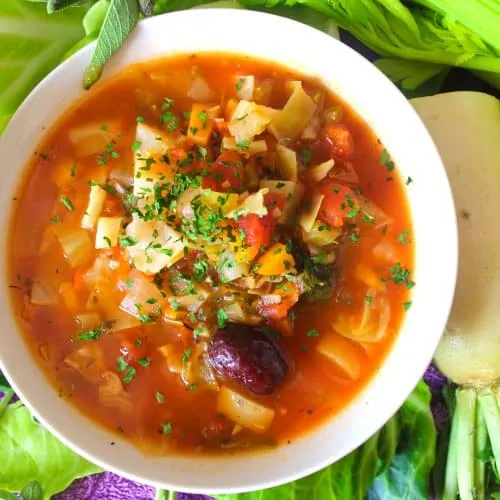 Cleansing Cabbage Soup Recipe
Ingredients
Half a head of cabbage

6

dried red dates

5

cloves

of ground/minced garlic

3

sticks of celery

3

pots of vegetable stock

2

liters

water

2

cans of tomatoes

1

large onion chopped

1

cup

chopped white radish

daikon

1

large carrot

1

tsp

ground black pepper

1

tsp

pink Himalayan salt/ sea salt

1

tsp

dried oregano

1

tsp

dried thyme

1

tbsp

ground/minced ginger

1

tbsp

coconut oil

1

cup

goji berries
Instructions
Prep the ingredients; cut and core the cabbage, roughly chop the other vegetables to your desired size and mince the garlic and ginger.

In a large stockpot, heat up the coconut oil over medium-high heat.


Stir in the chopped onions, garlic and ginger, and saute for 3 minutes, stirring constantly until the onions have become translucent.


Stir in the chopped celery and carrots, saute for a further 3 minutes.


Pour water into the pot, add the stock pots, canned tomatoes, herbs, goji berries and dried red dates. Bring to a boil.


When the soup has come to a boil add the chopped cabbage and season to taste with the pink Himalayan salt and pepper. Cook for a further 15 minutes. Serve topped with fresh parsley or goji berries.

STEP ONE – WASH AND PREP INGREDIENTS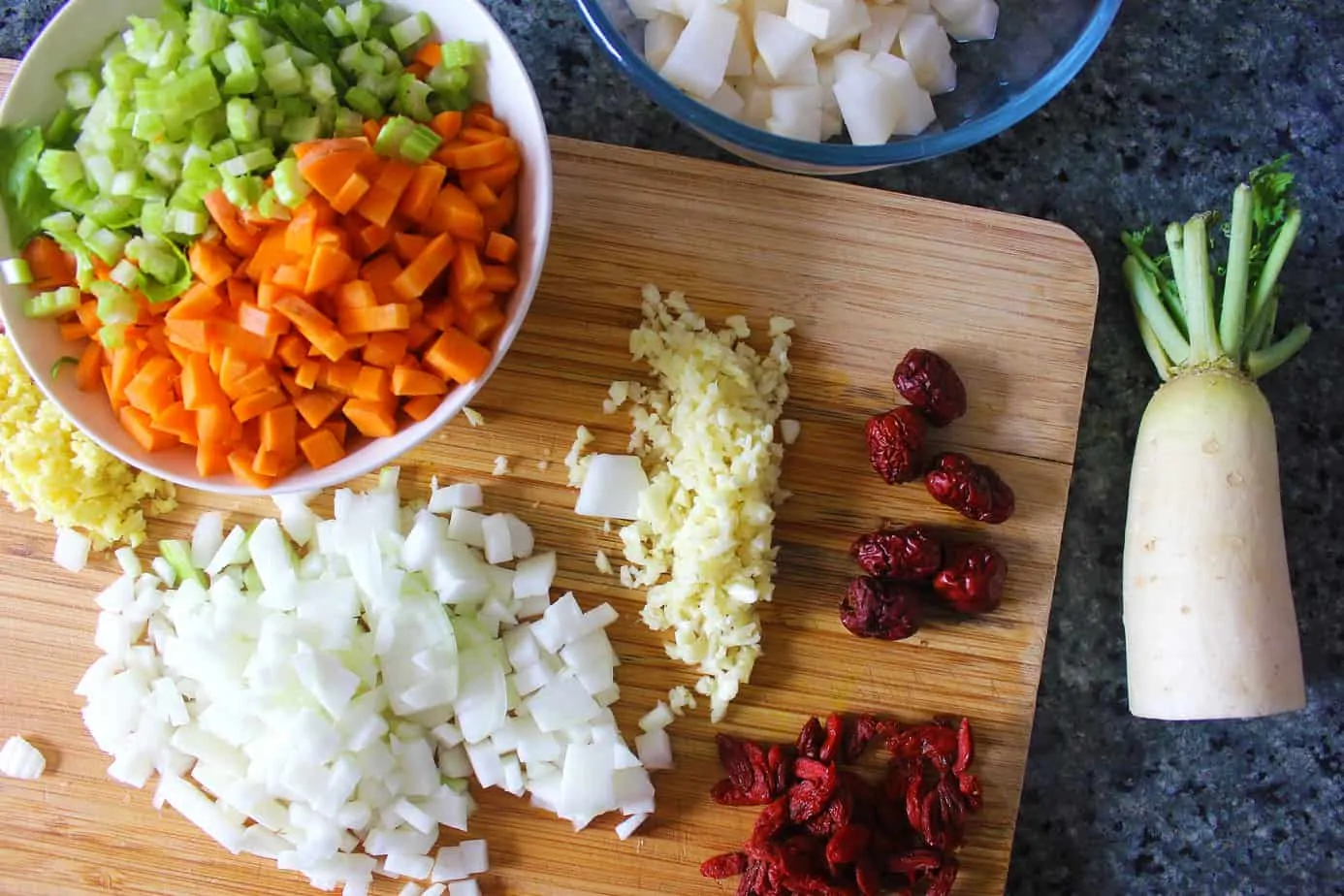 Wash and cut all the vegetables to your desired size and mince the ginger and garlic. I prefer to cut my carrots and celery pretty small, as I like cooking them until they are just cooked, so they still retain quite a bit of crunch. Sometimes, to save time, I use frozen blocks of pre-minced ready to used garlic and ginger — this is a great option as the ginger bits will literally disappear into the soup. If you don't want to use fresh ginger you can also use ginger powder.
STEP TWO – HEAT OIL
Heat the coconut oil in a large stock pot on medium high heat. Alternatively you can also use olive oil if you prefer.
STEP THREE – SAUTE ONIONS
Add the onions, garlic and ginger to the pot and saute until the onions have become translucent.
STEP FOUR – SAUTE VEGETABLES
Add the carrots, celery and white radish to the pot and saute for 5 minutes.
STEP FIVE – ADD WATER
Add two liters of water to the pot, or you can use ready-made broth –I used three vegetable stock pots. Since the ingredients consist of vegetables we're creating a vegetable broth by cooking the celery, carrots and white radish first. But just for extra flavour I decided to add stock pots. We're keeping the salt on the low end. Sometimes, I completely omit salt, depending on why and when I'm planning on having the soup. Season with thyme, oregano, black pepper and sea salt. I prefer using fresh herbs, but I only had the dried variety on hand. I didn't find that it affected the aroma that much, but I recommend increasing the amount of dried herbs as I find they don't release as much flavour as their fresh counterparts.
STEP SIX – ADD CABBAGE
When the soup has come to a boil, add the cabbage. I used sweetheart cabbage because I like the colouring and texture compared to regular white cabbage, but really you can use any cabbage you like. Cook for a further 15 minutes, or until the vegetables have reached your desired texture. Serve with a side of garlic bread or have on its own, topped with fresh parsley or goji berries for a touch of sweetness.
After leaving it overnight in the fridge, I reheated the leftovers and brought it to a boil. I found that the flavours really continue to develop after resting in the fridge. So this is great to freeze or just have on hand in the fridge for a couple of days. If you want to freeze the soup, wait until it's completely cool before pouring it into a freezer safe container. Keep in mind that liquids expand when frozen so make sure you don't fill up the containers so that they are all the way full. Leaving about an inch between the soup and the container's edge will prevent freezer burn from occurring.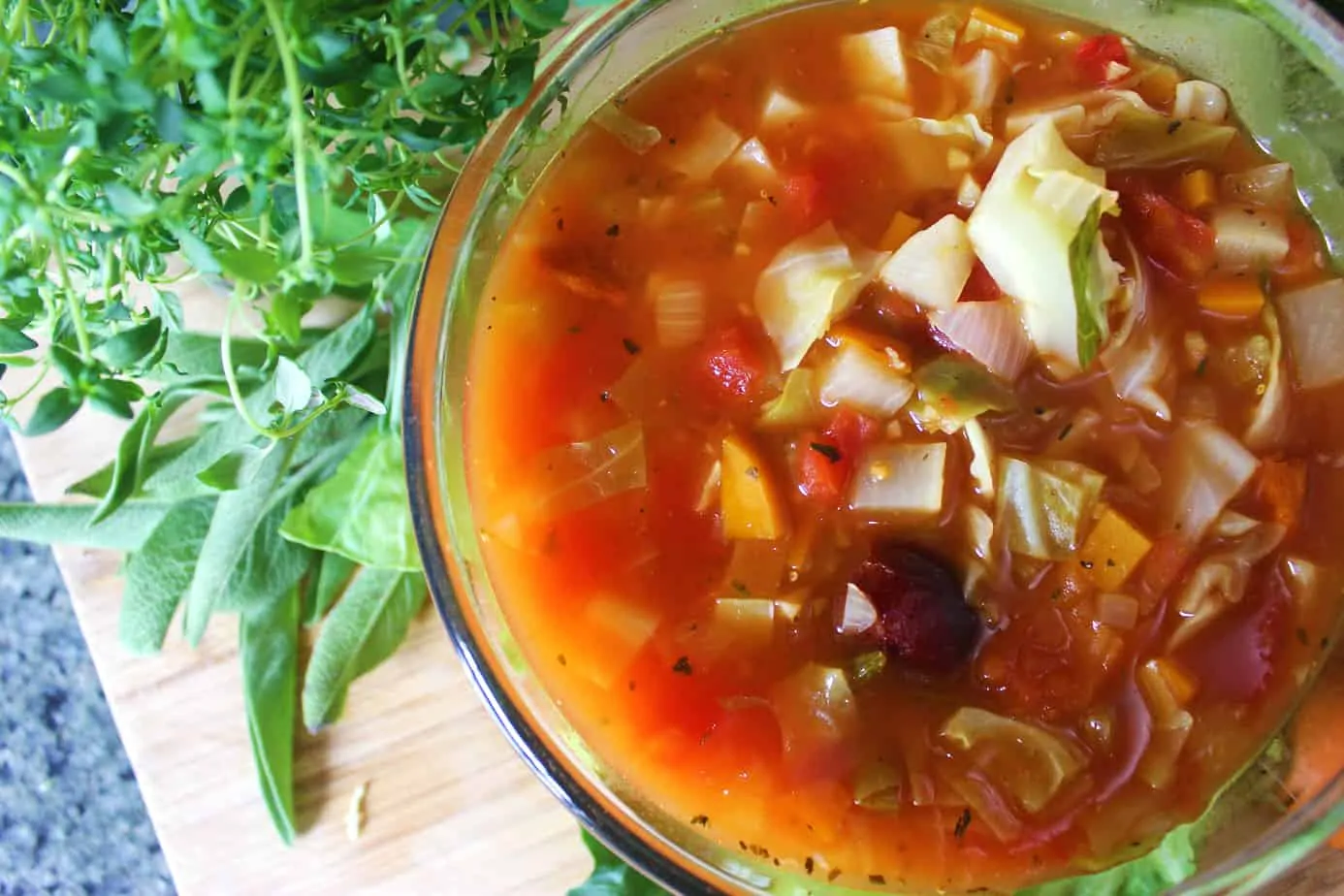 The thing I liked best about this soup is how simple it is. You can make it even simpler by leaving out the Chinese red dates and goji berries, without compromising too much on the flavour, though I really like the subtle sweetness that they bring to the broth. In the ingredients list I suggested 5 cloves of garlic for this recipe, but when I'm making it for me and my family, I normally put in an entire bulb of crushed garlic. It really helps to add dimension to the soup, and as it cooks the garlic will sweeten and lose its spiciness; not to mention the aroma it creates in your entire kitchen! The one key ingredient I feel should never be omitted from any soup recipe is the ginger root. Some studies have shown that ginger is just as effective for pain and inflammation as your usual over the counter pain remedies. And it really adds a very subtle spiciness to the soup without the need of extra spices such as cayenne or paprika, that can upset sensitive stomachs. Have you tried cabbage soup before? Do you like your vegetables really soft and tender or slightly crunchy? Let us know in the comments!