Salads are constantly getting a bad rep for being leafy, boring and bland. Somehow, it's become a trend to NOT eat salad. Interestingly enough, even gorging on chicken nuggets is more socially acceptable now.
But I don't blame these people. When most people think of salads, the wilted little handful of leaves that is typically served alongside main meals or free at buffets comes to mind. Akin to a pathetic attempt at a caesar salad, these salads normally consist of barely washed romaine lettuce, sour cherry tomatoes, a crouton or two and tons of creamy dressing to compensate for its lack of substance.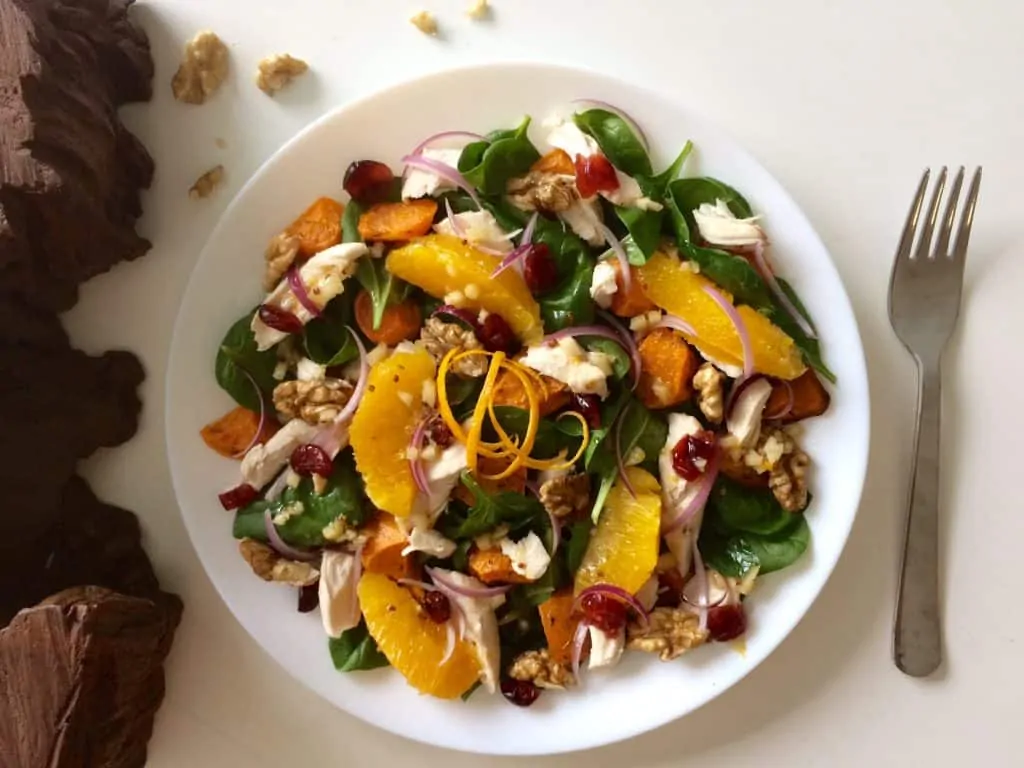 But really, salads can be anything you like. It can be any cumulation of your favorite ingredients. Of course, provided they match well together. In winter, there are filling, hearty salads with pasta, quinoa and bacon. In the heat of summer, light and refreshing salads work better. This citrus chicken salad with honey mustard vinaigrette is one of them.
To build your perfect salad, there are 5 simple steps you can use as a guide to customize your perfect salad with the right nutritional, textural and flavor balances.
Favorite Veggies.
Choose your favorite leafy greens like rocket, coral lettuce of different colors or herbs like sweet basil leaves. Remember to add other vegetables like corn or mushrooms as well as leafy greens alone can be boring. Unless that's what you like!
Carb it up!
This step is important and commonly missed out.  Add carbs like potatoes, pasta or brown rice to make the salad more filling and substantial.
Choose your Protein.
Now, choose any form of protein you like. Boiled eggs, baked tempeh or beef strips maybe? For this recipe, we're using shredded poached chicken.
The Little Extras.
Extras like nuts, seeds and croutons add an extra punch of flavor and crunch to the dish. They also act as garnishes!
Homemade Dressing.
The key to salad dressings is to make them yourself! Store-bought ones are jam packed with unwanted stabilizers, preservatives and extra calories.
Citrus Chicken Salad with Honey Mustard Vinaigrette
Ingredients
1 ½

cups

of baby spinach

1

large orange sweet potato

1

large orange

2

chicken breasts

¼

cup

of shelled and toasted walnuts

2

tbsp

of rehydrated cranberries

½

of a large red onion

2

tablespoons

olive oil

½

tsp

thyme

4 - 6

garlic cloves
Dressing:
¼

cup

extra virgin olive oil

2 ½  

tbsp

balsamic vinegar

½

tsp

thyme

1

tbsp

honey

2

tbsp

freshly squeezed orange juice

Finely grated zest of one orange

1

tbsp

wholegrain mustard

½

tsp

salt
Instructions
Chop the sweet potato into chunks and roast at 180 degrees celsius for 15 minutes or until crispy on the outside and soft on the inside.

Poach the chicken by placing it in cold water. Bring to a boil then simmer uncovered till cooked through.


Make the dressing by mixing all the ingredients together.


Shred the poached chicken into bite-sized chunks


Julienne the orange zest for garnish and the red onion.


Make orange segments by using a sharp knife to remove the white pith and membrane.


Assemble all the salad components and serve without tossing first.

STEP ONE – ROAST THE SWEET POTATO
Peel and chop the sweet potato rangiri-style like in our Japanese Curry Recipe. We chop them this way to achieve more rustic bite-sized pieces. Toss them with the olive oil, thyme and a pinch of salt. Bake in the oven at 180 degrees celsius for 15 minutes or until slightly crispy on the outside and soft on the inside.
STEP TWO – POACH THE CHICKEN
While the sweet potatoes are in the oven, simply wash the chicken and place them in a pan or shallow pot with just enough cold water to cover the tops. Peel the garlic and put them in the pot together with the meat. But before you do that, bruise the garlic so that more flavor can be released, giving you more bang for your buck. If you have any fresh herbs like thyme, rosemary or oregano on hand, bruise them and toss them in as well for extra flavor. Bring the cold water to a boil then turn down to low to simmer uncovered for 15 minutes or so depending on the size of your chicken. Discard the scum as it appears. Once done, remove the chicken and garlic cloves and set aside.
STEP THREE – MAKE THE DRESSING
Normally, the dressing is done first to get it out the way before starting on the salad components. But because we will be using the garlic cloves that were used to flavor the poached chicken, this step has to come after. Mince the garlic finely and combine it together with all the other ingredients. Stir and set aside in room temperature so as not to solidify the honey.
STEP FOUR – SHRED THE CHICKEN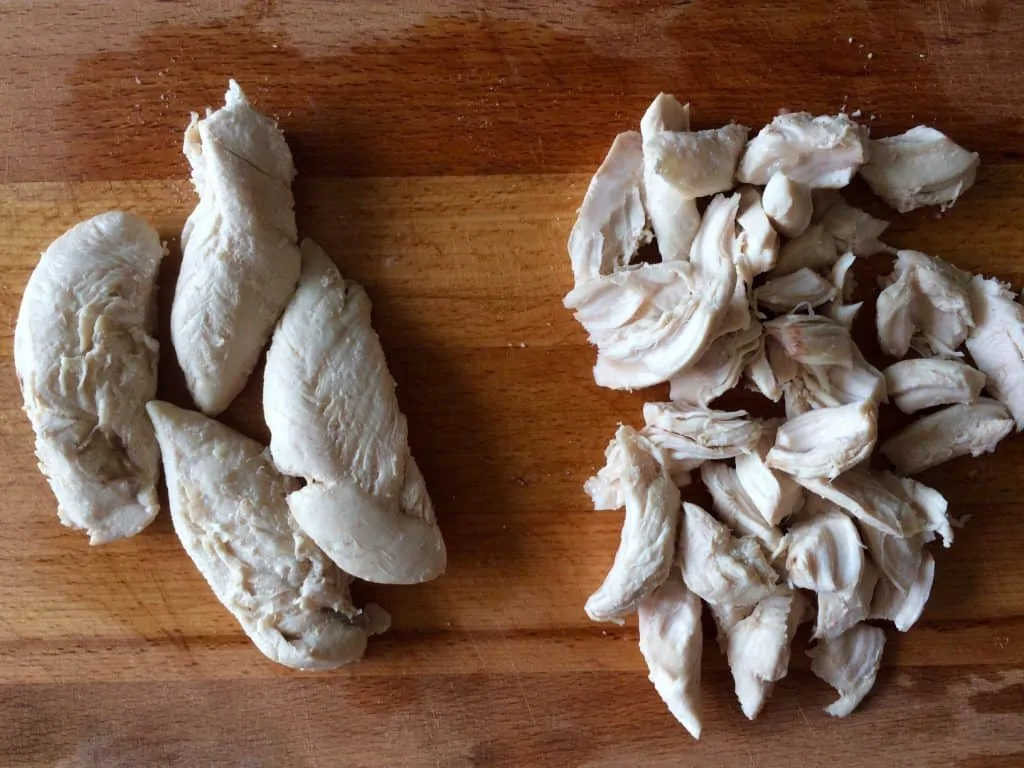 Once the chicken has cooled, use your hands or two forks to shred the chicken along the grain into bite-sized pieces. No need to season them as the dressing will be absorbed generously by the moist chicken pieces.
STEP FIVE – JULIENNE THE ONION AND ORANGE ZEST
Peel and chop the red onion in half and slice thinly, Only use the outer layers as the inner core can be a little spicy, especially as the onion will be used raw. For the garnish, use a vegetable peeler to peel long, wide slices of the outermost peel. Make sure your orange is well-washed and clean! Remove the bitter white pith with a small sharp knife and finely slice the peel.
STEP SIX – MAKE ORANGE SEGMENTS
For a smooth mouthfeel and glossy appearance, the orange slices should be segmented in a way that doesn't include too much visible white pith and connective membrane. There are many ways to do this but this is my personal favorite. Simply chop the orange down the middle from where the stalk is. Chop it into six wedges and using a very sharp knife, separate the flesh from the pith as closely as possible without wasting too much flesh. Of course, there will still be a little bit of flesh no matter how precise your knife skills. Therefore, the 2 tablespoons of orange juice required in the dressing can be extracted from these leftover bits!
STEP SEVEN – ASSEMBLE THE SALAD AND SERVE!
A key tip to making beautiful, presentable salads is to NOT toss it until you're ready to eat it. Start by layering a bed of baby spinach, followed by the sweet potatoes, chicken, orange segments, onion, walnuts and cranberries. Then, lightly drizzle the vinaigrette over. Place the julienned zest in a pile in the middle and toss well just before eating.
FINAL THOUGHTS
For this recipe, I've used chicken fillets instead of chicken breasts to shorten the cooking time. If you're using breasts, you could section it along the grain into smaller pieces first.
This salad is refreshing, zesty and slightly more on the sweeter side. Therefore, the cranberries don't have to be rehydrated in orange juice as most recipes call for. 5 minutes in hot water will do just fine. You could also replace the sweet potatoes with normal starchy potatoes to make it less sweet.
Tried this recipe? Let us know how it turned out in the comments below!