Forget all previous misconceptions you may have had about curry from the Land of the Rising Sun as the curry here is a whole different ball game. The curry most of us know of is more of a spicy gravy or soup fragrant with indian spices like turmeric, curry powder ground cardamom and coconut milk. It also tends to have a watery consistency more similar to soup. When people in Japan refer to curry, they're actually referring to the thick, sweet brown curry that is original to their country only. It's different from most other curries in that it's not usually very spicy and has a much sweeter flavor profile. The ingredients most commonly seen in Japanese "kare" are potatoes, carrots and onions.
You'll find Japanese curry served many ways, With rice, noodles and bread. Curry rice is almost always presented with rice on one side of the plate and vegetable-laden curry on the other side. For a more satisfying meal, there is usually a breaded pork cutlet placed on top the rice. Curry udon is also another staple, where instead of rice, the sauce is mixed in with thick wheat flour noodles. The slippery noodles can be quite addictive and make for a great base to add other toppings such as crispy tempura bits or poached eggs. For a quick bite on the go, "kare pan" or curry bread does the job perfectly. This curry-filled bun is available nationwide in nearly every convenience store.
Japan is a nation of healthy, home cooked food. Long preparation steps are not foreign to them due to the emphasis on bringing out the pure flavors of fresh ingredients. However, this curry is one of the few permissible dishes. Many families cook their own version of it but packaged curry roux is generally used. Some secret ingredients I've heard of even include chocolate, coffee and apple! For this recipe, we'll be using beef and tomatoes on top of the usual suspects. Why beef? Beef has a much stronger aroma and can make a simple dish of curry that much more interesting. The tomatoes also help to add a touch of tanginess to an otherwise boring dish.
Japanese Beef Curry with Tangy Tomatoes
Ingredients
2

large potatoes

2

ripe tomatoes

2

medium sized carrots

1

large white onion

300

grams

beef, sliced into thick strips

1

packet

boxed curry roux (I used Golden Curry brand)
Instructions
Roughly chop the vegetables and slice the beef against the grain into thick strips. Prepare the rice in the rice cooker at the same time


Fry the beef on medium-high heat for about 5 minutes. Retain the juice in the frying pan

Saute the vegetables for 5-10 minutes with the beef juice still in the pan

Pour in about 1 liter of water and cook until everything is soft and cooked through

Serve up with rice and enjoy!
STEP ONE – CHOOSE YOUR ROUX
You can find Japanese curry roux at any Asian supermarket or at the Japanese dollar store. In general, any brand is good but the one pictured here is one of the most common. You'll be able to choose your level of spiciness from mild to very hot. Some boxes also come in slightly larger sizes meant for two separate batches of cooking. One small box of 100g like this is usually enough for a curry to feed 3-4 people.
STEP TWO – PREP THE INGREDIENTS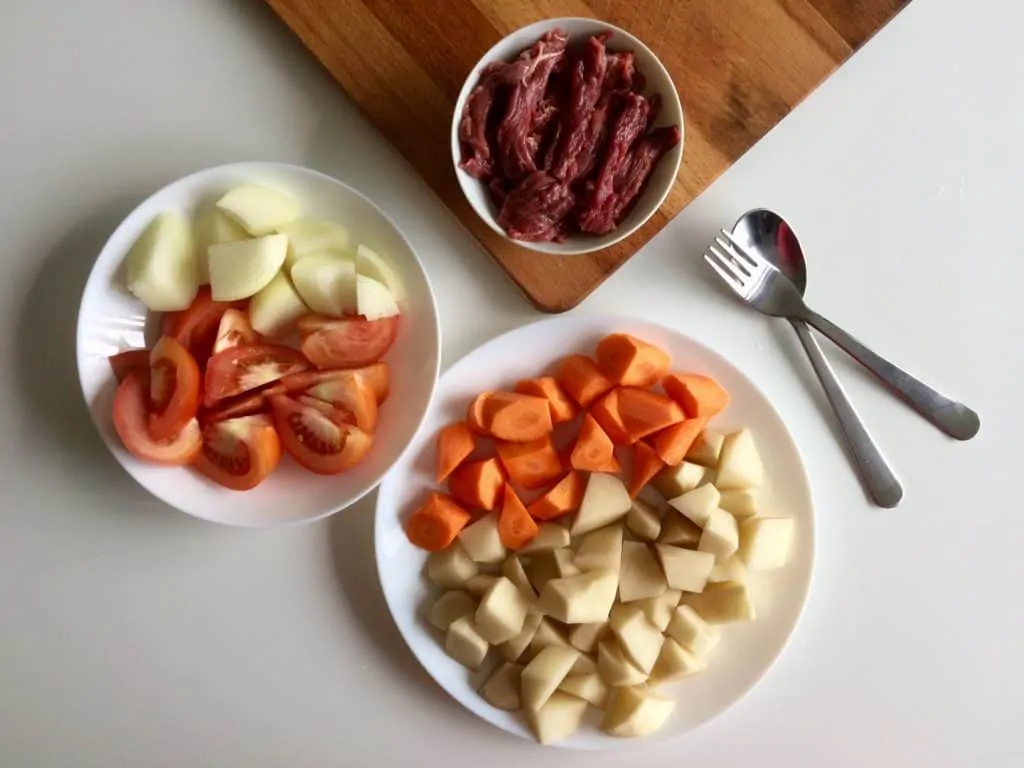 Roughly chop the vegetables and slice the beef against the grain into thick strips. I highly recommend to cut the carrots rangiri style. You can do this by rotating the carrot as you chop it at an angle. This chopping style is common in Chinese and Japanese cooking and makes for a more rustic look while ensuring the size of each piece is more or less equal. Chop the tomatoes into large wedges. You can also remove the skin if you like but I personally don't mind them.
STEP THREE – FRY THE BEEF AND SET ASIDE
Add two tablespoons of vegetable oil into a pot on medium-high heat. Fry the beef for about 5 minutes on medium-high heat. You want it to be slightly undercooked as we will be adding it back in towards the end. You'll see that the beef has released some juices. Remove the meat but retain this juice left in the pot because we want it to add flavor to the vegetables as we fry them later. Treat it like liquid gold!
STEP FOUR – SAUTE THE VEGETABLES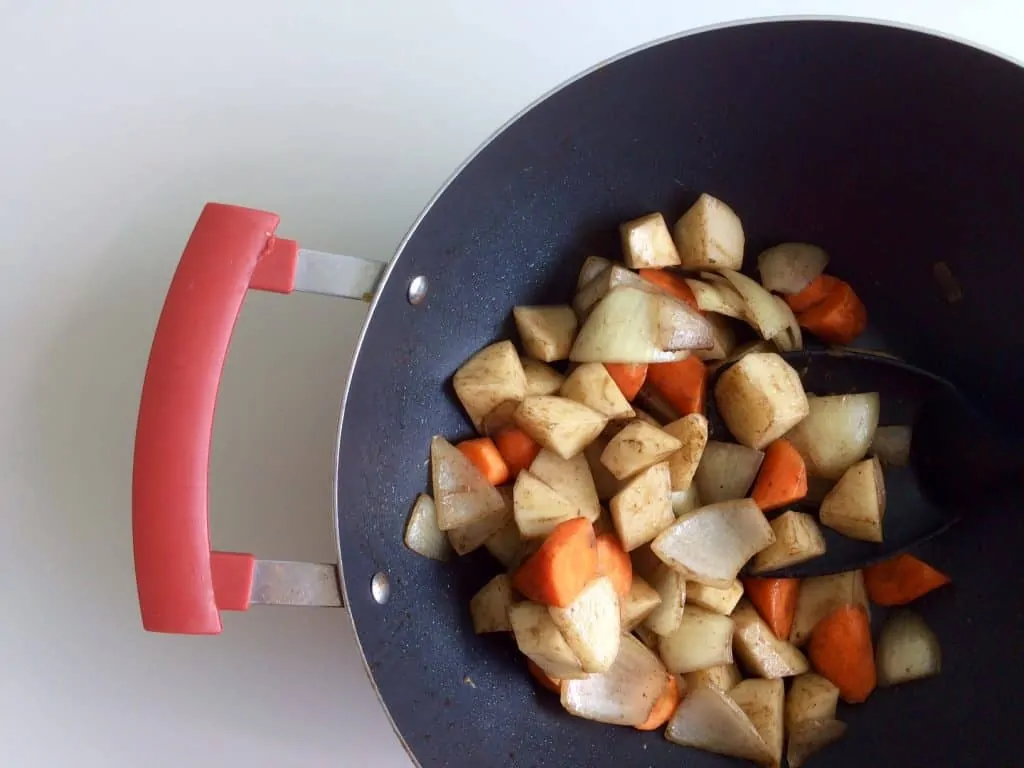 With the remaining beef juices left in the pot, saute the onions until softened slightly. They don't have to be transparent or caramelized at this stage.Toss in the potato and carrot chunks and continue sauteing on medium-high heat for 5-10 minutes. Don't worry about them being soft as this step isn't the main cooking process.
STEP FIVE – ADD THE TOMATOES
Now, you can add in the tomato wedges (with or without skin) and simply saute it for a minute or two before adding in the water. If you like, the tomatoes can also be tossed in along with the water as they cook very fast. I like to fry them a bit first to get them coated in a little of the beef juice and get a head start on the cooking of the tomatoes.
STEP SIX – POUR IN WATER
Pour 1 litre or so of water (follow the directions on the box, or you can just eyeball it, it's better to put less water than too much as it can always be topped up later.) into the pot. Bring it to a boil and continue boiling on medium heat for 15 minutes or until everything is soft and cooked through. Test this by pressing a fork against the largest piece of potato against the side and it should glide through easily.
STEP SEVEN – PUT THE BEEF BACK IN
As you can see, the vegetables have all softened up. Now it's time to put the beef strips we set aside just now back into the pot to continue cooking and absorbing the flavors. Simply add them in and stir for a minute or two before breaking in the curry roux.
STEP EIGHT – BREAK IN THE CURRY ROUX
Open up whatever brand of roux you're using and you'll find they usually come packaged with grooves, somewhat like chocolate bars. This is so you can portion off however much you want in case you'll be cooking for just one or two people. For this recipe, the whole package will be used. But first, turn the heat down to low. Break the roux into the mix and it'll start to melt and thicken up almost immediately if the water to roux ratio is right.
STEP NINE – SERVE UP WITH RICE AND ENJOY!
There you go! An unassuming yet delicious meal for tomorrow's lunch! Serve as shown, with the rice placed on one half and the curry on the other half. TIP: Poach an egg and crack it over the top, the creamy yolk is absolutely heavenly when mixed together.
FINAL THOUGHTS
If you've never tried curry Japanese style before, you'll be knocked off your feet for sure. Although not very conventional, it's also a good way to use up leftover veggies in the fridge. That wilting head of broccoli from last week's stir fry? Or that lone bell pepper sitting in the bottom of the vegetable shelf? Make it into a curry! Just buy a few packages of curry roux and store them in the pantry ahead of time.
What's your favorite type of curry? Let us know in the comment section!