Need a showstopping treat to serve your guests?
This chicken alfredo dip, complete with puff pastry garlic twists is guaranteed to deliver that WOW factor to the table. The dip is a classic take on a non-traditional pasta, while the dippers look like something right out your local bakery! The layers of ever so fluffy dough, infused with the pungent flavors of garlic and parmesan and baked to golden perfection pair perfectly with the creamy bechamel-based sauce.
This recipe comprises the How-To on making this exact bechamel sauce which forms the base of our alfredo dip. Also known simply as white sauce, it's a simple recipe but requires a few key tips and tricks to keep in mind in order to achieve the perfect consistency. Never again will the thought of recreating luscious creamy pasta at home daunt you once you've mastered a good bechamel recipe.
Mind you, this recipe is by no means traditional. Chicken alfredo in itself is nothing short of an American dish, with zero to none of its roots in Italy. The closest thing to it is pasta al burro, where the fettucine alfredo we know today comes from. Instead of incorporating cream, plenty of butter and finely grated parmesan is emulsified with starchy pasta water to coat the pasta in a silky smooth sauce. The chicken fillets for the chicken alfredo dip are also marinated in asian flavors to add extra zing to the creamy dip.
Chicken Alfredo Dip with Garlic Parmesan Twists
Total Time
1
hour
20
minutes
Ingredients
(Garlic twists)
1

carton of puff pastry sheets

3

tbsp

of salted butter

melted

½

cup

finely grated parmesan

4

cloves

of garlic

minced

1

tbsp

garlic powder

1

egg yolk

diluted with 1 tbsp water
(Chicken alfredo dip)
2

tbsp

butter

2

tbsp

all-purpose flour

4

cups

of whole milk

¼  

cup

of parmesan

grated

¼

cup

of cheddar

grated

Large handful of fresh parsley

chopped

300

g

chicken fillets
(Marinade)
3

tbsp

honey

2

tbsp

light soy sauce

2

tbsp

lemon juice

1

tbsp

garlic-chili hot sauce

Pinch

of black pepper
Instructions
Melt butter and add in minced garlic while still hot. Spread lightly or brush over puff pastry.

Sprinkle grated parmesan and garlic powder over.

Twist puff pastry around itself and pinch the edges together lightly.


Bake at 210 degrees celsius for 15-20 minutes until dark golden brown.


Sear the marinated chicken on medium-high heat until caramelized. Shred into small pieces.


Melt butter over medium-low heat and add in flour. Stir until lightly toasted and void of floury smell.

Heat the milk in the microwave and slowly trickle it into the roux while stirring continuously.


Add in the shredded chicken, cheese and chopped parsley.


Garnish with a sprig of parsley and serve.

STEP ONE – MAKE THE GARLIC TWISTS
If your puff pastry comes in squares, simply meld the edges of two squares together to make a larger rectangular piece. You can also skip this step and use the puff pastry square as is. Melt the butter briefly in the microwave and add the minced garlic in while still hot to allow the residual heat of the butter to help release more aroma from the garlic. Paint this garlic butter mixture over very lightly. Don't go too heavy here as the pastry itself has plenty of butter.
STEP TWO – SPRINKLE THE CHEESE OVER
Sprinkle over the grated parmesan and lightly press it in with your palms. After that, add a dash of garlic powder to your preference. Throughout this step, store your puff pastry sheets in the fridge to keep them cold just until you bring the next one out on your board or countertop, where your palms will release enough heat to make them pliable. You don't want the butter in the pastry to melt too much before baking for fear of those beautiful layers not forming well.
STEP THREE – TWIST THE PUFF PASTRY
Twist the puff pastry rather tightly around itself until you achieve lovely little coils. Pinch the two corners lightly with your fingers for a more symmetrical shape and to prevent the cheese and garlic from falling out.
STEP FOUR – BAKE AT 210 DEGREES CELSIUS UNTIL GOLDEN BROWN
Grease the pan with a little bit of butter or olive oil and place the pastry twists on the pan with a gap of half an inch or so between each one. They will expand but not too much. Bake in a preheated oven at 210 degrees celsius for 15-20 minutes or until dark golden brown. Let cool and store at room temperature.
STEP FIVE – SEAR AND SHRED THE CHICKEN FILLETS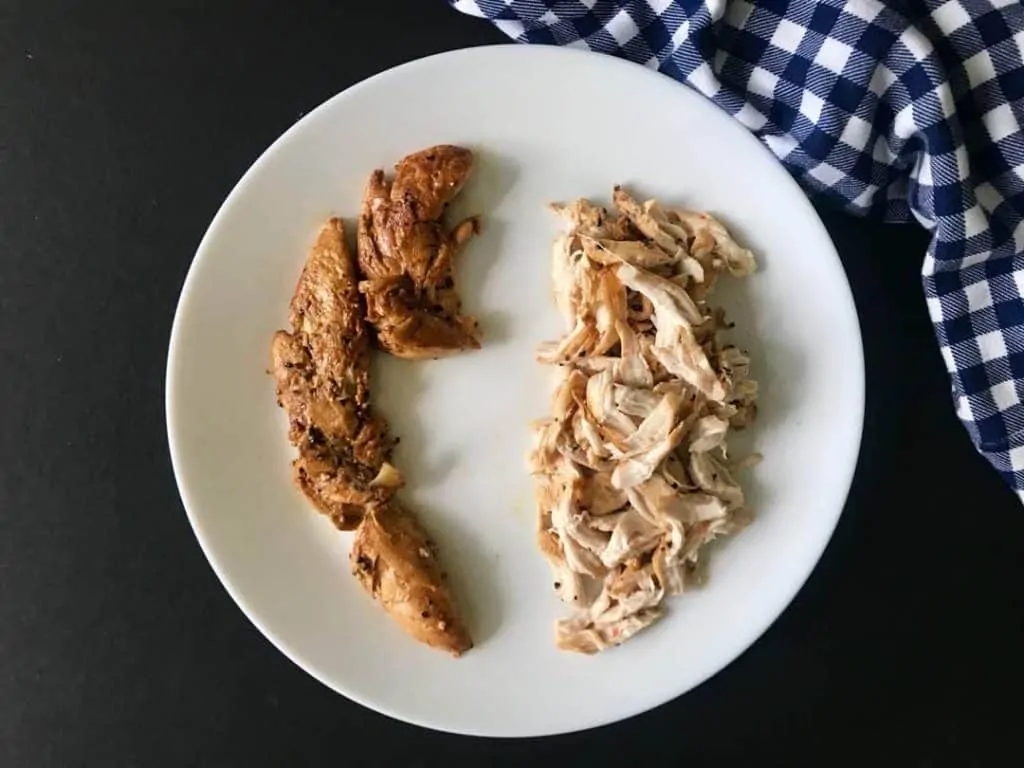 Marinate the chicken in the ingredients listed above for up to 8 hours or just briefly. This marinate isn't necessary but helps to deeply caramelize the chicken and add extra flavor to the dip. I also like to add oil to the chicken instead of directly into pan for a cleaner cook.
Sear each side on medium-high heat or until the honey in the marinade caramelizes and turns very dark. Let cool and shred with your hands. The size of the shreds should also be small enough that they can be caught on the garlic twists, ensuring each and every bite has a little chicken in it.
STEP SIX – MAKE THE ROUX FOR THE CHICKEN ALFREDO DIP
If your pan has a lot of blackened burnt bits stuck on it after cooking the chicken, give your pan a quick rinse to get rid of those as they can be bitter. If not, don't bother washing the pan as the leftover marinade is, after all, flavor. Or, you could just get a good non-stick pan! On a medium-low heat, add in the butter and stir till melted. Put in the flour and stir constantly for 5-7 minutes or until there's a light nutty taste.
This step is important as you don't want to burn the roux, but the floury taste has to be completely cooked off as well.
STEP SEVEN – SLOWLY TRICKLE IN THE HOT MILK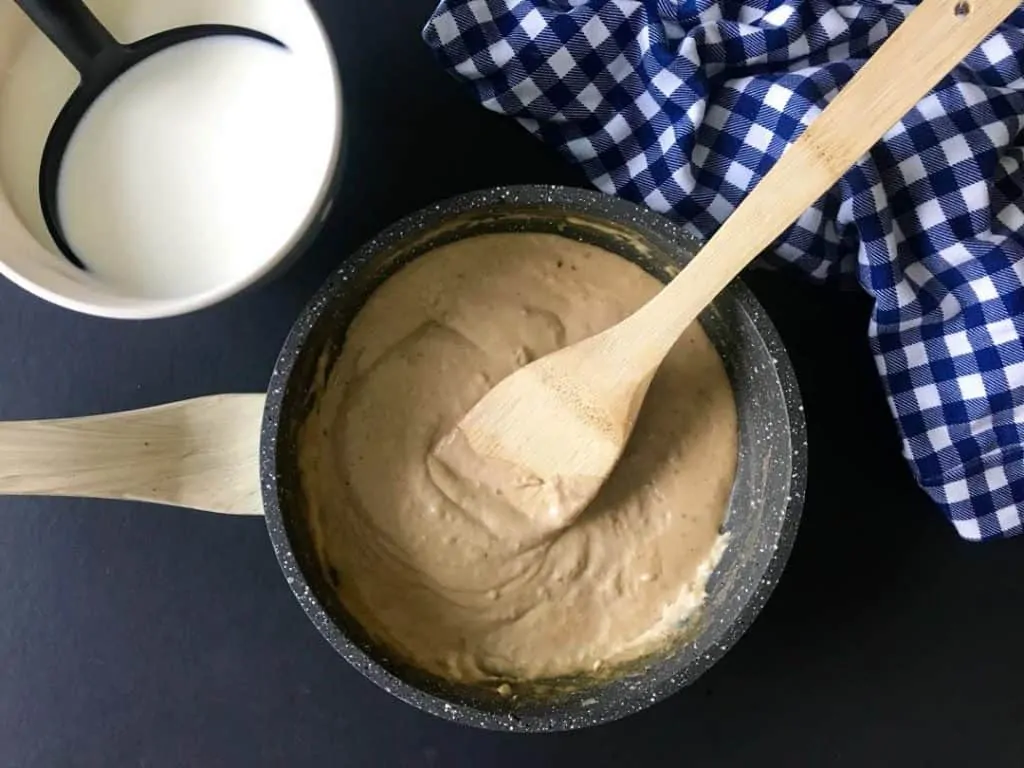 While the roux is cooking, heat the milk in the microwave until hot but not burning. Have a look at our review on this microwave we love! Once the roux is ready, slowly trickle in the hot milk, all the while stirring continuously. Be extra cautious not to pour in too much at once, especially in the beginning and also remember to heat up the milk again if its cooled down.
Keep adding in the milk ladle by ladle until it reaches your desired consistency. Because we're making a dip, the consistency has to be thicker than your standard bechamel. Once the viscosity is to your liking, continue stirring for 5 minutes or so to remove any residual floury taste.
STEP EIGHT – ADD THE CHICKEN, CHEESE AND PARSLEY
Working quickly, add in the grated cheese, shredded chicken and if you'd like it a little zesty, a squeeze of lemon. Combine it together and add the chopped parsley at the end which will incorporate some color and freshness of the dip.
The cheese and chicken are already salty but feel free to season to your liking from here on. To store before serving, cover with cling wrap touching the surface of the dip to prevent a skin forming.
STEP NINE – GARNISH AND SERVE!
Garnish with a sprig of parsley. Before serving, heat up the dip and present the garlic twists in a tall glass or in a circle around the dip to win the hearts of your guests before they've even taken a bite!
FINAL THOUGHTS:
This recipe for the garlic twists can be used as a base for any puff pastry twist. Instead of garlic, butter and cheese, try grated chocolate and cinnamon instead! Perhaps one inspired by the ever popular Caprese salad? Think a light spreading of tomato paste, a chiffonade of basil and shredded mozzarella.
As for the chicken alfredo dip, the recipe can easily be tweaked to make a deliciously creamy chicken alfredo pasta! Simply add more milk until you reach your desired consistency and use as the sauce for your pasta. If it ends up too thick, fret not. Just add in a little of the starchy pasta water! Plus, if you're making your own pasta, what better way to do it than with our favorite pasta maker?
Tried this recipe? Have a favorite alfredo recipe you'd like to share? Let us know in the comments. We'd love to hear from you!