The best thing about waffles (besides from actually taking your first bite!) is probably the built-up anticipation while you wait for them to cook in the waffle iron; as the room fills up with the scent of butter and cinnamon; the epitome of food therapy.
I have finally found the perfect gluten-free flour mixture to make the most fluffy, chewy, and bouncy waffles. The hardest thing about being gluten-free is finding foods like pasta, bread, pancakes, and waffles with the right texture, whether it is store-bought or whether you're making it from scratch. If the texture isn't quite right, then it's just not the same. I have found that the combination of rice flour with green banana leaf flour, is the perfect switch for wheat flour. The only ingredient that would be considered unhealthy is the vegan butter, and you don't even need to add a binder like xanthan gum or guar gum, which means fewer ingredients! I could have used coconut oil in place of the butter, but I really wanted that buttery taste and aroma, there are so many plant-based butter options out there now, so since this is a waffle recipe, I'm not going to hold back on the indulgences!
Although in this recipe, I have made a coconut cream topping, on lazy days you can simply make the waffles and skip adding the spring onions, cayenne pepper, and salt to the batter. You can instead add vanilla, sugar/maple syrup or chocolate chips, and that's it, it is that easy to switch this up to a sweet recipe instead!
If you're like me and you've never actually heard of green banana flour before; I actually just discovered it a couple of months ago. Green banana leaf flour has been used throughout Africa and Jamaica as a cheaper alternative to wheat flour. The flour is made from green bananas that have been peeled, dried, and ground. There has also been an increase in research into green banana flour due to its high level of resistant starch. The benefits of resistant starch are said to reduce the risk of diabetes, obesity and colon cancer. So if you're not really a fan of other foods with high levels of resistant starch, such as legumes, try adding green banana leaf flour to your diet! There are endless recipe possibilities; cakes, bread, pancakes, even noodles!
Since this is a vegan recipe, there is no egg. So before you start mixing up the ingredients you'll need to make the flax seed egg. It's just a matter of combining ground flax seeds and water, and letting it sit until it has become a little gelatinous and gooey — that's it, vegan egg! That being said, however, you can substitute all the vegan ingredients for their traditional counterparts if all you need is the gluten-free aspect of this recipe, and it will still taste (and smell) just as great.
Gluten Free Vegan Savoury Mushrooms Waffles
Ingredients
Waffle Ingredients:
1

cup

rice flour

½

cup

green banana leaf flour

½

tsp

baking soda

1

tsp

baking powder

1

tsp

sea salt

½

tsp

cinnamon

¼

tsp

nutmeg

¼

tsp

cayenne pepper

450

ml

cashew milk

or any milk you prefer

½

cup

sliced spring onions

Egg replacer mixture:

1

tbs

ground flaxseed

3

tbs

water
Topping Ingredients:
1

red onion

1

cup

brown button mushrooms

A handful of flat leaf parsley
Optional:
Cherry tomatoes

Salad greens
Instructions
Prepare the ingredients, wash and cut the vegetables.


Take a small bowl and add 1 tbsp ground flaxseed and 3 tbs water, this will be the egg replacer. Let the mixture sit in the fridge for 15 minutes, and continue preparing the remaining ingredients.



Mix all the dry ingredients into a large mixing bowl. 


Place about a cup of sliced spring onions into the dry ingredients and combine with a fork, making sure all the spring onions are coated in flour.



Add the flaxseed mixture and milk into the flour, roughly mix together with a large whisk. Don't combine the mixture for too long as this will make for denser less fluffy waffles.



Preheat your waffle iron, when it's ready add about ½ cup of batter to the center of the waffle iron and spread it outwards. Cook the waffle for around 7 minutes. Or according to your waffle iron instructions. Generally, you can tell when the waffles are done when there is a lot less steam escaping from the waffle iron.


Carefully lift the lid of the waffle iron and remove the waffles. Keep them on a plate and cover with a tea cloth to keep them warm while you cook the mushroom topping.


Heat 1 tbsp coconut oil in a shallow pan, and add the sliced red onions. Sauté for 5 minutes or until tender.



Add the sliced mushrooms, 1 tsp sea salt, and black pepper to taste. Sauté for a further 5 minutes.


Plate the waffles, and top with the sautéed mushroom and coconut cream sauce. Serve warm.


STEP ONE – PREPARE INGREDIENTS

Prepare all the necessary ingredients; wash the mushrooms, tomatoes and spring onions, and slice them up.
STEP TWO – MIX EGG REPLACER

Before mixing the other waffle batter ingredients, you'll first need to make the 'flax-egg'. In a small bowl mix 1 tbs of ground flax seeds with 3 tbs water. Lightly stir and let it sit in the fridge for at least 15 mins before finally mixing it into the waffle batter.
It is said that some call flax seeds – "the most powerful plant food on the planet". Flax seeds offer fatty acid, fiber, antioxidant and estrogen benefits.
STEP THREE – MIX DRY INGREDIENTS

In a large mixing bowl mix 1 cup rice flour, ½ cup green banana leaf flour, ½ tsp baking soda, 1 tsp baking powder, 1 tsp sea salt, ½ tsp cinnamon, ¼ tsp nutmeg and ¼ tsp cayenne pepper.
STEP FOUR – ADD SPRING ONIONS

Add about a handful of thinly sliced spring onions. You can add more or less, but I like adding a handful or two after the waffles cook in the waffle iron the spring onions will give it a nice aesthetic look as they will be speckled throughout the waffle. Adding the spring onions first to the dry ingredients ensures that they will be coated with flour which makes them spread more evenly throughout the batter, so that each scoop will have a good amount of spring onions as opposed to having them collect at the bottom of the bowl, if they were to be added after the wet ingredients.
STEP FIVE – ADD WET INGREDIENTS

Add 450ml cashew milk (or any milk you prefer) as well as the flax-egg, combine the ingredients making sure you do not over mix the batter. In this instance, for fluffy waffles, it's ok to have a few lumps of flour here and there, and the more air bubble the better!
STEP SIX – PREHEAT WAFFLE IRON

Depending on the make of your specific waffle iron the cooking time will vary. On my Von Chef waffle iron it takes about 7 minutes for the perfect crispy on the outside, yet soft on the inside waffles. If you like your waffles extra soft cook for about 5 minutes, for extra crispy cook for longer. Make sure your waffle iron is preheated, never pour batter onto a cool waffle iron! While the waffle iron is preheating coat it with a layer of butter, or spray with oil, this will ensure your waffles don't stick and will make cleaning up ten times easier!
STEP SEVEN – POUR BATTER

After your waffle has been preheated take about 1 ½ cups of batter and pour it into the center of the waffle iron, you can then spread it outwards using a silicone spoon. I didn't measure my batter each time, I just used a silicon soup spoon to scoop up the batter.
STEP EIGHT – REMOVE WAFFLE

After the waffle has been cooking for around 7 minutes slowly and carefully lift open the iron. They should be sitting nicely on the bottom. If you find that it's difficult opening your waffle iron, or that the waffles seem to be coming apart, close the lid and cook for longer. To keep the waffles warm place on a plate and cover with a tea cloth, or place on a baking sheet and keep them in the oven on low heat.
STEP NINE – COOK THE MUSHROOM TOPPING

Add some coconut oil to a heated pan, and saute the sliced onions until they become transparent.
STEP TEN – SAUTE MUSHROOMS

Add the sliced mushrooms and saute for 10 minutes before adding the coconut cream, salt and pepper to taste. Cook for a further 5 minutes on medium heat.
STEP ELEVEN – PLATE THE WAFFLES!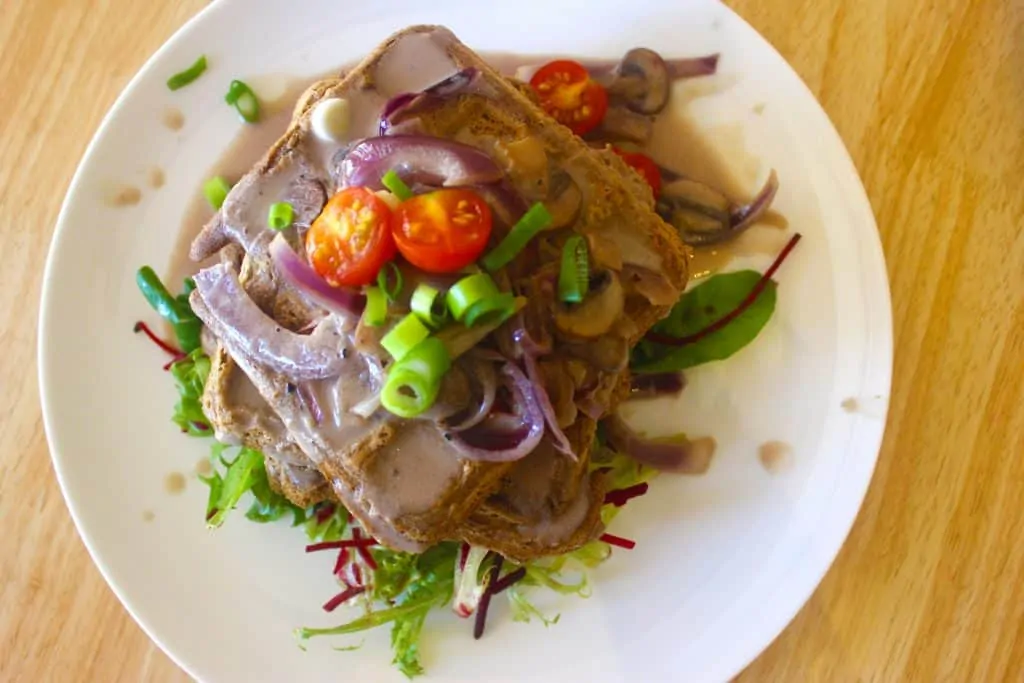 Before I plate the waffles I like spreading a thin layer of butter on each waffle, and I pour the creamy mushroom mixture in between each waffle. You can also top with some fresh sliced cherry tomatoes, and spring onions for a splash of color and freshness. I like serving these waffles on a bed of salad greens, to add some crunch and color, the combination of the salad greens, the waffle and the mushroom in each bite is so satisfying!
FINAL THOUGHTS
You can't really go wrong with coconut cream. However, the coconut cream sauce gets absorbed into these waffles really fast, so maybe next time I would double the amount of coconut cream, as it would have been even better to have extra cream to pour, just as you would want extra maple syrup or honey ready when enjoying sweet waffles. These savory waffles can be enjoyed at breakfast, brunch or dinner, and you can spice it up with a drizzle of sriracha. Waffles remind me of family. So since they do take a while to prepare and cook, this is the perfect meal to make when having family gatherings as you can enjoy each other's company while making the waffles or make it a fun activity to do with the kids on weekends. The only thing to keep in mind is that these waffles have a really high fiber content so they are extra filling, you only really need about 4 waffles to reach maximum satisfaction! For leftover waffles, wrap in cling film or store in an airtight container, and heat in the oven or toaster and they'll be as good as new.