The PriorityChef Knife Sharpener is our pick for the best knife sharpener, which is a 2-stage diamond coated system, easy to use, can be ideal for both straight and serrated knives, works well even for hard steel blades and can be compact and stylish for any kitchen.
Our step-up pick is the Presto 08810 Professional and this is an electric sharpener, which can be used for getting a good angle, has 3 stages of sharpening, can be used for professional purposes and for home use and has a stylish design as well.
The budget pick is the KitchenIQ 50009 Edge and it has a compact design, has 2 stages of sharpening using ceramic rods and carbide blades, has a nonslip base for safety, has an edge grip for ease of sharpening large knives and can also repair damaged knives.
A Little Background

Knives can come in different designs depending on usage.
We all know that knives have been one of man's oldest tools. Knives can have different sizes and shapes but they all do pretty much the same thing – cut food and process them. If they are sharp enough, they will be able to cut through the toughest foods. However, if they are not sharp enough due to frequent use, they can be dangerous, and this is why they need to be sharp all the time when you use them.
There are many types of knives out there, such as the chef's knife the santoku knife, salmon knife, paring knife, bread knife and many others, all with different shapes, purposes and designs. They may also have different edge styles, such as a straight edge, a serrated edge and other types of uniquely shaped edges that are tailored to specific food preparation needs. Most knives come in a set so that you can just pick one that's good for the job.
While many manufacturers guarantee that knives will never need sharpening, you should still have a backup plan to sharpen them if you want them to last for a long time and not cause accidents. Dull knives can pose danger because they will have the capability to bounce back. Therefore, they should be sharp enough to cut through the food item to avoid this likelihood of injury from happening.

Knife sharpeners come in various types.
There are many kinds of knife sharpeners out there – not just the ones you see in a butcher's shop. Sharpening stones are the cheapest of all of them. However, they cannot be easily found anywhere, as not all stones can be sharpening stones. There are, of course, those that you see in a butcher's shop – the sharpening steel or honing steel. There are also electric sharpeners out there, most of which are easier to use.
All the different knives have their own ways of sharpening. For instance, those knives that have a serrated edge should use a different kind of sharpening tool or machine so that it will be sharpened without losing the serrated edge. The same kind of concept goes with straight edge knives out there.
If you don't want the trouble of getting your knife professionally sharpened, you can buy a knife sharpener to be used at home. These units can either be manual or electric, but the important thing is that you can use them at the comfort of your own house. This lets you to experiment with the kind of sharpness that you need for your knives depending on how dull they got after repeated usage throughout the years.
How we Picked
In choosing the best knife sharpener, you should be considering different criteria for picking your product:
Manual or electric: a sharpening tool can be either manual or electric in nature. The most basic and cheapest ones are those that are manual, such as the sharpening stones and the sharpening steel or rod. The electric sharpeners are more expensive but are more ideal for those who don't want the hassle of manual sharpening. On the other hand, if you do have the skill to use a manual unit, it can make your knife more customized.
Level of security and safety: it is important for a knife sharpener to be safe in its functionality so as not to compromise safety when you sharpen your knives. Some are more accident prone than others, making them unsafe to use for most people. There are certain mechanisms that most electric sharpening tools have over manual ones that make them more advantageous in terms of safety and security.
Type of knives accepted: you should know which types of knives are accepted by the sharpening tool. For example, it can be used for straight edge knives only. In this case, you need to look for a sharpening tool that accepts a serrated knife edge as well. This is so that your cutting tools will not get broken or damaged when they are sharpened in the tool.
User-friendly design: you have to consider and make sure that the sharpening tool will be easy to use overall. It should have simple mechanisms that allow you to insert the knife in the most straightforward way possible without getting hurt or compromising your safety.
Portability: there are also sharpening tools for knives that are portable enough for you to take it anywhere. This is important for chefs who travel from one place to another. Portable ones can be easily tucked into a bag so you can take it anywhere with you, and they take less space than you think.
Our Pick
The PriorityChef Knife Sharpener is our top pick for the best knife sharpener because of it simple and straightforward 2-stage system of sharpening using a diamond coated ceramic wheel design. This allows you to sharpen in either fine or coarse mode depending on the type of blade that you have on your knives. In addition to that, it has a black and chrome color scheme on the design so it will look stylish on most kitchens overall.
The easy grip that brings comfort and will also keep you safe at all times when you are sharpening your  item in the kitchen. It also has a nonslip stable base so that the unit will be steady without causing potential injuries to you and everyone else. This manual knife sharpener does not run on batteries or electricity so it does not consume electricity and can be a great companion in the kitchen for those who can be meticulous with sharpening knives.
With an ergonomic design, this kitchen tool can be easy to grip, especially for the beginners at hand. It can also handle various blades, from hard steel blades to other types of blades. It can work well for straight and serrated knives, so you do not have to get a separate knife sharpener for a serrated blade edge, which can save you money in the long run.
Flaws but Not Dealbreakers
The only con but not a deal breaker with the PriorityChef Knife Sharpener is that it is a manual sharpener, which may not appeal to those who want an electric sharpener, but to each their own.
Step-up Pick
The Presto 08810 Professional is our step-up pick, which uses a 3-stage system so that it can really fine tune your knives at hand, which is important for those who can be meticulous with knives and want to get the job done in no time. It can give you professional results and maintain a sharp set of knives with this unique and reliable electric knife sharpener.
Being an easy to use kitchen tool, the product material outside is made with plastic so it is lightweight and easy to lift but durable enough to keep your sharpening session as steady and as safe as can be. You can use it to sharpen kitchen and sport knives in a matter of minutes and at the comfort of your home.
The great thing about this unique unit is that it has interchangeable blade guides so that you can be able to achieve your desired sharpening angles depending on the type of knives that you have. This knife sharpener is supported by one year limited warranty for the product.
Budget Pick
The KitchenIQ 50009 Edge is our budget pick, which has 2 stages of sharpening process for many kinds of knives out there. The coarse stage is made for dull and damaged knives so that you can easily sharpen them without a lot of worry. The fine setting has been made for polishing the knife so that you can be able to fully tune up your sharpened knife – perfect for the chefs at home who want their knives to be of best quality after sharpening thoroughly.
It uses a uniquely designed patented edge grip so that you can be able to use the of the table or counter top to sharpen your knives easily and accident-free. This works by ensuring that the tip of larger knives will not ruin the surface of your table or countertop – a must-have feature if you do not want your countertop surface to get scratches at all.
As for the design, the unit is travel friendly due to being compact for easy storage. It uses carbide blades for the coarse setting, which can be used for setting the quick edge, while final honing can be done by the ceramic rods, using the fine setting. Both of these settings give stability and control due to the nonslip base at the bottom, which ensures safety when you are sharpening your knives.
Best Knife Sharpener that is Manual
The BulbHead 12352 Bavarian is a manual type sharpening tool that is great for those kitchen countertops that do not want to get scratched due to its unique design. This knife sharpener sharpens all your dull knives as quickly as possible and it works well unlike the other units that only sharpens a set type of blades. If you are not a big fan of an electric knife sharpener then this unit can be a good choice for you.
It has a total of 2 independent spring-action arms made of tungsten carbide, which can be used to sharpen your kitchen items. It can help to contour to your knife's edge and is better than most manual tools such as a sharpening stone and a sharpening steel. It can be ideal for all kinds of blades, such as beveled, straight and serrated.
You can use it to restore your old knives without compromising safety. You can also be able to sharpen knives in a 35-degree angle. You can use it for Japanese knives, chef knives, paring, cleaver, boning, serrated and many more. It comes with an instructions manual on how to operate the unit.
Best Knife Sharpener with a 2-Step System
The Smith's CCKS 2-Step is a system that uses 2 steps in terms of sharpening the knives that you have in your kitchen. It comes with two ceramic rods that can work effectively in just 3 to 4 strokes to make your dull knives look brand new. It also has non-slip rubber feet so that you will not mess up and injure yourself while you are sharpening your knives.
In addition to that, the knife sharpener is lightweight so that it can be taken with you anywhere without a bulky feeling, yet the weight is just fine because it helps in stability for handling the knives that you have. It can provide you with a razor sharp finish and has quality carbide sharpening slots that can work well for many kinds of blades out there.
The sharpener tool has a 46 degree sharpening angle fixed design, and it also works for any fish knives that you may have in your kitchen, as well as some pocket knives. This allows you to keep the sharpness on EDC knives in the right way so that your EDC knives, and not just your kitchen knives, can benefit from this uniquely portable system.
Best Knife Sharpener that is Electric
If you want an electric system then the LINKYO Sharpening System can be a good choice for you. It is easy to clean due to the receptacles built strategically without being a mess. It has 2 stages of sharpening – one for the angle and one for the edge finishing and polishing. It can help you not to make mistakes due to the positioning guides that are given.
You also do not have to worry about safety and stability due to the presence of the non-slip suction cup feet. There is also a stop feature so that whenever too much downward pressure has been done, the sharpener basically stops to avoid injuries and the like. It works for most straight-edged blades and is easy to clean due to the receptacles that capture metal shards.
Best Knife Sharpener for All Blade Types
If you want a sharpening tool that works for all blade types and not just on straight or serrated ones, the SunrisePro Supreme Knife could be a good choice for you. It can work well for kitchen knives, craft knives and survival knives and even EDC knives.
It only requires you about 3 swipes to complete the sharpening process. This is a non electric knife sharpener with an ergonomic design for safety purposes. This allows you not to slip away and cause injury due to slippage while you are sharpening your knives.
Being positioned at a 20-degree angle, it requires only using light pressure because of its good design, allowing you to rest easy without getting user fatigue and no likelihood of injuries. Chef knives, bread knives, steak knives, paring, butcher, fillet knives, cheese and tomato knives can be used for this kind of sharpening tool.
Best Knife Sharpener that is a Sharpening Steel
Being made of stainless steel, the Winware Stainless Steel can be a good choice if you are a butcher or just want something that is cheaper but of quality materials for manual sharpening. It has a 5-inch handle that is very strong and durable and has a hanging loop on the handle construction. You can choose the size from 12 inches to 14 inches depending on your preferences.
This honing steel can be ideal for most kitchen knives and can last for many years to come. It is the best for those who work in the professional meat cutting business, such as in butcher shops and the like. It can help to maintain your knives if you use them on a regular basis. It works well as compared to most strops and stones due to the ease of use and the durability of the product.
Best Knife Sharpener that is a Sharpening Stone
If you want a sharpening stone then the Smith's TRI-6 Arkansas can be a good choice for you. The TRI-HONE system has a total of 2 stones and 1 coarse synthetic stone. The 2 stones are Arkansas stones that are in fine and medium so that you can choose depending on the type of blade that you have. There is also a plastic triangle that has been molded onto the stones for ease of turning.
The base is made with heavy duty plastic that will not easily move out of place when you sharpen your items onto it. There is also a v-shaped system that can work to catch the oil drippings so that you will not have a messy session when sharpening stones. It has been made with an Arkansas stone that is about 1000-1200 grit. The other two stones are at 400 grit (coarse) and 600 grit (medium).
You can also use this sharpener stone for blades or pocket knives, as well as wood chisels. It can allow you choose the perfect stone depending on the current condition of your knife. As for the dependability, the base is sturdy and stays wherever it is to avoid accidents.
Best Knife Sharpener that is Handheld
If you want something that is handheld for sharpening knives, the Smith's 50185 Jiffy-Pro can be a good choice for you. It uses a 2-stage sharpening system that can be easy to use overall. It can also be used for shears, scissors and the like in the slot that is located in the middle. You can also attach it anywhere due to its portability as a handheld designed product, such as your belt or backpack.
You can use it at a farm or at home due to its compact design and it can work well for most straight edge knives. You only need about 3 to 4 pulls and this can sharpen most knives. It is perhaps the best designed for gardening tools and field tools.
The Competition
Others that didn't make it to the list were not as functional and were not very safe to use. While it is given that blade sharpening is already a dangerous task to do, you must look for something that lessens likelihood of injuries that can ruin your lunch or dinner preparation while turning your dull knife into a sharp one.
Other Frequently Asked Questions
Q: What happens if you don't sharpen your knives at all?
A: There can be terrible things that happen that might compromise your safety if you don't sharpen your knives at all, such as the following:
The blades can bounce back, causing injuries. This is also called the spring back action, which happens if your knives are too dull to cut anything, especially hard beef or meat. This is why you need to use sharp knives in order to prevent the bouncing back effect.
The blades might ruin the presentation of your food. If you are cutting garnish then you certainly need the expertise of a sharp blade. Blades that are dull are not very ideal to make your food more presentable because they are not sharp enough to cut through your items in a near perfect manner.
You will end up preparing foods longer than expected. Because your knife is too dull to act on its own, it will most likely stall your food preparation process. This can be a very worrying situation if you have a lot of guests and you need to chop those onions and vegetables in a matter of minutes but your knives are too dull to work quickly. Therefore, you need them sharpened before this happens.
Q: What is honing and what is sharpening?

Some steel rods can be used for sharpening while others are for honing.
A: Both terms can be confusing, but here, we will break them down to provide clarity to those who might get confused between the process of honing and sharpening.
| | |
| --- | --- |
| Honing | Honing is the process of straightening out a blade using a honing steel. It will not guarantee that your blades will become sharper but it will straighten the edge of any blade that has been bent. |
| Sharpening | This is the process of sharpening any blade on its edge. It might not totally straighten out the edge but at least it will be sharper. Both honing and sharpening need to go together if your blades are bent and dull at the same time. |
Q: Is it possible to sharpen knives that are included in a tactical flashlight?
A: There are tactical flashlights with blade knives, and you can potentially sharpen them if they do get dull due to frequent use. Most of them will be serrated edged knives because they are ideal for all purpose usage. However, it can be a little tricky to sharpen them if they are too small, so make sure you get a good sharpener to be able to process them.
Q: What is the difference between a half tang and a full tang?
A: Full tang and half tang knives have differences, such as the following:
| | |
| --- | --- |
| Full tang | A full tang is usually safer than the half tang because it has been riveted fully to the handle. The tang of the blade extends downwards up to the end of the handle, making it very safe and reliable. |
| Half tang | Half tang knives are less safer than the full tang because their tang only goes on the half of the blade's handle. This makes them cheaper and more common than the full tang knives. |
Q: Can putting your knives in the dishwasher make them dull?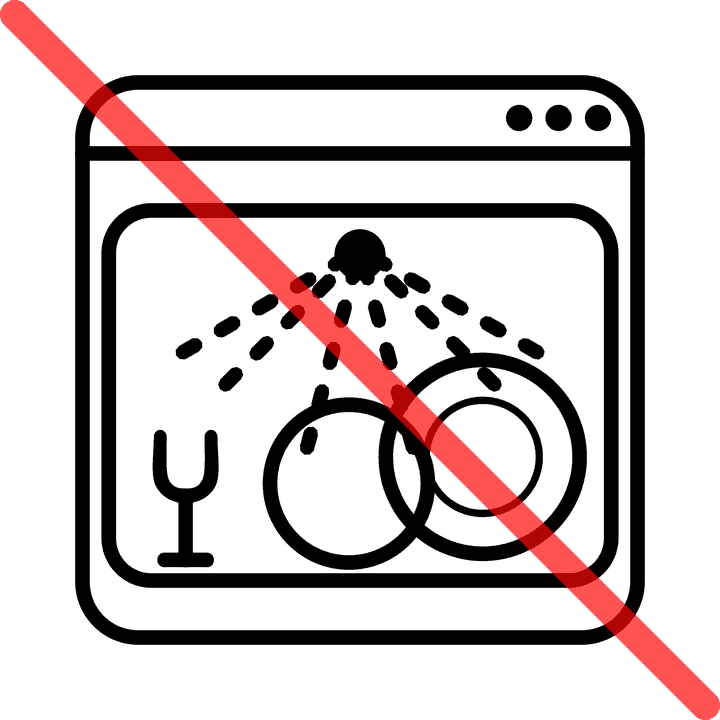 Dishwashers and knives don't really go together very well.
A: Yes, your dishwasher can be making your knives dull if you often wash them there. This is why you only need to manually wash your knives, especially if you have expensive knives, and especially if you have a chef's knife and any other kitchen tool that you often use. Dishwashers can get violent and they may make your knives dull and unsafe to use eventually.
Q: What material works best to sharpen a survival knife?
Tactical and survival knives can also lose their sharpness.
A: Most survival knives can be sharpened with steel, as opposed to kitchen knives, which can work well on both stone and carbide steel. Many of these survival knives can be sharpened using 420HC steel. Many of these are also carbon type blades but there are also others that are made with quality stainless steel. Carbon steel survival knives are more prone to corrosion, but are easier to sharpen.
Q: Is it possible to sharpen blades on a mandolin slicer using a sharpener?
A: A mandolin slicer will usually have sharp blades. However, you should check first with the manufacturer of the sharpener if it is capable of sharpening other blades aside from any kitchen knives that you may have. There are some sharpening tools that will only work on knives, so be careful when using them with other types of blades, just to be sure.
Q: How are a serrated blade and a straight blade different from each other?
A: Serrated blades and straight blades differ with the following features:
| | | |
| --- | --- | --- |
| Criteria | Serrated blade | Straight blade |
| Design | Has a jagged edge or toothed edge. | Has a straight edge. |
| Ideal usage | The serrated blade is the best for bread, tomatoes, fruits, veggies, cheese and other soft foods. | The straight edge blade is ideal for general kitchen tasks like slicing and dicing. It can also be used for chopping and mincing. |
| Ease of sharpening | Serrated blades can be hard to sharpen because not all sharpening tools can accommodate them. | Many straight blade sharpeners exist out there, making them the easiest to sharpen. |
Q: What is the importance of stropping after sharpening knives?
A: Stropping is a way of polishing or fine toning the knife or cutting tool. It helps your edges to become aligned and is usually done with a piece of leather. If your knives have blades that are 62HRC and below, they are possibly more ideal for the stropping process as a finishing touch.
Q: How do I prevent getting cuts when using a knife sharpener?
A: If you use a knife sharpener, you should be very careful to avoid injuries. Here are things you can do to avoid getting cuts:
Position the knife in the right angle.
Make sure you get a sharpener with a sturdy, non slip base.
Only use the right type of knives on the sharpening tool.
Get professional help if you're new to sharpening knives.
Don't try to catch knives if they suddenly fall down.
Make sure the surface you're working on is stable and not angled.
Read the user's manual on how to operate the sharpening tool properly.
Q: Are knife sharpeners applicable for any bladed tool?
A: Many sharpening tools out there can be applicable for all kinds of sharp tools, but it really depends on what cutting tool you have. For instance, if your sharpening tool is only applicable for gardening tools, you should ask the manufacturer first before you use them in kitchen knives.
Q: If my knife is too sharp, can it potentially slice through my cutting board?

The right cutting board can save your knives.
A: That depends on what cutting board you have. If you have flimsy plastic ones, it is most likely going to dig through your cutting board, which can be bad for your knife because it might catch all of the unnecessary chemicals in the plastic. This is why it may be best to go for a cutting board that is made of wood so that it will not be a problem for your knives and for your foods to avoid cross-contamination.
Q: How do I prolong the lifespan of my knives?

Using your knives only for intended purposes keep them sharp.
A: There are many simple ways to prolong the lifespan of your knives, whether it is an electric or a manual one:
| | |
| --- | --- |
| Get a knife block | A knife block is a storage item that allows you to position your knives when they are not in use. It allows your knives to float around without the blades getting damaged. Storing them in your drawer can be okay if you don't have a countertop, but the best way to display them is to get a knife block. |
| Choose the right cutting board | You should actually choose a good cutting board because there are some cutting boards out there that can be harsh to knives. Don't go for a glass cutting board because they can make your knives pretty dull. Many experts say that the right cutting board should be something made of wood because of its natural materials that will not make your knives dull easily. |
| Sharpen them on a regular basis | Sharpening your knives can save not just dollars on new knives but also on your hospital bills (and your fingers). Sharpening your knives is just one step to make your kitchen safe from bounce back injuries induced by dull knives. |
| Don't use them for other things | You should only use your knives where they are intended to be. For instance, you should not use kitchen knives for gardening and vice versa. You should not use paring and fruit knives for cutting meat. The list goes on, but that is very important to prevent them from getting dull easily later on. |
| Don't put them in the dishwasher | As we mentioned above, putting your knives in the dishwasher is actually a way to make them dull and bent. This makes them unsafe to use because it might cause your knives to bounce back and cause injury due to being dull at cutting food and hard steaks. |
Q: Are can openers also good at sharpening knives?
A: There are certain models of can openers that can also act as a knife sharpener. If you ever come across Hamilton Beach can openers, they might have that kind of sharpening capability, which can be useful if you work in a kitchen and you need an electric knife sharpener right away but don't currently have one.
Q: Is it possible to sharpen scissors with a  knife sharpener?

Scissors may need a different sharpening tool from knives.
A: Not all scissors are acceptable in knife sharpeners. You have to ask the manufacturer first or read their FAQs as to whether the blades of a scissor or kitchen shears can be acceptable in the sharpening tool. This is so that you don't break your scissors and/or the sharpening unit itself.
Q: What are the different kinds of sharpening stones?
A: Sharpening stones can all have different effects on your kitchen and gardening knives, such as the following:
| | |
| --- | --- |
| Arkansas stone | These have the highest grit of most stones out there and are the best for high end knives. They have a grit of about 1,000 grit and they can be a bit pricey in general. They can be used even without oiling. |
| Synthetic stones | They have a medium to low grit and are more durable than the Arkansas stone or any other natural stone. They are also easier to clean and are also cheaper than natural stones. |
| Diamond dust embedded stones | These ones are very good at sharpening your blades due to the inclusion of diamond dust. This makes it easier for you to sharpen super dull knives that you may have at home. |
| Japanese water stones | These ones also have higher grits and can be great for those who really want to fine sharpen their knives. They can have up to 8,000 grit on the highest grit, and that makes them quite expensive. |
Q: What is the best way to sharpen a bread knife?

A bread knife can be tricky to sharpen due to being serrated in its edge.
A: To sharpen a bread knife, you will most likely need a serrated knife sharpener. Bread knives are usually ones with serrated edges and this makes them quite tricky to sharpen. This is because not all sharpening tools out there are made for serrated edged knives. This is why you should look for one that can be applicable for serrated edges as opposed to just straight edge knives.
Q: Do ceramic knives need sharpening?

All knives can get dull and may need sharpening eventually.
A: Stainless steel knives are different from ceramic knives in terms of product composition. However, all knives will need sharpening when they get dull, and the ceramic knife is no different. The only advantage to ceramic knives is that they can be sharpened less frequently as compared to stainless steel knives out there.
Q: What are the pros and cons of using Arkansas stones for sharpening?
A: The most common sharpening stone would be the Arkansas stone, which has the following pros and cons:
Pros
Cons
1.  Great for polishing

2. Not very expensive

3. Lasts pretty long

4. Great for beveled edges

1. Only applicable for finishing

2. Not ideal for very dull blades
Q: What cutting surfaces should be avoided when using knives to prolong their lifespan?
A: You should avoid the following cutting boards and surfaces to keep your knives sharp:
Glass
Ceramic
Stone or marble
Any other hard surface area
Wrapping It Up
As a whole, the PriorityChef Knife Sharpener is our pick for the best knife sharpener due to the 2-stage diamond coated sharpening system, stylish design and ease of sharpening for both serrated and straight edged knives. This flexibility helps you to finish any task in the kitchen with the help of sharp knives and keep things safe in food preparation.