We've rounded up the best pedometers out there, and the 3DFitBud Simple Step is our top pick. It uses tri-axis sensor technology to make it very accurate. It has a powerful cr2032 battery that can last up to 1 year. It can be ideal for kids and seniors with 4 colors to choose from. It auto wakes and auto sleeps to save battery and it gives you an accurate reading overall.
Our step-up pick is the 3DTriSport Walking 3D and it has an additional calorie counter as well and is easy to set up. Being a compact and lightweight unit, it has a strong clip that will keep it in place. It has an easy to read display and does come with batteries as well. Using its tri-axis sensor technology and cr2032 battery, it can provide long-lasting power.
The budget pick is the OZO Fitness SC2 and this one is so portable that it is easy to conceal in most pockets and even in clothes. It also displays the previous day's steps for reference and it motivates you to walk more. The display screen is large enough for people to see and it even has a 7-day memory log. Using its tri-axis sensor, it is an accurate pedometer for the price.
A Little Background

Pedometers can sometimes be synced with phones.
A pedometer is a kind of small gadget that you can use for counting steps more accurately. Alternatively called a step tracker, it works by counting the total steps or movements that you make throughout a day with a pendulum style mechanism within the gadget. This lets you measure how much you have walked or ran within a day's time, which can help you get motivated in terms of keeping yourself physically fit on a regular basis.
Despite all of the smartphones having a step counter app nowadays, there is no true accuracy that can match a real pedometer. This is because the pedometer technology that is present in the real step tracker is not really present in a smartphone, just like how a camera of a smartphone would not match the real lenses of a DSLR. A step tracker has its own specialty than the accelerometer of a smartphone.
Therefore, if you really want accuracy in terms of tracking your fitness goals for a day to day basis, you should consider a step tracker instead. Keep in mind that not all step trackers are accurate as well – you should pick one that is more reputable in terms of results and reviews. Pedometers aren't always cheap either, and some are more expensive than the rest. You should know their features before you buy one.
This kind of device can be helpful if you want to monitor your exercise routine and calorie count. This is why they are also known as fitness trackers. An example would be the ever famous Fitbit, which has been worn by celebrities and many fitspiration people around the word, such as athletes and the like. It helps to keep you motivated towards weight loss, living a healthy lifestyle or toning your body for sport events and the like.
Some of them can be clipped onto your pocket or belt, while others are wrist bands. The pocket and belt ones are similar to the beepers or the pagers of the 70s, 80s and 90s, and they are usually very portable and easy to wear. They have a bigger display in terms of its screen and numbers that you can see, and the settings can also be easy to distinguish as compared to the wrist type.
Some pedometers are in wristband form.
They also provide the wearer with comfort as compared to the wrist band ones. However, they may be more prone to loss and theft if you are not paying attention. Therefore, if you are in a neighborhood with such threats, you should go for the wrist band one. On the other hand, if you prefer style, you can also try the wrist types for an interchangeable set of wrist bands.
There can be many styles that can make the pedometer look more stylish to match your clothes. The wristbands that can be replaced for different colors and styles add to a more sophisticated look to your workout getup. This is possible because most of these pedometers even have interchangeable wrist bands for you to choose. The pocket and belt clip type step trackers also have different colors for you to choose from.
The memory feature of a pedometer is what counts, so make sure it is able to store your records easily. This feature is helpful if you want to record or sync what you have achieved within the day and record or log it onto your smartphone or just your notebook or journal to help you keep yourself inspired and fit every single day.
The step tracker that has a better memory feature can enable you to save your records for days and even a month before it gets erased. More advanced step trackers that can be synced to your iPhone or Android phone can be better, as you can even share the actual results with your friends.
How we Picked
In choosing the best pedometer, you should know about the following criteria first:
Installation method: the installation method of a pedometer can either be for belt clipping or for wearing onto your wrist. Belt clipping is a great way to free your wrist from sweating excessively, but can also be a threat for theft if you are not careful to look into the belt clip step tracker.
On the other hand, the wrist type is more convenient and safe to look into but can be hard to see the numbers as compared to the large digits of the clip on pedometer.
Connection and integration: most of these step trackers can be synced with your smartphone and some can be integrated with iOS or an iPhone. The connectivity can also be done with Bluetooth or any other information procedure as long as the content can be easily saved. If the step tracker does not have this feature then it should have at least a 30-day memory module for ease of saving data.
Style: the step tracker should also be stylish, available in a variety of colors and can have a nice design when you wear them while jogging or walking outdoors. If you have a wrist style step tracker like the Fitbit watches, it should have an interchangeable wristband (see below). If you have a clip on design, consider one with a stylish color and housing.
Durability: the housing and the internal parts of the step tracker should also be  durable. It also pays to have a fitness step tracker that can be rain proof and water resistant at hand. You should look for something that is at least IP68 waterproof in order to have something that can withstand heavy rain. This means that it can withstand not just rain but also sustain some light damage.
What it tracks: it also pays to know what information the step tracker can track, other than the number of steps, such as the calories burned, the distance traveled, the total time spent and many more. If you want to know more about your physical activity then you should go for a more advanced pedometer at hand and not just a normal step tracker.
Interchangeable bands (for wrist band types): if you have something that is similar to the Fitbit watches, then you should get a step tracker that has interchangeable bands so that you can match it with your current style and color motif for the day.
Ease of navigation: the ease of navigating through the settings is what makes a step tracker stand out from the rest. The settings and the buttons should be clear and the LCD or LED screen should be backlit for you to easily make out the numbers and data that are displayed in the step tracker.
Adjustability: the adjustability of the step tracker in terms of its wrist band or its clip on design can be helpful for those who wear them for everyday use. The wristband should be easy to adjust and the clip on type of step tracker should also be simple and easy to clip and adjust the clipping mechanism.
Person who will use it: will it be used by a sports minded person? A casual person who just needs to walk regularly? A gym person? It depends on what features they need as to what kind of pedometer would be the best for them.
Our Pick
As for our top pick for the best pedometer, we chose the 3DFitBud Simple Step. It is a good pedometer for steps that can give you accurate reading due to the technology in its circuitry. It is very simple to use due to the easy commands and buttons that are in the unit. It uses tri-axis sensor technology so it can provide a good amount of accuracy to easily monitor your daily activities like jogging or running.
You can easily and simply view your progress due to the ease of operation of the unit and its display. If you are on a budget and just want a simple pedometer then this can be sufficient, yet not very lacking in terms of durability and accuracy. It can easily track your daily steps wherever you go and it can be ideal for both men and women.
The unique thing about the 3DFitBud Simple Step is that it auto wakes and auto sleeps to save battery – perfect for less changing of batteries. It has up to 4 colors to choose from depending on the color preference that you want. With a great battery life, you can be able to use this unit for both kids and seniors due to the presence of a neck lanyard in the packaging.
Powered by a cr2032 battery, making it easy to replace, the step counter unit has a large digit display that can help out those with glasses. The reset button is at the back so it will not be accidentally reset. It is backed by a 18 month warranty.
Flaws but Not Dealbreakers
The only minor con but not a deal breaker for the 3DFitBud Simple Step would be the fact that it is best worn only in the pocket and not around the neck in order to be accurate, which is true for all pocket use pedometers, anyway.
Step-up Pick
The 3DTriSport Walking 3D is our step-up pick, which has a calorie counter as compared to our top pick, making it a little more expensive. This unit can be worn around the neck due to being a pocket sized unit that is easy to carry and lightweight overall. You can easily track walking distance with this unit and attach it to its strong clip for your belt or pocket for ease of access.
As an accurate step counter, the 3DTriSport Walking 3D is compact and lightweight to take with you anywhere you go and be placed in any pocket possible.
With over 30 days memory, you can easily review all of your records so that you can compare and contrast your progress for a fitness program or set a goal for yourself. It can be ideal for seniors and children as well due to the simple functionality. For checking time, it also has a clock.
Being an easy to set up unit, the 3DTriSport Walking 3D even has a step goal function that makes it more challenging to use, especially for those who want to challenge themselves further in terms of fitness goals. It uses tri-axis sensor technology to help detect the number of steps you make, and it has 5 colors to choose from depending on your preferences. It also does come with batteries so you don't have to worry about that.
You can install this on the belt and it has an easy to read display for a simple quick glance while you are walking or jogging outdoors. As an accurate and light weight unit, the 3DTriSport Walking 3D comes with a belt clip and neck lanyard combo for use. It has an automatic midnight reset mode and it can be ideal for competitions and challenges. It uses an average cr2032 battery that is easy to replace.
Budget Pick
If you want a good budget pick, we suggest the OZO Fitness SC2. The display screen is large enough and it can be easy to see in every part of the day. It can also help track the time duration of your exercise or fitness activity, and it can be easy to install by clipping on your waist. It has a bright and clear display for you to easily see your stats.
As an easy to conceal unit, the OZO Fitness SC2even gives you the data for the previous day's steps so that you can get motivated overall. By using its tri-axis sensor, the unit provides you with an accurate measurement of your total steps and distance throughout the day or a set period. This kind of action motivates you to walk more and can help you to stay fit overall.
The pedometer has a clock so that you can track time when you do an exercise such as walking. It is an easy to use unit that has a 7 day memory log so that you can track and make notes of what you have achieved so far in a week.
The OZO Fitness SC2 also features speed tracking for those who want to run in a marathon. The unit has midnight resets and can also count the calories that you have burned in one day or week.
Best Pedometer that has a Calorie Counter
If you want a pedometer that is also a calorie counter, the Bereezy Fitness Tracker can be a good choice. It is very simple to use unit that has a liquid crystal display that can be clear enough to be seen in any time of the day. In addition to that, it can fit not only small, but also those with a medium to large size wrist due to the fact that it is easy to adjust.
The Bereezy Fitness Tracker is also an energy-saving unit that is great for tracking steps each day, especially if you just need to get moving and motivated throughout the day. It is also portable and durable in terms of design, which is great for bad weather conditions, and it also has a low battery consumption so you do not have to change batteries often.
It can be used for walking and for finding out the total distance that you have traveled. It has an auto sleep mode to save up on electricity and it has a simple step tracker that does not reset while carrying due to the design. It is also ideal for running and jogging and is backed by a lifetime warranty.
Best Pedometer that is a Wrist Band Type
The TwobeFit Fitness Tracker is a wrist band type pedometer that can be synced with any Android and iOS phones. It can also help you to stay alert of any incoming calls while you can use it outdoors just fine because it can survive cold water. This is helpful for when you are jogging when it suddenly rains and you need to keep track of your fitness goals.
The unit also has a sleep monitor, which can be helpful to maintain a healthier lifestyle. In addition to that, as we mentioned above, the TwobeFit Fitness Tracker is waterproof so that you can track your goals even when it rains or when you get splashed with water from the river or ocean. It can also track your heart rate, which is helpful as an activity tracker for getting the ideal heart rate at hand.
You can also switch the belt with this unit and it has a nice wristband that will go well with most fashion items and dresses as well. The TwobeFit Fitness Tracker can help people to improve their quality of their sleep and improve their fitness goals due to being a step pedometer. You can also receive SMS notifications with its syncing option.
The charging time is 1 hour for this unit so it is very easy to keep charged. It also displays the calories burnt to help you stay fit and informed. You can also can try different colors due to the extra band to match your current style. It is rated as IP67 waterproof for swimming and can track distance accurately as well.
Best Pedometer with a Midnight Reset Feature
If you want a pedometer that easily resets at midnight to make maintenance easy, the Omron HJ-320 Tri-Axis is a good choice for you. It features smart sensor technology so it is pretty accurate, and it also uses 3D tri-axis technology so it gets the steps from all angles, resulting in accurate step counts. It works with biking as well, so you can use it for cycling.
It also keeps a weekly log of your activity for reference, making it simple to use and reliable. The Omron HJ-320 Tri-Axis uses a CR2032 battery that can be easy to find anywhere. It can measure on flat, vertical or horizontal positions and then get the numbers for your steps and distance easily for a precise daily count while remaining in a pocket.
Storing 7 days of activity data is a breeze with the Omron HJ-320 Tri-Axis as it can be a reference for a weekly goal. It can measure distance in miles as well so you will know how much you have traveled. It also displays the total number of steps a day in a straightforward way and then resets automatically at midnight.
Best Pedometer with a Lanyard Included
If you want a pedometer that comes with a lanyard for neck strapping, the OneTweak Step Counter is a cool choice. It can record up to 7-digits of cumulative steps in a day, which is ideal for walking and motivating yourself to walk and take some steps and record them. It can be a good companion to get you to exercise on a daily basis.
Because the OneTweak Step Counter uses tri axis technology, it can calculate the steps and distance at any angle whatsoever. It also does not easily fall off due to the construction with a strong clip. Moreover, it can be a great fitness tool to help you monitor your calories as well. It is very easy to use with a 30 day memory feature, so that you will know your progress over the course of 1 month and track it.
You can also keep track of time in this unit, like other pedometers out there, and you can manually reset unlike those midnight reset types, which is perfect for those with irregular schedules of work or school.
The clip-on holder is very stable when you jog or walk and the unit can also be clipped to your pocket easily. You can just use the lanyard for this unit and hang it on your neck as well. The unit has a good battery life and it also comes with a user manual for instructions.
Best Pedometer with a Leaf Necklace Design
If you want a jewelry style pedometer that looks like a necklace, you can count on the Bellabeat Leaf Nature. It uses a normal coin cell battery so it is easy to recharge and replace the battery when necessary. It is also water resistant so it can take sweat just fine. Perfectly syncing on both Android & iOS, it is a tracking system that can help you monitor your health.
It is mostly designed for the ladies as either a bracelet or clip, other than being a necklace, and tracks steps easily. It also has a function to monitor your reproductive health and menstrual cycle. As a splash-proof product, you can use it at the beach to track the distance moved. It is also great in its design due to the natural wood  carving.
You can use it for stair climbing and it is pretty accurate as well. Made with hypoallergenic stainless steel, it will not cause rashes when you wear it for a long time, plus it will display your calories burned on your phone when synced. It requires no charging at all and its sleep tracking is pretty accurate. The Bellabeat Leaf Nature can be helpful for breathing exercises and monitoring sleep patterns, as well as managing your very own stress levels.
Best Pedometer that is Waterproof
If you want a waterproof pedometer, the Vigorun Fitness Tracker may be a good choice for you. It has an HR sensor for athletes and those who want to keep fit. It has a weather display to let you know when it is going to rain. It works for Android 4.4 or above and iOS 7.0 or above and it even has a sleep monitor  to improve your sleep quality.
It only takes 1 to 2 hours of charging time and it even has a GPS tracking feature. You can use it while walking, running and cycling and it is pretty accurate. It is also IP68 waterproof for 2 hours and 2 meter depth so you can take it with you to the pool just fine. It will also sync with your phone's SMS and call notifications to stay alert.
It can display your total calories burned as well. Having an alert and silent alarm to help you keep yourself notified, it has a USB plug for ease of charging as well.
Best Pedometer that has Android and iPhone Compatibility
If you want a smart wristband that can be easily synced with any iPhone or Android phone, the CanMixs Fitness Tracker may be a good choice for you. It is easily readable as the screen size is at 0.66 inches – perfect for those with less accurate vision. It has a waterproof bracelet chip as well so you can wear it even in the rain. This pedometer is very comfortable due to the inclusion of the soft silicone watch strap.
It can help keep a calorie record and can operate for a long time, since the standby time can be up to 180 hours due to the fact that the battery is at 80 mAh. The unit can also measure dynamic and static heart rate and has a low-power consumption to save up on battery life. It can also track other things like your blood oxygen rate which can be helpful for seniors and athletes.
The CanMixs Fitness Tracker comes with a charger in the package for you to get started. It also gives blood pressure measurements, which can help those who may have hypertension. It can also brighten the screen for you to easily see in unlikely areas. It accommodates Bluetooth version 4.0 for its syncing capabilities and also features heart rate monitoring.
With a hand touch screen, it is easy to operate not just for a pedometer but also for sleep monitoring. With only 1.5 hours of charging, this unit is IP67 waterproof so you can take with you to the beach. It even has an ADI sensor for the HR monitor as a plus bonus.
The Competition
There were other pedometers out there that did not make it to our list because they were too complicated to set up, were not very lightweight to carry around and also did not have enough accuracy in terms of counting the total steps that you have made throughout the day, week or month.
Other Frequently Asked Questions
Q: What exactly is a pedometer?
A: A pedometer is a kind of device that simply measures how much steps you have taken within a day. Pedometers have been an old technology of the past and is still being used today, and being improved. Among the improvements include the 3D tri axis technology, which records steps in all directions – including when you are climbing up the stairs.
Q: What are the key benefits of walking on a daily basis?

Walking has many benefits.
A: If you motivate yourself to walk, you can have the following benefits at hand:
| | |
| --- | --- |
| Stronger bones | Stronger bones are important for those who feel older or in their 40s, so that they will not suffer bone diseases in their senior years. |
| Manage blood pressure | This is important if you have a history of hypertension in your family, so that you will not easily get high blood pressure. |
| Reduce arthritis pain | If you are an older person then it is a good choice that you walk on a daily basis so that your muscles and joints will be exercised. |
| Better heart health | A better heart health can be achieved if you move your body once in a while, such as with walking, to help in better blood circulation. |
| Slimmer waistline | You can lose more fat with walking rather than just standing or sitting down. |
| Stress reduction | Walking makes you feel good! It is definitely a refreshing feeling just going outdoors and moving a muscle or two! |
| Live longer | If you keep yourself healthy and strong by regularly walking, you may live longer. |
| Brain booster | It also exercises your brain, giving your brain more refreshments so that you will not feel bored at home. |
| Coordination and balance | Coordination can be improved if you have been walking for a long time and on a regular basis. |
| Mental positivity | You feel positive overall if you get a taste out of the outside breeze and feel refreshed overall. |
Q: Can a pedometer also track treadmill status?
Some of these devices can track treadmill usage.
A: If you have been using a treadmill, you should test the pedometer first to see if it works with the treadmill. Not all of these pedometers can potentially work well for a treadmill, so they are only suitable for outdoor use and for actual running.
Q: Do schools and universities provide pedometers for participants in a sporting event?
A: It depends on their policies and their availability. Most do not provide a pedometer for the participants, but allow them to borrow from neighboring areas like libraries and sports centers. Such a device can be used during sporting events to measure the total number of steps taken.
Q: How is a pedometer different from a Fitbit watch?

A Fitbit is also known as a fitness watch.
A: A Fitbit watch can be different from a pedometer by the following criteria:
| | | |
| --- | --- | --- |
| Criteria | Fitbit | Pedometer |
| Stats tracked | Calorie count, steps, distance, heart rate, time spent, VO2 max | Steps, distance, time spent (sometimes calories, too) |
| Price | Fitbit is usually more expensive | Pedometers are generally cheaper |
| Accuracy | Fitbit is accurate but may not be as accurate as a standalone pedometer | Since it is dedicated to one task only, it is very much accurate |
Q: What is the average number of steps per day I should walk?

10,000 steps a day is a recommended golden rule.
A: Experts say that 10,000 steps a day is the best number of steps to live a healthy life. However, that is a case to case basis, as not everyone will have an office work that is far from their house, so they can't just walk around 10,000 steps and leave their job or home business behind. There are also many other alternative ways to still achieve a good number of steps a day.
Q: How much farther is 10,000 steps?
A: A total of 10,000 steps a day would have to mean that you should walk 5 miles a day – which is quite unreasonable for some people! Therefore, a good rule of thumb can be somewhere between 4,500 to 6,000 steps a day for starters.
Q: How do you prepare for a marathon if you are a beginner?

Marathon preparation can be overwhelming for beginners.
A: Pedometers are often used by marathon runners as well. Here are tips on how to begin preparation for  marathon if you are a beginner:
Set a schedule for yourself with a reasonable deadline.
Eat healthy foods and maintain a balanced nutrition.
Always take the advice of your trainer and physician.
Don't cram before any race – reviewing takes weeks.
Carry a pedometer with you to track your progress.
Q: What is the Rockport Walk test?
A: The Rockport Walk test is associated with fitness trackers and fitness in general, so it can be related to pedometers. It measures your VO2 max, which is important for athletes to know. VO2 max signifies your level of endurance in any sport or physical activity. You can learn more about this test here.
Q: Do pedometers have a battery saving mode?
A: Yes, many of these devices have a battery saving mode. This can be done by going into the settings of the app that it is associated with, or going into the settings of the main device and turning on the battery saving mode.
Q: Aside from steps, what else can a pedometer possible measure?
A: This kind of device can potentially measure any of the following, if advanced:
| | |
| --- | --- |
| Distance | Refers to how far you have traveled so far. |
| Step length | The length of each step that you have taken. |
| Speed | Usually measured in mph or kph. |
| Time | This refers to how much time you spent on one course. |
Q: How can your pedometer track distance?
A: It depends on the brand or unit that you have. Some of these can count distance while some can't. there are also calibration steps that you may need to do in order to get your gadget to track the distance other than just the number of steps at hand that you have done so far.
Q: What should I remember when placing my pedometer?
A: If you set up your device then you should remember the following:
Set it in a horizontal position aligned with your belt.
Place it on the right side of your waist.
Keep the unit covered so that the cover does not dangle around.
Do not attach it in a misaligned position with the belt.
Q: Does your walking shoes affect the number on your pedometer?

Proper walking shoes can sometimes make you feel more comfortable when walking.
A: Not so! Your pedometer numbers are measured not by what shoes you wear, but how much you walk, run or jog. However, it does matter if you choose a comfortable set of walking shoes so that you will be able to stand up to more endurance in the long run when walking.
Q: Are there cons to this step counting device?
A: This device may have pros, but also has cons, such as the following:
| | |
| --- | --- |
| It's only a motivation | You need to get yourself moving, but having it alone won't make you slim down. |
| Not for other activities | Not all types of this unit can measure gym workouts, swimming and cycling. |
| Does not measure intensity | Energy and intensity is not really measured with this kind of unit – that's the job of another fitness tracker type. |
Q: Can a bike be attached with a pedometer?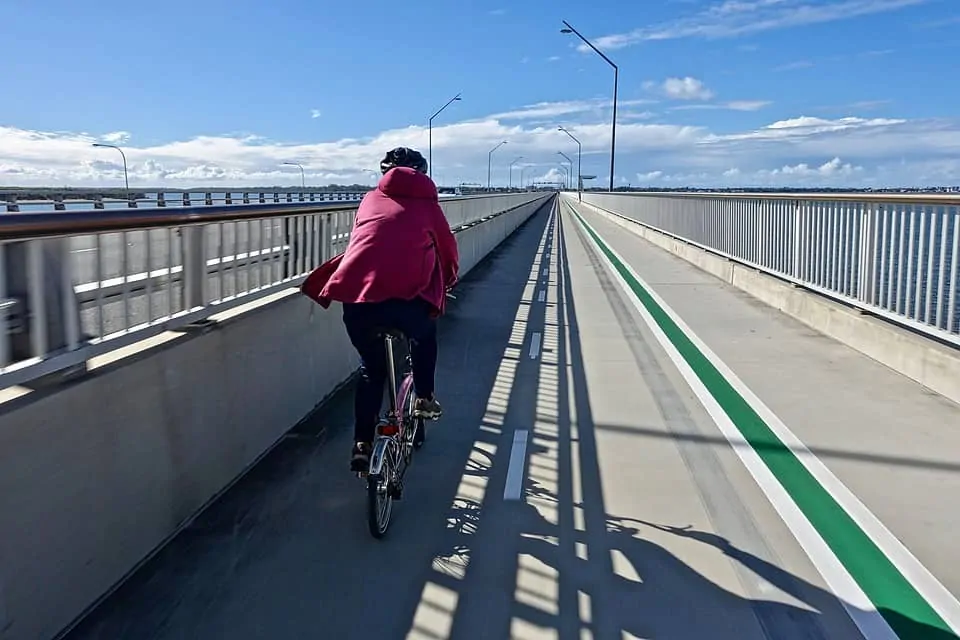 Some pedometers work well with bikes.
A: In some cases, there are some pedometers that can go well with biking, so you can use them. However, it pays to have a fitness tracker that counts cadence instead of just the distance traveled. You should ask the manufacturer first if the pedometer is okay to use for cycling.
Q: Can a pedometer measure blood pressure?
A: There are special fitness trackers that have various features, such as monitoring your blood pressure as well. These are more expensive and track not just steps but other stats for your health as well. Therefore, if you have the money to buy them, they can be worth investing on.
Q: What are the benefits of running?
A: If you run often, there can be many benefits:

Running has many benefits for you.
Get stronger muscles
Maintain a healthier weight
Burn a lot of fat and carbs
Better cardiovascular health
Get stronger bones
Q: What is the IT band syndrome?
A: This syndrome can affect runners badly, and is also known as the Iliotibial Band Syndrome or ITBS. It occurs when your knee and thigh joints have been overused, especially due to running. It gets really painful when you have not treated it properly. There are, however, some stretches you can do help eliminate or alleviate IT band syndrome.
Q: What are the two kinds of pedometers?
A: There are two kinds of this unit, both of which have different features:
| | |
| --- | --- |
| Simple step counter | This one only counts steps. That's it – no other special things. It is recommended for beginners. |
| Multifunction | This one can measure distance, speed and the like. It may eat up more battery life, though. |
Wrapping It Up
As a whole, we believe that the 3DFitBud Simple Step is our pick for the best pedometer due to the accuracy, easy to replace battery, choices of colors, battery saving features and many other features. If you want something that simply counts your steps as a pedometer, this is a good starter choice for you.