The Fitbit Charge 2 Heart-Rate Fitness Wristband is our best pick for the best fitbit. It is extremely easy to use, tracks your sleep quality and comes with a multi-sport function.
Our step-up pick is the Fitbit Blaze Black Smart Fitness Watch for those who want to simply get the best out there and cost is not an issue.
For those who are more cost-conscious, our budget pick will come in handy: Fitbit Alta Silver/Black Small Fitness Tracker.
A Little Background
Nowadays, fitness goals have been all over social media. It is not a bad thing to want to lose weight for your intended purpose. The fitness watch, or sometimes called Fitbit due to the famous brand, is an activity tracking watch that is worn on the wrist that may help people in their fitness goals.
The purpose of a fitness watch is to track the number of steps per day, the calories you have burned, the amount of sleep you get, the number of steps you have climbed, the length of time you have been active, your heart rate and so on. Fitness watches are very popular nowadays for those who want to slim down and look beautiful and healthy.
However, there are no shortcuts to health and fitness. Wearing a fitness watch is debated by health experts because some people tend to focus on getting the 10,000-step daily goal and then binge eating afterwards, which is the wrong way to have a healthy lifestyle. It is like taking a really intense workout at the gym or jog for miles and then eat and drink merrily afterwards.
Fitness is something that requires a lot of time, balance and patience. No one can be slim overnight. No one can get rock-hard abs or firm buttocks in just a couple of hours. Being fit requires you to be more determined and motivated but in a balanced way.
A fitness watch is simply a tool to help you track your statistics, but it is not meant to dictate your life. Setting a realistic step count that will match your lifestyle, age, height, weight and other factors, is important and is something that most fitness watch wearers do not take into consideration.
And for the record, it is also important to find the best fitbit or fitness watch that will be very accurate, will display the right numbers and will be easy to use and wear.
How We Picked
When it comes to the best fitbit or fitness watch, you should consider the following factors:
Tracked statistics: the fitbit or fitness watch should have all the important statistics that you want such as number of steps, sleep tracking, heart rate monitor, motion detection, distance traveled and others such as GPS and multi-sport tracking such as for swimming, cycling, golf and the like.
Fitness goal or purpose: you should only buy a fitbit or fitness watch that is tailored to your needs. For the average person, a fitness watch with all the basic features is okay but some sports enthusiasts or athletes may want a fitbit or fitness watch that has multi-sport tracking and GPS.
Synchronization of data: the fitbit or fitness watch should be easy to sync with your device such as a smartphone, a laptop or a tablet. It should be included in the instruction manual of the fitbit or fitness watch that you will buy.
Display: the fitbit or fitness watch should be easy to see even in broad daylight and should also be easy to access with the information that you need such as number of steps, sleep quality as well as other apps such as for calorie counting.
Band customization: the fitbit or fitness watch should have a variety of options for the band color and style, as some people like to wear a fashionable fitbit or fitness watch that is tailored to their personal preferences and comfort needs.
Our Pick

Fitbit Charge 2 Heart-Rate Fitness Wristband
Our best fitbit is the Fitbit Charge 2 Heart-Rate Fitness Wristband and it is able to track the number of steps as well as your active minutes. It also gives you the calories burned in total as well the distance you have traveled. The fitness watch also shows you the floors climbed for when you have taken the stairs.
The fitbit syncs with the fitbit app, which is available for iPhone, Windows and Android devices. The fitbit also uses purepulse technology in heart rate monitoring and it also comes with a USB charger. Moreover, it is a user friendly fitness watch to consider that monitors your steps in a continuous way.
You can also depend upon the clock face customization and change the appearance of this fitbit as you wish. It is a good fitness watch to consider for those who want to measure calorie burn. It has reminders for you to move so that you can stay fit all the time and all the way.
With a sleek design, this fitbit can last for up to 5 days of battery life and it is also quick to charge. The GPS tracking feature of this fitness watch is superb and precise. Currently available in small, large and x-large sizes, the fitness watch gives you real-time stats as you run or jog or do any other fitness activity. It is equipped with an automatic sleep tracking feature to help you sleep better and healthier.
The clear display of this fitness watch works well even in bright sunlight. Moreover, the heart rate zones include fat burn, peak and cardio for you to customize your workout. It also shows a little map for the GPS feature. The fitness watch also comes with the guided breathing sessions feature.
The clip style charger of this fitbit makes it super compact and easy to charge. The smart track technology recognizes exercises automatically. The OLED display is quite bright and has a decent menu navigation system. The build quality of the fitness watch is superb and stylish.
You will be able to track sleep easily and use the multi-sport tracking decently. The silent vibrating alarm helps you stay fit. Swapping out bands is also convenient with this fitness watch for your all-day activities. You can attain higher cardio levels and get a better understanding your fitness with this fitbit, which is available in 6 colors and styles.
Flaws but Not Dealbrakers
The Fitbit Charge 2 Heart-Rate Fitness Wristband may have a few cons and shortcomings but they are not deal breakers. One of these include the fact that the device may not be as responsive as expensive ones out there, but it certainly works when you use it even in broad daylight.
Step-up Pick

Fitbit Blaze Black Smart Fitness Watch
The Fitbit Blaze Black Smart Fitness Watch is our step-up pick and you can maximize workouts with the menu items and features that are included in this fitbit. What's more, the bands are interchangeable for a stylish look that is tailored to your preferences and needs. Made with wrist-based heart rate tracking, the crystal clear font and display also gives you ease of use.
The notifications for call and text as well as calendar events help you keep up to date with your smartphone. You can just charge it for about 30 minutes so you can use it more often. There is also a cardio fitness score to meet your goals when it comes down to pace and distance and number of steps.
The multi-sport feature for cardio, biking and running makes it ideal for sporting people. The screen doesn't get scratched so it is tough for the competition. The syncing range is up to 20 feet and the frames and accessory bands available make it a ready-to-go fitbit for any activity. It is also sweat proof and comes with smart notifications.
With a good battery life of up to 5 days, the fitbit automatically tracks your statistics and it also receives alerts from calendar events, calls and text from your phone when synced. With a large screen for your to easily track your stats, the fitness watch is also great for its water resistance to rain.
Applicable for iOS, Android and Windows phones, the fitness watch features a lot of plus points such as the clock face customization and the GPS function. This fitbit has a smart track feature and is also quite rain proof. You can also control your music player from this fitness watch.
Running on Bluetooth 4.0 technology for syncing to devices, the fitness watch also has interchangeable band options. The charge time is from 1 to 2 hours so you spend more time running than charging. Perfect for general all-day tracking usage, the fitbit is simple to use – with internet connection and the USB port, you can sync to computers as well.
You can track your workouts easier with this fitness watch which has continuous heart rate monitoring and an auto-sleep feature. It is splash proof and has a very accurate heart rate monitor compared to others. With the option of silent alarms, the fitbit also features the unique fitstar workout routines feature and guides.
Budget Pick

Fitbit Alta Silver/Black Small Fitness Tracker
As a cheaper option, the Fitbit Alta Silver/Black Small Fitness Tracker is our budget pick. With the elegant style, the fitness watch can also improve your healthy lifestyle with its optical sensors that work precisely to detect your movements. Moreover, you can improve your workouts with this fitbit and its functionality and effectiveness also depends on what you intend to use it for.
This fitness watch syncs automatically with your device and has an easy to read display for extreme sunlight. Tracking your steps, heart rate, sleep and workouts, you can achieve your workout goals with this fitness watch. Moreover, it has a high resolution color touch screen.
Working well on most iOS, Android and Windows phones and devices, the OLED screen is quite bright and easy to see. The slim design and affordability makes it a budget pick among people. It gives you some reminders to move so you stay on track for your goal.
The alerts from calendar events, text and call notifications come in nicely when your Bluetooth is on. Moreover, it syncs automatically and can be adjusted to your personal style and goals. Keeping track of your fitness levels has never been easy and comfortable with 3 sizes to choose from.
Easily charging through the USB charger, it is sweat resistant and the sizing for your wrist is easy to find. You also get many accessory band options as well as a silent alarm option for sleep monitoring. You can sync data to computers conveniently.
The fitbit can also show the time and shows seconds. With 5 color options to choose from, the battery lasts up to 5 days so it is a good fitness watch to get motivated. The smart track auto exercise recognition ensures that your all-day activities will be tracked and monitored.
The water resistance of this fitbit allows you to wear it in the shower just fine (with limited amount of time). Using Bluetooth 4.0 wireless technology to sync, you also get clock face customization options.
Easily track your steps, active minutes, calories burned and distance with this fitbit. It has an auto sleep tracking feature and the syncing range is up to 20 feet. You can use it in the rain and it will track your sleep easily. Most people with an office job will find it convenient to use with only 1 to 2 hours of charging time.
Best Fitbit that is Waterproof

Waterfi Waterproof Fitbit Alta Silver Black
The Waterfi Waterproof Fitbit Alta Silver Black is a completely waterproof fitbit or fitness watch that is equipped with a clear OLED screen to help you personalize your goals. More than just a fitness watch, you will be able to receive notifications for call, text, and calendar events in this fitbit.
You can even wear this fitbit in the shower and achieve your goals one step at a time. You can even use the fitness watch for swimming and similar activities and it easily syncs with the fitbit app whenever you need it. Submersible for up to 210 feet underwater, the fitbit will also be able to detect the type of exercise that you are currently doing.
Built with a long-lasting rechargeable battery, you can easily connect with friends who also use this fitbit. With many interchangeable bands for customization options, the fitness watch can be worn for long periods of time in the water so you can burn more calories through your swimming of any style.
With a robust design, you can track your daily habits at the gym with this fitbit. With a battery life of 5 days on the average, it is also an ipx8 compliant fitness watch that can automatically track your daily activities and also allows you to log meals for a healthier lifestyle.
If you want the best fitbit for swimming then this is a good buy. It counts steps and tracks distance easily. It also syncs to Macs and PCs as well as various smartphones, motivating you in every way. The sleek and attractive makes it a great exercise buddy.
The smart track feature for your exercise routine helps with no-hassle 24/7 fitness tracking. You can also monitor the quality of sleep that you get every single day with detailed stats. You may also compare workouts throughout the day with this fitbit.
Cardio workouts are also a breeze with this fitness watch. Whether you are at the office or at the gym, you can really simplify your life whether you are at the pool or in the ocean with this fitbit. It is backed by a 1 year warranty.
Best Fitbit for Running

Garmin Forerunner 920XT Black Blue Watch
Ideal for runners, the Garmin Forerunner 920XT Black Blue Watch is your best bet for you to increase your VO2 max and track it. As a multisport watch, it can measure your pace and swim distance and is wet suit-friendly. It may also maintain your running form and increase your recovery time.
You can easily sync with your desktop all your stats and it also tracks your SWOLF score. There is a heart rate monitor and a race predictor feature for this fitbit. It counts steps, calories and sleep and also records race times. You can easily review and share your achievements and even log swim drills.
The metrics that matter are all here for you to record your accomplishments such as speed and vertical oscillation. With a recovery advisor for athletes, you can track several distances and also record the stroke counts for swimming.
Giving you all the running dynamics you need, it also automatic uploads to Garmin connect for easy sharing. It can measure heart rate and give you live smart notifications. Also ideal for your cycling workouts due to cadence measurement, you can wear it all day with great ease. Moreover, your VO2 max for cycling is also measured.
It is a sleek watch with a lot of power and is quite compatible with the HRM-run monitor for running form feedback. Drill logging and running stats are a breeze with this fitbit to record speed and measure your running grade. It also has distance alerts and is capable of social media sharing.
Tracking distance, it is also ideal for track & field applications as it measures ground contact time as well as ascent and descent. With live tracking capabilities, it is compatible with the VIRB elite action camera and is a great triathlon buddy.
With rest timers and cadence tracking, it is a superb fitbit with phone notifications such as calendar events, calls, text and e-mail. It has single-sensing and dual-sensing pedal options and has ANT+ compatible sensors.
The fitbit also knows what kind of stroke you are doing and can be a great Ironman or sporting companion. It is not just for the runner but also for the swimmer and the cyclist.
Best Fitbit with GPS

Suunto Ambit3 Peak-HR Running GPS Unit
As a stable fitbit to consider, the Suunto Ambit3 Peak-HR Running GPS Unit comes with different parameters of an activity for you to track your fitness goals. It has an easily customizable display and is perfect for mountain climbing or trekking.
It will make every move count as it is accurate when it comes to activity based recovery time and other parameters such as time and GPS tracking. Perfect for route navigation, the fitbit has a superb battery life of up to 200 hours. It can also detect altitude and can be used for multiple sports.
The fitbit monitors speed and it can be used on half marathons as well. It may also display weather information and it is great at syncing your activities to your phone. It also comes with a belt for traveling purposes. There are also heatmaps in the fitbit for full navigation purposes.
Measuring your pace and distance whenever you are doing a sporting activity, it also gives you notifications for your calls, text and calendar events from your phone. With a robust casting for durability, the GPS is precise and the menu items are nicely laid out.
It also supports cycling and gives thorough stats. With an altimeter for mountain climbing, you can also customize your watch in its display and accepts calls and notifications on the go. With a water resistance of 100 meters, you can attain your personal best in any sport or outdoor activity.
You may also share adventures with your friends and it is also a great fitbit for crossfit workouts. This watch includes training programs for sports and adventure and it can help you discover new routes. With 1 minute accuracy for the GPS, it is able to connect to your smartphone and has a track back feature.
With a storm alarm and a barometer, it is a to-go travel fitbit to consider. You can even add photos into a highlight movie and share it. You can get weather information on a live basis and use the compass to find your way out of a forest or mountain. If you often travel to the great outdoors then this fitness watch is a considerable option for you.
Best Fitbit with a Heart Rate Monitor

Epson Runsense SF-810 HR GPS Watch
If you want a fitbit that measures your heart rate then the Epson Runsense SF-810 HR GPS Watch is your option. Meb Keflezighi, a marathon champion, officially endorses this fitness watch. It is ideal for yoga and running and many other sports or physical activities.
There is an option for either vibration or alerts and it is also quite lightweight and stylish. You can customize settings on the go with this fitness watch. Moreover, as a standard watch, you can use it for up to 2 weeks of battery life due to its long-lasting battery power. You can also use the assignable tap functions for ease of use.
What's more, the GPS sensor is highly accurate and it also detects your stride length. It is also perfect for interval training and it has a total of 4 customizable screens to choose from. It can detect elevation and has a smart stride sensor. For your comfort and ease of use, the fitbit will expand while exercising.
It is a great health and fitness buddy with a water-resistant design and a heart rate monitor. You can get accurate measurements in which the lap timer is programmable. You can even swim in it to train on the pool and you can also choose from the violet and black designs to match your preferences.
Measuring pace and altitude as well as cadence, anyone who is serious about running will find this fitbit useful. It is also effective when used with the hr monitor and GPS as it has a long battery life of up to 20 hours.
You can use it for your advanced training regimen as it can determine your route and distance measurements. The fact that this device is small means that it does not get in the way of your daily activities. The syncing and battery life of this Epson smart watch is also superb and quick.
You can also find out your total ascent with this fitbit due to the accurate GPS chip installed. You can maintain a target heart rate with this fitness watch. Moreover, any person can sync it with popular running apps are supported such as Runkeeper, Strava and MapMyRun for advanced stats keeping.
Best Fitbit with a Silicone Band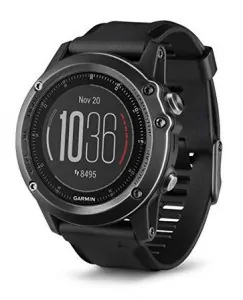 Garmin fēnix 3 HR Gray
The Garmin fēnix 3 HR Gray has a wrist-based heart rate monitor and it also allows customization on the go. Great for interval training purposes, you can easily track your heart rate with this scratch resistant fitbit. There is no need for a chest strap with this fitness watch and it works well while you're underwater as well.
If you are training or in a competition, it is a rugged fitbit to consider with a wide selection of activities. You can sync your data easily with this fitness watch. It detects vertical oscillation and is applicable for cycling, skiing and golf. Many widgets and apps are downloadable and you can use them even while you are in the woods or in the mountains.
It works with any ant+ connected heart rate monitor and the chroma display which measures 1.2 inches is superb in clarity. The black silicone band is comfortable for outdoor navigation and tracking and the band is soft and flexible for you to wear.
The fitbit also measures your stride length and ground contact time. It has a luxurious feel and has superb wireless connectivity. Updating the software is a breeze with this fitness watch. Moreover, it also detects your VO2 max. It has discoloration resistance while you are running, hiking or swimming.
There is also a stress level test in this fitbit as well as a lactate threshold or collapse limit tracker. Easily visible at sunlight, it is suitable for any training activity to show our active calories and heart rate zones. The display has high resolution colors and you can choose watch faces as well.
Detecting left and right balance, cadence and tracking calories, it has a water rating of 100 meters. You can receive notifications from social media websites on the go with this fitbit. It is suitable for swimming and it easily connects to Wi-Fi hot spots.
You will be able to track down your steps on the stairs as well as other exercise activity that you perform. If you want a fitbit for cross training then you can count on this fitness watch to do the job well.
Best Fitbit for Aerobic Activity

Garmin Vívoactive HR GPS Smart Watch
Our best aerobic fitbit is the Garmin Vívoactive HR GPS Smart Watch with activity tracking. You can easily set goals in this fitness watch with a superb and precise 24/7 heart rate monitoring feature. You can get notifications from your mobile device on the go and count the number of steps you take.
Its accuracy as a GPS fitbit is very good and everything you do goes to the Garmin connect account once you connect it to the internet. Giving you smart notifications while outdoors, it features a high-resolution touch screen that is easy to use and operate.
You can get social media alerts, e-mail, text, call and calendar notifications while you use the activity tracker to track your fitness goals. It is water resistant and will be great for any aerobic activity due to its long battery life. It is also easily readable in sunlight and it uses the elevate wrist heart technology for tracking your heart rate.
Up to 1,300 apps are compatible with this fitbit so you can enjoy customizing it for your fitness goal needs. With up to 13 hours of battery life when you are using GPS or up to 8 days in watch mode, there is no additional strap is needed for this heart rate monitor fitness watch.
The intensity minutes while using this fitbit can be easily tracked and the layout of the menus make the fitbit fun and customizable overall. It has a built in heart rate monitor that totally works. You can definitely depend upon this fitness watch to monitor your progress. For its guarantee, it is backed by a 90-day warranty.
Best Fitbit for Sports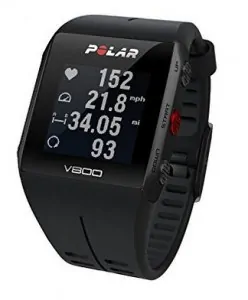 Polar V800 GPS Sports Training Watch
If you are a sports enthusiast or a serious athlete then the Polar V800 GPS Sports Training Watch is a great GPS watch for you. It is a fitbit watch that is waterproof up to 30 meters and it can help you with your training regimen or fitness activity. Equipped with a barometer, the fitness watch can track your distance, calories and number of steps.
This is an excellent sport watch that alerts you when you are inactive so you can stay true to your goal. The compatibility with a lot of devices makes it a great travel buddy while biking to the mountains and the GPS functionality makes it easy for you to track your ride on the go.
It is able to measure distance in an accurate way to give you the training benefits that you need. It can measure your heart rate even while you are swimming in the water so it is an effective fitbit for triathletes or those who like to run, swim, cycle and stay active in general.
Being not made of cheap plastic materials, it is packed with durability. You can sync the watch with the polar flow app for tracking your stats. It is also compatible with bike mounts and has advanced features as the quality of steps can be tracked as well.
It is a sport-specific triathlon watch that is a multi-sport fitbit that gives you more details. Its running sensors can be accurate at measuring your speed. It is also a GPS watch that tracks swimming metrics and gives you motivating feedback and guidance all the way for different sports.
Working well while swimming, most serious sports enthusiasts will find it compatible with sensors for speed and cadence. With an activity monitor, it also has cycling sensors you can use while training. With apps and web services available, anyone can reach their top performance with this Bluetooth smart compatible fitbit that comes with a USB cable.
Available in black, blue and red band colors, it tracks your route, sleep quality and heart rate and is compatible with the h7 sensor. With a built-in GPS, you can get data fast with this fitbit.
The Competition
The other fitbits or fitness watches did not live up to the challenge because they were not very accurate as reported by the people who bought them. A fitbit or a fitness watch should be easy to calibrate, will show you all of the necessary stats and information and should be comfortable to wear.
Other Frequently Asked Questions
Q: What is a fitness watch and how does it work?
A: A fitness watch , sometimes called a fitbit, fitness tracker, activity watch or smartwatch, is a device worn like a wristwatch which tracks your fitness activities such as number of steps, heart rate, calories burned, sleep quality, body mass and so much more.
It is one of the most popular gadgets nowadays, especially because many people have fitness goals and want to slim down to look more beautiful or pleasing to others or have a healthy lifestyle. Fitness watches work by measuring your body's conditions, the atmosphere changes and the like. The goal of a fitness watch is mostly to motivate the person to reach a certain fitness goal, such as 10,000 steps.
Q: What is the difference between a fitness watch and a smartwatch?
A: Contrary to what people believe, a smartwatch is different from a fitness watch, even if some people collectively call a Fitbit as a "smartwatch". A smartwatch is like a smartphone – it helps you respond to calls, texts, e-mails and social media stuff at the comfort of your wrist, whereas fitness watches are, well, made for fitness goals.
The two gadgets look the same, but their functionalities are different. Fitness watches are ideally used by teens and adults who want to achieve a fitness goal. Smartwatches are mostly worn by kids who use it as a modern version of those G-shock watches during the 90s era. Some smartwatches can also be used by parents to watch over their kids when they're far away.
Q: Can fitness watches work on all smartphone platforms?
A: Most fitness watches will work on a majority of smartphones, whether they're on Android or iPhone. However, some brands, like the Apple Watch, will only work on, of course, iPhones. There are, however, some Android-based fitness watches, such as the Samsung Gear series. It depends upon the specifications of your fitness watch, but a lot of them will adhere to cross-platform needs.
Q: What fitness watch should I get if I'm a runner?
A: You should get a running watch , which will measure lap times, lap splits, intervals, countdowns, steps and the like. It is ideally used for running and other similar marathon sports. While fitness watches can also track steps and time, most fitness watches or activity trackers are general, so you should go for a running watch that is specifically made for the runner in mind.
Q: Is a fitness watch more accurate than smartphone tracking?
A: It is generally more convenient and accurate to track fitness statistics with a fitness watch rather than a phone. A smartphone is bulky and may not be as accurate or as portable as a fitness watch, which you can wear conveniently on your wrist as you play golf, do a brisk jog or perform other fitness activities. Fitness watches are generally favored over smartphone fitness tracking.
Q: How does a fitness watch sync with a mobile device?
A: Bluetooth is the most common way to connect a fitness watch to a mobile device, which is commonly used by Fitbit and other fitness watches. Some, however, use cables for syncing data into their phones. These wearable devices may connect with your phone or computer in various ways depending on the instructions on the user's manual of the device.
Q: How can a fitness watch help people with fitness problems?
A: They are a motivational tool for people who are not physically fit yet want to change themselves to attain some fitness goals in life. The number of steps can be set as a goal to help them get motivated to go outside and perform physical activities. Fitness watches are bought often more for their motivational value rather than for scientific stats.
Q: Are fitness watches totally accurate?
A: The accuracy of a fitness watch depends on the wearer and some outside factors. The band that one wears may have a sensitivity that is different from another band. Some people wear the band differently from other people, which can affect the sensitivity and tracking features of their fitness watch.
Q: What is an accelerometer?
A: The accelerometer of a fitness watch is what makes it detect the motion of the wearer. Smartphones have an accelerometer, which enables them to sense if your phone is tilted horizontally or vertically. Fitness watch accelerometers are more accurate for tracking motion.
Q: How does a fitness watch track your sleeping activity?
Q: The fitness watch uses an accelerometer as well as a heart rate monitor. This is because the heart rate of a person decreases during sleep. However, fitness watches should not be used by people with sleep disorders such as sleep apnea, because it does not ensure correct monitoring due to several factors.
Q: How does a fitness watch track steps?
A: The use of the pedometer or a step counter is employed with most fitness watches today. The pedometer is usually included in such fitness bands and track your number of steps per day. For example, if you have a goal of 2,000 steps a day, Qyou will be able to track how much steps you made throughout the day with the help of the pedometer that is included in the fitness watch.
Q: How does a pedometer work?
A: The pedometer uses a pendulum-like mechanism, both in its mechanical and electronic counterparts, and use the law of inertia to determine if a step has been made. The swinging motion of the pendulum mechanism in a pedometer tracks a single step that you have made, and the distance is also usually measured by how far the pedometer's pendulum swings in one motion, multiplying it by the number of swings made.
Q: What is the importance of proper calibration for your fitness watch?
A: The fitness watch will be as accurate as you need if you set it up the right way. People have different heights, weights and habits and this is why you need to set it up or calibrate it depending on your needs.
Q: Where should you wear your fitness watch?
A: The fitness watch should be worn on the non-dominant hand wrist. This is to prevent accidental step counts that do not really count, because you use your dominant hand more often than your other hand. If you are right-handed, use the left wrist and vice versa for left-handed people.
Q: What other apps can be connected to your fitness watch to enhance your health?
A: You can try a calorie counter which will track how much you eat. A healthy diet is important to go along with proper exercise so that your physical activity and meals are balanced.
Q: Are fitness watches accurate in calorie counting?
A: It depends on your gender, weight and other factors such as age and height. Not everyone has the same appetite and body structure so do not always depend on the calorie count by the fitness watch. While using a heart rate monitor may help improve the results, it is still not a good idea to depend your calorie count on the fitness watch solely.
Q: Should I get a fitness watch or a GPS watch?
A: A GPS watch is more ideal if you are into sports that require GPS such as golf, swimming, cycling or running. If you just want to track your steps or calorie count, you can just go for the cheaper fitness watch rather than the GPS watch.
Q: How do I set proper goals for fitness trackers?
A: You should begin tracking first before you set a goal. If you set a goal of 10,000 steps a day and you could only go for about 4,000 according to your fitness watch on a regular day without changing your lifestyle, it is unreasonable to go for 10,000 steps. Instead, make a goal that is achievable, such as 7,000 steps a day. In this way, your body will not be startled or faint easily due to exhaustion.
It is a bad idea to exceed your limits just because you are being pressured by your peers. People have the right to go at their own pace and set their own goals. There are no shortcuts to fitness and this is also why speed dieting is bad, just like unrealistic fitness tracker goals.
Q: Can fitness trackers help you lose weight?
A: Fitness trackers are only motivational tools but how well they help you lose weight depends on you. In fact, some fitness devices prompt the person to focus more on the number of steps rather than the food they eat, which leads people to exhaust themselves for achieving 10,000 steps and then binge eat afterwards.
Q: If fitness watches aren't as effective to help in weight loss, why do people still wear them?
A: A fitness watch may still be used by athletes who want to set goals for themselves or to prepare for an upcoming sporting event. While fitness watches can motivate people, which is a good thing, some people tend to focus more on the numbers than a realistic healthy lifestyle.

Wrapping It Up
As a whole, the Fitbit Charge 2 Heart-Rate Fitness Wristband is our best fitbit that is great for professional athletes as an advanced training watch that gives you 24/7 activity data and sync it via Bluetooth.