Cousin to the carrot, parsnips are less widely used and often overlooked or passed over in the kitchen. But behind their pale exterior, they have a lot to offer in the taste department.
Parsnips hold a wonderful sweet and earthy flavor, with an ever so slight horse radish–like kick. These three flavor elements blend perfectly together and make the humble parsnip a great vegetable to keep up your sleeve (figuratively of course) for times you want to up the vegetable ante in the kitchen.
Parsnips originate from the Eurasian continent and have been grown for thousands of years. Apparently they were pretty popular with the Romans, so much so that Emperor Tiberius accepted payment in the form of parsnips from Germany!
Nowadays parsnips appear to be capitalized on more by chefs than home cooks. Which is silly, considering that parsnips are easy to cook, and are one of the most versatile vegetables. They lend themselves to sweet or savory dishes, can be used in stews or cakes, be braised or roasted. They can even be eaten raw and used in salads.
Another area where parsnips can really shine, is in fritters. All of the attributes of the parsnip, its sweetness, earthiness and ever so slight heat make it an ideal vegetable for fritters. Also, the fact that parsnips are delicious in their raw form makes them perfect candidates for using in fritters. Unlike some other vegetables (such as pumpkin), you do not need to cook the parsnips prior to making your fritters. All you need to do is grate them in raw form, add them to the fritter batter, and you ready to get frying.
This reduces the amount of work and time involved in making the fritters. And what is more, the grated parsnip gives the fritters lightness, crispness and a superb texture. Fritters which are made from mashed cooked ingredients can often turn out heavy, or mushy.
To add to the complexity of texture and flavor, this recipe also calls for ground pecan nuts. Parsnips have an inherent subtle nuttiness to them, and pairing them with pecans in these fritters brings this out. The pecans also add an additional element of texture within the fritters. That said, if you do not have any pecan nuts on hand you can leave them out and go ahead and make the fritters. They will still be delicious, I promise.
Onto a flavoring and serving note, fritters are one of those things which can be either sweet or savory, depending on the ingredients. For example banana fritters versus zucchini fritters. Thanks to the amazing versatility of parsnips, you can treat these fritters as savory or sweet.
Garnished with a little salt, pepper and parsley they can play a great side dish role in a savory meal. They can be a fun breakfast option drizzled with honey, or be served as a dessert sprinkled with extra pecans, brown sugar, and cinnamon, or paired with a sweet sauce.
And the best part is you don't need to change the recipe one bit for any of these serving options. One fritter to serve them all.
On a nutritional level, parsnips also hit the high notes. They contain high levels of minerals and vitamins, and are a source of fibre and antioxidants.
By now I think I have fully convinced you that making these parsnip fritters is an absolute must. Right?! Let's jump into the recipe.
Crispy Sweet Parsnip & Pecan Fritters
Ingredients
2

eggs

2

medium sized

250 grams parsnips - which equals 2 cups lightly packed once grated

1/4

cup

ground and roasted pecan nuts

2

tbsp

flour

2

tsp

honey

1

tsp

cinnamon

Coconut oil or vegetable oil for frying
Instructions
Break the eggs into a medium to large mixing bowl and whisk lightly to combine the whites and the yolks.

Grate the parsnips using the coarse side of your grater. If you are using organic parsnips, you can omit peeling the parsnips. If you see that the grated parsnips are making a fair amount of water, you can squeeze some of this out and discard.

Add the grated parsnips and the ground and roasted pecans into the egg. Sprinkle in the flour, honey and cinnamon and toss gently to combine. Try to avoid 'mashing' the mix as this can make the fritters stodgy. Do not worry if the mix looks like it won't hold together, it binds well once on the heat.

In a skillet add approximately 1-2 tablespoons of coconut oil and bring to a medium high heat.

With a large spoon scoop out small amounts of the batter and gently drop into the pan. Flatten the dollops down slightly with the back of the spoon and fry on medium high until both sides are golden and crispy, approximately half a minute each side. Transfer to a warmed plate or into the oven.

Continue until all the batter is finished, adding coconut oil to the pan when necessary. You want to aim to have a thin coating of oil in the skillet while frying the fitters. If the oil is too deep they can become overly greasy.

Lastly, serve by sprinkling with treacle sugar, cinnamon and extra chopped pecan nuts for garnish. You can substitute the treacle sugar for brown sugar, honey, or maple syrup.
STEP ONE – WHISK THE EGGS
Crack your eggs into a medium sized mixing bowl. Whisk lightly to combine the whites and the yolks.
STEP TWO – GRATE THE PARSNIPS
Using the coarse side of your grater, grate the parsnips onto a plate or board. If they are organic you can skip peeling them, as the skin will not be noticeable in the fritters and it is nutritious. If the parsnips are not organic, peel them to protect against ingesting pesticides.
If you see that the grated parsnips are releasing a lot of 'water' then you can squeeze some of this out and discard it. Younger parsnips will tend to contain more water, and mature parsnips tend to be drier.
An easy way to squeeze out and discard excess liquid is by simply pressing the grated parsnip onto your plate or board, while holding it tilted over the sink.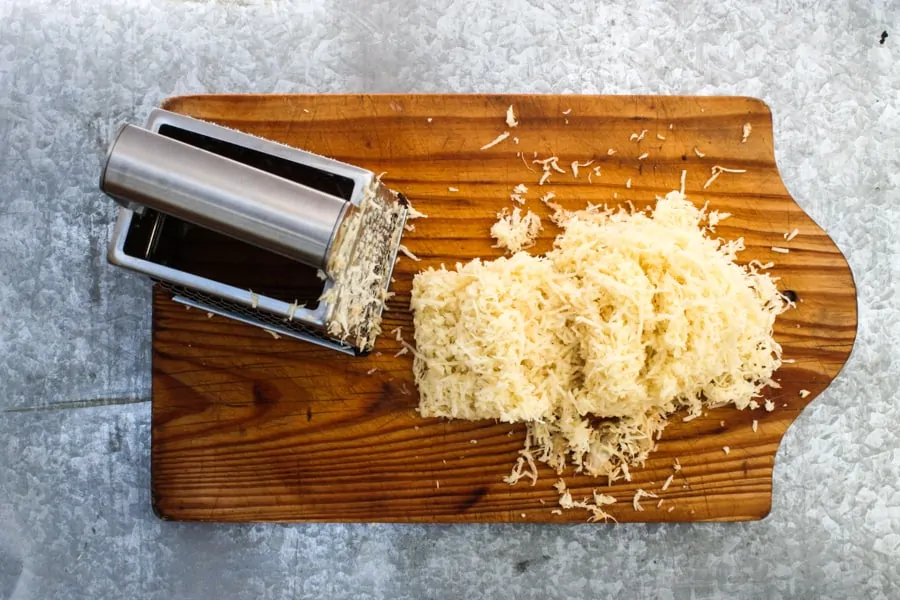 STEP THREE – COMBINE ALL INGREDIENTS
Now add the grated parsnips, pecan nuts, flour, honey and cinnamon to the whisked egg in the mixing bowl. Toss lightly to combine. Take care not to 'mush' or smear the ingredients together as this can make the fritters dense and stodgy in texture.
Do not worry if the mix appears a little loose after combining. It will bind together when frying in the pan.
STEP FOUR – HEAT YOUR SKILLET
Place a skillet onto the stove with roughly a tablespoon of coconut oil or cooking oil, depending on the size of your pan. Bring the pan up to a medium high heat.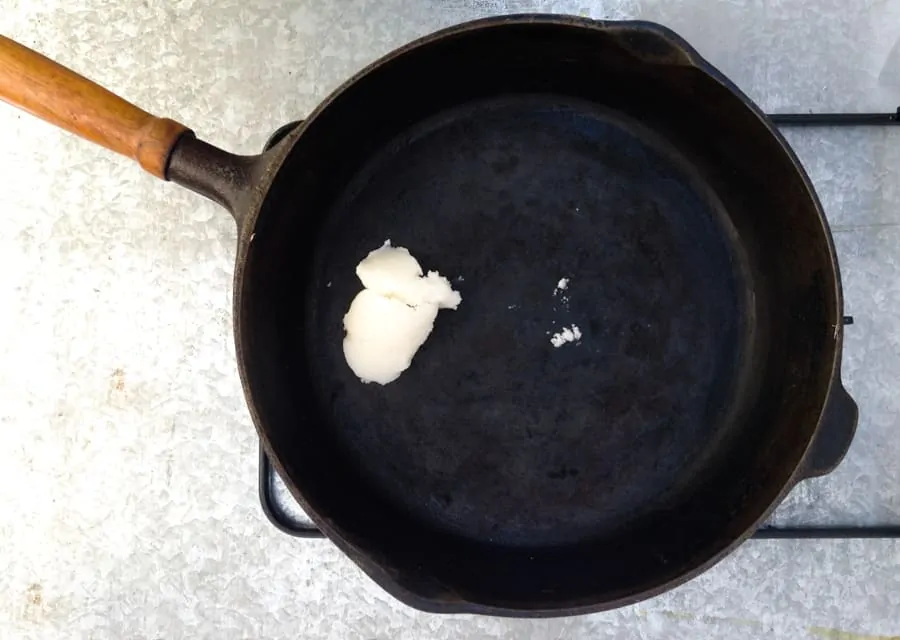 STEP 5 – SPOON BATTER INTO THE SKILLET AND FRY UNTIL GOLDEN BROWN
Using a large spoon, scoop out small portions of batter and gently drop into the pan. Flatten the the drops down slightly with the back of the spoon and fry on medium high until both sides of the fritters are golden and crispy, approximately half a minute each side. As the fritters come off of the pan transfer them onto a warmed plate or into the oven.
Tip: It can be tempting to want to shape the fritter batter into balls with one's hands, as the mix is stiff enough for this. However refrain from pressing it into 'patties' as this will create compaction and cause the texture of the finished fritters to be heavy. Stick to the scoop and drop method, and you will end up with light and crispy fritters with great texture.
STEP 6 – CONTINUE UNTIL ALL THE BATTER IS FINISHED
Continue scooping into the pan and frying the fritters until all the batter is finished, adding in additional coconut oil at intervals. You want to have a thin coating of oil in the pan at all times while frying the fritters.
Once all of the fritters are done, top them with treacle sugar, a sprinkling of crushed pecans and dust with cinnamon. Or, if you are serving them as a savory side or snack, season with salt and pepper and garnish with fresh parsley.
Thanks to qualities of parsnips, these fritters are easy to make and full of flavor. They can be served in almost any way, and to top it off, are super healthy for you, being full of fibre, vitamins and minerals.
If you feel like experimenting a little with this recipe, you can try out adding things like fresh herbs, pepper, cheese, or grated apple to the batter!
These fritters are ideal for the winter months, as this is the time when parsnips are in season. They would make a great lazy weekend breakfast, and can also be a delicious dish to include around Christmas and Thanksgiving.
Do you have a favorite parsnip or fritter recipe? If so, tell us all about it in the comments, we love hearing from you.