'All I want is a burrito' says my husband whenever we are trying to figure out what to make for dinner. He could eat burritos for breakfast, lunch and dinner 7 days a week and still crave more. I enjoy burritos, all Mexican food really, but am typically more inclined to opt for a 'burrito bowl'. So this recipe is great because it can be modified to make everyone happy. Skip the cheese if you're lactose intolerant, no need to include meat if you are a vegetarian, and don't bother to purchase tortillas if you are gluten free.
Most everything can be prepared at the last minute, making these burritos an easy dinner solution. We purchase dry beans and spend a few hours cooking them in water, but you can easily substitute canned beans and just heat them up before assembling your burrito. Another option is to mash your beans into 'refried style' beans. Adding rice to the burritos packs them with more energy and keeps you full longer. I've included an easy salsa recipe which is perfect for snacking on with tortilla chips before dinner and helps keep the burrito from being too dry. You can also throw some homemade guacamole in there as well. The options are limitless!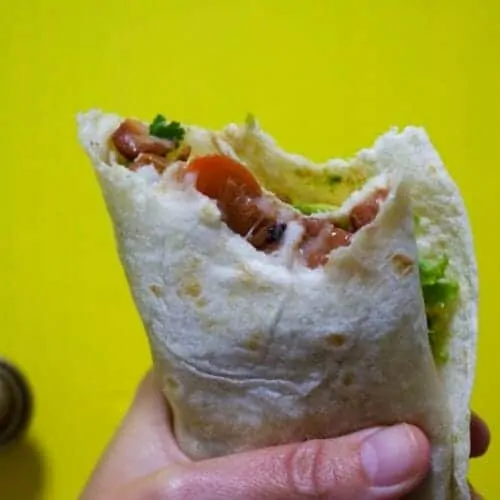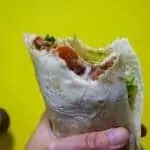 Homemade Steak Burrito
Ingredients
2

Small to medium steaks of high quality

about 1 lb

1

Can pinto or black beans

or if you prefer to buy them dry and cook them yourself, about 1/2 pound dry should work for 2-4 people. Black beans need about 1 1/2 hours to cook and pinto around 2+ hours

1

Package large tortillas

1

Bell pepper

1

Onion

Grated Cheese

Sprigs of cilantro

Avocados

Lettuce

Rice

optional
Salsa:
1

Can peeled tomatoes

1

Lime

1/2

Green bell Pepper or other green pepper

1/2

Large onion or chives

Fresh cilantro leaves

Salt/pepper to taste

1

Jalapeño or habanero pepper

optional
Instructions
Make the salsa by adding all ingredients into a food processor or blender.

Slice the onion and peppers to prepare them to sauté.

Heat up your beans on low heat.

Prepare the avocado, lettuce and cilantro by chopping and slicing.

Prepare the steak, slice it into small pieces and season with salt and pepper.

Sauté the vegetables in a large frying pan adding a little olive oil only if it sticks. Transfer cooked vegetables to a bowl.

Cook the meat in the same pan you used for the vegetables, lightly brown on each side.

Warm up the tortillas by placing them in another large frying pan over low/medium heat. You can also warm them in a microwave.

Build your burritos adding the ingredients and then use my fold technique to keep it all together.
STEP ONE - MAKE THE SALSA
Combine all of the ingredients; Can of tomatoes, bell pepper, onion (or chives), spicy pepper, cilantro, salt, pepper, and lime juice in a food processor (or blender) and blend until there are no large pieces. Add more salt, pepper or lime to taste. I've mentioned chives instead of onion because I've found that the next day chives keep better flavor than onion, which tends to become overpowering.
STEP TWO - SLICE VEGETABLES
Cut the onion and bell pepper into thin slices of 1-2 inch strips and set aside. (This can be done hours or even a day in advance to speed up prep time).
STEP THREE - HEAT BEANS
If you've chosen to cook your own beans, test them to make sure they are properly cooked and soft. If you've bought a can of beans, now is the time to heat them in a small pot on the stove. (You can also cook beans the day before and just reheat them on the stove).
STEP FOUR - PREPARE AVOCADOS, LETTUCE, CILANTRO
Cut the avocado in half and remove the pit, slice longways and sideways like a grid and scoop the avocado out of its shell into a bowl. You can serve it like this or add diced onion, garlic salt, cilantro and lime and mash it up to create guacamole. Finely chop the lettuce and cilantro.
STEP FIVE - PREPARE THE STEAK
With a sharpened knife, slice the steak into thin 1 inch slices and season with salt and pepper. Bring steak to room temperature before cooking.
STEP SIX - SAUTÉ THE VEGETABLES
Heat a large skillet over medium heat and add the onion and pepper. Cook until tender, adding a small amount of olive oil if the vegetables stick to the pan.
STEP SEVEN - COOK THE MEAT
In the same pan, cook the meat over medium/high heat. Brown the meat on both sides, should take no more than 1-2 minutes per side. For optimal flavour, don't overcook the steak.
STEP EIGHT - WARM THE TORTILLAS
Preheat an ungreased frying pan and warm each tortilla. Keep a plate nearby and stack them here as you heat them. You can also warm your tortillas in a microwave. Place a dish towel over them to keep them warm and moist.
STEP NINE - BUILD YOUR BURRITOS
Grab a plate and lay a tortilla in the middle of it. Add some grated cheese, beans, meat, vegetables, avocado, salsa, cilantro, and lettuce. Adding the cheese first helps it to melt when the hot ingredients are added on top. And you don't want that lettuce getting too warm, add it last so it stays fresh and crisp.
Now comes the hard part, the fold technique. (Maybe this is really why I prefer a burrito bowl to a wrapped burrito…). Move the ingredients to the first third of the tortilla and with two hands, grab each end and fold inward as you tightly roll. If you aren't eating these immediately, wrap them in foil to keep them warm and to keep them together. You can peel the foil as you eat each bite.
Now grab a hold of that burrito and dig in!
This recipe is great for a party, put all the ingredients out on a table and let your guests build their own burritos. I love hosting parties where guests can create their own meal. No need to wrap your burritos in foil if everyone is already seated at the table and creating their own, just dig in immediately.
For a Mexican themed evening or party, serve margaritas or Mexican beer along with your burritos. Make sure to have baskets or bowls of chips on the table and fun dips such as salsa, guacamole, refried beans, or queso (a melted cheese dip). For a fun dessert, try churros or fried ice cream. Olé!