Decorating a small space is doable, if only you are creative and open to new ideas
When it comes to buying a home, it is always a great idea to buy what you can afford. The general recommendation is that you do not spend more than 25% of your monthly income on a mortgage. For example, If you earn $60,000 annually and $5000 monthly, then you should not spend more than $1,250 on mortgage monthly and $15,000 annually on your mortgage.
Common sense dictates that when your income is low, or when you have significant financial responsibilities, then you need to manage your expectations a little bit and buy a smaller home. Don't get any crazy ideas.
So, if this is the case for you, then you will need quite a bit of creativity when it comes to small space decorating. It should go without saying that decorating a small space will have more challenges. It is therefore important that you explore as many ideas that you come across, as you plan on decorating your small space
Here are 15 small space decorating ideas that you can use in order to turn the house you buy into a home:
Want Live Plants? Go For Bonsai Trees!

The art of Bonsai is not to be underestimated
Incorporating greenery inside your home is one of those great ideas you can implement in order to enhance the aesthetic of your home. It adds an organic twist to everything you already have in your home.
But when your space is limited, then you do not have the luxury of using large potted plants to bring nature indoors. For this reason, you should consider Bonsai trees. Trees of this nature have been cultivated using the Japanese Bonsai art form to become a miniature tree version of a larger scaled tree. Even the shape will be similar to the bigger version of the natural tree; it's just that it will be a much smaller plant that will be well suited to your space. Don't you just love the ideas that some ancient civilizations have come up with?
Utilize Your Vertical Spaces

Always make use of your vertical spaces. You can display your artworks without worrying about kids and pets destroying them.
Have you ever considered using the vertical space within your home? You should. Instead of creating storage space that goes outwards, you should consider incorporating shelving that goes upwards(all the way into the ceiling if necessary), in order to utilize the empty upper spaces of your walls.
You can even build a narrow ladder against the walls that allows you to reach those higher shelves when you need something. But you could always make things easy on yourself by using the additional storage space to store things you rarely use or things you own in large numbers.
You can also use the hard-to-reach parts of your vertical spaces in order to display your family photographs or any other artwork. And the more dramatic the artwork the better. You will get to enjoy your works of art without worrying about children and pets reaching them and destroying them in some way.

Sliding doors are awesome. They give a sense of privacy without taking up too much of your space.
A regular door requires some space in order for it to open fully on its hinges. But when space is an issue, then that's when the best small space decorating ideas come out. Necessity is the mother of invention after all.  And one of those ideas that you can use is to incorporate sliding doors. This can be done for your main doors that keep intruders away from your home.
You can also do this for your wardrobes, and internal doors leading to spaces like the bathroom, and other bedrooms, and so on. That way, you will be able to get the privacy that you need while ensuring you have freed up as much space as possible.
Put The Space Underneath Your Stairs To Work

When square footage counts, even the space underneath the stairs can be used to squeeze in additional seating.
Is your home storied? What do you do with the space underneath the stairs? Have you put it to good use? Or is this one of those decorating ideas that you have never considered for your small space?
Well, when space is an issue, then it makes sense to put every available space to good use. The space underneath your stairs can be turned into additional storage space for stuff like clothes, extra dishes, shoes, and work supplies. It can also be turned into a workstation that includes an office desk and chair.
If you are in the mood for some decorating, and quite handy with a few power tools, then do consider putting in open shelving in that small space to enable you display beautiful works of art or your books. You can even display dishes! That way, you get something that looks pretty but is functional at the same time. Creativity is the name of the game!

The bunk beds have it! What a great way to utilize small bedroom spaces to accommodate more people.
When you have more than one child and bedroom space is an issue, your decorating ideas for that small space should definitely include bunk beds with comfortable mattresses. These beds are commonly used in ships for a reason – they allow multiple people to sleep over a small footprint by using the available vertical space.
For every bunk bed, you can accommodate at least two people in a small space that would have otherwise have taken in one bed. Some bunk beds have three beds.
If you intend to use a bedroom belonging to your child as a working space, or if you want additional storage for that child, then consider the loft bed version. This version of the bunk bed, has an elevated bed with space freed up underneath. You can then use this bed to incorporate shelves for your child's books and schools supplies. Alternatively, you can use the space to incorporate a built-in work desk. This desk then becomes your workstation especially during the day when your child does not need to use the room.
Incorporate Beds With Storage Space
So, what happens when you need to accommodate an extra person for the night and you have very few bedrooms? This is where the bed-with-storage option comes in.
There are plenty of bedroom manufacturers out there who have designed beds with storage space within. Some of these beds have a lever that allows the base to be lifted upwards in order to store your things underneath.
Others have a large shelving space inside that is as wide as your bed and can be opened from the side. You can use the space to store additional clothes, jewelry etc., or add a mattress and voila! You have more sleeping space!
You can also opt for beds with multiple but smaller shelves in which you can store your additional things categorized in whichever manner you want.
It should go without saying that if your home is small, then your living room will be sized accordingly most times. For that reason, you need to consider bringing in furniture that has more than one use. A window seat is a great example.
If you have bay windows for example, then window seats are a great option for them. But when you choose to buy or build them, consider those that can be opened to reveal additional space underneath. That way, you will not only be able to use them as seating, but also to store things like books, your knitting materials, etc.
Sofa Beds Are A Good Idea

Sofa beds can help you accommodate extra guests that visit when you are least expecting them.
Sofa beds will always make it to any respectable list of small space decorating ideas because they are a very practical way for homeowners to make maximum use of their spaces even when size is an issue.
With a sofa bed, your extra guests get to seat comfortably during the day and sleep very well at night when the seat turns into a bed.
Use Mirrors To Create The Illusion Of Space
Small spaces can feel claustrophobic and dark. So, one way to create the illusion of a bigger space is to incorporate mirrors. Install mirrors in places opposite where the natural light is coming in from. What you want is for that mirror to reflect the light into the darker and more closed off spaces in order to create the illusion of larger spaces.
Nesting tables are tables which are made in varying sizes and lengths and when you are not using them, they can be placed in one small space, one underneath the other.
For example, a 3 nesting table-set will allow you to use the lowest table as a footstool, the next size can be used to place your cup of coffee or newspaper, and the largest can be used as an extra seat. When they are not all in use, you can place them one on top of the other and they will not need to cover a large surface area.
Buy Nesting Kitchen Dishes
If your kitchen storage space is minimal, then it does not make sense for you to get dishes that will take up all the useful space. So, why not buy nesting dishes?
These dishes can be piled up one on top of the other and take up very little space, this freeing up much needed surface area for other things. And some of them are works of art in themselves and can be displayed on open shelving.
Turn Your Doors Into Additional Storage
As relatively flat as they are, doors can actually become additional storage space. What you need are hooks attached to the door, or shallow shelving in which smaller items like soap bars, and shampoo bottles can be stored. The hooks can be used to hold towels in use, or a fabric toilet paper holder that holds several toilet papers.

Bright colors are great for small spaces. When in doubt, stick to white!
Light colors tend to create the illusion of space, while darker colors make spaces appear as if they are receding.
When planning on decorating your small space, then one of your ideas should include incorporating lighter colors on your walls, floors, and even the decorative pieces you will use as accessories.
When in doubt, white works great!
Include Multi-Use Ottomans

Ottomans are multi-purpose pieces of furniture. Do consider having a few of them for your small space.
Ottomans are movable pieces of furniture with many uses. You can use them as footrests, to put your plate and cup on, as extra seating, and when you buy or build those that open up to the cubbies underneath, you will be able to get additional storage.
Buy Smaller Seating And Movable Furniture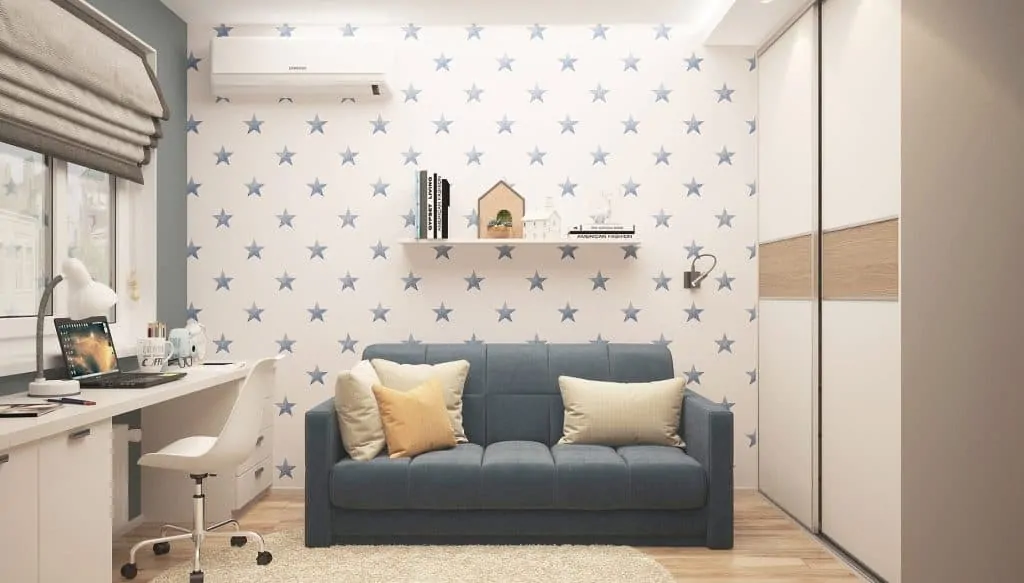 Small seating that is easy to move is a great idea for a small space. And opt for a floating design that keeps seating away from the walls to provide convenient pathways.
Sometimes, that dream you have of getting that large sofa that you can sink deeply into is just that – a dream.
When you have a really small space, then your fantasy ideas of many large seats with deep cushions you can sink into should be replace with practicality. And that sometimes means smaller seating like a scaled-down sofa, a love seat or a settee. These practical options will ensure that you and your guests can still seat comfortably even in a small space.
And when you choose seating, make sure you opt for a floating design. In other words, make sure that your seats are not all pushed rigidly against the wall.
And choose those pieces that would allow you to install wheels underneath the more smaller pieces of furniture like ottomans and tables, so that you can move them around to conveniently create space where needed (like when you are opening up the sofa bed).
Currently, the median list price per square foot in the U.S. is $146. It's important for you to do the math even when you want to add an additional square footage because the price you pay might not make sense for your financial situation. For example, if you want to add just 100 square feet at the current median rates, it will add an additional $14,600 to your mortgage! That is an additional year of payment. And you may not even have the money to do that. For that reason, you should always research on small space decorating ideas. This will ensure that when you buy what you can afford, you will not feel closed in no matter how small the space is. The above ideas are just a few examples of what you can do, in order to turn that small house into the home of your dreams – space notwithstanding. Know that when you incorporate the right ideas in your small space, you can thrive in that home.
Jen Miller is a former electrical engineer and product specialist with more than 20 years of product design and testing experience. She has designed more than 200 products for Fortune 500 companies, in fields ranging from home appliances to sports gear and outdoor equipment. She founded Jen Reviews to share her knowledge and critical eye for what makes consumers tick, and adopts a strict no-BS approach to help the reader filter through the maze of products and marketing hype out there.  She writes regularly and has been featured on Forbes, Fast Company, The Muse, The Huffington Post, Tiny Buddha and MindBodyGreen.