In this modern age more and more of us have a computer at home, and with this contemporary convenience comes the need for a place to use it. Whether you have a spare room to use as a dedicated office or study, or fit your computer into a bedroom or living area, you will find everything you need in the Walker Edison 3-Piece Contemporary Desk. The complete package, the Edison is offers style, function and versatility for your home office.

Top Pick: Walker Edison 3-Piece Contemporary Desk
For those seeking the absolute cutting edge in not only their computer technology but the platform on which it sits, the Stir Kinetic M1 Desk is well and truly a ësmart desk'. Offering an array of connective features in the same league as the computer you want to use it on, the Kinetic well justifies its price tag.
Offering versatility, portability and a bargain price, the Clifton Computer Desk is the pick for the budget conscious consumer. The Clifton is a well-built, adaptable computer desk at a bargain price.
Computer desks: holding up your work and play
Home and office computer desks are perhaps the most underappreciated and overlooked but no less vital piece of your computer set up. Whether you have a hulking PC rig, sharp Mac or portable laptop, if your computer desk isn't up to scratch it can affect your work, study, play and even your health. The right desk can make the difference between a busy, productive day or a harried, disorganised one.
A typical computer desk is specially designed to house a computer CPU or a combination of divided storage space for computer equipment, and will also usually be equipped with a pull-out keyboard tray. Some desks also have extra features such as shelving for books and CDs, drawers for storage and file drawers.
Choosing your computer desk
When deciding what sort of computer desk is best for you, you'll need to consider how often you're likely to use your computer and what you use it for. Of course, you'll also need to consider the position where your desk is to go and how much space is available. The majority of computer desks have a rectangular shape and are designed to fit against a wall but there are also several variations on this basic design depending on your needs and the layout of your room.
If you're going to using your desk mostly computer for work, look for a desk or workstation specifically designed for computer use. If using a PC, be sure the desk offers space or a compartment to hold the CPU underneath and features in-built wiring holes or channels for electrical connections to keep cables out of the way and to allow the desk to be able to be to be placed flush against a wall.
If your business, study or pleasure produces a lot of paperwork, choose a desk that will have the most room or surface area possible so you can accommodate those spreadsheets, bulky books, or piles of important papers. You may also want to consider a desk with shelving or overhead cabinet space.
If you work from home or study, you could consider a computer armoire or hutch if you want to hide work clutter in your home. L-shaped desks are often a good solution and fit when your work desk needs to share space in another room like a bedroom or family room.
If you're tight on space, you could always go for a compact, collapsible or mobile computer desk or cart. A corner computer desk is good for making the most of limited space and can be fitted into any spare corner of a room, while a mobile computer cart with wheel can easily move out of the way when not using your computer.
On your feet: the standing desk
Becoming an increasingly prominent feature in many modern offices, the standing desk was originally invented by Thomas Jefferson and was used by the likes of Ernest Hemingway, Charles Dickens and S¯ren Kierkegaard. While popular primarily for undoing the damage that can be done to your back by bad posture and hours upon hours of sitting, many users claim this work method also makes them feel more alert and productive. Research has shown that the cumulative effects of too much sitting can contribute to a range of health issues including diabetes, heart disease, hypertension and cancer.
A standing desk, also called a stand-up desk, is essentially a desk that allows you to stand up comfortably while working. Most modern versions are adjustable so that you can change the height of the desk and alternate between sitting and standing. The mode of adjustment can vary between models, with some requiring fiddly one-leg-at-a-time pin adjustment, some featuring an easier crank function, and the premiums offering electronic push-button raising and lowering.
A substantial number of studies have shown that using a standing desk can have impressive benefits for health, including better posture and reducing back pain, reducing the risk of heart disease, lowering blood sugar and reducing fatigue and therefore increasing productivity. At the very least, using this type of desk can work to negate the harmful effects of sitting too much.
How we picked
Even with our helpful guide, the literal hundreds of wildly varying computer desk options can make choosing one a daunting task. In our selection of the best of the best, there were several considerations that we looked for in each and every computer desk.
Functionality was paramount in each desk we reviewed. While there are pros and cons to every kind of desk layout, we looked for computer desks that performed, at the very least, that function: housing a computer or laptop while still maintaining a practical working surface. Features such raised monitor platforms, keyboard sliders and drawers were highly appreciated.
Construction and durability and were also principal in our selection process. Desks designed with use in mind, sporting virtues such as high-pressure laminate and well-designed corners and edges that don't fray were very well regarded. One trick we learned early on was to check the desk drawers if applicable as the quality of a desk is often most evident in their construction. Drawers and should open and close easily while the desk is bearing weight. If they don't, look elsewhere.
Finally, comfort and ergonomics were also an important consideration. Even if you consider a desk to be a little more than a flat surface to use your computer on, if you ignore the considerations comfort and ergonomics you won't want to use it for an hour let alone depend on it for several years.
Our Top Pick: Walker Edison 3-Piece Contemporary Desk

Top Pick: Walker Edison 3-Piece Contemporary Desk
The Walker Edison 3-Piece Contemporary Desk offers a practical, functional and stylish computer desk at an absolute bargain price. It also comes highly recommended by many happy purchasers.
The L-shaped Edison offers a premium amount of desk real estate while taking up a minimum amount of space, being designed to fit into the corner of a room. The desk surface measures 29 inches high x 31 inches wide x 21 inches deep with an overall depth of 51 inches in its complete dimension. The desk frame is powder-coated steel, which offers more durability than painted steel being hardier and reducing the risk of scratches, abrasions and even rust. The desk top is 6mm polished, tempered, bevelled safety glass, which is both durable, stylish and easy to clean and won't stain if you're in the habit of knocking your coffee over as often as some of usÖ
To qualify it as a computer desk The Edison features a keyboard tray and an independent, free-standing CPU stand. These two additions really add to the flexibility of the Edison as the sliding keyboard tray can be mounted to either wing of the L-shaped desk and the autonomous CPU tray lets you get your computer up off the floor and put your computer wherever you like. The curved outer edge of the L's apex also allows plenty of space for wires and cables while the desk sits perfectly flush against your wall. Another excellent feature is that the two sections of the L-shaped desk can be separated and used individually.
The Edison is available in five sleek colour schemes with options for black and silver frames with a clear glass top, a black frame with black glass, a silver frame with smoky glass, or white on white. These options are an absolute steal for such a functional and good looking desk. What you favour is completely dependent on your own personal preference but if you're one to keep your desk relatively clutter free, do keep in mind a clear glass desk top can create the illusion of having more space in a room.
Coming with everything you need in a computer desk and offering excellent versatility, the Walker Edison 3-Piece Contemporary Desk presents both style and function combined with remarkable value for money and is our well-deserved choice for Top Pick.
Flaws but not dealbreakers
One downfall of the Edison's sleek, minimalist design is that it doesn't allow for desk drawers. This isn't a dealbreaker though, as the lack of storage space can be overcome with the Edison's ample desk space allowing for a simple desk caddy. We also have to acknowledge that the Edison's glossy glass and steel construction may not be to everyone's tastes or match everyone's decor.
Offering the absolute cutting edge in design and technology one wouldn't expect in a simple computer desk, the Stir Kinetic M1 Desk features and array of connective technology that might just put in on par with the computer you want to use it with. The Kinetic M1 is quite literally a ësmart desk', and boasts a list of features to justify its price tag.
The Kinetic M1 is an electrically powered standing desk that can handle an impressive 300lbs in standing weight. The uniquely shaped CNC-machined, powder-coated desk top measures 59.5 inches x 29.5 deep x 1.125 inches thick and can be adjusted from 25 to 50.5 inches in height. Available in both black and white, the distinctive curved desk front and comfortable rounded ëergo' edge gives the feeling of a sci-fi captain's bridge feeling rather than just a computer desk. The desktop sports cable cut-outs that give access to four AC power outlets and cable trays where extra cable length or an additional power board can be stored. This serves to eliminate the need for any appliance on your desk to connect to a wall socket directly and potentially be yanked off the desk when the Kinetic M1 is raised ñ an excellent design feature.
Further giving you the sci-fi captain feel is the in-built 5-inch touchscreen that serves as the Kinect M1's eyes, ears and brain. Not only can you set the height of the desk from the control screen but also access a custom app that senses your presence, tracks how much you sit and stand, lets you set goals for time spent standing, remembers data and preferences, and unobtrusively signals you when it's time to move. This feature, the manufacturer claims, will have you standing up to eight times more than the average standing desk user. The Kinect M1 also comes with Wi-Fi and Bluetooth connectivity which it uses to update the app, store individual user data to allow for multiple user profiles and fast auto log-ins, and to connect to third-party devices such as Fitbit.
All this technology comes at a price, however, and the Stir Kinetic M1 Desk certainly does that. Given the list of amazing features and potential health benefits, it could certainly be argued that the Kinect M1 is well worth the price.
Offering a functional computer desk at a price won't crash your system. the Clifton Computer Desk also comes highly regarded by its customers.
Sturdy and compact, the Clifton is made from a powder-coated steel frame and a hard-wearing laminate top, measures 33 inches high x 28 inches wide x 23.5 inches deep and can support up to 150lbs. Rather than one flat plane, the Clifton saves space by dividing its real estate into three shelves, with the top shelf being most suited for a computer monitor, the larger middle platform designed for use as your main work area and the lower platform ready-made for a small CPU and/or printer. The Clifton is available in two colours and also features self-levelling floor guides ñ very handy if you're tired of forever dealing with those wads of folded paper that never seem to stay put.
Simple, well-constructed and great for small spaces, the Clifton Computer Desk is also an excellent value. An unassuming computer desk without any frills, it earns our Budget Pick.
Our Specialised Picks
Best Space-Saving Computer Desk for mobile versatility

Comfort Products Freeley Folding Computer Desk
If you don't have a lot of space or are frequently on the move, the Comfort Products Freeley Folding Computer Desk might be for you. The Freeley's folding design makes it ideal for any situation that requires the flexibility of a temporary and easily transportable work station such as in dorms, spare rooms that can be easily transformed into a home office, or even for mobile work situations such as trade fares. Ready to go right out of the box, the Freeley of made from steel and hard-wearing laminate and only weighs 31lbs while being able to support up to 150lbs. Featuring the same three-level space saving design as the Clifton Computer Desk, the Freeley measures 28 inches x 30 inches x 24 inches and can be used with either desktop computers or laptops.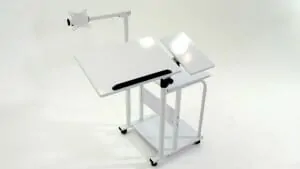 e-Joy Computer Cart
Another entry into the mobile work station category is the e-Joy Computer Cart. While far more utilitarian in its aesthetics, the e-Joy is certainly unique in its versatility and functionality. The design of the e-Joy allows it to be adjustable to the extent that you can use it sitting, standing or even laying down in bed. The desk surface is divided into four independent modules with dedicated areas for keyboards, mouse usage and CPU storage. A computer monitor up to 30 inches in size can be attached directly to the desk, saving even more desk space. The e-Joy also sports two locking casters to make moving it around fully loaded easy while still remaining solid to work on. The e-Joy isn't too hard on the hip-pocket, either. And let's face it: that's a small price to pay to be able to use your PC in bed.
Best for the recording studio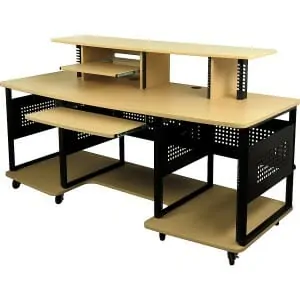 Studio RTA Producer Station
If you've got the room and you've got the equipment, the Studio RTA Producer Station will certainly help you to serve these to full effect. With a steel frame and tough laminate desktop, the Producer Station will undoubtedly have plenty of room for all your recording equipment, sizing up at 72 inches wide x 41 inches high x 30 inches deep with a work surface boasting 2,160 square inches of space ñ more than enough for an 88-key keyboard. Featuring a raised level large enough for two computer monitors, two pull-out shelves, dual 20-space racks underneath the desktop and an 8-space rack on top, dual 8-space CD holders, cable organisers on the back of the desk, and locking casters to enable easy moving. Well, easy as an unloaded 150lbs can be to move. The Producer Station offers outstanding value for such a serious computer desk.
Best for laptops

Tribesigns Home Office Desk
If you prefer the portability and flexibility of a laptop over a deskbound PC, the Tribesigns Home Office Desk offers the ideal place to park it. Constructed with a stainless steel frame and a laminate desktop, the Tribesigns measures 47.5″ inches wide x 20 inches wide x 43.5 inches high. Lacking any sliding keyboard tray but still offering plenty of room for storage, this stylish, simple and practical desk is perfect for the laptop user. Some clever design means that this desk can be assembled with the shelving on either side of the desk. Rounded corners also make the Tribesigns safe for little heads and less likely to fray. This desk is an absolute steal.
Best in an earthquakes

Life Guard Earthquake Proof Desk
While probably not of great concern to many of us, those who do live in earthquake-prone areas will appreciate the Life Guard Earthquake Proof Desk. While it may resemble a standard executive style desk, the Life Guard is built to protect the user a complete building collapse. Designed to be crawled inside in the event an earthquake, features such as steel plates and girders inside a stylish wooden exterior, this desk can support more than one million pounds in weight. Outfitted with three weeks of food, water and other supplies, the Life Guard is a standout.
The Competition

Z-Line Designs Cyrus Workstation
A close contender for our Top Pick was the Z-Line Designs Cyrus Workstation. Both stylish and functional, the Cyrus is constructed from a steel frame, glass desktop and laminate shelves. A relatively compact computer desk, measuring 26 x 48 x 36 inches, the Cyrus features a split-level design with substantially sized raised and keyboard platforms. You could easily fit two monitors on the raised level and the sliding keyboard platform is large enough to be considered a work surface in its own right. The lowermost base platform is also large enough to fit even the biggest CPU and keep all accompanying cords and power boards off the floor. The ventilated mesh back panels of the desk feature in-built cable holes to keep everything organised and castors also provide for easy movement. The Cyrus is excellent value for money.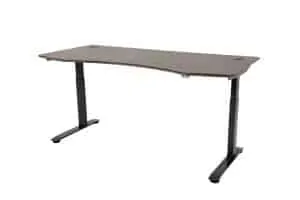 Apex Standing Desk
Another entry into the standing desk category is the Apex Standing Desk. Offering plenty of room at 71 inches wide x 33 inches deep, the Apex is electrically adjustable from 24 to 50 inches in height. The steel frame, one-piece centre beam, dual motors and laminate desktop serve to make this standing desk extremely sturdy and capable of supporting a load of 225lbs. Sporting dual closable cable wells to keep cords out organised and available in five different colours, the Apex is an electrically adjustable, extremely well-built standing desk.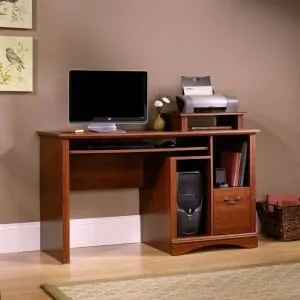 Sauder Camden County Computer Desk
Modelling a traditional old-school aesthetic, the Sauder Camden County Computer Desk still has all the features you could want in computer desk. Sturdy and compact at 53.5 inches wide x 20.5 inches deep x 34.5 high, the wood-panelled Camden County offers plenty of function. Featuring a sliding keyboard shelf, a dedicated CPU storage area, and a file drawer with a unique assembly system and metal runners to hold letter-size hanging files, the Camden County is very reasonable for a bit of old-world charm.

Stand Up Desk Store Crank Adjustable Height Standing Desk
A standing desk with a unique design feature comes in the form of the Stand Up Desk Store Crank Adjustable Height Standing Desk. This standing desk features a spilt-level design with computer users in mind, putting the monitor at the proper viewing height and the keyboard and mouse at the proper working height for improved posture. Constructed from powder-coated steel and measuring 47 inches wide x 28.5 inches deep, the desk height is adjustable using an integrated hand-crank from 33.5 to 47.5 inches. The crank can be used from either side of the desk, which is a handy little feature. Other features include locking castors for easy movement and mounting holes in the rear bracing panel. This desk comes in two colours.

Coaster Home Office Computer Desk
Offering the same sleek looks and style of our Top Pick, the Coaster Home Office Computer Desk is a very handsome desk indeed. Made with a steel and wood frame and a glass desktop, this L-shaped desk measures 43.5 inches wide x 24 inches deep x 30 inches deep. The L-shaped Coaster offers a large amount of desk space while taking up a minimum amount of room, being designed to fit into the corner of a room, and features a sliding keyboard tray, CPU stand and footrest bar. While its modish design made it a close contender for our Top Pick, the Coaster just doesn't have the versatility options boasted by the Walker Edison 3-Piece Contemporary Desk.

Sauder Orchard Hills Computer Desk with Hutch
Offering plenty of storage space is the Sauder Orchard Hills Computer Desk with Hutch. Definitely old-school in its styling, the wood-panelled Orchard Hills measures 58.5 inches wide x 23.5 inches deep x 57.5 inches high and features dedicated CPU compartment, two drawers with rails compatible with legal or European size hanging files, sliding keyboard platform, and a hutch with plenty of cubbyhole storage compartments. The Orchard Hills offers an extremely functional computer desk at a very reasonable price.

Origami Computer Desk
Featuring a folding design, the aptly named Origami Computer Desk is made from a steel frame and a laminate desktop, the Origami measures 48 inches wide x 23.5 inches wide x 30 inches high when assembled and 51 x 25 x 6.5 inches when folded. Rather than compromising the structural integrity by having a folding desktop, the Origami's desktop comes off in one piece and the frame folds down for storage. Thusly, this desk can have a significantly larger working area than other folding desks, and hold up to 100lbs on the desktop and 250lbs on the lower platform while only weighing 38lbs itself. Featuring a folding mechanism with dual locks and a platform for a CPU and printer, the Origami is an absolute steal.
Wrapping it up
Hopefully, through our exhaustive selection process, we've made choosing the right computer desk a little less daunting. In our considerations for making our selection of recommended computer desks, construction, features, versatility and comfort were all paramount. In the Walker Edison 3-Piece Contemporary Desk you will find all of these as well as unparalleled value for money. In the Stir Kinetic M1 Desk you will find a computer desk that offers exceptional design and unmatched features that work to make you healthier while you're working. In the Clifton Computer Desk you will find a computer desk without the frills at a price that can still have you eyeing the next PC upgrade.
Jen Miller is a former electrical engineer and product specialist with more than 20 years of product design and testing experience. She has designed more than 200 products for Fortune 500 companies, in fields ranging from home appliances to sports gear and outdoor equipment. She founded Jen Reviews to share her knowledge and critical eye for what makes consumers tick, and adopts a strict no-BS approach to help the reader filter through the maze of products and marketing hype out there.  She writes regularly and has been featured on Forbes, Fast Company, The Muse, The Huffington Post, Tiny Buddha and MindBodyGreen.