A living room should be a cozy place where you and your family members can comfortably wind down after a long day of work. The only way one can truly relax is when home feels and looks like home. You can make your living room feel more homelike by personalizing the whole space, even your cookie-cutter furniture produced by mass production.
By fully embracing your favorite colors and the traits of the preferred interior theme you will help your lounge room live up to its name. Lounging in a place that reflects your creative thought process will inspire even more spontaneity within you.
Let the walls, floors, and ceiling become the canvas for your creative living room design ideas. Put your designing skills to use and give your living room a makeover!
15 Living Room Design Ideas:  
1. Paint the Walls
Have the walls in your living room become overshadowed by your bold designing choices? Like the silent dividers, they just stay in the back and are hardly ever noticed? Well, if that is the case, you should try giving your living room a compelling backdrop.
Walls play a huge role in interior designing because they narrate the tone of the whole style concept. If you want to give your living room a mysterious or sultry look, try painting the main wall in dark navy blue color. If you would like to set an innocent but romantic ambiance in your home, paint all walls or at least two opposite walls in soft blush or salmon-peach color. Any off-white creamy shade will get the message across as well.
Keep in mind that darker shades can make your living room appear much smaller and more confining. When working with deeper hues, restrict yourself to one or two walls. Painting the backdrop of your fireplace in rich burgundy color should help you make a loud enough statement. On the other hand, light hues are more forgiving when it comes to it.
Here are some wall paints that may inspire new living room design ideas within you.

Living room on the picture above shows how a green backdrop can beautifully contrast the light maple wood floor. Colored walls match the green hues of the carpet while the golden brown framework on the cabinets ties the whole look together.
2. Decorative Pillows
Your living room design ideas do not have to be complicated or expensive. You can change the look of your lounge room by simply putting few decorative pillows on the sofa. If you already own a set of throw pillows, but their design and colors have lost their appeal, simply buy inexpensive pillow covers. With those up your sleeve, you will be able to spice up the look of your living room for every special occasion.
Decorative pillows are a great way to introduce some color and pattern to your whole interior design. Pastel colors have, in the recent years, become quite popular amongst interior designers. Soft hues beautifully complement every traditional, Scandinavian, and beach house interior style. A pillowcase with a delicate lace or crochet trimming will make your living room look even more romantic.
Instead of focusing on color, you can focus on the material of the accent pillows instead. Velvet or faux fur pillow covers can make your leather sectional sofa pop. And, if you feel like your traditional living room is in need of an unexpected element, give those trendy white pillows with green tropical leaf motif a try.
These decorative pillow covers might be a good fit for your living room:
Vibrant decorative pillows enhance the appearance of this plain gray sofa. You can give your old sofa a makeover with inexpensive pillow covers that embrace bold colors and patterns.
3. Add Greenery to Your Living Room
People often forget to include elements from nature into their interior design. Without those elements, a home can feel and look isolated. And if you look around your home, you will notice that every material, from wood to metal is in some way or another connected to earth. So, why not introduce greenery to your living room to tie the whole concept together?
Typical wooden furniture and sofas in monochromatic gray colors can make any living room look dull and murky. Live green plants will help you bring some freshness into your living room. An orchid or a bonsai tree placed in the middle of your coffee table or on the floating shelve will instantly balance the room's color scheme.
If you do not have a green thumb you can always opt for fake plants. And, if you fear that their artificial exterior may be too noticeable, place them on the distant shelf where they will complete your backdrop. Alternatively, you can always invest in a tall floor vase and fill it with artificial palm leaves. Your crafty arrangement will make the corners of your living room stand out.
These artificial plants may just put a finishing touch to your living room design ideas:
The living room in the picture above embraces greenery. Potted plants hanging from the ceiling, placed on the floor and even seen through the window are more than just a decor. Green color naturally refreshes every earth tone found in the room.
4. Statement Rug
Wooden living room floors can often look out of place. The easiest way to incorporate floor into the whole interior design is by strategically placing a statement rug in the middle of your living room. A statement rug in complementing colors and patterns can bring your old flooring to life. Any scratches and imperfections will be hidden right under tightly woven thread.
A rug will give you an opportunity to experiment with different colors, patterns, and textures. For instance, your dark wooden floor can come to life with the help of an off-white fluffy rug. A rug with a pop of orange will do the trick as well. On the contrary, your light flooring can shine under a navy blue rug or gray rug. Any contrasting color will help your wooden floor stand out.
Since your living room is a high traffic area, you should consider purchasing a rug made of durable material, such as wool, polypropylene, or jute. Here are some suggestions that might help your living room design ideas come to life:
Dark rosewood floor on the picture is beautifully enhanced by a light brown-cream patterned rug. The color contrasting is the key to making any flooring stand out.
5. A Coffee Table
A coffee table is a simple piece of furniture that can tie your whole settee arrangement into one inseparable unity. Your sofa will no longer feel isolated once next to the matching or contracting coffee table.  
You can choose a traditional four-legged wooden table to complement your rustic or traditional interior style. The same table with metal corner embellishments will beautifully fit into any industrial themed living room. If your home embraces the modern style, you should consider purchasing a coffee table with metal legs and a glass top. A transparent glass or acrylic coffee table will beautifully match other glossy surfaces found in the room.
If you living rooms lack an eye-catching center, you may want to consider investing in a novelty coffee table of an unusual shape. A table with a tree trunk base and a round glass top is certainly a conversation starter.
Here are some honorable suggestions that may inspire new living room design ideas within you:
A round coffee table with artistically positioned golden metal legs elevates this simple sofa arrangement. A striking coffee table of sorts can give your modest living room a hint of luxuriousness as well.
6. Wall Artwork
Let the walls in your living room become the canvas for your creative living room design ideas. Buy yourself a huge canvas and paint it with bright colors. A unique abstract artwork inspired by your creativeness will make your living room feel and look more homelike.
If you are not a crafty person, you can always purchase modern artwork. You do not have to dig deep into your pockets to give your living room a contemporary look. Canvas paintings made by mass production can be found at a low price.
You can follow two rules when choosing the colors of your painting. The safest and the most reliable way is to stick with the color palette of your living room. Colors that match your furniture and floor will only make your initial design concept even more prominent. On the contrary, you can leave your comfort zone and choose a painting that embraces bold hues not found in the room. Vibrant blue, red, and yellow colors will liven up your modern black and white themed living room.
These painting may help you liven up your home:
The abstract painting on the wall beautifully matches the color palette of the entire living room while the artwork leaning against the wall gives the room a spontaneous, relaxed character.
7. Welcome the Sunlight
A living room without the source of natural light can appear small and murky. The dimness surrounding the already dark furniture can create a gloomy ambiance which may affect your mood. The sunlight will instantly uplift the atmosphere in your living room making it appear more welcoming.
The natural light beautifully reflects of smooth surfaces, such as glass and polished and lacquered wood. The detailing of the wood grain stands out when properly illuminated. Welcome the sunlight into your home by opening the windows and doors to your balcony. Invest in the sheer curtains. Those will not block the sunrays; however, they will still give you privacy.
If the windows in your living room are small and not sufficient, try upgrading your lighting system. Replace the old light bulbs with dimmable bulbs that mimic the natural light. Any light bulb with the color temperature of 5000-6000 Kelvin and CRI (color rendering index) above 80 will do the trick. Dimmable bulbs will give you an option to tone down the bright light when needed.
Your living room design ideas can step into the spotlight with the help of these light bulbs:
The picture above shows how a natural light can make all the beautifully polished and lacquered furniture stand out. Sunrays make the subtle detailing on the upholstery visible as well.
8. Wallpaper
Your living room design ideas do not have to be expensive. Buying new sofas and shelving units just to spice up the look of your living room is neither economical nor practical. A more budget-friendly option that bears the same results is a trusty wallpaper.
You can find the wallpaper available in different colors and patterns. You will most definitely find a product that fits your interior style. Wallpaper in cream or pastel color with texture lace detailing looks great in any traditional interior style. A brick motif, on the other hand, can fit your industrial or rustic living room. If you are living near the beach and you would like to bring the outdoor influence inside, try covering your living room walls in a white wood panel wallpaper.
Keep in mind that you do not have to cover all walls in the desired product. You can decorate two walls facing each other or only one. The accent wall covered in bold wallpaper will certainly liven up your home.
Take a look at these suggestions, one might be the right fit for your living room:
Leaf motif wallpaper completes the look of this tropical themed living room. The leafy backdrop paired with the dark wooden floor mimics the intact beauty of a rainforest.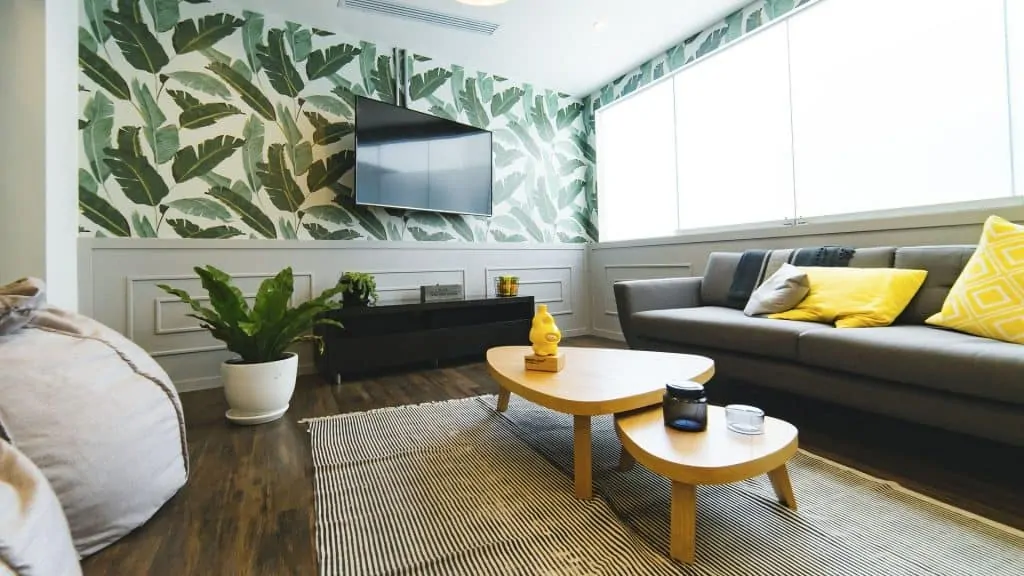 9. Ottoman Seats
Ottomans can give your living room a quick and rather inexpensive makeover. Instead of buying a new sofa or new accent living room chairs try investing into one or two ottomans. Ottomans are especially suitable for small living rooms as they do not take a lot of space and they are great for storage. You can even put them away and use them only when extra seats are needed for the guests.
Ottomans that embrace color and pattern can act as a statement piece. The best way to match your patterned ottomans with your sofa is to make sure that their base colors match. The motif alone can act as a décor. For instance, a beige sofa would beautifully match a beige ottoman with floral pattern.
Even a basic black ottoman can look impressive when taking a role of a coffee table. Lots of interior designers tend to choose an ottoman over a traditional coffee table to make the living room even more suitable for lounging. Upper serving trays of the ottoman can be flipped when offering food to the guests.
The following ottomans may help your living room design ideas come to fruition:
The picture above shows how a white ottoman with wooden stool legs and decorative upholstery pins can act as a statement piece. The contrasting blue sectional sofa makes the ottoman even more noticeable while the decorative pillows in matching off-white shade tie the whole concept together.  
10. Vibrant Floor and Ceiling
People often tend to overlook the importance of floor and ceiling when designing their interior. They play a huge role in the overall design as they provide the backdrop to all living room design ideas. People may not be necessary focused on the top and the bottom of the room, but their presence stays in our visual range.
You can make your dusty wooden floors stand out with the help of a hardwood floor cleaner. A good floor cleaner should remove all the grime that has accumulated over the years. Depending on the formula, some cleaner may even shine and deodorize the wood. If you want to give your floor a full shine, buff the wood polish and conditioner into the surface. The polish will make the grain of your faded flooring stand out once again.
You may be wondering, how can one make the ceiling look more presentable? Well, with the wall paint. You can hire a professional to paint a decorative square or circular design on it. If you are artistically talent, you can even do it yourself. Create the desired motif using a painting tape. If you fear that your project may turn into a disaster, you can always paint the whole ceiling in one solid color. Try matching the ceiling with the color of the floor or try painting it in unexpected bold color.  
Here are some products that will help you restore the floor and ceiling:
Every clean and beautifully polished wooden floor looks and feels luxurious. The decades-old wood used for the flooring should tell its own story through the beautiful grain.
11. Add Texture
Modern living rooms can look quite monotone without textural diversity. Glossy shelving units, leather sectional sofa, glass coffee table, polished floor, and a shiny flat screen TV look great on their own and when paired together; however smoothness of these items would pop even more if paired with a shaggy rug, faux fur decorative pillow, or any other textured décor.
We all know that smooth and shiny furniture looks effortless and luxurious, but the excessive sheen can make your living room look sterile. You can prevent this adverse result by incorporating more natural and distressed materials into your living room design. Jute is a rough, rustic looking material that can add some depth to your design. A crochet accent pillow covers and a velvet throw blanket effortlessly placed on your sofa will do the trick as well.
Keep in mind that even small textual deviation in an all-polished living room can make a difference. Next time you are buying a vase try picking one with a grainy surface instead of smooth. Or simply wrap a twine string around an old jar to create a unique decorative piece. Put a bouquet of local dried flowers in the jar and place it on the coffee table as a centerpiece.
The following decorations may make your living room design ideas come to life:
The living room on the picture has hardly any texture to it. The glossiness and smoothness of the couch, shelving units, and the floor can be overwhelming. Such living room may look sleek but may also come across as too formal.
12. Floating Shelves
Floating shelves can refresh the interior design you have grown used to over the years. They can be mounted anywhere on any wall, and do not need to be attached to the rest of the furniture in any shape or form.
Floating shelves will give you a platform on which you can display your most creative living room design ideas. Place your favorite vase, souvenirs, and framed inspirational quotes on them. These shelves may even inspire you to create your very own miniature library.
Floating shelves come in different sizes, colors, and designs. You can work a simple wooden floating shelf with beautiful grain pattern practically into every interior design theme. Rustic, traditional, country, modern you name it. Same wooden shelf with metal edging or fake pipe support would look the best in the industrial living room.
If you like unique looking furniture that resembles modern art, then you may want to choose contemporary floating shelves. A wave shelf or square units that overlap each other will definitely impress you and your guests.
These following floating shelves can give your living room functionality and appeal:
Mount your floating shelves above each other and create a small reading corner in your living room. A cozy armchair placed next to your personal book collection will help you create an intimate setting.
13. Floor and Ceiling Decor
We can assume that the shelves in your living room are well decorated, but how about the floor or the ceiling? Do they stand out or are they overshadowed by luxurious furniture? Just as you can make the walls in your living room pop, you can make the floor and ceiling noticeable as well.
The easiest way to draw attention to the floor is with a luxurious carpet that beautifully fits the whole interior style. A burgundy oriental carpet with a detailed swirl pattern can enhance the look of your polished oak floor. A tall floor vase filled with dried branches intertwined with LED string lights can make your floor look amazing too. How about a modern tripod floor lamp? Such lamp can add a dash of elegance and sophistication to your living room.
The easiest way to make your ceiling noticeable is with a luxurious chandelier. The light reflecting off the lavish crystal glass gems will create mesmerizing scenery in your living room. Your guests will have no choice but to look up towards the ceiling.
Chandeliers can be quite expensive but you can always recreate their striking presence with low hanging lights. Pendant lights can be just as romantic and as impactful.
You can base your living room design ideas off of these décor suggestions:
The luxurious chandelier on the picture above successfully draws attention to the ceiling. Without it, the living room would not look as breathtaking.
14. Add a Pop of Color
Do you feel like your living room lacks fun personality? If so, you should consider introducing some color to it. Brown, black, and white are the go-to colors for most living rooms. You should not be afraid to invest in some bright and bold furniture because the mentioned base hues will mellow down even your most colorful living room design ideas.
Next time you are at your local home store, instead of purchasing gray decorative pillows, try going for bright red, turquoise, or green ones. Citrus and pastel colors are especially trendy right now. If the budget allows you, try investing in bold accent armchairs. By placing them opposite your beige or black sofa you will create an eye-catching contrast.
Even the slightest trace of vibrant color can be noticeable in a monotone living room. Fill your clear glass vase with freshly bought yellow tulips. This flower arrangement can be used as a centerpiece for your coffee table. Even a bowl of fresh fruits, from red apples to yellow bananas, can introduce a lively character to your living room.  
These vibrant décor pieces might make your living room look more charismatic:
Color symmetry of this room is precisely planned. The green throw blanket on the left and a green vase on the right gradually build up the color palette. Bright turquoise decorative pillows evenly placed on the sofa make this gray themed living room more approachable.
15. Experiment with Patterns
Quite a lot of people are scared to introduce pattern to their interior. Patterns can at times look overwhelming especially when in bold colors. For that very reason, people tend to buy sofas and armchairs in one solid color, usually black, beige or brown.
If you do not know how to incorporate intricate motifs into your interior theme, just remember that moderation is the key to success. One or two striped accent armchairs facing your solid-color sofa should get the message across. A balanced contrast is desired in practically any interior style, from traditional to modern.
Keep in mind that every pattern tells its own story. Circular and swirl motifs without harsh edges look soft and romantic. Such patterns beautifully fit traditional and Victorian interior styles. Edgier look of the angular shapes would, on the other hand, best fit industrial and modern interior themes. Since most of the living rooms fall into the group of mixed interior styles, you should feel free to experiment with a variety of different patterns.
These following patterned items may help you come up with new living room design ideas:
This living room embraces pattern while still sticking to the intended neutral color scheme. The intricate motifs on the accent chair and throw pillows create a subtle but noticeable contrast. You do not have to introduce bold colors to your traditional living room to make a statement. Slight color and pattern variations will speak loudly in your white-themed home.  
Jen Miller is a former electrical engineer and product specialist with more than 20 years of product design and testing experience. She has designed more than 200 products for Fortune 500 companies, in fields ranging from home appliances to sports gear and outdoor equipment. She founded Jen Reviews to share her knowledge and critical eye for what makes consumers tick, and adopts a strict no-BS approach to help the reader filter through the maze of products and marketing hype out there.  She writes regularly and has been featured on Forbes, Fast Company, The Muse, The Huffington Post, Tiny Buddha and MindBodyGreen.