Have you heard of Taiwanese Hu Jiao Bing? It literally translates to Pepper Biscuit! But don't let the name fool you, these pepper pork pies are so much more than that.
Hu Jiao Bing are pastries filled with a mixture of pork, scallions and fragrant with aromatics and white pepper. The crust should be crispy but not doughy whereas the filling should have the right ratio of lean meat, fat and chopped scallions. Traditionally from Taiwan, these are an immensely popular street food at night markets which are abundant throughout the country. At one specific market called Raohe Night Market, tourists and locals alike are willing to wait in line for over an hour just to get a taste of the famous pepper pork pies there which are one of the major attractions of the market.
This recipe can be altered in many ways to suit your liking. Typically, the chopped scallions are stuffed into the bun separately with the meat filling instead of incorporating it in altogether. This is done so that the flavors of the fragrant, pungent scallions are more pronounced. However, I've gone against the norm by mixing it in together with the pork filling, simply because it's so much easier to wrap. For most home cooks, we rarely tackle recipes like these are they can be very time-consuming. Many people end up putting in less filling as it makes the wrapping process so much easier. Unfortunately, what you get in return is a sad pastry with little meat and all crust.
There are a few key components to ensuring a fail-proof pepper pork pie, so do take note of the step-by-step instructions!
Taiwanese Pepper Pork Pie Recipe
Total Time
2
hours
15
minutes
Ingredients
Dough
1 ½

cup

all-purpose flour

1

tbsp

caster sugar

¾

tsp

instant yeast

½

cup

warm water
Filling
400

g

Pork Belly

1 ¾  

cup

chopped green scallions

3 ½  

tbsp

of white pepper

1

tbsp

chinese five spice powder

2

tbsp

Shao Xing wine

1

tbsp

salt

4

tbsp

light soy sauce

1 ½

tbsp

sesame oil

2

tbsp

cornstarch
Other Ingredients
1

egg

diluted with 1 tbsp water

Untoasted white sesame seeds
Instructions
Mince the pork belly in a food processor.


Mix in chopped green scallions

Season with all the aromatics.

Mix the meat filling in one direction until threads form.


Pour warm water into the dry dough ingredients.

Knead the dough till glossy and smooth.

Cover the dough and let it rise till double its size.


Punch out the gas bubbles in the dough.


Roll out the dough and chop into 8 pieces.

Wrap the pies, dip them in egg wash then sesame seeds.


Bake for 15-20 mins at 200 degrees Celsius or until golden brown.

Let cool on a wire rack and enjoy!

STEP ONE – MINCE THE PORK BELLY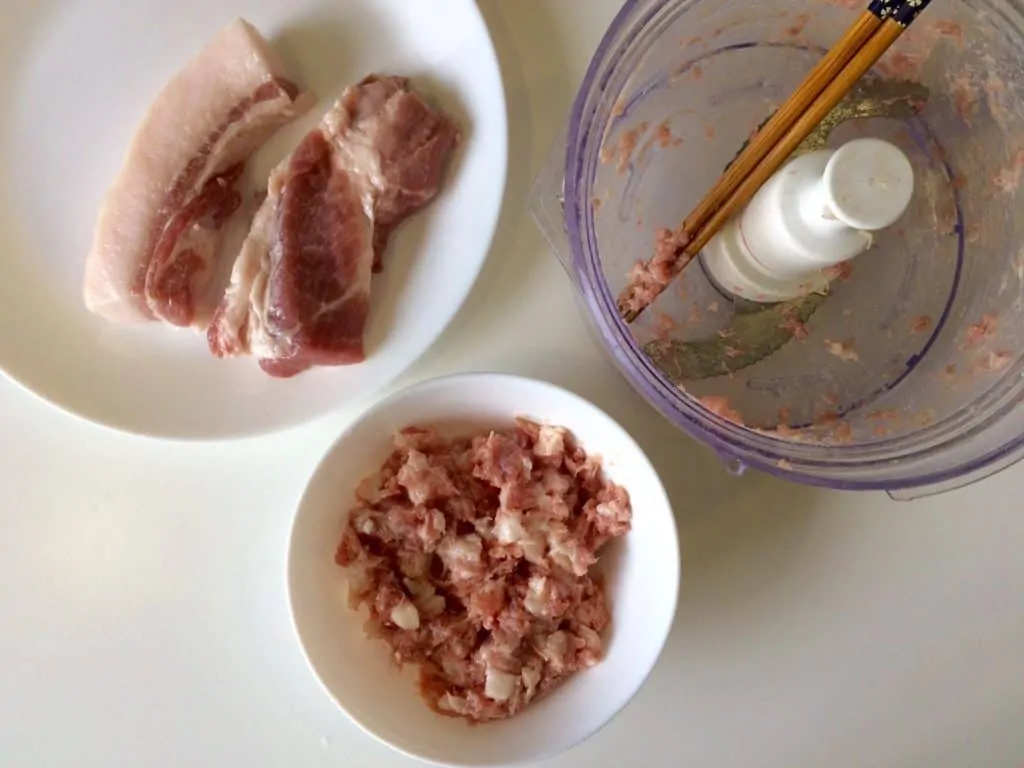 When choosing your pork belly, make sure it's firm, pink and bounces off ever so slightly when poked with a finger. Remove the rind. Now, here is where you adjust the ratio of your fat to lean meat in the filling. If you prefer a leaner mix, remove as much of the fat from the pork belly as you desire and store in the freezer to use as lard for cooking. Alternatively, you can just buy ready minced pork. Omit this step if you prefer a juicier mix. Use a food processor to grind the pork belly to your desired consistency. It's recommended to maintain slightly larger bits as the filling will have more textural bite to it.
STEP TWO – MIX IN THE SCALLIONS
Mix in the chopped scallions into the pork. If you want the flavor of the scallions to be more pronounced, chop them roughly instead of finely as I've done here. If you will be serving these to people who may not be a huge fan of the taste, you can also use fewer scallions and chop them more finely.
STEP THREE – SEASON THE MIXTURE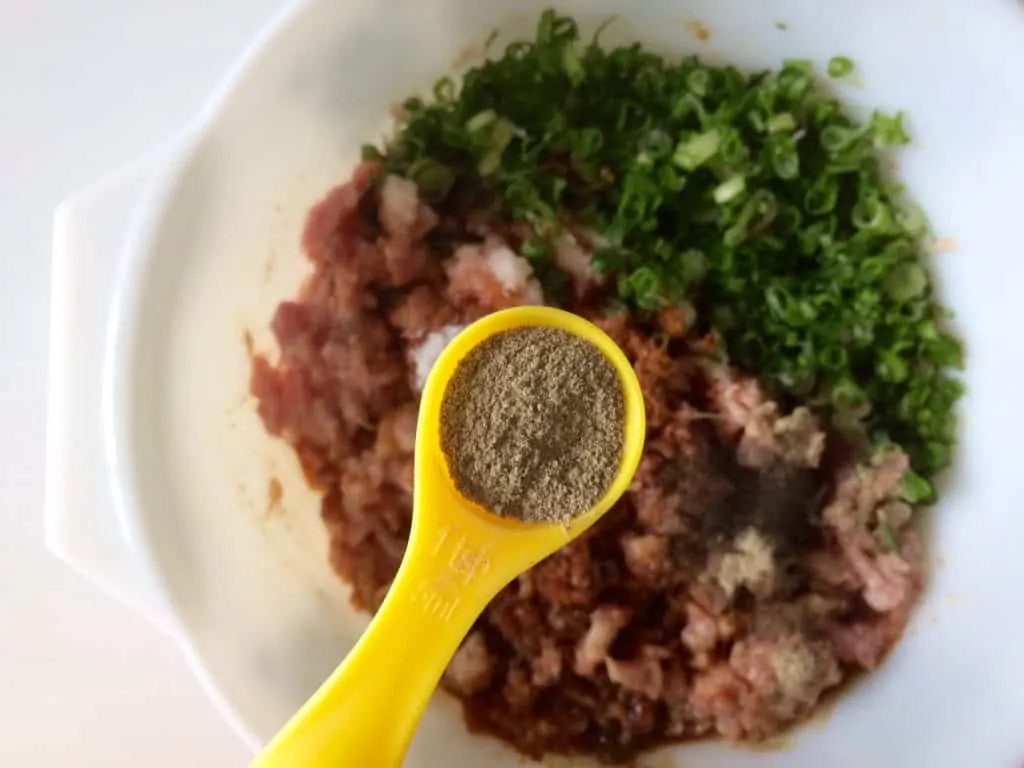 Add in the rest of the ingredients, don't worry about over-seasoning as the filling itself has to has very strong flavors and be saltier than usual. Because the shell itself is rather flavorless, the filling will have to make up for it as well.
STEP FOUR – MIX THE DOUGH IN ONE DIRECTION
Using a fork or chopsticks, start mixing the dough either clockwise or anti-clockwise until you see the fat start to form threads like this. Using a tool with a smaller surface area will make the job easier as there will be less of the mixture sticking to the tool. Cover and let it marinate in the fridge as you prepare the dough.
STEP FIVE – START PREPARING THE DOUGH
Measure out the flour, sugar and yeast and pour into a dry bowl. Make sure your water is warm at roughly body temperature. If it's too cold, the yeast won't activate and will be killed off if the water is too hot. Create a well in the centre and pour in ½ cup of water first. If the mixture is too dry and flaky, slowly pour in more water until you're able to form the dough into a single ball. (there will still be a lot of flaky dry bits.) Depending on the climate, you might need more or less water. I ended up using ¾ cup of water.
STEP SIX – KNEAD THE DOUGH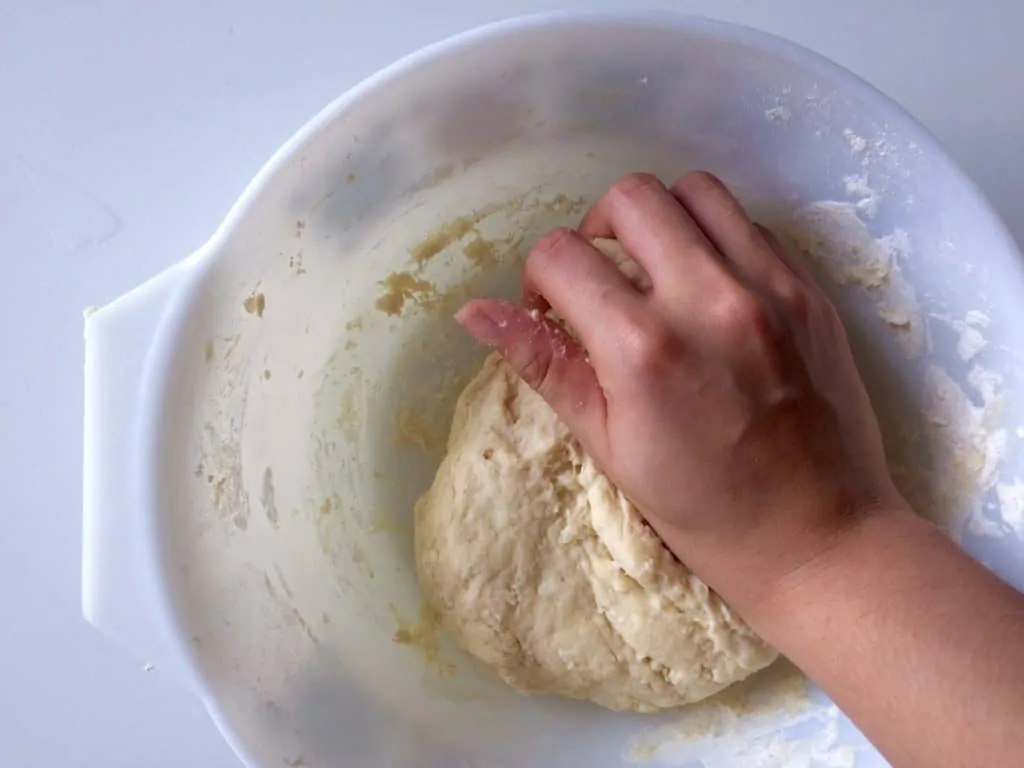 Now, add the oil into the mix. Knead the dough until it starts to become glossier and smoother. It will also start to have a bouncier texture. This will take about 5 minutes or so. If you're making a small batch, you can just knead it directly in the bowl. If not, turn it out onto a lightly floured board or tabletop.
STEP SEVEN – COVER AND LET RISE
Form the dough into a ball with a rounded, even surface. Place the dough into a bowl large enough for it to expand. Cover with cling wrap or a lightly damp cloth and let the yeast do its action in a dark, warm area.
STEP EIGHT – PUNCH OUT THE AIR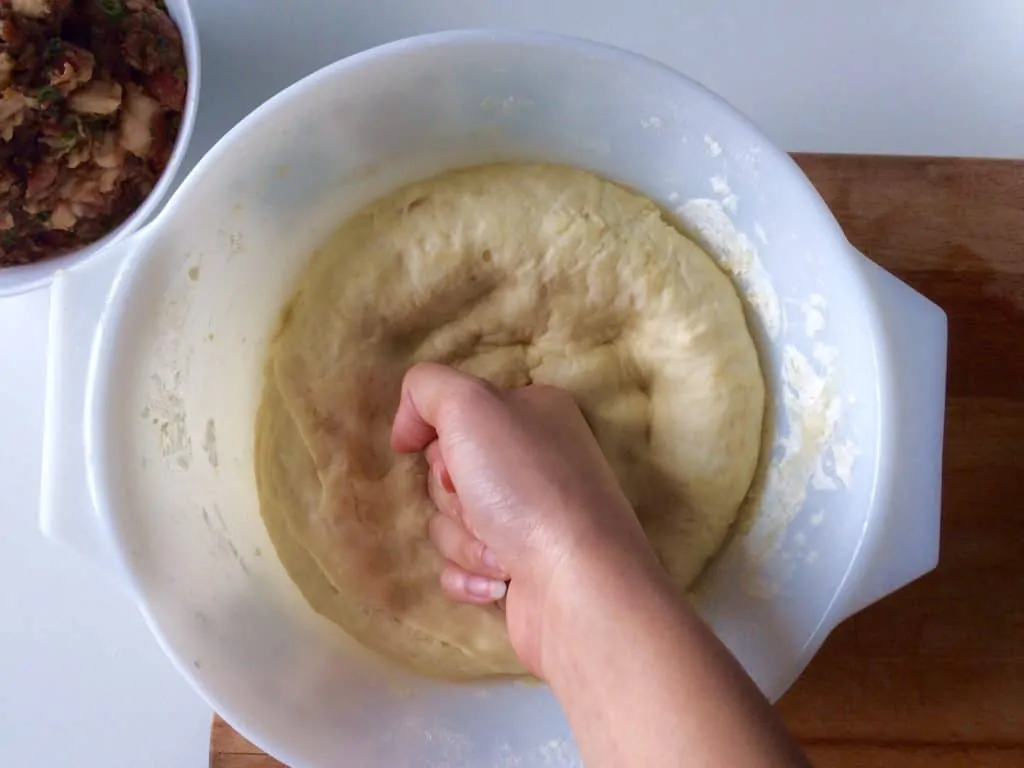 Wait until the dough has risen to roughly twice its size. This may take longer if your climate is colder and drier. For the warm and humid climate I live in, it took about 50 minutes. After that, simply punch the dough down the middle to remove the gas bubbles formed by the yeast.
STEP NINE – CUT THE DOUGH INTO 8 EVEN PIECES
Roll out the dough into an even cylindrical log.  Divide it into 8 equal portions with a knife. You may end up having to separate it into up to 10 pieces depending on the volume of dough. Roll each piece into a ball.
STEP TEN – WRAP THE PIES AND DIP THEM
Flatten out each dough piece by simply pulling with your fingers while spinning, no rolling pin needed here. Cup it in one hand and place a generous spoonful of filling into the middle. Try to fill as much as you can. Seal off the edges by pinching them. By holding the pinched side, dip the smoother surface into the egg wash and then into the sesame seeds. Make sure your sesame seeds are untoasted as they will burn and become bitter if using toasted ones. While you're doing this step, preheat the oven to 200 degrees Celsius.
STEP ELEVEN – BAKE FOR 15-20 MINUTES
Brush the tops of each pie with egg wash so that it will be crispier and for better color. Bake in a preheated oven at 200 degrees Celsius for 15-20 minutes or until golden brown and crispy. You can test if its done by tapping the surface with a chopstick, it should be hard and the tapping should produce a small sound.
STEP TWELVE – LET COOL AND STORE
Once done, let them fully cool on a wire rack. These pepper pork pies make the perfect breakfast or a filling snack. They're very portable and suitable for gifts as well!
FINAL THOUGHTS
This recipe can easily be doubled or even tripled for a bigger yield if you're serving more. Albeit time-consuming, they're every bit worth trying!
Feel free to replace the pork with beef, lamb or chicken. Instead of reducing the amount of scallions, you could even completely omit them. A vegetarian version could also be made
by using crushed firm tofu but will have to be braised in the marinade and then dried slightly.
Did you try your hand at this recipe? If so, let us know in the comments if you encountered any difficulties with it! For other recipes using pork belly, check out our Pork Belly Lo Mein recipe!