Kimbap may look like Japanese makizushi, but don't be fooled. Though similar, this korean dish is different in its own delicious way.
First off, while Japanese maki uses short-grain rice seasoned with rice vinegar, kimbap simply uses fragrant sesame oil. Koreans love their sesame oil and although it's an important seasoning for the most part of East and Southeast Asia, Koreans seem to incorporate it in almost everything! As for the filling, you'll see that kimbap is typically very generous with its fillings. Packed with everything from tuna to pickled radish, just a few pieces can sometimes be enough to fill you up.
Kimbap is widely popular as a picnic food in Korea. Considering how portable and well-balanced it is, it's no wonder. Make these for your child's lunchbox or for those days when you just can't leave the office for lunch.
For this recipe, we will be using pork cutlet and kimchi as the main ingredients for the kimbap. Cucumbers and omelettes will be added in as well for a more substantial filling and balanced flavor. The pork cutlet makes this kimbap deliciously savory and the crispiness of the crust makes for a lovely textural contrast with the rest of the ingredients. The kimchi plays a key role in adding a bright pop of color and zing so make sure it isn't left out!
Kimchi and Pork Cutlet Kimbap
Total Time
1
hour
15
minutes
Ingredients
6

Nori sheets

1 ½

cup

short-grain / sushi rice

1

large Japanese cucumber

3

eggs

3

Boneless pork loin chops

½

cup

of all-purpose flour

1

egg

⅔

cup

of breadcrumbs

¾

cup

of kimchi

1

tbsp

of sesame oil
Instructions
Pound the pork loin to desired thickness. Dredge in flour, eggs then breadcrumbs.

Shallow fry the pork loins until golden brown on each side.

Cook the rice and toss in the sesame oil.

Fry the eggs and slice into strips.

Chop the kimchi and cucumber.

Lay out all the components.

Evenly spread on the rice with a spatula, leaving a 2-inch gap.

Place the ingredients onto the rice and roll.

Brush lightly with sesame oil.

Slice with a clean knife.
STEP ONE – BREAD THE PORK LOINS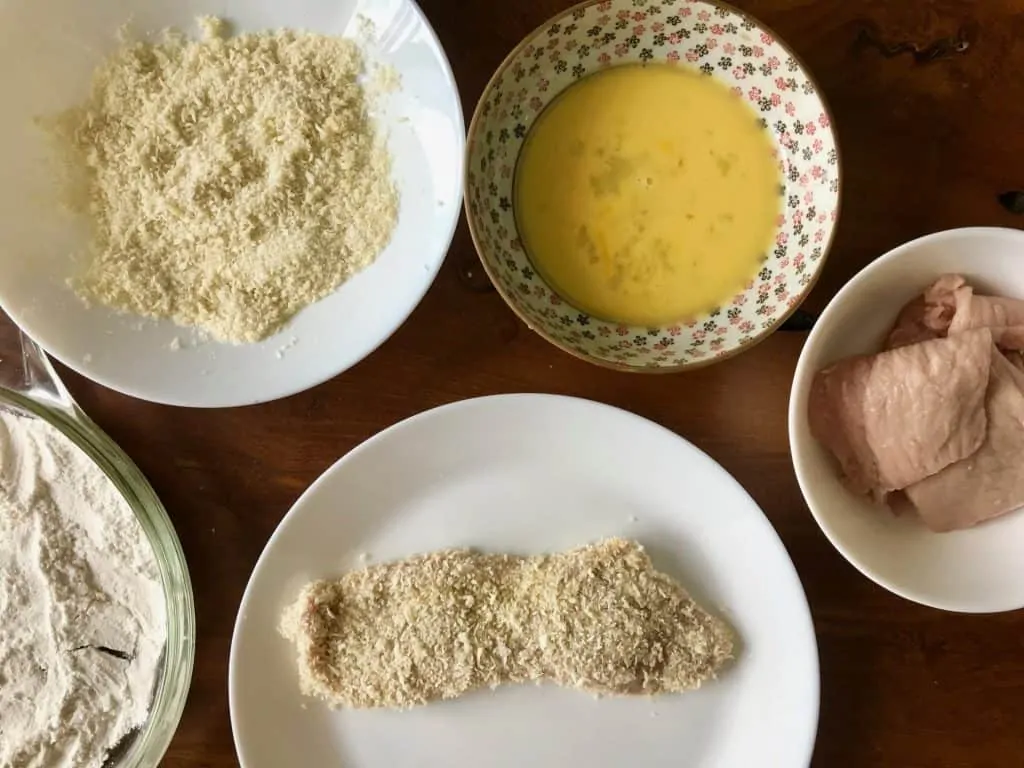 Start off by washing the pork loins at room temperature. If they're too thick and uneven, place them in between two pieces of plastic wrap and use a meat pounder or rolling pin to flatten them until about ¾ inch thick. Season plainly with a pinch of salt and start breading the pork by coating in flour, egg and then breadcrumbs.
STEP TWO – SHALLOW FRY THE PORK CUTLET
Shallow fry in vegetable oil on medium-high heat for 3-4 minutes each side or until each side is golden-brown. Once out the pan, I like to sprinkle the crust lightly with salt. Allow to cool and slice against the grain into long strips.
STEP THREE – COOK THE RICE
Cook the rice according to package instructions. In general, 1 cup of short-grain rice to 2 cups of water. For this recipe, I've used 3 cups of water. Most importantly, rinse the rice thoroughly before cooking till the water runs clear. You can cook the rice in a pot or using a handy-dandy rice cooker. We recommend this one! After the rice is cooked, drizzle the sesame oil over and toss thoroughly.
STEP FOUR – MAKE THE OMELETTE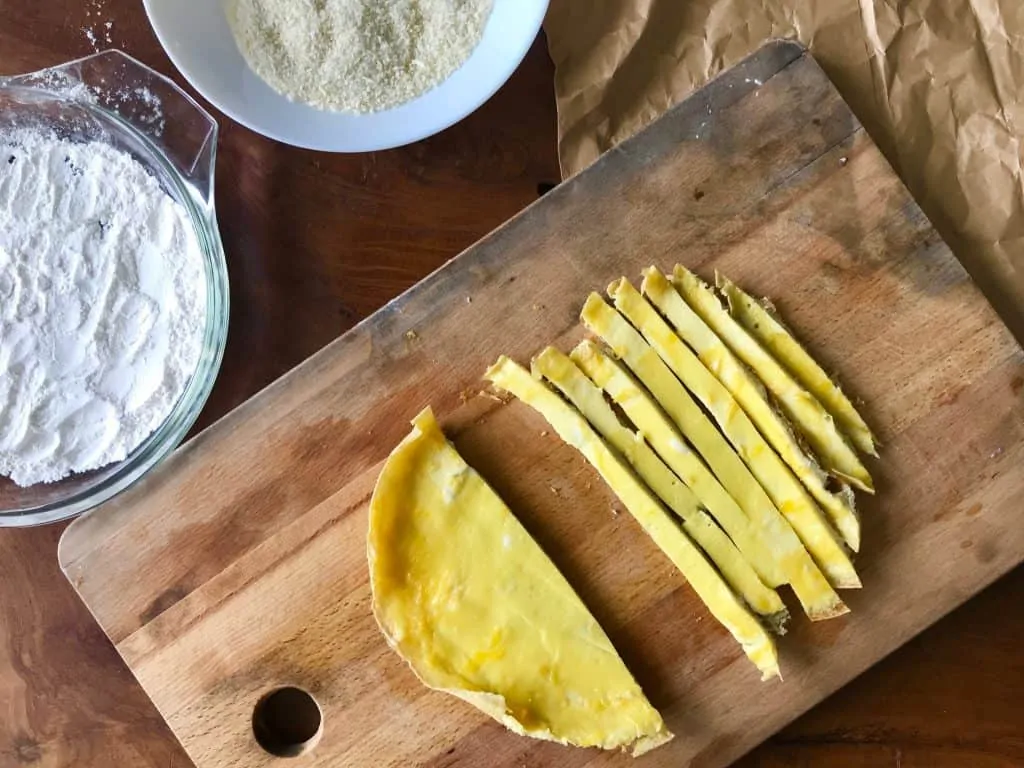 Whisk the 3 eggs together along with ¼  tsp of salt and 2 tablespoons of water (optional). In a shallow frying pan over medium heat, add in a tablespoon of oil and spread it evenly over the surface of the pan. Pour in the eggs and cover with a lid till the surface of the omelette is cooked through. Loosen the edges with a small knife and flip it over onto a large plate or cutting board. Slice into long strips.
STEP FIVE – CHOP THE KIMCHI AND CUCUMBER

Chop the kimchi into smaller, more manageable pieces. Rinse the cucumber and chop into matchsticks. Remove the seeds of the cucumber if you won't be eating this kimbap right away as the seedy part has a higher water content and might spoil faster or make the kimbap soggy.
STEP SIX – LAY OUT ALL THE COMPONENTS

Now we can begin wrapping! Place all the components out after they've cooled down sufficiently. You'll see the nori has two sides – one shiny, one matte. Place the nori sheet shiny side down.
STEP SEVEN – SPREAD THE RICE ON

Get ½ cup or so of rice and spread it out into a thin, even layer. Using a spatula here helps loads, although using wet fingers would be fine too. Leave a 2-inch gap at the top of the nori sheet.
STEP EIGHT – PLACE THE INGREDIENTS ON AND ROLL.
Place the ingredients single-file onto the middle of the rice, slightly nearer to you. Using a bamboo mat to roll would be ideal but realistically, not everyone has one at home. Fret not as using your hands would work just as fine too!
As you roll, the goal is for both sides of the rice to meet and fuse together. Once the first roll is done, press firmly with your hands. Place a few grains of rice onto the edge of the seaweed and roll all the way to the end. The rice will help the edges of the seaweed to stick firmly onto the roll.
STEP NINE – BRUSH LIGHTLY WITH SESAME OIL

Brush very lightly with sesame oil for a smooth sheen and more pronounced sesame flavor. If you don't have a brush, simply use your fingertips!
STEP TEN – SLICE AND ENJOY!

They key to slicing kimbap neatly is a clean, sharp knife. To achieve this, prepare a wet kitchen towel to wipe the knife with after every 2 or 3 slices. If they still seem to stick, simply wash your knife and try again, or, invest in a good quality knife sharpener! Serve as is or with extra kimchi on the side!
FINAL THOUGHTS
Pork cutlet and kimchi truly make for a heavenly kimbap. It's all about the contrast between flavors and textures that really make this dish. Perhaps try pickled yellow radish and tuna? Sauteed salmon with fresh red bell peppers would be very well-received as well for those not accustomed to Korean ingredients.
If you don't have short-grain rice, by all means, don't try using long-grain rice! No matter what you add to it, the rice isn't sticky enough and the end result produced will be nowhere near as what it's supposed to look like. Glutinous rice, though sticky is not good option as well.
Jen Miller is a former electrical engineer and product specialist with more than 20 years of product design and testing experience. She has designed more than 200 products for Fortune 500 companies, in fields ranging from home appliances to sports gear and outdoor equipment. She founded Jen Reviews to share her knowledge and critical eye for what makes consumers tick, and adopts a strict no-BS approach to help the reader filter through the maze of products and marketing hype out there.  She writes regularly and has been featured on Forbes, Fast Company, The Muse, The Huffington Post, Tiny Buddha and MindBodyGreen.