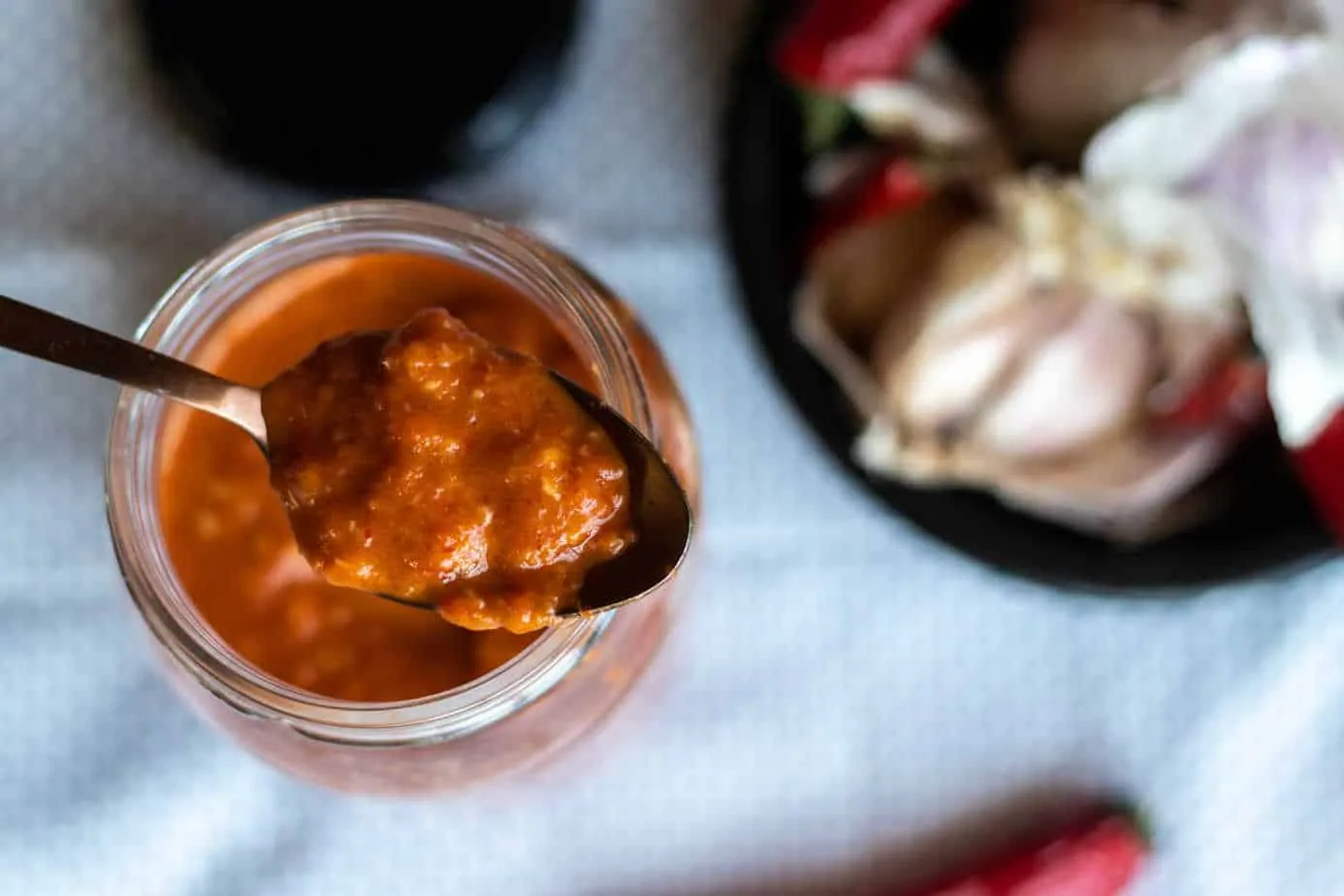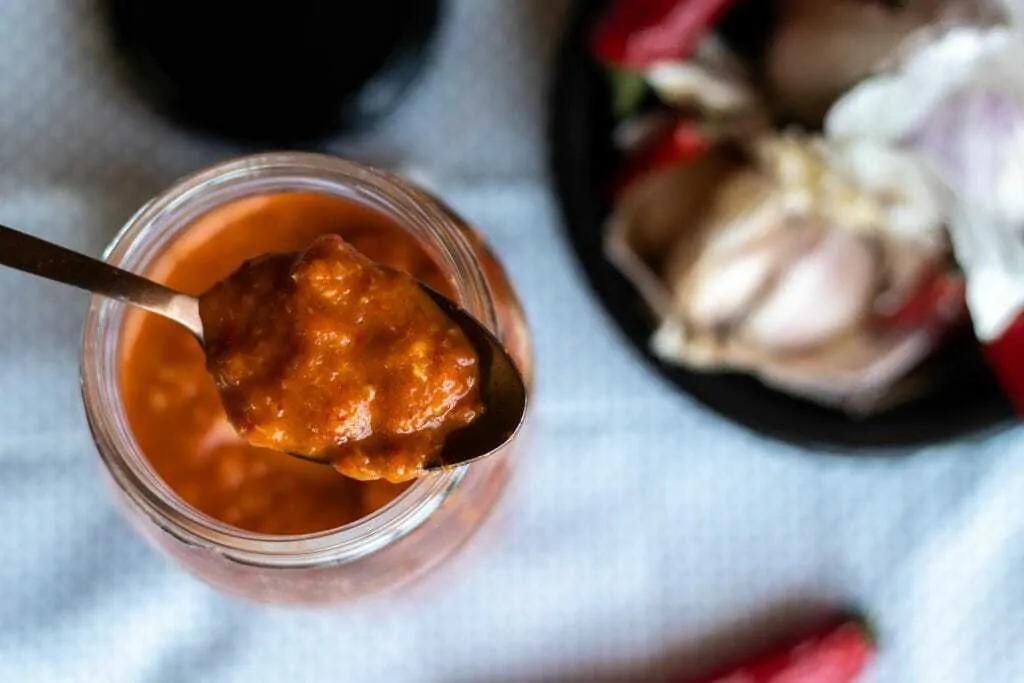 Some like it spicy, and I happen to be one of those people! Ask anyone and you'll find out that I'm the type who will gladly try the hottest hot sauce and will put a ridiculous amount of sriracha in my phở. A gradient of heat levels to chili sauces to try for that Mexican feast? Yes, please! The hotter the better, I always say, but it should always be about the flavor too. That's where making a homemade hot sauce comes in handy; you choose what types of chilies you like, what to accompany it, and how long it needs to simmer to have those flavors marry together to make it perfect.
I have only made a couple of hot sauces from scratch, but one of my most loved wasn't so much a sauce as it was a chili oil that I was introduced to when I moved to Portugal. It was comprised of piri piri peppers, fresh pressed Portuguese olive oil, and whiskey. The idea behind it is the inspiration behind this particular recipe, with some obvious modifications to turn it from oil infusion to sauce.
For those who have never heard of piri piri peppers, often referred to as African bird's eye chilies, these are one of the lovely little bits that the Portuguese transported from their wanderings around Africa to India and then brought it back home to Portugal. They are often turned into a seasoning or marinade with bright citrus, garlic, onion, and herbal flavors and massaged into things like shrimp or chicken before grilling. Malagueta peppers are much the same, but are essentially a larger version of the piri piri and are often a little less heat heavy than their tiny cousins.
As any good Portuguese savory dish has, this one is loaded up with about half a head of garlic. It could do with more easily if garlic is a culinary obsession like it is for me, but less would make this sauce lacks a vital ingredient. If you are inclined to a good bit of garlic, double it up by adding a whole head. It's worth it if you can handle it, and these chilies will gladly accept them!
Now for the whiskey. Whiskey isn't exactly traditional, but it helps to marry these flavors in such a way that you'll want to put a dash on anything and everything. I didn't use any special whiskey for this recipe. Choose what you have on hand as it does get cooked down and out for the most part. No sense in using a wonderful drinking whiskey.
The last element to this recipe is a hint of sweet. Honey, sugar, or fruit are not what is needed in this sauce. More peppers are required to give just the right flavor. Red bell peppers that have been roasted and peeled join the more acerbic flavors and blends together to mellow them down while providing a subtle sweetness that makes this sauce is more likely to be accepted by a variety of foodstuff when added to them.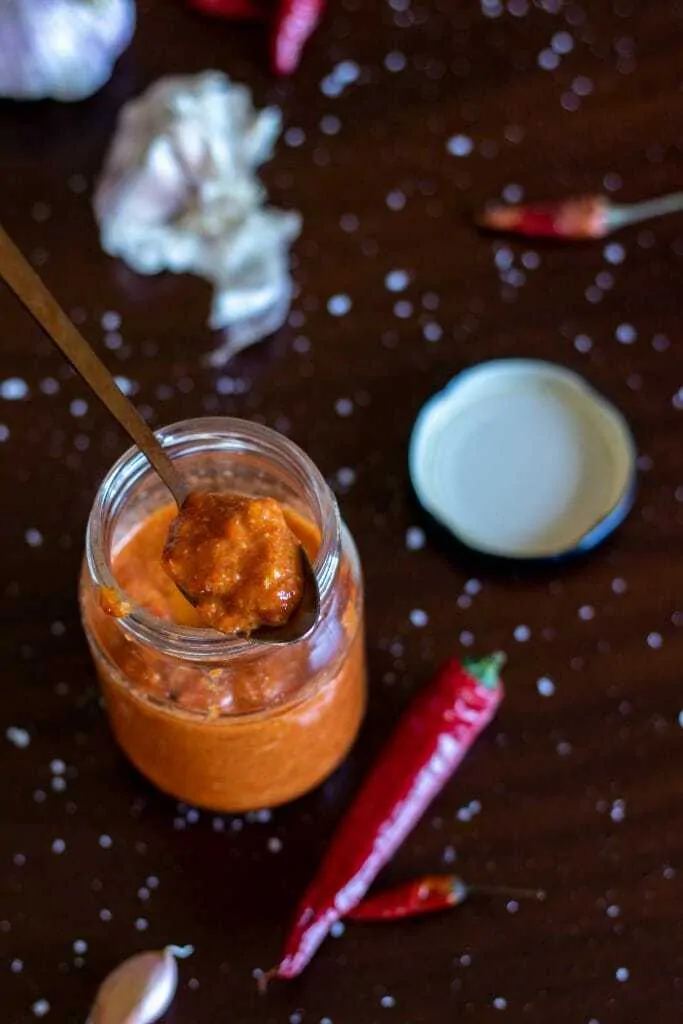 One of the best parts of this recipe? It's ready in less than an hour, so let's get started!
Portuguese Piri Piri Pepper Whiskey Sauce
Ingredients
8-9

cloves

garlic

3

piri piri peppers

3

malagueta peppers

2

tablespoons

olive oil

2

large red bell peppers

6

tablespoons

whiskey

divide

1

teaspoon

salt
Instructions
Set the oven on broil and allow it to preheat with the rack on the highest setting. Wash all of the peppers thoroughly before placing the bell peppers into the oven to roast until the skin has blistered. Turn and allow the other side to char and blister before removing them from the oven.

Transfer the chili peppers to a cutting board and crush the garlic cloves. Peel the garlic and roughly chop them and the chili peppers.

Peel the bell peppers by pulling the charred skin off the outside. Cut the peppers down the middle and remove the stem and seeds before cutting them into pieces.

Heat the olive oil in a skillet over medium-high heat. Add garlic and chili peppers to the pan and saute for about 8 minutes. Pour in a quarter of the whiskey and stir. Allow it to cook until the liquid has nearly evaporated. Season with a little salt and stir again.

Reduce the heat to medium and add in the chopped bell peppers and another two tablespoons of the whiskey. Bring it all to a simmer and let it cook for about 5-6 minutes. Turn off the heat.

Transfer the peppers to a food processor and pulse until smooth. Add the rest of the whiskey and pulse again.

Pour the prepared chili sauce into a container that has a pour spout. Transfer the chili sauce to a jar and refrigerate until ready to use. Use in one week.
Notes
Piri piri peppers are also called African bird's eye peppers. If they aren't available, try to substitute them for Thai chili peppers or cayenne chili peppers.
Malagueta peppers can be subbed for tabasco peppers for a little less heat.
STEP ONE – PREPARE THE PEPPERS
Turn on the broiler of the oven; the top coil of the oven with the rack set close to the hot coil.
Rinse the chili peppers and bell peppers under cool water really well. Place the clean bell peppers on the rack and let them roast, turning when one side has charred and blistered and repeat with the other side. Remove them from the oven to allow the peppers to cool enough to be able to touch.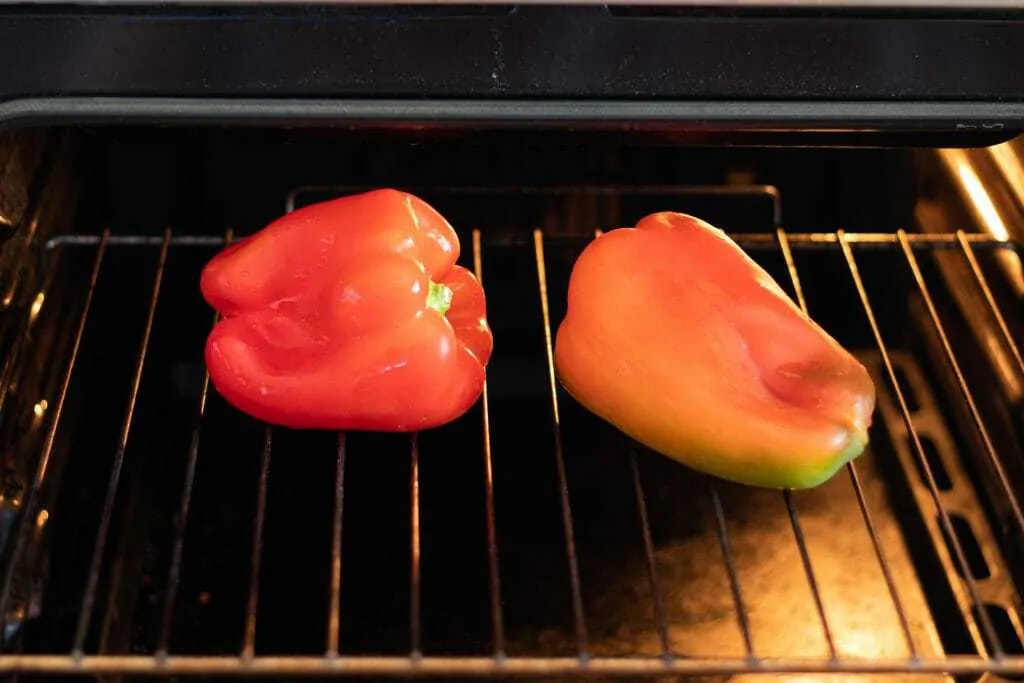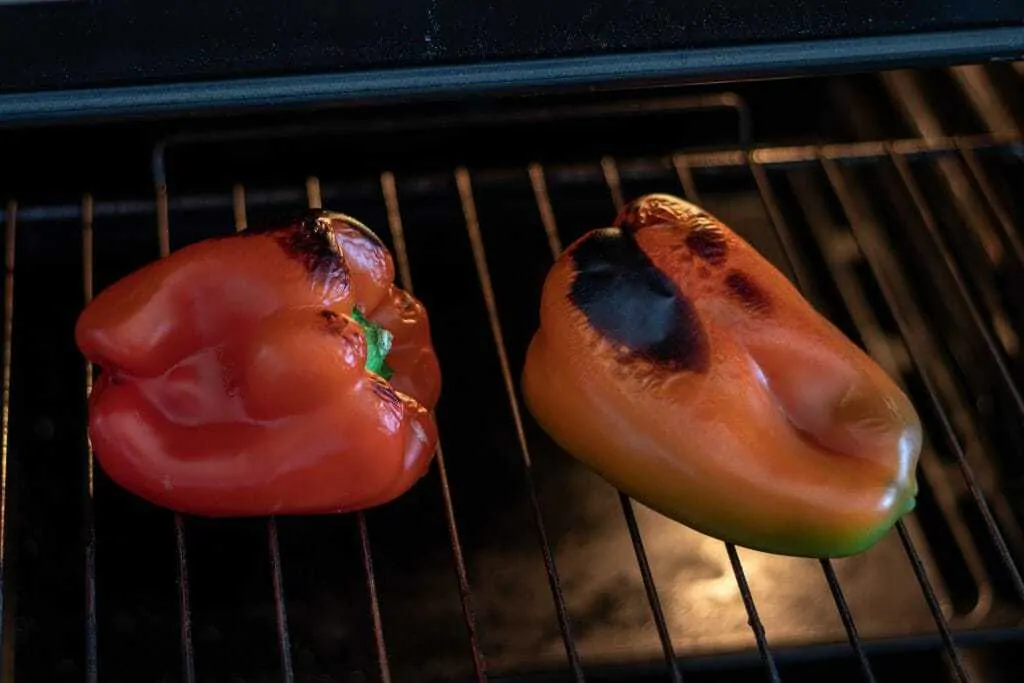 STEP TWO – PREPARE THE GARLIC AND CHILIES
On a cutting board using a chef's knife, crush the garlic cloves between the flat side of the blade and the board. Peel the skin off and remove the tough root end and discard it.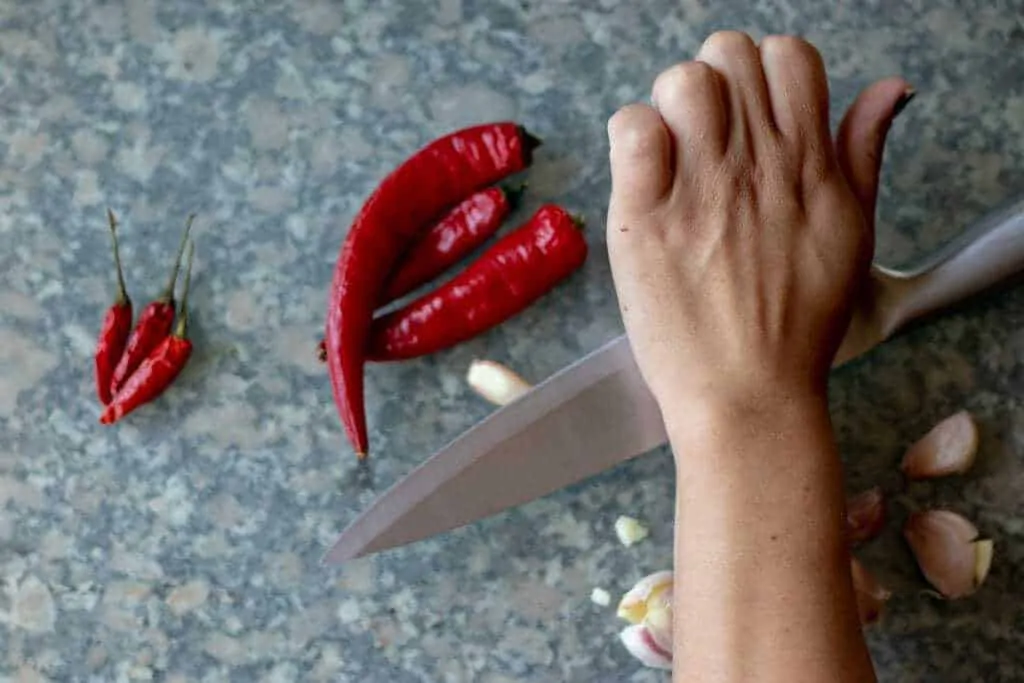 Trim off the stems of the chili peppers and discard them. Roughly chop the peppers and garlic.
STEP THREE – PEEL THE BELL PEPPERS AND CHOP
With your fingers, gently pull the outside skin from off the peppers. If they are fully roasted it should be easy to peel them.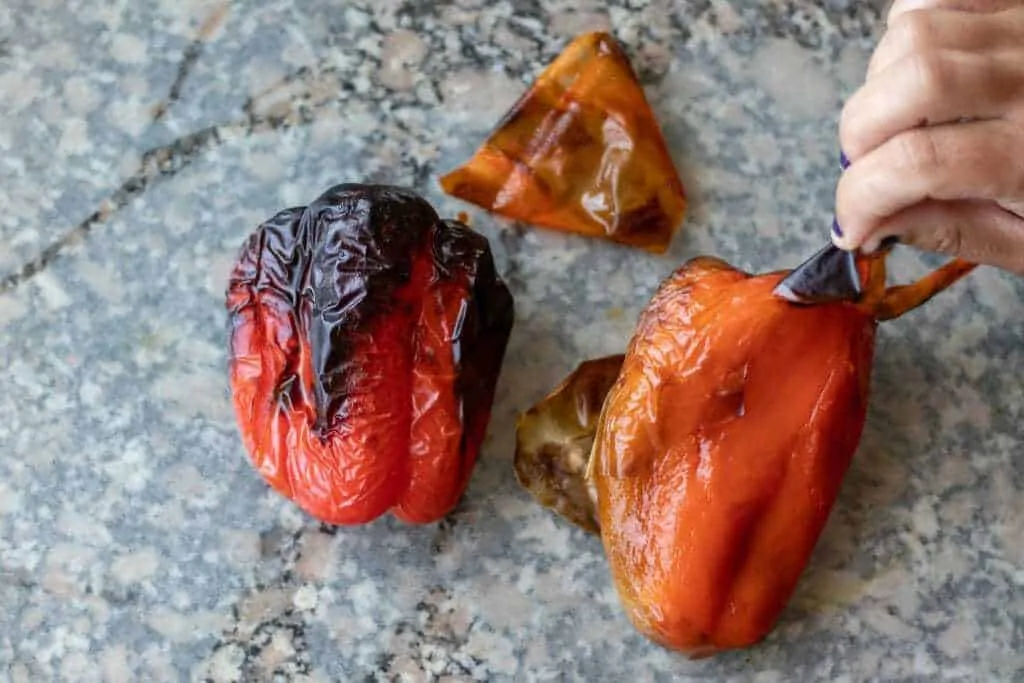 Cut the peppers in half and roll them out to scrape out the seeds and remove the stem with a paring knife.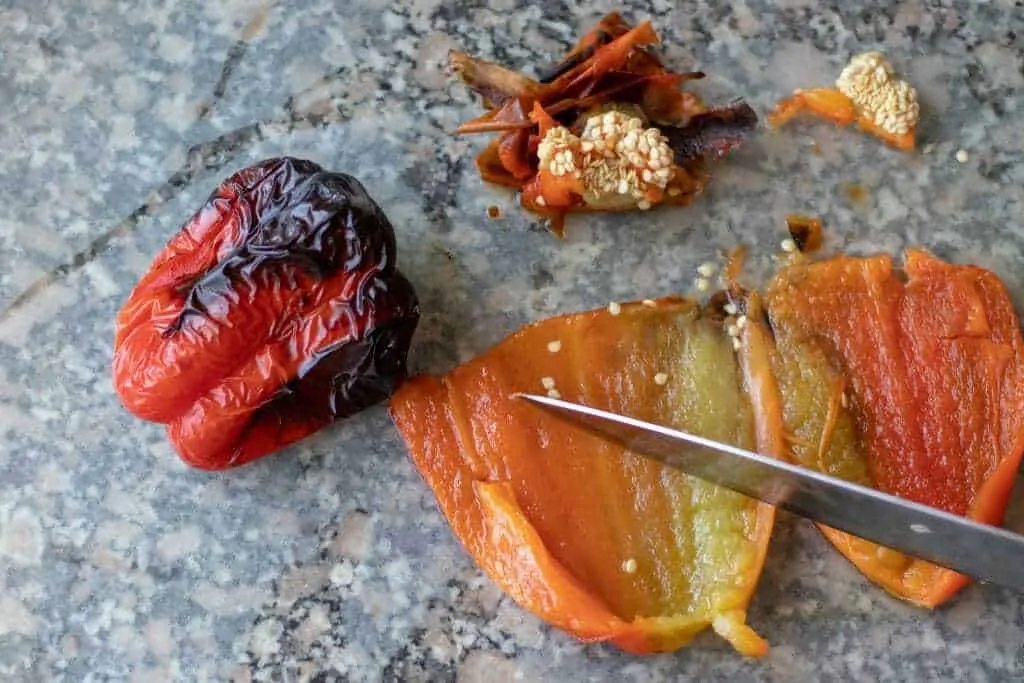 STEP FOUR – SAUTE GARLIC AND CHILIES
Pour olive oil into a skillet over medium-high heat and allow it to heat up; it will shimmer slightly when it's hot. Add garlic and chopped chili peppers and cook, stirring frequently, about 8 minutes. This will soften the peppers and brown the garlic and it will become very fragrant, almost smokey smelling.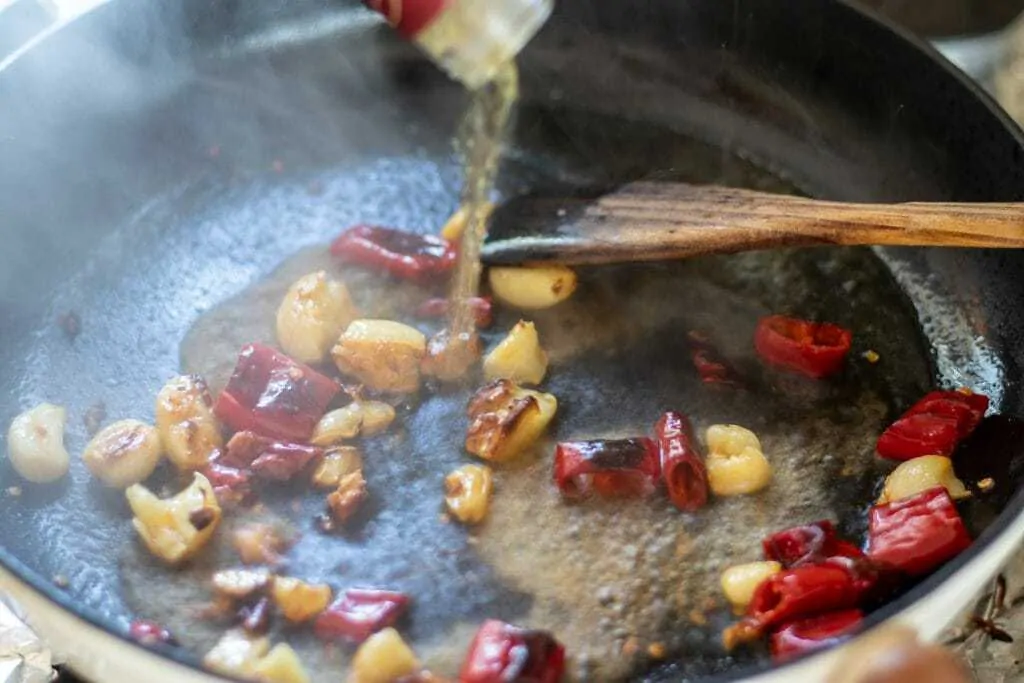 Pour a little bit of whiskey into the pan and stir to deglaze the pan, scraping any little stuck bits from the bottom of the pan gently. Let it cook for another minute or so, or until the liquid has evaporated. Taste and season with salt.
STEP FIVE – SIMMER THE PEPPERS
Turn the heat on the burner down to medium before adding in the roasted chopped bell peppers to the skillet.
Pour in another 2 tablespoons of whiskey and stir well. Allow the mixture to come to a simmer and allow it to cook down for another 5-6 minutes; this will cause the liquid from the peppers and whiskey to reduce a bit and become thick, but not dry.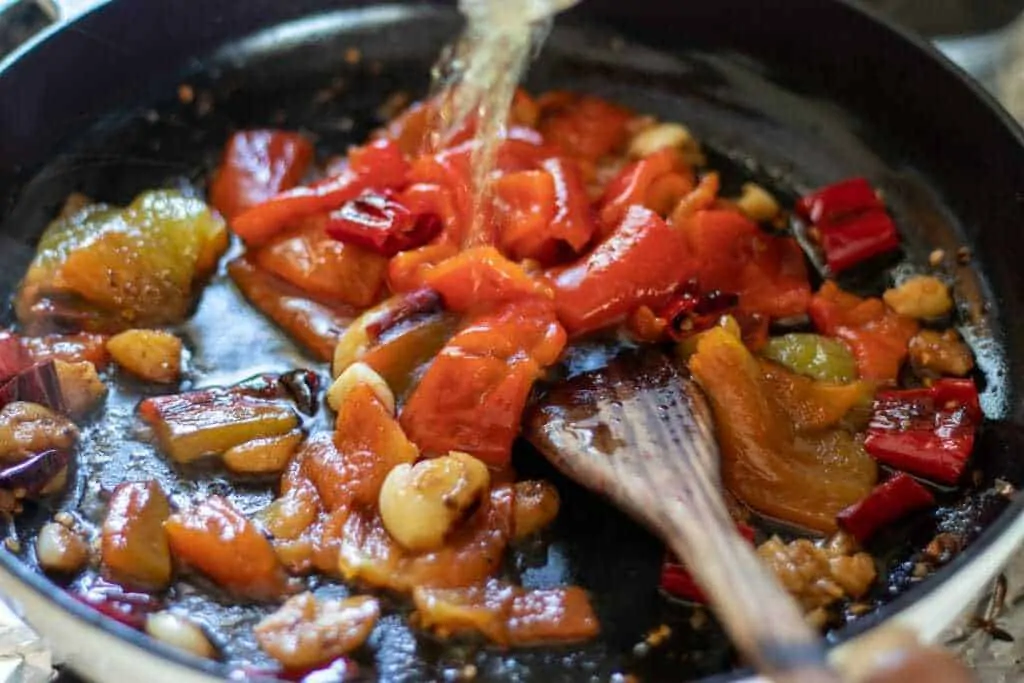 STEP SIX – BLEND THE SAUCE
Scrape the cooked peppers, garlic, and the rest of the whiskey to a food processor or blender and blend until it's nice and smooth.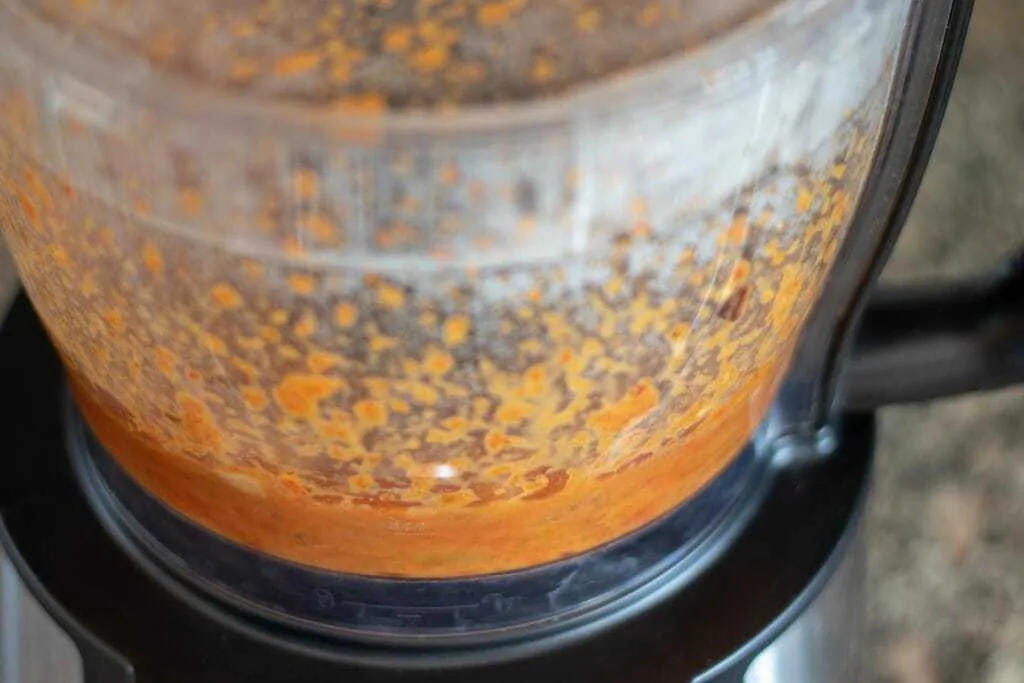 Pour in the rest of the whiskey and blend again. Taste and add more salt if necessary.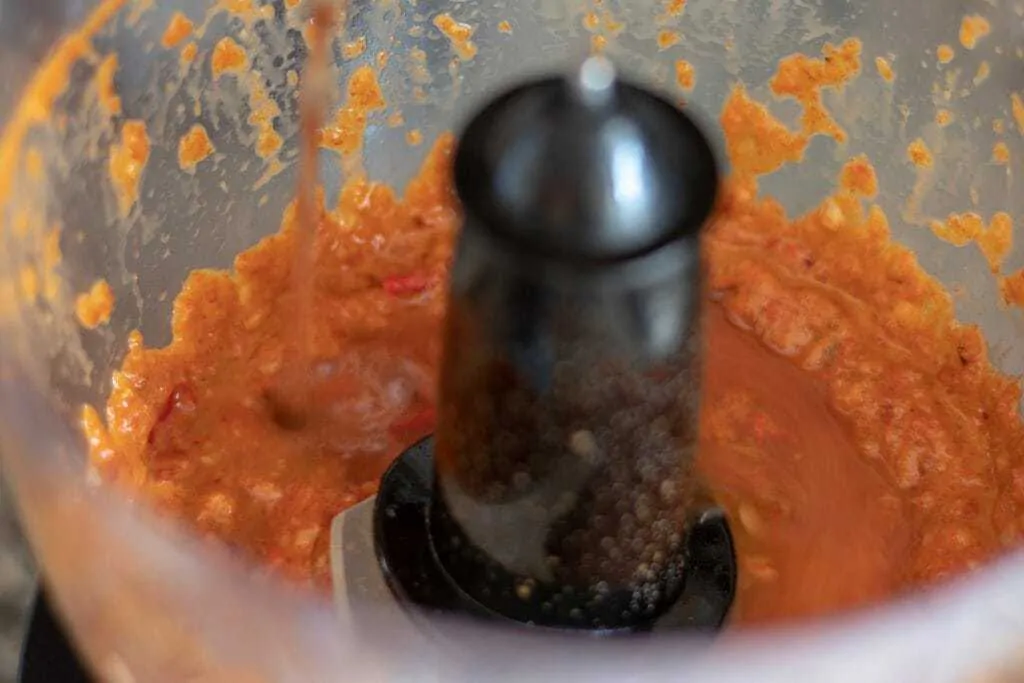 STEP SEVEN – TRANSFER SAUCE TO CONTAINER
Transfer the blended chili sauce to a container with a lip for pouring before pouring it into a clean jar.
Refrigerate for up to a week.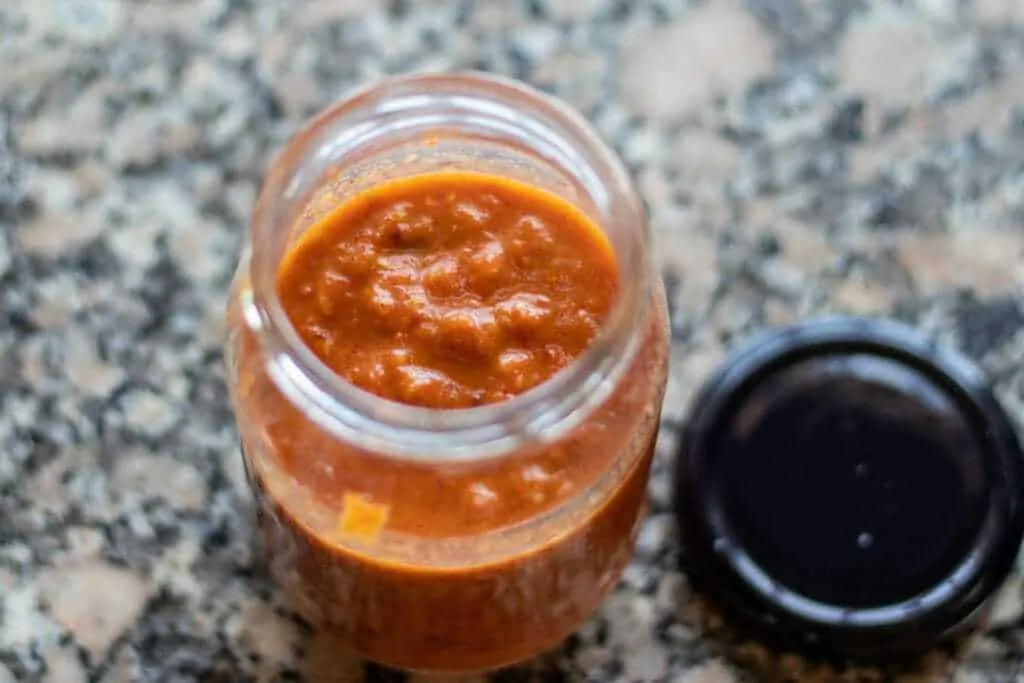 This hot sauce is great year round but I find it particularly enjoyable in the fall when the weather changes from hot to cool and I'm looking for a way to hold on to the idea of summer!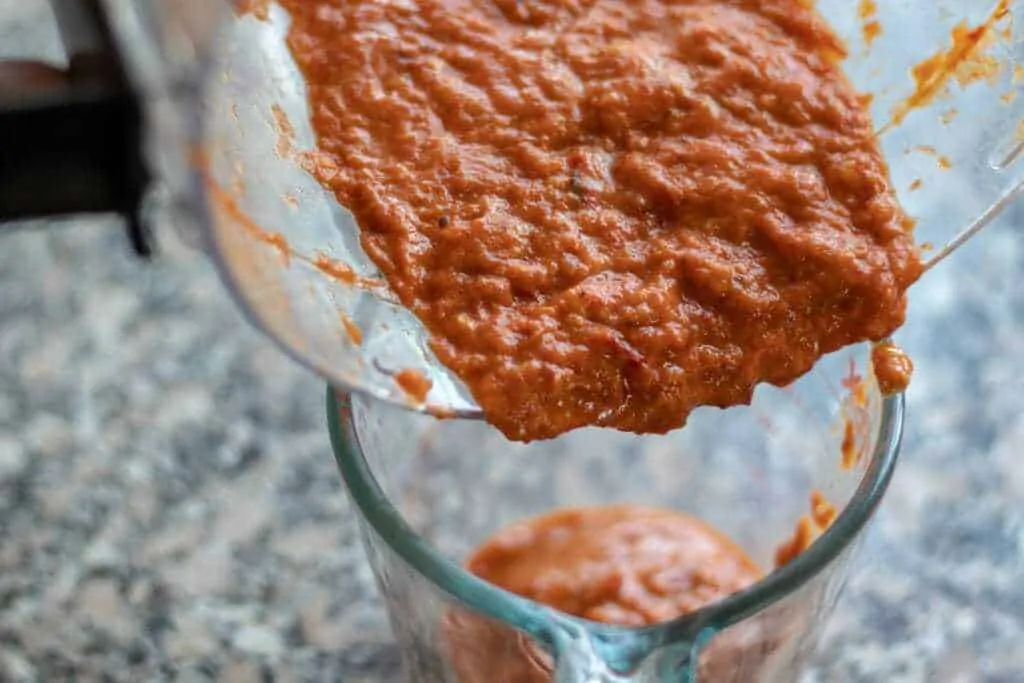 Spread it on chicken before giving it a good bake may be the more traditional Portuguese use, but it works in many other ways. Stir it up in your next marinade for pulled pork or tossed with some mushrooms and then sauteed are just some of the tasty ways to incorporate this particular piri piri and whiskey sauce.
What is your favorite dish to spice up with a bit of hot sauce? How did you use this recipe in your kitchen? Please let us know!
Jen Miller is a former electrical engineer and product specialist with more than 20 years of product design and testing experience. She has designed more than 200 products for Fortune 500 companies, in fields ranging from home appliances to sports gear and outdoor equipment. She founded Jen Reviews to share her knowledge and critical eye for what makes consumers tick, and adopts a strict no-BS approach to help the reader filter through the maze of products and marketing hype out there.  She writes regularly and has been featured on Forbes, Fast Company, The Muse, The Huffington Post, Tiny Buddha and MindBodyGreen.