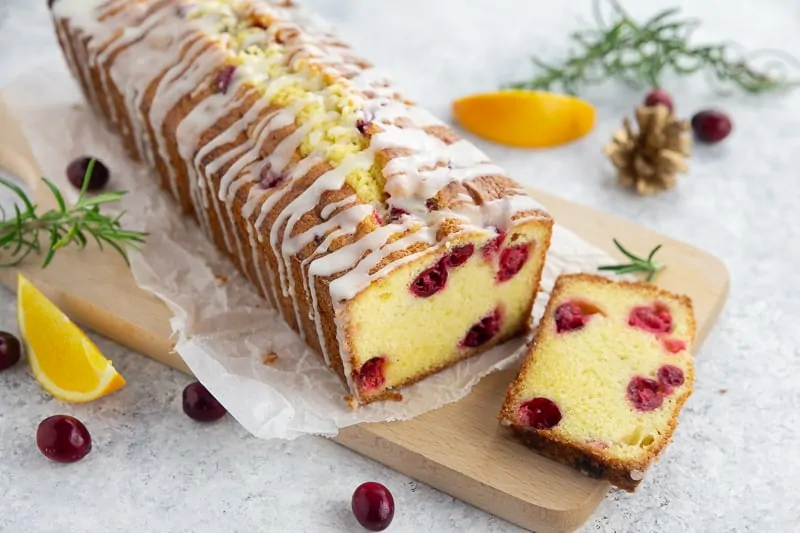 What better way to celebrate the holidays than with a festive pound cake bursting with fresh cranberries and orange zest and drizzled with a sweet orange glaze. With Christmas coming up, I thought it would be the perfect time to showcase this beautiful loaf which you can make for your holiday guests. The incredibly moist and flavourful pound cake will have you and your guests going for seconds- every time. Try this easy holiday dessert and see for yourself!
Traditional Pound Cake vs. Modern Day Pound Cake
Pound cakes were traditionally made using 1 pound of each of the main ingredients. Not only did this result in a very large cake, enough to feed a big family, it also resulted in a heavy and not so sweet loaf. When pound cakes were first brought to life, they contained no chemical leavening agents (such as baking powder or baking soda), instead they solely relied on mechanical leavening (creaming the butter and beating the eggs). Fortunately the version of a pound cake today as we know it, has little to do with the traditional pound cake from the 1700s. Modern versions of pound cakes are smaller and have a lighter texture. The only thing that stuck throughout the centuries is the name of this classic British cake.
Batter
As mentioned, a classic pound cake recipes calls for equal amounts of the main ingredients. This however, creates a less sweet and rather heavy batter. To lighten up the batter, I used a little bit of whole milk to give the batter more moisture. Don't get me wrong, this is still a very dense loaf though, as a typical pound cake should be! The milk just helps with giving our pound cake a bit more moisture. Since we are adding sour cranberries to our loaf, I sweetened the batter a little more to balance out the acidity of the cranberries.
Once you combined all the ingredients together, you'll notice that the batter is quite think. This is okay. We want a thick batter to get that typical dense texture and to also prevent our cranberries from sinking to the bottom.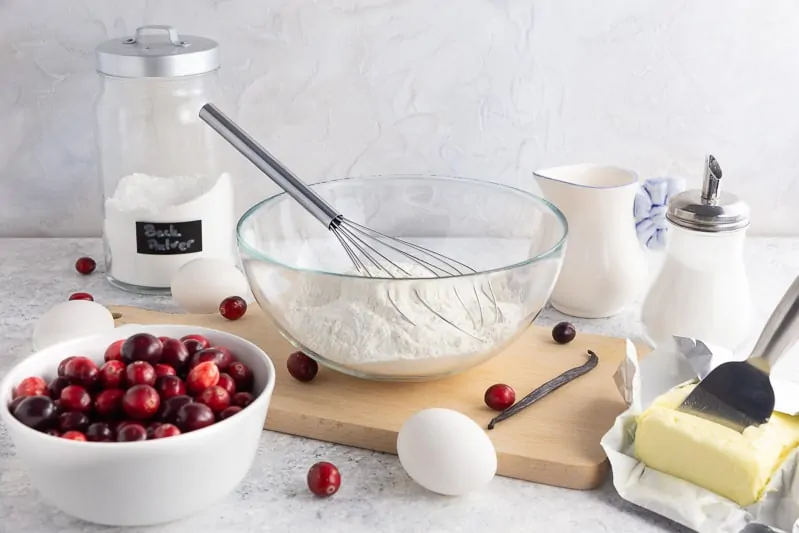 Add-ins
While a plain pound cake is delicious on its own, we are giving our version here some festive add-ins. With cranberries and oranges in season, I paired these two winter fruit together for a Christmas themed pound cake. Since pound cake is a rich and heavy kind of cake, the fresh and sour cranberries balance the flavour really well. While the recipe calls for fresh cranberries, you can also substitute them with frozen ones instead if you wish. (I do not recommend using dried cranberries here.) Just be sure to use them in their frozen state and do not let them defrost, otherwise they will bleed into the batter. The fragrant orange zest ties the flavours together and gives the loaf a heavenly smell. (Be sure to use an untreated orange for zesting!)
Cranberry Pound Cake with Orange Glaze
Total Time
1
hour
25
minutes
Ingredients
Cranberry Pound Cake
225

g

flour

1 and 3/4 cups, sifted

1

teaspoon

baking powder

¼

teaspoon

salt

255

g

butter

9 oz, softened

1

teaspoon

vanilla extract

1

tablespoon

orange zest

280

g

white granulated sugar

1 and 1/4 cups

4

large eggs plus 2 yolks

room temperature

60

ml

whole milk

1/4 cup, room temperature

120

g

fresh cranberries

1 and ¼ cups, washed and dried
Orange Glaze
260

g

powdered sugar

2 cups

2

and 1/2 tablespoons freshly squeezed orange juice
Instructions
Preheat the oven to 180C (350F) and grease and flour a 30 x 11 cm (12 x 4 inch) bread pan.

For the cranberry pound cake, whisk together the flour, baking powder and salt until well combined.

In a separate bowl, cream the butter, vanilla extract and orange zest together for 2 minutes until pale and fluffy.

Slowly add in the eggs while continuously beating.

Add in the sugar and continue beating until smooth. In an alternating manner, add in the flour mixture and the milk, 1/3 at a time.

Lightly coat the cranberries with flour.

Lastly, fold the cranberries into the dough. Pour the dough into the prepared bread pan.

Optionally, add a few cranberries to the top of the batter. Bake for about 55 minutes or until a toothpick inserted in the center comes out clean. Let the pound cake cool completely before continuing with the glaze.

For the glaze, combine the powdered sugar with the orange juice and stir until smooth.

Using a small spoon, drizzle the glaze over the pound cake.
Notes
For the best taste, serve the cranberry pound cake on the day you make it.
Store any leftovers in an airtight container for up to 2 days at room temperature or freeze for up to 2 months. Thaw at room temperature.
Let's get started!
Step 1 – Grease the Bread Pan
Start by preheating the oven to 180C (350) and greasing and flouring a 30 x 11 cm (11 x 4  inch) bread pan.
Step 2 –  Whisk the Flour Mixture
In a medium bowl, mix together together the flour, baking powder and salt with a whisk until well combined.
Step 3 – Cream the Butter
In another medium bowl, cream the butter, vanilla extract and orange zest together with a hand mixer for 2 minutes until pale and fluffy.
Step 4 – Beat the Eggs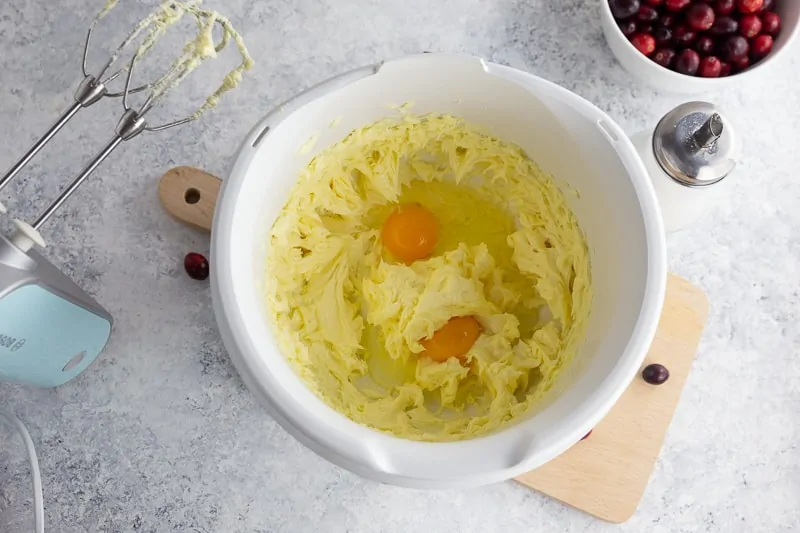 While continuously beating, add in the eggs, one at a time, beating well after each addition.
Step 5 – Combine all the Ingredients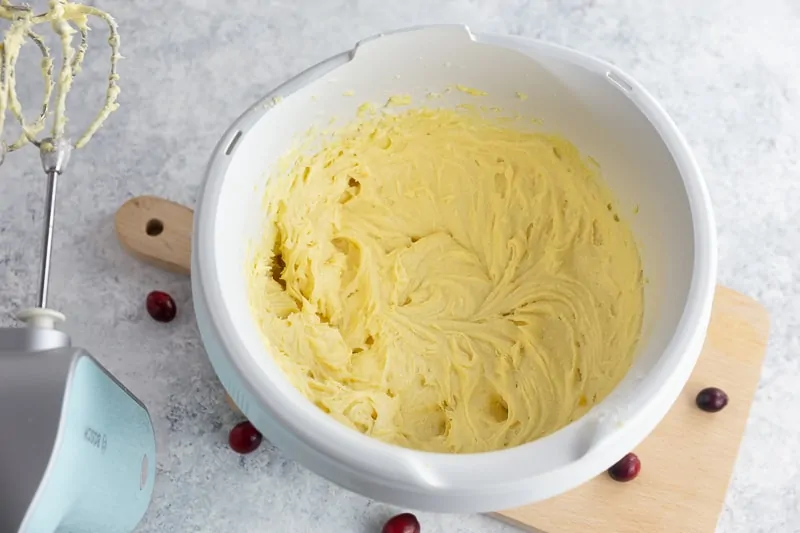 Add the sugar and beat until smooth. Then add in 1/3 of the flour mixture and 1/3 of the milk while mixing on low speed. Continue in this pattern until everything is combined. The dough will be thick, that's okay.
Step 6 – Flour the Cranberries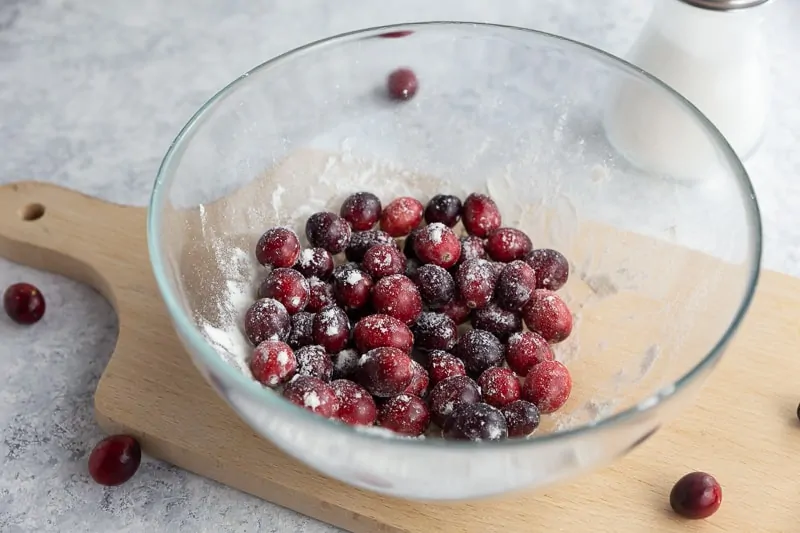 Lightly flour the cranberries. (Make sure they are completely dry before doing so.) This will prevent them from sinking to the bottom while baking.
Step 7 – Fold in the Cranberries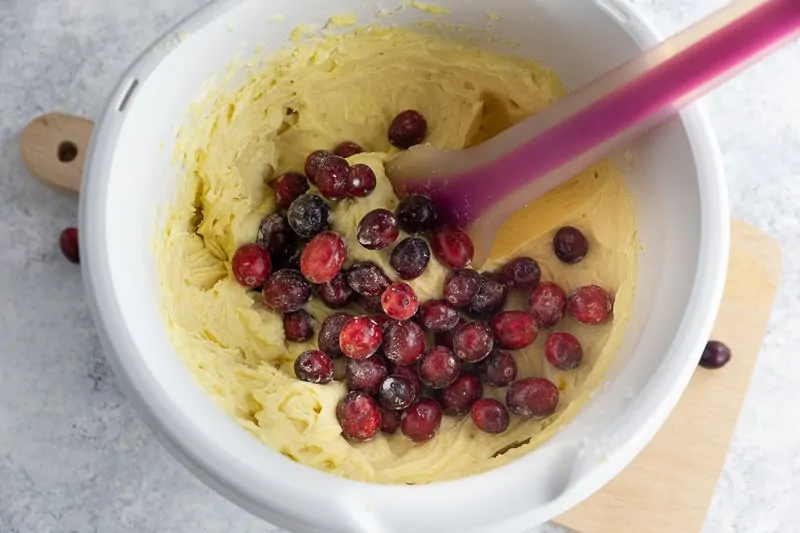 Gently fold the cranberries into the batter. (Leave a few to add to the top if desired.) Pour the batter into the bread pan and spread it flat.
Step 8 – Bake the Pound Cake
Optionally add a few cranberries to the top before baking, for a nice presentation. Bake for 55 minutes, in the preheated oven, or until a toothpick inserted in the middle comes out clean. Let the cake cool completely before adding the glaze.
Step 9 – Make the Glaze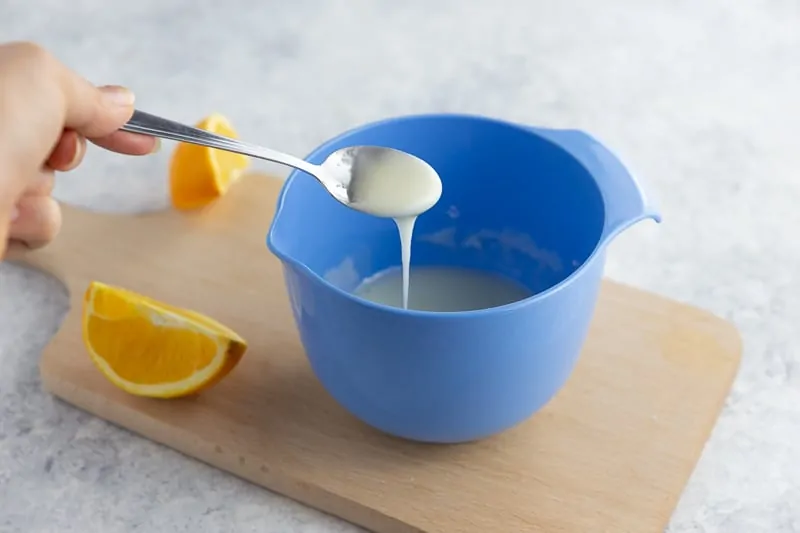 To make the glaze, combine the powdered sugar and orange juice in a small bowl and stir until the glaze is smooth.
Step 10 – Drizzle the Pound Cake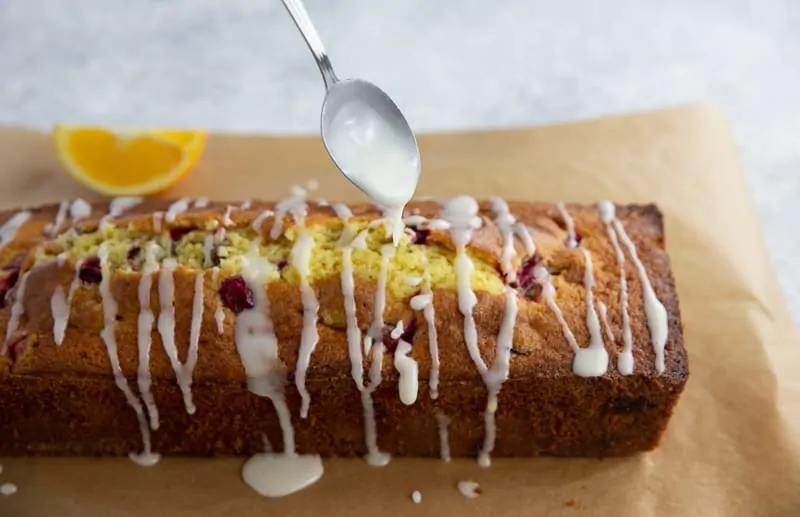 With a small spoon, generously drizzle the glaze over the pound cake.
While the pound cake tastes delicious on its own, you can also add a few tasty extras to your plate. Fresh whipped cream, a serving of fruit or a big scoop of ice cream all go well with a slice of this cranberry and orange pound cake. Enjoy!
Want more festive recipes? Try this classic bread pudding, these easy no-bake cookies or these delicious apple fritters.
Happy holidays!
Jen Miller is a former electrical engineer and product specialist with more than 20 years of product design and testing experience. She has designed more than 200 products for Fortune 500 companies, in fields ranging from home appliances to sports gear and outdoor equipment. She founded Jen Reviews to share her knowledge and critical eye for what makes consumers tick, and adopts a strict no-BS approach to help the reader filter through the maze of products and marketing hype out there.  She writes regularly and has been featured on Forbes, Fast Company, The Muse, The Huffington Post, Tiny Buddha and MindBodyGreen.