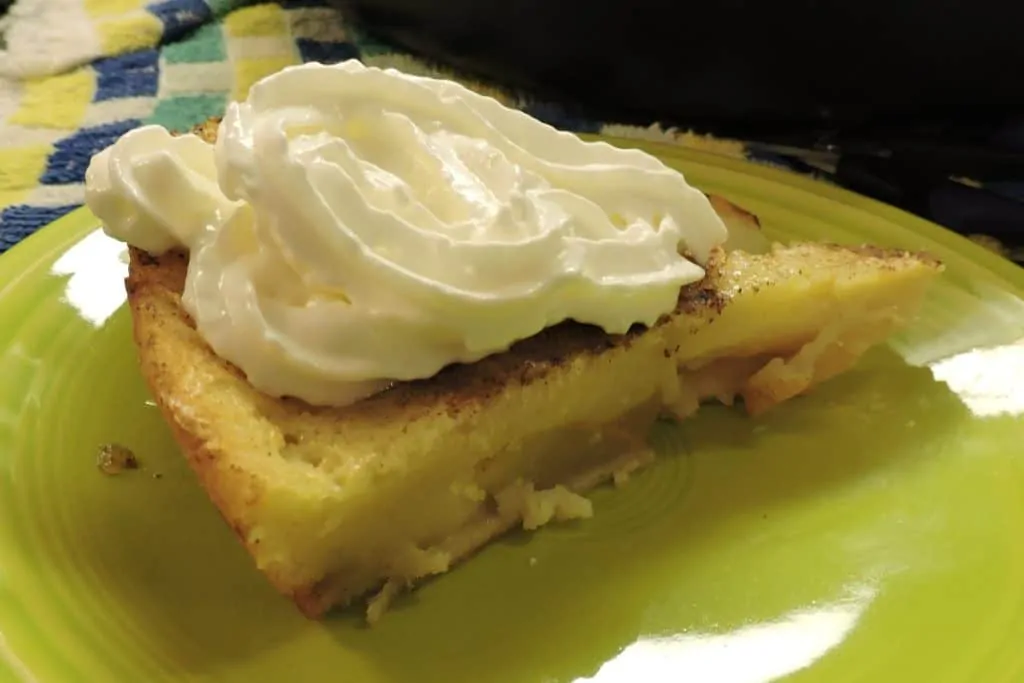 When I first heard of a clafouti also called clafoutis, I was amused by such a funny name. I decided to try my hand at creating this quirky sounding creation. Let me just say, it is delish!! And a perfect dessert for the beginning of Fall.
Clafouti is a french dessert custard with fruit mixed in. The delightful thing about it is that the custard gets nice and crispy on the edges and creates a tasty type of crust on the bottom. Part of the reason for this crust is that you bake it in a cast iron skillet. I absolutely love using the cast iron skillet for cooking and recently for baking. It conducts heat so well and creates a perfect dish whatever you choose to cook in it.
Clafouti begins with a great fruit. Traditional clafouti was made using cherries. It can be served warm or cold and with powdered sugar or cream on top. I opted for whipped cream since I have a bit of a love affair with it. You can use whatever fruit is your favorite. I chose pears because number one I love them and a cashier at the grocery store had mistakenly given me someone else's pears. I ended up with my own plus another package. I didn't realize this until I was home from the grocery store. What do you do when life gives you lemons er, pears? You make pear clafouti! Enjoy this easy and delicious recipe.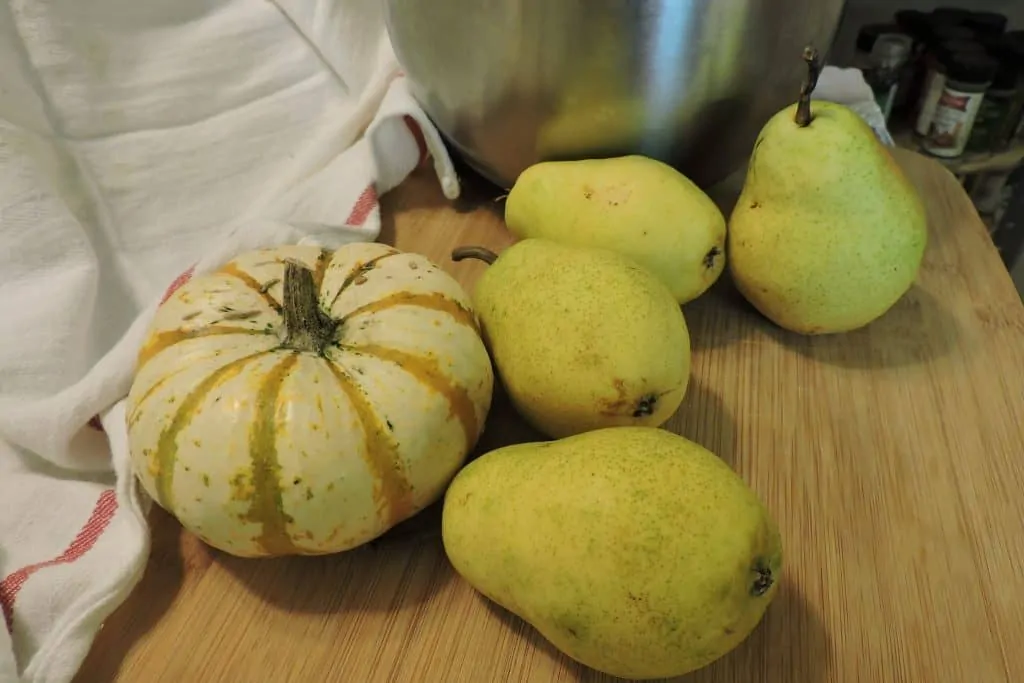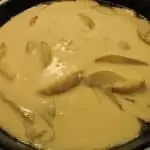 Pear Clafoutis Recipe
Ingredients
8

tbsp

or 1 stick of butter

½

cup

of sugar

⅔

cup

of flour

½

tsp

salt

1

tsp

of vanilla extract or almond extract

3

eggs

1

cup

coconut milk or almond milk

4

tbsp

of unsalted butter

4

pears

½

cup

+ 2 tsp of sugar
Instructions
Mix together first 7 ingredients and set aside. Add 2 tbsp of butter to skillet and place it in your oven to begin heating.

Get out another skillet and add 4 tbsp of unsalted butter and melt it. Add your fruit and ½ cup of sugar and saute until fruit is glazed and tender.

Take skillet from the oven and pour half of the batter in the skillet, add the fruit and sugar and then pour the rest of the batter on top. Add a sprinkle of 2 tsp of sugar to the top.

Bake 25 to 30 minutes at 400 degrees fahrenheit. It will be a golden crispy color and the custard will be set in the middle. Serve warm with powdered sugar or whipped cream and enjoy!
Step 1:
Cut 2 tbsp of butter off the 8 tbsp stick you will use. This will be for your skillet. Mix the remaining 6 tbsp of butter with the flour, sugar, milk, salt, vanilla extract, and eggs. Beat all with mixer til smooth. Set this aside for now. Put the 2 tbsp of butter you kept aside in the cast iron skillet and put it in the oven to heat.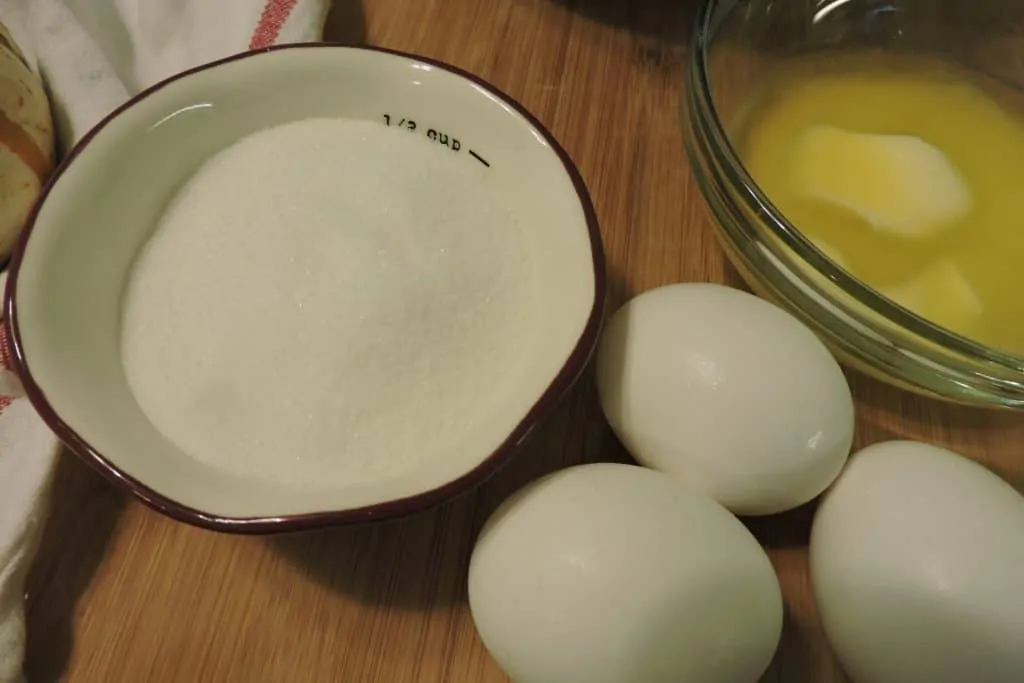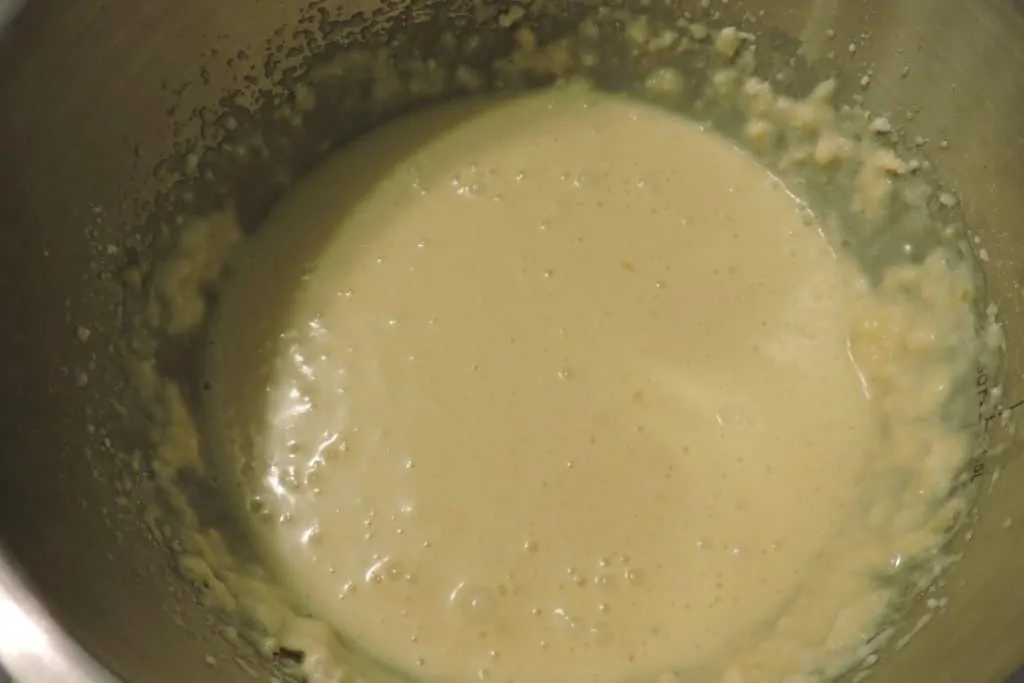 Step 2:
Get another skillet out, you can use a stainless steel or ceramic coated one if you wish. I use a ceramic coated skillet and it worked great. Melt 4 tbsp of unsalted butter, and the pears with ½ cup of sugar. The sugar will help to glaze the fruit and the heat will help the fruit to get a bit tender and soft. This takes about 3 to 5 minutes.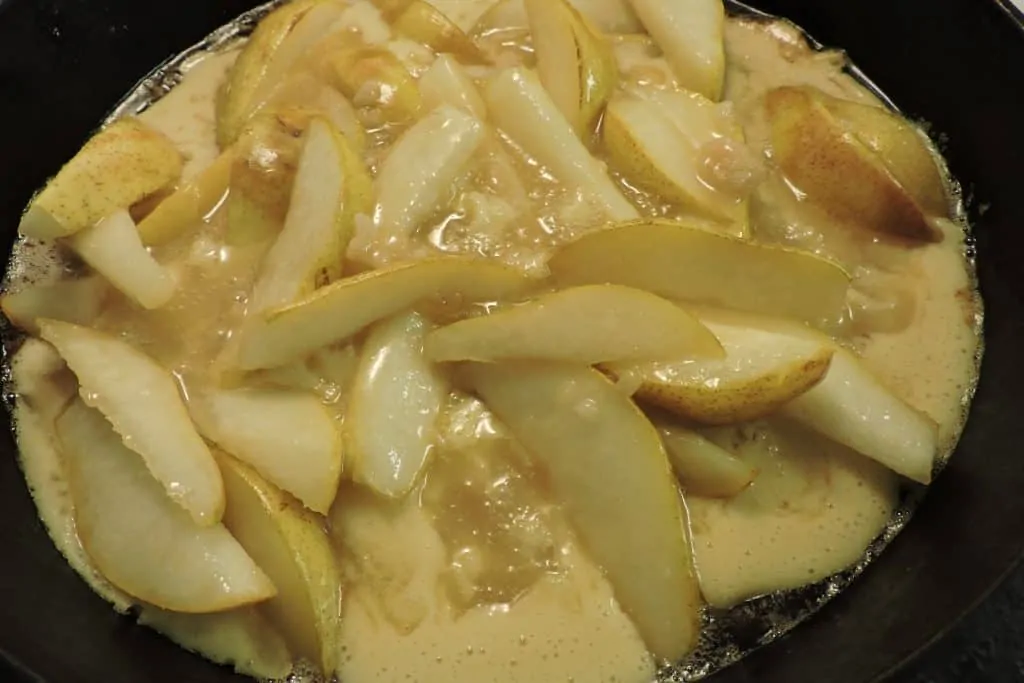 Step 3:
Take out your preheated skillet and add half of your batter to the pan. Place the pears on top of the batter and drizzle the glaze around and over the pears as well. Add remaining batter and sprinkle with 2 tsp of sugar. I also added ½ tsp of cinnamon, because I love cinnamon in fruit dishes. You can other spices like nutmeg or cloves if you wish.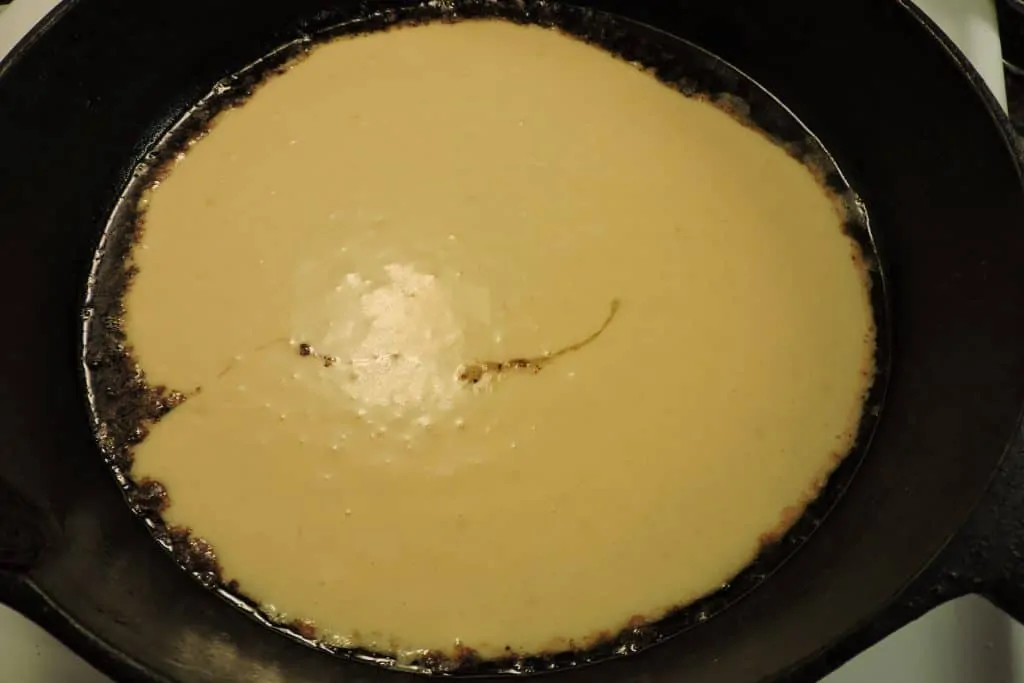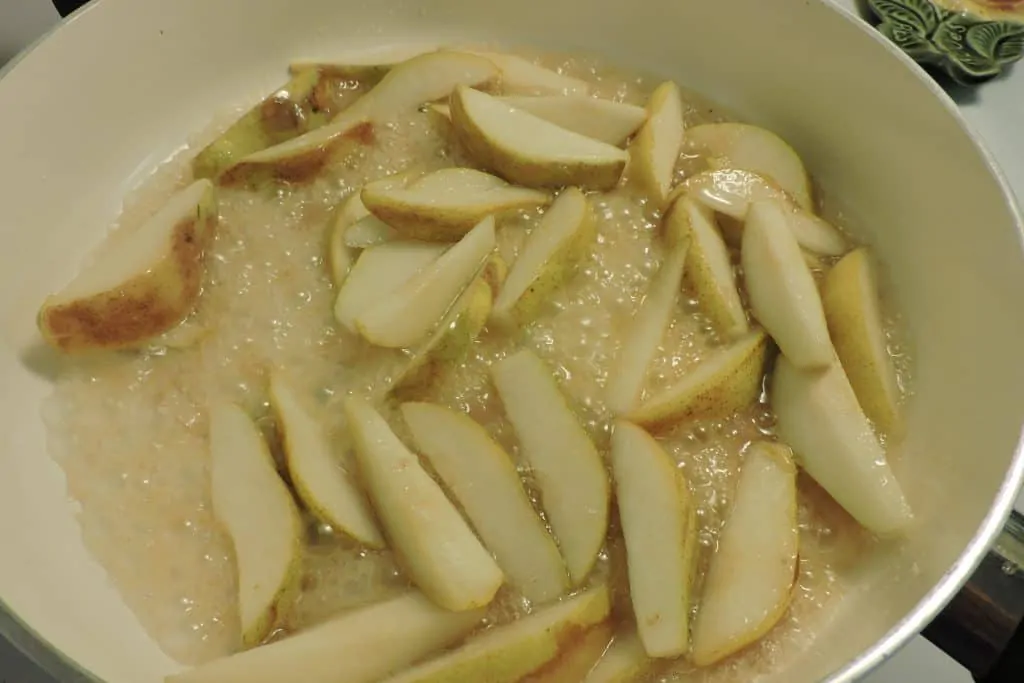 Step 4:
Bake in your oven for 25 to 30 minutes. The edges of the clafouti will be crispy and golden and the middle of the custard will be set, no liquid. Cut and serve warm with whipped topping or powdered sugar. Enjoy!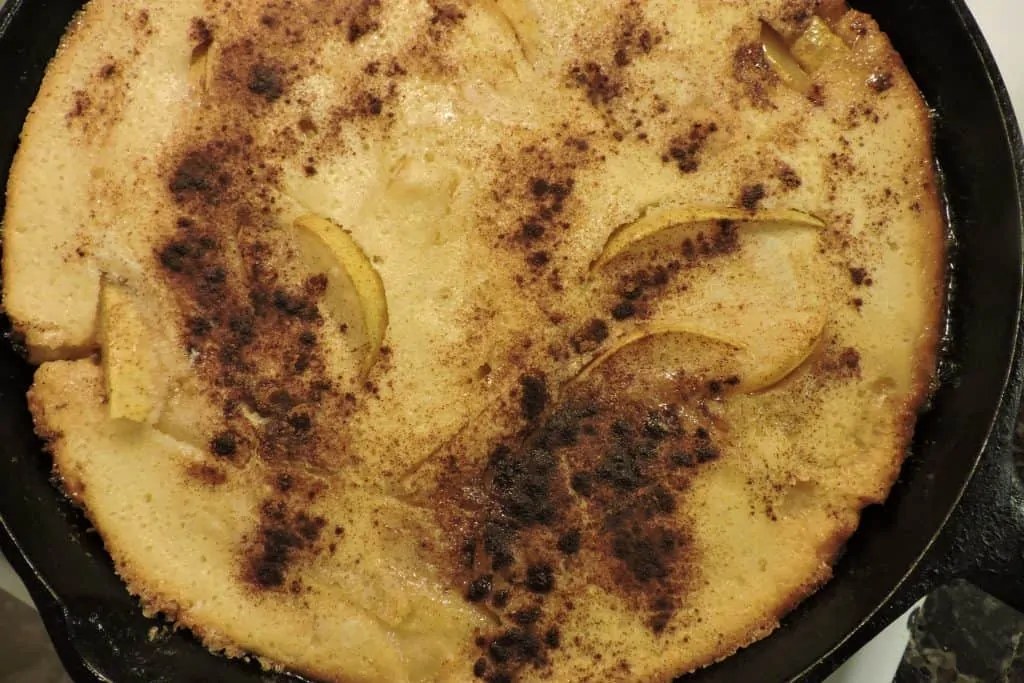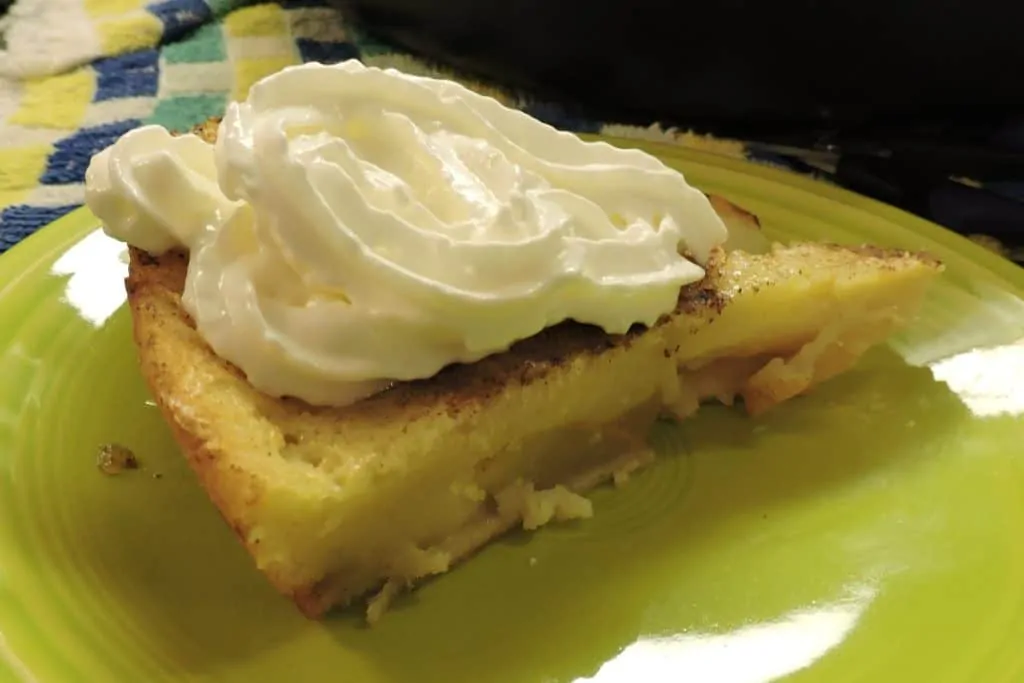 Clafouti can also be enjoyed chilled from the fridge. Try pairing your clafouti as a dessert after your favorite family meal. Cozy up with your clafouti and a cup of warm cider or chai tea. Whatever way you enjoy this delicious treat, you will love how easy and versatile it is and how fun it is to say, "clafouti!"