If you think there is nothing in Switzerland except snow, chocolate and cuckoo clocks, you are in for a big surprise! Despite its diminutive size (Switzerland has an area of only 41.290 square kilometres), the country offers an amazing wealth of cultures, landscapes and activities. Rugged and mountainous in some parts, serene and leafy in others, it has something for all tastes. It has borders with five countries – Germany, France, Austria, Italy and Liechtenstein – all of which have influenced its language, culture and architecture.
Switzerland is an immaculately clean country; snow, lakes and rivers are pristine and the streets and houses beautifully kept. It is also orderly and organized; trains run on time and official buildings open when they're supposed to. You'll need to replenish your wallet frequently: Switzerland is expensive. However, the unique holiday impressions you are likely to take home with you make a visit to Switzerland more than worthwhile.
1. Matterhorn (Zermatt)
Said to be the most-photographed mountain in the world, the Matterhorn has become inextricably linked to Switzerland as the country's national symbol. At a breathtaking 4478 metres above sea level, it is the highest mountain in the Alps. Aspiring mountaineers have been trying to climb it since the first attempt in 1865, which cost four out of seven lives. Less adventurous spirits may prefer to dwell on its beauty from the adjacent "Little Matterhorn"!.
The Matterhorn can best be admired from car-free, celebrity rich Zermatt, which is 215 km south of Zurich (3 ½ hours) and 130 km south of Bern (2 ½ hours). The nearest airports are Zurich and Geneva. Remember to bring your camera.
2. Zürich Old Town
Switzerland's largest city and one of the most significant financial and industrial capitals in Europe, Zürich is also a charming and attractive place for tourists to spend some time. The old town with its mediaeval and Renaissance architecture, its museums and its art is fascinating enough to occupy culture lovers for weeks! Visit Lenin`s house at Spiegelgasse 17 and the Haus zum Napt in the Napfgasse for a particular treat!
Zurich has its own airport, which is 15 minutes by car from the old town center.
3. Jet d'eau (Geneva)
Geneva's famous hydraulic water jet was actually created by accident. Originally a safety valve designed in 1886 to prevent overpressure by allowing water to escape, it shot a 30 metre jet of water into the air when the hydraulic machines were shut down. In 1891, its possibilities as a tourist attraction were recognized and it was moved to its present location. In 1951, it was adapted to reach a height of 140 metres. Since 2003, it has been shooting the equivalent of four bathtubs of water (132 gallons) into the air every second! It is only turned off in case of frost or strong wind; for special occasions, it is also lit with changing floodlights. Awesome!
Geneva has its own airport, which is 16 minutes from "Jet d'Eau" by car.
4. Zermatt
For mountain lovers of all shapes and sizes, Zermatt is the place to be. Nestling picturesquely at the foot of the Matterhorn, at a height of 1600m above sea level, this little car-free paradise boasts over 400 km hiking routes and 245 km of skiing and snowboarding pistes. Ski season is from the end of November to the start of May, though all-year skiing is possible on the glaciers of the smaller "Klein Matterhorn". Zermatt also boasts spas and wellness resorts, culture and great cuisine and a lively nightlife.
Zermatt is 215 km south of Zurich (3 ½ hours) and 130 km south of Bern (2 ½ hours). The nearest airports are Zurich and Geneva.
5.Geneva Old Town and Cathedral of St. Pierre
The romantic cobbled streets and perfectly restored mediaeval buildings of Geneva's old town bear witness to a history spanning two centuries, though the origins of the town date from at least 58 BC. Must-see places include the Place du Bourg-du-Four (central square and former trading place of the Romans!), the Maison Tavel and the imposing Cathedral of St. Pierre (built 1160 – 1252). Tip: the old town is built on a higher level than the lake, so expect a bit of a climb!
Geneva has its own airport. It lies 160 km southwest of Bern (1 ¾ hours) and 276 km southwest of Zurich (2 ¾ hours, times given by train which is faster).
6 .Creux du Van (Noiraigue)
The "Creux du Van" is a stupendous, 160m high natural rock formation located between Neuenburg and Vaud. It surrounds a valley basin of around 4 km in length and 1 km in width and was formed from limestone deposits by glaciers and rivulets during the Jurassic period (2 million years ago). Many wild creatures such as lynx, ibex and chamois have their home here, within a 25 square km nature reserve. An area of breathtaking natural beauty, it is popular with mountaineers, hikers and mountain bikers.
The Creux du van can be best accessed from Noiraigue, 70 km west of Bern (just over 1 hour by car).
7.The Rhine Falls (Schaffhausen)
The Rhine Falls – the largest waterfall in Europe – were formed during the Ice Age, over 15.000 years ago. Several hundred cubic metres of water per second plummet to a depth of 23 metres; the Falls are 150 m wide, divided in the middle by a huge rock which can be accessed by boat. Platforms are available for visitors to stand actually in the middle of the waterfall, a unique experience and not one to be missed!
Schaffhausen lies 52 km north of Zurich (around 40 minutes by road or rail).
8. Gruyères Castle (Gruyères)
The magnificent 13th century castle of Gruyères housed Gruyères counts, Fribourg bailiffs and members of the Bovy and Balland families (who restored it and used it as a summer residence), before being turned into a museum in 1938 . Built between 1270 and 1282, this picture-perfect castle stands on a hill overlooking the picturesque village and lake of Gruyeres. The French garden behind it is also particularly fine. The castle has been declared a Swiss heritage site of national significance.
Gruyères lies around 64 km south southwest of Bern (just under 1 hour by car).
9. Ruinaulta (Reichenau)
Known as "Switzerland's Grand Canyon", this awe-inspiring canyon-like gorge was formed over 10.000 years ago by a massive landslide. The word "Ruinaulta" actually means "Pile of Rubble", which is what it most resembles, though on a mammoth scale. Dramatically cut by the Anterior Rhine river at its base and flanked by rock formations several hundred metres high, it is densely-wooded and a haven for wildlife. The area is popular with hikers, rock-climbers and rafters.
Reichenau lies 77 km northeast of Zurich (around 1 hour by car).
10. Ice Pavilion Mittelallalin (Saas-Fee)
For a once-in-a-lifetime holiday experience, the Ice Pavilion at Mittelallalin in Saas-Fee takes some beating! At an altitude of 3.500 m, the Ice Pavilion – probably the largest in the world – is built at the heart of the Fee glacier. A huge grotto (over 5.500 cubic metres) offers a unique insight into the "life" of a glacier, including a simulated avalanche! Ice sculptures and changing exhibitions, a 360° revolving restaurant and a warm, friendly cafe round off the mix.
Saas-Fee is located around 127 km south of Bern, which is the nearest airport (around 2 ½ hours by car; there is no direct train connection).
11. Bellinzona Castles (Bellinzona)
The three castles of Bellinzona – Castelgrande, Sasso Corbaro and Montebello – and their extensive and perfectly restored walls have been a UNESCO heritage site since 2000. Situated in the Swiss canton of Ticino at the foot of the Alps, they are the only mediaeval military structures in the region and a major tourist attraction.
Bellinzona lies around 30 km north of Lugano (around 40 minutes), which is the closest airport.
12. Stein am Rhein
For a day trip from the bustle and activity of Zürich, you can't do much better than visit Stein am Rhein. One of the prettiest villages in a country famed for pretty villages, this little gem – which only has around 300 inhabitants – is probably the best-preserved mediaeval village in Europe. What was originally a tiny fishing village developed into a prosperous trading center in the 11th century, when the Benedictine Abbey of St. George was relocated to the village owing to its strategic position (roads and river intersecting at this point).
Particularly famous for its beautifully frescoed house fronts and its "Rathausplatz" (the square of the old Town Hall), Stein am Rhein lies in the Schaffhausen canton in northern Switzerland, close to the German border. It is around 55 km northeast of Zurich (45 minutes by car, 1 ½ hours by train).
13. Chateau du Chillon (Veytaux)
For picture-postcard beauty and romance, it doesn't get much better than Chillon castle. Located on a little island against the magnificent 7 peaks of the "Dents du Midi" ("noonday teeth") mountain range, this early mediaeval castle was originally built by the Romans to control the road from the Great St. Bernard Pass to Burgundy. Now one of Europe's most visited castles – and a top tourist destination in Switzerland – it is also believed to have inspired the movie, "The Little Mermaid".
Veytaux lies around 92 km southwest of Bern (just over 1 hour by car, around 2 hours by train).
14. Aletsch Glacier (Riederalp)
The largest glacier in the Alps carrying a whopping 27 billion tons of ice, the Aletsch glacier comprises the northernmost slopes of the Jungfrau, Eiger and Mönch mountains, with water flowing down the Massa Gorge and into the Rhone. The nearby Aletsch forest is very close to the Pro Natura nature reserve; most of the region is an UNESCO World Heritage Site. The Aletsch region is home to many rare species of animal and plant; easily accessible and ideally situated, it is also immensely popular with tourists, with winter sports, nature excursions and hikes being the favored activities.
The glacier is best visited from Riederalp, which lies halfway between Zurich and Lugano (around 170 km from both; 2 ½ to 3 hours by road or rail).
15. Monte san Salvatore (Lugano)
When staying in or near Lugano, a trip up the Monte san Salvatore (aka: Monte Bré) is an experience well worth the climb (less energetic individuals have the choice of bus or funicular). Considered to be one of Switzerland's sunniest spots, this little mountain on the foreslope of Monte Boglia (east of Lugano) offers a breathtaking panorama view of the surrounding area. The tower of the parish church of Saints Simon and Fedele (village of Bré) offers the best views, and also contains wonderful frescoes and paintings from various eras. Despite its diminutive size, Bré boasts 2 restaurants and a museum
Monte Bre lies just 11 km east of Lugano and is accessible by car in around 24 minutes.
16.Salt Mines and Museum (Bex)
Salt was for centuries rare and highly valued. The salt deposits of Bex (in the Vaud canton) are the remains of a prehistoric, 200 million year old sea. The salt mines of Bex, still in use today, comprise a complex of subterranean tunnels and chambers of over 50 km in length. At the museum, salt mining techniques ranging from 1684 to the present day can be viewed. A mine train takes the visitor deep into the heart of this fascinating labyrinth; further parts of the mines can be explored on foot. An exciting, unusual and informative tourist experience!
The nearest airport is Geneva (117 km, around 80 minutes).
17. Giger Museum (Gruyères)
Anyone who ever saw the movie "Aliens" and admired (or was spooked by) the monsters, landscapes and other effects it depicted will love this one. The museum houses the largest collection of sketches, statues, sculptures and models from the macabre fantasy world of Swiss surrealist artist H.R. Giger, who designed the sets and monsters for the movie. He also designed the effects for the movies "Dune" and "Species", which can also be viewed at the museum, along with the "Oscar" award he received as part of the team responsible for "Alien"`s visual effects (1980).
Gruyères lies around 64 km south southwest of Bern (just under 1 hour by car).
18. Rapperswil-Jona (Zürich)
Famous for its thousands of roses and ancient mediaeval castle which completely dominates the surrounding architecture, Rapperswil-Jona is a town located on the east bank of Lake Zürich in the Canton of St. Gallen. Its slightly mediterranean atmosphere and quaint mediaeval houses give the town great charm; the Capuchin monastery and the wooden bridge to Hurden are well worth a visit, as is the fish market at Rapperswil harbor.
Rapperswil-Jona is located around 40 km south west of Zürich and is easily accessible by car or train in around 40 minutes.
19. Botanical Gardens (Geneva)
Geneva`s botanical gardens, first opened to the public in 1904, are located on the outskirts of the city. A wonderful place to relax from the bustle and noise of a major city, the botanical gardens host over 16.000 species of plant divided into categories (herbal, medicinal, domestic and exotic flowers) as well as a number of aviaries featuring exotic birds. They also house a small zoo, with flamingoes, deer and old strains of domesticated animals. Rock gardens, a lake and the "garden of scent and touch" complete the idyll.
Geneva has its own airport, 6 minutes by car or 20 minutes by bus from the botanical gardens.
20. St. Gotthard Pass
The Gotthard Pass is a passage through the Alps connecting northern and southern Switzerland. It gained in importance from around 1200 onwards as a major axis between northern and southern Europe, but was rarely used owing to perilous hairpin bends and the problems of fording the river Reuss (swollen with melted snow in the summer). The river is now spanned by the famous "Devil's Bridge" (not for weak nerves). The pass was made more easily accessible by the construction of three major tunnels, each the longest in the world at the time of construction (the Gotthard Base Tunnel, opened in 2016, is over 57 km long).
The trip through the Schöllenen Ravine is something one should do at least once in a lifetime. It is possible to walk it or take the more romantic PostBus; even a horse-drawn carriage is an option.
The St. Gotthard Pass lies 120 km due south of Zurich (1 hour 40 minutes by car).
21. Rhine River Cruise
One of the most romantic and relaxing ways to acquaint yourself with the beauties of Switzerland could be a day cruise on the Rhine, which although largely famed as a German river actually originates in Switzerland. The most popular route is from Lake Constance, with stops at the mediaeval towns of Stein am Rhein and Schaffhausen. (The famous "Rheinfall" waterfall is only 16 minutes by bus from Schaffhausen and is definitely worth a visit). A number of also operate from Basel.
22. La Maison du Gruyère (Pringy-Gruyères)
For cheese-lovers of all ages and anyone interested in traditional food-producing techniques, a visit to "La Maison du Gruyère" in the Fribourg canton is a must. 29.000 tons of the famous AOP (Protected Term of Origin) hard cheese are produced here annually. Visitors to the "Maison du Gruyère" can see how the cheese is produced and taste various products of various maturity. Milking and petting cows is a further possibility for children, while both the recipes, restaurant and the market provide ample opportunities for self-indulgence!
Pringy-Gruyères is located 63.1 km south southwest from Bern (50 minutes by car, 1 ½ hours
by rail).
23. Hürlimann Areal Thermal Baths & Spa (Zurich)
For wellness and relaxation when staying in or near Zurich, the thermal baths and spa in the aged vaults of a former brewery is an excellent choice. Aromatherapy, mudpacks, peeling, massage and fresh thermal waters from Zürichs "Aqui" spring are only a few of the pleasures awaiting the visitor in this ultra-modern complex. A real hit is the bath on the roof, from which you can see over the entire city. Tip: swimwear is obligatory, there is no nudity here!
The baths are situated on Brandschenkestrasse 150, just under 2 km from the main railway station (around 20 minutes by car or tram).
24. St. Beatus Caves (Interlaken)
According to legend, the fascinating grottoes on the Lake of Thun were home to a ferocious dragon until 2000 years ago, when a wandering Irish monk drove it away and gave the caves his name. In a region of stunning natural beauty, well-lit tunnels and caverns delve up to 1.000 metres into the side of the Niederhorn massif, past stalactites, stalagmites and thundering subterranean waterfalls. A small museum at the entrance to the
caves provides the visitor with interesting information on their history; there is a cafe to care for bodily wants!
Interlaken lies 57 km southeast of Bern (45 minutes by car).
25. Zurich Zoo (Zurich)
Zurich's zoo was opened in 1929 in the Fluntern quarter of the city of Zurich. Within 75 years, it housed 300 different species and a total of over 2.200 animals. The zoo is especially famous for its daily penguin parade in cold weather (under 10° C) and for its magnificent Asian elephants; many say it is the best zoo for elephants in the world. A huge aquarium containing predators such as stingrays and piranhas will also fascinate visitors of all ages.
The Zoo is located on Zürichbergstrasse, just under 5 km from the railway station (15 minutes by car or 25 minutes by bus).
26. Munot Fortress and Old Town (Schaffhausen)
The mediaeval old town of Schaffhausen is mentioned as early as 1045; rich traces of its mediaeval and Renaissance history can be found in the lavishly painted facades of its buildings. One of the town`s most popular tourist attractions, the Munot is a ringed 16th century fortification at the center of Schaffhausen; towering high above the town, it has become the city's symbol. Visiting it is like taking a step back in time.
Schaffhausen lies 52 km north of Zurich (around 40 minutes by road or rail).
27. Seven Springs and the Simmen Falls (Lenk)
The river Simme in the Bernese Oberland is fed by seven springs which gush from slits in the Rezlizburg and cascade in the shape of a 30-metre wide fan 200 metres down the rock face. An awe-inspiring sight, it is best viewed from the safety of the Barbara bridge!
The Simmen Falls are located 5 km from the village of Lenk in the Simmen Valley.
28. Lac de Joux (Jura Valley)
With a surface area of 9.5 square metres, the Lac de Joux in the Vaud canton is the largest lake in Switzerland. During the summer, it is a popular destination for sailors, windsurfers and swimmers; during the winter, its altitude of over 1000 metres above sea level causes it to freeze over, making it the largest natural ice-skating rink in Europe! Surrounded by pine forests and undulating hills, the skating experience is unique. Many hiking trails around the lake are a further magnet for tourists; in winter, these become popular for snowshoeing and cross-country skiing.
A number of small towns are situated on the banks of the Lac du Joux, notably Le Sentier, Le Lieu and Le Brassus. All of these lie just over 1 hour from Geneva.
29. Glacier Garden Dossen (Zermatt)
Above the village of Furi (3 km south of Zermatt) in the Wallis canton, the Dossen Glacier Garden bears fascinating witness to the movements of the Gorner glacier during the last Ice Age. The ice retreated, leaving behind a surreal garden of rock formations; potholes, folds and chasms only passable by wooden bridges. Surrounded by rich greenery and pine forests, it is a wonderful venue for avid hikers. The hiking route starts from Riffelberg through to Furi and takes around 2 hours. Robust comfortable shoes and a good hiking backpack are a must!
Zermatt is 215 km south of Zurich (3 ½ hours) and 130 km south of Bern (2 ½ hours). The nearest airports are Zurich and Geneva. Bring along a hiking GPS.
30. Benedictine Monastery (Einsiedeln)
Founded by the Benedictine monk Meinrad in 835, the Benedictine Monastery at Einsiedeln in the Schwyz canton went through a number of structural changes in the Romanesque and Gothic styles, before being finally defined by the Baroque influences we see today. It has been attracting pilgrims for over 1.000 years and is still in use. Guided tours and concerts take place regularly; visitors can view the monk's wine cellars, stables and workshops. The famous 15th century Black Madonna is housed in the monastery`s "Mercy Chapel".
Einsiedeln lies 40 km southeast of Zurich (37 minutes by car).
31. Chapel Bridge and Water Tower (Lucerne)
Lucerne is the capital city of the canton of Lucerne, with historical roots going back to 750 AD. The city's idyllic location on Lake Lucerne and the river Reuss (with the Swiss Alps as a backdrop) made the city of Lucerne a popular tourist destination as early as 1840. Its famous Chapel Bridge (the oldest covered wooden bridge in the world) and octagonal water tower are the city's hallmarks. They were conceived (together with the 500-year old Musegg wall) as the city's fortifications. The bridge was rebuilt after a fire in 1993.
Lucerne is 52 km south southwest from Zurich (45 minutes by car).
32. Brissago Islands (Lake Maggiore)
The two Brissago islands (Isole di Brissago) are located on Lake Maggiore in the Locarno district of the Ticino canton. Owing to the very mild climate, many subtropical plants flourish there; the larger island (San Pancrazio) is famed for its botanical garden, while on the smaller Isola di Sant'apollinare – which is not open to the public – nature is allowed to run its course! San Pancrazio also boasts Roman baths, great views and a small beach. It is a favorite tourist destination in Ticino.
Brissago islands are located approximately 2.5 km from the town of Brissago and 3.5 km from Ascona. They are accessible from Porto Ronco by shuttle boat (around 5 minutes).
33. Hell Grottoes (Baar)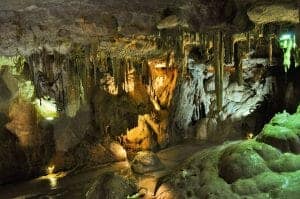 Baar is a municipality in the Zug canton in north central Switzerland, best known for its 6.000 year old limestone caves. Situated in the picturesque Lorze valley and somewhat off the beaten track, the caves offer a fascinating wealth of stalactites and stalagmites (including some resembling organ pipes which resonate when tapped!). The caves are cunningly lit to show off their colors and bizarre shapes to best advantage, and are connected by good paths.
Baar lies 34 km due south of Zurich (30 minutes by car or train).
34. Rosengart Collection (Lucerne)
Lucerne's famous "Rosengart Collection" was formerly the private collection of art dealer Siegfried Rosengart (1894-1985). It houses at least 180 works by Picasso and 125 by Paul Klee, as well as 20 other masters of the classic modern period such as Matisse, Cézanne and Monet. The collection was made available to the public in 1992 and is now housed in the former buildings of the Swiss National Bank on Pilatusstrasse.
Lucerne lies 52 km south of Zurich (40-50 minutes by road or rail).
35. Verzasca Bungee Jump
Verzasca Dam (aka "Contra Dam" or "Locarno Dam") in the Ticino canton was the scene of Pierce Brosnan`s spectacular, 220 m jump in the movie "Goldeneye". The jump became a world record and was voted the best movie stunt of all time in 2002! Many other movies were shot here, including Bogner's "Fire, Ice and Dynamite". Visitors seeking the ultimate adrenalin rush can take the "007 jump" or "Goldeneye" jump from the banks of the dam; a reservation is essential.
Verzasca is just over 20 km north of Locarno (30-40 minutes by road or rail).
36. Bains de Pâquis (Geneva)
Geneva`s "Pâquis Baths" are located on an artificial peninsula in the "Les Pâquis" precinct of the city, 1.4 km from the Cornavin railway station (7 minutes by car or bus). They are immensely popular with tourists and Genevans alike, comprising lakeside beaches for sunbathing and a quick dip in the summer as well as hammams, saunas and turkish baths for the winter. Bars, restaurants and hotels in the area are plentiful and the nightlife is very lively!
For a day trip while visiting Geneva with or without kids, the Pâquis Baths are a great place to chill and relax.
37. Montreux Jazz Festival (Montreux)
If you are staying in or near Geneva around the start of July, it might be an idea to check out Montreux`s annual Jazz Festival – the second largest in the world. Founded in 1967, the Festival no longer features exclusively Jazz musicians, though Jazz is still significantly represented. Many famous bands and artists have played there, including Eric Clapton, Frank Zappa, Santana, Status Quo and many more. The festival lasts for around 2 weeks at different venues and attracts 200.000 visitors annually. The main events are held at the Congress and Convention Center.
Montreux is located 93 km east of Geneva (just over 1 hour by car or train).
38. Boating on Lake Zurich
For a great relaxing day`s activity when staying in or near Zurich, how about renting a boat or a pedalo from one of the many boat rental firms around the lake and exploring its banks and islands by boat? The island of Lützelau is a nature reserve; it boasts a campsite, a barbecue area and a beach. Its neighbour, larger Ufenau, has a number of ruins and archaeological finds from the 2nd and 3rd centuries and a great restaurant. Swimming is not permitted on Ufenau.
Towns on Lake Zurich include Pfäffikon, Rapperswil, Küsnacht, and Lachen. Pfäffikon lies 25 km east of Zurich (25 minutes by car, 30 minutes by bus or train).
39. The Aare Gorge (Meiringen)
The Aare Gorge in the Bernese Oberland is a most impressive proof of the power of water! 10.000 years ago, at the end of the Ice Age, torrential waters from melting glaciers carved this deep ravine into the limestone. Scarcely 2 km in length, and at its narrowest point only a metre wide, it is flanked by sheer cliffs of up to 50 m high. Thanks to a series of tunnels and bridges, the gorge can be easily hiked in around 40 minutes from Meiringen to Innertkirchen (or vice versa). The gorge is closed to visitors during the winter months. There is a small entrance fee.
Meiringen is just over 100 km south of Zurich and can be reached by car in 80 minutes, or just over 2 hours by train.
40. Swiss National Museum (Zurich)
The impressive Swiss National Museum, built by Gustav Gull in the French Renaissance style in 1898, has become a major attraction in Zurich's old town district. It houses artefacts and relics dating from prehistory to modern times – in particular gothic art, panel paintings, coins and Swiss furnishings through the ages – as well as temporary exhibitions which are always of cultural or social relevance.
The Museum is located on Museumstraße, 2 minutes on foot from the main railway station.
41. Trift Bridge (Gadmen)
At a breathtaking 170 metres long and 100 metres high, the Trift bridge is the longest pedestrian-only suspension bridge in the Swiss Alps. It spans the Trift lake and glacier in the Urner Alps (Berne canton). The original bridge was built in 2004, after the ice of the Trift glacier had retreated so far that it was impassable; it was replaced by the current bridge in 2009. Based on the Nepalese 3-rope bridge design, the bridge is now a tourist magnet. Access is by gondola train from Meiringen.
Gadmen lies around 115 km south of Zurich (1 hour 38 minutes by car or 3 ½ hours by train).
42. Charmey
Formerly the home of Gruyère cheese, the small town of Charmey in the Gruyère district of the Fribourg canton is best known today for its baths and its winter sports facilities. The baths boast an indoor and an outdoor swimming pool with natural spring water, whirlpools, sauna and hammam as well as a beauty and massage center. Their idyllic setting against the stunning backdrop of the Swiss Alps make them the ideal place to relax and unwind. The nearby massif of the Dents Vertes offers six ski-lifts and multiple cross country tracks and snowshoe routes.
Charmey is easily accessed from Gruyère in around 10 minutes by car.
43. Oskar Reinhart Museum (Winterthur)
The Oskar Reinhart Museum in Winterthur (30 km northeast of Zürich) comprises the collector's personal collection of masterpieces dating from classical antiquity to the beginning of the 20th century. The main focus is on Impressionist works, with many older and rarer works (eg. Pieter Huys "Saint Christopher", dated around 1560). The collection is housed in Reinhart`s mansion, which he bequeathed to the Swiss Confederation in 1958. After his death in 1965, the residence was remodelled to serve as a museum and opened to the public in 1970.
http://www.bundesmuseen.ch/roemerholz/00439/00644/index.html?lang=en
44. Swiss National Park (Zernez)
The Swiss National Park in the canton of Graubünden (eastern Switzerland) was founded in 1914; it was one of the first national parks in Europe. It is located in the Western Rhaetian Alps and covers an area of 172.3 square km. Very popular for hiking and wildlife watching, the park offers a multitude of different trails which are color-coded according to the expertise and equipment needed to hike them; yellow trails require no particular skills or equipment, red trails require a degree of fitness and hiking boots and blue trails require experience and alpine equipment.
The Swiss National Park is best accessed by train from Zurich to Zernez (2 ½ hours) and by postbus into the park.
45. Viamala Gorge (Thusis/Andeer)
In ancient times, this 300 m deep gorge – only a few metres in width – was hated and feared; "Viamala" means "Bad Path". It presented a dangerous and perilous obstacle en route to the Splügen and San Bernardino passes, which the Romans solved by constructing wooden bridges and cutting rock galleries into the left side of the gorge. Today the Viamala Gorge is a much-loved tourist destination; a new hanging bridge and 359 secured steps lead the traveller safely into the mystical heart of the gorge. Children between 7 and 12 can even search for treasure in the gorge, equipped with a small map.
The Viamala Gorge is best accessed from Thusis, 148 km southeast of Zurich (1 ½ hours by car).
46. Maison Cailler Chocolate Factory (Broc)
Chocolate lovers of all ages will be delighted with the Maison Cailler Chocolate Factory in Broc (Fribourg canton, western Switzerland). Founded by François Cailler in 1819, the business was bought by Nestlé in 1929. Visitors today are invited to participate in Aztec cocoa ceremonies before starting on a voyage of discovery into the fascinating world of chocolate making. Young and old alike can try their hand at creating their own chocolate masterpieces; a unique holiday experience with something delicious to take home at the end of it!
Broc is 49 minutes southwest of Bern and just over 2 hours southwest of Zurich.
47. Zermatlantis Matterhorn Museum (Zermatt)
The Zermatlantis Matterhorn Museum is housed underground in the premises of the former Zermatt Casino, right in the middle of Zermatt. It is a reconstruction of the Zermatt of the 1800's; particular highspots include the Monte Rosa Hotel as it was when first opened and part of the rope used in the first successful Matterhorn ascent in 1865, during which four climbers lost their lives. Documents, photographs and a multimedia presentation of the history of Zermatt and the Matterhorn round off a fascinating museum.
Zermatt is 215 km south of Zurich (3 ½ hours) and 130 km south of Bern (2 ½ hours). The nearest airports are Zurich and Geneva.
48. Notre Dame Cathedral (Lausanne)
Lausanne`s Notre Dame Cathedral was commenced in 1170 and finally consecrated in 1275, 3 architects later. A wonderful example of sacred gothic architecture both externally and internally, its pipe organ – with 7.000 pipes! – is unique in the world. It has a total of 7 bells (the oldest dating from 1493); a lookout has been maintained since 1405, whose job it is to yell out the time on the hour between 10.00 pm and 2.00 am, every day of the year.
Lausanne is located in the Vaud canton, 226.4 km southwest of Zurich (2 ½ hours by car). It has its own airport.
49. Alpinum Schatzalp (Davos)
A botanical garden specializing in plants which grow at high altitudes (including specimens from China, Nepal, the Pyrenees, etc.), the Alpinum Schatzalp in Davos hosts 3.500 plants blooming from June through September. Embedded at its center is the historical Schatzalp Hotel, which was opened as a sanatorium in 1900. An idyllic setting for a restful holiday with its own private funicular (the "Magic Mountain")!
Davos lies 148 km southeast of Zurich, which is the nearest airport (2 hours 47 minutes by car).
50. Hike the Stockalper Trail
The Stockalper Trail is a 35 km long 17th century mule trail connecting Brig (in the Valais canton) to Gondo (on the Italian border) across the Simplon Pass. On the summit of summit of the pass stands the Simplon Hospice, which was commissioned by Napoleon and run by Benedictine monks. The hospice houses up to 130 guests. The hike can be accomplished in three days, with overnight stops on the Pass and in Simplon village.
Brig lies 176.3 km south of Zurich and can be accessed in just under 3 hours by road.
51. Ariana Ceramics and Glass Museum (Geneva)
Idyllically placed in a park on the banks of Lake Geneva, the Ariana Ceramics and Glass museum houses over 20.000 exhibits from Europe and the East, covering 7 centuries of glass manufacture and 12 centuries of ceramics. It was founded by Gustave Revilliod in 1884 and named after his mother; he bequeathed it to the City of Geneva, which took it over after his death in 1890. For lovers of glass and ceramics, an absolute must!
The Museum is located on the Avenue de la Paix, just 15 minutes from the Cornavin railway station by car or bus.
52. Augusta Raurica (Basel)
Augusta Raurica is a 2.000 year old former Roman settlement, located around 2 km east of Basel. It is also an open-air museum: with its ancient relics of the old roman city, magnificent collection of ancient silver and an enclosure containing ancient domestic animal species, it grants fascinating insight into the way of life at the time of the birth of Christ. Visitors can choose to make pots as the Romans did or bake bread over an open fire; Augusta Raurica will have something to please every taste.
Basel is the nearest airport (25 minutes by car).
53. Staubbach Falls (Lauterbrunnen)
The stunning Staubbach Falls "fall" a distance of 300 metres, making them the second largest waterfall in Switzerland. Much spray is created, which when moved by the wind looks like glittering dust, giving the waterfall its name ("Staub" means "dust" in German). There are many other natural water phenomena in the Lauterbrunnen Valley, including a further 71 waterfalls; Lauterbrunnen itself is picture-card quaint, nestling against the backdrop of three of Switzerland's highest mountains. Skiing is popular here in winter, mountain biking and paragliding in summer.
Lauterbrunnen is located in the Bern canton, 66 km southeast of Bern (just under 1 hour by car).
54. Cathedral of St. Nicolas (Fribourg)
Fribourg`s gothic cathedral was built between 1283 and 1490; according to legend, the 74m high spire was never completed owing to shortage of money! 368 steps lead up into the heights of the cathedral, to be rewarded with a stunning view over the pretty mediaeval streets and buildings of Fribourg.
Fribourg lies 36 km southwest of Bern (28 minutes by car), which is the closest airport.
55. Boat Trip from Ouchy (Lausanne)

Ouchylies south of Lausanne, directly on the banks of Lake Geneva. It is a bustling port and a popular tourist resort; particularly well-loved are the boat trips across the lake to Thonon and Evian in France, though shorter cruises of the lake and major attractions on its shores are available from a number of ferry companies. It is also possible to hire a pedalo and explore the lake under your own "steam"! Certainly, a boat trip on Lake Geneva could be a highlight when staying in or near Lausanne.
Ouchy is accessible by metro from Lausanne (CHF3, around 10 minutes).
56. Dolder Swimming Pool and Golf Course (Zürich)
The Dolder recreation arealies just 3 ½ km east of Zürich city center, just a few minutes from the Dolder cog railway. It consists of an outdoor pool high above the rooftops of Zurich, table tennis tables, a mini-golf course and a volleyball field. In winter it also boasts a very popular ice-skating rink. A great day trip with or without children from the noise and activity of the city center, it is accessible from the central railway station in around 30 minutes by train, or 11 minutes by car.
57. Suworow Monument and Schöllenen Gorge (Zermatt)
The Suworow Monument in Schöllenen Gorge is a 12 meter high cross hewn into the rock of the cliffs. Completed in 1899, it commemorates fallen Russian soldiers in the battle between Napoleonic and Russian troops under General Suworow in 1799. The wild and dangerous Schöllenen Gorge is dramatically punctuated by stone steps, paths and bridges handbuilt by the inhabitants of this area known as "Urserental".
Zermatt is 215 km south of Zurich (3 ½ hours) and 130 km south of Bern (2 ½ hours). The nearest airports are Zurich and Geneva.
58. Museum of Transportation (Lucerne)
Lucerne`s Museum of Transportation, which opened in 1959, is the most popular museum in Switzerland. It houses exhibits connected with the history of all forms of transportation, as well as paintings and sculptures by the local artist Hans Erni. It also boasts a Planetarium and multi media shows and simulators. Both educational and entertaining, the museum is a great day trip for visitors of all ages.
The museum is situated on Lidostrasse, 13 minutes by bus from the main railway station (exit: Verkehrshaus).
59. Hammetschwand Elevator (Bürgenstock)
The Hammetschwand is a lookout point above Lake Lucerne on the Bürgenstock plateau. The Hammetschwand elevator opened in 1905, at which time it was the only one of its kind in Switzerland. It is the highest exterior elevator in Europe. Passengers are carried the 153 metres to the summit of the Hammetschwand at a speed of 2.7 metres per second. For a dizzying, breathtaking experience and an incredible view at the end of it, a ride in the Hammetschwand elevator is unbeatable.
Bürgenstock is located 77 km south of Zürich (70 minutes by car).
60. Schellenursli Village Guarda
The tiny village of Guarda in the Graubünden canton in eastern Switzerland has just 190 inhabitants, but in the summer months it easily houses twice that number of tourists. Voted the prettiest village in Switzerland, it also won the Wakker prize in 1975 for the wonderful care and preservation of its buildings. It is also home to the Chalandamarz, a traditional ritual carried out every year on the 1st March to drive out the winter. Boys wearing pointed red caps and the traditional costume of the Schellen-Ursli parade through the village's cobbled streets, loudly ringing cowbells.
Guarda is 167 km southeast of Zurich (2 hours 20 minutes by rail or road).
61. Walliser Alpentherme and Spa (Leukerbad)
Leukerbad in the Valais canton lies in southwest Switzerland, 112 km south of Bern. Its famous alpentherme and spa is a perfect haven for wellness-lovers, offering traditional and modern massage, peeling, sauna,indoor and outdoor thermal baths and much more besides. Set against the magnificent sunlit panorama of the Alps, it is a gift to body and soul; the perfect place to pamper and indulge oneself after the stresses of modern day life.
Leukerbad is 112 km south of Bern (just over 2 hours by road or rail).
62. The Swiss Path (Brunnen/Urnersee)
This 35 km long circular hiking route was the result of a mutual cooperation of all the cantons, devised for Switzerland's 700th anniversary. It includes a number of "typical" or historical Swiss venues; starting on the Rütli mountain and circling the Urnersee, it finally winds up in Brunnen. The path is divided into sections, with overnight stays possible along the way: much of it is also wheelchair accessible.
Rütli is located 84 km south of Zurich (80 minutes by car).
63. Technorama (Winterthur)
The Swiss Science Center in Winterthur (Zurich canton) is not just a science museum; it is an interactive experimental center. Visitors can try out any number of experiments to increase their understanding of physical and chemical phenomena. With over 500 experimental stations and laboratories, it is an instructive and entertaining way of bringing the visitor into close contact with the mysteries of science. 60.000 children visit yearly; it is the most popular science center in Switzerland.
Winterthur lies 24 km northwest of Zurich and can be reached in just over 20 minutes by car or metro.
64. Châteu de Prangins (Prangins)
Prangins fascinating Baroque castle was built starting in 1732 on the ruins of an earlier castle. Initially the private property of French banker Louis Guiguer, it passed into the hands of the Swiss Confederation in 1975. Since 1998 it has also housed the Swiss National Museum of Romandie. Both the castle and its adjoining gardens will enchant the visitor; the museum houses artefacts connected with Swiss history from 1730 to 1920.
Prangins is located around 40km west of Lausanne (just over 30 minutes by car).
65. St Peter's Island (Erlach/Lake Biel)
St. Peter's island is actually a peninsula reaching into the waters of Lake Biel in the Bern Canton. It was first inhabited by Cluniac monks and houses their monastery, built in 1127. The philosopher and writer Jean-Jacques Rousseau spent some time there and described it as the happiest period of his life; today it is a popular tourist attraction.
St. Peter`s island can be reached on foot or by shuttle from Erlach, or by boat. Erlach is 38 km west of Bern, around 40 minutes by car.
66. Marchés Folkloriques (Vevey)
Vevey`s town hall and market square have been the scene of traditional folk markets for over 40 years. The markets take place every Saturday from the start of July to the end of August, attracting huge crowds and tourists from all over the world. Street musicians and folk dancers add to the color and festive atmosphere of this traditional Swiss custom; wine tasting and alphorn music are a further attraction.
Vevey lies 85 km southwest of Bern (1 hour by car). Lausanne is the closest airport.
67. Vindonissa Roman Camp (Brugg)
"Vindonissa was a Roman settlement around 15 AD, located in what today is known as Windisch (Aargau canton). Excavation of the site began as early as 100 years ago, with new discoveries still being made today. A first century aqueduct and amphitheatre are particularly fine; the mediaeval monastery of Königsfelden – which stands right in the middle of the ruins – now houses a museum. Its eleven hand-painted windows (dating from 1320 to 1360) are among the finest in Europe.
Brugg is just 35 km northwest of Zurich (35 minutes by rail or road).
68. Bellerive Plage (Lausanne)
The name "Bellerive" in Lausanne has become synonymous with relaxation and leisure on a sunny day. The outside swimming facility has been attracting visitors since 1937; today it is a huge complex boasting three outside pools – one of them with a ten metre diving board – amidst a wealth of greenery and on the banks of Lake Geneva. As Olympic Capital of Switzerland, Lausanne offers its residents many other sports and leisure facilities at affordable prices, including bowls, shooting, skating, summer skiing and many more.
Lausanne lies in the Vaud canton, 64 km northeast of Geneva. It has its own airport.
69. Seelisberg Peninsula
For sheer breathtaking beauty, the Seelisberg Peninsula in the Uri canton of central Switzerland is unbeatable. Idyllically situated on the Rütli meadow overlooking the banks of Lake Lucerne, it is not only a wonderful place to relax and unwind, but also a perfect starting point for boat trips or exploration of the alpine passes. The old town hall "Haus zur Treib" (1482) is definitely worth a visit, as is the Friedrich Schiller (author of "William Tell") memorial stone.
Seelisberg lies 84 km south of Zurich (1 hour 10 minutes by car, just over 2 hours by rail).
70. Basel Art Festival
Basel Art Festival is held once yearly for four days in the middle of June. An ambitious international project and a must for art lovers, it highlights top-quality paintings, sculptures, photographs, prints and multimedia presentations from 300 of the best galleries in the world! Ever a center of the arts, this beautiful mediaeval city gains a unique atmosphere during its international art festival.
Basel lies 87 km west of Zurich (around 1 hour by road or rail). It has its own airport.
71. Aquaparc Le Bouveret (Le Bouveret)
Le Bouveret in the Valais canton, near to the French border, has long been a popular holiday and tourist resort. Perfectly situated on the banks of Lake Geneva at the Rhine delta, it offers a wide variety of activities and entertainment for all age groups. Its "Aquapark" with 5 different theme pools and hair-raising slides is a great way to cool off during hotter days, while its "Vapeur Park" offers miniature steam trains to carry visitors through its 17.000 square metre park complex. Le Bouveret has clubs, bars, hotels and a lively night-life, too!
Le Bouveret is around 45 km south of Lausanne (around 45 minutes by road); alternatively, it can be reached by boat across Lake Geneva.
72. Trient Ravine (Vernayaz)
Vernayaz near Martigny (Valais canton) boasts a little flower boutique called "Design Floral"; through this boutique, the interested visitor gains access to Trient Ravine, a breathtaking and unique geological marvel. 200 metres high and very narrow, the ravine is spanned at a height of 187 metres by a bridge. The unpleasantly-named "Pissevache" waterfall (I am not going to translate, except to state that "vâche" means "cow") falls from a height of 114 m into the Rhone valley close by. Anyone interested can take the "Mont Blanc Express Train" further up the sides of the valley towards Chamonix in France.
Trient lies right on the French border in southwestern Switzerland, around 188 km southwest of Zurich (just under 3 hours by car).
73. CERN (Meyrin)
For lovers of truly unique holiday experiences well off the beaten track, why not check out CERN (European Commission for Nuclear Research). Founded in 1954 as a joint venture of 12 countries, CERN not only created what we call today the "World Wide Web", it is home to the 27 km long Hadron Collider – the largest particle accelerator in the world. Only two of its exhibitions are open to the public (the "Microcosm" and the "Globe of Science and Innovation"). Tours are available Monday through Saturday, but fill up quickly; prior reservation is strongly advised.
Meyrin is only 7 ½ km northwest of Geneva (18 minutes by car).
74. Thun-Bern Float Trip
The best way to visit Switzerland's capital: a three hour relaxing float down the river Aare from Thun! Immensely popular in the summer months, these floats can be rented in Thun-Schwabis if you don't have your own. The stretch of water between Thun and Bern includes many idyllic spots to stop for a picnic or a quick dip, though the current is strong in places with one small rapid; life-jackets are strongly recommended and non-swimmers are discouraged from taking the trip.
Thun lies just under 30 km southeast of Bern (less than ½ hour by road or rail).
75. Rietberg Museum (Zurich)
Idyllically placed in the center of the Rietberg Park in Zurich, the Rietberg Museum – which first opened in 1952 – is the only art museum in Switzerland which displays non-European works of art. It is also the third largest museum in Zurich, housing works of art from American, Asian, Oceanic and African cultures. It consists of a number of historical buildings, as well as the famous underground "Smaragd" building, built in 2007.
The Rietberg Museum is situated on Zurich's Gablerstraße, just 9 minutes by car or 15 minutes by tram from the main railway station.
76. Gelmerbahn (Handegg/Grimsel)
For a real thrill, and a breathtakingly beautiful hike for those who like hiking (those who don't can take the funicular back again), the steepest funicular railway in the world is a one-off experience! A 106% climb up the Bernese side of the Grimselpass in the open-topped funicular is a true adventure. Follow that with a two-hour hike to the Gelmersee and back to Handegg and you will have once-in-a-lifetime memories of your visit to Switzerland.
The Grimselpass lies 111 km south of Lucerne (around 2 hours by car).
77. Sion
The mediaeval old town of the capital of the Valais canton, Sion, lies between the hills of Valère and Tourbillon in southwest Switzerland. One of the most significant prehistoric sites in Europe; there is evidence to suggest that there were settlements in the area as early as 6.200 BC. A staggering 14 of its sites and buildings are listed as Swiss Sites of National Significance; the Capuchin monastery, the ruins of Tourbillon castle and the church of Notre-Dame-de-Valère are of particular interest.
Sion – or Sitten, as it is called in German – lies 96 km southeast of Lausanne (just over 1 hour by car or rail).
78. Evionnaz Adventure Labyrinth
The Evionnaz adventure labyrinth, the largest of its kind in Europe, is situated between St. Maurice and Martigny. 3 kilometres long and incorporating 18.000 trees, it conceals games and other hidden treasures behind its high leafy walls. The park also boasts huge slides, hurdles, mini golf, a trampoline, a climbing wall and many more attractions. Picnic spots are available; in addition, the complex offers a restaurant and a fast food booth.
Evionnaz lies in the Valais canton, southwest Switzerland, 45 minutes by car south of Lausanne.
79. Ride a Hot Air Balloon at Château d`Oex
Pays d`Enhaut, located in the Waadt canton of western Switzerland, is the world capital of hot air ballooning, hosting the annual international hot air festival every year in January. The festival, which took place for the first time in 1979, lasts for nine days and hosts pilots and balloon enthusiasts from over 20 countries. The Hot Air Balloon Museum at Château d`Oex is fascinating and well worth a visit. Visitors can take a hot balloon ride from December through May; in clear weather, visibility reaches all the way to Mont Blanc!
Château d`Oex lies 79 km east of Lausanne (around 80 minutes by rail or road).
80. Paul Klee Center (Bern)
The Paul Klee Center in Bern houses the largest collection of the works of this modern artist (1879–1940) worldwide. Around 4.000 of his paintings are housed in a building which is itself a work of modern art; a wave-like construction emerging from a grassy hill, designed by award-winning Italian architect Renzo Piano. The Center – which opened in 2005 – also boasts a hall for music and other performing arts, as well as a children's interactive museum.
The Center lies around 4 km east of Bern railway station, 15-20 minutes by road or tram (exit: Monument im Fruchtland).
81. Wellness Temple (Vals)
The small village of Vals in the Graubünden canton was known for its thermal waters as early as the Bronze Age; in more modern times, architect Peter Zumthor created a harmonious temple of water, local quartz and light to delight the senses and the soul. The only building in Switzerland ever to be declared a protected monument right after it was built, the "Wellness Temple" offers Ayurvedic massage and rituals, body wraps, facials, manicure and pedicure and much more.
Vals Therme lies 170 km southeast of Zurich (2 ½ hours by car).
82. Gurten (Bern)
860 metres above the city of Bern, the Gurten mountain offers an incredible panorama view of the city and its surroundings. It also boasts an observation tower, with an even better view! A much-loved family destination, the Gurten mountain also offers a playground, toboggan run and miniature railway. Two restaurants cater lavishly to bodily wants, while the surrounding lush park offers picnic and barbecue spots.
The Gurten – also known as "Güsche" – is accessible only by rail, on foot or by bicycle; the trains run every 15 minutes from 07.00 pm, sometimes until after midnight!
83. Schwarzsee (Fribourg)
Literally "Black Lake", this small lake in the Fribourg canton is a popular holiday and tourist resort. Family-friendly inns, villages and hostels adorn the banks of the lake, which in summer is a mineral-rich swim and in winter an ice-skating rink! Ski lifts, pistes and snowshoe and hiking trails make the region very popular to winter sports enthusiasts; in spring and summer, thousands of alpine flowers add to the idyll.
The Schwarzsee vacation region lies 28 km south of the city of Fribourg (35 minutes by car or just under 1 hour by rail).
84. Knie`s Children's Zoo (Rapperswil)
The Knie`s Children's Zoo was opened in 1962 by the owners of the Knie Circus, brothers Freddy and Rolf Knie. The aim was to bring visitors into close contact with the animals; no other zoo offers children such an intimate experience of their furry, feathered or four-legged friends! Depending on the species, animals can be fed, petted and ridden; a steam engine and horse-drawn tram transport little visitors from one part of the zoo to the next, and a playground with pirate ship and climbable model whale offer plenty of opportunity to let off steam.
Rapperswil is just under 40 km southeast of Zurich (35 minutes by car).
85. Rent an E-Bike in Basel
A very popular way to get out and about in Basel is an E-Bike – an electrically assisted bicycle with some extra pep for tired legs! The bikes can be rented from a special kiosk at the railway station; they are available in children's sizes and safe for children to use. The battery duration is around 60 km.
These bikes are available for rental at 200 different stations throughout Switzerland (among them 80 railway stations). In Switzerland, they are known as "Velos".
86. Lake Uri (Urnersee)
The southernmost arm of Lake Lucerne, Lake Uri is often likened to a Scandinavian fjord. Situated in the Uri canton of central Switzerland, its mild climate in summer and proximity to the snowy Alps with their plethora of winter sports make Lake Uri a great all year round holiday destination. Lake Uri is flanked by picturesque villages, many of which are under order of preservation; Flüelen (the heart of William Tell country!), Altdorf and Brunnen are just three.
Flüelen on the southernmost shore of Lake Uri is 75 km south of Zurich (just under 1 hour by car or 1 hour 10 minutes by rail).
87. Civico-Ciani Park (Lugano)
The exquisite "Parco Civico-Ciani", 63.000 square metres in size, is the perfect getaway when visiting Lugano. Partly in the English and partly in the Italian style, the park features typical trees and shrubs from the Ticino region as well as perfectly groomed lawns, walkways and shrubs and greenery from all over the world, dotted with statues and sculptures. A more densely-wooded area of the park provides a playground for children; the famous "Villa Ciani", the library of Ticino and the Natural History Museum also stand within the grounds of the park.
The Civico-Ciani park is only 1.2 km from Lugano railway station and can be reached in just over 15 minutes on foot, or 8 minutes by car.
88. Ballenberg Open Air Museum (Brienz)
The Ballenberg Open Air Museum, dedicated to recreating life in Switzerland in ages gone by, has relocated over 100 historical buildings from their original sites and rebuilt them stone by stone. With close attention to historical detail, farms and homes have been reconstructed, connected by winding paths through hilly and wooded surroundings. Visitors have the unique possibility of trying their hand at ancient crafts and cheesemaking; traditional farm animals are an added attraction.
Situated between Haslital and Interlaken, Brienz lies 76 km southeast of Bern (1 hour by car).
89. Basel Kunsthalle
Inaugurated in 1872, the Basel Art Gallery is a central part of Basler culture. Largely dedicated to contemporary and emerging artists, it underwent a number of architectural changes since its inauguration to allow it to include talks, musical programmes, multi-media presentations and many other events. With something of the atmosphere of an artists` club, it has come to represent a cultural meeting ground, where lovers of art and culture can come together to share their common interests.
The Art Gallery is located on Steinenberg 7, 1,8 km from Basel`s railway station (6 minutes by car or 10 minutes on foot).l
90. Lac Neuchatel
Located at the base of the Jura mountains, Lake Neuchatel is the largest lake that is entirely in Switzerland. Pretty villages speckle its banks: the mediaeval village of Neuchatel, located on its northwestern bank, is particularly popular with tourists. Many of these villages are served by boat trips across the lake; as most of these boats sport restaurants and bars, the lake crossing can be a festive one! The southernmost part of the lake comprises marshlands and is the biggest birdwatcher`s paradise in Switzerland.
Neuchatel (aka Neuenburg) is 52 km west of Bern (just over 50 minutes by car).
91. Tinguely Fountain and Museum (Basel)
In 1977, Dadaist artist Jean Tinguely had the amusing idea of placing some metal sculptures not generally seen in ornamental fountains (wheels, musical signs, cogs – to name just a few) in a large black asphalt basin and getting them to spit water at each other; this is the Tiguely fountain in a nutshell. A most unusual eye-opener, it is a lovely spot to sit and rest your feet on a sunny day.
The fountain is located just in front of the Tinguely Museum, which houses the world`s largest collection of the artist`s moving mechanical sculptures. Both lie on Paul-Sacher-Anlage, 9 minutes east of Basel railway station by car (or 20 minutes by tram).
92. Seebad Enge (Zurich)
In winter and in summer, Zurich`s "Seebad Enge" provides a most welcome break from the rigors of city life; in the summer, its two pools (one mixed, one for women only), yoga classes, sauna and outdoor grill bar attract overheated visitors in droves. In the winter, sauna visitors can cool off by jumping directly into the lake! This watery leisure center is located on two floating bridges on the shores of Lake Zurich, 8 minutes south of Zurich's main railway station by car.
93. Langenberg Wildlife Park (Zurich)
The Langenberg wildlife park, situated in the municipality of Langnau am Albis just 12 ½ km south of Zurich (20 minutes by car), presents a host of wild animals which are – or used to be – indigenous to Switzerland. In surroundings very close to their natural habitat, wolves, bears, lynxes, beavers and boars can safely be observed from shady forested walkways.
The Langenberg Wildlife Park, which was incorporated into the Zurich Wilderness Park in 2007, is located on Albisstraße in Langnau am Albis.
94. Kraftwerke Oberhasli (Innertkirchen)
This impressive hydroelectric power station comprising 9 power plants and 8 dams came into being in 1925. Seven percent of Switzerland's hydroelectric energy is produced here, sourced by the five reservoirs in the Grimsel region. Visitors can explore the fascinating history of hydroelectric energy and view the original machinery, much of which is still in use today.
The Kraftwerk Oberhasli is located on Grimselstraße in Innertkirchen (Bern canton), just over 1 hour east of Bern by car.
95. Langmatt Museum (Baden)
The Villa Langmatt was built by the architect Karl Moser in 1900 for the industrialist and art collector Sidney Brown-Sulzer and his wife, Jenny, who were among the first in Switzerland to collect French Impressionist art. After the death of Brown-Sulzer`s son in 1987, the villa and the private collection became part of his legacy, to be opened as a museum in 1990.
The collection includes works by Corot, Degas, Cezanne, Pissarro and Renoir, as well as valuable furniture, porcelain, silverware, books and clocks. Many of the rooms of the villa have remained unchanged, so that it is also a museum of living styles at the turn of the 19th century.
Baden lies in the Aargau canton, 24 km northwest of Zurich (25 minutes by car).
96. Plainpalais Flea Market (Geneva)
Geneva`s bustling, lively Plainpalais Flea Market has been taking place twice a week (Saturdays and Wednesdays) since 1970. One of the largest flea markets in Switzerland, it is a sprawling, colorful mass of stalls selling vintage clothing, questionable antiques and ethnic specialities from all over the world. The odd fast food booth or kebab or pizza stand completes the mixture. The Wednesday market is smaller; the Saturday one could actually yield a nice bargain. Additionally, Plainpalais hosts a farmer's market; it is also a favored spot for skaters, and roller coasters and roundabouts are often stationed here.
Plainpalais is located 2.2 km due south of Geneva's Cornavin railway station, just 9 minutes by car.
97. Beyeler Foundation (Basel)
The Beyeler Foundation in Riehen (near Basel) is an art museum which houses the private art collection of Hilda and Ernst Beyeler. This collection of 200 works of modern classicism (Picasso, Paul Klee, Andy Warhol and others) was presented in Madrid, Berlin and Sydney before coming to rest in its current home, built by architect Renzo Piano in 1997. The collection is continuously expanding; moreover, the gardens of the museum are also used to house special exhibitions from time to time. The museum is immensely popular, drawing over 300.000 visitors annually.
Riehen lies just over 7 km northeast of Basel (17 minutes by car).
98. Swiss National Fireworks Day
On August 1st every year, the Swiss celebrate the alliance between the cantons Schwyz, Uri and Unterwalden in 1291, which served as the basis for the Swiss Confederation. Annually celebrated since 1891, the 1st August only became an official National Holiday in 1994. Festivities and fireworks take place in all major Swiss cities such as Zurich, Basel and Lucerne; however, the most rumbustious celebrations take place at the Rhine Falls (Schaffhausen) and the Rütli meadows (Seelisberg).
99. Chur
The town of Chur (aka Coire) is the capital of the Graubünden canton and officially Switzerland`s oldest town, with roots going back to the Pfyn culture (5000 BC). Very picturesque and 100% car-free, the old part of the Chur is a maze of cobbled streets, perfectly restored mediaeval houses and cultural and historical monuments; Arcas square, the old town hall and St. Martin church are particularly worthy of mention. Chur is also the gateway to the Grison mountains, with 26 spa and holiday resorts accessible in under an hour.
Chur lies 119 km southeast of Zurich (80 minutes by car).
100. Olympic Museum (Lausanne)
With over 10.000 artefacts pertaining to Olympic sports, Lausanne's Olympic museum is the largest of its kind in the world. It is also immensely popular, drawing 250.00 visitors annually. It was founded in 1993 and named European Museum of the Year in 2005. The museum comprises 3 separate floors with the themes Olympic World, Olympic Games and Olympic Spirit. It is located at Ouchy, 2.2 km south of Lausanne city center (8 minutes by car, 9 minutes on foot).