Massachusetts was where the original colonists settled and it has a lot of historically significant things to see and do. There are also plenty of parks and family friendly places to make any trip to Massachusetts one to remember.
1. Paul Revere House (Boston)
Paul Revere lived in this house when he took his famous midnight ride. He sold the house in 1800 and it's been used as a few different things over the years, including shops and a boarding house. Revere's great grandson purchase the house in 1902 and renovated it into the museum it is today. The oldest building in downtown Boston, it's a great place to spend an hour or so learning about a piece of our history.
2. Boston Children's Museum (Boston)
Boston Children's Museum offers a variety of hands on learning activities for kids of all ages. They can play in the art studio or with bubbles, get hand on with construction equipment, look around an authentic 100 year old Japanese house, and power gold balls through intricate raceways. You'll need about 3 hours here for the kids to do everything.
3. Freedom Trail (Boston)
A 2.5 mile walk through Boston, The Freedom Trail takes you to 16 different historic sights, including Park Street Church and the previously mentioned Paul Revere House. a standard tour takes 90 minutes but you can book extended tours for groups and schools.
4. Franklin Park Zoo (Boston)
With more than 125 kinds of animals, the Franklin Park Zoo will not disappoint. There's miniature horses, giraffes, anteaters, hippos, and porcupines to name a few. There's also a playground, carousel, and a train ride. You'll need about 2-3 hours here.
5. Pilgrim Memorial State Park (Plymouth)
Home of Plymouth Rock, the place where the pilgrims first landed in 1620, Plymouth Rock State Park is the most popular state park in Massachusetts. Here you'll find a monument to the Pilgrims as well as a full scale replica of the ship they landed here with. Allow yourself about an hour here.
6. Harvard Square (Boston)
Harvard Square is a popular Boston neighborhood full of art, food, shopping, entertainment, and anything else you can imagine. There's cool hotels and restaurants, boutiques and specialty shops. They hold special events, like a Latke tasting and a gingerbread house event. Spend an afternoon or evening here having a meal checking out the shops.
7. Public Garden (Boston)
This was the first botanical garden in America and was created in 1837. It has heavy Victorian influences and is one of Boston's greatest attractions. Come here and spend an hour or so taking in the beautiful flowers.
8. Berkshire Emporium & Antiques (North Adams)
What started out as a small shop for local crafters in a different location kept on growing and finally relocated to where you'll find it today. They soon expanded into the shop space on either side and behind them and now Berkshire Emporium & Antiques has two floors and multiple rooms of unique and affordable antiques. Spend 2-3 hours here and take your time looking at all the different things they have for sale.
9. Ponds at Foxhollow (Lenox)
A resort in the Berkshires, the Ponds at Foxhollow offering indoor and outdoor pools, hot tubs, saunas, and exercise rooms. There's plenty of outdoor activities as well, including tennis, shuffleboard, bocce, and a playground. Enjoy a relaxing weekend away here.
10. The Berkshires (Various)
A region in the mountains of the western part of the state that's sprinkled with small towns and resorts, the Berkshires is a perfect place for a weekend getaway. There's museums, galleries, various spas and estates, plenty of shopping, plus outdoor activities like ziplining and biking to keep you busy.
11. Red Lion Inn (Stockbridge)
In 1773, a tavern called the Red Lion opened in the Berkshires. After various owners and modifications, the Red Lion Inn opened as a year round place to stay in 1969. It has 125 guest rooms, casual and elegant dining options, and a gift shop that sells products from Berkshire artisans. This is a beautiful, interesting place to spend a weekend in the Berkshires.
12. Cape Ann (Various)
Cape Ann is at the rocky, north eastern part of Massachusetts. It's composed of four regions – Rockport, Gloucester, Essex, and Manchester by the Sea. You'll find opportunities to whale watch, fish, boat, go to the beach, as well as visit museums, spas, and many parks and trails. This is a great place for a week long vacation.
13. Wachusett Mountain (Princeton)
From the summit of Wachusett Mountain, you get the unique view of Mount Monadnock in New Hampshire, the Berkshires, and the Boston Skyline all at the same time. Here, you'll find forests, ponds, streams, and meadows to hike as well as skiing and outdoor sports. There's a lot to do here, it's a perfect place for a fun and adventurous weekend getaway.
14. Newbury Street (Boston)
A unique commercial district in Boston, it has an interesting history of having once been under the water in Boston Harbor until the area was filled in for expansion which was completed in 1870. Once residential, Newbury Street is now considered the Rodeo Drive of the west, but with beautiful old buildings with a European design flair. Spend an afternoon shopping here and getting to know this beautiful part of the city.
15. Old South Meeting House (Boston)
In 1729, this was where the Boston Tea Party was planned and launched. Here, you'll learn about the tea party, take part in a scavenger hunt, and see the place where the discourse and debate began that led to the American Revolution. Allow yourself about an hour here.
16. Holocaust Memorial (Boston)
This is New England's tribute to the victims and survivors of the Holocaust. The artist behind it was a Holocaust survivor who was liberated from a concentration camp when he was just 14 years old. You can do a self guided tour or request a guided tour. Leave about an hour here to pay your respects.
17. John Ward House (Salem)
Built in 1684, this house once stood opposite the jail used in the Salem witch trials. It was relocated in 1910 and restored as a museum space. Its beautiful architecture is worth seeing so stop here when you're in Salem and spend about an hour.
18. Middlesex Fells Reservation (Stoneham)
A massive 2500 acres and commonly called just "The Fells," this rocky area is suitable for hikers, mountain bikers, horseback riders, cross country skiers, and fishing. If you're an outdoor lover, you'll spend a whole day here hiking, fishing, and boating.
19. Blue Hills Reservation (Milton)
Named for the bluish hue the mountains take from a distance, this reservation is more than 7,000 acres and has more than 125 miles of trails. There's a lot of outdoor recreational activity available here – cross country and downhill skiing, hiking, horseback riding, golfing, swimming, picnicking, and rock climbing to name a few. You could easily spend an entire day here in the great outdoors.
20. Bunker Hill Monument (Charlestown)
A 221 foot obelisk marks the spot where colonial soldiers built a fort out of mud and endured a difficult battle with British forces in the Revolutionary War. You can climb the obelisk during certain hours and stop at the museum across the street to learn about this epic battle.
21. Isabella Stewart Gardner Museum (Boston)
Isabella Stewart Gardner was born in 1840 and grew to become a patron of the arts. She collected various painting, textiles, and furniture in her many extensive travels and also loved and supported the Boston Symphony. The museum opened to the public in 1903 and has more than 2500 pieces in its collection. Spend an hour or so here learning about this eccentric woman with a zest for life and examining her extensive collection.
22. Battleship Cove (Fall River)
Battleship Cove is a fleet museum of several military ships, including the USS Massachusetts, the USS Joseph P Kennedy Jr, and the USS Lionfish. There's also informative exhibits about women's roles in World War II and a carousel ride for the kids. You should allow yourself about 2 hours here.
23. Boston Harborfest (Boston)
During a four day period over the Fourth of July holiday, this is the country's largest Independence Day celebration. There's an opening ceremony, live music, art shows, fireworks, and more. It's a great way to spend a day with the family.
24. Echo Bridge (Newton)
Completed in 1877, the Echo Bridge spans the Charles River. It was the second longest masonry arch bridge in the US at the time of it's completion. These days, people come to play around with the echo. The sound waves bounce between the water and the arch to create an astounding effect. You won't need much time here, a half hour or so will be enough to play with sound.
25. Province Lands Visitor Center (Provincetown)
There's a movie theater that mostly shows short, informational films and a bookstore inside. But the real reason to stop here is to see the 360 degree view of the ocean from the observation deck. There's a paved trail for biking and walking near by so you could spend about an hour here enjoying the scenery.
26. deCordova Sculpture Park and Museum (Lincoln)
The sculpture park covers thirty acres and has about sixty pieces on display at all times. There's a wide variety of sculptures made from a lot of different materials. They have a goal of becoming a premier sculpture park in the next few years so they have recently been putting a large effort into the pieces that are on display. In the summer, they're open every day from 10 am – 5 pm, but the hours are more limited in the winter so check the website to plan when the best time is to spend half a day here wandering the grounds.
27. Plymouth Bay Winery (Plymouth)
Plymouth Bay Winery makes a collection of wines from locally grown, native grapes and berries. They're open daily for tastings and special events, so stop by for an hour or so and enjoy some fresh, local wine.
28. Plimoth Plantation (Plymouth)
Travel back in time to the 1600s. There are a lot of things to experience at Plimoth Plantation, including recreations of the original ship called Mayflower II, an English Village, Wampanoag Homesite, a barn, and a gristmill. It will take about 2 hours to experience everything here.
29. Seekonk Grand Prix (Seekonk)
Seekonk Grand Prix is the ultimate family fun center. They have go karts, bumper boats, bumper cars, and arcade, and a ropes course. Some of the attractions are seasonal so check the website before you go and spend a day here with the kids.
30. Museum of Fine Arts (Boston)
Boston Museum of Fine Arts has eleven different collections, including including art from America, Europe, Asia, and Africa as well as photography, musical instruments, and drawings. They also offer guided tours, art classes, and a lot of kid and family friendly programs. You should allow
2-3 hours here.
31. Faneuil Hall (Boston)
In action since 1742, Faneuil Hall was called "the cradle of liberty" by the founding fathers. There are 70 shops and 40 office, this is a central hub of activity in downtown Boston. Local shops, amazing restaurants, and music and street performers make this a unique place to hang out. Spend about 2 hours here having lunch and doing some shopping.
32. Rose Fitzgerald Kennedy Greenway (Boston)
This is a unique mile and a half long ribbon of green space right in the city. It's broken down into five separate areas – Chinatown Parks, Dewey Square Parks, Fort Point Channel Parks, Wharf District Parks, and North End Parks. There's fountains, food vendors, farmer's markets, plus story times and activity carts for kids. Spend an afternoon here while you're in the city.
33. Curio Coffee (Cambridge)
Decorated with a unique and rare collection of curios, that's how the owner gave the shop it's name. It's a small shop and only seats fifteen people, it has an old European vibe. They serve espresso, hot chocolate, and deliciously sweet and crunchy waffles in wax paper to go. Stop in for a coffee when you're in the area.
34. The Brewster Store (Brewster)
Built in 1852, The Brewster Store has changed very little over the years. The second floor contains the Strawberry Patch gift shop and the old Brewster Post Office which houses advertising antiques and posters from WWII. You'll find oil lamps, tee shirts, candy, books, and unique toys .Spend an hour or so here to get a good look at everything.
35. Lake Onota (Pittsfield)
This is a popular spot in the Berkshires for boating, watersports, and fishing. There's also plenty of hiking, biking, and swimming spots. In the winter, ice fishing is popular along with cross country skiing and snowmobiling. Get a vacation rental on the lake and stay for a relaxing few days.
36. Sterling and Francine Clark Art Institute (Williamstown)
Commonly referred to as the Clark, the Institute houses a world renowned collection of American and European art including prints, sculptures, photographs, and paintings. They're also dedicated to being a research and academic center, providing fellowships to artists and maintaining a large library. Spend about 2 hours here.
37. Old North Church (Boston)
On April 18, 1775, the steeple of the Old North Church was where the lanterns were hung as Paul Revere's signal for "one if by land, two if by sea" which kicked off the American Revolution. This is the city's oldest surviving church and a key part of our country's birth. Spend an hour or so here taking in a little piece of history.
38. Skywalk Observatory (Boston)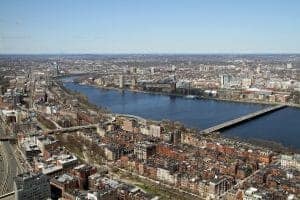 Here you'll find a 360 degree view of the city from 700 feet up in the air. There's an audio tour available and a viewing of a short film called "Wings Over Boston" included here as well. You can come for the view and stay for about 45 minutes or do the tour or the movie and make morning or afternoon of it.
39. Institute of Contemporary Art (Boston)
This is the sister museum to New York's Museum of Modern Art and was founded in 1936. The museum's collection is strong in exhibiting the art of women and has a mix of painting, sculpture, and photography. They also host traveling exhibitions and showcase performance art. You'll want to spend about
2 hours here.
40. Southwick's Zoo (Mendon)
This is the largest zoo in New England and houses 150 different species. You'll find zebra, porcupine, sloths, water buffalo, and chimpanzees, just to name a few. They also offer up close rhino and giraffe encounters. There's plenty of places to eat and even some rides for the kids. Plan to spend 2-3 hours here if you want to see everything.
41. Boston Common (Boston)
Founded in 1634, this is the oldest park in America. Throughout its history, it has always served as a place for public gathering and free speech and there are plaques and memorials throughout the park to learn all the detail. There's also the Frog Pond where you can ice skate in the winter and play in a spray pool in the summer. You can spend 2-3 hours here.
42. New England Aquarium (Boston)
There are thousands of aquatic animals at the New England Aquarium, including a giant Pacific octopus, sea lions, and the largest shark and ray touch tank in the eastern US. There's also an IMAX theater where you'll see amazing 3D movies about sea life. Spend 2-3 hours here, depending on if you want to see a movie during your visit.
43. Martha's Vineyard (Martha's Vineyard)
An island just south of Cape Cod, it's accessible only by boat and air and has a reputation as an affluent summer community. There's no stop lights, no streetlights, no big box stores. But there's plenty to do here. It's comprised of six different towns, each different from the other. You can go boating, visit farmer's markets, go fishing, go shopping. Stay for a weekend or longer so you can see each town and what makes them so special.
44. Massachusetts Museum of Contemporary Art (North Adams)
It has huge galleries and performance venues both indoors and outdoors The exhibit work from both well known and up and coming artists and are set to double their gallery space with upcoming expansions. They also have a packed schedule of performance artists and offer a wide range of educational programs. Depending on what you want to see, you could easily spend 2-3 hours here.
45. Fenway Park (Boston)
Home of the Boston Red Sox since 1912, any sports fan should stop by when they're in Boston even if it's just to sit atop the Green Monster, the legendary 37 foot high wall that overlooks left field. A tour will take about an hour but plan for a whole day and stick around to see a game if you can.
46. Norman Rockwell Museum (Stockbridge)
This museum in the Berkshires has nearly 1000 of Rockwell's paintings and drawings. HIs studio has been relocated to the museum site and is open to visitors from May through October. Most of the characters in his paintings were inspired by the small towns surrounding this location, it really gives a good sense of who he was and where he came from. Take 2 hours here to enjoy Rockwell and his contributions to society.
47. Boston Harbor Islands (Boston)
Boston Harbor Islands is a state and national park made up of 34 islands and peninsulas. Ferries take guests to eight of the islands seasonally while some are only accessible by private boat or charter. You'll find camping, beaches, lighthouses. Go birdwatching or play in a tide pool. If you are an outdoor enthusiast, you could spend a weekend and them some exploring every island you can reach by ferry.
48. Old Sturbridge Village (Sturbridge)
Old Sturbridge Village shows life in the early 19th century with a working farm, historians dressed for the period, and antique buildings. They have permanent educational exhibits about beekeeping, firearms and textiles, glass, and how things have changed. It will typically take around 2 hours to tour here.
49. Sports Museum (Boston)
Here you'll find old sports memorabilia like seats from the old Boston Garden as well as jerseys from the Boston Redskins, where the Washington Redskins originated. They're also involved in a lot of charitable events, like the Oldtime Baseball Game and Rodman Ride for Kids as well as a golf classic and a legendary lunch series. You'll spend about an hour here.
50. Mahican Mohawk Trail (Various)l
This trail follows an historic Native American path following the Deerfield River. You'll see historic sights, towns, mountains, and rivers along the length of this 30 mile trail. If you're up fit it, you could
spend a whole day hiking a part of this trial.
51. Six Flags New England(Agawam)
Six Flags New England is a family friendly amusement park with plenty of thrill rides, including multiples wooden and metal roller-coasters. There's also Hurricane Harbor water park, kiddie rides, dining, and live entertainment. You'll need a whole day here to ride everything.
52. Cape Cod Potato Chip Factory (Hyannis)
Cape Cod Potato Chips is a top tourist stop with around 250,000 visitors every year. These kettle cooked potato chips started in a small storefront in 1980 and, thanks to their all natural ingredients, soon became world famous. The self guided factory tours are available Monday through Friday from 9 am – 5 pm.
53. Nantucket Bookworks (Nantucket)
Nantucket Bookworks is an interesting, eclectic bookstore on the island of Nantucket. In addition to rare and interesting books, they also sell gifts, kids games, and knick knacks. There's a kids area here, too, so next time you're on Nantucket, spend an hour or so in the hidden gem.
54. USS Constitution (Charlestown)
The USS Constitution is the oldest battleship in the world and in located in Boston Harbor. It's part of the Freedom Trail and on-board tours are free. "Old Ironsides" is staffed with active Navy sailors who act as historians about the ship's past. Hours are limited, so make sure you
check the website before you go.
55. Count Orlok's Nightmare Gallery (Salem)
This is a museum housing a private collection of full sized movie monster figures. There's classic and more modern monsters on display, including vampires, zombies, and demons. This is a unique, one of a kind place. Spend 1-2 hours here and get totally spooked.
56. Greater Merrimack Valley (Lowell)
Greater Merrimack Valley is located north of Boston. It has more than twenty towns that call it home and organizing a trip here offers a lot of things to do. The area is full of historic sites, fairs ans festivals, galleries ad museums, plus white water rafting, skiing, camping, fishing, etc. Spend the whole weekend here if you can.
57. Swan Boats (Boston)
Located in Boston Common, the swan boats are a Boston institution that have been around since the late 1800s. It was started by the Paget family and is still run by their fourth generation. They're open every day from April through Labor Day, weather permitting. A ride will take you 15-20 minutes.
58. Wendell State Forest (Various)
Wendell State Forest is more than 7500 acres of hills, streams, ponds, and trails. Popular activities here are mountain biking, picnicking, and boating. If you like to relax outdoors, you can stay here for an hour or two.
59. Castle Island (South Boston)
Fort Independence is the main feature on Castle Island, but you'll also find beautiful views, fishing, swimming, and causeways to walk along. In the summer months, tours of the fort are available when you'll learn about its important to securing the harbor. Spend 2-3 hours here swimming, taking a walk, or learning some history.
60. Lizzie Borden Bed and Breakfast Museum (Fall River)
Most people know the story of Lizzie Borden, but if you ever wanted to find out the truth behind it, you'll find it here. They offer guided tours of the house or you could stay overnight and try to catch some ghosts. Tours are about an hour long and complementary for guests spending the night.
61. JFK Presidential Library and Museum (Boston)
The JFK Library holds all the original papers and correspondence of the Kennedy Administration as well as an extensive collection of works by authors like Ernest Hemingway. The museum offers displays on Kennedy's presidential campaign as well as his time in office, including exhibits about the space race, the Civil Rights movement, and Kennedy's prominent family. Spend an hour or so here.
62. Wicked Good Books (Salem)
A popular and well rated independent bookstore in Salem, Wicked Good Books offers everything from best sellers to children's books to unique gift items. The shop emphasizes the history of Salem with books about the witch trials as well as works by Edgar Allan Poe and Stephen King. Stop in and shop for an hour or so.
63. Warren Anatomical Museum (Boston)
The Warren Anatomical Museum was established by Dr. John Collins Warren to help teach Harvard medical students about anatomy. There are about a hundred artifacts on display, ranging from bloodletting, the development of the stethoscope, and surgery in the Civil War. Admission is free. You can see the whole museum in
1-2 hours.
64. Peabody Essex Museum (Salem)
Founded in 1799, this is now one of the fastest growing arts museums in the country. The Peabody Essex Museum tries to bring art, architecture, and culture together to see how they all connect. Among their holdings is a large collection of Asian art. You will need around 2 hours when you visit.
65. Salem Maritime National Historical Park (Salem)
A major seaport during the founding of the United States, Salem has quite a long history with the sea. At this historical park, you'll find wharves to explore, a tall ship replica to learn about, and take a walk to see some architectural highlights from this period. They have guided and self guided tours. Allow 1-2 hours when you visit.
66. Essex Shipbuilding Museum (Essex)
The Essex Shipbuilding Museum tells the story of a village that building more fishing schooners than anywhere else in the world. They have old ship building tools, photographs, and even a ship built in sight in 1998 on display when it's not sailing around New England. Spend about 2 hours here.
67. Beacon Hill (Boston)
Now one of the most expensive Boston neighborhoods to live in, Beacon Hill saw it's first house built in 1625. It's full of old row houses, gaslit streets, and brick sidewalks. Allow yourself about an hour here walking around this historic neighborhood and take some good pictures.
68. Museum of Bad Art (Brookline)
Located in two different theater basements, the Museum of Bad Art is the only one of its kind, dedicated to the exhibition and preservation of bad art in all its forms. They've got landscapes that look like ice cream, bad portraits, and weird subjects. Spend an hour in this fun museum.
69. Lannan Ship Model Gallery (Boston)
A family business that's been around since 1967, the Lannan Ship Model Gallery had an impressive amount of maritime artifacts. In addition to model ships, they also have antique sextants and compasses, clocks, art, and furniture. If you are curious about ships and life at sea,spend an hour or so here.
70. Salem (Salem)
A visit to Salem would not be complete without visiting the museums and historic sites chronicling the witch trials, but there's also a lot more to do here. There's plenty of beaches and boats to explore or follow the red line on the sidewalk through town and take a self guided walking tour. There's enough to do here to fill a whole weekend.
71. Pearl Hill State Park (West Townsend)
Open from Memorial Day through Labor Day, this summer time hot spot had plenty of room for camping. There's also a small lake and hiking trails to explore. If you're an outdoorsy person, spend a summer night here sleeping outside and wake up nice and early for a hike and a swim.
72. Ponkapoag Golf Course (Canton)
The original golf course opened in 1932 and had a history of being not so great over the years. It's recently been revamped and redesigned and is drawing back golfers who gave up on it year ago. Come and see for yourself how great the improvements are by spending 2 hours playing a round on one of their two courses.
73. Old State House (Boston)
The Old State House is the oldest public building in Boston was built in 1773. It served as a meeting place and a merchant exchange prior to the Revolutionary War. The Declaration of Independence was read to the public for the first time from its balcony. There's also many related artifacts, like John Hancock's coat. You will need about 1-2 hours to see everything here.
74. Tower Hill Botanical Gardens (Boylson)
With roots going all the way back to 1840, Tower Hill Botanical Gardens as it now stands was created in 1983. The have a year round display of plants found in New England as well as art exhibits and musical performances. Spend an hour here walking through the gardens.
75. Parker River National Wildlife Refuge (Newburyport)
Built in 1942, the Parker River National Wildlife Refuge primarily serves as a place for migratory birds to rest and nest. It has a diverse environment ranging from beach to wetland and supports 350 different species of birds, reptiles, and mammals. Spend and hour or two here walking along the trail and birdwatching.
76. Arnold Arboretum (Boston)
This is a part of Harvard University and is free and open to the public. There are guided tours and interactive activities for kids as well as photo scavenger hunt and self guided tours that vary year round. When you're here, you'll want to stay for 2 hours or so.
77. Little Harbour Boathouse (Marblehead)
Little Harbor Boathouse is all about making your visit to Marblehead unforgettable. They offer stand up paddle board, pedal kayak, and paddle kayak rentals. They also offer lessons, camps, and fishing charters. Visit them and spend an hour or two adding advaenture to your trip to Marblehead.
78. Hotel on North (Pittsfield)
Located in the middle of the Berkshires, this boutique hotel was built on a historical site of two 19th century buildings and is close to everything. They have a locally sourced casual restaurant for a delicious meal. There's also a kids' playroom with a foosball table, a ping pong table, and lots of books to keep your kids happy, too. Spend a weekend here when visiting the Berkshires.
79. CoCo Key Waterpark (Danvers)
This is an indoor waterpark where you can visit the tropics all year round. They have an adventure river, a movie theater splash pool, as well as a spa, waterslides, and an arcade for when you don't want to swim anymore. You can spend a whole day here enjoying yourself.
80. Massachusetts State House (Boston)
The building of the Massachusetts State House was completed in 1798. It's built on what was originally John Hancock's cow pasture. It has a recognizable golden dome, which was once made of wood and was then overlaid with copper by Paul Revere. Make this a stop along your tour of the Freedom Trail and stay for about a half hour.
81. Fort Revere Park (Hull)
Fort Revere overlooks Boston Harbor and was used as a defense against the British during the Revolutionary War through WWII. The fort was restored for the country's bicentennial in 1976. The park now offers amphitheaters and picnic facilities. This is good place to have a picnic and take a long walk, so spend about an hour here.
82. Oak Bluffs' Gingerbread Cottages (Oak Bluffs)
One of the small towns in Martha's Vineyard, Oak Bluffs is famous for its gingerbread cottages. There's more than 300 pastel colored small houses that look as if they're straight out of a fairy tale. Once a year, they have Grand Illumination Night where all the cottages are lit by japanese lanterns. Some for the Grand Illumination Night if you can, but spend at least an hour or so walking around the grounds, discovring thesse houses.
83. Plum Island (Newburyport)
Plum Island is an 11 mile long island just north of Cape Ann that appeared in Captain John Smith's earliest maps of the area. In addition to the beautiful beaches, you'll find a lighthouse, wildlife refuge, and an inn right on the beach. Spend a night here and enjoy the sunrise.
84. Wellfleet (Wellfleet)
A gem of a New England Coastal town, Wellfleet is an ideal vacation spot. It's quiet and tranquil with beaches and a small, quaint downtown area with a theater and some great restaurants. Book a weekend at a B&B here for a relaxing break.
85. Bartlett's Farm (Nantucket)
This is the largest and oldest family owned farm on Nantucket. They have a garden center, bakery, market, and even a restaurant. Come here for an hour or so to get some fresh flowers and produce.
86. Harvard Museum of Natural History (Cambridge)
This museum has an extensive collection of artifacts that varies from learning about evolution through studying fossils to glass flowers to climate change to a wide range of wildlife specimens. They also have classes for kids and adults plus special events and exhibits. You'll need
2-3 hours here to see everything.
87. Edaville Family Amusement Park (Carver)
In addition to classic carnival rides, Edaville Family Amusement Park is home to Thomas Land, where Thomas the Train and all his friends wait to play with your little one. There's also Dinoland where you go on a self guided tour with 23 dinosaurs waiting to see you. It will take a whole day to see all this with your kids.
88. Armenian Museum of America (Watertown)
This museum has a large collection of Armenian books and artifacts, including exhibits on the Armenian genocide to Armenian textiles and doll. You should spend between 1-2 hours here.
89. Nantasket Beach Resort (Hull)
This full service resort has a pool, a gym, an arcade, billiards, and even an art gallery. The newly renovated guest rooms will surely keep you comfortable if you stay here for a weekend getaway.
90. Cape Cod Inflatable Park (West Yarmouth)
This is a truly unique park where all of the rides are inflatable. There are slides (wet and dry), obstacle courses, jousting, and a game of king of the mountain. There's also a toddler zone for the younger guests and an arcade. Spend a day here doing everything.
91. Hammond Pond Reservation (Chestnut Hill)
Hammond Pond is a forest with wooded trails and rocks to climb on as well as a pond for fishing. If you like walking around exploring the outfdoors, come and spend a morning or afternoon here.
92. Constitution Beach (East Boston)
This is a popular swimming spot and the addition of a new bathhouse and concession stand are sure to add to it's appeal. It's a great place to birdwatch, fish, or picnic, too. You could spend a whole day hanging out at this beach.
93. Nantucket Shipwreck & LIfesaving Museum (Nantucket)
More than 700 ships crashed off the shore of Nantucket due to storms, fog, and currants. For ships lacking modern technology, it was not an easy route to take and was called "the graveyard of the Atlantic." This museum is dedicated to the lives of the sailors and those who fought to save them. There's over 5,000 artifacts, so spend at least an hour here.
94. Dogtown and Babson Boulder Trail (Gloucester)
Dogtown was a farming community when it was established back in 1693 but abandoned after the War of 1812. Long after that, an artist came around and filled a nearby field with more than 30 boulders inscribed with motivational words. It's a unique once in a lifetime thing to see, spend an hour or two walking through the overgrown field looking for the bouldrs.
95. Tufts Library Roof (Sommerville)
If you want to get a good look at Boston without having to go to the city, this is the place. The Tufts Library Roof is covered in grass to relax or study on and you get an amazing view of the Boston skyline. You can make a quick stop and just snap a picture or enjoy sitting in the great sfr a while.
96. Walden Pond (Concord)
This is the site where Thoreau wrote his famous "Walden" which help to raise awareness and respect for the outdoors. Today, you can canoe, fish, swim, climb, and hike. There's also several hiking trails. If you're into literature, it's necessary to spend half a day here.
97. Samuel Adams Brewery (Boston)
The owner brewed his first batch in his kitchen using his great great grandfather's recipe and never looked back. Today, you can tour the brewery and learn about the whole process, taste the malts, smell the hops, and sample some of their many varieties of craft beer.
Tours leave every 40 minutes and last about an hour.
98. Thinking Cup (Boston)
Located right down the road from Boston Common, Thinking Cup uses Stumptown coffee straight from the Brooklyn roasting facility. Stumptown coffee has been called the best in the world. Here, you can pair it with delicious baked goods, breakfast sandwiches, or sandwiches. Stop in
and have a cup of coffee next time you're nearby.
99. Mapparium (Boston)
This is a three story, stained glass globe located in a library. There's a presentation called "A World of Ideas" that plays when you visit that gives a visual representation to how ideas and culture spread over time. This is a really cool and unique place to visit. Spend at least a half hour when you do.
100. Museum of Science (Boston)
Founded in 1864, this museum is one of the world's largest science museums. Their broad range of exhibits cover everything from chocolate to the Hall of Human Life to microbiotics. Come and spend 2-3 hours here.