We literally spent 30 hours in the shower to identify Jen's Top Pick for the best shower head: the Hydroluxe® Pampering 24-setting Ultra-Luxury 3-Way 2 in 1 Shower Combo. This proves to have everything you need and is affordable at the same time. Finding the right pressure, flow settings, and material would definitely not sit well with your budget, that's why we took the effort of researching shower heads and screening the best of the best so you wouldn't need to look any further. The Hydroluxe offered the best quality for the best price amongst all our other contenders. It offers a whopping 24 settings and comes with a detachable handheld shower head to boot.
The Best Shower Head: Hydroluxe® Pampering 24-setting Ultra-Luxury 3-Way 2 in 1 Shower Combo
The Hydroluxe showerhead boasts a wide range of flow settings, giving you the best shower experience ever. It comes with a convenient detachable handheld shower which allows for better range (with its 5' aluminum hose). It comes with a promise of easy, tool-free installation so you can have it set up in minutes.
The different settings provide a diverse hydro-therapeutic experience like no other. Its looks definitely compares with its functionality, along with its sleek chrome finish. Some might find the fact that it's plastic a little unappealing but the good news is that plastic doesn't rust. You'll never find a metal combo shower with the same price as this one.
Step-up Pick: HotelSpa® 30-Setting Ultra-Luxury 3 way Rainfall Shower-Head/Handheld Shower Combo

HotelSpa® provides one of the best models they have ever released with this one. With a 6″ main shower head that's sure to provide the best coverage and a very alluring handheld combo, it's sure to provide you with the most relaxing bath after a long day's work.
The HotelSpa® boasts 30 different combinations with its settings, 6 more than what the Hydroluxe® provides, which ensures that you choose the best combination you want to ease your sore muscles. HotelSpa® promises to provide you with the greatest hotel-like soak in the comfort of your own home.
Budget Pick: HotelSpa® AquaStorm 30-Setting SpiralFlo 3-Way Luxury Shower Head Combo
It looks really similar to the Hydroluxe®, but at a cheaper price. It also provides 6 more functions than the top pick. For a low price, the HotelSpa® AquaStorm a good deal of equipment, with a good price-to-quality ratio. Only drawback would be the material; providing a slightly weaker composite plastic as compared to the Hydroluxe®. But don't be fooled, it's still not a weak material per se.
The product shows good durability, and with that price tag, it's a very good deal. The AquaStorm is ideal if you're not really after a metallic showerhead. Its chrome finish looks really well made considering it's so cheap.
Table of Contents
Before you move on (or buy a product)
Take note that not all shower heads last forever. Some hardware might prove useful in the first couple of months but needs replacement due to bad water quality. Water pressure is also different wherever you are in the country. All shower heads must face the fact that each state has their own "unique" problem and must be able to adjust accordingly.
As an example, shower head A provides a pleasant experience in Georgia but an exact duplicate of it somehow clogs up in Kansas. The same shower head received different feedbacks just because of the geographic location where it is installed. If you look at it one way, it might seem that the shower head A in Kansas might have been defective, but that's not really the case. Another perspective would be that water in Kansas might be substantially different than the water in Georgia. If your answer was the latter, cheers to you! The culprit in this scenario would be the water, being "harder"( has higher mineral content) in Kansas than it is in Georgia.
There have been studies showing the different water hardness levels in the United States. The United States Geological Service website shows data that would show you the different levels of water hardness throughout the United States. Water hardness is most of the time a leading cause of a shower head malfunction that could sometimes cause a good product to receive bad reviews.
Another thing to look out for would be water pressure. Some shower heads contain a "flow regulator" which allows it to limit the amount of gallons per minute (GPM) it releases. This is a part inside the shower head installed by the manufacture to counter against high water pressure, which might not go so well with low water pressure areas. Again, demographics can play a major part with water pressure; some places have high pressure, while some have low pressure.
Also, it is important to know about your water source. You might go around thinking that all places have fresh water, but that isn't necessarily true. Other sources like deep wells will often carry around a foul odor that might need "extra" filtering to get "cleaner" smelling water.
So before you go on and buy a shower head, you need to take all of these into consideration: (1) hardness, (2) pressure, and (3) source. And never forget to check the size of your pipes! You wouldn't want a product that doesn't fit well with the interior design of your home.

What is Water Softening?
Water softening, in easier terms, is the removal of any foreign metal cations in hard water. Unfiltered water might cause certain complications for the health of you and your family. This is why most people nowadays would prefer to filter out their water before they use it. This makes the function of built in filters and water softeners in shower heads very appealing.
Hard water might be the reason why your shower head is clogging up, or why your water smells a little funky. A lot of companies have taken this into consideration and started to include filters in their shower heads to cater to the demands of the public. Not only do the filters remove harmful metals, they also lessen any odor coming out of your tap.
If your area has water with sulfuric or metallic smell, we highly recommend going for a product that could filter your water and soften it.
One of the most common water softeners in the market right now is the KDF 55, which not only removes chlorine, but balances your pH levels as well.

Does a specific shower head affect my skin and hair?
The direct answer would be "yes". Shower heads that do not contain any type of filtration would be okay if used in a demographic with soft water. But if the same shower head is to be used at a place with hard water, it could definitely cause some problems.
If you've already tried a lot of creams and medications for your skin but still have the same problem, it might be a problem with your water. The metals in hard water would make your skin unable to absorb the moisture it needs to stay healthy thus causing your skin to dry up even if you medicate. If you do not have any history of skin diseases, have your water checked right away.
Hard water could be the reason why your skin is drying up without any probable cause. It might even be the reason why your hair doesn't have any fullness or life. A simple filtered shower head would be able to soften your water and might be the solution to bring your hair and skin back to life.
There are different types of shower heads that offer distinct filtration. From chlorine filtration to scale deposit filtration, each shower head is designed for a different purpose and could provide health benefits to your hair and skin.
Some shower heads have feature settings like Hydroluxe's "Massage" setting, which could offer hydrotherapeutic effects that could also help revitalize your skin.

Handheld or Fixed?
It might be hard for some of you to decide on what kind of shower head you should buy. Both of these types offer their own pros and cons which might lead you to struggle with your decision.
So how do you choose between the two? Here's a quick rundown
Handheld Shower Heads offer a better range of effectivity. If you're trying to wash hard to reach areas, it's better to use a handheld than do awkward positions with your fixed shower head.
If you have kids, this option is the way to go; you wouldn't have to worry about them not being able to use the shower properly. This is also a good deal if you're a pet owner, a fixed shower head really wouldn't rinse well if the dog is on the bathroom floor.
The only downside would be the possibility of wear and tear, since the product is handheld. This makes it prone to breaking due to continuous movement.
Fixed Shower Heads, on the other hand, would generally last longer since they don't suffer that much from continuous motion. The only times you'd move the shower is if you're trying to change its angle and settings.
They also provide you with a better flow control, ensuring that only a specific part of your bathroom gets wet. The most prominent downside, however, is its lack of range, making some areas of your body hard to rinse.
If you're having a hard time choosing between the two, you could always just go for both. There are some models that provide both fixtures bundled together in one product. A perfect example would be the Hydroluxe, providing both a fixed and a handheld shower altogether. This creates a better shower experience and would allow better rinsing of those hard to reach areas. It also provides different settings for both fixtures which you could use for a good, therapeutic bath.

Why you should buy one
A good shower head goes a long way. It can provide numerous benefits if you choose the right one. There are countess reasons why you should buy a good shower head, but here are the main ones:
Water softening
Odor removal
Skin and Hair care
These three reasons are why you should replace your normal shower head with a specialized one. Heads with flow regulators could also decrease your water consumption, making a huge economic impact.

What is a good shower head?
We chose the best shower head using the following criteria:
Price – It must be of good quality but not too pricey.
Functionality – Offers a wide array of uses. (e.g. Filtration, Massage, etc.)
Ease of Use – Does it install easily? Are the controls hard to manipulate?
Flow Pressure – How much pressure can it generate?
Water Consumption – Savings over time.
With these criteria, we were able to select a lot of promising shower heads which lead us to narrow the selection by checking the price-to-quality ratio of the product. Material was not placed as a high contributing factor since the pricing of the products would be material dependent. It would, however, affect the functionality criterion, as it affects rusting, leaking, and durability.
The most important criteria in this list would be the flow pressure and water consumption, since most people are more concerned about the effectiveness of the shower head in doing its duties.
We took together some of the best showerheads for the reason of affordability. Only the most functional shower heads that are price friendly are included on this list.
Our Pick
Here we present the top contender for our best shower head competition. The Hydroluxe® Pampering 24-setting Ultra-Luxury 3-Way 2 in 1 Shower Combo. It's sleek with a chrome finish, provides a totally unique shower experience with its multiple flow settings, easy to install with a "tools-free" guarantee, and most of all, it's a small price to pay. Did we mention that it's also a combo showerhead?
The Hydroluxe® provided to be one of the best price-to-quality products among the others. It is very affordable and really easy to install. The packaging comes with a 3-way water diverter, flow regulators, and plumbing tape, saving you from having an extra trip to your local hardware store.
Out of the box, the Hydroluxe® contains the fixed shower head, handheld shower head, stainless steel hose, diverter, and plumbing tape. The material of the entire thing (except the hose) is ABS (Acrylonitrile-Butadiene-Styrene) which is a type of composite polymer used in high grade plastics for its strength and durability. The only thing metal in this package is the hose, which is made of stainless steel. The hose itself reaches 5' (or 60 inches) which makes it a perfect length for whatever you need it for.
You won't find a metallic combo shower head in this price range and the kind of plastic that Hydroluxe® uses is no flimsy thing.
The settings span 5 different modes: Wide Rain, Power Massage, Stay-Warm Mist, Eco Rain, and Pause and on top of that, the modes apply to both shower heads, making a total of 24 possible combinations. Talk about a unique shower experience! Also, the design of the product gives off a luxurious feel with its chrome finish; it looks like a shower head you'd usually find in a grand hotel.
That's it for the product overview; now let's talk about why it's our Top Pick.
The shower head provides massive customization to your bath by providing 24 combined modes for both heads and suffers almost no loss in water pressure when on simultaneously. It comes with plumbing tape and instructions on how to install it with only your hands, which is a big plus for people who want hassle-free installations.
The shower head runs at a flow pressure of 2.5 GPM, which is U.S. standard, and promotes water savings which in turn saves not only money, but also the environment.

Flaws but not dealbreakers
The Hydroluxe is a good deal for your money, but a lot of people would complaint about it being plastic. The consumers tend to question its durability because it doesn't really weigh much. But don't be fooled; the material used for the product is Acrylonitrile-Butadiene-Styrene, or ABS, which is the material used for Lego blocks, and we all know how durable those are.
They also question the "pause" function of the hose, not completely shutting of the water and end up "wasting" it. This is actually a function on most shower heads that prevent pressure build-up which can destroy the hardware, also reducing the risk of calling a plumber.
While people have numerous complaints about different aspects of the product, most of them could be categorized as "user-induced". A simple example of this would be leaking caused by scale build-up; the showerhead is not specifically designed for hard water environments, which could be avoided by water testing.
Another confusing feature is the location of the switch valve for changing the flow of water from the fixed shower head and the handheld shower. It is oddly placed behind the fixed shower head which makes it a little out of reach when bathing.

The budget-friendly alternative
The HotelSpa® AquaStorm is a cheaper alternative. With its classy and elegant look, the AquaStorm does not look in any way cheap.
It provides the same feel as the Hydroluxe at a more affordable price. It provides 6 extra settings that can be considered similar to the prior modes. One of the attractive points about the product, however, is the ability to replace the handheld shower head's 5' hose. The 4″ face on both heads allow for a good coverage when you take a bath and the tool-free installation allows for ease of use.
The versatility of this product is very good. The material, however, is not as durable as our top pick, which makes it considerably different.

The Step-Up
Another HotelSpa® product made it into our list, just at a slightly higher price. The HotelSpa® 30-Setting Ultra-Luxury 3 way Rainfall Shower-Head/Handheld Shower Combo is a better deal if you want to spoil yourself a bit more. It is mostly similar to the other two products above with a big difference: the face of the main shower head is at a huge 6″, providing you with the biggest coverage for your shower experience. If this is not clear enough, that's 2″ more coverage than the best pick.
This is a great upgrade for those of you out there who want to get entirely soaked, which is highly sought for with hot baths. It is really annoying if only a specific part of your body gets hit by hot water, but thanks to the increased face size of the shower head, you can kiss that problem goodbye.
The product comes with the ability to use filters like the HotelSpa® Universal Shower Filter with Disposable Cartridge . It also has a detachable hose that you can replace if you want something different.
One of the greatest upsides of the product is its Lifetime Limited Guarantee. If any of the parts seem off or gets broken, InterLink, the producers of HotelSpa®, will send you replacement parts for no charge whatsoever. This only applies, however, to products sold by authorized retailers.
The package itself includes everything you need for installation. It comes with the rainfall shower head, handheld shower, shower hose, water diverter, washers and Teflon tape. The only other thing you'll need is your hands. This ensures you the convenience of setting the product up as soon as it arrives at your door step.
The HotelSpa® also ensures the perfect water pressure and shows almost no decrease in power when both shower heads are open. It's also very easy to clean with its rub-clean jets, allowing you to remove any unwanted mineral deposits with ease. The "pause" setting is also perfect when you're soaping and do not want a full flow. It doesn't completely stop the flow so pressure won't build up.

If our other picks aren't available

DreamSpa 1432 3-way Rainfall Shower-Head and Handheld Shower is a good shower head combo unit that is a little bit pricier than our top pick. It also has a lifetime limited warranty so you can have free parts replacements sent to your door step.
One thing to notice here though is that the main shower head only has one setting. This is redeemed by the handheld shower head however contains 7 different settings. This is for some of you who want a rainfall shower while still being able to wash those hard to reach areas.
---

AKDY 185 Nozzles 3-way Overhead Rainfall Jet Spray Shower Head Combo
provides a VERY wide range with its modern curve design. The shower head and the handheld shower both have 2 unique settings.
The main shower head can produce a "rainfall" effect which works like most regular showers, while the second setting works like a massage by shooting strong jets from the 6 big nozzles in the middle row. The handheld shower's primary setting is similar to the rainfall setting, while its second setting works like a water fall that shoots out perpendicular to the top part of the head. Altogether, the AKDY is a good piece of equipment; only downside is that both shower heads cannot be turned on at the same time.
---

Ana Bath SS5450CBN 5 Inch 5 Function Handheld Shower and Showerhead Combo Shower System is also worth mentioning. It is a good unit nonetheless. The product uses a brush nickel finish, which gives it a very sophisticated look. Both shower heads have a 5' face size which provides better range compared the other shower head combos
It has 3 settings for each shower head: Saturating Spray, Massage Spray, and Bubble Spray, which offers a good experience for your relaxing bath time. As a plus, both heads can also be used simultaneously. One of the most notable concerns, aside from its price, would be its weight, being almost a pound heavier than most of the shower heads in our list.
The Filter Masters

Culligan WSH-C125.
Most shower heads boast about their ability to clean, soften, and deodorize the water coming out of your tap but none had proved more effective than the Culligan WSH-C125. Not only does it clean out the chlorine to almost 0% levels, it also reduces scale deposits (those pesky hard sediments caused by mineral buildup) that help in keeping your skin and hair healthy and squeaky clean.
A highly persistent problem as well would be material, as some showerheads are either made of metal (which makes some prone to rusting) and plastic (which is less durable). The Hydroluxe also surpasses that by having a structure made from brass, making it immune to rusting.
---

Aquasana AQ 4100 Deluxe is literally a filter attachment on your shower pipe, but who cares? The benefits are amazing! The Aquasana uses a patented carbon/zinc media along with a coconut shell carbon to purify your shower water for a reasonable price. This allows you to experience a bath with no chlorine and no harmful chemicals. The simple purification of the water enables your products to work better for you as well, since most of the products nowadays were designed for a "best water" scenario.
Not only does the Aquasana provide you with the cleanest bath water you could ever hope to imagine, it also provides a very quick and easy installation process: just remove your previous shower head, install the Aquasana, flush out some water from the filter, and finally attach the packaged shower head.
---

Culligan HSH-C135
This is for those of you who want a filtered system, but still maintain the versatility of the handheld shower head. It's like the Culligan WSH-C125, but handheld. It costs a few dollars more than the fixed variant being price but is still a reasonable price if you take its health benefits into consideration.
It provides a cleaner, fresher bath and offers 5 different spray settings for your bathing pleasure. It also promises a filter life of 6 months with its 10,000 gal filter capacity. Like the other showers in our list, it doesn't require tools to install; just twist it in and you're good to go.
---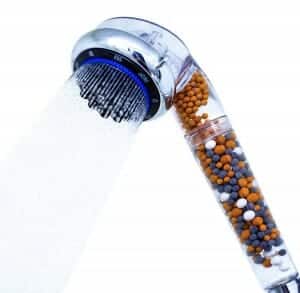 FlowTec Handheld Low Flow Filter Shower Head
has a red germanium and gray tourmaline ball filter technology that boasts to last a lifetime. The balls provide filtering against chlorine and other metallic substances while softening your water by creating negative ionization.
It comes with an easy installation, being compatible with standard sized shower hoses. This means the ability to plug it in to your favorite combo shower head system. It also comes together with 7 different settings that promote bath time relaxation.
Notable mentions
Here is a list of some other quality shower heads that just didn't make the cut but are still worth an honorable mention.


ZenFresh Filtration Shower Head
This showerhead is pretty much like the FlowTech featured above but with sever minor drawbacks. First of all, it only has one setting, making the FlowTech superior in providing bath time customization. Secondly, it's just a shower head; no hose, no washers, no extender arm, no nothing; the only thing in the package would be the handheld shower head itself. Another thing to notice is that it lacks information on its filter, unlike the others, and only brands them as "Biologically Active Mineral Stone".
But aside from those quirks, it's still a pretty decent shower. The single beam-like setting is accompanied by a rainfall-esque outer ring which makes it good for low water pressure areas. The mineral stones also provide good filtering removing much of the chlorine and other metallic substances.
---


Speakman S-2005-HB Hotel Anystream High Pressure Adjustable Shower Head
is mostly used in the hotel business and became one of the best sellers for home use. The main shower has 8 massage jets in the center combined with 50 powerful body sprays, which when combined with its 5″ face provides a very good range that covers every single part of your body.
It also comes with a 2.5 GPM flow restrictor which most shower heads have (for environmental reasons) but can be removed for stronger flow. But the shower head is famous for being strong in low water pressure systems even without the removal of the restrictor. One of the few reasons that this bad boy didn't make the list is it simply lacks versatility. There are only 2 main settings, and a gradual in-between of the two. This makes the use of combo shower heads more diverse and allowing for better customization of your bath experience. That said, the Speakerman is a good deal and is still a very good option for a fixed shower head.
Best Shower Filters

Cedar & Citrus CC22000002 Inline SPA Showerhead Filter & Water Softener
This, in our opinion, is a very good shower filter. It's like a small, compact version of the Aquasana filter which is very good for people who don't like the bulk. The Cedar & Citrus Showerhead Filter attachment cleans your bathwater using calcium sulfite, which removes chlorine and balances your water's pH level, and mineral filter stones that are easy and convenient to replace.
A good thing to note when using inline filters is that it allows you to use your preferred shower head with it.
---

Aqua Elegante High Output Luxury Shower Filter
Well, we can't really question that since this is a very "elegante" piece of equipment well worth of the praise. The Aqua Elegante offers one the best shower filtration in the market and it comes with 3 different colors: Brushed Nickel, Oil-rubbed Bronze, and Chrome.
All of its features are confidently laid out with the words "100% money back guarantee". If you have any complains AT ALL with the product, you can contact them and they'll give you back your money. The features they boast are the following: 90-95% chlorine reduction, KDF 55 media for water softening, 12,000 gal filter capacity, and other health benefits.
---


Sprite HO2-WH-M Universal Shower Filter and 3 Setting Shower Head
is another bold contender in the filtration wars. The Sprite HO2-WH-M Universal Shower Filter uses a non-carbon filtration media called Chlorogon which removes chlorine, hydrogen sulfide (which causes a rotten egg odor), iron oxide (rust), and dirt; not to mention it also balances your water's pH levels. You get their own 3 setting massage shower head. If you want just the filter on its own, you can check it
here
.

Berkey KDSF Shower Filter, packed with KDF 55 removes up to 95% of chlorine; reduces lime, scale, mold, and fungi; and reduces chemical absorption and vapor inhalation. We know that most of these are covered by the filters above, but what sets the Berkley apart is its 25,000 gal filter capacity, allowing you to go through an entire year without replacing it.

Wrapping it up
A lot of shower heads promise the best shower experience and the Hydroluxe®, HotelSpa® Ultra-Luxury, and the HotelSpa® Aquastorm, rose above the rest by providing you with the most diverse and unique shower experience. The Hydroluxe® outdid the other competitors due to its very good quality for its price, its diversified settings and functionality, easy installation with everything you need included in the packaging, and a decent water pressure output. The best thing about it is that it comes as a combo package containing both a fixed shower head and a handheld shower at the same time, making it a good deal.
The competition for the best shower head helped us take a look at in-depth details you should look out for when buying a shower. But then again, choosing the right shower depends on what you need it for. The Hydroluxe® Pampering 24-setting Ultra-Luxury 3-Way 2 in 1 Shower Combo covered all the criteria with passing marks making it our top pick as the best shower head.