Toilet talk, like toilet humor, is not something everyone finds comfortable to speak about. However, of all the appliances your house requires, the toilet is perhaps the most important. After all, you will use it everyday for the next twenty or thirty years (roughly the lifespan of a toilet), so it makes sense that you ought to think carefully before spending a lot of money – or too little money – on something that is not suitable.
Buying a toilet is a decision few think about, often resulting in unsuitable purchases and further problems down the line. But if a home is a man's (or woman's) castle than the toilet is it's throne. You might not like to admit it, but it's the seat you'll spend more of your life in than any other. The most important factor when purchasing a toilet is water use. Over the course of its lifetime, a toilet will make up a third of your household water use, so if you're thinking that going down to your local DIY wholesalers and getting the cheapest brand is a good idea, think again.
It will cost you much in the future if you budget too low now. Most good, efficient toilets will pay for themselves within 24-36 months of purchase, and so it is worth shelling out that little bit extra right now.
Our recommendations for this article were based mostly on in-depth research, as it is not practical to call in or purchase several toilets and pay for them to be installed. However, we feel we have put the time into finding out what is important when purchasing a toilet and we believe the best option is the TOTO Drake II as it combines a mixture of affordability and both environmental and cost efficiency. The toilet uses 1.28 gallons per flush (GPF, which is the industry measurement), making it more efficient than 1.60 gpf toilets (which are possibly the most common out there). It is more expensive than a basic toilet, but not too outlandish, and as we've already said, it will soon pay for itself.
Importantly, the TOTO Drake ii has a quiet flush that will not be disruptive within the home and it's made from Sanagloss, which is both easy to clean and flushes away germs and bacteria more effectively. The toilet is also a suitable height and an added benefit is the elongated seat, which should encourage men and boys (or at least increase the chances of them) aiming at the bowl!
While choosing toilets for this particular feature, there were many contenders. One area we wanted to discuss was the high-end market of Japanese toilets. The Japanese are famous for their attention to detail when it comes to the bathroom (the toilet in particular) and so it was important for us to discuss them. However, the sheer cost of most Japanese toilets puts them out of reach of the average American buyer, so we decided to stick with TOTO (the leading brand), and recommend (for those able to afford it) the Toto MS970CEMFG, an expensive but impressive toilet with a number of unique features which we will discuss later. Other options include the Soiree Elongated Sanagloss for the more eco-conscious out there, or the American Standard American Standard Siphonic toilet, a high-quality dual flush toilet. However, ultimately, the TOTO Drake II won out for its efficiency, price, comfort and design.
Table of Contents
1. What do I need to think about before buying a toilet?
When buying a new toilet, there are a number of factors to take into consideration. The first thing to bear in mind is comfort. You don't want to buy a seat that is too high or low. This is particularly relevant if you are reaching retirement age or have any other health problems related to the legs or back. The likelihood is that you will use the toilet at the very least 2-3 times per day and you don't want to install a seat (which can be very difficult and/or impossible to reposition) at a height which will cause you discomfort and possibly greater health issues.
The next factor is one of legality. A 1994 law stipulates that all low-flow toilets use 1.6 gallons per flush or less. It's likely that every toilet you look at will meet this standard, but do bear it in mind as it is a legal requirement. The next, and arguably most important, factor to consider is efficiency. As stated earlier, an efficient toilet pays for itself within two to two and a half years and will in fact save you money over time. After considering the above, there are a few other things to focus on when purchasing your toilet.
What do you require: a one or two-piece toilet? We will go into detail with this soon but it is imperative that you know what kind of toilet you need for your bathroom before making any purchases. What kind of bowl do you need? This is partly related to comfort, though the design of your bathroom may also have implications. Finally, what can you afford? Our overall message in this article is to spend more to save more, not to spend more just for the sake of it. That said, a number of more expensive models may complement a bathroom and do provide the same money-saving benefits as the others.
2. A brief history of the toilet
The toilet, like anything else in this world, comes with its own rich and illustrious history. Some of the earliest and most primitive (though by the standard of the times highly innovative) toilets were designed by the Romans (what wasn't!?) Using the toilet at this time was not a solitary endeavour, no, it was more number threes and fours than ones and twos. Most toilets were public and shared by many people of both genders. Why? Well, sewage systems were rudimentary to say the least, and so it wasn't possible to create smaller spaces for individuals. Indeed, so social were these meetings that people use to talk about the latest gossip and news whilst using them. Instead of toilet paper, people used a sponge on a stick and shared it with others. The now common phrase 'to get the wrong end of the stick' is thought to have emerged from this time. We don't think we need to explain why.
In later eras, hygiene actually took something of a step backwards. The Saxons brought in the use of chamber pots (much more unhygienic than the Romans public sewerage system) and in the Middle Ages, it is thought that poor sanitation and sewage contributed to a great deal of plague and disease. The Tudors took things a step further backwards, and were known to urinate wherever they felt necessary, be it indoors or outside. However, it was during this period that the first flushable toilet was built by Sir John Harrington, though two hundred more years would pass until the next one.
During the Georgian period, things improved with rudimentary toilets built into house furniture and a cess pool beneath most homes. Unfortunately, these too caused much disease. In 1775 Alexander Cummings invented the first modern, flushing toilet. In 1848, due to rising health problems, the government of the UK declared that all homes be built with an ash pit (as opposed to water, which had a tendency to overflow). However, it was almost another twenty years before a proper sewerage system was built under homes, carrying waste away safely. At this period, common diseases such as cholera and typhoid more or less disappeared and the importance of toilets and sewerage was finally recognised.
The toilet has revolutionised not only the home but also the health of people since its invention. In the modern world, priorities have changed somewhat, with ecology and comfort gaining attention and the health benefits of the modern bathroom taken for granted. Innovations continue to abound (particularly in Japan,) with amendments made to the basic design such as internally-built bidets, seat warmers and more, so the toilet will continue to evolve and change in future generations.
Specialized Picks
We also conducted in-depth research on popular toilet types – here are the key ones:

3. Who should buy our pick?
The simple answer to that question is, everyone. The not so simple answer is a little different. The TOTO Drake II though, is simply quite astounding for the price at which it comes. It has more or less everything we feel a buyer needs. Of course, it doesn't come with many of the modcons of an ultra-modern Japanese toilet, but most of you, we feel, are not in the market for one, purely for price reasons. However, the double cyclone system uses only 1.28 gallons per flush, an extremely efficient amount of water, and it is quiet, something low end toilets can't always boast. Like some of the pricier options we'll discuss later, it's SanaGloss finish makes it easy to clean. However, those who regularly use heavy duty chemicals when cleaning should note that such liquids can, over time, damage the finish. The flipside of this is that, as it is an easy to clean toilet (as any good toilet should be), you shouldn't need to use expensive and environmentally unfriendly products. Many users even say that normal, soapy water is enough to keep it clean. Of course, over time you will need to revert to specialised cleaning products, but we agree that as toilets go, it's extremely low maintenance.
The elongated seat is extremely comfortable, something which, after water efficiency, we feel is perhaps the most important element to take into consideration when buying a toilet. Taller users in particular find the seat height comfortable, though some shorter users have found the opposite to be the case, something to bear in mind when looking into this toilet. In general, a one-piece toilet is smaller than a two-piece, and so some shorter users may find one-piece options a more suitable alternative.
One-piece toilets tend to be bulkier than two-piece toilets, something we thought about when recommending the two-piece TOTO Drake ii. The average consumer is likely to have a restricted space to work with, and while one-piece models can be aesthetically better and more suitable, they tend to work well in smaller spaces. If you have a large bathroom, it might be better to go with a one-piece model, but for the average consumer we believe the more flexible two-piece is the best choice. Furthermore, while they are a little harder to assemble, the TOTO Drake ii is celebrated for its ease of assembly. You may need to hire a plumber to help you (of course adding to the cost) but if you meet a plumber who isn't familiar with this model, or any TOTO model, you should be worried about their qualifications. By and large, this particular toilet is most likely to suit any bathroom and be easy to either install or to have installed at a relatively low cost.
4. How we decided what to review
As with any of our reviews, there is a vast number of considerations to think about before we do anything. In this particular instance, we were not able to test every toilet discussed here, so we spoke to experts, consumers and plumbers who have installed the various models mentioned to try and find out what was most important when buying a toilet. After speaking to various people and conducting our own research, we decided that there were a few factors that generally came out on top in terms of importance.
First of all was water efficiency. Modern toilets are much more efficient than they were in the past, using less water and yet producing a more powerful flush that cleans the bowl sufficiently. This saves money a year on water. The average American home spends a 3rd of its water bill on toilets, so it was imperative for us to find models (in both the high-end and low-end categories) which were efficient.
A second consideration we had was the type of consumer. People buying toilets will be of various ages and this is something important to think about when making a purchase. In general, certain models are higher and certain models shorter than others, and for older people, the former is usually the more suitable choice. As such, it was important for us to look at a wide breadth of models in order to show the full spectrum of products available.
Another factor we took into mind was aesthetics, though this was relatively low in terms of importance. Oddly, few models were what we would call ugly, and so while we found some that would complement the decor of the average bathroom more than others, it wasn't a huge factor in our decision making.
We also wanted to talk about some of the more high-end, Japanese toilets on the market. Why? As expensive as they are, the market for such toilets is surging, and modern American consumers are increasingly waking up to the hygiene benefits of a Japanese toilet. Whilst most won't be able to afford one, it was still important for us to take them into consideration.
5. Our Pick
Bearing in mind all the factors we feel to be important when buying a toilet, the TOTO Drake II is by far and away the winner. It ticks virtually every box for the modern consumer, and was only unsuitable in certain, very specific situations. The TOTO Drake II comes with an elongated bowl which is comfortable and has a SanaGloss finish, something our research has shown to be highly desirable in a toilet. Why? Well, it makes it much easier to clean and may even save you money as you won't need to invest in environmentally unfriendly cleaning products so often.
The main reason we chose this model as Our Pick is its efficiency. It comes with 1.28 GPF, saving over 20% water compared to 1.6 GPF toilets. Water efficiency is vital when buying a toilet and in the long run, an efficiently flushing toilet will save you money. Considering that you will have it for twenty-thirty years (roughly the lifespan of a toilet, remember), the savings over time will add up, and in this area, the TOTO Drake ii did extremely well. Other, more expensive, models came with the same GPF, but at a much higher price, and given we value efficiency over all else, the TOTO Drake II wins.
6. Flaws
So, what flaws does the TOTO Drake ii have? Well, not many, which is why we chose it as Our Pick. However, nothing's perfect, though we're glad to say the flaws with this model are few and far between. The key flaw is that it doesn't come with a seat and so you need to buy one separately. This isn't really a big deal, in our opinion, and if anything it allows you to choose a seat to your own liking.
The second flaw is one of logistics in that it is a two-piece toilet. This isn't really a flaw, rather a matter of choice. If you want a one-piece toilet, then this isn't going to be for you. Shorter users might find this hard to use and in general, one-piece toilets are recommended for users with disabilities. However, the TOTO Drake ii is an ADA-compliant height, so it should be suitable for almost anyone. That said, if you or a family member do have a relevant disability, do some research before you buy this model.
Overall, the flaws with the TOTO Drake ii are linked to the needs of the user. If you have any of the above issues, then it isn't going to be for you, but in and of itself it is a fantastic option and we don't think many people will have issues with it. Indeed, elderly users may find the relatively big height of the TOTO Drake ii easier to sit down on and as such, we feel it's a good choice for most consumers.
7. Best Japanese Toilet
The market for Japanese toilets is soaring around the world. The Japanese have long been famed for their attention to detail when it comes to toilet design and American consumers are starting to wake up and pay attention. Having looked at quite a few models, we feel the best Japanese toilet out there is another model from TOTO Washlet Elongated. The TOTO Washlet elongated toilet seat doesn't come cheap, but what is does do is, well, everything really. A bidet function for hygiene is a big draw and something American consumers are buying in greater and greater numbers, like their Japanese compatriots. Moreover, the seat comes with a seat warmer function which increases comfort and also has a deoderizor. Perhaps most important is the fact that it is easy to install. All you need to do is replace your current seat, which shouldn't take more than twenty minutes. Of course, this is a luxury purchase, but as we've said earlier, it's something you use often and it could be argued that it should be the one piece of furniture in your house on which you spend a little more.
A cheaper alternative to the Washlet comes from Brondell Brondell Swash. The seat comes with a bidet function which is reported to work reliably. It also has stainless steel nozzles for cleaning and warm water which are easy to clean, an added bonus, and, it comes with a wireless remote control, which makes life easier for those with mobility difficulties. However, unlike the Washlet, it doesn't come with a deoderizer. Moreover, it looks somewhat clunky and doesn't quite have the natural appearance of a toilet seat, making it it likely that it won't suit the decor of your bathroom. All in all, we would go for the washlet, though understandably, this model works well as a cheaper alternative.
8. Best One Piece Toilet
The other brands out there all do a very good job of manufacturing toilets, but as you'll have probably picked up by now, we tend to think TOTO are the leaders in the market, and with good reason. They have been making and designing toilets for years and are known for their attention to detail. As such, while we think the two-piece Drake ii is the best out there, one-piece options may well be suited to certain customers, be it for height reasons, easier installation (which is sometimes, though not always the case with one-piece models) or because of bathroom dimensions. Our favourite in this category is the Toto Cyclone TOTO Cyclone . Like the Drake ii, it comes with a powerful yet quiet flush and a water efficient 1.28 gpf flush. It also has an easy clean Sanagloss finish, therefore making it similar to the Drake in that sense. It is somewhat more expensive, but, as we've said, certain people will require a one-piece over a two piece, in which case this is a very good option.
9. Best Two Piece Toilet

Our final specialized pick is similar to the previous model in that it can be bought in ebony, though white options are also available. The Aquia Dual Flush is a two piece toilet with, as the name suggests, a duel-flush mechanism, which is very efficient (generally requires only one flush, thereby saving water. Its sleek design also makes an attractive addition to any bathroom and, as we've said, the colour options mean it would be suitable for most buyers. Of course, it remains a specialized pick due to the price but if you are able to stretch to that, it's a very good choice. Furthermore, it's easy to install and should you have any problems, TOTO are renowned for their customer service.
10. Step Up Pick
Our step up pick also comes from TOTO, in the form of the TOTO Nexus, a pricier equivalent to the Drake ii but a worthy option for those looking to spend a little more. The model also comes with 1.28 GPF, making it a highly efficient toilet which will save you money over time compared to the initial outlay cost. Compared to the Drake ii, it is slightly more aesthetically pleasing, and so it will complement most bathrooms (although that's not to say the Drake ii is ugly).
The toilet offers a large water surface, meaning that it tends to clean the bowl very well, and so it should not require as much maintenance as other toilets. Like the Drake ii, it should be relatively easy to maintain, and it's height is suitable for seniors. If there is a drawback, it is installation, which is not particularly easy compared to the Drake ii and other options. Essentially, if you would like to step up and buy this toilet, make sure you hire a plumber who is familiar with the model and ensure that your bathroom has the appropriate fittings. The TOTO Nexus comes with a rather unique fitting, so do a little research first to make sure your bathroom can accommodate the model. That said, if everything is in fine, this is a fine Step Up Pick.
11. Budget Pick
Our budget pick does a good job for such a low price. From American Standard, it comes with a standard 1.6 gpf which, while not as efficient as the TOTO Drake ii or other models we've mentioned here, it isn't bad, so for those on a tight budget it's a worthy option. Like Our Pick, it will be a little short for taller users or for elderly people, so bear that in mind when looking at cheaper options.
It comes in three colours (white, bone and linen) and so will go well with most colour schemes in most bathrooms. The tank is relatively small, so it will take a while to fill up, but as it is an easy to clean toilet with a strong flush, this shouldn't be such a huge issue. We would, all in all, recommend spending that little bit more to get the TOTO Drake ii, but for those who really need to go for something cheaper, this American Standard option is one of the best out there.
12. Other Contenders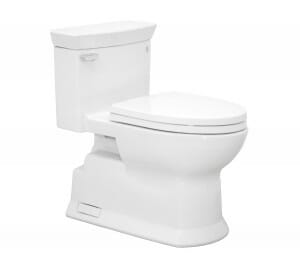 There are several other options out there for discerning consumers, starting with TOTO's Eco Soiree Elongated One Piece. The toilet comes with an elongated bowl and a soft close seat, perfect for those who have 'slammers' at home! The toilet comes with 1.28 GPF making it an eco-friendly option, although the Drake ii comes with the same capacity. That said, as it's ADA compliant, it may be more suitable for certain users. While the Drake ii is ADA compliant, it is a two-piece, and depending on the person, a one-piece model may be more suitable. It simply depends on the person and their needs. Some people with disabilities, for example, will be suited to the former, others the latter. If you find that, for whatever reason, the Drake ii isn't for you, this is a highly suitable back up option.
Another alternative is the American Standard Siphonic. It comes with 1.6 GPF, so it is not as efficient as other models, but if for whatever reason the TOTO Drake ii doesn't fit your needs, it is a good alternative. It is still relatively efficient and easy to clean, and fits most bathrooms. That said, we personally felt there were few reasons why anyone would choose this over the more efficient TOTO Drake ii or even our Budget Pick. We've mentioned it because, in it's category (being a 1.6 GPF toilet) it is a good option. However, we would still urge consumers to go with a 1.28 GPF toilet such as the Drake ii.
13. Toilets which didn't make our list
It was actually rather hard for us to choose toilets not to include here. That isn't because the ones we have gone for aren't supreme in their field, rather that the general standard of toilets on the market these days is so high, and therefore finding fault in the average toilet is not easy. Of course, there are some very basic models out there we would avoid, and some of the extremely high-end toilets are more for people who want to show that they can spend money than due to any particular design innovation. However, two toilets that didn't make it for other reasons are the EAGO duel-flush and the Kohler Memoirs Comfort High Two-Piece. The main reason is that we found both to be rather niche in different ways. While the former is aesthetically pleasing and would go well in a lot of homes, we felt its design, somewhat futuristic, would only suit certain decors. And while we can't fault the toilet itself and have already said that aesthetics aren't our number one priority, we factored this in when deciding if we would recommend it en masse. The Kohler model had a similar problem, although in this case we felt that perhaps it looked a little too antique for the average modern bathroom.
What we'd say here is, by all means go for either of these models if they suit the decor of your house or if you really like them personally, but in general other models, most likely the TOTO Drake ii, will work the best.
Another model which didn't make it was the Saniflo SaniPlus. While most customers seemed satisfied with the toilet's performance, there were a few stories of loose plastic, and so we didn't feel we could recommend it with enough confidence that it would be suitable. It does have the benefit of being easy to install, which for many is perhaps the most important factor, but overall we felt the positives were outweighed by the negatives. Also, the pump at the back is rather bulky and unappealing, and so we didn't think it would go well with many bathrooms. We really weren't sure why customers would go for this model over some of the cheaper and, in our opinion, stronger models.
Our final model which didn't quite fit in with the strict criteria we laid out for this piece was the Glenwall Pressure Assisted Two-Piece. Some reviews highlighted a concern with the flushing system, which seemed to result in splash back, something all consumers want to avoid. However, the wall mounted design suggests it is probably going to be quite difficult to install, and so unless you have a professional plumber at hand, it will be hard. Of course, many consumers will need a plumber for any installation, but we still felt enough issues arose for it not to be recommendable.
14. Wrapping Up
As with all consumer purchases, buying a toilet tends to be more complicated than you might initially expect. Most look the same, or similar, but there are huge differences in toilets, some of which can affect your annual water bills in quite big ways. All in all, the TOTO Drake II is the most cost-effective option out there. It is one of the most efficient and easy to clean toilets on the market, two factors which we personally feel to be very important.
Of course, with the burgeoning market in Japanese toilets (along with all their various modcons), we have nothing bad to say about the TOTO Washlet S300, but it is simply going to be beyond the budget of most consumers. Still, if you have the money, there's no reason not to get it, and you'll soon wonder how you ever lived without it.
But still, as with all our reviews, we think about the average consumer: what they can afford, how big their bathroom is likely to be, what the average decor of a bathroom is, etc. With all these taken into consideration, the TOTO Drake ii is far and away the most widely suitable model out there. As you will have noticed in this article, TOTO has featured heavily. We try to look at products from a range of companies, but the reality is that in this particular area, TOTO are way ahead of the competition. The alternatives which we have listed are here on merit, but all in all TOTO seem to have the market cornered in terms of both high quality, budget options, as well as futuristic modern models.