When it comes to back pain and sports therapy for strained, or sore, muscles there is nothing like a good massage to reduce pain and stiffness. But as many of us know, it is not always easy to find a good masseuse when you need one. Luckily, modern technology has once again come up with a solution for all that ails you.
Massage guns are a great way to give yourself a therapeutic massage anytime you need it.
Massage for health and longevity.
Massage has been a part of many traditions of natural healing around the world for centuries.
The art of massaging parts of the body to aid in circulation, relieving stiff joints, quickening the metabolic processes and improving homeostasis, has been around for centuries. And with recent advancements in mechanical massage technology, many people are able to find very fast and surprisingly great results with vibro therapy massage from chairs, foot boxes and shoulder rollers alike. One product that has really found a strong following in the sports and physical therapy industry is the massage gun.
Therapeutic percussive massage or bio-mechanical stimulation (BMS) massage is where local muscle groups are stimulated directly by an oscillating effect with a handheld device called a massage gun. From sports recovery and injury prevention to chronic pain caused by scar tissue or nerve damage to even beauty and cosmetic therapy, practitioners have all boast remarkable results with treatments from many of the latest types of massage guns available on the market.
Massage:
Aids in circulation
Relieves stiff joints
Balances homeostasis
Improves metabolic processes
Been around for centuries
What are massage guns?
Massage guns are a great tool to aid in accelerated healing after muscle breakdown from strenuous sports training.
Massage guns are a handheld device that allows a person to directly target specific areas of pain or injury using a pulsating interchangeable rubber head attachment.
By applying a series of rapid, concentrated pulsating strokes to the sore area a person can experience increased range of motion, alleviate pain, decreased recovery time and improve circulation.
Known as percussion vibratory therapy, massage guns assist muscle function and recovery by providing needed oxygen deep into sore tissue areas to assist in recovery.
Besides the healing results people have found from massage guns, one of the main talking points from many people is the convenience at which a person can use one.
Whether you're at the gym, traveling or right at home, massage guns are easy to use anywhere you want to go. And they are great to warm-up as well as cool-down before and after a difficult workout.
Massage Guns:
Handheld, self-massaging
Gives vibratory therapy
Provides percussive treatments
Are convenient
Are massage guns good for you?

Massage guns can be used either by yourself or with the help of a friend.
In a study published in the Journal for Diagnostic and Clinical Research, physicians examined 45 healthy non-athletic females to see if the treatment of vibratory therapy from massage guns was actually beneficial to the recovery of sore muscles.
The women were put into three groups to test if there were any differences in recovery if they received hand massage, gun massage or no massage at all after a specific set of workouts.
The study concluded that vibratory massage therapy did, in fact, accelerate muscle repair and recovery time with the test subjects. Conducting a number of tests during pre and post workouts subjects reported quite noticeable increases in lymphatic blood flow, reduction in pain and fatigue, tightness, soreness and stiffness.
Many physical therapists have also noted very promising results with vibratory therapy for people who suffer from nerve damage or scar tissue from chronic or debilitating ailments like arthritis and multiple sclerosis.
Benefits from massage guns include:
Accelerates muscle repair and recovery
Increases blood and lymphatic flow
Relieves muscle fatigue, pain, tightness, soreness, and knots
Breaks up scar tissue
Alleviates scar tissue and nerve damage
How do massage guns work?
By using a massage gun on sore muscles an effect called gate control of pain takes place within the body. Pain gate theory describes how non-painful sensations can override and reduce painful sensations in the muscles. So as you apply non-painful stimulation to an area that is in pain, the mind can interpret the pain as being less.
It's sort of like when you hit your finger with a hammer, or stub your toe and then rub that painful area, the pain is reduced. Through a process explained with pain gate theory an effect called pain modulation takes place. This is something like the sensation of pain is diverted for another sensation.
Another important function of massage guns is the oscillation vibratory effect takes place at different speeds the gun can produce. When the gun thrusts back and forth it provides a therapeutic percussive sensation.
And when it vibrates, at lower settings the gun can oscillate at certain frequencies or movements per second. Depending on what speed you set the gun to can determine the frequency and the depth of thrust muscle experiences, based on the severity of pain.
So if you have some deep tissue issues, a higher speed can trigger pain modulation deeper into the tissue, thus relieving stiffness, promoting normal mobility and faster healing. Likewise, if the pain is spread out over larger areas, a slower, wider oscillation
may bring the desired results for that condition.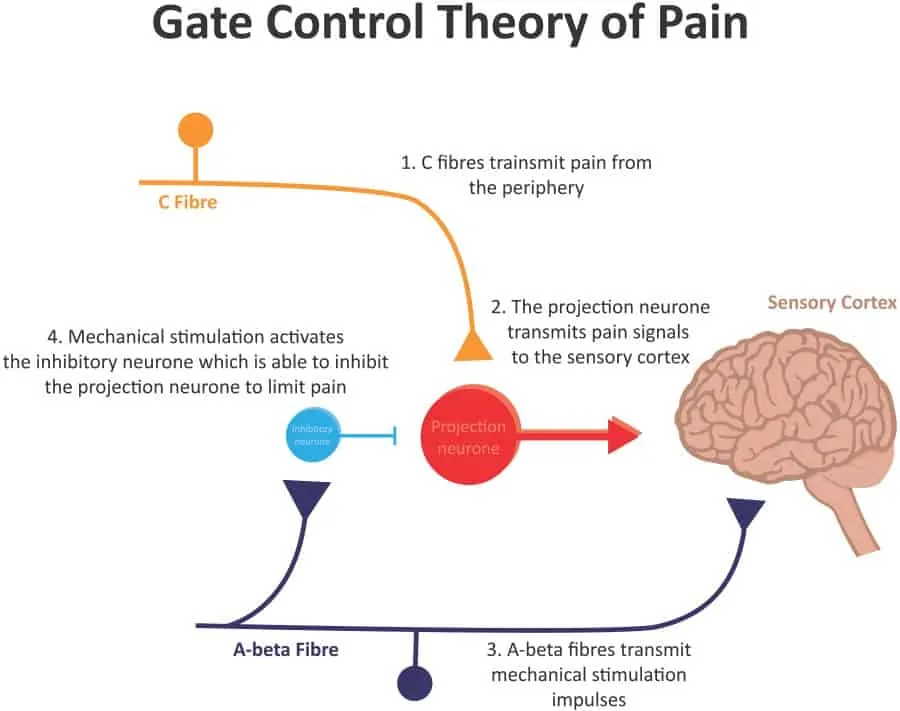 The pain gate theory describes the function of the neurons – associated with pain – when stimulated by a secondary signal to the brain.
Key Terms:
Pain gate theory
Pain modulation
Percussive speed frequency
Vibratory frequency oscillation
Who are massage guns good for?
Based on recent developments and availability of massage guns currently on the market, there are a number of great options when it comes to quality. We pulled together a list of all the most recent newcomers to the massage gun world based on effectiveness, affordability and the specific treatment you may need.
People who are in high velocity sport training
If you're involved with sports training and athletics, the Targ massage gun was designed by two professional basketball players and is designed specifically for rigorous sports therapy in mind.
People who want an All-In-One Massage Gun
The ExoGun DreamPro
If you're looking for a gun for deep tissue percussive therapy, or a wide surface oscillation vibratory treatment, the ExoGun DreamPro massage gun can do it all. This top of the line massage gun is extremely powerful and comes with several heads to help you effectively address different pain spots. In our tests this massage gun stands out for its effectiveness in relieving muscle pain. Use our link and coupon code JENREVIEWS for 10% off!
People who suffer from spasms or stiffness in the neck back shoulders
"template="widget" ] If you suffer from back and neck pain, as most people do, the Sylphim Neck Back Shoulder massage gun comes with a number of attachments to help get to all the difficult areas of your shoulder areas.
People with excessive scar tissue
People with muscle fatigue, pain, tightness, soreness issues associated with over exertion
People who are under a lot of stress (natural stress reliever)
People who suffer from nerve damage, atrophy, arthritis, multiple sclerosis, and a range of other ailments
Honorable mentions
Theragun G3Pro
Rapid Release Juvenate
KDRose Pleno M3
Hyperice Hypervolt
Athlete Recovery Gun
Infina Percussion
TimTam Power Massager
JJJ Products' The Warrior
What are some of the best ways to use a massage gun?
Depending on if you are using a massage gun yourself, or if you have some help, applying a few basic steps to your massage session can help you achieve the best results.
Turn your massage gun on without putting it on your body.
Rest the tip of the gun on your body. Don't add any pressure at first.
Glide it along the muscle or sore area. Moving slowly.
If you hit a knot or an area of tension, let it rest on that spot, without adding additional pressure, for a few seconds before continuing.
Relax and breathe.
Bottom Line: Why should you buy a massage gun?
Whether you're a sports enthusiast, or just have good old fashioned back pain, buying a massage gun is a great way to work out those pesky knots and get you back in action.
There is a ton of evidence that massage guns really do have amazing effects on pain elimination, clearing stagnation, improving mobility and promoting accelerated healing. And with the recent advancements in this technology, there are a lot of great options on the market.
When massage guns were first introduced to the market they were quite expensive. And for many people, price use to be a big factor in the purchase of one. But now, there are many great products out there that are quite reasonably priced.
Because of the price, quality and the many great health benefits found with vibro therapy, you really can't go wrong with buying a massage gun for all your body needs in 2020.
Eliminates pain
Clears stagnation
Improve mobility
Promote accelerated healing
Affordable
Vibro-therapy