Whether you're just starting a weight loss program or planning out major fitness goals for the year, the immensely popular "greens powder drink" is sure to be highly recommended by your friends and trainers alike. Yet, understanding the products available, as well as the key health properties greens powder provides, can seem a little daunting for most people without a PHD in sports nutrition. Honestly, have you seen the size of the label for the ingredients on some of these products?
Powder greens for health and nutrition
So to make your life easier, we have compiled a quick guide to choosing the best greens powder supplements on the market, based on your specific body type, health goals and nutritional requirements for 2020.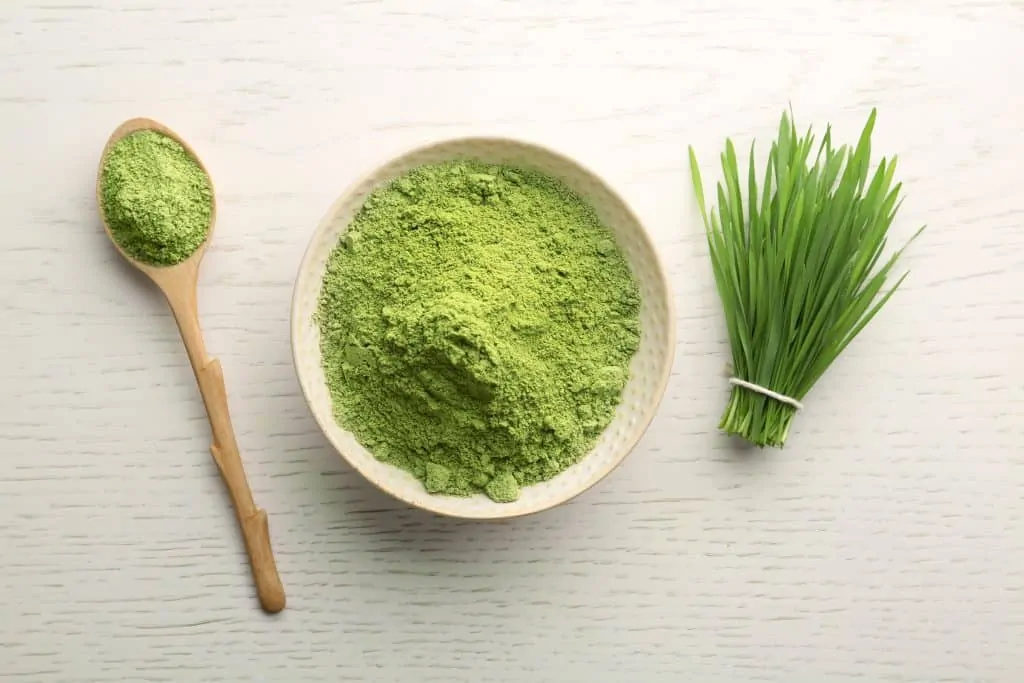 An excellent source of vitamins and minerals, wheatgrass is high in vitamins A, C, E, amino acids, iron, magnesium and calcium.
All natural greens powder

A majority of greens powder currently on the market are GMO verified, certified paleo friendly gluten free, sugar free and all organic.
What are greens powder?
Often referred to as "superfood" greens powder is derived from a number of high oxidant fruits, nutrient-rich sea algae, seaweed, green leafy vegetables as well as probiotics, like acidophilus and digestive enzymes combined into one powder source.
Greens powder can be blended together with your morning protein shake, mixed in with other fruits, and added to fresh juice or even your meal. Powder greens are a great way to get the added nutrients you may be missing with your diet you may be looking for to see optimum results with your training program, or particular dietary needs.
contains many types of fruits and vegetables
the powder form is mixed with your choice of drinks or food
What are the benefits of greens powder?
Many of the super nutrient-rich foods found in greens powder have long been known to boost immunity and reduce the risks of chronic disease. Greens powder is widely used as a natural sports enhancing nutrition supplement that can improve everything from fatigue recovery to mental clarity. Many experts also boast the positive effects on performance success specifically for metabolic balance provided from the contents of greens powder for high intensity training.
minimize chronic illness
enhance nutrition intake
Are green powders bad for you?
According to our research vitamin supplementation of any kind can not take the place of the real food. And depending on your body type and health levels, any dietary supplements should be taken with caution. In some cases, if you are under the care of a physician for blood conditions, and are taking medication like Warfarin or Coumadin, be sure to consult your doctor before taking greens powder superfood supplements.
Should be taken with a good diet
Do not take with a serious health condition
How do green powders work?
Depending on the brand, greens powder generally contain 20 to 40 (or more) different ingredients like iron and magnesium from leafy greens from spinach, fiber from kale and parsley. Vitamins A and C, helps in absorption and promoting healthy teeth and gums, healing wounds and helping you resist infections among many other positive functions.
Spirulina, chlorella, dulse, kelp from seaweed, found in greens powder increasing energy levels. Vegetables like broccoli, beets, carrots and cabbage, barley grass, wheatgrass, oat grass and alfalfa grass for detoxing.
Spirulina in powder form

Also known as blue-green algae, spirulina has been used for its nutritional benefits for centuries around the world.
High-antioxidant fruits like blueberries, raspberries, goji and natural extracts Green tea extract, grape seed extract, ginkgo Biloba extract support healthy cognitive function, reduce the risk of heart disease and certain cancers. High-antioxidant fruits also assists in the elimination of free radicals from the body cells, which fight to prevent or reduce the damage caused by oxidation in the blood.
Dried Goji Berries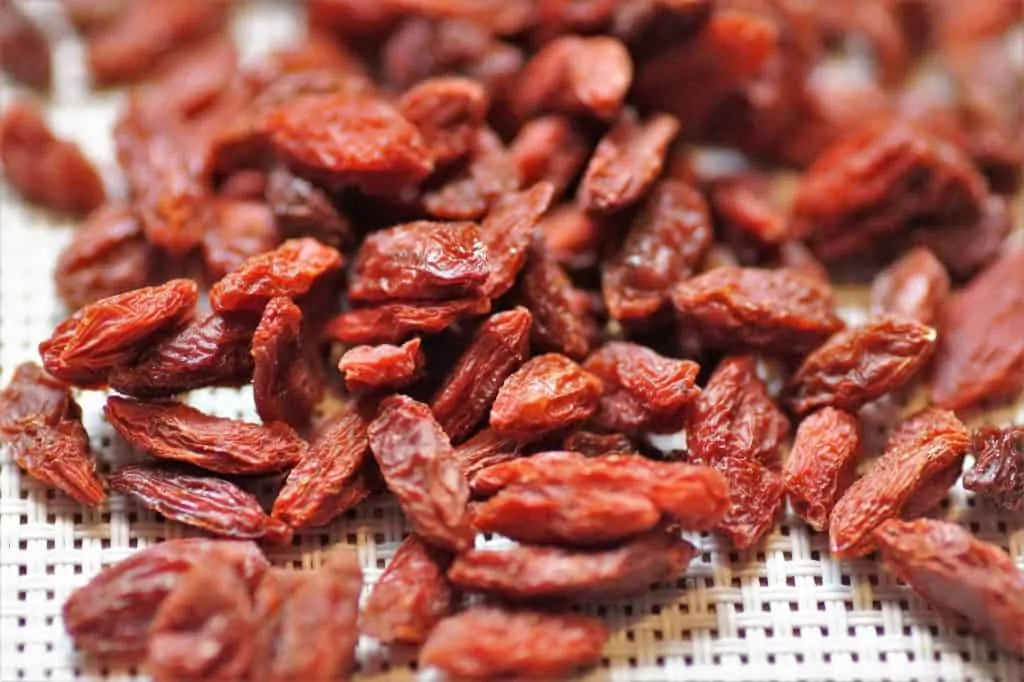 Because Goji berries are used to improve quality of sleep, ability to focus, calmness and overall well-being they have been widely used in Asian countries for many years. But many people use them to treat many physical ailments like kidney, liver issues.
Probiotics like lactobacillus, rhamnosus, acidophilus, bifidobacterium lactis and plant-based digestive enzymes like amylase, cellulase, lipase, papain, protease help promote healthy gut as well as treating digestive disorders like Gastroesophageal Reflux Disease (GERD).
Herbs like holy basil, astragalus, echinacea, milk thistle (aka.Silymarin) in greens powder, have been used for proper liver function for hundreds of years in ayurvedic traditions and are widely used to treat cholesterol dysfunctions.
Milk thistle in plant form
Milk thistle is known for reducing insulin resistance, inflammation and liver damage in people with NAFLD. It is often used in combination with vitamin E, or alone, to treat liver ailments.
Mushrooms extract from maitake and shiitake promote well being, detoxing and inflammation. Alkaline minerals like lentinan act as immune-modulators in the body and are known to inhibit tumor growth. Mushrooms like the shitake also contain a high amount of fat-soluble vitamin D required for bone growth.
Iodine also found in greens power is an essential thyroid hormone that controls the body's metabolism and many other important functions including fetal bone and brain development during pregnancy. And magnesium, which is very important to the body, bone and tissue health, but is not readily available in many foods found in a normal.
Greens Powders Contain:
Leafy greens – kale, spinach
Blue-green algae – seaweed, spirulina
Cruciferous vegetables – broccoli, cabbage
High antioxidant fruits – goji, blueberry
Pro and prebiotics – Acidophilus, amylase, cellulase
Specialized herbs and mushrooms – maitake, shitake
Essential Minerals – Iodine, magnesium
Greens powder is a convenient way to get the nutrition you need

One scoop of greens powder contains about 7 grams of plant based fiber.
What are the health benefits of greens powder?
Brain Function Healthy
Whatever your lifestyle, education or overall health may be, greens powder offers a wide range of nutrients that support healthy brain function. In fact, a recent study from Neurology.com found people who consumed greens regularly had less cognitive decline than those who did not eat greens at all.
Stress Reliever
With an excellent source of folate, which helps your body produce mood-regulating neurotransmitters such as dopamine and serotonin, green drinks are great for optimal vascular health in the body and brain.
Bone Health
Did you know you can get plenty of calcium for supporting overall bone health from leafy greens? Veggies found in powder greens provide many vitamins like calcium and vitamin K9, needed for positive bone health functions.
Improve Inflammatory Response
Antioxidants and polyphenols, found in leafy greens contain the disease-fighting compounds that not only help improve inflammatory response to injury or exercise but resistance to swelling in high-level athletes.
Support Weight Loss
If you are trying to lose fat, or just looking to drop those love handles around the midsection, positive glucose responses. Studies show thylakoids increasing the release of hormones that decrease hunger in the body. This also decreases satiety and slows down the emptying of the stomach promoting longer periods between meals. Thylakoids, in powder greens, are also great for people that have a hard time losing that little bit of water-weight often associated with blood sugar spikes found in diets high in sugar and processed grains.
Digestive Enzymes Essentials
The combination of a few pre and probiotic enzymes have become a staple commonplace in most high-level micro-nutrient based diets. Digestive enzymes like amylase, are essential for optimum health by breaking apart complex sugars into smaller molecules. Likewise, lipases help break down complex fats into smaller fatty acids. And pepsin, which assists in breaking down proteins from sources like meat is essential in high protein diets.
Immune System boost
Another huge benefit that greens powder boast is their ability to support the immune system. Herbs like Moringa contain proteins, vitamins, and minerals to help protect cells from damage. Other types of cruciferous vegetables, found in greens powder, like broccoli, arugula, and kale are also well known to boost the immune system.
Organic all natural greens powder

The best greens to look for are all organic, non- GMO. That is a good start to finding the highest quality product on the market.
Which greens powder are right for you?
People who are under a lot of stress
Micronutrients, and the ayurvedic herb Maca, which facilitates adaptogens, found in greens powder, provide stabilization of physiological processes and promote positive homeostasis for people in high-stress environments or with stress disorders.
contains two adaptogens and a blend of seven mushrooms specifically for immunity as well as additional amino acids.
The Nested Naturals greens powder encompasses cracked-wall chlorella combined with fiber, antioxidants and ginkgo biloba for brain clarity.
People who have bone density issues
As we age, the bones become susceptible to osteoporosis, a disease that can weaken the bones so much that they can break easily. Polyphenols and potassium found in greens powder are a good source of nutrition for optimum bone density.
Super Reds Greens Powder contains potassium supporting polyphenols for bone, muscle and joint and circulatory health.
People with swelling or inflammatory response
Many greens powder contains the compound called curcumin, found in the natural herb turmeric. Curcumin is one of the top supplements to take for chronic inflammation, as well as other autoimmune diseases like asthma, bronchitis, colitis, and arthritis.
Turmeric in its raw form

Often referred to as the "cancer cure," turmeric is used in many cultures to prevent heart disease, cancer, Alzheimer's, anti-inflammatory, even depression and arthritis.
Sale
Organifi greens powder combines Monk Fruit, turmeric chlorella and beets for circulation.
People with blood sugar imbalances
People with diabetes or other blood sugar imbalances can benefit drastically from a diet rich in vegetables, healthy fruits and balanced alkaline proteins found in powder greens. Vegetables like spinach, collard greens, kale, cabbage, bok choy, broccoli can regulate blood sugar levels and improve blood pressure in people with hypertension as well.
Including cracked wall chlorella, Greens First also contains organic vegetables and a fruit blend with fiber, enzymes for absorption and resveratrol for anti-aging.
People with digestive response issues
The presence of probiotics and prebiotic digestive enzymes from papaya, mango, banana, guava and soursop found in greens powder offer people with digestive response issues a natural sugar alternative than that of processed sugars.
Amazing Grass combines a powerhouse of digestive enzymes and probiotics for absorption antioxidant blend of additional fruits and herbs dried in a low-temperature dehydrator raw state technology.
People who are losing weight
Besides being a low-calorie snack alternative, high levels of fiber found in powder greens can boost energy levels and encourage increased metabolism for people looking to shed a few pounds.
With 25 billion probiotics, Vibrant Health has more than most greens powder. Organic spirulina cracked wall chlorella. As well as amla and apricot for detoxification.
People under high-intensity workout programs
Vegetables high in antioxidants like kale, spinach, arugula, and watercress can help to minimize the free radicals that may be released during high-intensity training. High levels of the vitamins found in greens powder also help recovery time from a tough physical workout program.
A blend of raw superfood complex with alkalinity, detox herbs, digestive enzymes, mushrooms and adaptogens for high level stress support.
Greens powder promote:
reduce stress
bones health
reduced swelling
balanced blood sugar
healthy digestion
boosted energy
weight loss
training recovery time
Bottom Line: Why are greens powder good for you?
Unlike pill form supplements, greens powder do not contain most of the additive sealers and fillers like titanium dioxide, hydrogenated oil, magnesium silicate, artificial colors or flavors found in many common types of commercial vitamin supplements on the market today.
And with so many knowledgeable consumers purchasing powder greens either online or at Whole Foods type supermarkets, there is a strong push toward non-GMO, all organic, high-quality products out there, without all the fillers and sealers.
So if you are in a high-intensity workout program, or need additional supplementation specific to your diet, greens powders are a great way for you to achieve your nutritional requirements and fitness goals for 2020.