Our Top Pick for the best hiking sock is the Darn Tough Men's Merino Wool Full Cushion Sock. This sock provides an excellent level of support, thanks to its comfortable padding across the whole area of the sock. A high level of merino wool, at 66%, ensures this sock is soft, and has the best breathability and wicking capabilities. Even though this sock will easily keep your feet warm in cooler weather, it isn't too thick, meaning you'll have no issues combining this with your favorite boots when hitting the trails.
For our Step-up Pick, we selected another of Darn Tough's offerings – this time the Men's Merino Wool Micro-Crew Light Hiking Socks. This sock uses a blend of 40% merino wool, and a thinner cushion across the footbed. Breathability is increased thanks to the thinner panels across the top of the foot. This means this sock is perfect for warm summer hikes. Scoring very highly on breathability, this lightweight sock is quick drying, and is a firm favorite of thru-hikers on routes such as the Appalachian Trail for this reason.
If you're looking for a sock that doesn't break the bank, then our Budget Pick, the  Danish Endurance Unisex Merino Wool Sock is our recommendation. Coming in at under $10 per pair, this brand offers great value for money, while still maintaining a good percentage of merino wool, coming in at 33%. This sock provides an excellent level of cushioning, and therefore is very comfortable. It is also breathable, meaning this is a very versatile choice, and an excellent entry-level sock.
With the right combination of hiking sock and boot, you can reach your trekking goals in comfort.
A little background
Choosing the best pair of hiking socks for your individual needs can sometimes be a difficult choice. It's tempting to think that once you've selected the best pair of boots, or hiking pants, your selection is complete, but that couldn't be further from the truth.
There's a whole host of other equipment which is vital to a successful and comfortable hike, including first aid kits, survival knives, handheld GPS, binoculars, physical or topographical maps, and much more.
It's arguable that your boots and clothing are the most important things you'll need, but finding the best sock to work with your boots is also a really important decision. This is one thing that you want to take plenty of time to consider. The choice of socks out there is so huge though, that selecting the best pair of you can be overwhelming. Where do you start? Well, that's where we come in.
We've rounded up the best 10 options on the market today. Our selection is designed to help you choose the best sock for a wide variety of scenarios – from the best all-rounder, to the perfect sock for summer or winter. We've even included a five-fingered option,  which are becoming more popular with some hikers, for their unique features.
Talking of features, let's take a look at some of the most important things you'll want to bear in mind when selecting your best hiking sock.
How we picked
Hiking socks have a wide variety of different features, including the material they're made from, weight, height, and breathability. If you enjoy a lot of summer trails in dusty and dry conditions, then the best sock for you will be drastically different from someone who enjoys alpine hikes through snow at altitude.
Your best hiking sock may change depending on the time of year, and type of trail you're heading out on.
Let's take a look at the categories that hiking socks can be broadly sorted into.
Heavy weight
Not surprisingly, this option is designed for use in cold weather. Also sometimes called a mountaineering sock, they will protect you during winter hikes thanks to their additional thickness. Due to this thicker material, these are the least breathable of any we reviewed, but the best at keeping your feet warm. These socks can be combined with a lightweight sock liner to increase comfort.
This heavyweight, mountaineering sock is fully padded, and features a blend of merino wool and synthetic fibers. Self-taken
Midweight
These are your best option for hikes in weather ranging from warm to cool, basically if you decide to only invest in one pair of socks, then the midweight is your most versatile choice. Any sock in this category usually has mesh zones for breathability, and a padded footbed for comfort.
This midweight sock is made of predominantly merino wool. It has a padded footbed, compression zones, and a mesh layer across the ankle for added breathability and flexibility. Self-taken
Lightweight
Lightweight hiking socks are perfect for warm weather hiking. They're your best bet if you're doing a multi-day hike, or thru hiking. While they do offer a reasonable level of cushioning on the footbed, this will be less than your heavier weight sock options. In return, they are thinner, and offer a better degree of breathability.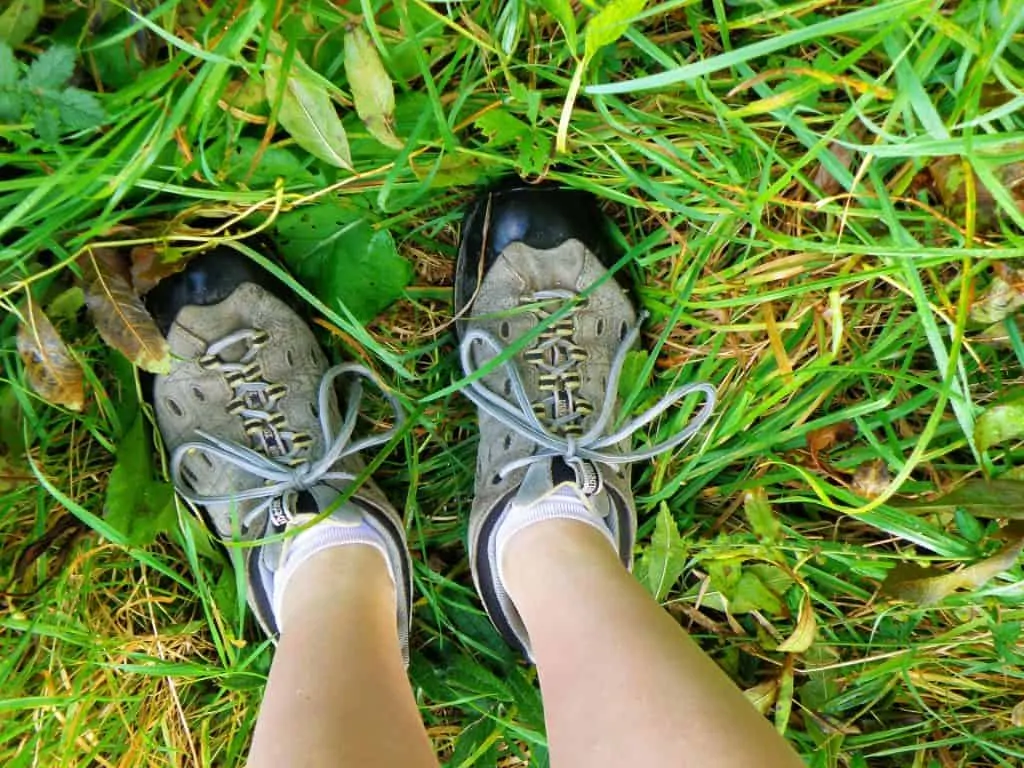 A lightweight sock gives a good amount of cushioning, and is usually available in a shorter length, perfect for pairing with hiking shoes.
Ultra-lightweight
These are generally designed for fastpacking, running, or short hikes in hot weather. We haven't included any of these in our reviews, because they are quite different to other hiking socks. An ultra-lightweight sock will have minimal padding, which improves breathability, but you will compromise on padding and comfort in return.
Hiking Sock Features
Your decision of which hiking sock is the best fit for you and the type of hiking you do, will be based on selecting the features which best suit your individual needs. A hiking sock is certainly not the same as a standard sock, and include a range of specialized features such as:
Sock Fit
Sock Length
Breathability
Cushioned Areas
Material
Durability
Now, let's examine each of those features in some more detail.
Sock Fit
Even if you invest in the best pair of hiking socks your budget will allow, if the fit is not correct for your foot, then no matter how much your sock costs, they will quickly become uncomfortable. Most brands now have gender specific fitting, so don't be tempted to buy your equivalent shoe size in a different gender as you may well find the fit is not the same as you're expecting.
You're looking for a sock to fit your foot sungly. If the sock feels too tight or restrictive in particular areas, for instance if you have a wide foot, you may well find these areas quickly become uncomfortable when walking, which might lead to blisters developing. If they are too large, this can cause loose sections of fabric to gather in your boot, again creating uncomfortable conditions.
Almost every retailer online will provide detailed fitting charts to help you decide which size sock is best for you. If you're at all unsure, try calling the brand for more advice. I often buy multiple pairs in different sizes on Amazon, and then return the ones which don't fit.
Our preferred combination for spring and fall hikes: a medium weight, fully padded sock, and boots. Self-taken
Bear in mind that because a heavy weight sock is a lot thicker, you may find that your boots which fit perfectly with your lightweight or medium weight sock will feel too snug with a thicker, mountaineering sock. I actually keep two pairs of hiking boots, one slightly larger pair designed for winter hiking, and another pair of my usual size, which I use with a medium weight or lightweight sock throughout the majority of spring, summer, and fall.
Sock Length
A quick internet search will show that you can buy hiking socks in a wide range of different lengths – from those that come up to just below your knee, to those that only come up to your ankle.
Here we have a range of hiking socks: from L-R short lightweight sock, medium weight hiking sock with padded zones, medium weight fully padded sock, and heavyweight mountaineering sock.
The majority of hiking socks tend to be a medium length – so will come up to around the middle of your shinbone. This is an ideal length for most hikers, because it protects your leg from the top of your boots, but also allows for airflow around your legs.
When wearing hiking shoes, you have the choice of selecting a calf length sock, as shown here, or a shorter sock which sits just above your ankle bone.
The length of sock you select will be based on a combination of personal preference, and the weight of sock you're looking to purchase. For example, you'd be unlikely to find a heavy weight sock with a length lower than your mid-shin.
Breathability
Breathable materials help your sock to wick sweat away from your feet, which helps to keep your feet feeling cooler, and stops a build up of moisture which can encourage blisters to form. A sock with some nylon in them will generally wick more moisture away than those which contain a higher percentage of wool. But this does mean you compromise on the insulation that the sock provides.
Other socks include areas of thinner, mesh fabric, which help to improve both breathability and flexibility over those zones. You'll usually see these areas around the ankle, and over the top of the foot.
The ribbed section of this sock falls across the ankle, and includes lines of thinner mesh to aid breathability and flexibility. You can see how this sock has started to pill and bobble with age. Self-taken.
Cushioned Areas
The majority of sock brands offer areas with increased padding, or cushioning. This is usually concentrated over the footbed, and is designed to help to protect your feet. Many brands of medium weight sock will offer more padding over the heel and ball of the foot. An excessive amount of cushioning, as found in a thick mountaineering sock, may impact how your boots fit. Lightweight socks may have a very small amount of padding over key areas.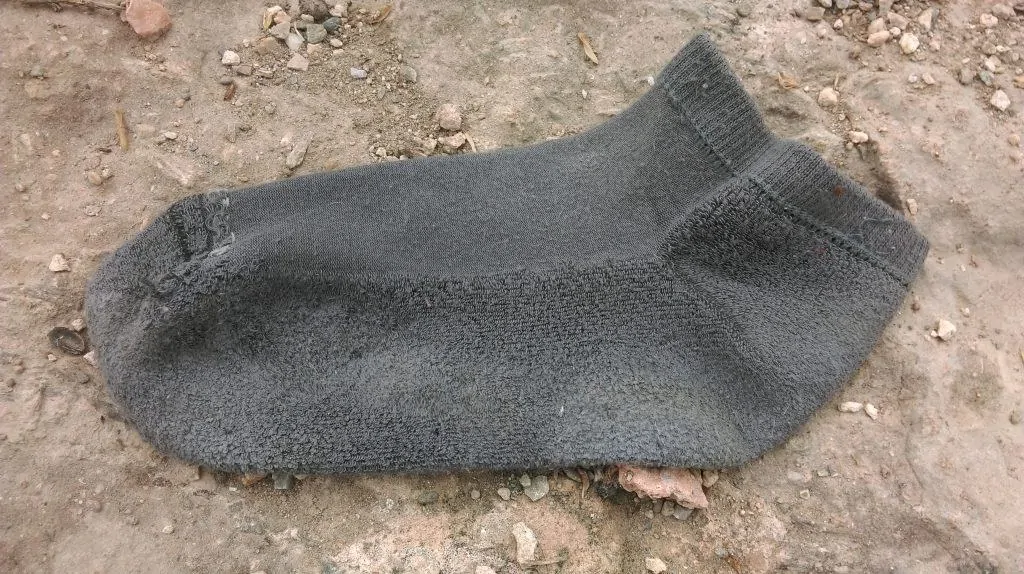 On this lightweight sock (turned inside out) you can see the additional padding over the footbed, extending around the toe and heel. The upper side is not padded, to aid breathability. Self-taken.
Material
The material of any sock for hiking is an important consideration. The best hiking sock for your needs in spring may well be made from a different material to the best choice for winter. Here we'll run through some of the most popular materials for socks.
Merino yarn is made from the wool of a specific type of sheep, unsurprisingly called the merino. Originating in Spain, this breed of sheep is highly prized for its wool, which is significantly different to the wool from other varieties of sheep. Merino wool is far lighter than any other wool, with a high level of breathability. Importantly, it does not give that itchy feeling that other wools can. If you don't like traditional woolen socks or clothing due to this reason, I urge you to try merino wool – it is very different! Another benefit of merino wool os that it offers excellent temperature regulation, meaning it will keep you cool when it's warm, and snug when it's cold. Many manufacturers state that merino wool is antibacterial or antimicrobial, however it's actually the lanolin within the wool which provides this benefit. Lanolin resists odor, bacteria, and stains, which means your sock will certainly smell fresher than a synthetic pair. Merino is also easy to wash and care for, it keeps its shape well, and will soak up moisture and help wick sweat away from your skin. You can read more about the benefits of  merino here. Many hiking socks are made from a certain percentage of merino wool, and I find that those with a higher percentage certainly perform better for me.
Polyester is another material you may see listed when looking at the blend of different fibers. Polyester is synthetic, which means it has been developed by man to provide a certain number of key benefits. The fibers are specifically designed to be durable and hard wearing, meaning your sock should keep their shape while also lasting a long time. Polyester also dries quickly, so if you're on a multi-day hike and want to rinse your socks out in the evening when you make camp, and have them dry in the morning, this is a good option. A downside is that polyester is not as  warm as merino wool.
Polypropylene is another synthetic fiber, and has all the same features as polyester, but with even better durability. Polypropylene is also designed to absorb significantly less water than many other fibers, polyester included. This means that it provides an extremely high level of breathability, as well as being one of the fastest drying fibers. Be sure to hang these socks up to dry though, as otherwise they do have a tendency to lose their shape.
Many brands list a small percentage of lycra, elastane or spandex within their blend. These all refer to the same synthetic fiber, which is made from polyurethane. These fibers are used to provide elasticity, which helps give a close fit, and also stops your socks from falling down! This fiber will often be used around the sock cuff, and any compression areas.
Nylon is often added to a sock in order to provide increased durability, as well as improve the stretch within the sock. Nylon is a type of polyamide, so you may see either of these names listed within the breakdown of the materials that a particular sock contains.
Some socks are made of other, alternative fibers, including plant fibers like bamboo. These are great because they're eco-friendly, and whilst there are some brands out there offering this fiber for hiking socks, they don't necessarily perform as well as some of the other materials we've discussed.
Durability
Tests have shown that the hiking socks with the best durability tend to contain a combination of merino wool and nylon. Sometimes, there will also be a small percentage of spandex or lycra listed in these socks as well. Make sure you look for these materials when selecting your socks.
Many brands also offer some sort of guarantee with their products, ranging anywhere from six months, to the amazing lifetime warranties offered by brands such as Darn Tough and Wigwam. This means if your socks ever develop holes, you can simply send them back and receive a brand new pair in return.
Choosing the perfect pair of hiking socks
Firstly, we compared the comparative wool content of each sock. All but one, the Wigwam Cool Lite Hiker Pro Crew Sock, contained merino wool. Merino wool is a fabulously versatile and useful fiber. A higher percentage of merino wool usually indicates that the sock is of the best quality, and will perform better. Our Top Pick, the Darn Tough Men's Merino Wool Full Cushion Sock ties in second place for the amount of wool it contains, coming in at 66% merino wool. The only sock with a higher percentage is the Icebreaker Mountaineer Thick Winter Sock, which is designed specifically for very cold conditions. Only one sock we tested, the Wigwam Cool Lite Hiker Pro Crew Socks doesn't contain any wool.
Next up, let's take a look at the relative comfort of each sock. Even if you select a sock that on paper, has all the features you want, if it's not comfortable then nothing else really matters. All the sock brands we reviewed here scored relatively highly in this category, meaning that whichever you choose, you shouldn't find yourself out on the trail wishing you'd chosen a different sock that morning. The brands with the best ratings tend to have a thicker layer of cushioned padding around the footbed, toe and heel.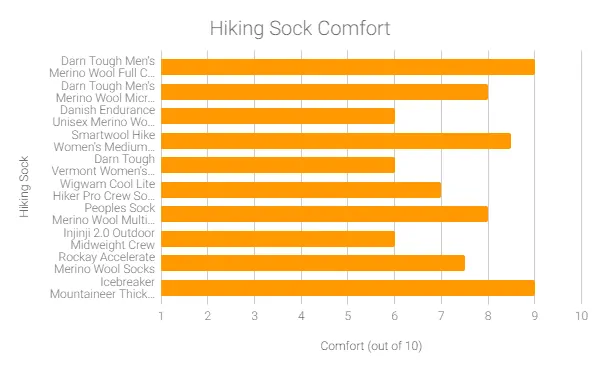 Now, let's take a look at the warmth of each sock. Of course, depending on what type of hiking you're doing, you don't necessarily want a warm sock. If you're hiking in the summer, then breathability and comfort will be far more important features. However, if you spend more time on the trails in winter then you'll definitely want to select a thicker, warmer sock such as our best pick, the Darn Tough Men's Merino Full Cushion, or the Icebreaker Mountaineer Thick Winter Sock.
At the other end of the scale, breathability is more critical if you plan on selecting a sock for use in hot or humid conditions, breathability will be key. The more breathable your sock, the easier it will be to prevent sweat building up. This will keep your feet cool and dry, which reduces the chance of discomfort, including blisters. All of the sock brands we included in this review have excellent breathability scores, even those designed for use in colder temperatures.
Last of all, we took a look at durability. This is an important factor to bear in mind, especially given that you'll be hoping to complete many happy hours on the trail before you even need to worry about pilling, or even holes developing. Any hiking sock should be designed with superior durability to a standard dress sock, and that's definitely true of all those we reviewed. Our best pick, the Darn Tough Men's Merino Wool Full Cushion sock scores the highest possible marks in this category, closely followed by the Darn Tough Men's Merino Wool Micro-Crew Light Hiking Socks. Two of the brands we reviewed, Darn Tough and Wigwam, both offer lifetime guarantees. This offers additional peace of mind, so if your sock does for any reason develop a hole, simply send them back and receive a new replacement pair. If you complete a significant number of hikes per year, this is a huge advantage.
Our Pick
Our Top Pick is the Darn Tough Men's Merino Wool Full Cushion Sock. Made from a blend of 66% merino wool, 32% nylon, and 2% lycra, this medium weight sock manages to combine a well cushioned footbed with a relatively thin sock which won't make your hiking boots feel too small. Despite being reasonable thin, these socks are extremely warm, and definitely suitable for winter hikes. This is when the height of this sock is also a great advantage, as you can pull them higher up your legs to trap a little bit of extra warmth.
The Darn Tough Men's Merino Wool Full Cushion Sock offers excellent breathability and wicking properties as well, so you can happily use it for high intensity training without any worries that your feet may get soaked in sweat. Coming in a range of 5 different color options, this sock also uses a True Seamless construction, which is designed to provide the perfect performance fit. As if that wasn't enough, Darn Tough offer a lifetime guarantee – if you have a problem with the sock, or they develop holes, simply send them back and receive a brand new pair. Considering the amount of wear and tear, that's an amazing offer.
Flaws but not dealbreakers
There are very few flaws we could find in the Darn Tough Men's Merino Wool Full Cushion Sock. One downside is that they're a little too warm for summer hikes. This, combined with the fact that their long length means they're really better suited to hikes in winter, spring, and fall.
This sock is also slow to dry, meaning if you're on a multi-day hike in wet weather and are hoping that these dry out overnight while you sleep in your tent, well, they might not. If you're only planning on taking hikes in relatively dry weather (and not through any rivers!) then this wouldn't be a problem, but it's something to bear in mind.
Some reviewers on Amazon commented that these were thinner than they expected, especially given that they're advertised at having full cushion padding. We definitely don't think any of these flaws should be considered as dealbreakers, just something to bear in mind as you plan your purchase. Given the combination of reasonable price point and lifetime guarantee that this sock offers, we still consider it to be our pick of the bunch.
Step-up Pick
As well as taking our Top Pick, the brand Darn Tough are also our Step-up pick, with their thinner Men's Merino Wool Micro-Crew Light Hiking Socks. This lightweight yet well padded sock is perfect for spring, summer, and even mild fall hikes. The material over the top of the sock is lighter, allowing for increased breathability. The footbed of this sock is lightly padded, which means although it's comfortable, some reviewers noted that the padding was not sufficient for their needs when on multi day hikes.
The material blend of this sock is 40% merino wool, 56% nylon, and 4% lycra. This combination uses half the wool yarn weight of their standard full cushioned sock, meaning the Darn Tough Men's Merino Wool Micro-Crew Light Hiking is perfect for comfortable hikes in warm weather. Durability wise, these can handle a significant number of miles. Once again, these Darn Tough socks are made in Vermont, at just one factory. Their impressive, no quibble lifetime guarantee means that if you ever manage to wear out your Darn Tough sock, they will replace it for free.
Budget Pick
Coming in at under $10 for a pair, the Danish Endurance Unisex Merino Wool Sock offers fantastic value for money. Even though they're great value for money, they still feature a reasonable 33% merino wool. This is combined with 33% acrylic, 33% polyamide, and 1% elastane. This sock has a cushioned footbed, but it's relatively thin when compared to some of the other brands we reviewed.
The length of this sock is quite long, coming well up your shin bone. This means it's great for pairing with taller hiking boots, for instance if you're tackling some tricky trails and want a bit of extra ankle support They are relatively warm, but we wouldn't recommend them for winter hiking. The upside though, is that they offer excellent breathability, and sweat is quickly wicked away from your feet.
The blend of merino wool and synthetic fibers is one reason why this sock is offered at such a great price, but it doesn't seem to compromise on comfort or durability as a result. Danish Endurance also offer a 100% risk-free satisfaction guarantee for extra peace of mind.
Best Year-Round Hiking Sock for Women
The Smartwool Women's Hike Medium Crew Socks are a great year-round option. With a blend of 66% merino wool, 33% nylon, and 1% elastane, this sock sits mid-way up your shin bone, meaning it's perfect for use with taller winter hiking boots. There is a great amount of padding on the footbed, meaning it's exceptionally comfortable even for multi-day hikes. The blend of merino wool and nylon in this sock makes it incredibly soft, but the downside of this is that it's slightly less fitted than some of the other options out there.
The Smartwool Women's Hike Medium Crew sock is available in a wide range of colors, and will keep your feet warm in winter, and cool in summer. Because the merino wool offers a high degree of breathability, this sock is excellent at wicking away sweat. Long-term use of this sock reveals that it's not as durable as some other brands out there, with reviewers on Amazon noting that they noticed some pilling. Smartwool does offer a two year guarantee though.
This is an exceptionally versatile option which will definitely allow you to hike comfortably in any season. They're reasonably priced too, coming in at under $20. While this isn't cheap, given that you can use them all year round, we think this is great value for money.
Best Summer Hiking Sock for Women
The lightweight and female centered design of the Darn Tough Vermont Women's Merino Wool Sock is perfect if you're looking for the best hiking sock for those hot summer hikes. This sock features a blend of materials including 59% merino wool, 39% nylon, and 2% lycra. The aim of this is to provide a good level of cushioning on the footbed of the sock, combined with thinner areas of fabric across the top of the foot and over the ankle, for increased wicking and breathability in these areas.
As an added bonus, these come in a great range of beautiful colors, including a seriously bright striped option for those of us who love eye-catching socks! The more subtle, aqua heather colorway is probably the best suited to hiking in hot weather though, with its pale blend of greens and grays.
As with all Darn Tough socks, this sock is made proudly in Vermont. All Darn Tough socks come with an amazing lifetime guarantee, meaning if your sock ever develops holes, simply send them back for a replacement pair. The Darn Tough Vermont Women's Merino Wool Sock has a large number of positive reviews on Amazon, with purchasers commenting in particular on the quality, comfort and durability they offer.
Best Summer Hiking Sock for Men
Summer hikes in hot weather call for a slightly different hiking sock to any other season. The Wigwam Cool Lite Hiker Pro Crew Socks are our recommendation as the best summer hiking sock for men. Made in the UA, these socks contain a combination of 47% tencel, 30% X2O acrylic, 25% nylon, and 1% spandex. The mesh sections along the top of the foot and shin are designed to provide enhanced breathability over these areas. This is combined with a cushioned footbed, with a supportive arch area. The support in this area is ribbed, which helps to keep your sock secure, and stops them from bunching up within your boots.
Available in a wide range of no less than 8 different colors, the recommend that the lighter colors such as khaki, white/pewter, and grey will be best suited for summer expeditions. These socks are quick drying, an excellent advantage when hiking in the summer. Each Wigwam product is proudly made in the USA, and comes with a lifetime guarantee. Domestic yarn suppliers are used to ensure the highest level of quality control, which results in the best pair of summer hiking socks.
Best multipack
If you're looking for a multipack of excellent quality socks that won't break the bank, the People Socks Merino Wool Multipack is a great choice. These come in a pack of four, so if you're heading out on a multiday hike and need multiple pairs to take with you, these are perfect. It also means you won't have to worry about some of your socks not fitting as well as others. The ankle cut of these socks mean they're great to wear with hiking shoes, as well as low cut hiking boots. This sock will sit just below calf height, and are designed as unisex.
These socks contain one of the best percentages of merino wool we've seen, coming in at 71% merino wool, which is combined with 21% nylon, 7% poly, and 1% spandex. The reinforced toe and heel provide a good level of durability. Due to their high wool content, it's recommended to wash these socks on a cold cycle, and then air dry. If placed in the dryer, you may find that they will shrink. It's also normal to expect a small amount of pilling, which is again due to the wool content. The spandex is concentrated around the heel and arch zones, which is designed to ensure these socks provide a snug yet comfortable fit, with no slipping.
These socks are specifically designed for everyday wear, so they're a medium thickness. They also have a reinforced toe and heel, which adds durability in the zones which normally wear out first. These socks are proudly made in the USA, and also come with a year's warranty. If they become defective in any way during the first year, simply return them for a full replacement. A merino wool blend sock is a great option for odor control, breathability, and comfort.
Best Five-Finger Hiking Sock
If you love hiking, but prefer a five-fingered sock design, then the Injinji 2.0 Outdoor Midweight Nuwool Sock is our recommendation. Five-fingered socks are gaining in popularity for a number of reasons, including helping to improve your balance and posture, as well as helping to reduce the chance of blisters developing on long hikes. The Injinji 2.0 is a unisex design, with sizes ranging from small to extra-large. Made from a blend of 64% NuWool, 33% nylon, and 3% lycra, these provide excellent breathability which makes them the best choice for hot days.
The downside of this is that they are not overly cushioned, which you may notice on longer hikes. Due to their thinner material, they're also not that warm, so we wouldn't recommend them for anything other than summer hikes. While the additional material between your toes is great for protection against blisters, it does mean that your toes will feel the cold more. These socks are pretty durable, and will last you for a good few seasons.
Available in a wide range of six colors, the Injinji 2.0 also comes with a one year manufacturer's warranty. Many reviewers are extremely happy about how these five-finger toe socks help to prevent friction, blisters, and hotspots. They do take a little getting used to,especially when putting them on, as they take a bit longer to get comfortable. If you're a summer hiker though, and prone to blisters, these are just what you need.
Best Hiking Sock for Use with Hiking Shoes
If you enjoy summer hikes using hiking shoes rather than a boot, it can be annoying to find that your hiking socks come too far up your calf. This can make you feel too hot, and becomes annoying when the weather is warm. What you need is a hiking sock which sits lower down your calf, then we recommend the Rockay Accelerate Merino Wool Socks. Made from 30% organic merino wool, 66% polyamide, and 4% elastane.
The organic merino wool is sourced from South America. Merino wool offers excellent breathability, as well as naturally repelling bacteria, meaning your socks stay smelling fresh for longer. Amazingly, the Rockay Accelerate Merino Wool Sock is guaranteed for life. After being tested for maximum durability and performance, Rockay have supreme confidence in the quality of their product. The toes and heels are padded in order to reduce the likelihood of blisters developing. An area of strong compression has been added in the arch, designed to provide the best all-day support when hiking. Another great feature is the tight elastic top, which is designed to stop dust and dirt entering your socks.
Perfect for summer hikes, these socks are a little thinner than some of the others we reviewed. They come with a zone of light mesh, designed to increase breathability. These socks will also dry incredibly quickly, so if you're on a thru-hike and need to give them a quick rinse as you set up your tent, chances are they'll be dry by the morning. When travelling light on a thru-hike, every little item needs careful consideration as to how much space it's going to take up in your backpack. Which means these shorter socks will save you a little bit of space!
Best Hiking Socks for Winter
Without a decent sock, winter hikes with cold feet can be both miserable, and dangerous. Luckily, New Zealand brand Icebreaker know a thing or two about cold weather, and their Icebreaker Merino Mountaineer Thick Winter Socks are perfect for those cold hikes. Their new and improved yarn blend provides an increased level of stretch, loft, and softness. Despite this, the Mountaineer Thick Winter Sock still provides an excellent level of durability and comfort for extreme winter weather conditions.
Made from an exceptionally high percentage of merino wool, this sock provides a full and dense cushion which provides both all-day warmth and breathability. 80% merino wool is combined with 19% nylon, and 1% lycra. The seamless and reinforced toe box is designed to help prevent uncomfortable bunching in this area, while also ensuring durability. The reinforced heel area also means these socks will last you for a long time.
The wide comfort cuff at the top f the sock is designed to provide support without being too tight. There is also extra cushioning around the heel and metatarsal bones. The area around the ankle bone is left free of excess cushioning, which allows for the best range of movement in this section.
The Competition
The sheer variety of hiking socks on offer does make it a challenge to select the best ones for your needs. Many of these brands didn't get included on our list of the best, for a number of different reasons. Either the soles were too thin, with not enough cushioning underfoot. This leads to the risk of sore and uncomfortable feet developing after only a few miles. Others are made from lower quality materials, meaning they are much more likely to bobble, or develop a hole in the heel, or other area of high wear.
Rather than risk purchasing an untested product, we've taken the hard work out of the decision making process for you. By selecting one of the products we've reviewed, and choosing the pair which best suit your needs, you can rest assured that you've selected a quality product from a reputable brand. Whether or not you're looking for a short, lightly padded sock for summer hikes, or a very thick and warm sock for alpine conditions, we've covered as many options as we can.
Wrapping it up
When reviewing the different options available, it was easy to select the Darn Tough Men's Merino Wool Full Cushion Sock as our best pick. They offer a great level of comfort, warmth, breathability, and a high percentage of merino wool. On top of all that, Darn Tough are a USA made brand, with exceptional customer service and an incredible lifetime guarantee.