The La Sportiva Miura (and Women's Miura) is our top pick for best climbing all-around climbing shoe. It has a great combination of technical features, enabling edging, smearing and hooking as well as jamming. The fit is snug yet comfortable, and the rubber is confidence-inspiring.
Our step-up pick, the Scarpa Instinct Lace, is also a great shoe. With a slightly wider fit than the Miura, but using the same sticky rubber, many climbers might even prefer the Instinct. It does well on all types of terrain, maintaining great precision and power at no expense of comfort.
For our budget pick we've chosen the Butora Endeavor. This shoe is a great all-arounder, and will do well both indoors and out. It has many awesome features which make it extra comfortable and breathable, while still performing. For the low cost, the Endeavor packs a punch.
Comparison chart of our top ten featured models.
A Little Background
Once a fringe sport, rock climbing is now fully in the mainstream and gaining momentum every year as a popular way to get strong, stay fit, be social and have fun.
Aside from the obvious physical benefits, climbing enables you to get out and experience the natural environment in a different way from camping and hiking. There is nothing quite like breathing in fresh mountain air from halfway up a rock face!
There are a few key pieces of personal gear you'll need to throw in your pack to get out there and start crushing: harness, chalk bag, helmet, and shoes. Your shoes are the best connection between you and the rock, so they need to be chosen well. This article will lay out everything you need to know about climbing shoes and how to choose the best ones for you.

Climbing areas like this one in Canmore, AB, are becoming a popular alternative to the gym.
How We Picked
Although shoes may seem like a pretty simple piece of equipment, there are several considerations we weighed up when making decisions between models and types of shoes.
We considered:
Rubber
Closure Style
Fit / Shape
Comfort
Performance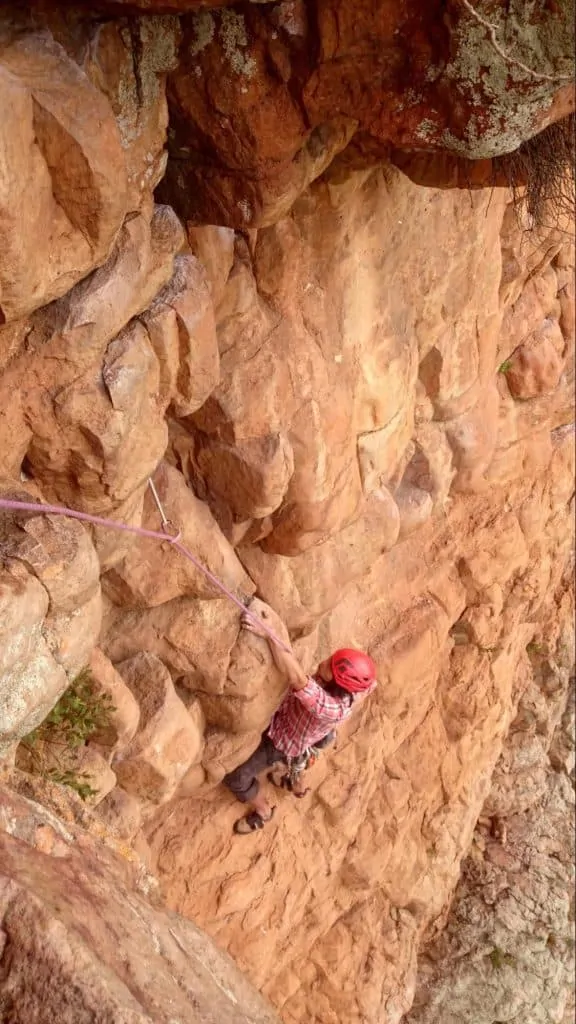 A shoe that is comfortable, performs well, has great rubber, fits well and is easy to put on and off ticks all our boxes for a great time on the rock.
Rubber
The rubber on climbing shoes is arguably the most talked-about feature when climbers are considering a new pair of shoes. It needs to be sticky — for best performance on the rock — but it also needs to be durable.
The 'stickier' (and softer)  the rubber, the more it moulds around tiny footholds and crystals on the rock. The increased surface contact between shoe and rock creates increased friction, therefore holding you onto the rock. The downside, here, is that super soft and sticky rubbers don't hold up well in warmer temperatures, or with repeated use. They are not very durable.
Natural latex rubber tends to be too soft, so modern 'rubber' companies actually create synthetic rubber for the various compounds they sell to climbing shoe companies. Many climbing shoe companies also make their own rubber, but in any case — whether from an outsourced supplier like Vibram or from the shoe company itself — the specific formulas are kept secret.
There are many well-known rubber compounds, with names like C4 and Mi6 (Five Ten), XS Edge and XS Grip 2 (Vibram), that claim to provide a balance between this stickiness and durability. Each type is aimed at a slightly different style of climbing, and therefore slightly different demands of the shoe.
We considered the performance and durability of the rubber in question for each climbing shoe, relative to the category of climbing we were looking at the shoe in relation to. For example, we expected models marketed as an all-day trad shoe to feature a more durable compound than models marketed as a high-end sport climbing shoe.
Sticky rubber on the toes and soles of climbing shoes enable you to grip with extreme friction to the rock wall.
Closure Style
There are three main closure styles: lace-up, velcro and slipper. Each have their pros and cons, and these were weighed up in relation to the style of climbing the shoe was marketed for.
Lace-ups:
Take longer to put on and take off
Provide a more customisable fit
Velcros:
Are quick to take on and put off
Provide a more generic, less precise fit
Slippers:
Are the quickest on-off shoe
Either fit well or they don't
Have no laces or velcro to get destroyed in cracks
Some models offer both lace-up and velcro versions. These scored relatively higher than others in their category.
Lace-ups enable a closer, more precise fit, but take longer to put on. Slippers, on the other hand, are faster to put on and off but often have a more generic fit.
Fit / Shape
Fit is a very hard thing to measure and assess in climbing shoes. It really comes down to the shape of your own foot and how well that works out with the shoe you're looking at. Some brands and models are known as having a generally narrower or generally wider fit, and some brands cater to all fits across their range of models.
The importance of fit with climbing shoes cannot be overstated. If you find the perfect shoe in every other way but fit, it won't work out for you. The nature of the sport requires precise contact between your feet and the rock, and your shoes are the vessel to translate your power into those precise and important movements.
It's worth noting that lined leather uppers will hardly stretch, whereas unlined uppers will stretch — anything from a half size to one and a half sizes. This can be both a blessing and a curse when you're trying to size your shoe at the store, however once you figure out the rate of stretch for a particular shoe you can bet it will be the same for any subsequent pair of the same model.
For this category we looked at fit from the perspective of precision and form-fitting, for the shoe in question, and its target audience (i.e. wide or narrow feet). We took into account the reviews of many climbers of different abilities and style preferences.
Comfort
When spending so much time in your climbing shoes, comfort becomes a big factor. This is less important to people projecting hard boulders or hard sport climbs — where they might take their shoes off between each burn — as it is to people who are climbing big routes in one long day, or even multi-day.
Similar to fit, comfort is hard to quantify with climbing shoes. For this category we looked at the relative comfort of each shoe, in spite of its fit. That is, if the shoe was super form-fitting and tight, we still ranked its comfort level against a less precise all-day shoe.
Spending all day in your climbing shoes on a long route like this one in Washington Pass, WA, demands a great comfort rating.
Performance
The performance of a climbing shoe comes down to a combination of rubber and construction (shape, materials, craftsmanship). There are few construction factors that affect performance:
Midsole. The stiffer the midsole, the more support under your foot. This is best for crack climbing, long days where your feet might fatigue, and vertical climbing on small edges. A softer shoe is more sensitive, enabling more precision when smearing and plastering your toe rubber onto tiny crystals — but your food will tire quicker.
Shape. A more aggressive / downturned shape gives best performance on steep terrain and pockets, however doesn't perform so well on slab or vertical climbs. A flatter shape is best for vertical and slabs, as well as cracks, but doesn't perform so well on the steeps. There are variations along the spectrum between these two extremes.
Rand. This is the band of rubber that wraps around the toe, sides, and heel of the shoe. Essentially, any rubber that isn't the sole. The positioning and amount of rand affects how well the shoes toe hook, heel hook, and jam in cracks.

Thin cracks like this one in Indian Creek, UT, need a high-performing shoe that can drive power through the toes, while providing enough support and protection from the abrasive crack edges.
Top Pick
Tried and true, the La Sportiva Miura (and women's Miura) is our pick for the best all-around climbing shoe.
With it's speed-lacing system you can quickly adjust your fit to be super precise (if you don't like laces, check out the velcro version). The shape is highly asymmetrical, which means more precision when climbing on pockets and small edges. The midsole is flexible enough for comfortable smearing on slabs, while also maintaining enough rigidity to provide support on longer climbs to prevent tiring your feet. Miuras perform so well on a variety of terrain: they are my best shoe for multi-pitch sport climbing as well as thin crack climbing.
The "slingshot" rand right around the shoe transfers power to your toe and prevents forward stretching as the shoe ages. And, speaking of rubber, the Miura sports 4mm of Vibram XS Edge compound — designed to be firm and grippy on small edges and precise footholds. It is also super durable and is a good choice for multi-pitching.
With its lined leather upper, this shoe won't stretch much, so what you try in the shop is pretty close to how it'll stay. I go about one size down from my street shoe size.
Flaws But Not Dealbreakers
This shoe best fits a narrow foot and is too low volume for some people. If you have a wider food, this shoe might not work for you. Check out the Five Ten Anasazi Pink for a similar shoe in a wider fit.
Step-Up Pick
The Scarpa Instinct Lace won our step-up pick. It has a slightly wider fit than the Miura, but with the lace closure you can customise this. However, if laces aren't your thing, there is also a velcro version (softer with a thinner sole) and a slipper (even softer).
This shoe also has an asymmetric shape for precision on face holds and pockets as well as a slight downturn to help on the steeps. With the same XS Edge™  rubber as our top pick, the Miura, you can trust these to stick on the smallest of edges. The rubber-encased toe-box increases security when toe-hooking and the relatively stiff midsole will support your foot on long routes.
You can get great comfort and performance from the Instinct without sizing down too far. However, because the upper is unlined leather it will stretch a bit with the first few uses so keep this in mind when sizing.
Budget Pick
Butora's Endeavor (wide) is our best choice for a great shoe on a budget. Firstly, it has huge variety in fit, with a narrow version as well as a women's wide and women's narrow.
This is one comfy shoe, fully lined with organic hemp fabric. This both prevents stretch (the size you try is the size it will stay!) and helps control foot odour. To further maximise comfort and a good fit, the Endeavor has a unique triple fork webbing construction as well as a two-piece padded tongue for ventilation.
Butora is a relatively new shoe company on the market but so far all reviews have been great. They are even making their own rubber compounds and the Endeavor features their sticky F5 compound, in varying thickness throughout the sole which also provides torsional rigidity. This shoe performs best on moderate terrain from slabby to vertical.
The Endeavor is a comfortable flat-foot shoe which doesn't require down-sizing. You should be able to wear your street shoe size, or even go slightly bigger. With the lined upper, don't expect this shoe to stretch much.
Best Sport Climbing Shoes
La Sportiva's Genius is our best pick for sport climbing. For a wider foot check out Five Ten's Anasazi Pink.
The Genius has a snug, asymmetric, downturned shape which can be further adjusted with it's quick lacing system to get the perfect fit. A stretchy, breathable tongue adds to the comfort. The LaspoFlex midsole, combined with La Sportiva's P3 technology, is supportive and comfortable but still delivers the best power and performance when driving the shoe on small holds.
Perhaps the biggest draw to this shoe and the reason so many testers loved it is La Sportiva's "No-edge" technology. This allows you to make even more contact — and therefore friction — with the smallest of edges and crystals. Combined with Vibram's super sticky XS Grip2 rubber, this technology allows for amazing sensitivity and precision.
Being unlined leather, this shoe won't stretch much after buying. Sizing is pretty consistent with (men's) Miuras, Solutions and other La Sportiva shoes: you can go about a size smaller than your street shoe size.

Sport climbs like this one in Coromandel, New Zealand, are often steep and you'll need your shoe to be able to pull you into the rock.
Best Bouldering Shoes
The popular Solution (and women's Solution), from La Sportiva, is our best pick for bouldering. However, if you have particularly wide feet, you might like to check out the Evolv Shaman.
Although this is a relatively narrow shoe, you can play around with the fit to some extent. The Lock Harness system is something between laces and velcro, and basically means you can quickly customise your fit with a super simple, easy to use closure system.
Drastically downturned, asymmetrical and snug-fitting, the Solution is built to pull you onto the wall (or boulder). Many climbers particularly like the shape of the toe for this reason. Similar to the Genius, the Solution uses P3 technology which pulls the heel in and maintains the downturned shape of the shoe.
The 3D molded heel cup and rubber patch on top of the toe enabled testers to make powerful heel and toe hooks which felt really solid. With Vibram XS Grip rubber combined with the above construction features, this shoe really stays put on any hold.
With a combination of leather and synthetic leather upper, this shoe will stretch a small amount, but nothing significant.
Best Trad Climbing Shoes
The TC Pro from La Sportiva is our best choice for trad climbing. For a wider fit, try the Five Ten Quantum, and for less technical trad climbing check out La Sportiva's Mythos (and Mythos Eco).
Designed by Tommy Caldwell (with La Sportiva) and worn on his first free ascent of the Dawn Wall — this says it all. With the TC Pro you don't have to make a decision between all-day comfort and best technical climbing ability. This is one trad climbing shoe which busts the myth that all trad shoes are big, sloppy, and underperforming.
The sole is quite flat and stiff, which takes a little getting used to (especially when edging on small holds) but once you're familiar with it you can use really precise footwork on small holds. In fact, the rubber we're talking about here — Vibram XS Edge — was developed specifically for the TC Pro.
In cracks, this shoe is also one of the best — it's super comfortable and performs really well. The rand covers 20% of the shoe, enabling you to stick to a huge variety of crack sizes, and the mid-height leather upper protects your ankle bones from abrasion.
Because this shoe is so stiff, and has so much rubber rand, it doesn't actually stretch too much despite its unlined leather upper. You can go anywhere from a size down from street shoe to the same as street shoe size depending on the level of comfort and technical ability you're after. Mine are a half size smaller than street shoe and do well in both regards.

TC Pros are my go-to shoe for most trad climbs.
Best Crack Climbing Shoes
Five Ten's Moccasym is our best crack climbing shoe. For a narrower fit, see the Evolv Addict.
The Moccasym is the quintessential crack slipper — and for good reason. It's simple, durable, comfortable and effective.
A slipper closure (or, lack of closure) is best in cracks because there are no laces or velcro to get in the way and create pressure points, or get worn down and break. The three pull tabs on the Moccasym enable you size snugly and still get the shoe easily on and off.
The slingshot rubber pulls the heel forwards and gives you power when using that rare face hold, while Five Ten's famous Stealth C4 rubber does the main job of the outsole. 4.2mm of it provides awesome durability which was definitely appreciated when climbing countless sandstone splitters.
The upper is unlined leather and stretches up to a full size when worn in, so consider this when sizing.
Best Gym Climbing Shoes
Five Ten's Anasazi VCS is our best pick for in the gym.
The ideal gym shoe performs well on a variety of styles, is comfortable, durable, and easy on and off. The Anasazi VCS covers all those bases pretty well.
The lined synthetic upper is super comfortable and fits right out of the box. Velcro closures are quick and easy: very important if you're anything like me and like to take your shoes off between climbs.
With a relatively flat shape but asymmetrical toe box, we were able to feel confident on slabby to vertical, to overhanging routes. The sole is pretty stiff which gave us good support, especially in longer gym sessions. Stealth C4 rubber had good grip on the plastic holds as well as smearing on the wall.
Size the Anasazi VCS around a half size smaller than street shoe. Keep in mind it should hardly stretch.
Best Entry Level Climbing Shoes
Black Diamond's Momentum is our best choice for entry level climbers. From the new lineup (2017) of Black Diamond's first ever attempt at making climbing shoes, the Momentum has been performing surprisingly well, and for a great price tag, too.
The shoe is super comfortable — very important when starting out in the sport. A flat last means we could keep the shoe on for extended periods, and it's great for slabby to vertical terrain (where you'll find most of the beginner routes). The upper is a unique knit which is breathable and comfortable, and the soft midsole enables gives you more sensitivity to footholds.
Two velcro straps are quick and easy to take the shoe on and off. In keeping with simplicity, Black Diamond's own rubber is used on the sole — which also helps to keep the price down.
For size, you'll want to go either with the same as your street shoe size, or even up to a full size larger.

Entry-level shoes should be comfortable and enable a beginner climber to build technique and confidence in their footwork and balance.
Best Climbing Shoes For Children
The La Sportiva Stickit is our best choice for kids' climbing shoes.
With a simple design and neutral shape, the Stickit is comfortable and enables kids to climb and progress without unnecessarily technical shoes or painful feet.
The unlined leather upper softens to fit your child's foot and is breathable, providing the best comfort both in the gym and when they venture outside. Likewise, FriXion rubber on the sole grips equally well on plastic and on real rock.
The quick lace system with velcro closure is super easy for kids to use and get a good snug fit. The lace also runs around the back of the heel, allowing for adjustment as the child grows by retying the knot at the end (meaning you buy fewer pairs of shoes!).
For sizing, it's best to start with you child's street shoe size and go from there. You want them reasonably snug but definitely not painfully tight. Remember, you can start slightly large but adjust the knot in the lace at the heel to tighten.
Choosing The Best Climbing Shoes For You
There are several things to think about when choosing a new climbing shoe.
The first thing to decide is what kind of climbing you need it for. Will you be mainly climbing indoors at the gym? Do you spend lots of time clipping bolts and projecting hard routes? Maybe you prefer to spend your time on long, all-day trad outings, or maybe you like the chilled-out vibe of Indian Creek and it's sandstone splitters. How about granite slabs, juggy roofs, or technical boulders?
Once you've got that figured out, you can start looking at which features will best help you. If you're after a gym shoe, you'll want something durable, an all-around performer, that's easy on and off. Sport and bouldering shoes tend to demand a more aggressive, downturned last, often with extra rubber for toe hooking. Trad shoes need to be comfortable enough to wear all day long, but should still enable you to climb well on cracks and face holds. Crack shoes should protect your feet, be durable, simple and comfortable.
Having narrowed down your search to a few key models, specific fit becomes important. Keep in mind that climbing shoe brands are often known for having a wider or a narrower / more low volume fit. Know which kind of foot you have and go from there — I have made an effort to mention alternative best picks for shoes based on foot width.
Last, but definitely not least: sizing. Climbing shoes should fit differently from regular, street or running shoes. You should have no room in front of your toes: in fact, shoes should be very snug with your toes pressed against the end. This allows you to transfer power onto the tiniest of footholds — often only a couple of millimeters wide.
Often (but not always) it's best to size down a half or a full size from your street shoe size. A good idea is to order a few sizes, try them inside at home, and then return the ones that don't fit.

When you've got the right shoes, you'll feel confident in your abilities even on challenging terrain.
The Competition
Other shoes that didn't make this list were very uncomfortable, performed terribly, or were very average at lots of things but didn't excel at any one thing. There are dozens of options out there which are overpriced for what they bring to the table.
Other Frequently Asked Questions
Q: I've heard that climbing shoes need to be painful to perform well. Is this true?
A: No. There are plenty of opinions on this, however it's totally up to you how much pain and cramping you want to put yourself through. Shoes are designed so that they are able to deliver great performance and not be excruciatingly tight.
Q: I'm a beginner so how much should I invest in the best shoes?
A: There are plenty of cheap beginner models to choose from. Finding something comfortable is very important, especially when starting out, otherwise you won't want to continue with the sport. At the same time, you want to make sure you're getting something technical enough so that you will be able to progress and create a foundation of good technique.
Q: I want to climb harder grades. Should I buy a more aggressive shoe?
A: It depends. If you want to climb steeper routes, pockets, thin cracks or super technical boulders, then yes. If you want to climb harder face routes, slabs, or wide cracks, then probably not. All in all, though, sticking to a training plan (for strength, flexibility, power and endurance) and making sure to warm up before and stretch after sessions is the best way to help you progress.
Q: Should I wear socks inside my climbing shoes?
A: Most people don't, but you can if you want. Wearing socks reduces the sensitivity and literally gets between you and the rock. Some climbers also claim it allows for foot sliding inside the shoe, which is unhelpful to performance. On the other hand, if you're climbing in the desert often, socks can be the best way to prevent sores between your toes which are created by constant rubbing of sweat and sand. If you're going to wear socks, remember to size accordingly.
Q: I love crack climbing but it really hurts my ankles. What can I do?
A: A few models, like the TC Pro, Astroman, and Altura, feature mid-height uppers which actually protect the ankle. If you don't fit those, you could consider sizing up and wearing a sock, and/or taping your ankles.
Wrapping It Up
Climbing shoes are a necessary and very personal piece of kit. No matter what style of climbing you're into, there are plenty of options to choose from so that you can get the most comfort, performance and durability out of your choice. After all, having the best outdoor gear will help you with the best outdoor experience.
It all makes a difference. From shape to construction, rubber to closure system, these things all affect the way a shoe fits and performs. After considering all the information here on specific points about particular models, it ultimately comes down to you and what fits with your foot and your goals best.