The Lemontec Portable Travel is our pick for the best fabric steamer, which is known to be portable in design, has an automatic shutoff feature to protect against low water levels, has a capacity of 180 ml on its water tank and can work with up to 9 minutes of continuous steam.
Our step-up pick is the Isteam By Exagora and this one also has a low water protection mode, works on all fabric types, gives a constant flow of steam and is quite portable due to its design, making it ideal for traveling and on-the-go preparations.
The budget pick is the URPOWER Garment Steamer and this one has a capacity of 130 ml for its water reservoir, which can last up to 10 minutes of working over your garments. It also has an automatic shutoff feature to prevent it from running when the water level is low.
A Little Background
A fabric steamer is a kind of device that works like a vertical iron due to its steam. Its main purpose is to eliminate wrinkles from your fabric. This appliance is a great choice for those who want to be able to iron anything but don't have enough space for an ironing board. Removing wrinkles, after all, is important for keeping your dresses, suits and other items of clothing much more presentable for guests and for employers.
This kind of device works well for dresses and gowns that cannot be ironed horizontally. There are certain dresses that cannot be simply laid down because they have delicate parts like sequins, buttons, patterns and the like. This makes them very difficult to iron with a traditional one. This is why steamers are mostly present in dress shops and gown rental stores so that the dress you can rent will look presentable when it is handed over to you.
Another important benefit of this device is that it can work well to get into every single part of the dress or item of clothing that a normal iron cannot reach. There are small parts that cannot be easily worked over by a regular steam iron, but a fabric steamer could. This is because its steam can penetrate even on vertically hanging clothes without the need to get an iron into those parts.

Ironing does not always get all of the wrinkles away.
Many of these garment steaming appliances can be portable enough for travel purposes. These can be small enough to fit in a bag or may have a bag of their own. However, there are also ones that can be larger and are ideal only for dress shops. This is why, if you do want to travel with your garment fixing appliance then it should be portable with a smaller size, preferably with wheels if it's too bulky.

Irons are the most commonly compared appliances to fabric steamers.
These can get very hot much like an iron so it is important to keep things safe when handling them. Like any appliance that gets warm to touch, it should be handled properly and only by a responsible adult. Steaming items of clothing is different from ironing them because the steam can get everywhere. A faulty appliance might potentially leak out hot water, which might burn your hands during operation, so it's important to have a leak-free unit.

Any heating appliance may consume a considerable amount of power.
It is important to know the power consumption of such an appliance, since it uses heat to power up. The power consumption can define how much electricity is consumed on the average usage of the appliance. While it could be a high number, it is normal for heating appliances because you only generally use them for a short period of time. However, keep in mind that the power consumption can also have an effect on its heating performance.
While there are portable ones, there are also heavy duty ones that are more applicable for home and commercial use. Those are the ones that usually have a longer hose or tube and a vertical design akin to a vacuum cleaner. They are commonly found in dress shops, gown rental stores and the like, and can be a bit more expensive but are of heavy duty in design and in features.
How we Picked
When you want to choose the best fabric steamer, you should know about the following:
Power consumption: you should have a garment steaming appliance that consumes just the right amount of power depending on how much items of clothing you need to process on the average. Some of these appliances can be rated differently depending on their intended use.
Ease of handling: the appliance should be easy to handle so that it will not be awkward or dangerous to hold while you are steaming your garments.
Safety features: you should consider an appliance that is safe to use. It should have features that will make it ideal for long term use without risking a burn. This is highly important because it will make the appliance safe for overall use, as it is something that utilizes heat to work.
Water reservoir: it should have sufficient capacity for its water reservoir. This makes it easier for you to refill the appliance when it is out of water. The problem is when the capacity is too low, it will be troublesome to refill all the time, so you need a higher capacity one.
Ideal application: either for home or industrial/commercial use, you can choose a garment steaming machine depending on your needs. Smaller ones are for home use while bigger ones can be for dress shops and industrial purposes.
Our Pick
Our top pick for the best fabric steamer is the Lemontec Portable Travel, which has a capacity of 180 ml, which is sufficient for most quick fixed for clothes. It can give you up to 9 minutes of steam ironing time – a good length of time for straightening out wrinkles on various clothing items. It is a handheld unit that is easy to handle and also deemed safe due to the design.
It will work on most fabrics like heavy denim, silk and cotton without much problems. It also has a safety protection when water is running out so that you will stay protected no matter what. It is perfect for your trips due to being portable and travel sized, which is a must-have feature for anyone who need to wear business or formal attires for trips.
Because of its great design and reasonable amount of water capacity, you can be able to do 3 shirts with water to spare. It only takes about 70 seconds to heat it up so it is definitely a time-saver in the process, especially if you need to get into the party or meeting as soon as possible.
Flaws but Not Dealbreakers
While not a deal breaker, the Lemontec Portable Travel could spit some water if it is not held carefully, so make sure you position it vertically in a careful way. This is a con shared by most fabric steamers, anyway.
Step-up Pick
The Isteam By Exagora is our step-up pick, which heats up quickly at only 60 seconds of heat up time, making it more time-efficient than our top pick presumably due to being higher in price. It is also quite easy to handle due to the low profile design, making the process of eliminating wrinkles a breeze overall. It also has a low water mode which makes the unit automatically shut itself off
If you have fabrics that cannot be ironed with a regular iron, this can do the job well. It produces a consistent flow of steam that can work well to straighten out the inconsistencies in your fabrics and items of clothing. One fill of the water reservoir lasts for 10 minutes so you can work on your suits, pants and  dresses and even other cloth items around the house.
Unlike other brands, it is deemed safe to use without gloves due to its safety features. Being lightweight size of only 1.1 lbs, you can even take it with you while traveling. It is safe to use on all types of fabric so you won't have problem with different clothing items.
For those who really hate ironing, this could be a game-changer for them. It can also work on drapery and other home fabric items, and is backed by a 2-year warranty.
Budget Pick
Our budget pick is the URPOWER Garment Steamer, which has a cleverly-made wrinkle removing nozzle design that gives an even distribution of the evaporated steam, so that it gets the creases and wrinkles from all angles of the garment. It has a 130 ml water tank capacity so it is pretty good in terms of its reservoir. It also heats quickly in 2 minutes so it can save you enough time.
With its automatic shut-off function, you do not have to worry about safety when the water levels get too low on your steaming machine. It is also great for travel due to the slim and low profile design. One refill can give you from 7 to 10 minutes of continuous steaming on any kind of fabric. It is easy to handle due to the design and it works well on all types of fabric without damaging it.
Refilling it is easy with this unit because it only weighs 1.2 pounds so it's not too bulky to carry. Also it doesn't take up much room in a bag and it also includes a travel pouch for going out of town. It can also potentially straighten the wrinkles off a suit jacket due to its power. It is backed by a 2-year warranty.
Best Fabric Steamer that is Handheld
If you want a fabric steamer that is handheld and portable, the Aicok Clothes Steamer could be a great choice for you due to its design. It holds up to 200 ml on its capacity, which more than our previous picks, making it ideal for many clothes and fabric items. It also gets hot in 60-80 seconds so you can straighten out clothes quickly.
You can use it for business trips or for when you have formal meetings to attend to. It only consumes 800 to 900 watts of power per usage so it is not very consuming in terms of energy. It has an automatic safety shutoff feature so that you will be safe from potential accidents caused by low water starting. It can be useful if you are going on a vacation and need to have formal wear at hand.
It works well for various items of clothing, such as a blouse and a skirt. It is also quite convenient to use due to the slim design and it also comes with 2 types of steam nozzles for you to use. It can guarantee you from 8 to 10 minutes of continuous steaming, which is good for saving time in getting more work done in one standing.
Best Fabric Steamer for Traveling Purposes
For traveling purposes, the zonpor Portable Steamer can be a great choice due to its portability and design, which can be ideal for emergency situations that you need to have the wrinkles on your dress or suit gone and straightened out. It can be ideal for carrying on your luggage due to the portable size of this unit.
It can also be ideal for students due to the travel friendly design and the simple controls for operation. With a water tank capacity of up to 180 ml, this steaming unit is great for various items of clothing and even on sofa covers due to its great wrinkling capabilities. It can also be a great alternative to the irons if the dress you want to iron is too delicate or tough to handle.
At only 1.3 lbs of weight, it is of lighter size compared to others out there, so you can take it with you on your business trips. It can also allow you to work on curtains with great ease and it also stays safe throughout your steaming session due to its overheat protection technology. It can be useful for vacations when you want to wear formal attire, as it works on all kinds of clothes.
With 9 to 11 minutes of steam produced, it is quite a powerful steaming device at a smaller package. The length of the power cable is 8 feet so it is easy to plug in anywhere. It is also ETL certified and listed for safety, and is also a time saver, taking only 80 seconds to heat up.
Best Fabric Steamer with Accessories
The Rowenta Xcel Steam is a great choice for those who want additional accessories. It has a 6.5 foot power cord that is quite long so that you can be able to plug it anywhere with convenience. It has a good 17 g/minute steam output so that you can be able to work on clothes and items at home in a quick way.
It comes with accessories like the fabric brush so that you can easily work on heavier items that could be troublesome with just a regular iron. As for the capacity of the garment steaming unit, it has a 150 ml removable water tank for convenience. You can even straighten out table cloths with this unit, and it also comes with a useful steam bonnet can be used on delicate items.
Consuming 1,000 watts of power on the average, it heats up quickly so it saves both time and energy. It has a hook for a door for convenient steaming. You can be able to process jackets and coats with great ease due to the self-standing base. It can also allow you to straighten out your bed sheets and drapery as its heat up time is only around 45 seconds.
Best Fabric Steamer for Formal Wear
If you need a fabric steamer for formal wear, the ="VIVREAL Handheld Travel can be a good choice for you. Its capacity for the water tank is at 40 ounces or 120 ml so it is pretty good and won't have to be refilled often. It also bears an anti-splashing design so that it will not potentially cause scalding or burns due to hot water. It will assure nearly no leakage due to its design.
It is also an easy to move around due to the lightweight and compact design of the unit. What's more, the cable is about 7.8 feet so it can be connected anywhere. It easily works on bedding, drapery and seat covers as well because of its diverse actions as a steaming appliance that heats up clothes and straightens out wrinkles. Not to worry with the fabric because it works on silk, fiber, denim, cotton, hemp, fur and the like.
Additionally, it may also disinfect bacteria due to the steam and the heat. You will also find it comfortable to use because of its ergonomic slip-resistant handle that has been designed to help you finish your job quickly and safely. It has a viewable water tank so that you will know when to refill the steaming unit. It is also backed by a 2-year warranty.
Best Fabric Steamer for Horizontal and Vertical Steaming
For those who need something that works for both horizontal and vertical steaming, the Beautural 1200W Handheld can be a good choice for you. It has a capacity of 260 ml so that you can get more out of it in the period that you work on your clothes – you may be able to finish more than 3 shirts in one go, and still have remaining water in the reservoir.
It is worth noting that it can be used vertically and horizontally with no leaking at all due to the unique design. The unit can work well with delicate fabrics and can be useful for busy mornings when you need to suddenly iron any clothes. It has an automatic shut-off after 8 minutes of not using it, so that you can be able to save up on energy in the process.
This unit takes only 35 seconds to heat up so you can also save time when you work on items of clothing. It comes with a measuring cup as well to be used on your water reservoir. It has a 1,200-watt rating, which means that it is powerful due to the larger consumption of electricity, but gets the job done faster.
It also comes with accessories like a lint brush and a fabric brush. There's also a lock button for larger items of clothing to make it less tiresome to use for bigger bed sheets and it has a 12-month warranty to back it up.
Best Fabric Steamer for a Dress Shop
For those who own a dress shop and/or want something that is of industrial grade, the J-2000 Jiffy Garment can be a good choice. It is heavy duty in its power consumption at 1,300 watts so it is ideal for those big gowns and rental areas, such as for wedding dresses. It comes with roll casters to make it easy to move around your dress shop, and it depends on a solid brass heating element for its steaming power.
With a 3/4 gallon water reservoir, you can be able to use it for more items of clothing than portable ones, making it a good workhorse to depend on. It is also made with high-impact plastic housing to make sure that it can last for years to come.
As for the speed, this unit heats up in just 2 minutes to save you time. It also comes with a 6-inch steam head for ease of application onto your item of clothing, with a 1.5 hour steam time so that you can process more gowns and dresses on the go, and in almost any space with the included 5.5-foot hose. It has been certified and listed in UL, TUV/GS, CE, cUL and others for safety reasons.
Best Fabric Steamer for Shirts
If you mostly have shirts to iron but need to get them done quickly, the ABYON Wrinkle Release can be a substitute to ironing. It can give you up to 10 minutes of continuous steaming in one refill, and it will also work on drapery in your house. It can produce a good amount of steam due to its powerful technology, which only has 60 seconds heat up time to avoid slow startups.
You can be able to process tablecloths with this steaming unit and it can remove wrinkles in a hurry as well – perfect for job interviews or sudden parties. It will also work on most upholstery and bedding and it is very portable to carry around. With 700 watts of power, it is not that consuming in terms of power it comes with a 4.7 oz. water tank and a black pouch for its carrying case.
The Competition
There were others that did not make it to our list because they did not have safety features. It is also important that it could be energy saving so that it will not impact your monthly bill too much.
Other Frequently Asked Questions
Q: Can all items of clothing be steamed?
A: While it is true that steaming clothes is much easier than ironing them, there are certain delicates that are indicated on their labels that they are not allowed for steaming. This is because their quality may deteriorate when you steam them. Always look for the label of any laundry item first before you steam it with a fabric steamer or garment steamer.
Q: What are the different kinds of fabric steamers?
A: A fabric steamer can have different types for you to choose from – each having their own benefits and drawbacks. They are the following:
| | |
| --- | --- |
| Floor steamer | This one is the one that you will most likely see in a dress shop. It is mostly intended for industrial purposes and for larger objects like wedding dresses, full floor gowns, dazzling debut gowns, suits and the like. It is meant to take on even drapery and upholstery, and usually has wheels to make it move around easily. |
| Handheld steamer | This one is much like a floor steamer but on a more travel sized package. It is smaller in terms of water capacity but still large enough for you to steam items on the go. They are still great for travel purposes. |
| Portable steamers | These are handheld and completely smaller than the first two types. They are the ones that require more frequent refills because of their smaller water reservoir as compared to others. Nonetheless, they are the easiest to carry around for business trips and vacation parties. |
Q: Can irons have a steam function?

Steaming is one of the best ways to dry laundry items.
A: Yes, there are irons that have the capability to produce steam. Therefore, if you want an iron and a steamer at the same time, you may be able to save more money in the process. Brands like Hamilton Beach do have such irons, so that whether you feel like ironing or feel like steaming your dress or suit is up to you.
Q: What makes vertical ironing beneficial to clothes?
A: If you iron clothes vertically using steam, you may be able to get the following benefits for them:

Wrinkles can be easily straightened out by fabric steamers.
It gets wrinkles easier

.  You can straighten out any kind of wrinkle without a lot of effort. This is because most irons tend to be too heavy and bulky to carry, whilst a vertical steamer can be less frustrating due to its steaming action.

It's good for gowns and delicate items

. Vertical ironing has always been hailed as a lifesaver for those dress shops and rental shops that rent gowns, suits, bridal dresses and the like. Delicate items from a gown or suit cannot be easily ironed horizontally, so they should be straightened out vertically.

It gets more work done

. This is because of the reservoir being bigger than that of a horizontal iron. Most vertical steaming units can have a lot of water in their reservoir for you to easily take away wrinkles in no time without having to refill constantly.

It has most of the same safety features of a regular iron

. Things like an automatic shutoff feature when the water is low can also be found on a steaming unit, much like with a steaming iron. This is important to keep you safe when you iron your clothes vertically.
Q: Should I still need an ironing board if I already have a fabric steamer?
Ironing and steaming can go together.
A: Yes! Fabric steamers and ironing boards go hand in hand. You cannot always steam every single item of clothing when it is not needed (and not recommended by the manufacturer). Check the labels first if your laundry item is intended to be ironed, steamed or both, to make sure that the quality of the laundry item does not deteriorate over time.
Q: Why do I need a steamer during traveling?
A: For traveling, you definitely need a steamer because of the following reasons:
| | |
| --- | --- |
| For sudden social gatherings | Steaming clothes can help if you have the need to suddenly look presentable to a formal gathering. If you need to have your dress look neat after being folded in the luggage then the fabric steamer can do the trick. |
| For business trips | This is also greatly important for business trips for you to look more presentable to other employees. You have to make your business attire free from wrinkles if you need to gain respect from others, especially for your future clients and your boss. |
| To make you look clean and neat | Generally, if you just want to make yourself more presentable and neat, you can use a steaming unit to make sure that your clothes are free from wrinkles and creases. |
Q: If I already have a dryer, do I still need this steaming unit?
A: You should know your type of dryer first. It if has a steaming option then you might find it useful for removing the wrinkles on your clothes. If it doesn't, that is where you might need a steaming unit or an ironing set to make sure that wrinkles on your clothes will not stay there.
Also, it is important that if you dry your clothes in the dryer, don't let them stay there for too long – hang or spread them to avoid the creases forming and staying. This will save you time in ironing or steaming your items of clothing or laundry items like sheets or drapery.
Q: If my bed sheet is wrinkle resistant, do I still need to steam it?

Bed sheets can get wrinkles depending on frequency of usage.
A: In most cases yes, if you wash it. Bed sheets are bulky items and many people usually get lazy at cleaning them. However, they do need to be cleaned to avoid allergens spreading in your bed. In fact, the best way to clean them is to steam clean them because they are too big for iron boards.
The bottom line: even if your bed sheet is wrinkle resistant, you should still steam it when you need to dry or clean it up.
Q: Which type of steaming unit works best for which item of clothing?
A: To match the item of clothing with the ideal steaming unit, here's a good comparison chart:
| | | |
| --- | --- | --- |
| Floor steamer | Handheld | Portable |
| Gowns, suits, dresses, formal attire, draperies, bed sheets, covers | Shirts, everyday clothes, small items of clothing, delicate items | Shirts, clothes, small items of clothing, delicates |
Q: Which fabrics are the best to steam?
A: If you ever own any item of clothing or upholstery that has the following fabrics then you can definitely steam them and they won't get damaged:
Silk

Wool

Synthetic

Cashmere

Any blends of the above-mentioned fabrics

Delicate items
Q: How long can a single tank of water in a fabric steamer last?
A: This fabric steamer can potentially last somewhere from 9 to 15 minutes depending on the size of the water reservoir in ml (milliliters) or in gallons. Knowing how long you can straighten out clothes with this unit is important if you have a lot of clothes at hand.
Q: Does the position of the steaming nozzle matter when steaming fabrics?
A: Yes, the position of the steaming nozzle can potentially impact the laundry item. For instance, you should remember the following:
Don't let delicate items touch the nozzle directly.

Double sided steaming is applicable for thick fabrics.

Embroidered and printed clothes should be steamed from the inside.
Q: What should I do if my fabric steamer is making clicking noises?
A: This clicking noise is also called priming and it happens to most units. This is when your steaming unit hasn't been active lately. When water goes into the steaming unit, this happens, so you should just give it time to prime first before you actually start it.
Q: What steaming techniques should be employed with different laundry items?
A: For the following laundry items, you should know how to steam them properly with the following techniques:
| | |
| --- | --- |
| Denims and jackets | Do both sides of your cloth or garment to ensure that creases and wrinkles are gone completely. |
| Normal garments made of cotton and the like | Hang them to effectively get all of the creases and wrinkles and straighten them out. Vertical ironing is the best technique for these. |
| Cashmere and silk | Make sure your fabric steamer is at least 1 inch away from the laundry item to avoid getting it damaged completely. Velvet should be steamed in reverse to avoid damage on the outside. |
Q: Can front loading washing machines reduce wrinkles so you don't have to steam them too much?

Some washing machines have a steaming feature.
A: Yes, there are front loading washing machines that have this feature. These machines may have steam options so that you don't have to iron or steam them as much. This can save you a lot of time and effort in the long run, especially if you have a large family or need to wash a lot of clothes in one go. This is also especially helpful for those who own a laundry shop.
Q: Can a garment steaming unit remove stains?
A: Unfortunately, no, they cannot remove stains. Fabric steamers only steam or iron your clothes vertically, but you will need a different appliance for cleaning stains – the washing machine. You can, however, make spray formulas, but you should not use them in the steaming unit because it can corrode some of the parts of the machine.
Q: If I get paint on my clothes, should I steam dry it?

Certain clothes should be air dried instead of steaming.
A: In any case, steaming is not recommended for removing paint on clothes. This is because fibers that are in your clothes might get ruined due to the excessive heat on of the steam. A better way of drying the clothes if they get paint and you tried to remove the paint, is air drying. In this way, the fibers would not get damaged at all.
Q: What should I always remember when managing the water reservoir of the garment steaming unit?
A: To make sure that your fabric steamer runs smoothly, you should always remember the following guidelines about the water reservoir in general:
| | |
| --- | --- |
| Distilled water works best | If your tap water is not very clean, you should definitely use distilled water to avoid the minerals getting into the areas of your fabric steamer and corroding it. |
| Tap water works with exceptions | If your tap water is pretty clean and filtered, it can be safe to use for your vertical ironing unit. Check with your local authorities and neighbors if your tap water is applicable for this kind of appliance first. |
| No need to empty | There is no need to empty the reservoir when it is not currently in use – unless you need to put it in the basement for a long period of time. That is when you only need to empty the reservoir to avoid corrosion and the like. |
Q: What are the other potential uses of a fabric steamer?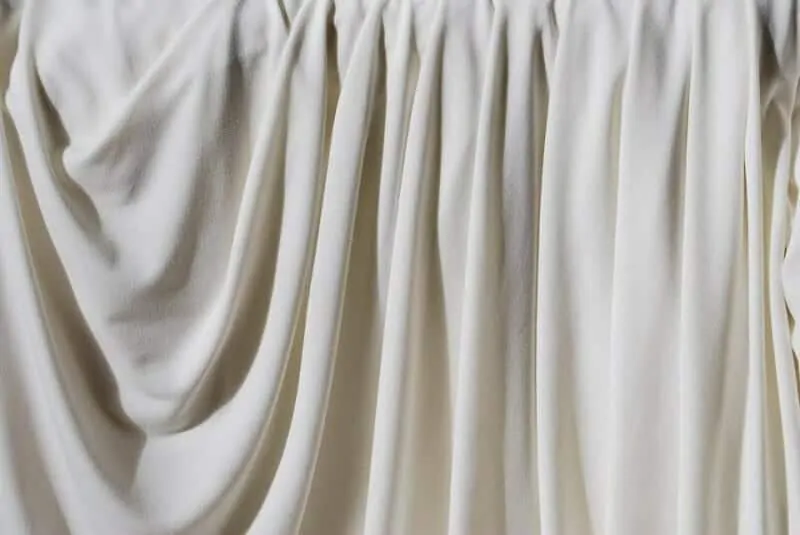 Wrinkled drapery is one of the best uses for a fabric steamer.
A: This kind of drying unit can be used for other purposes, such as:
Dry upholstery after washing.

Dry rugs, carpets and drapery after washing.

Using it for kitchen sanitization.

Disinfecting a dirty bathroom.
Q: Why should I clean my fabric steamer regularly?
A: Cleaning your fabric steamer on a regular basis keeps it protected from gunk and corrosion which might break your unit's lifespan. There can be small amounts of mineral deposits that get into the reservoir, especially if you use tap water, so make sure you clean it on a regular basis to avoid such inconvenience.
Wrapping It Up
Overall, the Lemontec Portable Travel is our pick for the best fabric steamer due to the automatic shutoff feature, the 180-ml capacity and the capability to work for up to 9 minutes of steaming. These features are important for being able to straighten wrinkles from your shirts and dresses in no time, and in the safest way possible.
Jen Miller is a former electrical engineer and product specialist with more than 20 years of product design and testing experience. She has designed more than 200 products for Fortune 500 companies, in fields ranging from home appliances to sports gear and outdoor equipment. She founded Jen Reviews to share her knowledge and critical eye for what makes consumers tick, and adopts a strict no-BS approach to help the reader filter through the maze of products and marketing hype out there.  She writes regularly and has been featured on Forbes, Fast Company, The Muse, The Huffington Post, Tiny Buddha and MindBodyGreen.