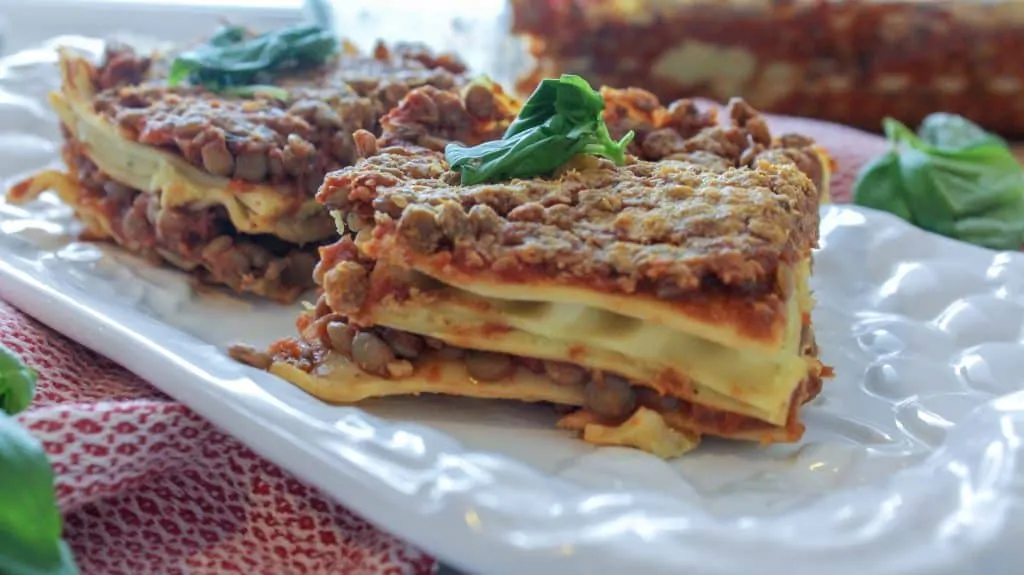 Lasagna is one of my favorite childhood foods.  On a frigid, dark Sunday night, I would come in from playing in the woods all day to the smell of lovely lasagna.  The fresh aroma of garlic, basil and hearty tomato sauce warms up the even the coldest of winter evenings.
My mother had a busy work week, so she made a lot of quick and easy recipes during the week, but on a Sunday she would have a little more time to spend on dinner.  She loved making lasagna on this day because we could have a comforting family dinner and it makes delicious leftovers for the busy week to come.
As comforting as it is, lasagna can be quite an unhealthy dish.  This recipe keeps all of the comfort and heartiness of lasagna, but cuts down on the cholesterol and saturated fat. Now you can eat lasagne and feel good about it.  Even though this dish is vegetarian, it still packs a protein punch because of the two types of legumes we use.
Instead of ground beef, we veganize the meat sauce with lentils.  I love using lentils as a substitute for ground beef. You can use them in any instance you have ground beef.  Cook them up on the stove and flavor them like you would ground beef. Add in some garlic, carmelized onions, salt and pepper and you can't go wrong.
One cup of cooked lentils provides ninety percent of your daily folate, thirty six percent of your daily protein and thirty seven percent of your daily iron.  It's also packed with copper, manganese, zinc and vitamin B1.
I was wrapping my head around how to make a dairy-free ricotta cheese.  I saw quite a bit of recipes that use tofu. I didn't have any tofu on hand, but I always have beans stocked in my pantry.  I used cannellini beans to make a creamy, velvety ricotta cheese base substitute.
You could also use any sort of white bean like great northern beans or chickpeas. The beans lend themselves well to soaking up a lot of flavor.
I then made an easy pesto sauce and added it to the cannellini ricotta cheese.  This makes the color an interesting, minty green but the taste insanely delicious.
One cup of cooked cannellini beans provides fifteen grams of protein and are rich in B vitamins (including B12), iron, potassium and zinc.
With the combination of lentils and cannellini beans, you have yourself quite a power punch of protein, essential minerals and fiber in this dish.
I didn't include shredded cheese in this recipe, but if you would like to add that, the dairy-free brand that I love is "Follow your heart".  I love using their smoked gouda flavor and then just shredding it up by hand. If you're ready for a healthy version of a comfort food classic, grab a baking dish and let's get started!
Protein Packed Vegetarian Lasagna
Total Time
1
hour
15
minutes
Ingredients
1.5

cups

of lentils

dry

2

cans of cannellini beans  

rinsed and drained

12

lasagne noodles

2

jars of pasta sauce

1

package of shredded mozzarella or provolone dairy-free cheese.
For the pesto ricotta cheese:
Handful of cashews

Handful of basil

2

cloves

of garlic

1

TBL nutritional yeast

optional

1

tsp

salt

1

TBL olive oil

Juice of ½ lemon
Instructions
Pre-heat oven to 350 degrees.

Rinse lentils and place in a saucepan. Cover with three cups of water. Bring to a boil and let simmer until softened. About 20 minutes. Once lentils are cooked, add two jars of pasta sauce to the lentils. Fresh parsley is great to add to the sauce as well.


While the lentils are cooking bring a large pot of water to boil. Once the water is boiling, add the lasagne noodles. Read the package to see how long to cook al dente. Drain pasta once finished cooking and rinse with cold water to stop pasta from overcooking. Drizzle with a little olive oil to prevent pasta from sticking or keep pasta in cool water.

In a blender or food processor, combine cashews, basil, olive oil, salt, lemon and garlic. Mix until roughly blended. Add rinsed and drained cannellini beans to the pesto mixture. Add ½ cup of water or unsweetened plant milk to thin out if needed.

Grab a 9x13 inch baking dish. Cover the bottom of the dish with lentil sauce.


Cover sauce with overlapping noodles. This will take about 3 or 4 noodles.

Cover noodles with ricotta. Layer shredded cheese over the ricotta


Add 4 noodles over ricotta layer. Cover noodles with sauce

Add 4 noodles over sauce layer. Add the rest of the ricotta. Add shredded cheese over ricotta.


Add one more layer of noodles. Top with sauce and then shredded cheese

Cook covered with tin foil for 25 minutes


Uncover and cook for 20 minutes

Step One – cook pasta
Bring a pot of water to a boil and cook the lasagne noodles.  Make sure not to over cook. Rinse with cold water and set aside until ready to layer lasagne.  Sprinkle with a little olive oil to prevent noodles from sticking.
Step Two  – cook lentils and add sauce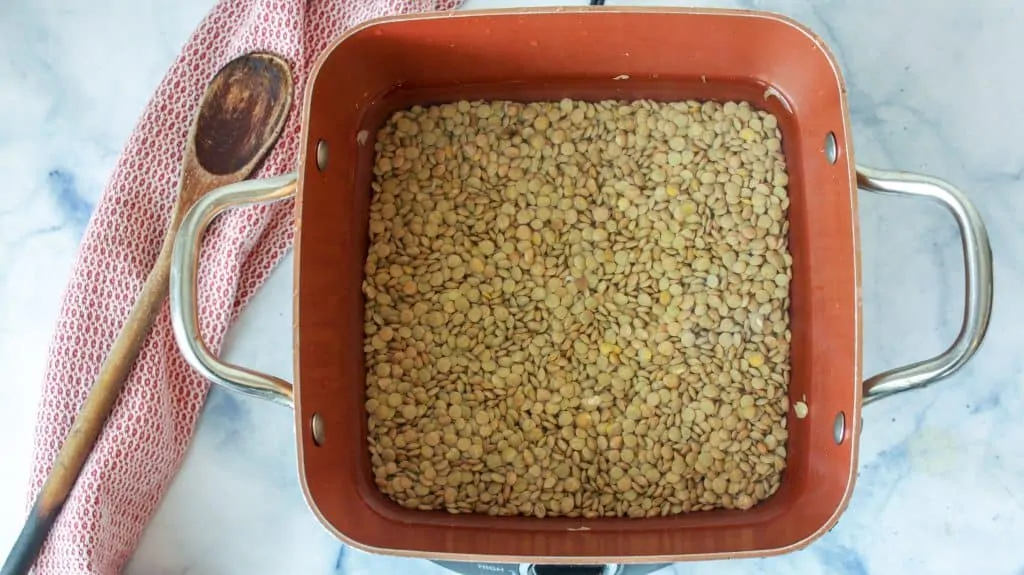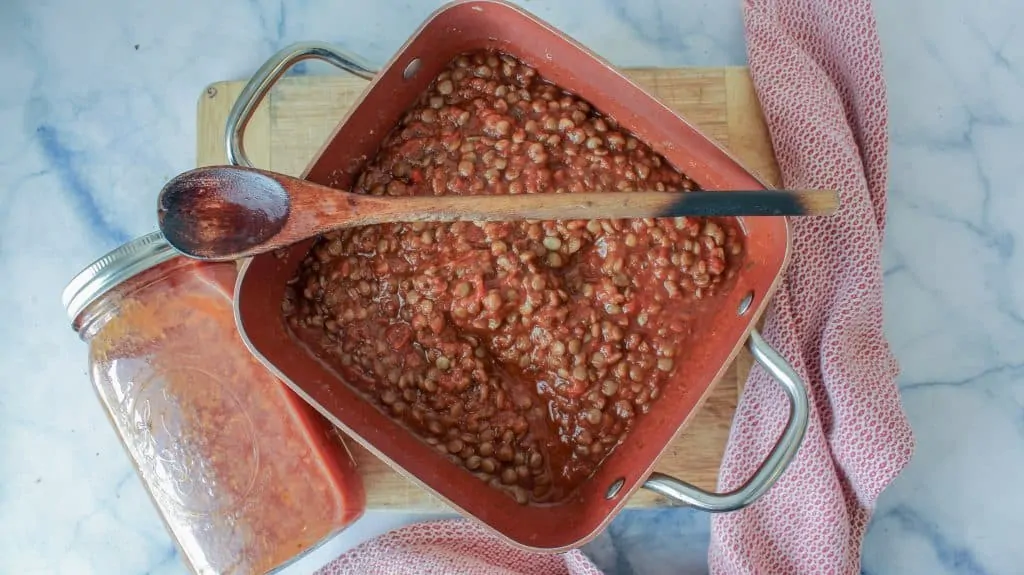 Rinse and place lentils in a pan.  Cover with water and cook until tender.  About 20 minutes. Once lentils are cooked, add a jar of pasta sauce to lentils.  Add ½ cup of water if needed.
Step Three – make pesto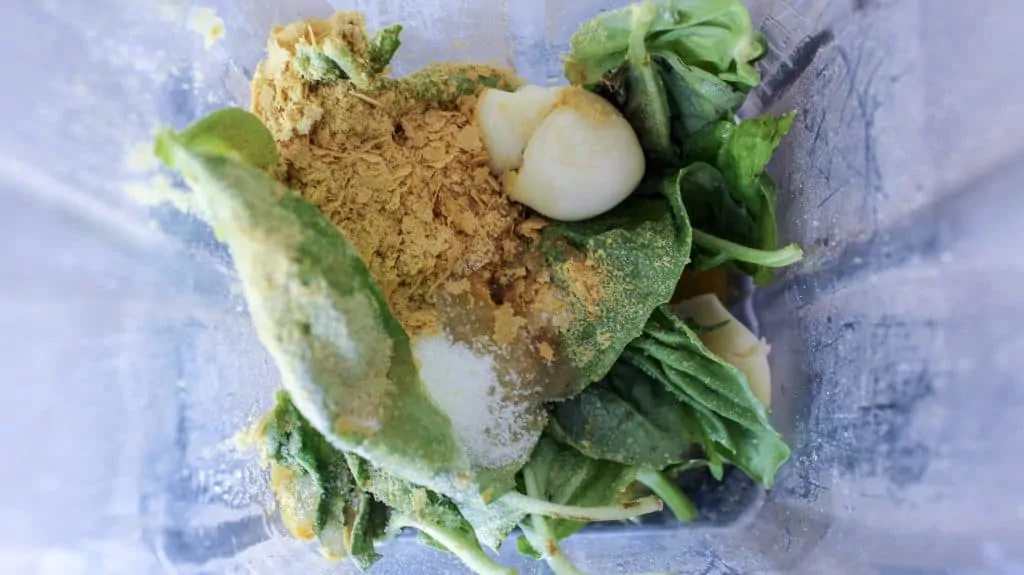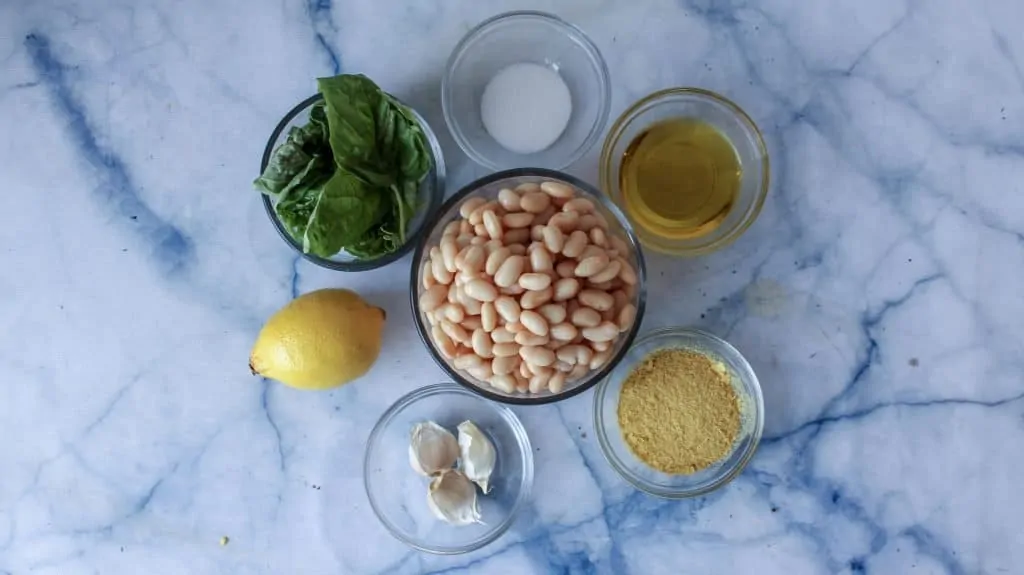 Place garlic, nutritional yeast, olive oil, salt and lemon juice in blender or food processor and roughly blend
Step Four – add beans to pesto to make ricotta
After the pesto base is blended, add the cannellini beans to the pesto mixture and blend until smooth.  Add in dairy-free unsweetened milk or water to smooth out if needed
Step Five – first layer – noodles and ricotta
Gather up all your ingredients that you're going to layer: Lasagne noodles, pesto ricotta and lentil sauce.  Put a small layer of sauce on the bottom of the pan. Place four overlapping noodles over the sauce. Gently spread ricotta over the first noodle layer
Step Six – second layer – noodles and sauce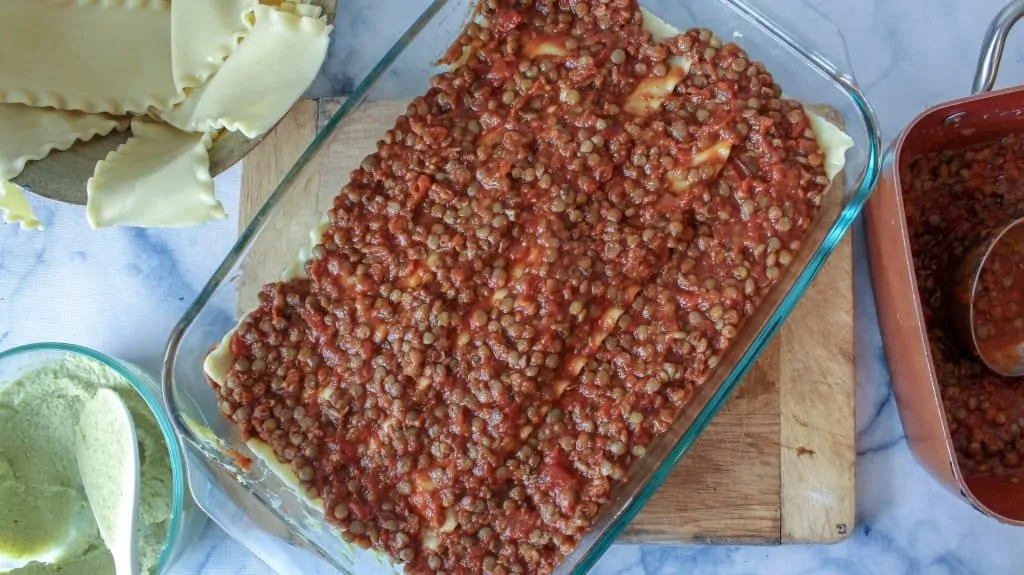 Add four overlapping noodles over the ricotta then add a layer of lentil sauce
Step Seven – third layer – noodles and ricotta
Add four overlapping noodles over the lentil sauce, then spread a layer of ricotta over the noodles
Step Eight – last layer – noodles and sauce
Add four overlapping noodles over ricotta sauce then spread last layer of lentil sauce over the noodles.  Sprinkle nutritional yeast on top
Step Nine – cover and cook
Cover with tin foil and place in a preheated oven at 350 degrees for 25 minutes.
Step Ten – uncover and finish cooking
After 25 minutes, uncover the lasagne and cook for another 20 minutes.
If you're not a fan of lentils, you can also try using two cans of black beans in the sauce instead or you can omit the beans in the sauce completely if you don't want as many beans in the dish.
This is  great for a family dinner on the weekend when you have a little more time in the kitchen.  This is also perfect for a small dinner party. You can easily whip up a salad and garlic bread and have a delicious feast for friends.
If you have any leftovers, this lasagna freezes perfectly.  You can even double this recipe and freeze it before you cook it.  Just take it out of the freezer on a busy week and pop it in the oven for an hour.
Enjoy!
Jen Miller is a former electrical engineer and product specialist with more than 20 years of product design and testing experience. She has designed more than 200 products for Fortune 500 companies, in fields ranging from home appliances to sports gear and outdoor equipment. She founded Jen Reviews to share her knowledge and critical eye for what makes consumers tick, and adopts a strict no-BS approach to help the reader filter through the maze of products and marketing hype out there.  She writes regularly and has been featured on Forbes, Fast Company, The Muse, The Huffington Post, Tiny Buddha and MindBodyGreen.