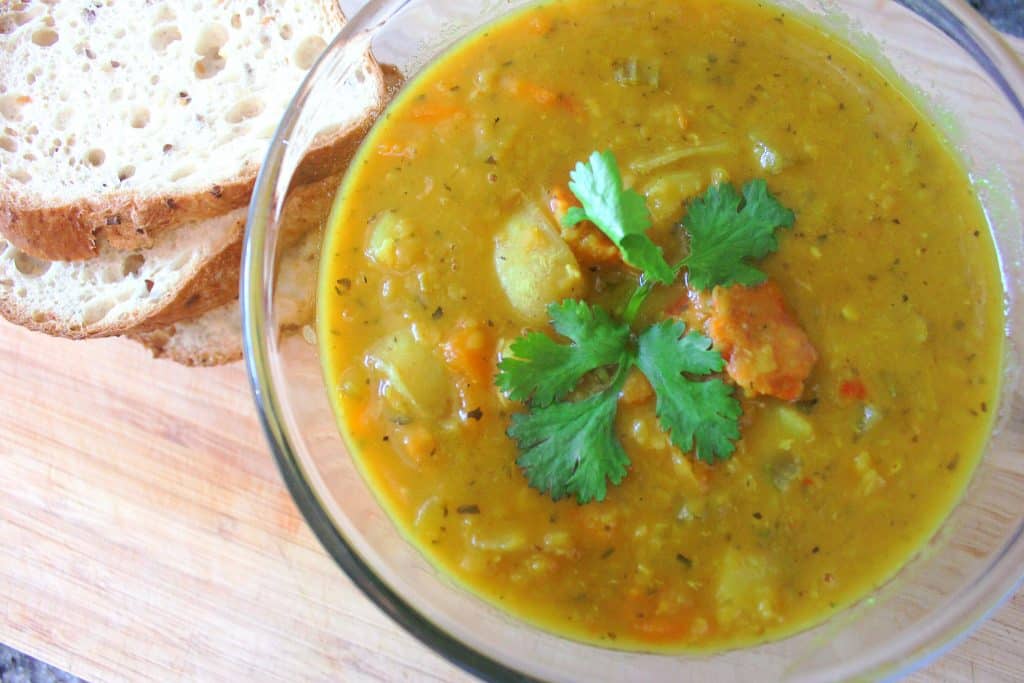 Craving something hearty and healthy? You have to try this super comforting yellow split pea soup. Full of fiber and incredibly nutrient dense; although this recipe calls for plant-based ingredients, like the vegan chorizo sausages, and the cashew milk, you can switch them out for animal-based products if you prefer. Although I highly recommend researching the amazing benefits of adopting a vegan lifestyle. I always reach for the yellow split peas, as I find that the green split peas can look a little dull after being cooked and mixed with the colors of other ingredients. This is not always the case, but I do find that a yellow based soup just looks entirely more cheerful! I don't have a slow cooker, but this would be great to cook if you did have one on hand, as you could just put all the ingredients in the slow cooker, set the time, and not have to worry about checking up on it. However, I don't really mind keeping an eye on my cooking, it's my therapy. You will have to occasionally come back to the pot to give it a good stir every now and then. But after you've put all the ingredients into the pot, it becomes quite a passive afterward.
Most split pea soup recipes call for a bay leaf or two, I couldn't get my hands on bay leaves at the time, but I did have lemon grass in my pantry, and that's really where the inspiration for this recipe came from. Lemongrass is traditionally used in Asian cuisine, where it's also used medicinally to treat things like muscle pain, high blood pressure, and digestive problems. So made this recipe with the intention of healing in mind, which is why I used other powerful healing spices such as turmeric, and cleansing vegetables like carrots and celery. I love any recipe that allows me to get a good dose of turmeric into my system! Since soups are always a go to when you're feeling under the weather, it only makes sense to make a soup that is going to benefit you and make you healthier and stronger.
Some noteworthy benefits of lemongrass include maintaining healthy cholesterol levels as lemongrass contain anti-hypercholesterolemic and anti-hyperlipidemic effects, these have been shown to maintain healthy levels of triglycerides in the body. Lemongrass is also a diuretic and has been known to assist the body in removing harmful toxins and excess water weight. Best of all the phytonutrients found in lemongrass increases blood circulation and the analgesic properties reduce pain caused by muscle aches, migraines or general headaches.
Since I suffer from chronic pain I have tried many natural remedies to help alleviate some of the pain. Turmeric has definitely become a staple at our house. If not used in the dishes I'm cooking, I will often make golden milk, which is just turmeric, black pepper and cashew milk heated up together. The active ingredient in turmeric is curcumin, which is what gives turmeric it's yellow color, it is a very powerful antioxidant, and is extremely anti-inflammatory. However, keep in mind that when you are consuming turmeric for its healing benefits, to be sure to consume it with some black pepper, as this combination ensures that your body absorbs as much of the curcumin as it can. The piperine in black pepper has been shown to increase the bioavailability of the foods we eat, as well as any supplements we take. Unfortunately, curcumin has quite low bioavailability, which just means that more often than not it passes through our digestive system and is metabolized too quickly for our bodies to really get the benefits that curcumin has to offer.
Healing Yellow Split Pea Soup
Cook Time
1
hour
20
minutes
Total Time
1
hour
30
minutes
Ingredients
2

tbs

coconut oil

2

cups

minced onions

5

cloves

minced garlic

1

cup

diced carrots

2

cups

split peas

3

celery sticks

200

g

diced potatoes

300

g

chorizo sausages - or any meat you prefer

2.5

ltr water

2

cups

cashew milk - or any milk of your choice.

3

stock cubes

2

tsp

salt

1

tsp

pepper

1

tsp

turmeric

1

tsp

oregano

1

tsp

thyme

½

tsp

smoked paprika

1

dried lemongrass stalk
Instructions
Prep the ingredients, chop the vegetables and lightly rinse the split peas

Heat the coconut oil in a large pot


Saute the onions for 2 minutes


Add the diced potatoes, carrots, and celery. Saute for a further 3 minutes

Pour in the water, add 3 stock cubes, and the dried lemongrass


Add the cut chorizo sausages, cashew milk, seasonings and spices

Cook for a further 20 minutes

Split Pea Soup Method
STEP ONE – PREP & CHOP THE VEGETABLES
Cut the vegetables into bite-sized pieces. I diced the vegetables into 1 cm pieces, minced the garlic, and sliced the chorizo sausages. I used 5 cloves of garlic. This may seem like a lot, but as it cooks for over an hour, it will lose its spicy kick, it's the flavour we're looking for here. The longer it cooks, the sweeter the garlic will get. Garlic is another underrated health food, like turmeric, it is incredibly beneficial for those suffering from any kind of inflammation.
STEP TWO – HEAT COCONUT OIL
Any oil will do, but coconut oil is, in my opinion, the healthiest oil. Plus it smells the best.
STEP THREE – SAUTE ONIONS AND GARLIC
Saute the onions and garlic for 2-3 minutes, although to be honest, on lazy days I skip sauteing altogether. I place all the ingredients into the pot and let it simmer. I don't find a big difference in the taste or texture.
STEP FOUR – SAUTE VEGETABLES
Sauteeing the vegetables for a few minutes gives them a little head start, and allows some of the flavors to marry each other, and develop before being mixed with the fluids.
STEP FIVE – ADD THE SPLIT PEAS
Pour in the split peas, add the lemongrass stalk, and herbs. I love the simple combination of oregano and thyme. But really you can add any herbs you prefer. Experiment and find what your favourite combinations are.
STEP SIX – ADD WATER
After sauteing the vegetables for a few minutes, add 3 liters of water. You can add bone broth or vegetable broth, I used 3 vegetable stock cubes.
STEP SEVEN – SIMMER
Let everything simmer on medium-high heat for 60 minutes. Making sure to stir every now and then. Leave a wooden spoon to rest across the top of the pot to prevent overspilling. I like to do this and place the pot lid on top, so it's not fully covered.
STEP EIGHT – ADD THE CHORIZO SAUSAGES
After the split peas have fully cooked through, add the cut sausages, salt, and black pepper.
STEP NINE – COOK FURTHER

I like cooking my split peas until they are just about to break apart. On the packaging that the split peas came in, the suggested cooking time was 40 minutes. And on many recipes online I found they all suggested cooking split peas for around 40 minutes. I find that they still had the slightest crunch to them. So if this is what you prefer, you should adjust the cooking time, and taste the soup until you've achieved the desired texture. I let the soup simmer for a further 20 minutes, before serving with toasted bread, and butter.

This soup is great for meal prep; store in a freezer safe container, and thaw overnight in the fridge before reheating. This split pea soup is goes nicely with a side of salad, but really it's so hearty that I quite enjoy having it on its own, especially if I'm having it in the evening for dinner, and I don't want to overeat before bed.
This shot is from the next day, I reheated it and added some more cashew milk and flat leaf parsley. You can see that the split peas have almost completely disintegrated, making the texture of the overall soup really creamy, which I loved even more! I also noticed that when you store split pea soup, the split peas will continue to absorb the fluid, so when left in the fridge overnight, you may find that it has become considerably thicker. To refresh the soup, simply add milk, or water when reheating. I'd personally choose milk though.
I also like making this soup with coconut cream instead of cashew milk, as the combination of the lemongrass and coconut milk, creates such a cozy aroma that kind of makes you think of Thai curries. With this soup you can enjoy a similar palette just without the spicy kick of traditional curries, which is great for those of us with sensitive tummies. Healthy, aesthetically simple and pleasing, make this soup for someone who isn't feeling all that well, it's got veggies, it's got carbs and best of all it's got healing nutrients. Or cook this up for yourself on days you feel your body calling out for a little extra TLC. How do you like your split pea soup, do you prefer it cooked longer, or still have a slight bite to it? Let us know in the comments!