There is nothing that is quite as comforting as a home cooked mac and cheese. This dish is one of the most popular foods in the world, and as simple as it may seem it is in fact quite versatile. While most of us are perfectly fine with our one dollar box of instant mac, there are those who might want to spice things up. So if you are looking to discover the true potential of this seemingly mundane dish, follow this recipe to forever change your outlook on mac and cheese.
We will be taking cavatappi noodles, their thick spiral design allowing for even more cheese coating, and smothering it with a blend of sharp cheddar, gruyère, pepper jack, and swiss cheeses. On top of that we will be adding some smoky bacon and jalapeño peppers to add a whole new level of flavor to this dish. While this certainly is not your typical mac and cheese recipe, its surprisingly simple preparation makes this dish perfect for anyone to try out.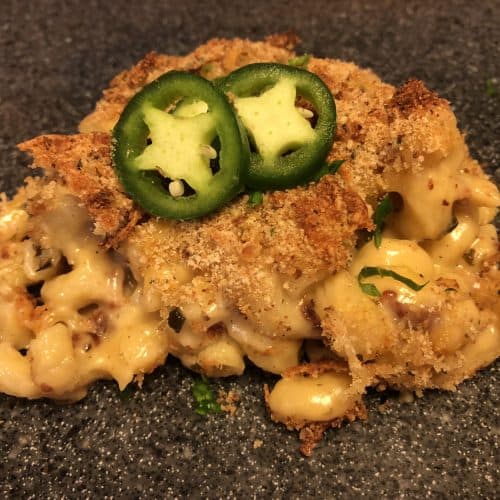 Four Cheese Bacon Mac and Cheese
Total Time
1
hour
15
minutes
Ingredients
16

oz

cavatappi pasta

12-16

oz

package of bacon

2

jalapeños

1

clove

garlic

2

Tbsp

flour

3

Tbsp

butter

3

cups

milk

2

cups

shredded sharp cheddar cheese

1

cup

swiss cheese

1

cup

gruyère cheese

1

cup

pepper jack cheese

½

cup

bread crumbs
Instructions
Slice the package of bacon and jalapeño into small strips or bite sized pieces.


Cook the bacon alone in a cast iron skillet until just barely browned, then add the garlic and jalapeño and finish cooking the bacon.

Remove the bacon and pat it dry with paper towel to remove any excess grease.


Drain most of the bacon grease from the pan, leaving around 1-2 Tbsp. Add the butter and once melted stir in flour until a roux is formed.

Slowly mix in milk until the consistency is smooth and creamy, and add the swiss, sharp cheddar, gruyère, and pepper jack cheeses. Stir until all of the cheese is melted.


Mix the cheese sauce into cooked noodles until each piece is evenly coated with cheese


Add the bacon mixture and cover with bread crumbs and extra cheese.


Bake in an oven at 350°F for 30 minutes or until the bread crumbs are brown and crispy.
Step One – Slice the Bacon and Jalapeño into Small Pieces
The first step when preparing this recipe is cooking the bacon and jalapeño mixture that gives this mac and cheese its extra kick of flavor and heat. Slice the entire package of bacon into small strips or bite sized pieces and dice the jalapeños.
Step Two – Cook the Bacon
Since the bacon will take a bit longer to cook than the jalapeños, begin by cooking the bacon bits in a cast iron skillet over medium high heat. As the bacon cooks continuously stir it to ensure that each piece gets cooked evenly. Once it is just barely beginning to brown, turn the temperature to medium.
Step Three – Add the Jalapeño and Garlic
Now that the bacon is mostly cooked we can add the jalapeño and garlic to the pan. After clearing out a section in the middle of the skillet add the peppers and garlic and allow it to fry in the bacon grease for about a minute before mixing everything in the pan together. Continue cooking until the bacon is nicely browned and crispy.
Step Four – Remove the Bacon to Reduce Excess Grease
The next step is removing the bacon mixture from the pan. We do this to reduce any excess grease from the bacon, while keeping a small amount of the grease in the pan to help form a flavorful roux in the next step. Simply remove the bacon and drain most of the grease until only 1-2 Tbsp remains in the pan.
Step Five – Make the Roux
Add the butter to the bacon grease that is in the pan and allow it to melt. Once fully melted we will be stirring in flour until a roux is formed. This roux will give the cheese sauce a thicker consistency that will allow it to stick to the noodles more easily. Continue mixing the flour in until the roux is slightly crumbly but not chunky.
Step Six – Add Milk and Cheese Blend
Next we will complete the cheese sauce by adding a little bit of milk at a time to the pan. We do this to ensure that the roux is completely mixed into the milk. Once there are no more chunks add each of the four cheeses to the sauce and allow them to completely melt into the sauce. It is important to stir during this entire process to prevent the milk and cheese from burning.
Step Seven – Boil Water and Cook the Noodles
Cook elbow macaroni or cavatappi noodles in a pot of lightly salted boiling water. Drain the noodles. You can really use any type of noodle that you like here, anything that is smaller and bite sized should work perfectly fine.
Step Eight – Thoroughly Mix the Cheese Sauce with the Noodles
Move the cooked noodles to a large bowl and cover them completely with the creamy cheese sauce. Thoroughly mix the noodles until each piece is evenly coated with cheese. At this point you can taste the mac and cheese to add any extra salt and pepper that may be necessary.
Step Nine – Add the Bacon and Fill a Baking Pan with the Mixture
Now that the cheese mixture has been completely incorporated into the noodles, it is time to return the bacon and jalapeños. Make sure to evenly spread the mixture out and then fill a baking pan with the mac and cheese. Try to choose a dish that is large enough to leave a small amount of space at the top so that it doesn't overflow.
Step Ten – Top with Bread Crumbs and Bake in the Oven
Finishing off this dish is very simple, just top it all off with bread crumbs and some extra cheese if you would like. Then bake it in an oven heated to 350°F for up to 30 minutes, or until the bread crumbs have turned brown and crispy. This recipe goes perfectly with some freshly chopped parsley and additional fresh jalapeños on top.
For anyone who has given up on mac and cheese after spending your entire life eating it out of a box, you simply must try this recipe out. With its four cheese blend and bacon jalapeño mix, the depth of flavors found within this dish create a complex yet comforting taste. Feel free to test the versatility of this recipe, perhaps trying some of your favorite cheeses or adding cauliflower to make it vegetarian friendly. The possibilities are truly endless. So go ahead and try this simple recipe out, just make sure that you save room for seconds!